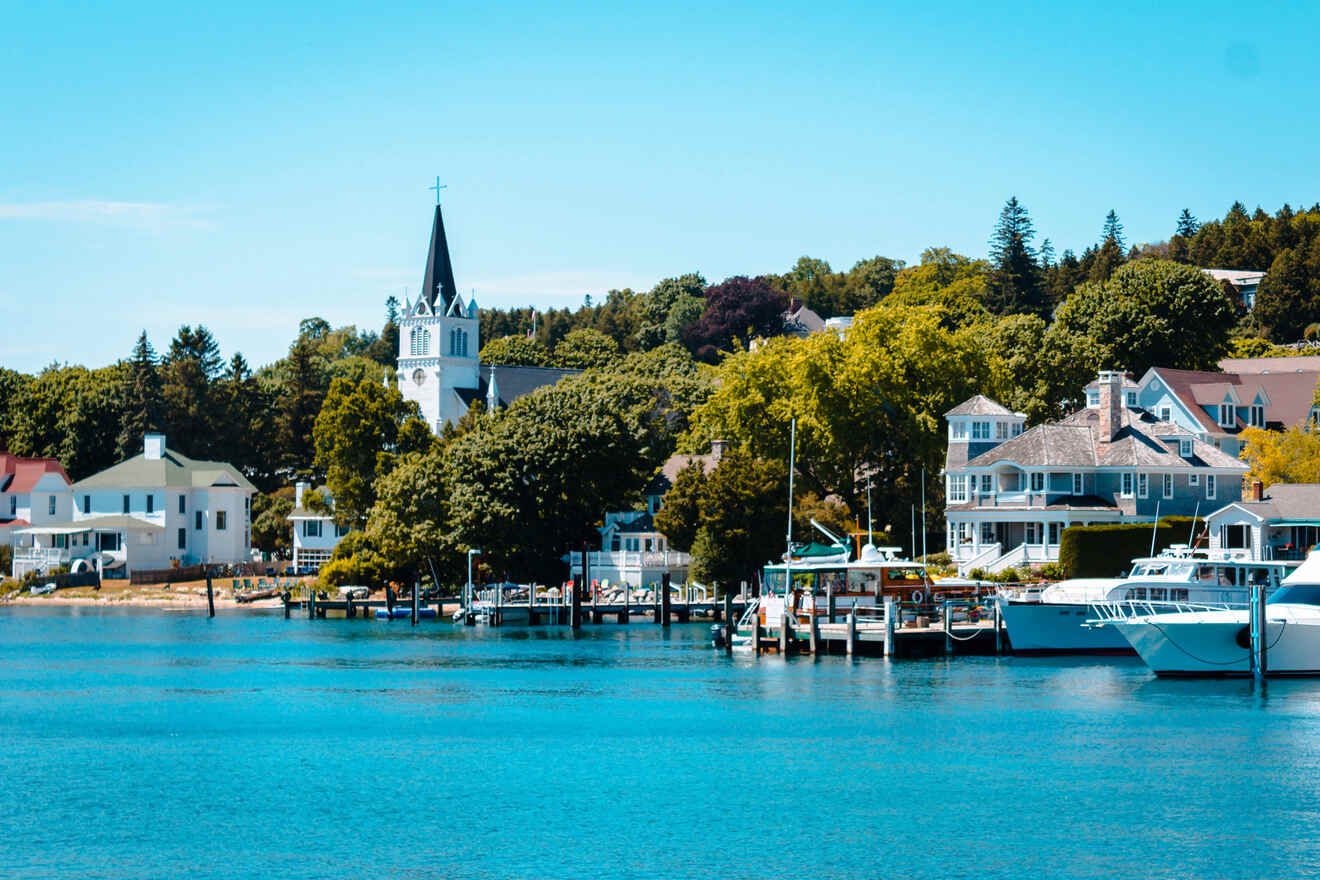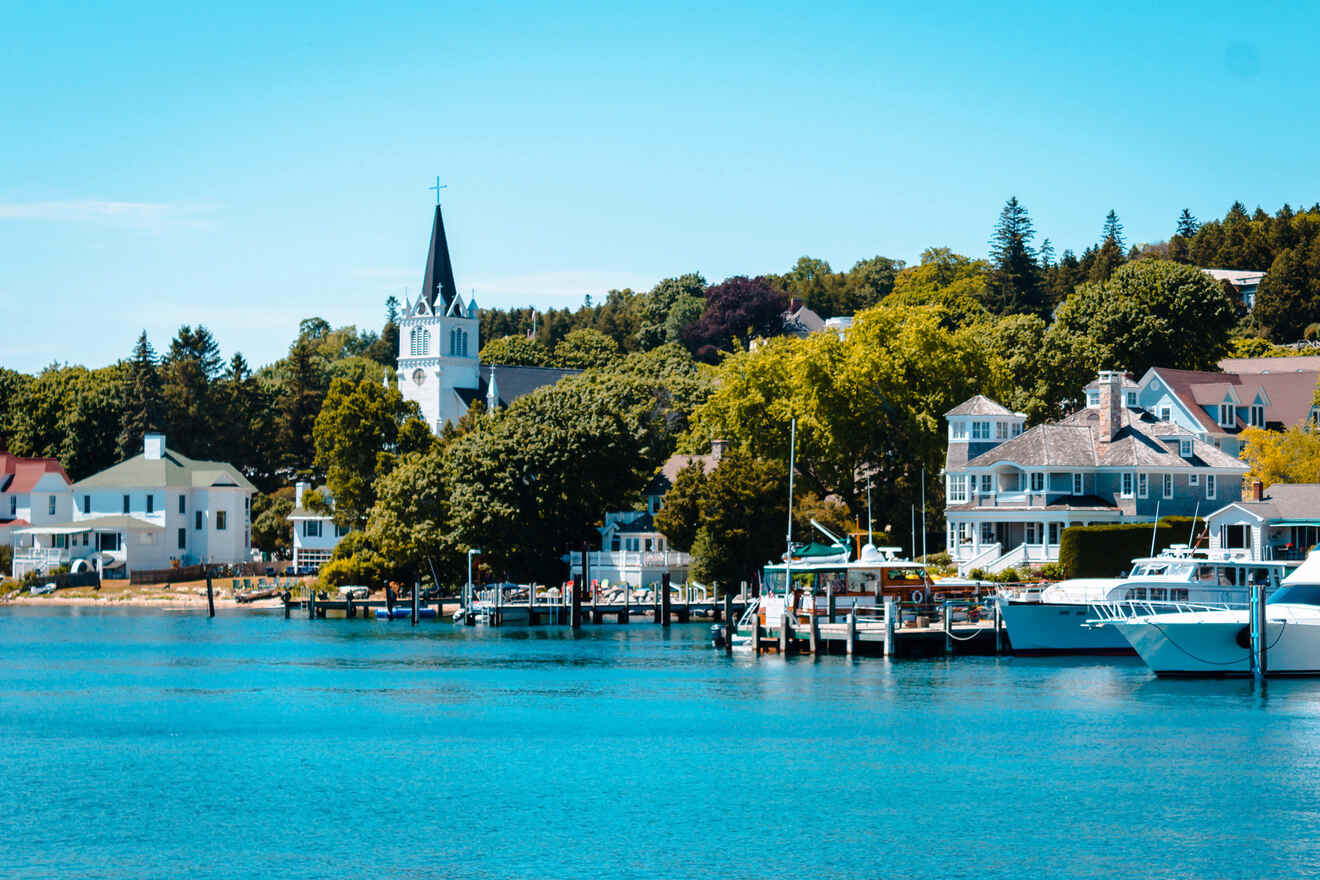 Planning a trip to the charming Mackinac Island? Then you're in for a treat! Get ready to fall in love with this historical place which is the crown jewel of Michigan tourism, and a National Historic Landmark! 
In this post, you'll find the best places where to stay on Mackinac Island, MI! I've made a list of the top hotels and resorts on the island, listed from most to least expensive so you can decide quickly which one is your favorite. Although there may be no chain hotels, you'll see many large resorts and smaller hotels perfect for a quiet escape! 
I also added a bonus with 3 awesome hotels in St. Ignance City, for those who want to stay on the mainland and just take a day trip to visit Mackinac Island. 
This island is one of the most visited places in the US, so I highly recommend you book your Mackinac Island hotels in advance as the best ones sell out super fast, especially during the high season!
NOTE: The prices of Mackinac Island hotels tend to be around $100-$150 higher in the summertime (June, July, and August), so make sure you count that in if you're visiting during that time.  
Let's go! 
If you are in a hurry
Ready to book your accommodation right now? Then have a look at this list of the best Mackinac Island hotels: 
airbnb
Condo Room
An Airbnb with amazing reviews
budget hotel
Murray Hotel
Best affordable accommodation 
Check out this map that will help you visualize all the Mackinac Island hotels in that I'll talk about in this post: 
Luxury (US$400 and up)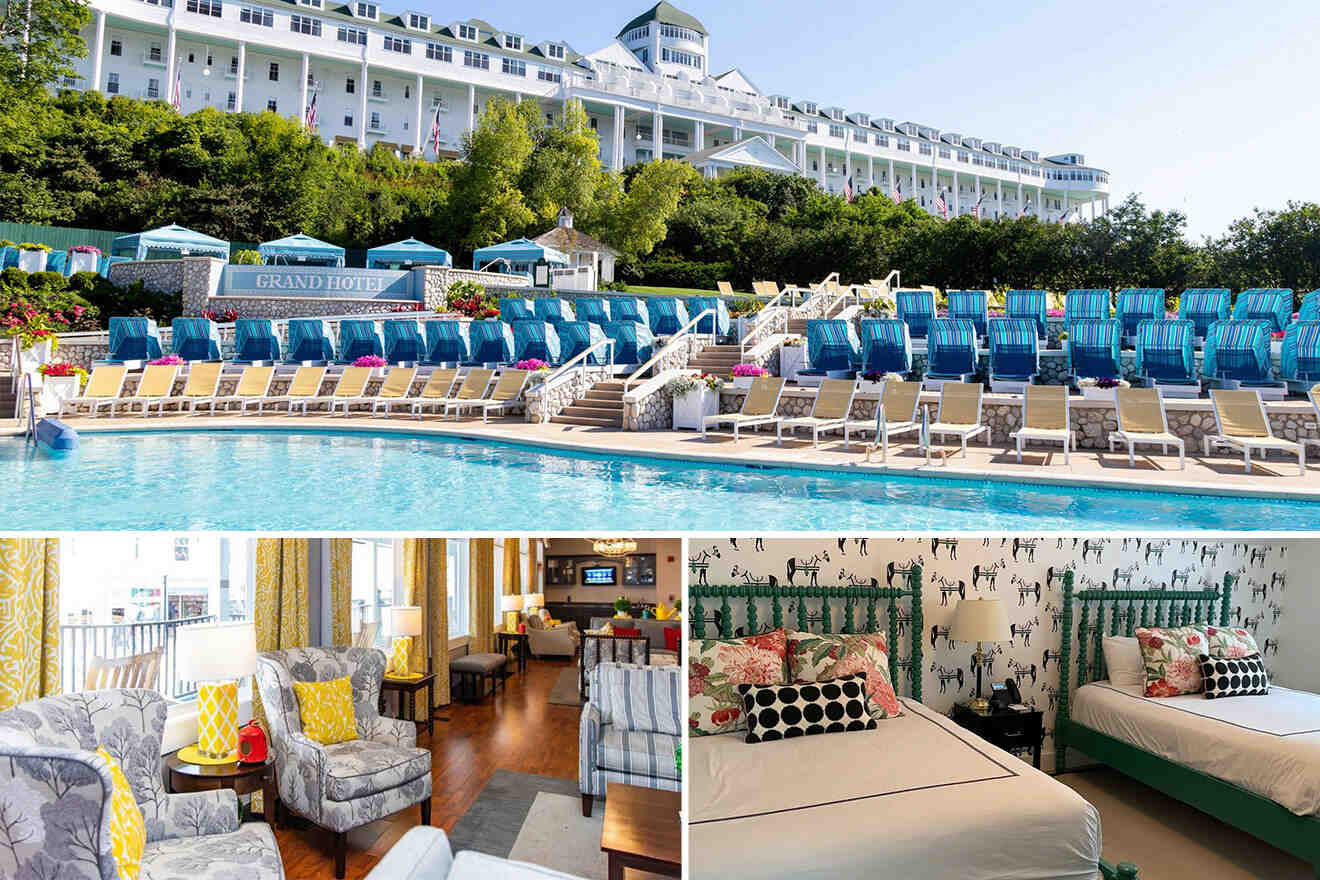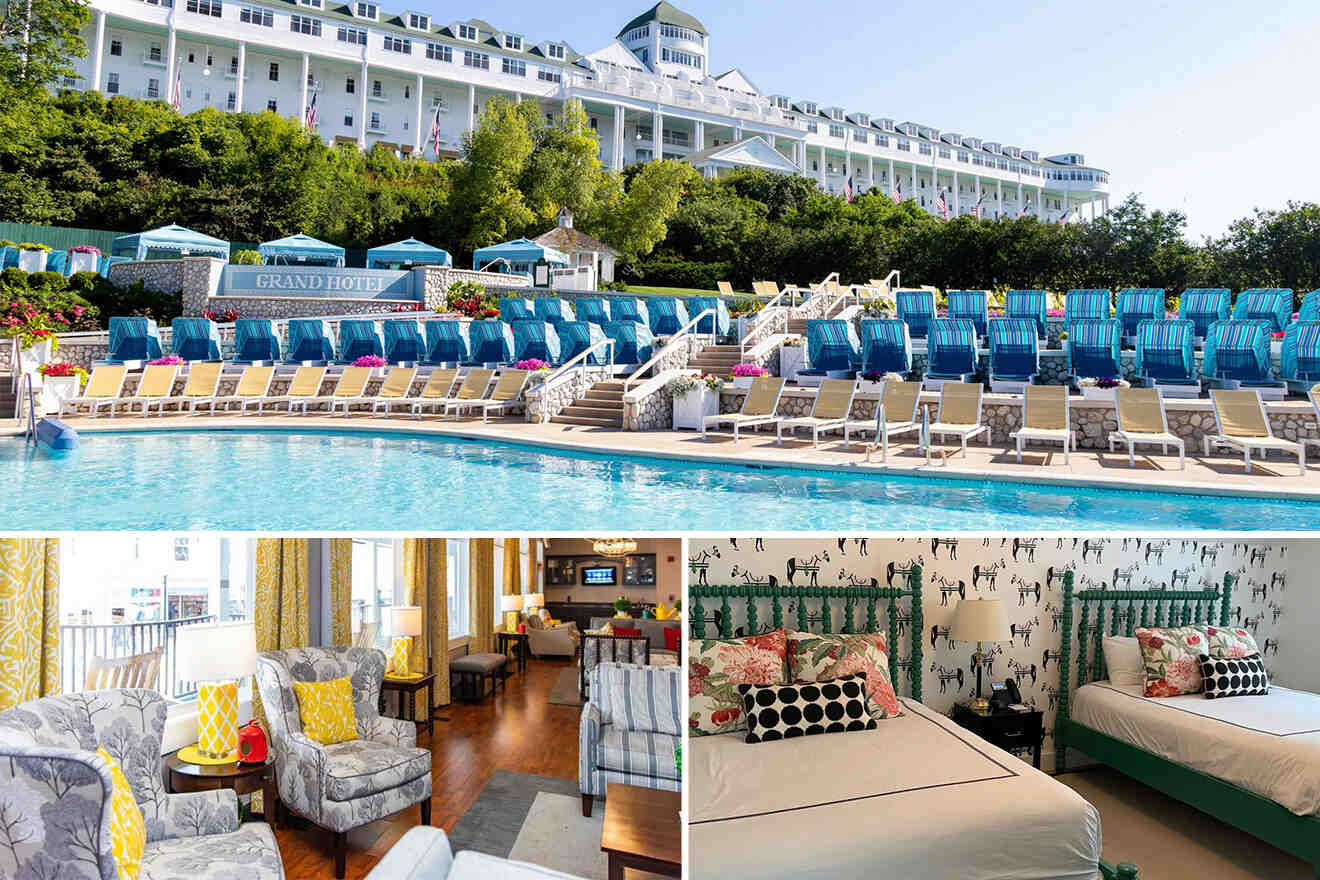 Grand Hotel – Travel back in time at this fairytale-like hotel that dates back to the 1880s. Surrounded by trees and breathtaking views of the Mackinac Bridge in the distance, this accommodation has such a rich history! Each suite is uniquely decorated with colorful, vintage elements and some of them even offer lake views! Notable amenities include horse-drawn carriage rides, live music, tennis courts, a spa, the beautiful Jewel Golf Course, and daily afternoon tea in the parlor!
Hotel Iroquois – Conde Nast Traveler named this place on Mackinac Island "the best small hotel in the world" and I couldn't agree more! Set on the banks of Lake Huron less than 1 mile away from Fort Mackinac, Hotel Iroquois even offers a private beach area! Start your morning with a delicious (free) breakfast at the award-winning restaurant before heading out to explore the Downtown area. This historic hotel has comfortable rooms, with unique touches and gorgeous waterfront views. 
Lake View Hotel – Set in Downtown Mackinac Island, one of the best areas in the Upper Peninsula of Michigan, this hotel offers spacious rooms with a dining table, private bathrooms, and nice decor. Enjoy your coffee on the little porch while admiring the people of Mackinac Island! Don't forget to pack your swimsuit so you can hit the pool or hot tub anytime you want. But remember to secure your hotel the minute you decided which one you want to avoid so many inconveniences like high costs and unavailability! 
Inn on Mackinac – How cute is this colorful bed and breakfast? Perfect for a tranquil stay on Mackinac Island, the accommodation has that historic charm we all love! The whole inn is beautifully decorated and the rooms are furnished with unique pieces. A hot breakfast buffet is served each morning in the dining room and after that, head out to shop until you drop in the Downtown area or go chill for a few moments in the hot tub!
The Mackinac House – Considered one of the best hotels on Mackinac Island, MI, this boutique accommodation has a cozy, homie feeling while providing all the facilities you need for your stay including a continental breakfast and a large porch. All rooms at Mackinac House are super unique and feature a fusion of modern and old decor that I find so beautiful! What's more, this boutique hotel is set near the boat dock and main street.
Mid Range (US$200 – US$300)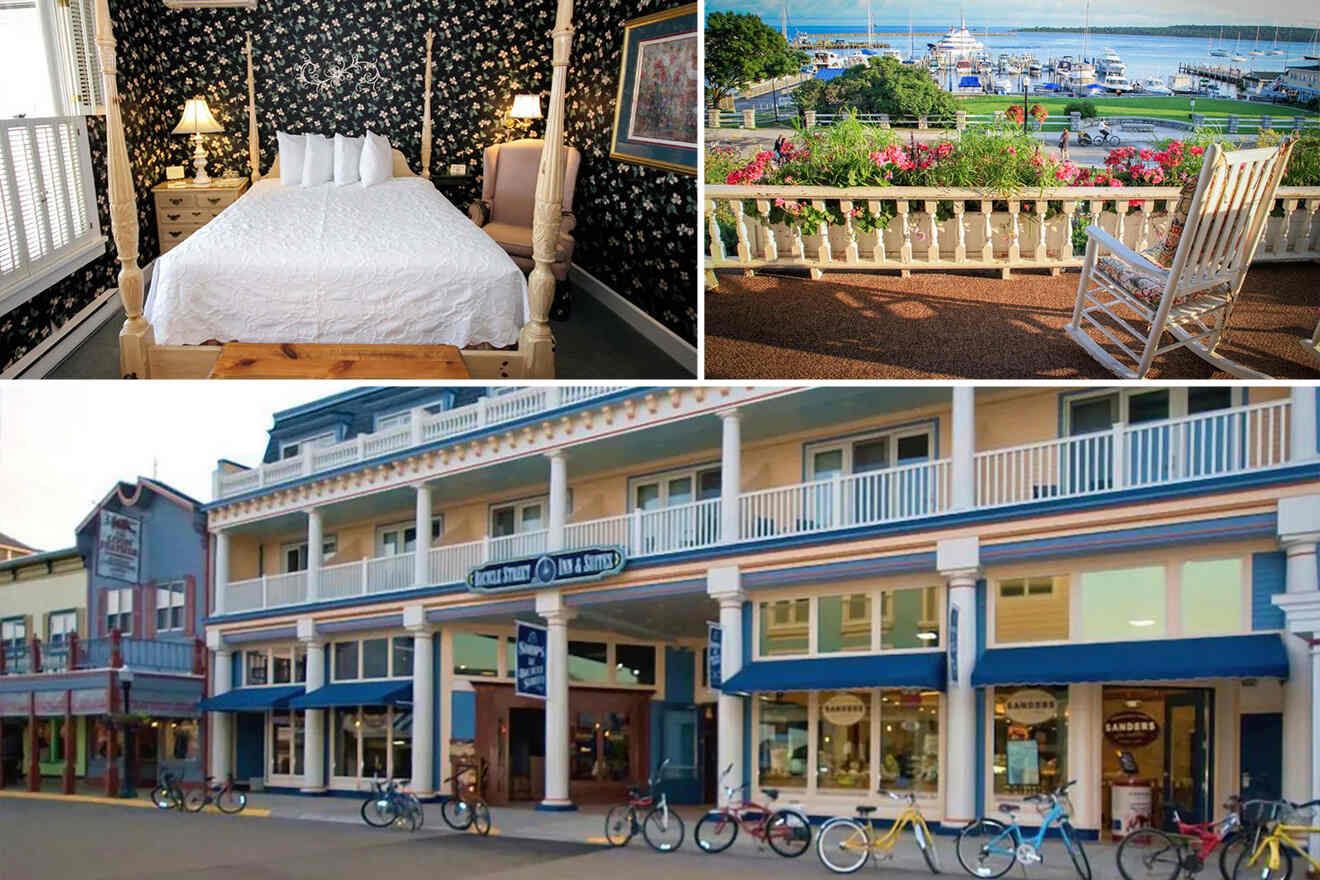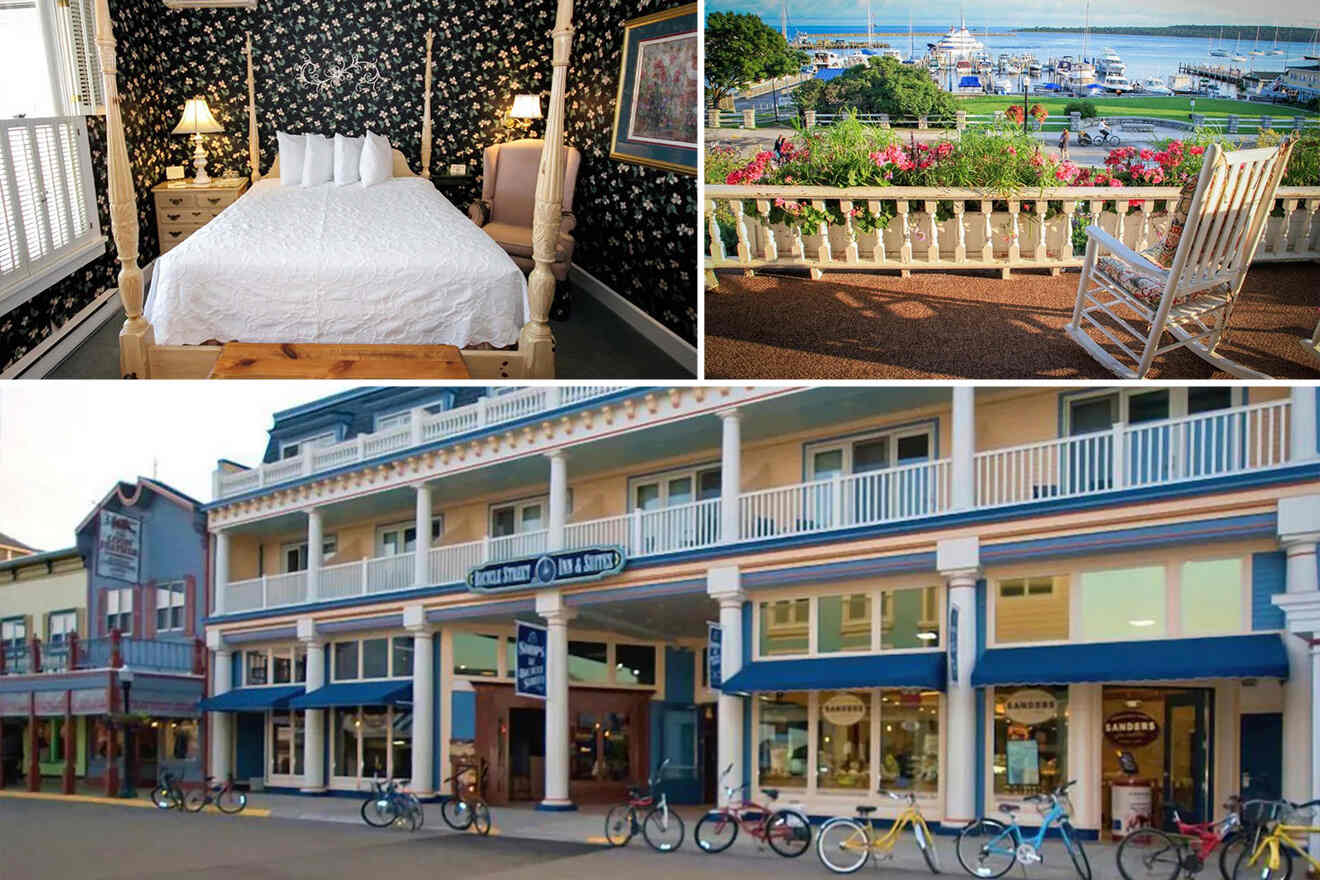 Harbour View Inn – I love the whole design and atmosphere at this inn that's set near Mackinac Island Tourism Bureau! Featuring rooms with whirlpool tubs and semi-private balconies, Harbour View Inn offers a complimentary breakfast and a colorful garden where you can hang out, relax, and enjoy some fresh air! If you're looking for ways to explore Mackinac Island, also known as "The Jewel of the Great Lakes",  borrow the bicycles from the inn!
Island House Hotel – Surrounded by beautiful flowers and greenery, this accommodation looks like the perfect spot for your trip to Mackinac Island! When you're not out exploring the walking trails or the area around the ferry docks, you can chill in the heated indoor pool or on the terrace (where you'll get some pretty awesome island views). The Island House Hotel has comfortable rooms with simple yet chic decor, and some even have a beautiful bay view that we all love! 
Metivier Inn – Fancy staying in a beautiful inn in the historic Downtown district on Mackinac Island? Me too! This fabulous boutique inn has that countryside charm that I find irresistible! If you're like me, then hurry and book a room at Metivier Inn! All the suites are tastefully decorated and have French countryside aesthetics (hold my purse)! Head down to the living room area to relax in front of the fireplace and mingle with the other guests. 
Bicycle Street Inn – Enjoy your stay on Mackinac Island at this great hotel that has all the facilities you'll need and more! Guests will have access to a business center, and free wifi. Each suite at the Bicycle Street Inn has comfortable beds, tea and coffee makers, and a private bathroom with a bathtub or rain shower. Start your morning with a delicious breakfast at the restaurant while reading a complimentary paper! 
Lilac Tree Suites – Picture yourself on a chilly summer day, sitting on the balcony of your room at one of the best Mackinac Island hotels, the wind blowing and the sun setting in the calm waters while listing to Nina Simone's song "Lilac Wine" (this hotel reminds me of this song). You'll love Lilac Tree Suites, it's so chic and yet so homie. Each room is super colorful, has air-conditioning and some even have a living room! Relax in the jacuzzi tubs and then get ready for a fun day of exploring the historic Mackinac Island!   
Budget (up to US$200)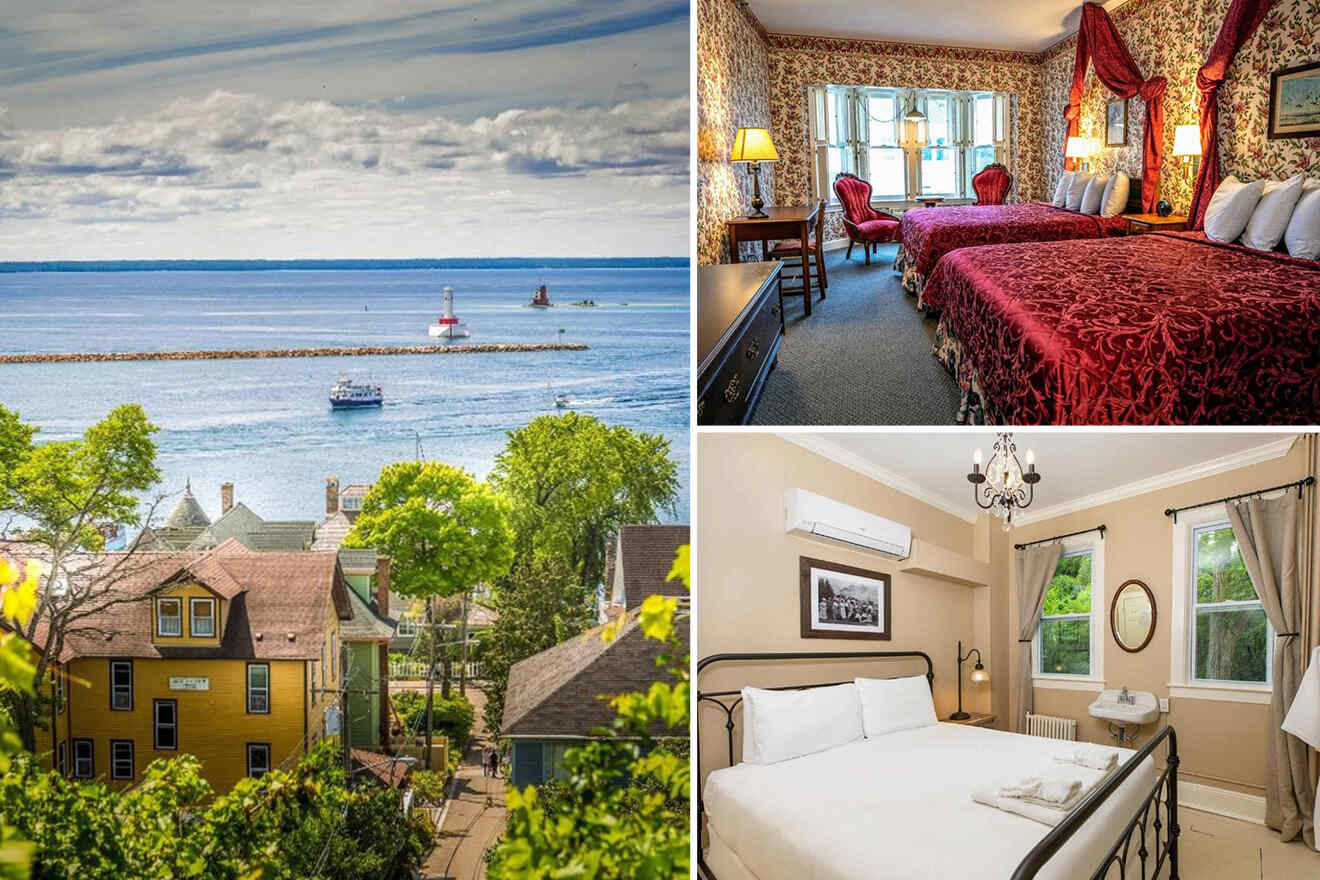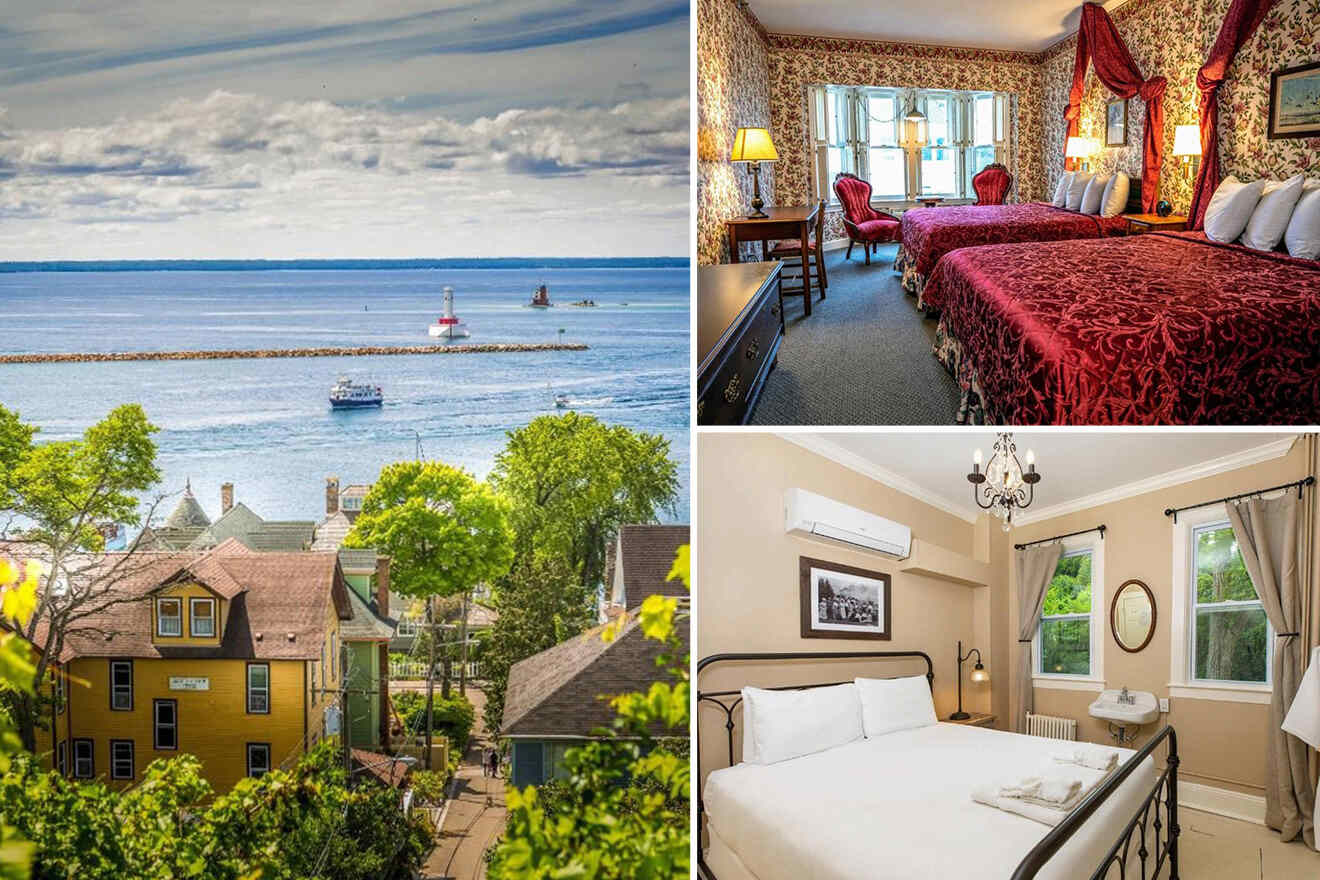 Chippewa Hotel Waterfront – Only a short walk away from the carriage tours and set right near the Marina, Chippewa Hotel is one of the best affordable places to stay on Mackinac Island! Get ready to have a fun time at the bar on-site, drinking and mingling with all the travelers. They have different rooms all with great facilities including a private bathroom, a flat-screen tv and some even have a balcony that offers great views! 
Mission Point Resort – I think families will like this accommodation as it offers many activities and great rooms! Play some tennis or miniature golf with the little ones and then head to the large lawn to chill on the chairs and enjoy the sun. Mission Point Resort on Mackinac Island has spacious rooms and some offer lake views! Parents can relax at the spa center on-site or in one of the hot tubs while the kids will love the outdoor pool, plus 3 restaurants on-site to keep everyone happy! 
Cottage Inn of Mackinac – Start your morning with a delicious (free) meal on the porch of this beautiful Victorian-style bed and breakfast! With a central location in downtown Mackinac Island, the Cottage Inn is one that you don't want to miss out on! Especially these beautiful rooms which are uniquely decorated and equipped with a flat-screen tv, and some even have a balcony.  
Murray Hotel – Relax in the outdoor spa pool after your long trip to reach Mackinac Island, MI, at Murray Hotel! Set on Main Street, just across the road from the ferry docks, this historic accommodation has chic decor, a restaurant, and a great location in the central area. Try all sorts of fun activities during your stay like walking tours, playing golf, and horse riding! And the fun doesn't end here, so don't go to bed too early because you might miss out on a fabulous live show that will make this holiday unforgettable! 
Pine Cottage – How cute is the colorful design of this bed and breakfast? Set within walking distance of Fort Mackinac, and Arch Rock, the accommodation has rooms with simple decor (but oh so elegant), a flat-screen tv, plus they're super bright! The porch is the perfect place to do some people-watching, drink a cup of tea or relax at night after a day of visiting all the attractions and Mackinac Island State Park. If you're looking for more awesome places to visit, check out the hotels in Traverse City, another great spot!
BONUS: 3 great hotels in St. Ignance City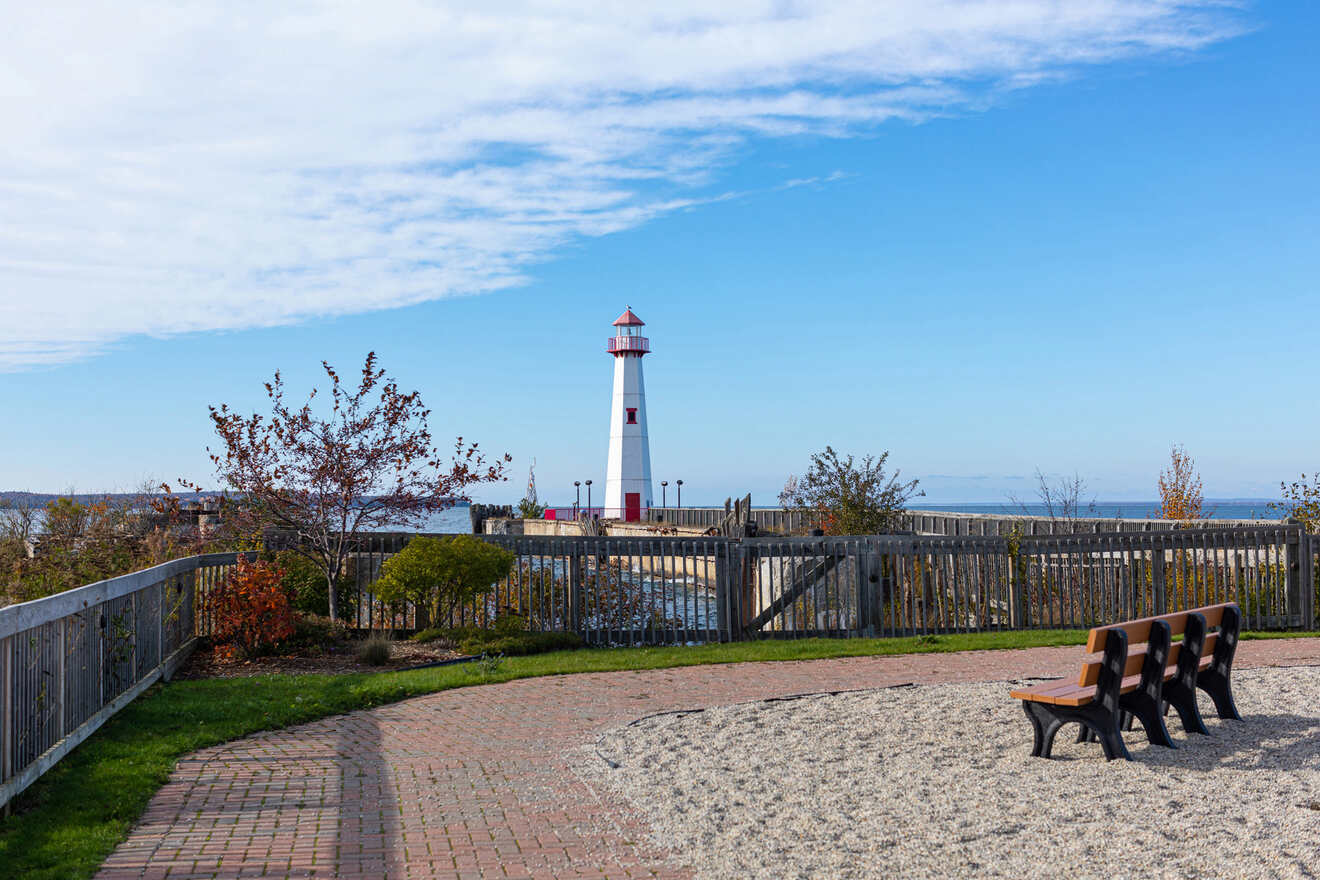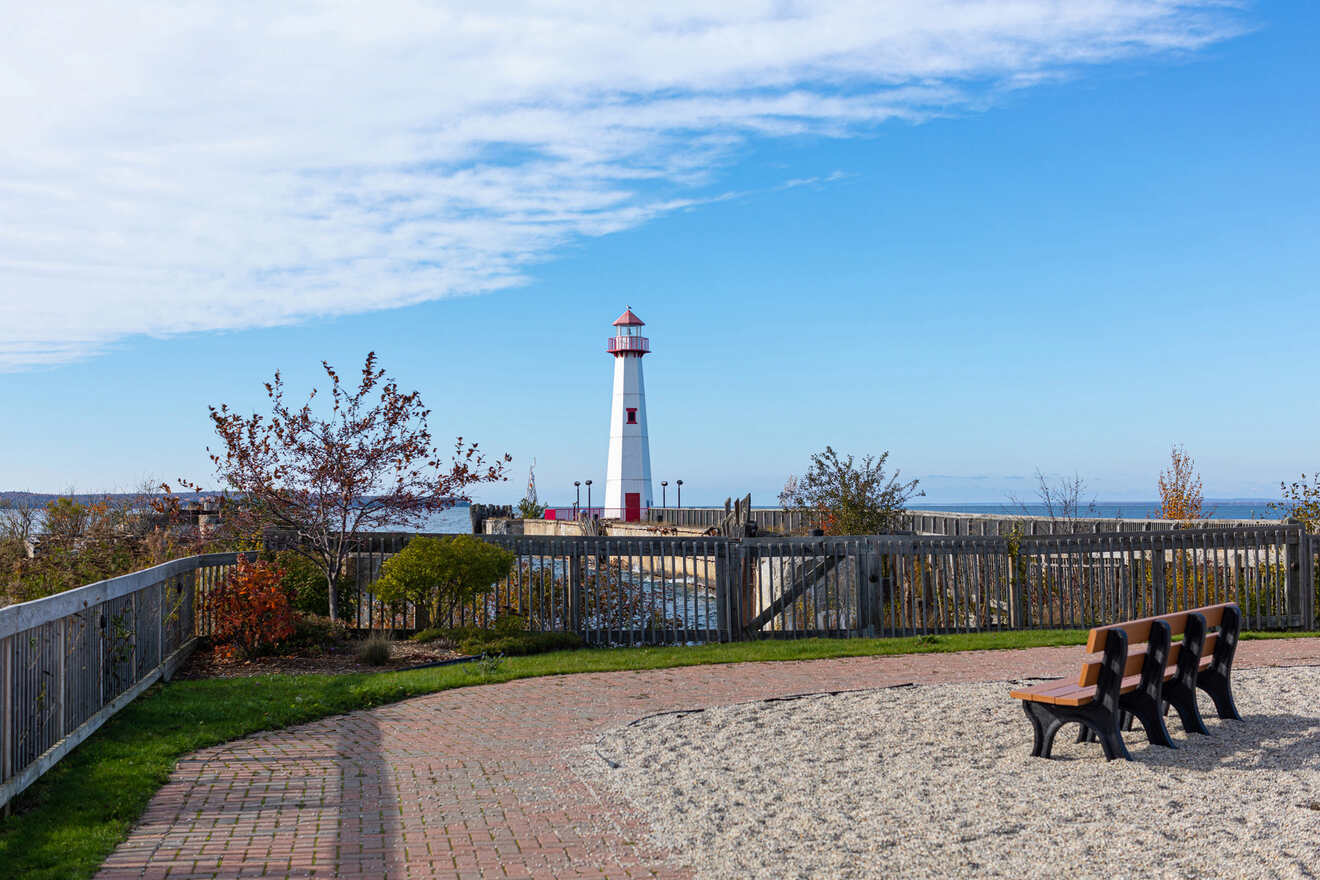 Just a 20-minute ferry ride away from Mackinac Island, St. Ignance City is one of the oldest towns in the country and the perfect place to start exploring the areas in the Upper Peninsula of Michigan! 
St. Ignance City is a great place to stay for those who just want to visit Mackinac Island just for 1 day since the town is super close and you can easily take the ferry there and back on the same day! 
There are many hotels here so it is also a great choice if all the hotels on Mackinac Island are booked out, plus most of them are super affordable with prices from US$200 to US$130!  
So if you're looking to save some money and stay in St. Ignace while exploring the island, here are the top 3 accommodations listed from most to least expensive: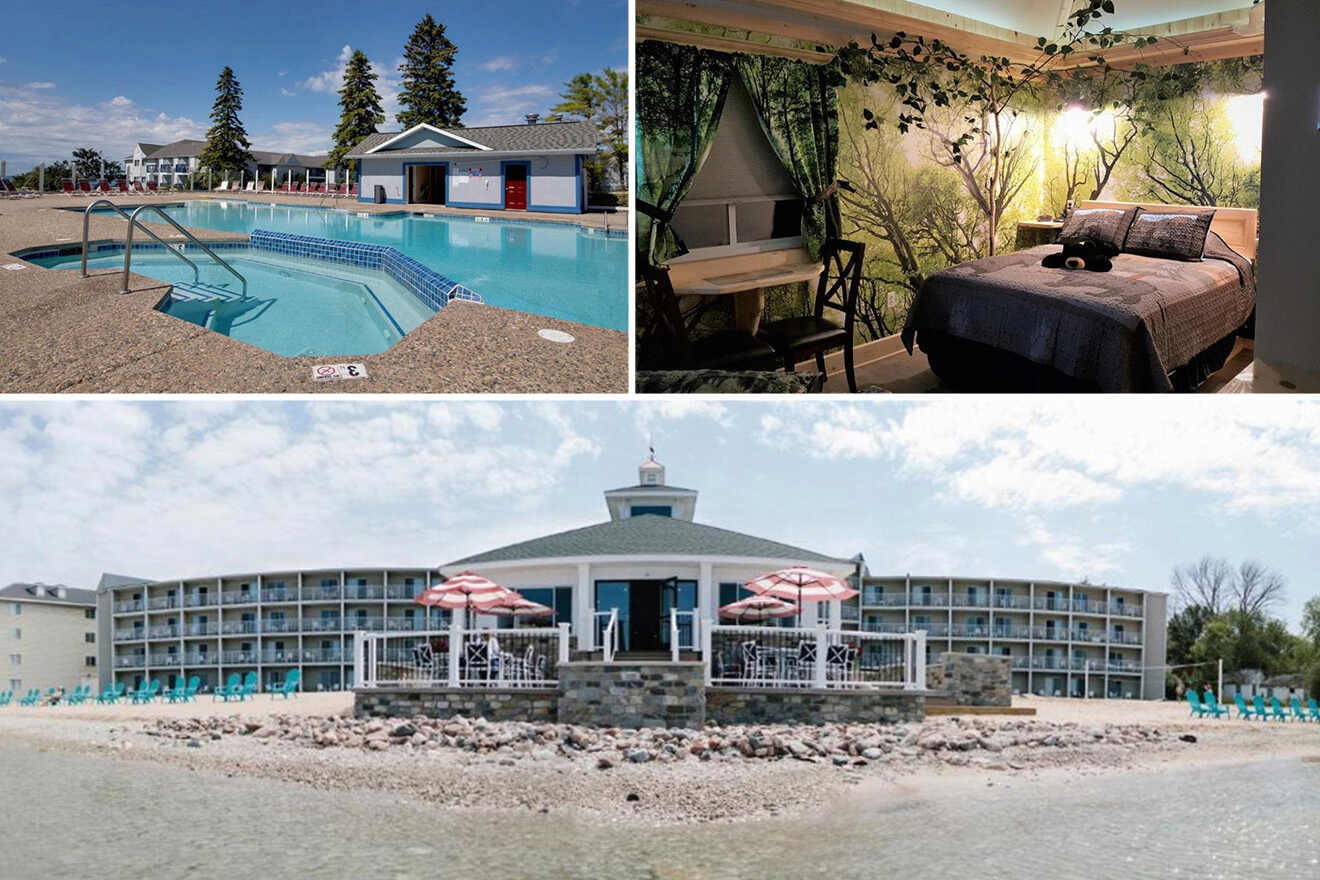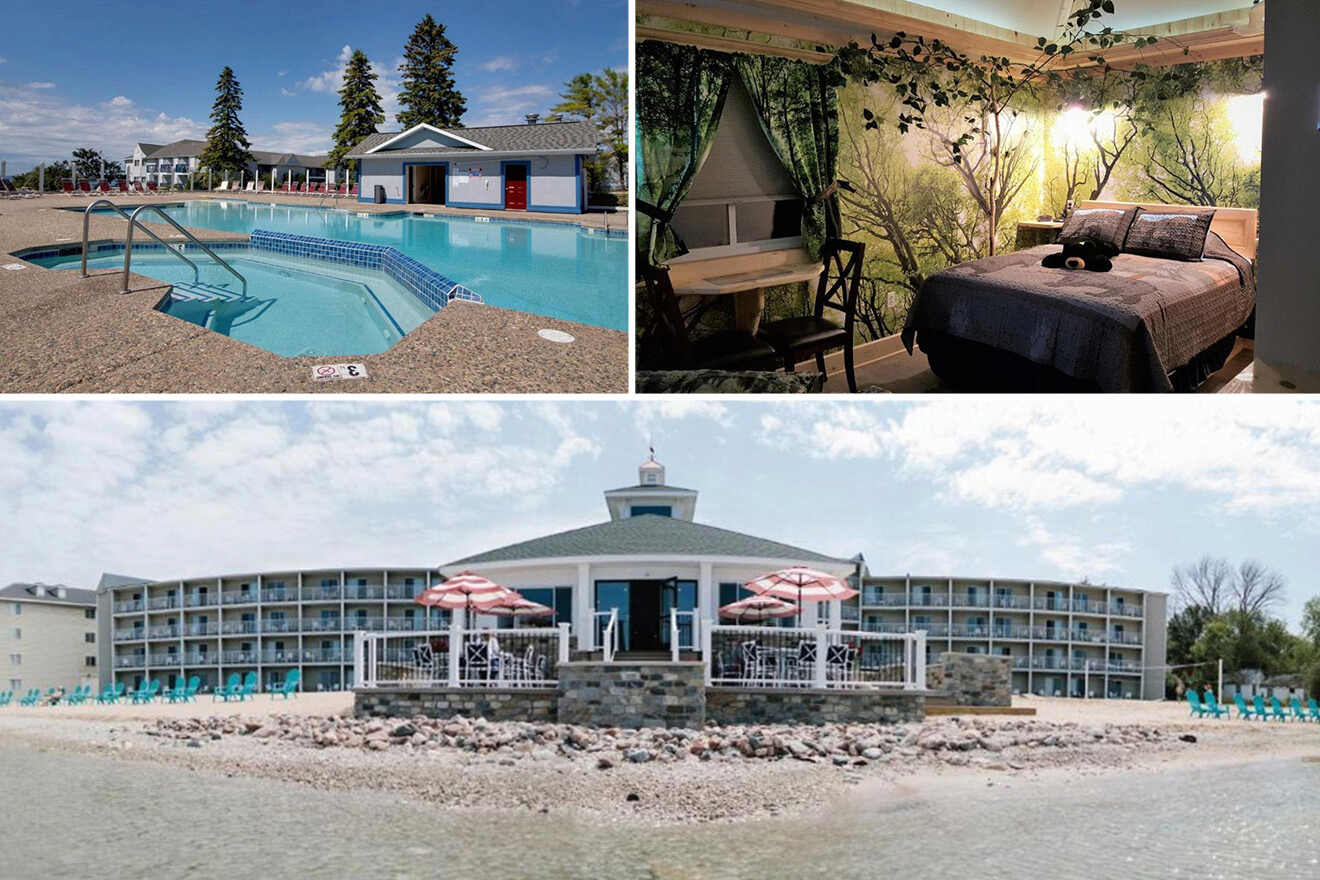 Breakers Resort – Wake up to an amazing view of Lake Huron at one of the best lakefront hotels, that offers complimentary breakfast and family rooms. The ferries to Mackinac Island, MI are just a 10-minute drive away from the hotel and guests are welcome to chill in the hot tub and sunbathe on the sun loungers at the accommodation before heading to visit the island!
Bear Cove Inn – Families, your kids will love this hotel! With such a cute design that reminds me of a forest or some kind of theme park, the accommodation has spacious rooms with coffee makers and free wifi. Ferries to Mackinac Island, MI are just a short walk away from the inn!
Best Western Harbour Pointe – Relax in front of the outdoor firepits and enjoy the views of Lake Huron at this great hotel in St. Ignance City! Featuring comfortable rooms with private bathrooms and some even with a spa bath, the accommodation has all you need for your stay! Even an indoor and outdoor pool so grab your bathing suit and jump in! The ferry docks are set just a 20-minute walk away. 
FAQs about where to stay on Mackinac Island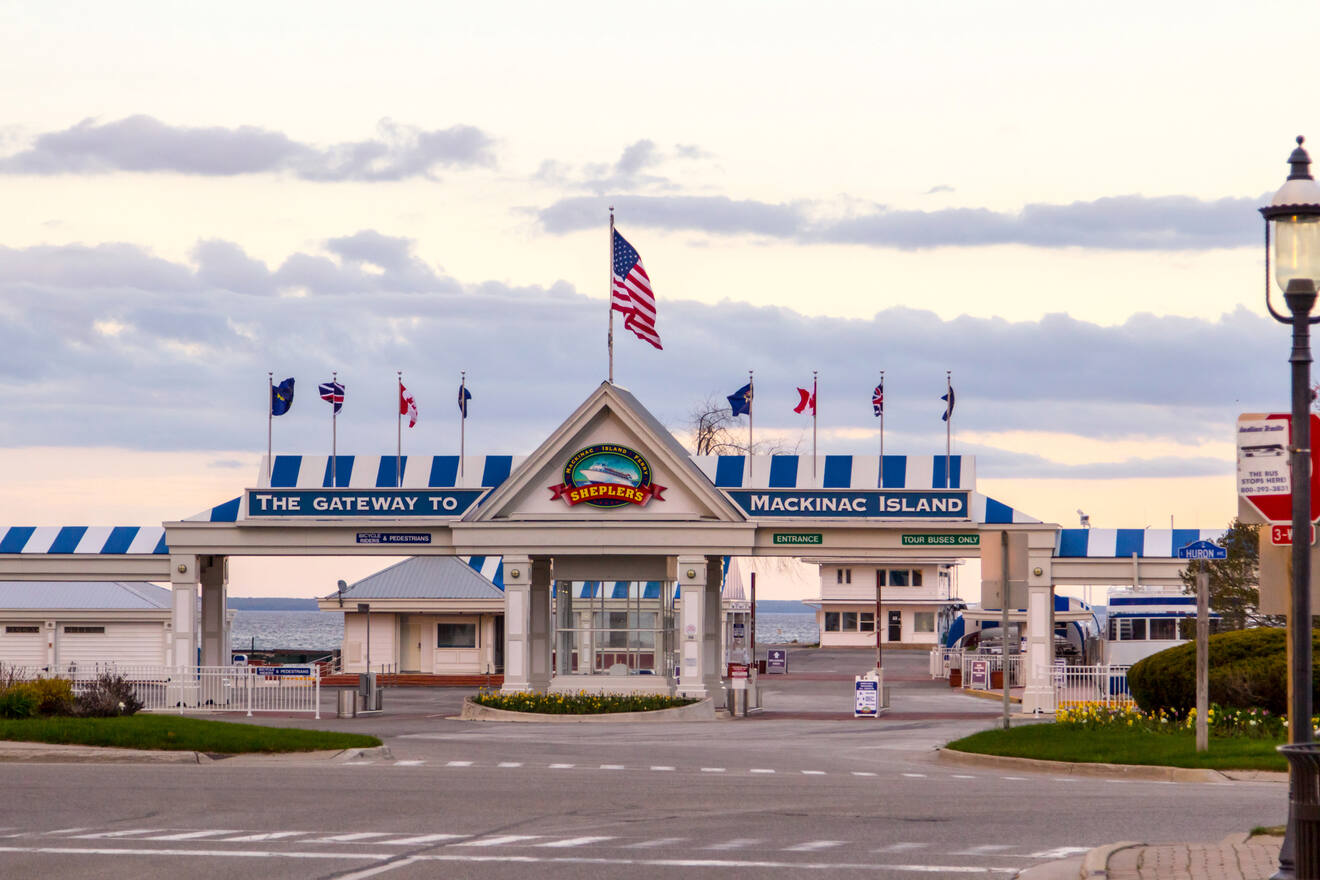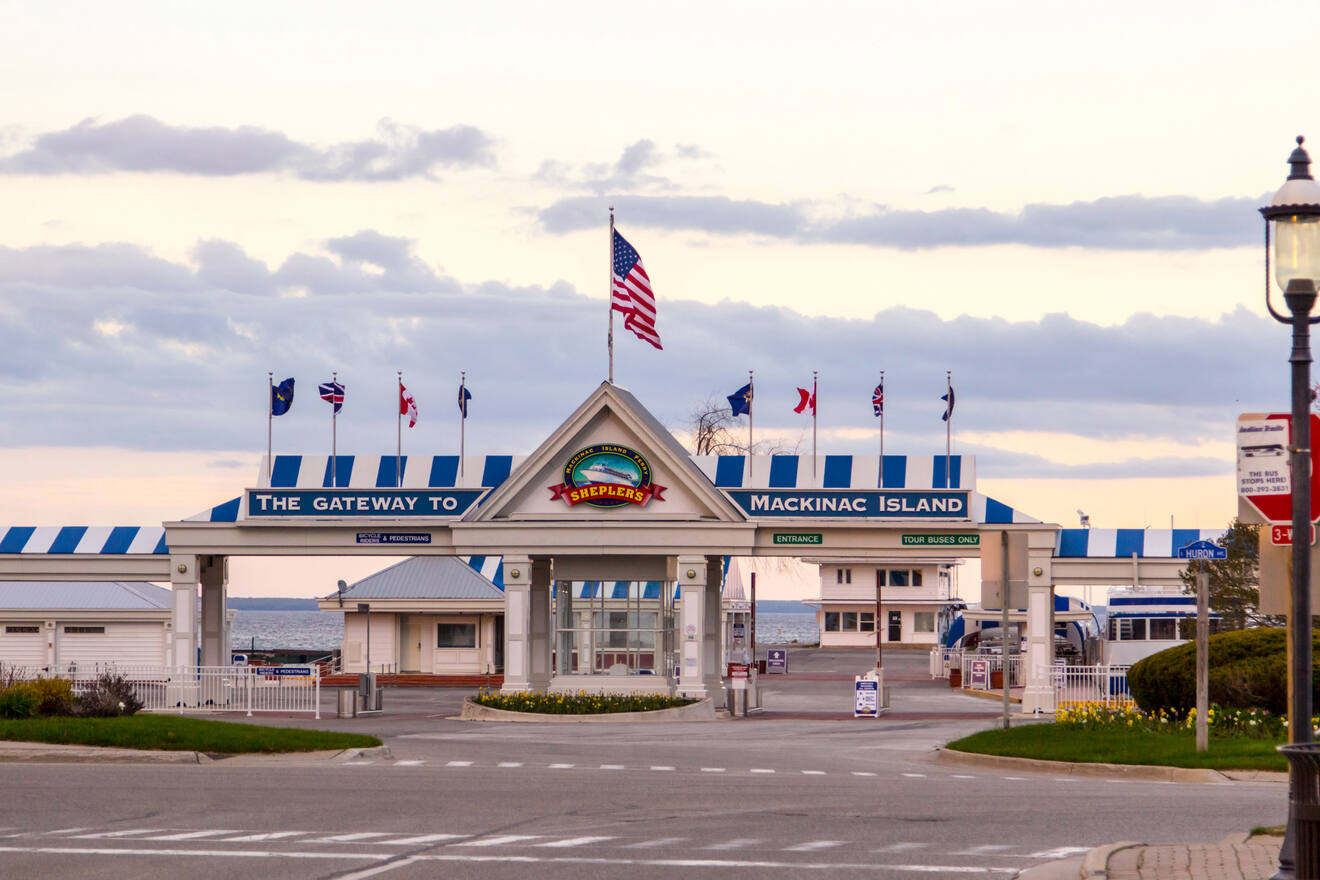 👌 Is it worth staying on Mackinac Island or in Mackinaw City?
It's great to stay on Mackinac Island as it has a rich history and offers many activities and hotels like Lake View Hotel. However, if you just want to take day trips you can stay in Mackinaw City as it has many hotels like Harbour View Inn.
🌊 Which are the best Mackinac Island hotels on the water? 
Some of the best beachfront hotels to stay on Mackinac Island are Hotel Iroquois and Mission Point Resort, both have great reviews and offer great facilities! 
🍳 Are there good Mackinac Island Bed and Breakfasts?
📅 How many nights should I stay on Mackinac Island?
I recommend spending 2 or 3 nights on Mackinac Island, that way you'll have time to visit the attractions as well as relax.
Conclusion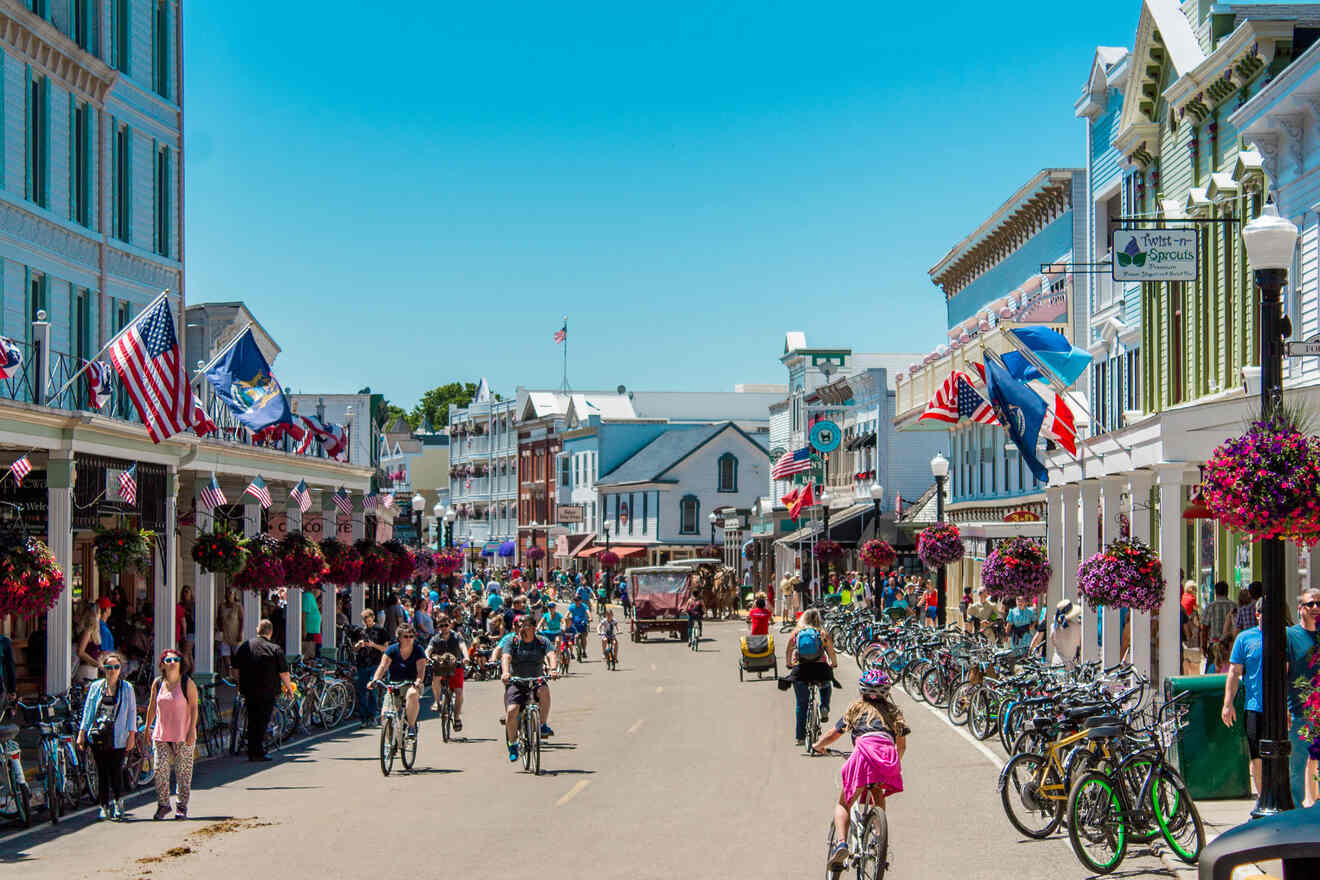 What a fabulous location! 
I hope this post helped you decide where to stay on Mackinac Island, MI. Now you've read through a comprehensive list of the top Mackinac Island hotels for all budgets plus a bonus section with 3 awesome hotels in St. Ignance, you're probably an expert!
The article may have lots of options but in a place like Mackinac Island, it's great to have a long list. However, if it's taking you too much time to decide here are my top 2 favorite Mackinac Island hotels: 
Grand Hotel – This fantastic luxury hotel is a Michigan landmark and offers unique rooms, afternoon tea, and plenty of fun activities like horse-drawn carriage rides
Harbour View Inn – Your home away from home! This beautiful inn offers free continental  breakfast, bicycle rentals, and comfortable rooms
Just remember that this place gets lots of visitors so I highly recommend booking your Mackinac Island hotels in advance, to avoid missing out on your favorite accommodation! 
I wish you a super fun holiday on Mackinac Island! Enjoy every minute spend on this historic island and don't forget to leave me a comment below if you've got a question, I'll be happy to help you with more details! 
Safe travels,
Victoria