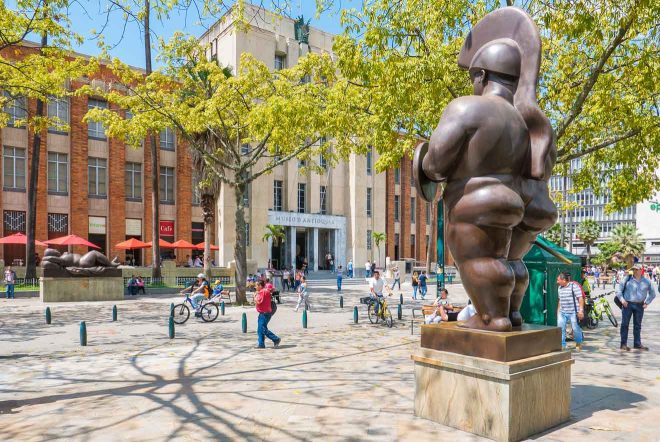 Located in Aburrá Valley, north of the capital Bogotá, Medellin is Colombia's second-largest city. With an estimated population of over two and a half million, Medellin is certainly a global metropolitan city and an amazing destination for every type of traveler out there! The city is also becoming incredibly popular among digital nomads who want to explore Antioquia or the Pacific coast.
In case you plan a trip to the city in the near future, congrats, you are going to have such an amazing time! But now you might be wondering where to stay in Medellin for the best experience for your budget and preferences, am I right? No need to worry, as I got you covered!
There are plenty of hotels in Medellin and other accommodation options scattered all over the city in different neighborhoods and it can be quite daunting to try and pick one, but this article will tell you everything you need to know!
So let's get to it and find out which are the best areas and hotels to stay in Medellin. Are you ready? Let's go!
If you're in a hurry…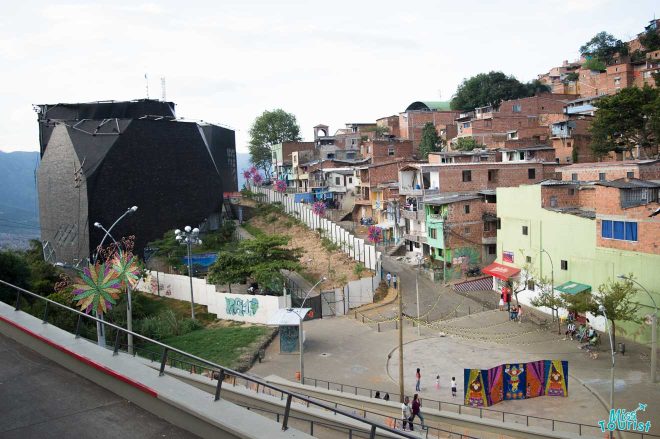 If you need to book a place right now, here are the top hotel options by price range and below I will give you a super quick run down of the best neighborhoods to stay in Medellin:
Which area should you choose?
First of all, here is a map that shows all the areas I'll be talking about in this post, so you can get a better idea of where they are located: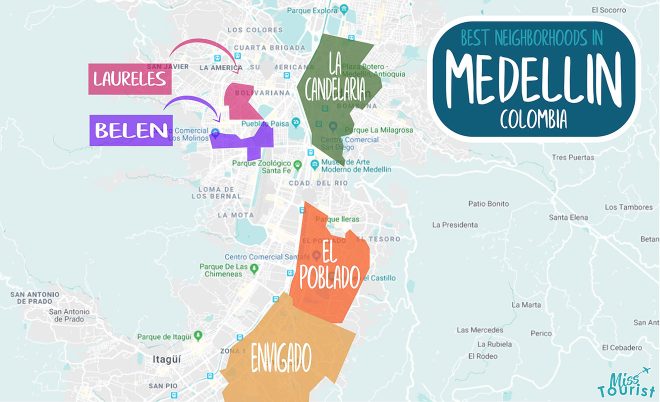 So this all begs the question: where to stay in Medellin? Well, there are a couple of notable areas, or 'barrios', that have seen the best part of this rebuild and make for a great base to explore this wonderful city. In case you need help with choosing the right one for you, here is my list of personalized recommendations based on budget and interests:
Laureles – for first-timers
El Poblado – for nightlife
Belen – on a budget
Envigado – with a family
El Centro (La Candelaria) – buisness center
As El Poblado and Laureles are the two most popular places to stay among tourists,  I have provided this little analysis in order to help you choose. Note these areas tend to be the most popular and therefore can book out rather quickly, so as always, reserve your accommodation in advance wherever possible so that you don't miss out!
| | | |
| --- | --- | --- |
|   | El Poblado | Laureles |
| Price of accommodation | More expensive accommodation | Cheaper accommodation |
| Cost of living | Cheaper  | More expensive  |
| Public transportation and walkability | More hilly. Public transport depends on the area where you stay (max 10 min walk). | Much flatter so therefore more walkable. Public transport depends on the area where you stay (max 10 min walk). |
| Safety | High safety standards | High safety standards |
1. Laureles – where to stay in Medellin for the first time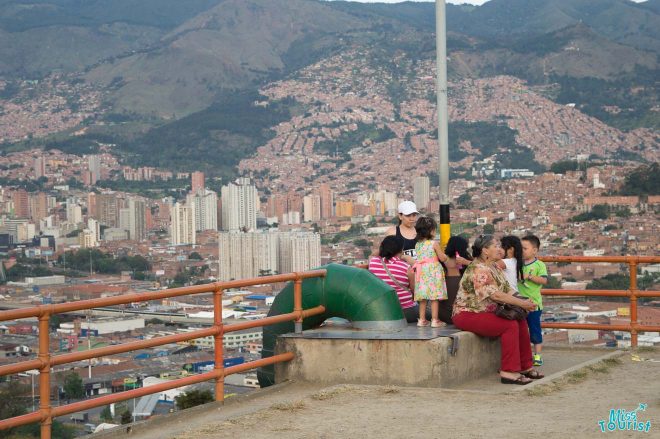 One of the most popular barrios for visitors to Medellin is Laureles, sometimes referred to as Stadium or Laureles – Estadio. This is due to the fact that the two Medellin football teams play their matches at Atanasio Girardot stadium in Laureles.
Tourists will also find a lot of life, everything from hipster cafes to local restaurants, and of course some great hotels here. The prices here are considerably cheaper than in El Poblado and this has been reflected in the parameters of each section.
While you're planing, make sure to check out where the action really is (and heaps of other ideas about the city) take a look at my What to do in Medellin article!
That being said, here are the best hotels in Laureles for all budgets and tastes
Luxury (US$80 and up)
Inntu Hotel – Located in Laureles, this hotel is the best place to stay if you want to enjoy magnificent views from almost all rooms, an in-house restaurant, bar and a semi-indoor pool area that will make you feel like a movie star. The hotel also offers an excellent daily breakfast. The rooms themselves are decorated tastefully and in a modern style. A great value choice.
Terra Biohotel – The king suite at Terra Biohotel is a sight to behold in Laureles! Furnished in a stylish, modern motif, the room is incredibly spacious and has its own personal balcony with stunning views across the city. As if that wasn't enough, there is a motorized spa bath inside the room! Plus, this accommodation offers easy access to all the interesting attractions in this area!
Mid-range (US$40 – US$60)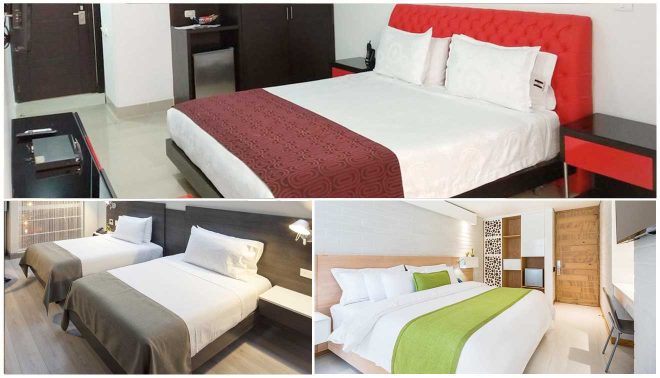 Ayenda Seven Inn – Take advantage of the awesome location of this 4 stars hotel, very close to the best bars and restaurants but without the noise affecting the tranquility of the property. Here you'll have access to a rich American breakfast and many wellness facilities including a hot tub and a sauna!
Hotel Casa Laureles – The perfect way to pass a Medellin afternoon/evening in Laureles is to sip a few drinks on a streetside patio and watch the world go by. Well, you can do that here! The hotel also has a business center, on-site restaurant and 24-hour reception. The comfortable rooms are spacious and well-appointed. Such a great hotel, close to plenty of restaurants and cool attractions!
Budget (up to US$40)
Here are the top budget hotels in Laureles I have selected for you, all with amazing reviews:
Hotel Merlott 70 – Hotel Merlott 70 is one of the few luxury hotels located in Laureles. The rooms are very spacious and have cable channels. The hotel offers free on-site parking, bike hire and a daily buffet breakfast. The residential street is quiet, so no need to worry about late-night revelers, as there are mostly working-class people there; but you'll be close to plenty of restaurants! One of the top Medellin hotels! budget
Hotel Asturias Medellin – Are you looking for the best place to stay on a tight budget? Well, you just found it! This is an amazing place located close to a metro station and close to all the interesting streets and attractions in one of the most popular areas in Medellin!
Things to do in Laureles:
Book a private tour to discover the life of Pablo Escobar and the Comuna 13
Dance some salsa or listen to live music in streets 70 and 33!
Watch a football match at the stadium Atanasio Girardot!
Have a relaxing picninc in the lovely Primer Parque Laureles
2. El Poblado – where to stay in Medellin for nightlife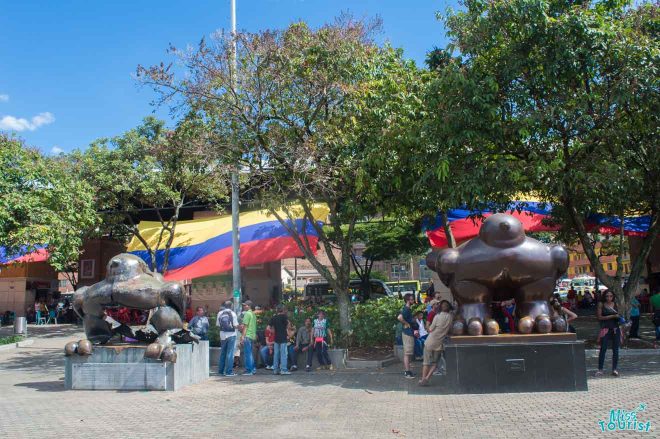 Medellin is such a large city, this means that choosing your accommodation becomes even more important as you don't want to end up on the wrong side of town or far away from everything you came to see during your trip to Colombia!
This tends to be why El Poblado is by far one of the most popular area to stay in for tourists as it is full of culture, restaurants, and great nightlife thanks to the many bars and clubs. El Poblado also has some of the best views of the surrounding mountains!
Some interesting sights and attractions here include Parque Lleras, Saint Joseph of El Poblado Church (the place where Medellin itself was founded!) and Jose Amar Gallery; plus, you can always party in Zona Rosa!
So in this El Poblado section, you will find some of the very best hotels in Medellin. Here are my recommendations:
Luxury (US$150 and up)
The Charlee Hotel – Located in the Parque Lleras area of El Poblado (more exactly in Patio Bonito), The Charlee Hotel is one of the top Medellin hotels, located close to plenty of restaurants and bars. With a rooftop pool, daily buffet breakfast, balconies with a hot tub and lots of other facilities, guests absolutely love this hotel! You will be right in the heart of El Poblado action, close to tons of restaurants! Definitely one of the best places to stay in the entire city!
Medellín Marriott Hotel – Consistently ranked the best boutique hotel in Medellin, The Marriott delivers perfection. It is located right in the heart of El Poblado and is surrounded by restaurants, cafes, bars and more. The decor is stunningly modern and the in house restaurants and bars are often packed with locals and guests. Top pick! Bonus: super close to Parque Lleras as well!
Sites Hotel Medellín – Here you will find extremely modern, polished and sleek designs to go along with spacious and excellently equipped private rooms (all with free wi-fi!). However, the best feature of this hotel is the rooftop terrace that has a swimming pool and BBQ! Oh, and did I mention the views are amazing?! Cherry on top: located in El Poblado, more exactly in Patio Bonito, close to Parque Lleras!
Hotel Dann Carlton Medellín – Centrally located, tick. Rooftop terrace with pool, tick. 24-hour room service, tick. Spa, salon, gym, tick, tick! The Dann Carlton truly has it all! You can relax and take advantage of these great features after an amazing buffet breakfast or explore the nearby El Poblado, the choice is yours! P.S. This hotel is 5 stars and very close to all the important tourist attractions!
Mid-range (US$70 – US$100)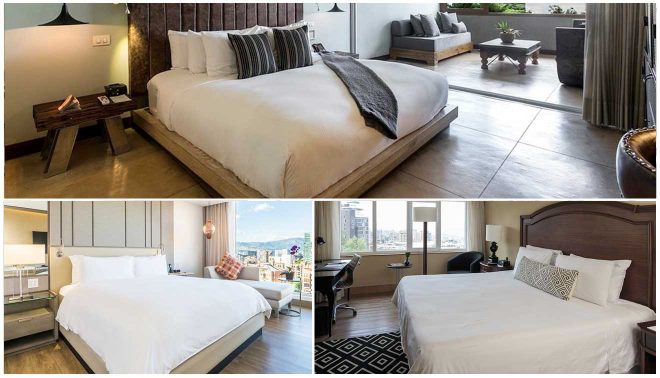 Lettera Hotel – This beautiul 4 star hotel will give you more than your money's worth with it's onsite resturant, free parking, garden and terrace. Its funky modern design will have you relaxing the second you enter this delightful hotel! 
EcoHub Hotel Medellin – If you can't get enough of nature, the countless plants scattered around the EcoHub Hotel will have you feeling at home. Enjoy room service, free parking and all the facilitys of a 5 star hotel with great prices. 
Budget (up to US$70)
Element Hotel – A highly-rated, three-star hotel in the heart of El Poblado that serves breakfast daily, sounds impossible, right? Well it's not, Element hotel meets all the criteria and it's one of the best places to stay! The rooms (as well as the beds) are spacious, modern and all come with a balcony to fully enjoy the Medellin experience. Truly one of the best budget hotels in Poblado, Medellin.
Hotel Lleras 10 – As you can probably tell from the name, this hotel is located in the lovely Parque Lleras area of El Poblado. Guests will find simple, well-appointed rooms that are also spacious. There is a hot tub that you can share and some lovely garden views to be had. The price includes breakfast as well. The rooms are rather small but super clean and nice!
Things to do in el Poblado:
Go bar crawling in the lively Zona Rosa!
Spend a day in the vibrant Parque Lleras
Visit Saint Joseph of El Poblado Church
E-bike to delicious local food with this tour!
Check out the contemporary art of Jose Amar Gallery
3. Belén – where to stay in Medellin on a budget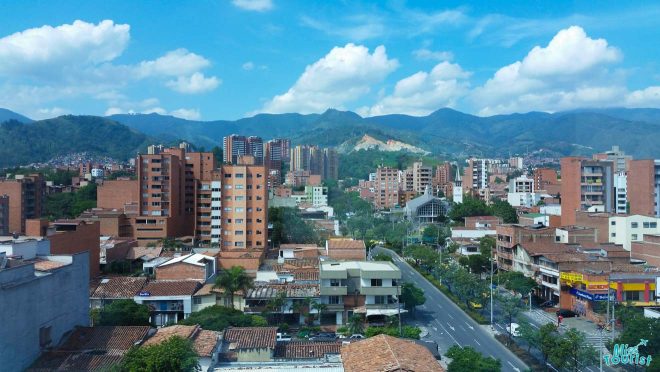 Just to the south of Laureles and a much more relaxed and rather residential area called Belén.
It is here where you will start to find many more locals than tourists, so if you are looking for a quieter, relaxed stay but still within arms reach of the major tourist attractions, then Belén is a great choice. By the way, the prices here are excellent!
NOTE: There are no luxury or mid range hotels in Belen, unfortunately but here are some amazing options with super cheap prices instead:
Budget (up to US$40)
Hotel Med La Palma – With a shared lounge, a beautiful garden, and views of the city, Med la Palma is set in the tranquil neighborhood of Medellin. Sleep in the spacious family rooms, have a good dinner at the restaurant, or relax on the outdoor terrace! Guests love the delicious breakfast.
International House – This co-living hostel is among the best places to stay on a budget in one of the top neighborhoods of the city! This affordable accommodation boasts a rooftop terrace lounge, barbecue facilities and a terrace!
Casa Rosales – Find spacious family rooms, comfy beds, awesome location, and super friendly staff at the cheapest prices in this 3 stars cozy hotel! Some of the rooms even come with a kitchen… otherwise, you can enjoy an à la carte breakfast!
Things to do in Belén:
Explore

the hiking and cycling trails on the C

erro Nutibara hill

Climb the hill up to the lovely Pueblito Paisa!
 Walk around the green Parque Belén
4. Envigado – where to stay in Medellin with a family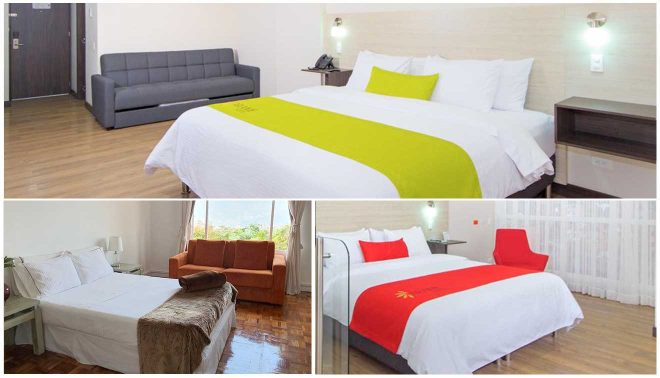 Envigado, at the north of Sabaneta and south of El Poblado, was a separate city in the past, but it is now part of Medellin.
For this reason, it is much cheaper than the other areas but also has fewer restaurants, cafes and has less action. So if you'd like a laid-back and safe area to stay with your family and children, this one's for you!
Unfortunately, there are not many accommodation options in Envigado but if you do find yourself needing to stay there then check out one of these great properties.
Budget (up to US$50)
Arame Hotel – This 4-star hotel is aimed towards business travelers but also welcomes tourists if they find themselves in the city. With an on-site restaurant and room service capabilities, it is a great choice if you want to stay in Envigado, close to El Dorado as well!
Hotel Casa Madero – Located outside of Envigado itself is Casa Madero. This is a great property if you want a bit of countryside and there is an onsite restaurant and a lounge area to relax if you want to get out of your room. Due to its proximity to Envigado and Medellin it wouldn't be recommended to stay here without a car.
Casa finca en la ciudad – Here's yet another amazing place to stay in this beautiful city if you don't have a huge budget for accommodation and you're looking for lower prices! This amazing house awaits free Wi-Fi, a kitchen, a cute patio, a garden, a terrace and more! Plus, all the rooms here are super clean and nicely decorated!
Things to do in Envigado:
See the colonial-style and architecture of the Envigado Church
Spend some money at City Plaza shopping centre!
Take children to have fun at Parque Recreativo!
Go hiking in the natural reserve La Romera
5. El Centro (La Candelaria) – the buisness center of Medellin
La Candelaria, which is also known as El Centro, is nothing less than downtown Medellin. It's one of the most busy areas by daytime, where all the economic activity of the city takes place and where you'll see the largest concentration of people.
For this reason, you'll find here a surprising variety of restaurants, bars, nightlife, and easy access to all forms of transport! This is also the perfect area if you want to stay away from the tourist crowds and deep dive into Medellin local life!
On the contrary, at night is not so popular because it is not safe to go around at late hours… so I advise you avoid walking alone after dark there and to always be mindful of your belongings!  If you don't mind this, El Centro or La Candelaria is the place where you'll find many super cheap hotels! Here are the best ones I have selected for you: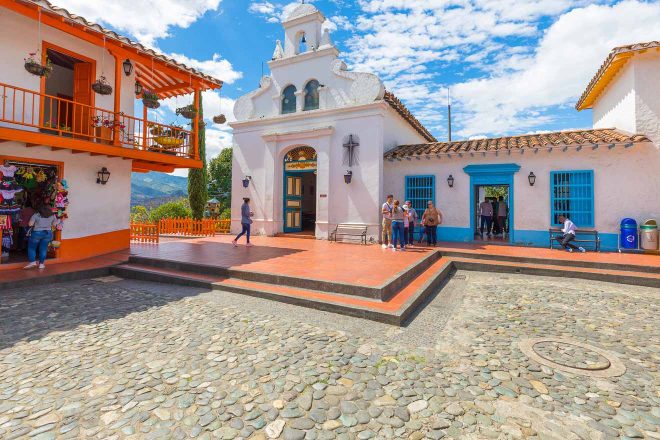 Mid-range (US$35 and up)
Hotel Gallery – Who doesn't love a good art hotel? Hotel Gallery is a mid-range modern art-themed hotel, where each room has a featured mural wall in the bedroom. There is also a 24-hour reception, a rooftop bar/dining area with amazing views and is located in the heart of La Candelaria (downtown Medellin). Truly a cool place!
Budget (up to US$30)
61Prado Guesthouse – In case you're looking for an amazing budget stay right in the heart of El Centro, walking distance to all the interesting tourist attractions around, I recommend you check out this one! It's a great place to stay, and it has pretty rooms and some unbeatable rates.
JEP Hostel – Here's the best place to stay for budget travelers looking for a hostel! This place awaits a garden, a shared lounge, a bar and free Wi Fi! The best place to meet people and make friends every day!
Ayenda 1246 3H Hotel – Still wondering where to stay in Medellin for a superb budget experience? Check out this place! It has all the amenities and facilities you might need for a super pleasant stay in La Candelaria, plus a relaxing hot tub and Turkish bath. Also, the staff is super friendly and helpful!
Things to do in El Centro:
Enjoy happy hour at the rooftop bar of Credenza
Check out the murals of Pedro Nel Gomez next to Berrio metro station!
Travel back in time in La Candelaria Church
Stroll around Plazuela San Ignacio and Plaza San Antonio squares
Dance some tango at Salon Malaga!
| | |
| --- | --- |
| 👑 Luxury price: | US$80 |
| 💵 Mid Range: | US$35 |
| 🛏️ Budget: | US$20 |
| 🏠 Airbnb: | US$30 |
| 💰Accommodation prices: | Low |
| 📍Best neighborhood: | Laureles |
| 👪 Best area for families: | Envigado |
| 🛎️ Best luxury hotel: | Sites Hotel Medellín |
| 💵 Mid-range hotel: | Hotel Casa Laureles |
| 👛 Best budget hotel: | Hotel Merlott 70 |
BONUS 1: Best apartments in Medellin, Colombia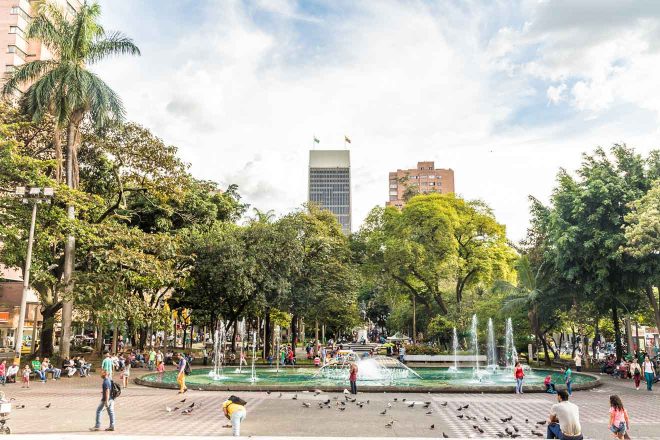 If there's a surplus of one thing in Medellin, it's things to do and see. The city is so rich in culture, adventure and entertainment it requires at least a full week to get a good sense of the heartbeat of the city and to experience it all.
For longer and more flexible stays that perhaps allow you to save a few pesos by cooking at home, I recommend staying in an apartment. In addition, apartments are more often than not located in residential areas so it gives the guests a truer representation of how locals live! And if it counts, it's where I would've stayed as well!
So in this section, I have chosen some great options for staying in an apartment in Medellin, and as always have broken them down into three budget sections and of course, have not included anything that is not rated the best of the best!
Luxury (US$90 and up)
There are some really nice areas and properties in the city, and some of these apartments are amongst the best places to stay in Medellin. You won't have to forget about five-star service and luxury if you want some independence during your stay, just check out one of these properties to get both!
Energy 1103: Balcony Apt in Luxury Building – Looking for a superb apartment where to stay in Medellin? Search no more! This one's perfect for a luxurious stay in Medellin and it has an amazing location, right in the heart of the city. Just check out the pictures, I'm sure you will fall in love! Plus, the terrace is to die for!
Casa Del Reloj – Located in the Parque Lleras area of El Poblado, this apartment is already off to a good start. In addition, the two bedrooms are decorated in an antique Colombian mountain style and are simply STUNNING! There is even an indoor pool! There is really nothing to fault about this property, simply amazing.
Mid-range (US$50 – US$90)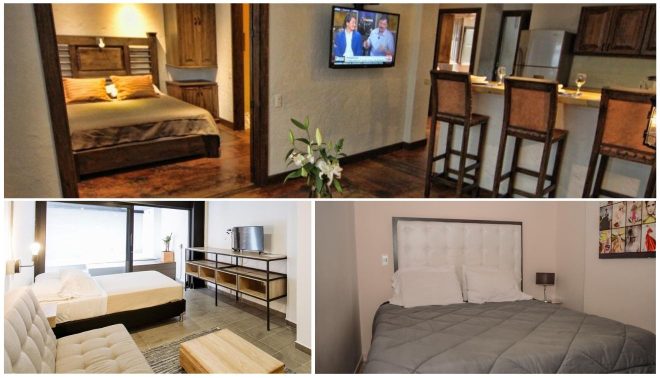 Just like with the best hotels in Medellin above, where you will find the most variety and value is in the middle-priced section. Now this is a great thing, however, more options mean choosing becomes very difficult. Fortunately for you, I have done all the research for you and have selected the three best options here to help you get the most value out of your budget. Check it out!
Apartamentos Loma Verde – Situated on the outskirts of El Poblado, Loma Verde is tucked away from all the action, but still within 5-minute walk. Each apartment has its own private balcony, fully equipped kitchen, dishwasher (yahoo, no washing dishes) and modern electronics. There is a shared terrace/BBQ area and a spectacular rooftop pool!
2 Bedroom Apartment Near to GOLDEN MILE – Looking for a very good value for your stay in Medellin, Colombia? Look no further than this amazing place! I definitely recommend it for up to 4 guests that want to explore all the best sights that Medellin has to offer. Plus, the check-in is super easy and the entire place is sparkling clean!
Budget (up to US$50)
Heart of Poblado. 300MB WiFi + Walking Distance to Best – Looking for a super good budget stay in Medellin, Colombia? Well, I have good news as this private room in a house has some incredible prices, trust me! The bed is great and there is also free Wi Fi, so you can expect an excellent stay right in the heart of the city!
Amazing Big Master Bedroom. Best Poblado Spot – Here's another very good option that has some super low prices! This private room is bright, super clean and it has an amazing location, close to everything you might want – right in the heart of El Poblado!
BONUS 2: Best hotels near Medellin Airport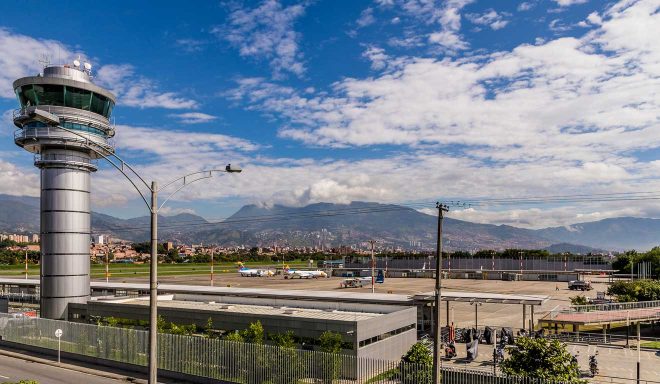 José María Córdova International Airport (MDE) is the only international airport in Medellin and it is located 20 km southeast of the city. In fact, the airport is located in a different city called Rio Negro. Don't worry, it is extremely common to fly in/out of this airport to access Medellin and 20km is not that far if you really think about it.
However, for reasons such as late arrival, early departure or something completely different, some travelers choose to stay close by the airport. In this section I have provided you with the best options for doing so: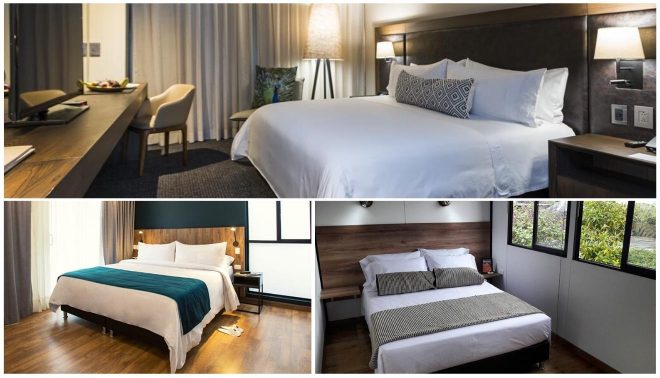 (Luxury) Movich Hotel Las Lomas – Kicking us off and in the luxury section is Movich Hotel. More of an estate than a hotel, the Movich has it all. Guests will find a tennis court, heated pool, gym, hot tub, terrace and 3 in-house restaurants! The hotel is five stars, so expect that level of service from staff for a super pleasant stay! Best of all, there's a free airport shuttle!
(Mid-range) Hotel Lagoon – Another five star hotel, however this time in the middle-priced section. The Lagoon features a daily buffet breakfast, in-house restaurant, large outdoor pool and fitness centre. They also have an airport shuttle which depending on your booking may be free. The hotel is set on a large property so you can even wander around the gardens to relax!
(Budget) Star Hostal – Club De Tenis – Located just over 1km from the airport and providing simple yet modern rooms that all have a desk and tv, this is a great choice for the budget range! The reception is 24 hours for those late arrivals and the hotel possesses a fitness centre, tennis court and terrace! For when the flight time comes, the airport shuttle takes 5 minutes as is free! One of the top hostels, good for all people traveling on a budget!
NOTE: There also have the Olaya Herrera Airport (EOH) that serves local flights, but this one is located just a 10 min drive from El Poblado, so you won't need to stay in a different area for this one! You can check my hotel recommendations for that area.
---
Frequently asked questions about Medellin
🌆 Which is the best neighborhood to stay in Medellin?
The best neighborhood to stay in Medellin, especially for first-time visitors is Laureles, one of the most popular barrios. Choose Inntu Hotel for luxury or Hotel Asturias Medellin if you want to stay on a budget!
💰 Where to stay in Medellin on a budget?
If you want to stay on a budget in Medellin, Belén is a safe and residential area with cheap accommodation. Stay at the International House or at Casa Rosales, both super affordable choices!
🕵️‍♀️ What is the safest area in Medellin?
The best safe area where to stay in Medellin is Envigado, also a good neighborhood for families, where I suggest staying at Arame Hotel.
🍸 Where to stay in Medellin for nightlife?
📆 How many days should I stay in Medellin?
3-5 days is a good length for a stay in Medellin as you will have time to relax and explore all the attractions on offer.
Conclusion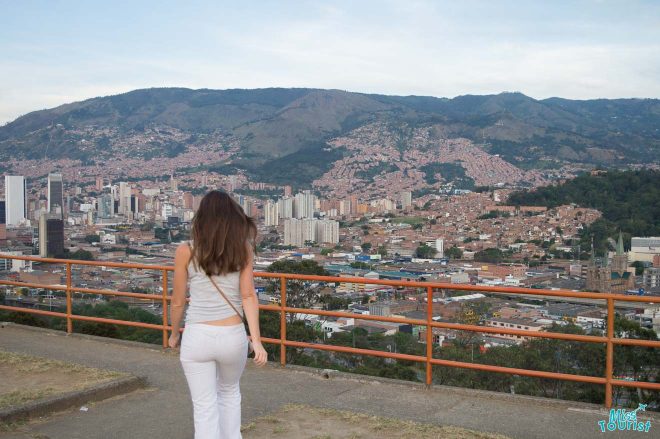 So there you have it, my complete guide to Medellin accommodation where I told you everything you need to know about the 5 best neighborhoods to stay in the city together with hotels, apartments and options near the airport!
I am sure this article will help you choose the best place where to stay in Medellin for your interest and budget, but in case you're still undecided, here's my top choices:
Inntu Hotel – Located in Laureles, this luxurious hotel is the best place to stay if you want to enjoy magnificent views from your room!
Ayenda Seven Inn – Enjoy the great location of this 4 stars modern hotel, right in the heart of Laureles!
The city itself is, as they say in Spanish, a "maravilla", or a marvel. There is so much to do and see, and if partying is your thing then you will love Medellin, as you can see in my latest Things to do in Medellin article. And here are all my posts and content about Colombia for even more inspiration.
In terms of tourism, Medellin is always attracting lots of visitors, so if you do decide to visit this lovely city please ensure you are booking your Medellin accommodation as soon as possible.
I wish you a great trip to Colombia! And if you have any questions, make sure to leave them in the comments below!
Arantxa
Pin it for later!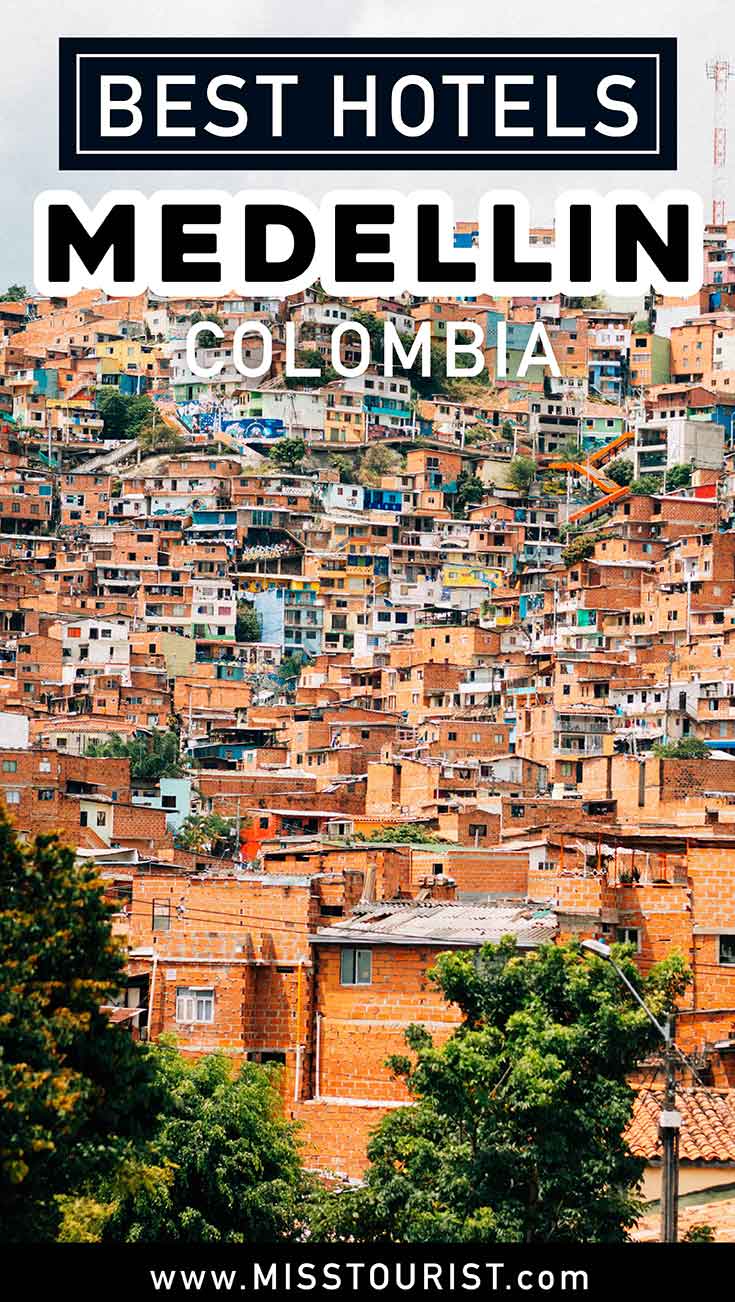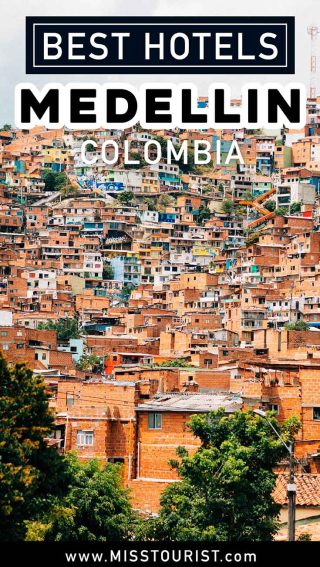 Pin it for later!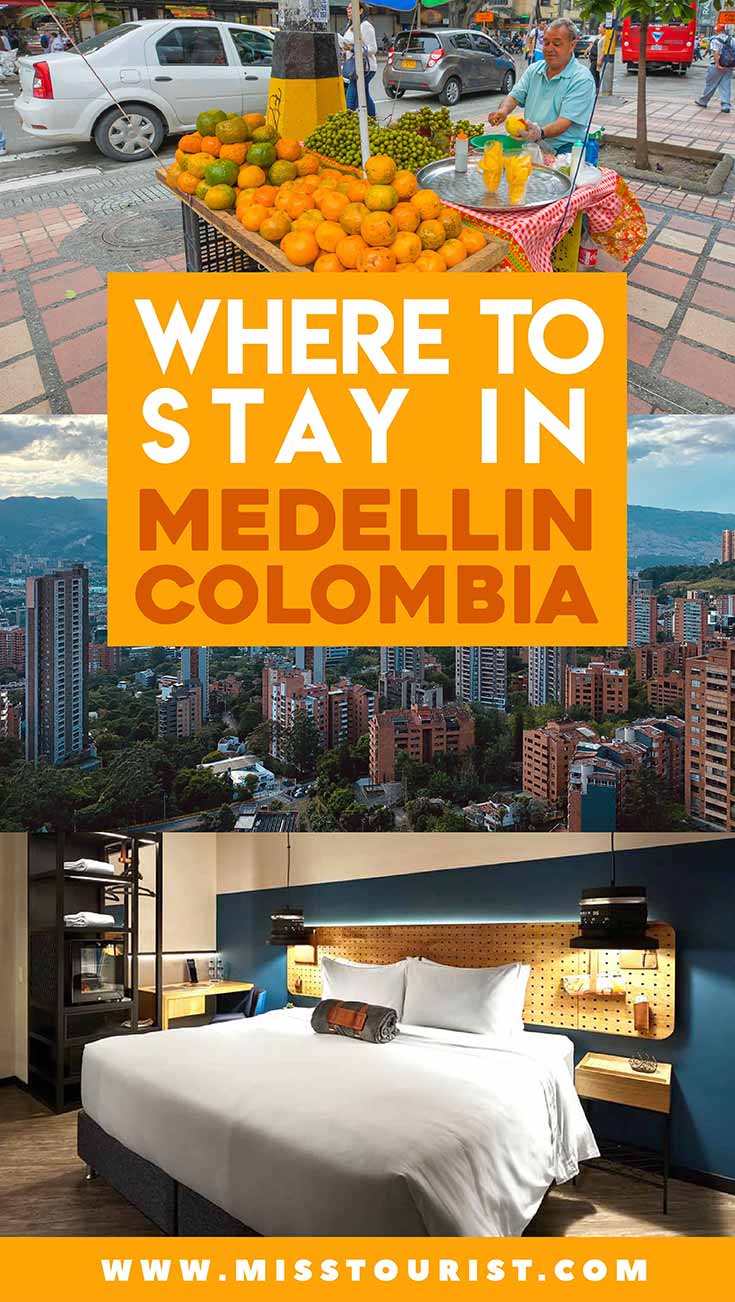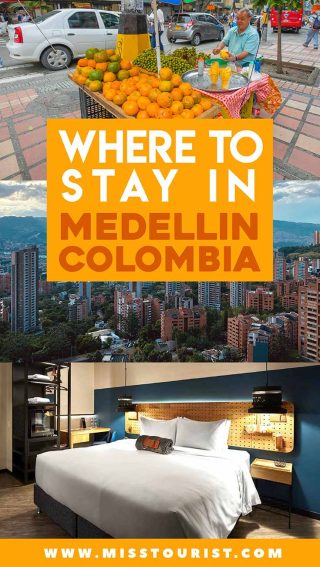 Disclaimer: Please note that some of the links on this page might be affiliate links, which means that at absolutely no extra cost for you we will earn a small commission for a sale generated through the website. We only recommend the things we actually use ourselves and never accept useless sponsored crap. Thank you so much for supporting this project!