5. Soho – where to stay in London for nightlife
I'm pretty sure you've heard of Soho before, as it's one of the best areas to stay in London for nightlife!
If you're interested in live music, theatres, cafes, underground clubs, unique bars where you can party until the morning comes, Soho is one of the best areas to stay in London for you!
The area is also part of the famous "West End" a district west of the City of London and north of the River Thames which is the city's theatre district. London is famous for its cool shows like the Phantom of the Opera and Matilda. So if you're a musical lover, I highly recommend checking whats on at the theatres here!
Why's Soho so famous for that, you might wonder? Well, this used to be the former Red Light District of the city, but things have changed a lot since then. Soho is safe and it's considered to be one of the best places to have a beer with your friends.
It's such a thrill walking around the streets, especially after people get off work. That's when the pubs get filled and everyone is suddenly supper happy and you hear them having a great time, laughing, drinking and dancing!
Unfortunately, Soho doesn't have a tonne of hotel options out there, but I managed to find some great ones for you below: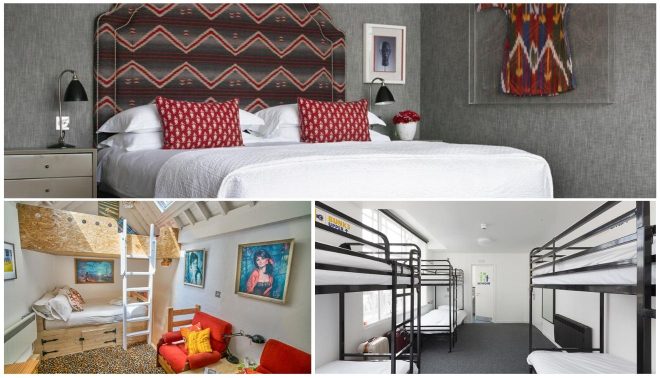 Luxury (US$250 and up):
The Soho Hotel, Firmdale Hotels – This superb 5-star hotel in Soho is my recommendation for anyone that wants to be spoiled during their stay. It's ideal for nightlife lovers that want to be near Trafalgar Square. Some of the best things about this hotel are the on-site gym, beauty treatment room, on-site restaurant, and bar.
Middle-priced (US$120 – US$180):
Soho Stables – In case you're searching for amazing mid-range hotels in London located in the district that never sleeps, you just found the perfect one for you! It has easy access to the rest of the city and some pretty great facilities. I surely recommend it to nightlife lovers!
Budget (up to US$120):
SoHostel – If you want to stay in Soho on a budget and still be near many major attractions such as Trafalgar Square, this hotel is for you! It's located within walking distance to an underground station, a park and it will surely make your trip unforgettable!