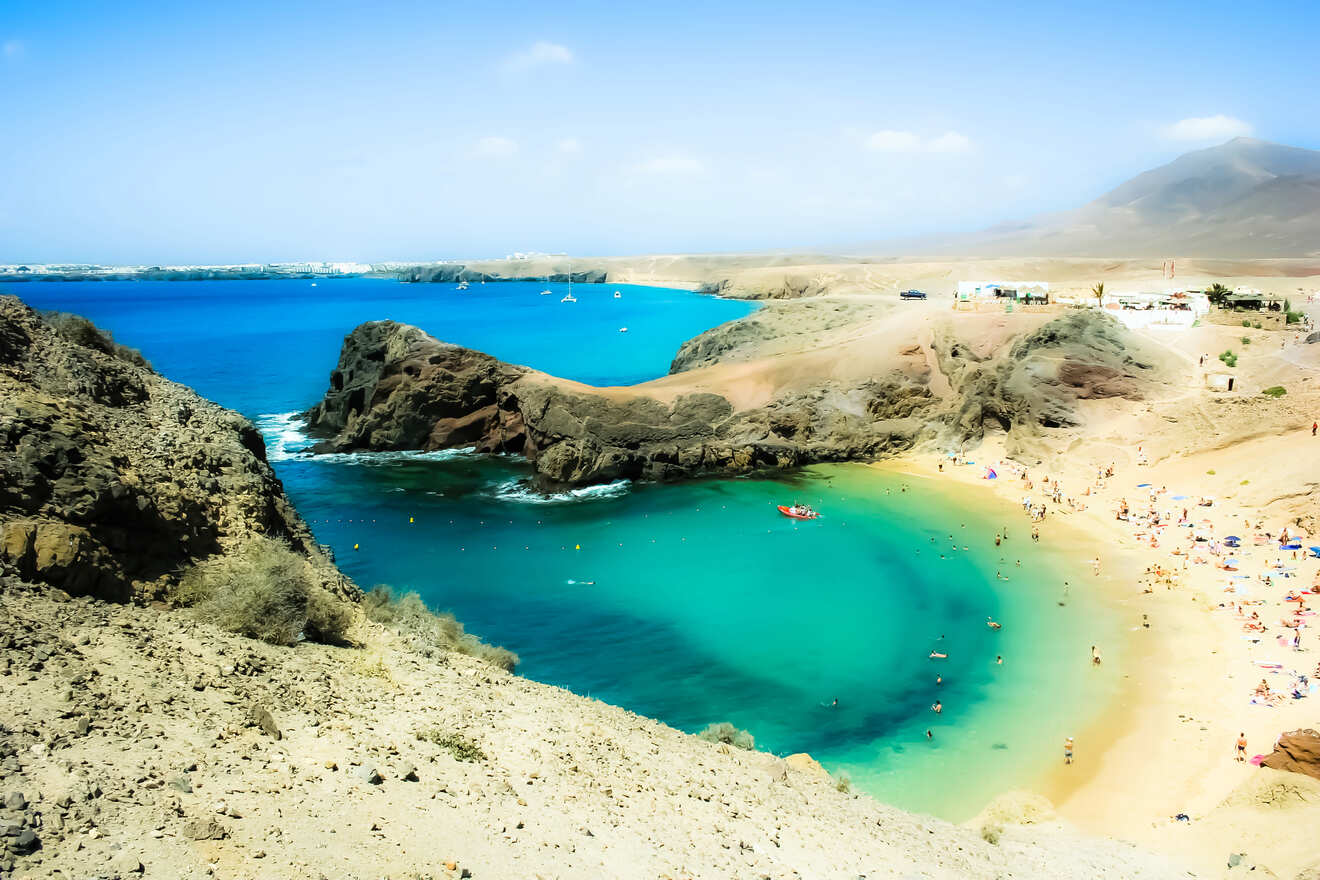 Hola amigos! If you're planning your holiday to Lanzarote, then you've come to the right place! Welcome to the Hawaii of Europe! A paradise for all surfers, water sports enthusiasts, and beach lovers who, like me, love to sunbathe all day long and cool off in the beautiful turquoise ocean.
Lanzarote is one of the Canary Islands located off the coast of West Africa, and it's known for the warm weather that lasts all year long, volcanic landscapes, and amazing beaches.
This place hasn't been only compared to Hawaii but also to Mars! You'll see why when you visit the Timanfaya National Park. The European Space Agency even trains astronauts on the island! Are you excited? Because now we're looking at more serious things, like the important task of choosing where to stay in Lanzarote. 
I'm super happy because I've put together a list of the most amazing resort towns and hotels in Lanzarote. Now all you have to do is to book them in advance, the amazing weather all year round brings new tourists every month, and accommodations are always booked out! 
Vamonos, the Canary Islands are waiting for us!
If you are in a hurry
If you want to book now, then waste no more time, quickly browse this list with the best hotels in Lanzarote all located in Costa Teguise:
airbnb
Stylish Duplex
An Airbnb with amazing reviews
budget hotel
Apartamentos Santa Rosa
Best affordable accommodation in the center
Here's a map that will help you visualize all the best areas to stay in Lanzarote that I will be talking about in this post:
1. Costa Teguise – where to stay in Lanzarote for the first time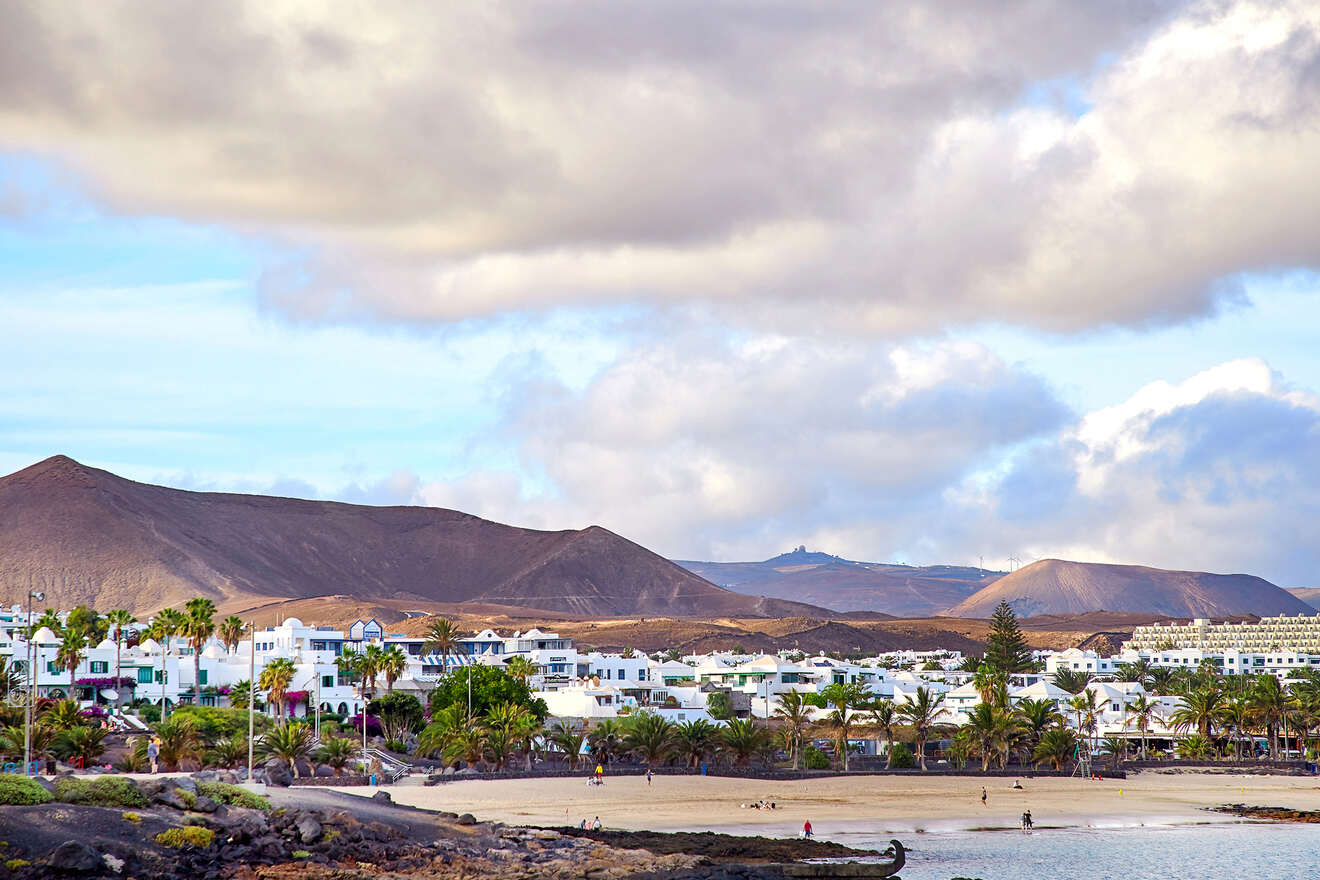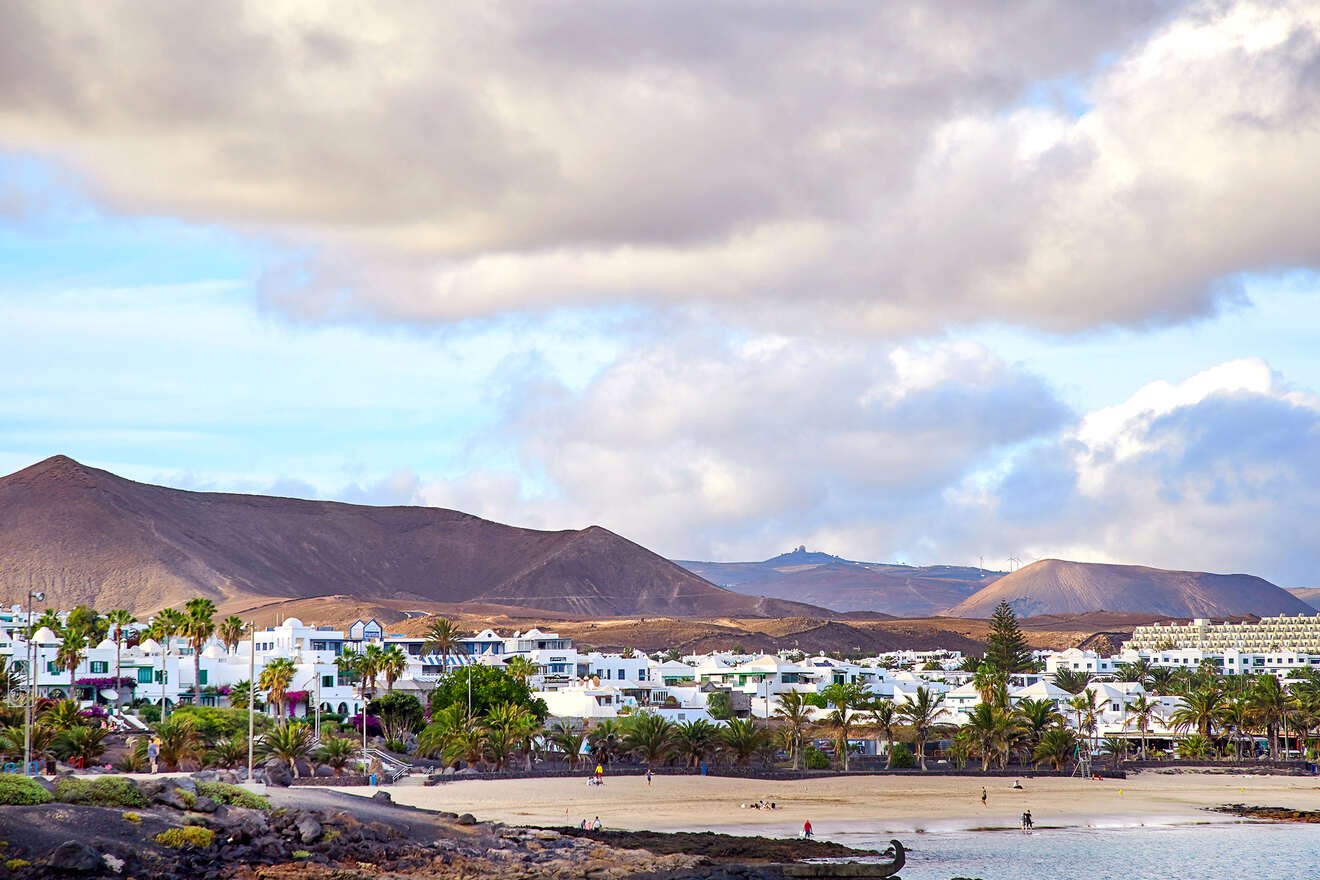 Ola amigos! Are you ready for some good old fun in the Spanish sun? Because Costa Teguise, a friendly town located north of the capital, wants to offer you the most amazing experience. Crystal clear waters, white sand, and tons of activities await you in this vibrant place. 
When they built Costa Teguise, they had one thing in mind: tourism! And we thank them for that because now we have the best area to stay in Lanzarote for anyone traveling here for the first time. The vibe of the Teguise Costa is so lovely! There's always something you can do either on the beach or trying some delicious seafood at the restaurants. You'll get to your hotel so tired that you'll crash in a second! 
But I know some of you just want to relax on the beach. My two favorite ones are Bastian beach, which is famous for its calm waters and soft sand, that's why many families come here. For anyone who loves to visit as many beaches as possible, take a small detour and visit Gran Canaria, another Canary Island with some of the best places to stay ever!
Of course, I didn't forget about all my adrenaline junkie readers! Playa de las Cucharas beach, my second favorite one, is where all the people who like water sports go. It's not as popular among surfers as La Santa village, but if you're still a beginner, you'll find many schools that can help you with your skills. You'll also find some cool attractions like the famous César Manrique Foundation and the Lanzarote Aquarium.
Luxury hotel
Meliá Salinas Resort
This place is on a whole other level! Whether you chill by the stunning indoor tropical garden or sit in the most amazing pool loungers all day long, nothing can beat the style of one of the best resorts ever! Swim all day long in the lagoon pools and maybe head to the tennis court or wellness center for some relaxing time!
Other accommodation options in Costa Teguise
mid-range
Oasis Lanz Beach Mate
Watch the best sunset by the pool of this peaceful hotel that has a sun terrace, modern rooms, and free wifi
budget
Apartamentos Santa Rosa
Enjoy a lovely afternoon nap in the gardens of this hotel that has three pools, a tennis court, and a restaurant 
airbnb
Stylish Duplex
I love the design of this chic apartment which is perfect for your holiday and has two rooms and a swimming pool
Things to do in Costa Teguise
Enjoy the beautiful beaches in Lanzarote and go windsurfing on Cucharas beach
Visit the famous César Manrique Foundation
Have a perfect day at the family-friendly Bastian beach
See tons of different fishes at Lanzarote Aquarium
Go shopping and enjoy the local vibe of the Teguise Market
Cool off during a hot day at the Aquapark Costa Teguise
Try snorkeling at Jablillo beach in Costa Teguise
Discover the most stunning parts of the island with Olita Treks
2. Playa Blanca – best place to stay in Lanzarote for families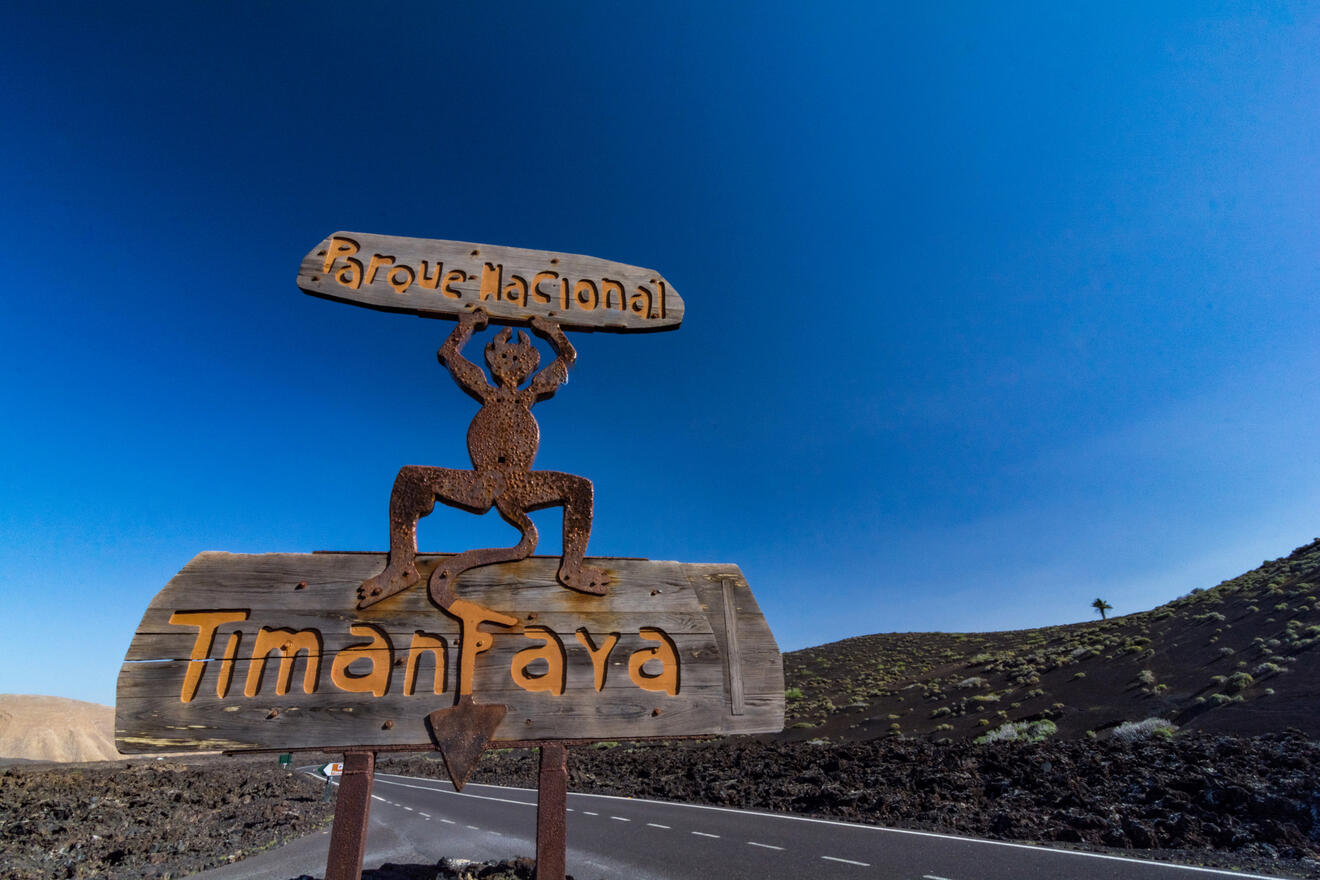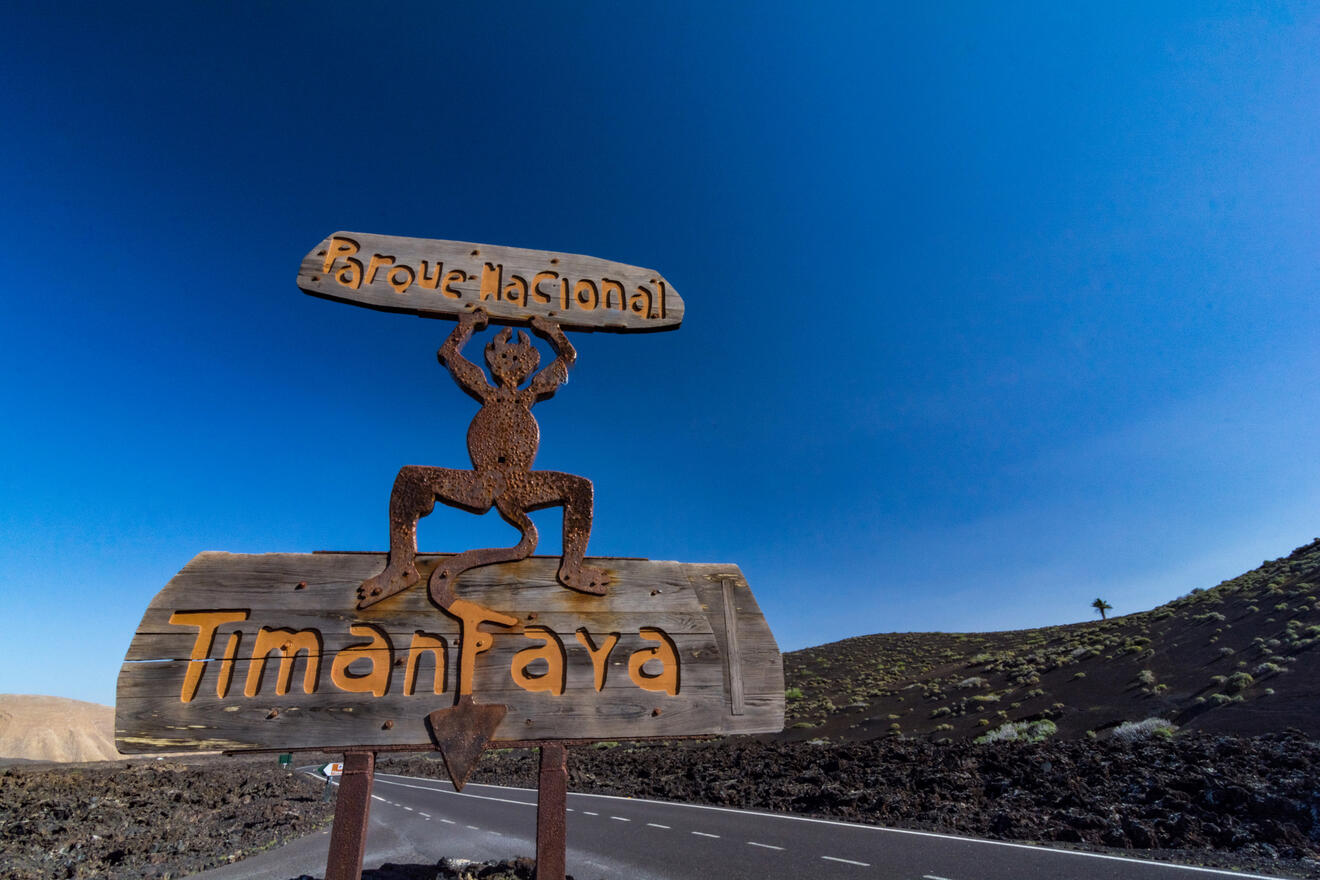 This peaceful resort town is located in the south part of the island, and is an oasis of silence! Whitewashed houses, lovely local boutique stores, and beautiful beaches are some of the things that make this award-winning place one of the best areas to stay in Lanzarote. 
This town is especially perfect if you're adults traveling with kids and you want to book your resort hotel in a tranquil spot. Definitely book the hotels in advance here, Playa Blanca is super popular among all tourists who are coming to the Canary Islands and with all the best places to stay, they book out fast!
The charming streets become alive, especially at sunset when all the seaside restaurants and terraces start cooking their amazing seafood. You can smell all the aromas along the way! Stop for a family dinner and try the best dishes in Playa Blanca. 
Speaking of the seaside, Flamingo beach is great for families, it has umbrellas, sunbeds, and perfect crystal clear water. Dorada beach also has the same facilities and very tranquil blue water, perfect for the kids! 
Not too far from the beach, Playa Blanca, lies the beautiful Timanfaya National Park, one of the highlights of this island. The park is entirely made up of volcanic soil, and the views are incredible. This is a great attraction for the whole family, you can make a whole day out of it and explore this unique spot. 
Luxury hotel
Iberostar Selection
The perfect place for your family getaway to Lanzarote! The kids will have fun playing all day at one of the 3 swimming pools and you can chill by the adult's pool or enjoy some quiet time with a sauna session at the spa. The rooms are super spacious too, just what families need!
Other accommodation options in Playa Blanca
mid-range
H10 Lanzarote Princess
Enjoy some quiet time under the palm trees in the garden of this hotel that has a restaurant and three pools
budget
The Blue Flamingo
The kids will be happy to play all day in the playground and you can relax by the pool all day long in this budget hotel
airbnb
Sweet Marina
I love how authentic the design of this modern duplex is, the place has a lovely terrace and a kitchen 
Things to do in Playa Blanca
3. Puerto del Carmen – where to stay in Lanzarote for nightlife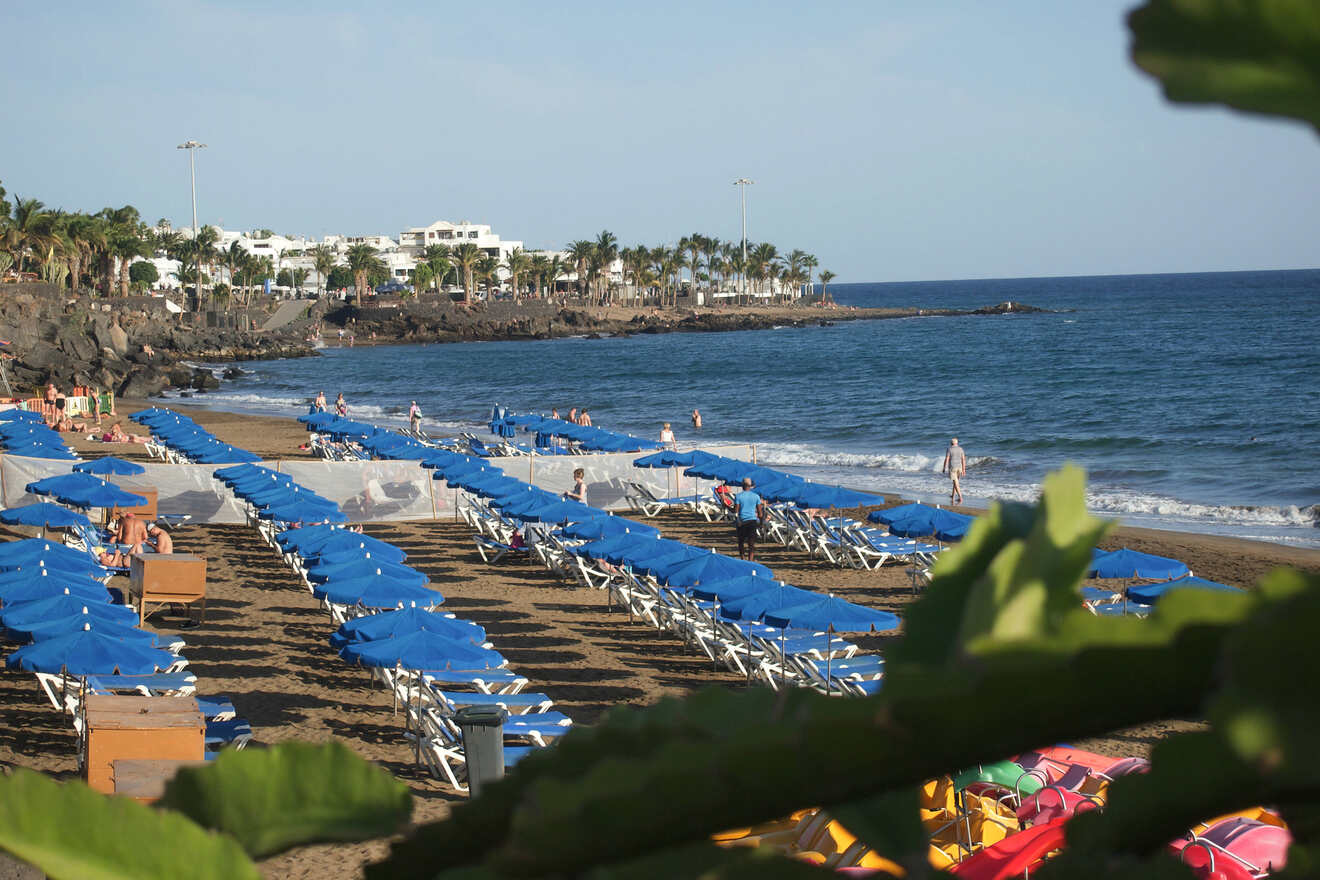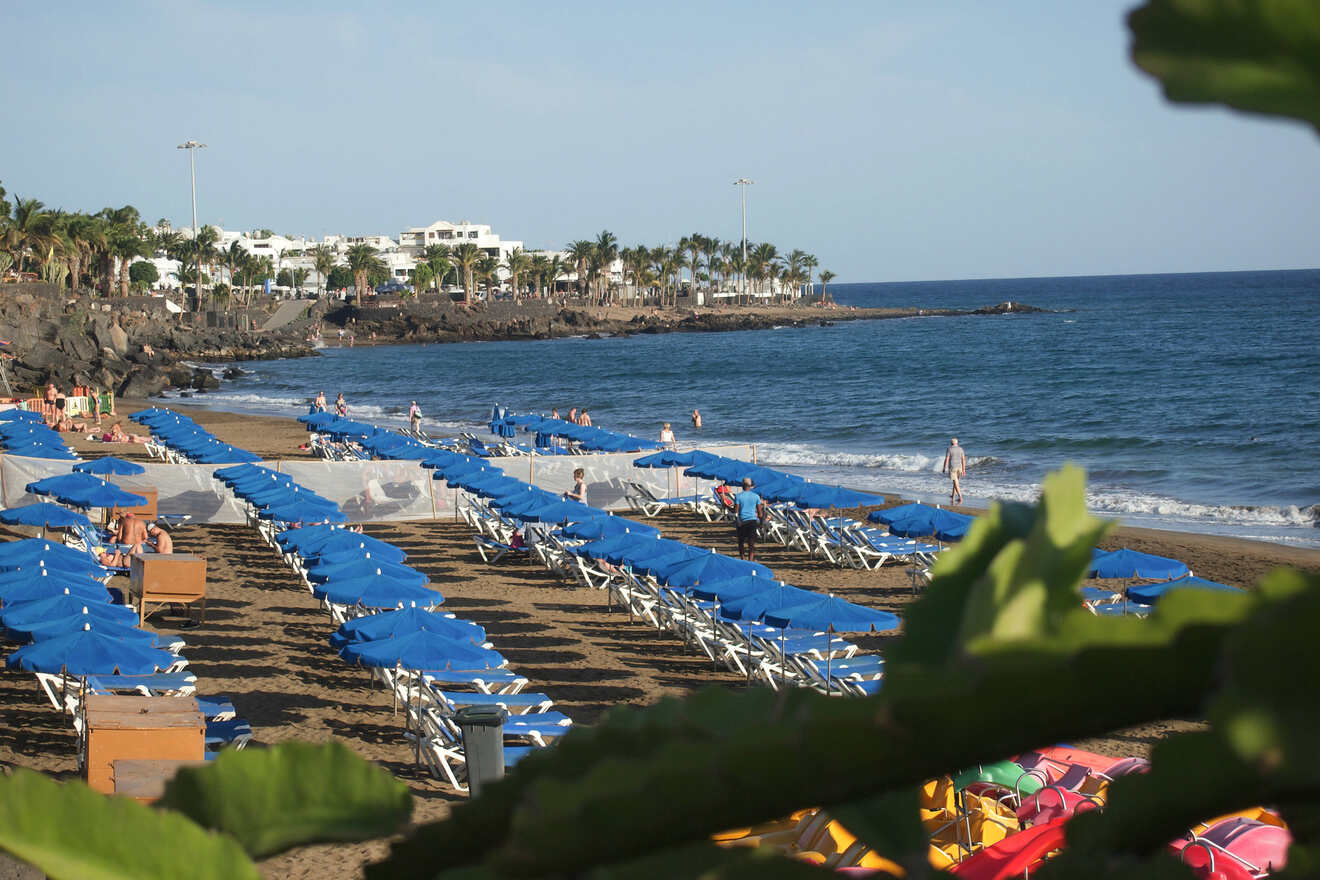 Located between Playa Blanca and Arrecife, this bustling resort town is another famous location to stay in Lanzarote, but not as quiet as its neighbors. The nightlife of Puerto del Carmen is super entertaining, and the atmosphere here makes you want to party and drink all night long! 
You won't find another area on the island that has as many bars, pubs, and nightclubs as Puerto del Carmen. So if you're looking for one of the best places to stay for nightlife, Puerto del Carmen is the spot for you! Also, don't forget that Tenerife has a wild party scene, so check out the best places to stay here and maybe plan a trip there from Lanzarote if you're just not ready to go home!
On Las Playas Avenue is the hot spot where you'll find all the cool clubs and bars! The night is young so make sure you take advantage of your holiday in Spain and bar hop all night long. Even hangovers feel good in Spain, that's because you'll have plenty of beaches to choose from where you can go relax and swim in the beautiful clear waters.
The famous Playa Grande should definitely be your first stop in Puerto del Carmen, and if you want to try something new there's also Fariones beach, a top choice for swimmers and those who just want to chill on the sand. Playa Chica beach is another option, a bit more quiet and secluded. 
There are also some cool festivals like the Carnival Parade, which takes place in February, and the Our Lady of Carmen Festival that starts at the end of July to check out. And if you want to see some luxurious yachts go to Puerto Calero, the neighboring village!
Luxury hotel
La Isla y el Mar
Fancy a glass of champagne by the poolside bar? Located just a 15-minute walk from the beach, this luxurious Puerto del Carmen hotel offers you royal treatment! I just love the lounge area with Balinese beds, and the outdoor pool is heated so you can enjoy it at any time!
Other accommodation options in Puerto del Carmen
mid-range
Gloria Izaro Club
A lovely place to stay in Lanzarote that has an outdoor swimming pool, a garden, and free wifi
budget
Apartamentos Tisalaya
Chill by the pool all day long and enjoy the mountain views in the quiet surroundings of this Puerto del Carmen hotel 
airbnb
Modern Apartment
Stay in Lanzarote best modern apartment that has a great location, two rooms, and a pool 
Things to do in Puerto del Carmen
Go snorkeling or scuba diving at beach Playa Chica 
Get a drink and listen to live music at Electric Island night club
Spend a whole day golfing with the sea views at Lanzarote Golf
Enjoy the atmosphere at Gran Casino de Lanzarote
Sunbathe all day long on Playa Grande
Enjoy a cocktail at ​​The Snug Bar in Puerto del Carmen
Try different water sports with Paracraft Lanzarote
Go diving in the waters of the Canary Island with Apnea

Take advantage of the nightlife of Puerto del Carmen Lanzarote and bar hop all night
4. Arrecife – best place to stay in Lanzarote for history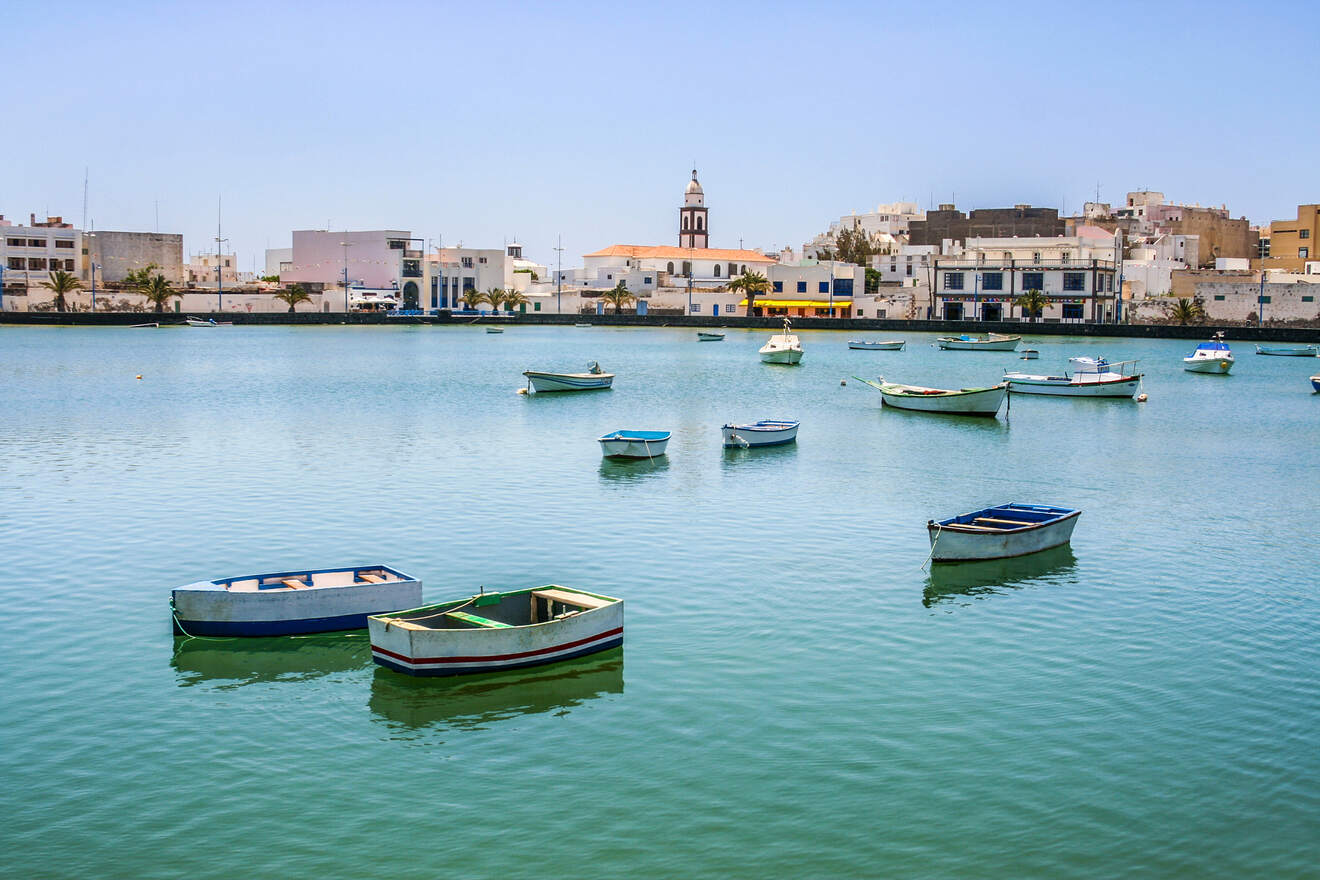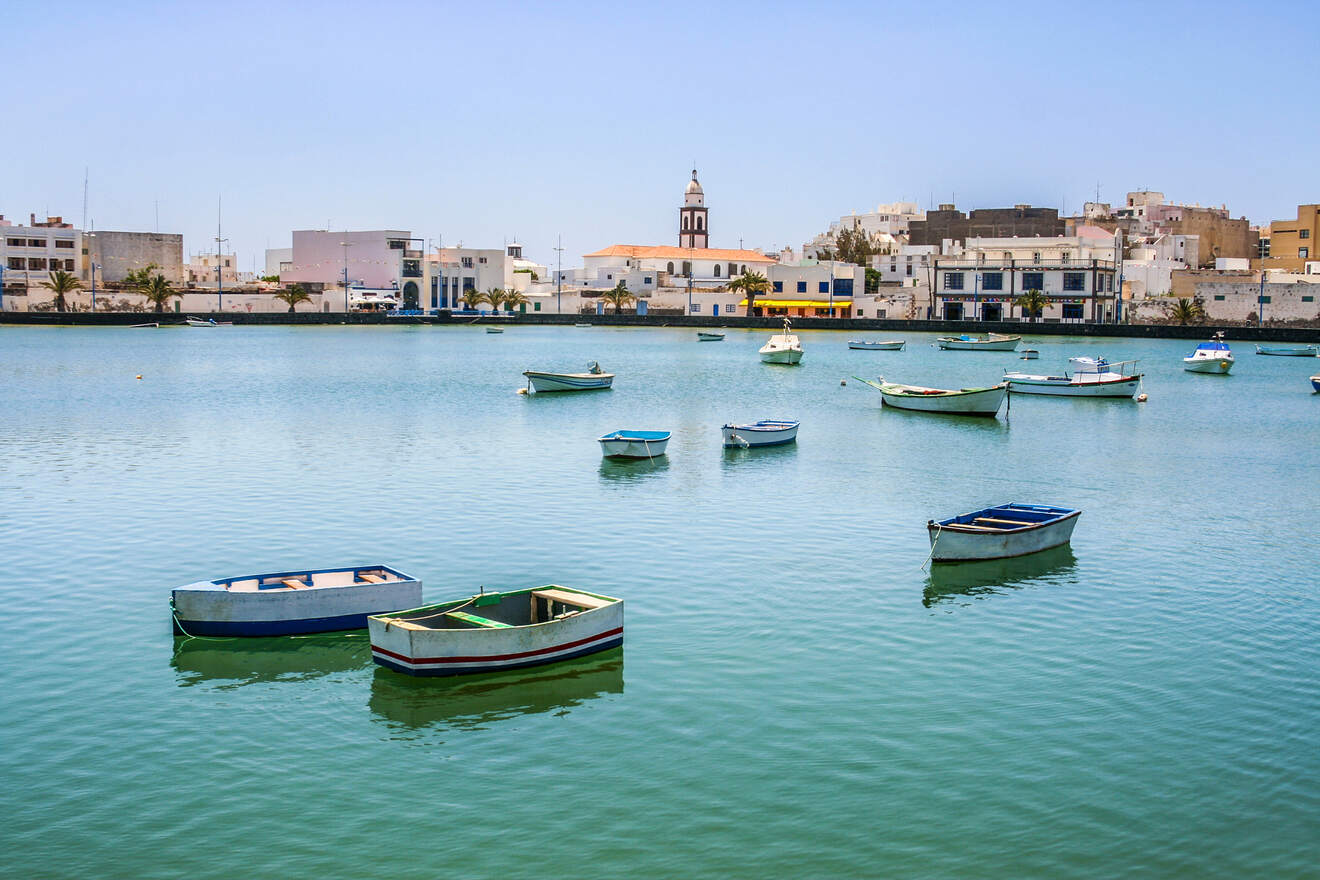 Welcome to the capital town of Lanzarote! Arrecife is located on the east coast of the island between Costa Teguise and Playa Honda beach. It still is a focal point as it grants easy access to other parts of the island by public transport if you're traveling without a car. 
For all my sweet readers who love historical places, this town is the best place where to stay in Lanzarote if you're all about learning new things about their culture. 
Here's your first history lesson – Arrecife began in the 1400s when this place was a quiet fishing village, and by 1852 it grew into the capital of the island. Even the name has a special meaning, it means reef in Spanish. You should definitely check out the harbor of Arrecife, it has tiny volcanic formations spread across the sea. 
This center point on the island has tons of interesting attractions like the San Gines Church, built in 1600, with very cool architecture and design. Let's not forget about the International Museum of Contemporary Art, which has the most amazing location, inside the fortress of San Jose Castle, built in the 1700s.
Because it's such a popular area, you'll find tons of local boutique shops filled with souvenirs, and if you're into high-end stores, don't worry, there are plenty!
Luxury hotel
Arrecife Gran Hotel & Spa
How amazing would it be to stargaze at night through the giant glass roof above the amazing indoor pool of this luxury hotel that is the tallest building on the island? Even the suites have large windows with amazing views. You can enjoy their spa services during your holiday and dine at the restaurant on site which is located on the 17th floor!
Other accommodation options in Arrecife
mid-range
Hotel Lancelot
Enjoy a peaceful night on the roof terrace of this hotel that has a central location, a pool, and a bar 
budget
Apartamentos Islamar
This apartment is the best place to stay in Lanzarote on a budget, it has a cool design and sea views 
airbnb
Elegant Apartment
A spacious and modern apartment in the center, with two rooms, beach access, and a kitchen 
Things to do in Arrecife
Catch a sunset at the Charco de San Ginés lake
Learn about the history of this town at Parroquia de San Ginés church
Admire the local architecture of the Casa Amarilla
Visit the Cultural Center El Almacén on the east coast of the island
See one of the most scenic views in town at the Bridge of the Balls
Go shopping for local souvenirs in all the boutique island shops
Enjoy the beaches of Lanzarote at Playa del Reducto
Listen to a piano concert and admire the art at the Casa De La Cultura Agustín De La Hoz
5. Playa Honda – where to stay near the Lanzarote airport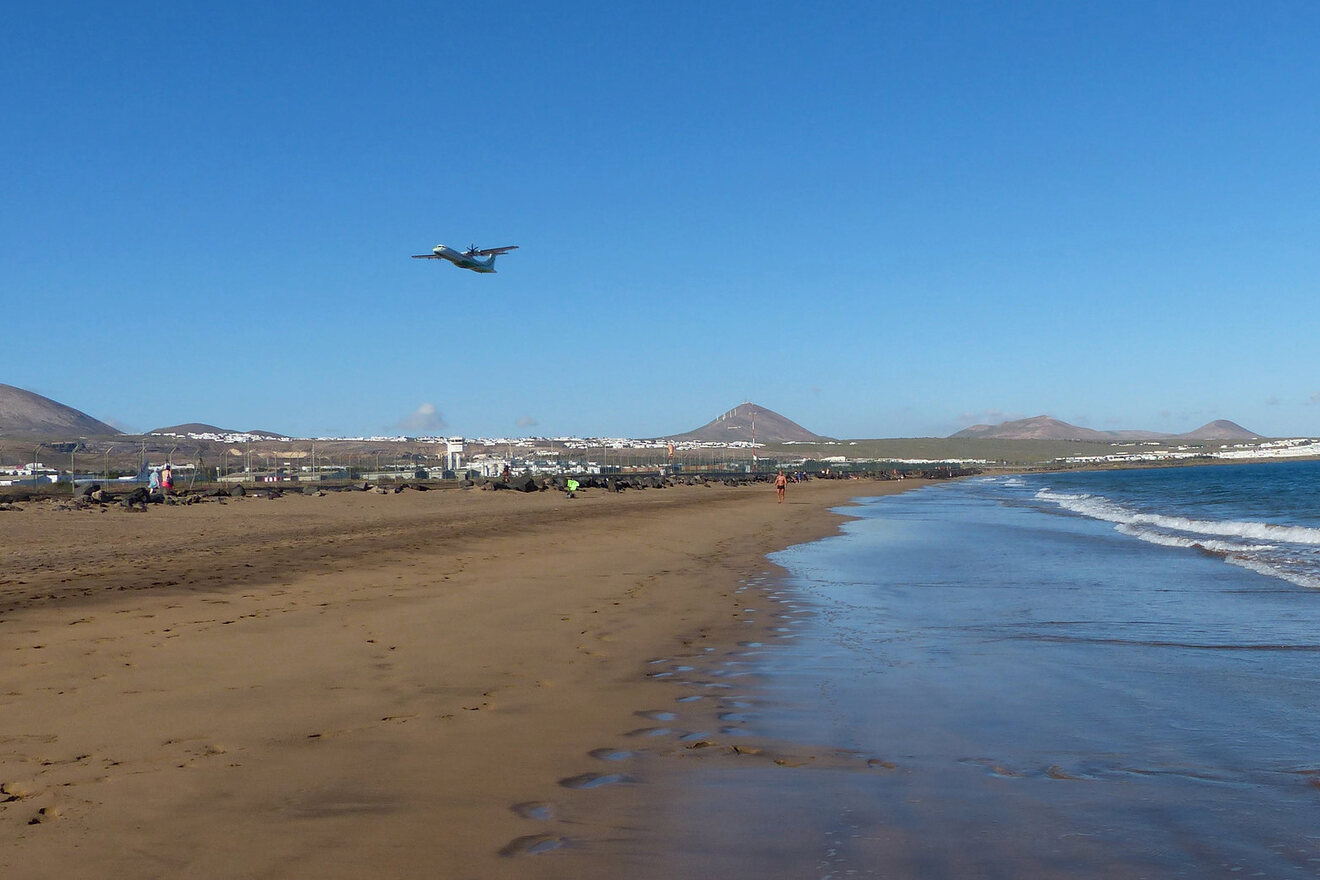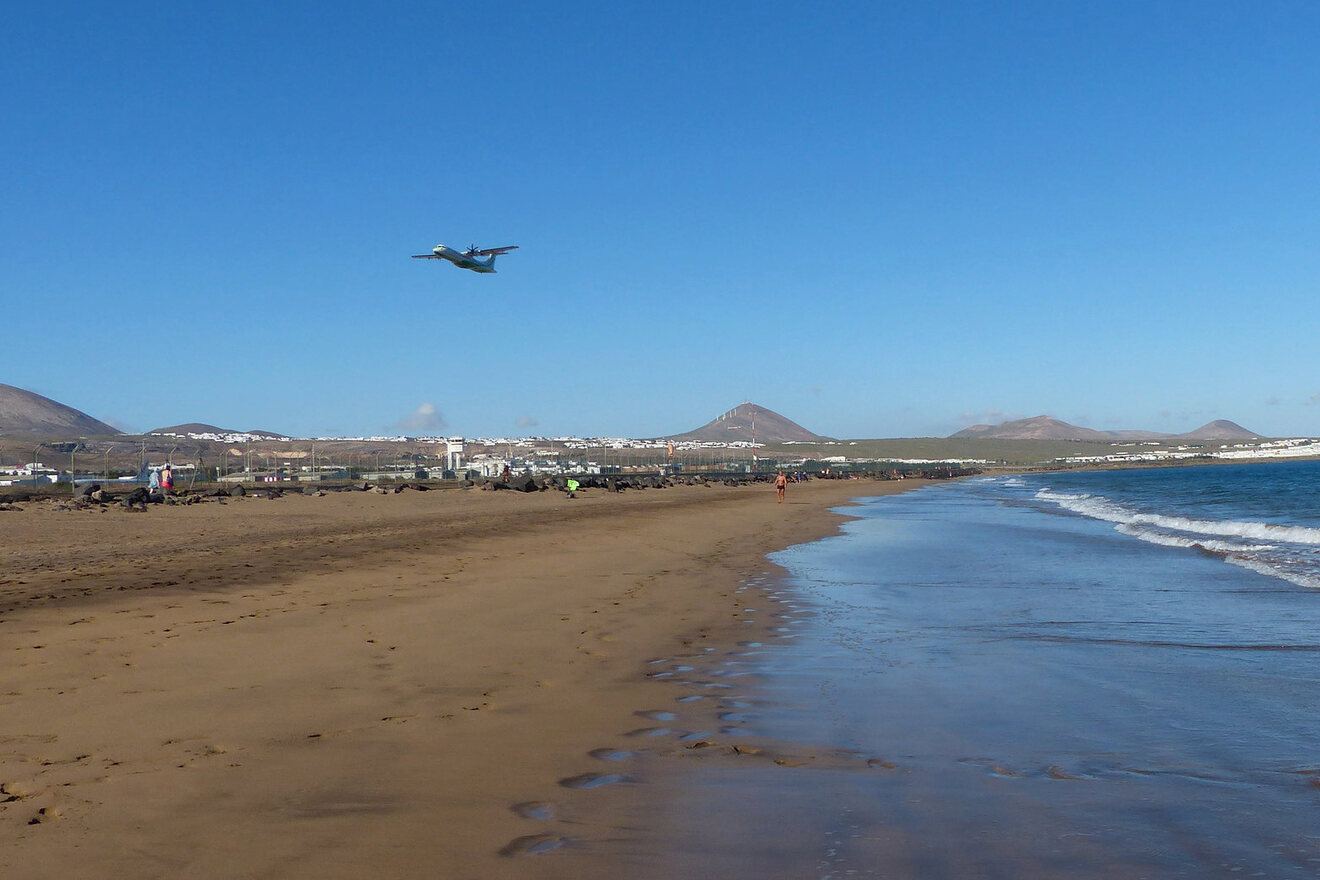 I know that some of you don't like all the fuss that comes with car transfers from the airport and long drives to the final location. That's why I've found the best area to stay in town for you. Playa Honda doesn't only have super easy access to the airport, but it's also very close to Arrecife, the capital town of the Lanzarote island. 
This residential area is super popular among the local people, and it's filled with amazing beach houses. The best way to explore Playa Honda is to walk on foot along the beach promenade which offers tons of restaurants where you can stop to grab a bite. If you keep walking you'll get to the capital center of the island Arrecife, you can stop there, go visit some attractions and make an entire day trip out of it!
Besides the many stores and restaurants, you'll also find two cool beaches, Playa Honda, near the promenade, and Guacimeta Beach, where you can see the most amazing thing that I've always wanted to do: watching the airplanes landing right above your head! Now that's an unmissable experience!
There are some good hotels and places to stay here that have even better prices, and if you want to go shopping in this area, you have the ​​Deiland Shopping Center very close by. 
Luxury hotel
Elegant Beach Villa
This place looks exactly like a beach holiday villa from the movies! With a simple yet authentic design, you'll be able to fit an entire friends group in the four rooms! Catch a sunset by the pool which has sea views and end your night with a glass of wine in the lounge area outside! Viva Lanzarote!
Other accommodation options in Playa Honda
mid-range
Magma Rooms
Enjoy your stay in Lanzarote in this B&B perfect for couples that has a good location and one pool 
budget
Casa Chimi
A spacious Lanzarote house that has an equipped kitchen, free wifi, and a terrace where you can chill all day long
airbnb
Lovely Apartments
You can watch the best sunset from the rooftop terrace of this place that has a kitchen and a balcony
Things to do in Playa Honda
Spend the whole day relaxing on Playa de la Concha one of the best beaches 
Watch the airplanes land right above your head on Guacimeta Beach
Treat yourself and buy some new things at the Deiland Shopping Center
Take advantage of the easy access to Arrecife and visit the town capital of the island
Go eat some delicious seafood in town at one of the promenade restaurants 
6. Haria – best place to stay for budget travelers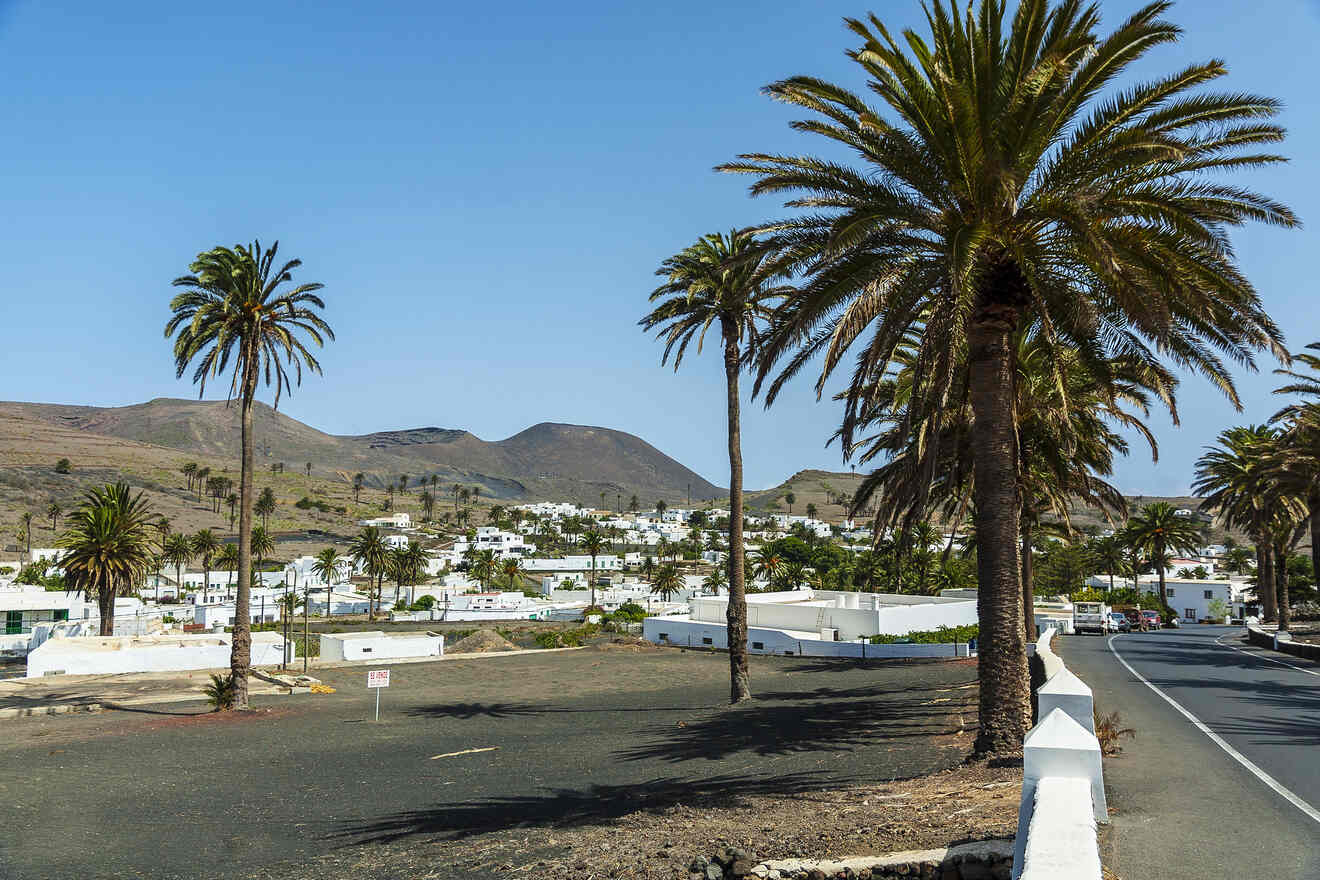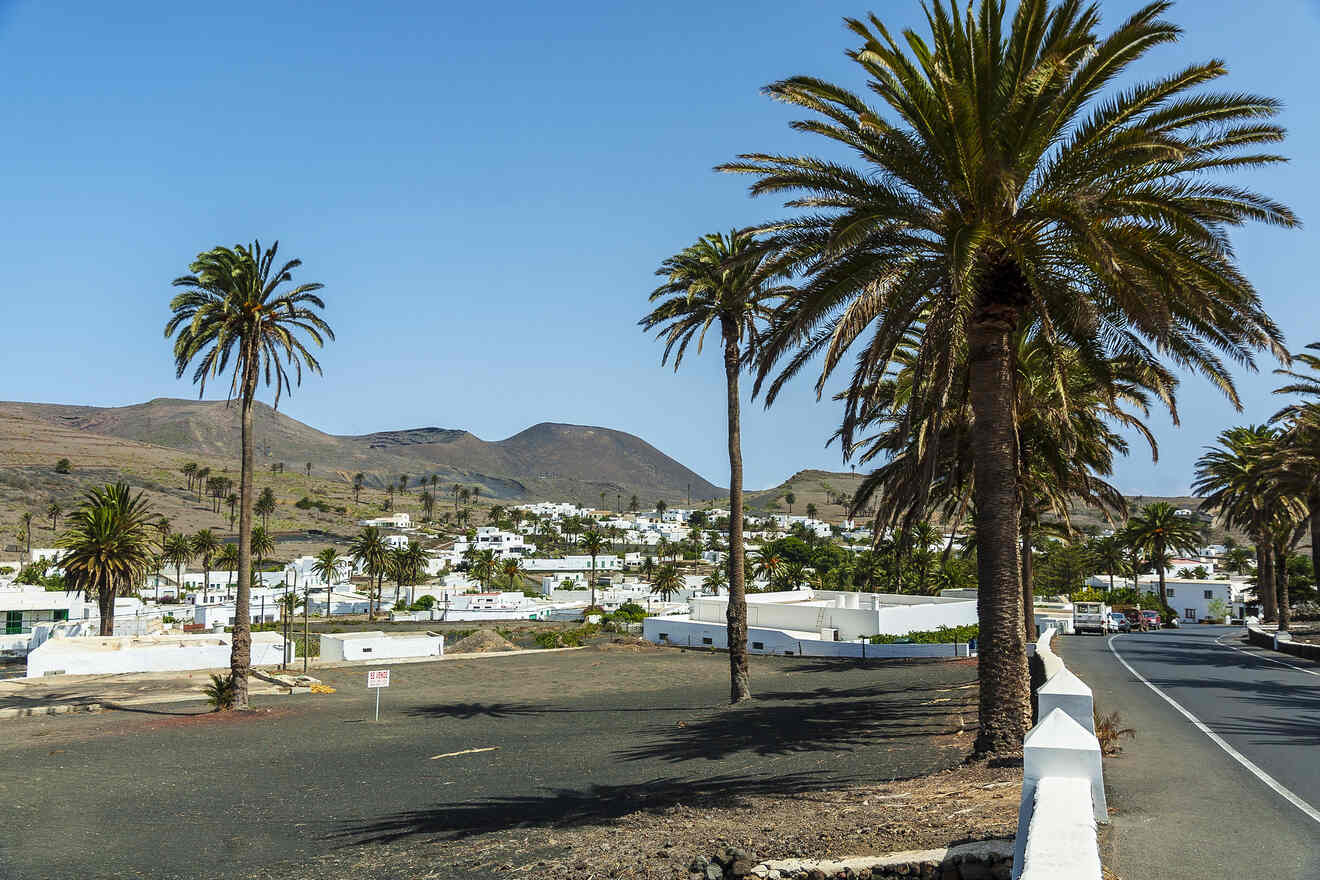 In the north of Lanzarote, you'll find this lovely authentic Spanish area filled with whitewashed houses, palm trees, and colorful flowers. This quiet town is not the center point on the island and doesn't have a busy nightlife like Puerto del Carmen, but it's definitely the best place for where to stay in Lanzarote if you're holiday is on a budget. 
Charming Haria has tons to offer! Here you'll experience a touch of the countryside of this part of Spain. There are many green spaces, hills, and a cute Saturday market where you can buy fresh fruits and vegetables and fix something up at your hotel, so make sure you get one with a kitchen!
Its location on the map makes Haria one of the best areas to set your base and explore other parts and beaches of the island. You can rent a car and go on day trips if you're staying for a longer period. I love finding cheap accommodations in an area and then using it as my base to see the whole island in just a few days! 
I would recommend going to Caleta de Famara to see the Famara cliff or the Cueva de Los Verdes, a volcanic tube that will blow your mind!
Before you embark on a whole new adventure, finish exploring this part of the Canary Islands and check all the viewpoints or "miradors" in Haria. And take your camera with you, you won't regret it!
Luxury hotel
Traditional Villa
I love how they mixed the old elements of this house with the modern features! One of the nicest places to stay in Lanzarote where you can drink your morning coffee on the terrace and admire the beautiful surroundings or chill by the fireplace. The house has a pool and a backyard. 
Other accommodation options in Haria
mid-range
Casa Emblemática
Relax in the jacuzzi of this townhouse that has a lovely lounge area, a garden, and free wifi 
budget
Casa Valle de Palmeras
Stay in Lanzarote best affordable house that has a kitchen, BBQ facilities, and a garden 
airbnb
Casita Susi
One of the most romantic places to stay in Haria, this lovely poolside villa has a backyard and a kitchen
Things to do in Haria
Explore the world of Cesar Manrique at the House Museum in Haria
Go shopping for local fruits in the Haria Market
Rent a car and explore nearby areas like Monte Corona and Caleta de Famara
Take a pic from the Rincon de Haria viewpoint in town
Eat some delicious food at Puerta Verde one of the best restaurants
| | |
| --- | --- |
| 👑 Luxury price: | €250 |
| 🏨 Mid Range: | €130 |
| 🛏️ Budget: | €100 |
| 🏠 Airbnb: | €85 |
| 💰 Accommodation prices: | Medium |
| 📍 Best Area: | Costa Teguise |
| 🛎️ Best luxury hotel: | Meliá Salinas Resort |
| 👛 Best budget hotel: | Apartamentos Santa Rosa |
Frequently asked questions about Lanzarote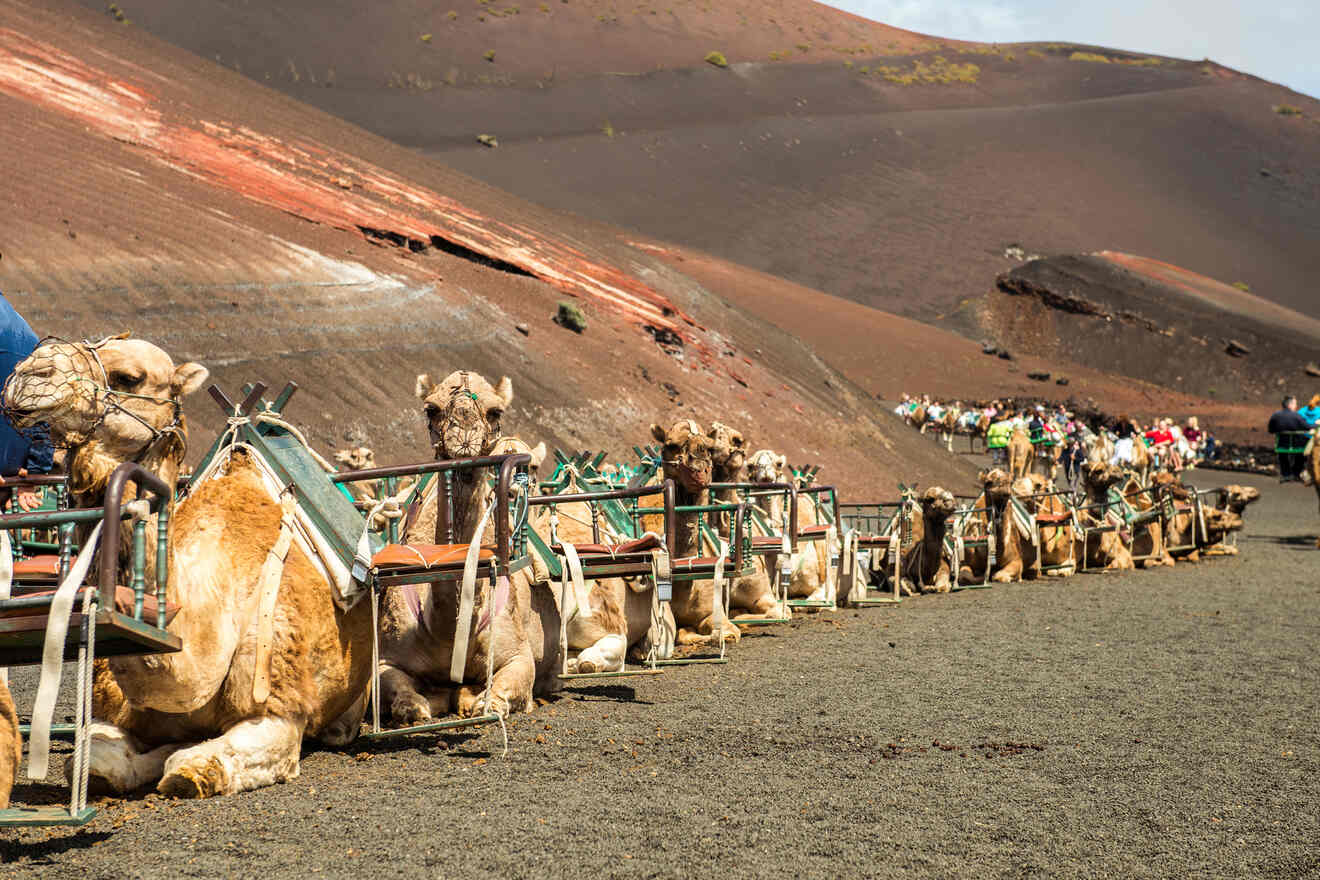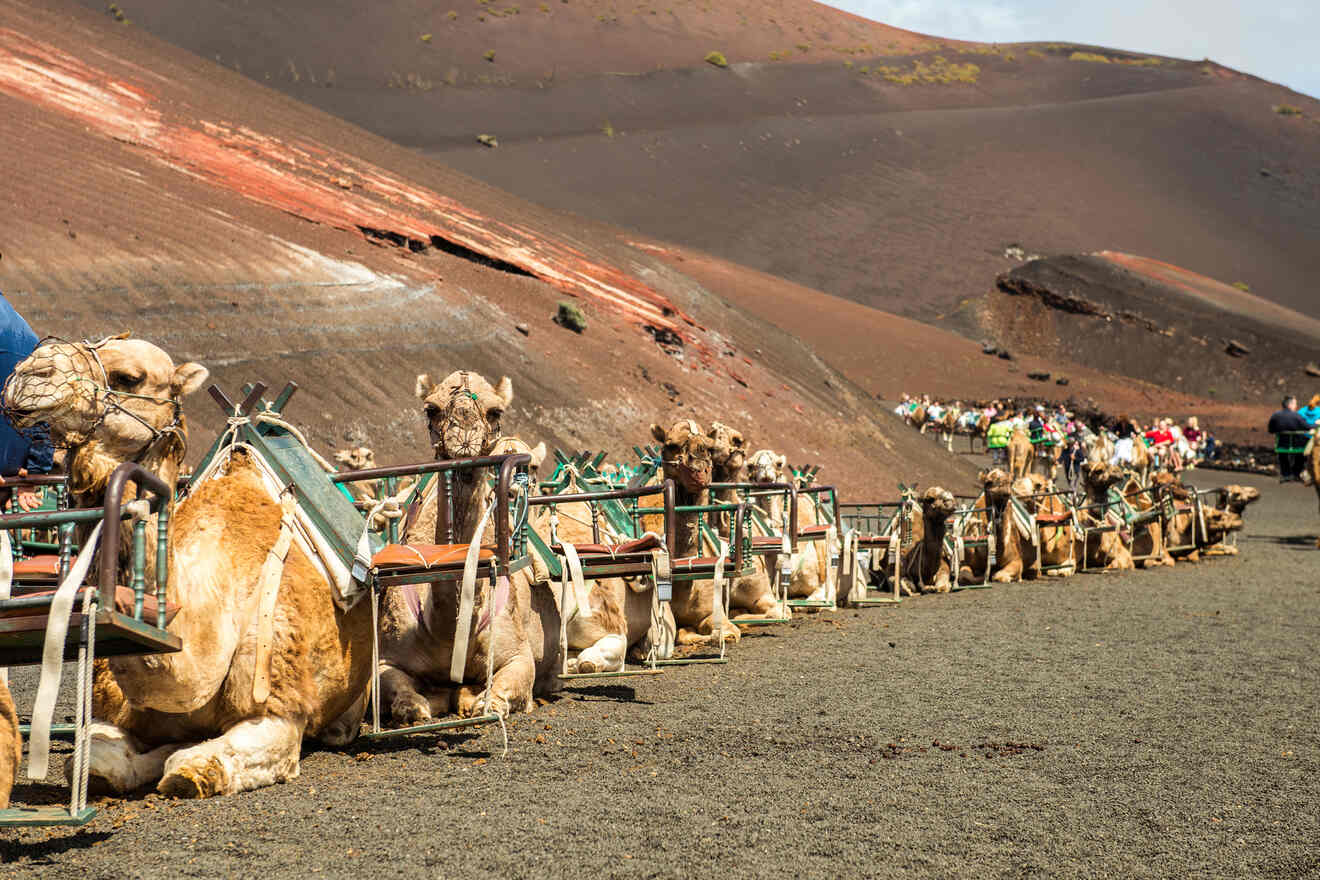 🌅 Which resort in Lanzarote is best?
Meliá Salinas Resort is an amazing resort in Lanzarote, it's near the beach, it has a spa center, and it's located in Costa Teguise, one of the best areas in town. 
🛑 Where should you not go in Lanzarote?
Although all the resort towns are safe you shouldn't walk alone at night, especially in secluded areas where there aren't a lot of people.
💕 Where should a couple stay in Lanzarote?
Playa Blanca is one of the best places where to stay in Lanzarote for couples. Here you can enjoy romantic walks on the beaches and stay at the Iberostar Selection Lanzarote Park, an amazing hotel. 
👩‍👧 Which hotels on Lanzarote are good for families?
💯 What are some popular places to stay in Lanzarote?
The most popular areas to stay in Lanzarote are Costa Teguise, Playa Blanca, Puerto del Carmen and Caleta de Famara. These resort towns have some of the best hotels like Meliá Salinas Resort and La Isla y el Mar.
🛫 What are the best hotels on Lanzarote near the Lanzarote airport?
Some of the best places to stay in Lanzarote near the airport are Magma Rooms and Casa Chimi, which are located in Playa Honda which is right near the airport.
Conclusion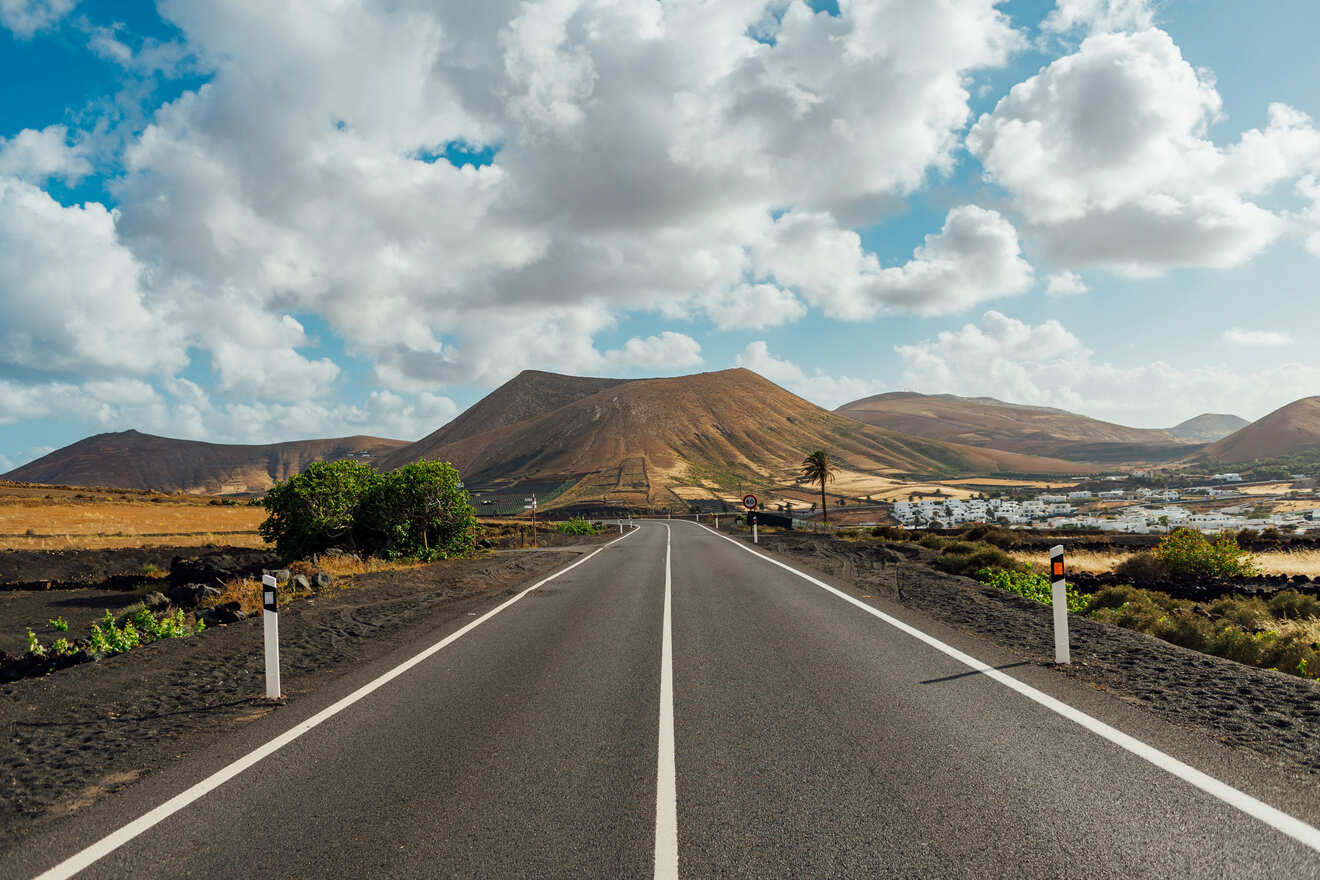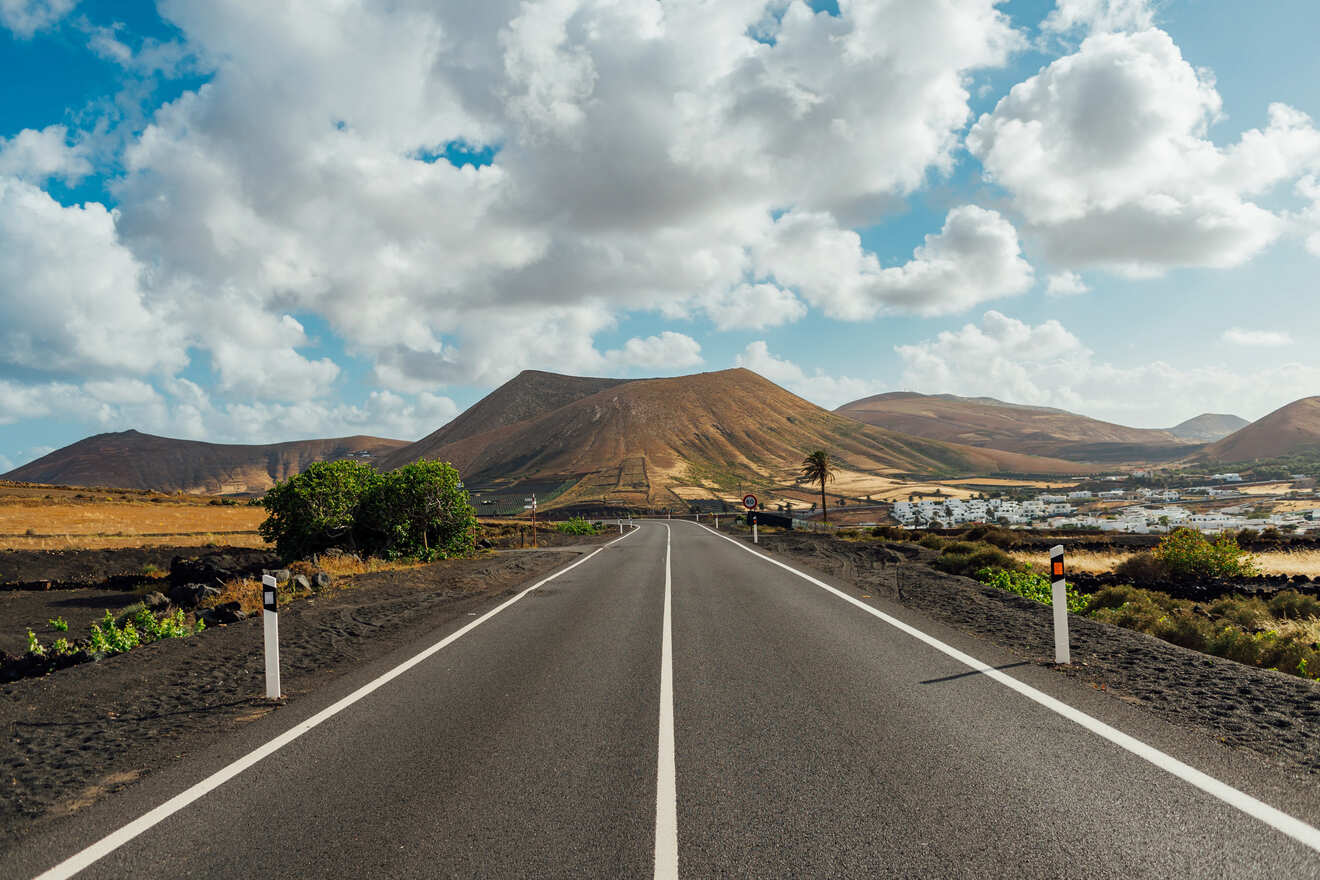 What a fun adventure, this island does indeed have the most amazing beaches I've ever seen! I hope you've had fun too and that you now know where to stay in Lanzarote and which resort town is for you. 
I've gathered a pretty long list of the best places to stay in Lanzarote from resorts to cool hotels, but here are my two favorite ones both located in Costa Teguise
As you know all the best places to stay sell out super quickly, especially on an island like this one that has so many beautiful beaches and cool nightlife, so make sure you book the Lanzarote best hotels in advance, so you get the best deals.
Besides that, I wish you a wonderful holiday in this corner of Paradise. Grab a drink and party all day in Puerto del Carmen and discover some amazing spots like Caleta de Famara! Leave me a comment if you have any questions, I'll be happy to help a fellow traveler! 
Viajes Seguros, 
Victoria