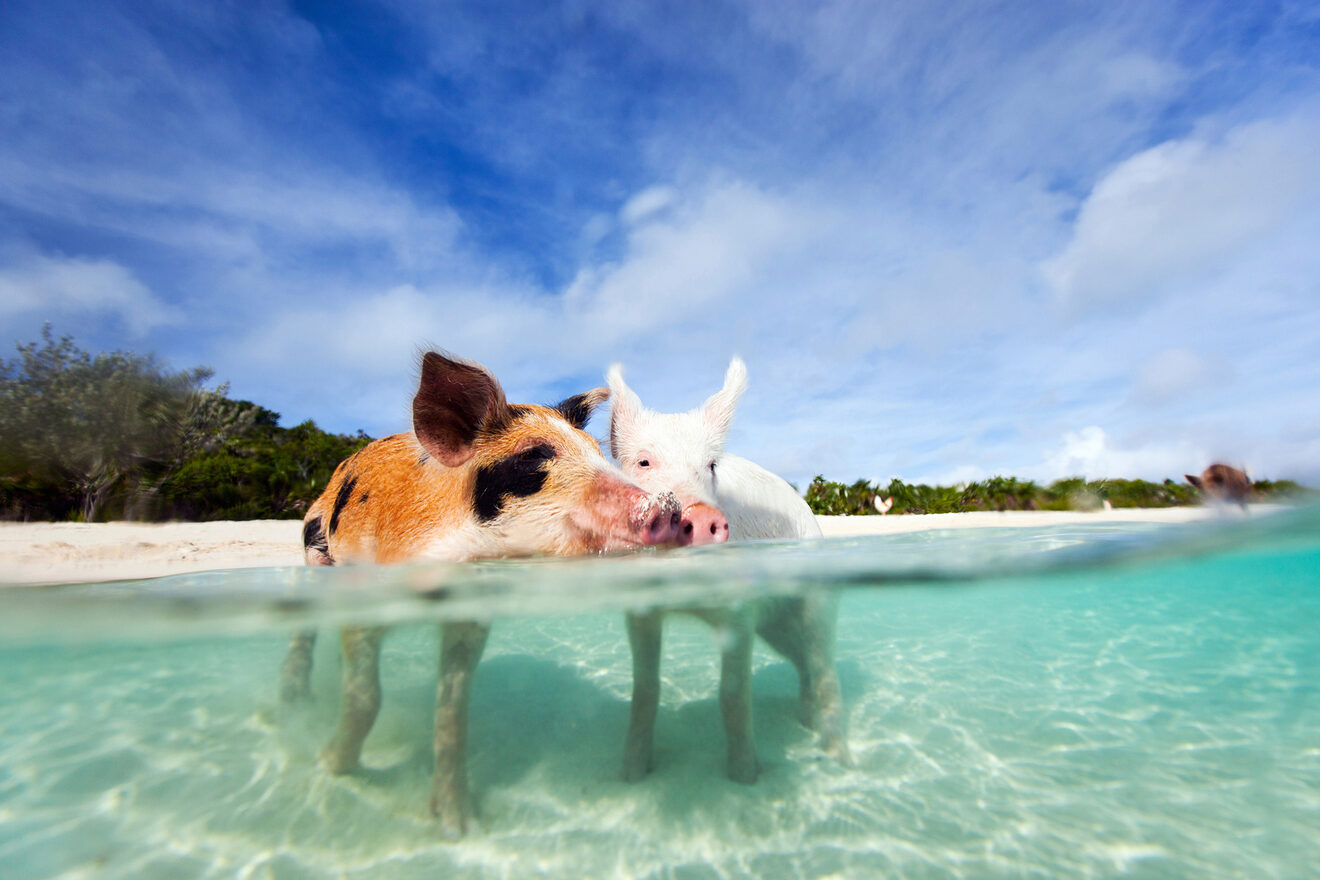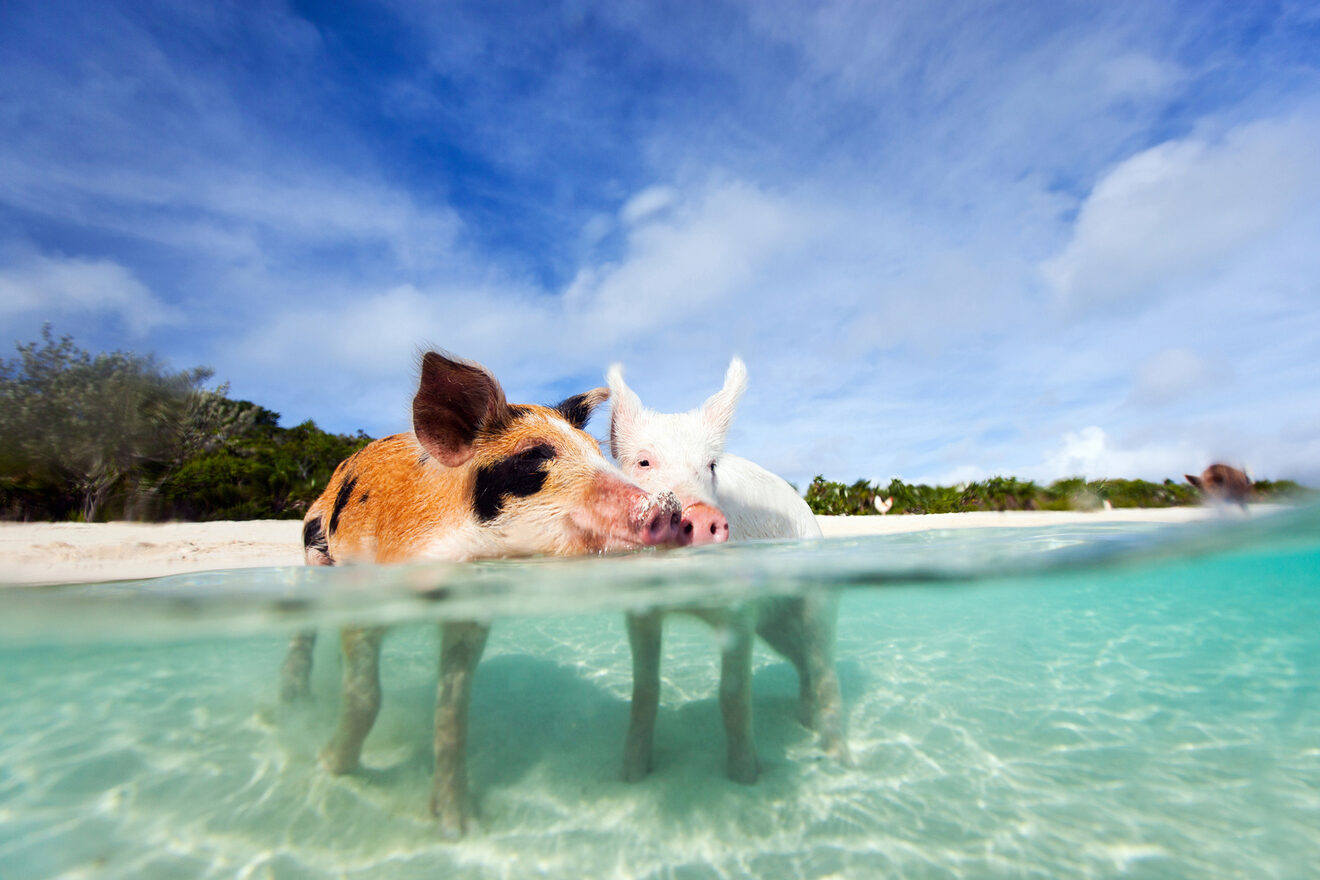 Who's in the mood to drink some cocktails on the famous Pig Beach in the Bahamas islands? If you're planning a trip there, then follow me! 
In this post, you'll find the best hotels where to stay in Exuma, Bahamas, listed from most to least expensive so you can decide quickly which one to book. Make sure you stick around after that because I've also included a bonus with some unique vacation rentals on the islands right on the beach! 
As you probably know, the Bahamas islands are super famous, and even in the secluded places like Exuma, accommodations sell out fast! These are the best resorts and hotels here, so I highly recommend booking your resort in advance (and consider all the time you'll need to plan the trip as well)!
NOTE: During high season (mid-December to mid-April) hotels' prices can increase by up to $150, so make sure you take that into account when picking a resort and your dates. 
Come one, the pigs are waiting for us! 
If you are in a hurry
I know some of you are ready to book your resorts right now! Have a look at the list below. It has the best of the best hotels and accommodations in Exuma: 
airbnb
Coral Breeze
An Airbnb with amazing reviews
budget hotel
Paradise Bay
Best affordable accommodation
Check out this map, it will help you visualize all the hotels and resorts that I'll talk about in the post: 
Luxury (US$700 and up)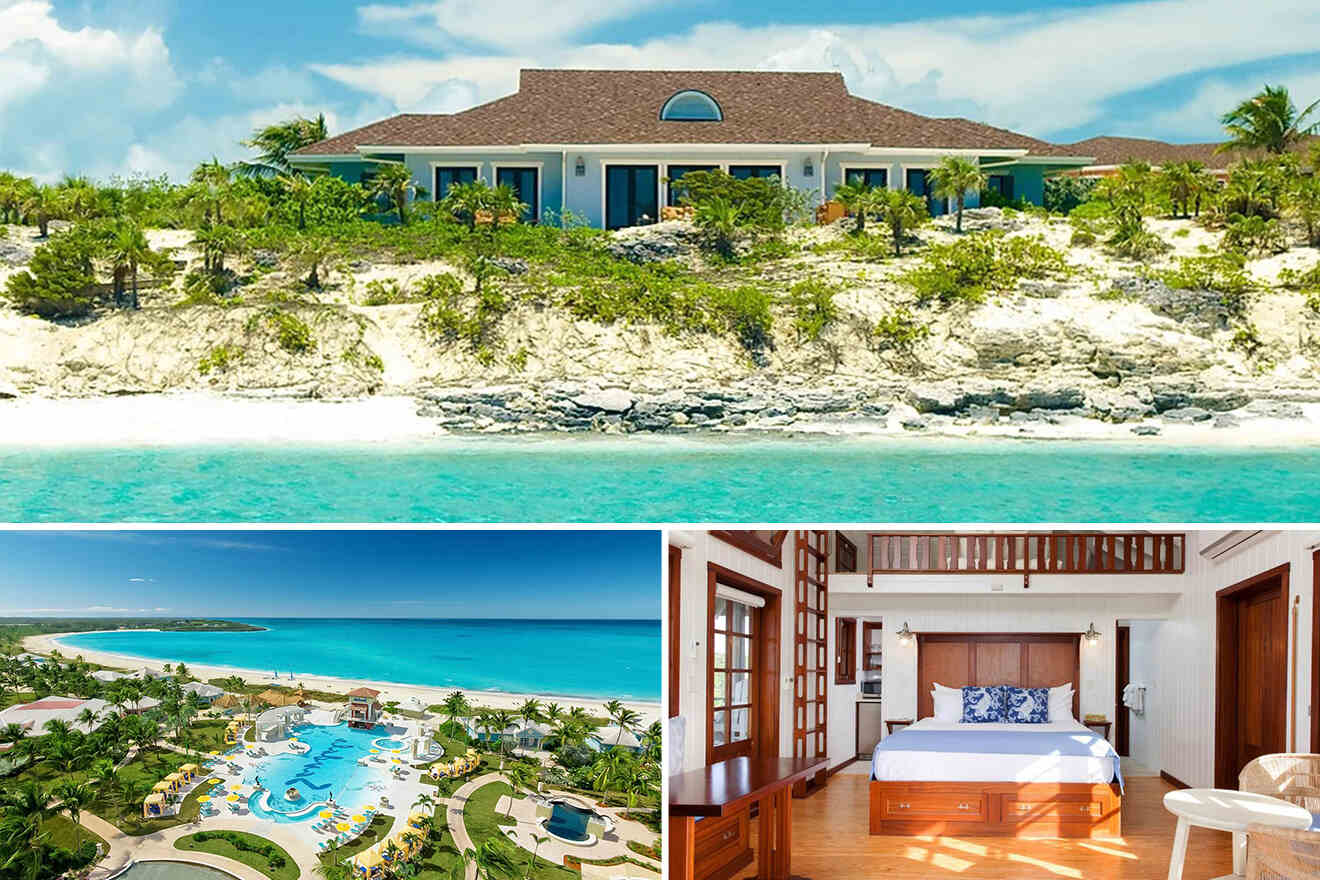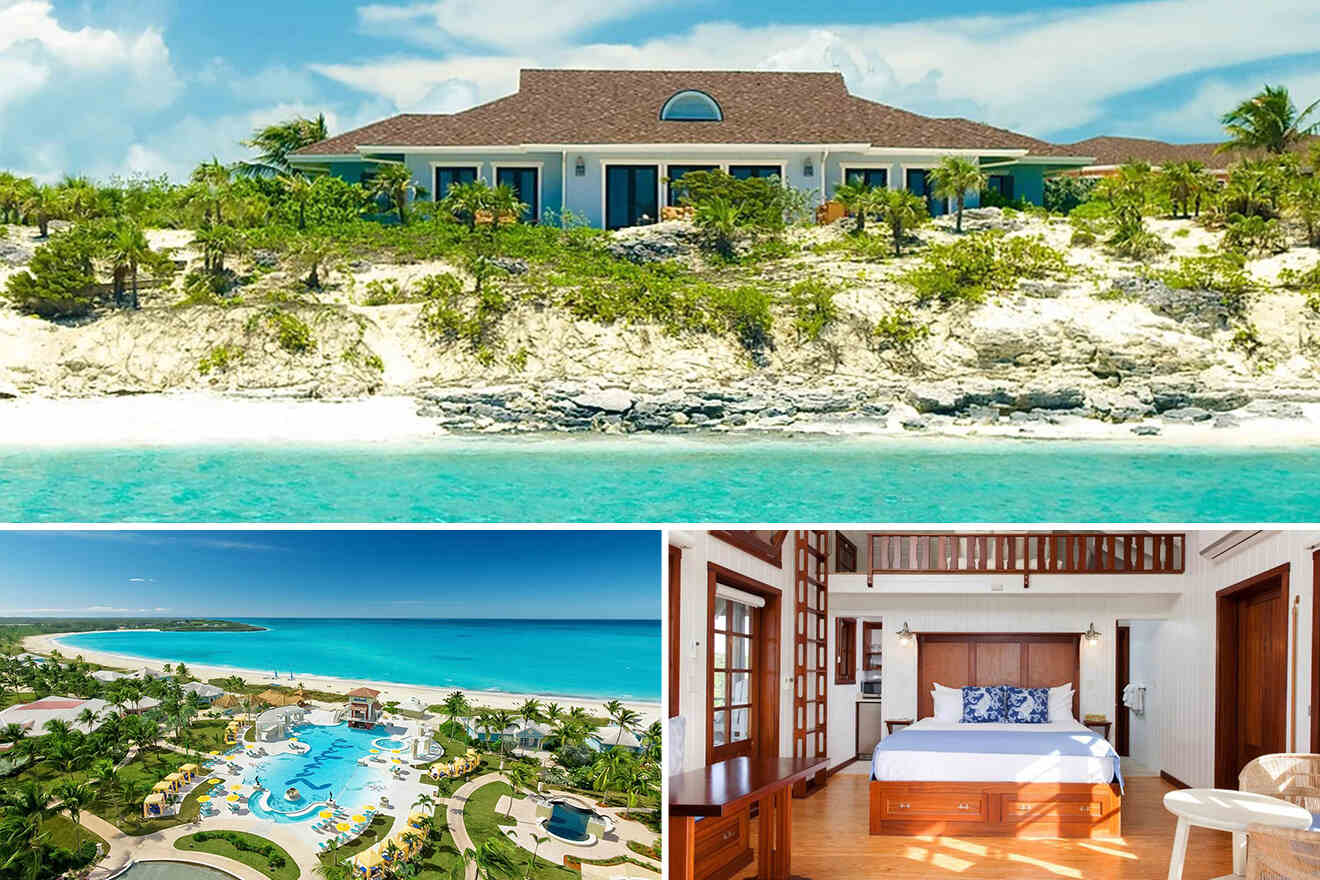 Fowl Cay Resort – Who's in the mood for a sweet escape on a private island in the Bahamas (anyone else suddenly have Gwen Stefani's song playing in your head)? Made up of different villas and surrounded by tropical gardens, this intimate resort is perfect for a quiet holiday! All villas have spacious rooms, a kitchen with breakfast, patios, and a personal motorboat to explore the turquoise water! Chill on the white sand beach, drink cocktails by the pool, or try as many activities as possible from water sports to tennis!
Sandals Emerald Bay – Tucked away between the tropical trees sits this idyllic resort near the ocean in Great Exuma! Designed by the friendly staff to make all guests feel like they're in paradise, this island resort perfectly reflects the exotic lifestyle of the Bahamas islands! With 3 swimming pools, 11 restaurants, and an award-winning golf course, this resort is a keeper! All the rooms are elegantly decorated with dark wood and have air conditioning and guests will also have access to water sports and tours to explore the islands!  
Kahari Resort, a Peace and Plenty Resort – An island resort where you can enjoy the quiet when you want but also have some action when you're in the mood! Located on the white sand beach on Stocking Island, the resort offers its guests villas fronting the ocean with comfortable rooms, air conditioning, and a patio with sea views! Explore the island and the marina, try some water sports on-site, and then head to the spa center to relax. During the day, you can chill by the outdoor pool or sit on the soft sand beach!
Mid Range (US$300 – US$500)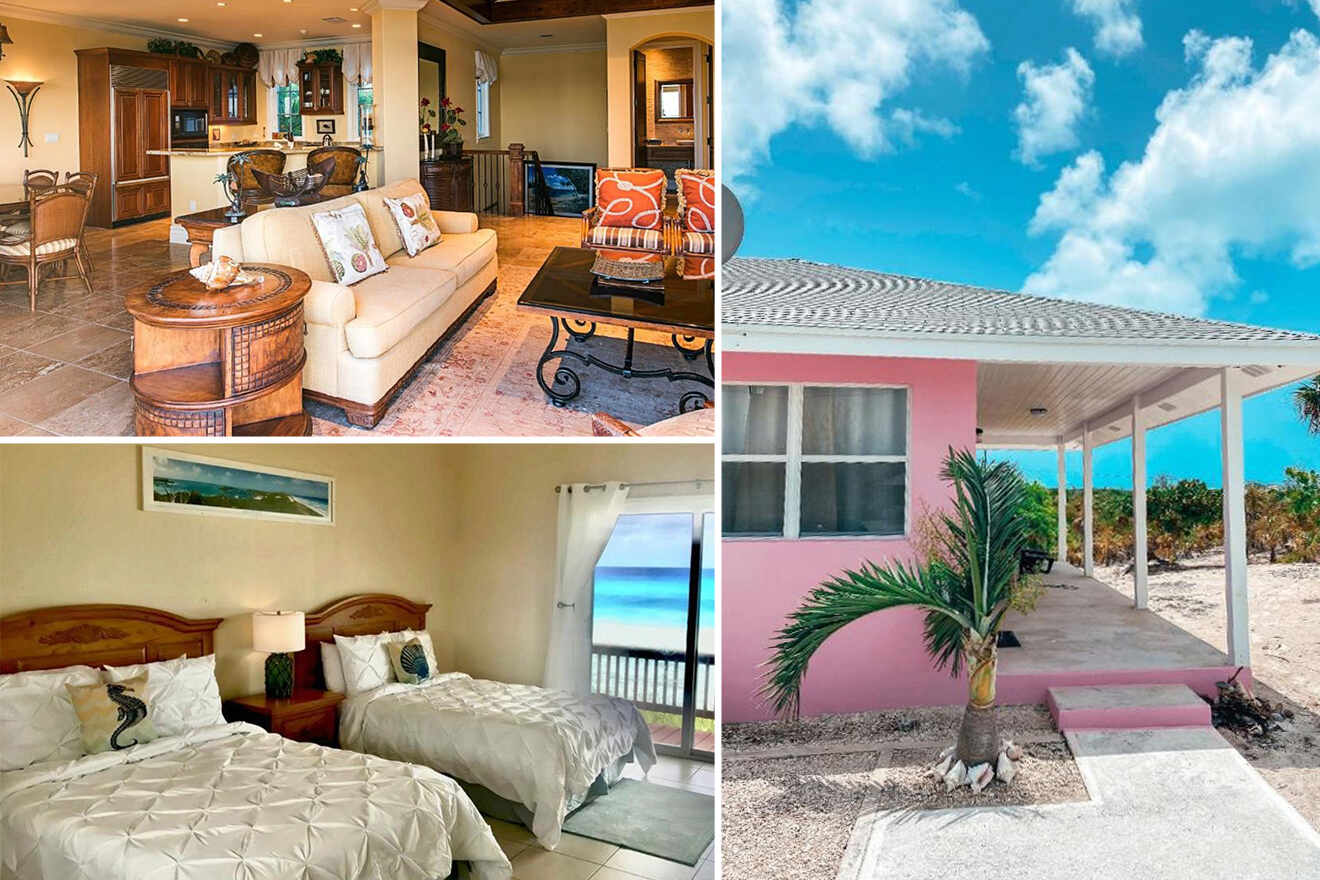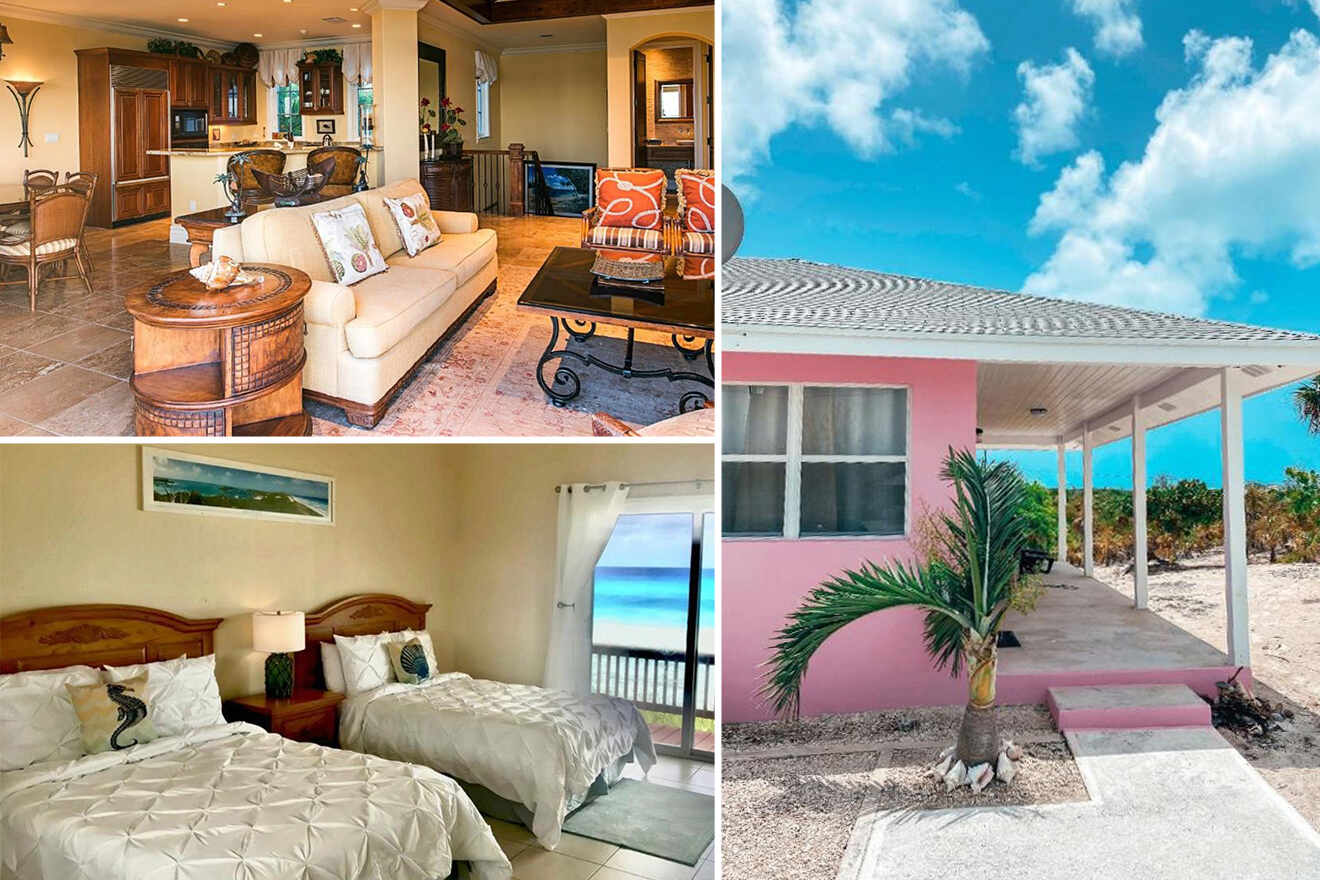 Grand Isle Resort & Residences – I've got to say, I love island life! Everything is easy breezy, and living by the ocean has its benefits! This Emerald Bay resort in Great Exuma offers villas with rooms overlooking the ocean and a spa bath. Guests will have access to a spa center, a private beach, and an off-site golf course. The resort is family-friendly and has a kids' club for the little ones and an outdoor swimming pool. And if you get bored of this beach (if that's even possible), you should explore the others nearby like Flamingo Bay Beach, or visit the marina! 
Saint Francis Resort – Preparing for an unforgettable vacation in the Bahamas? Then I've got just the resort for you! This family-friendly place is located on Stocking Island and has a private beach area and a restaurant. The rooms are spacious. They have a balcony overlooking the sea and free Wi-Fi. Enjoy some quiet time on the sandy shores, and don't forget to try all of the fun water sports on-site like snorkeling, diving, and fishing. If you prefer some inland activities as well, you can go on tours and visit the marina. 
Tropical View Villas – Located in Little Exuma in Williams Town, just a 2-minute walk from Tropic of Cancer Beach, these cute pink villas will win over your heart, as they're so adorable! All guests take pictures here as the pink color looks so good! Set right on the white sand beach, the villas have lots of space, and they're equipped with all the necessary facilities like a kitchen, comfortable rooms, and air conditioning! The accommodation offers board games, books, and a nice sun terrace! 
Budget (up to US$300)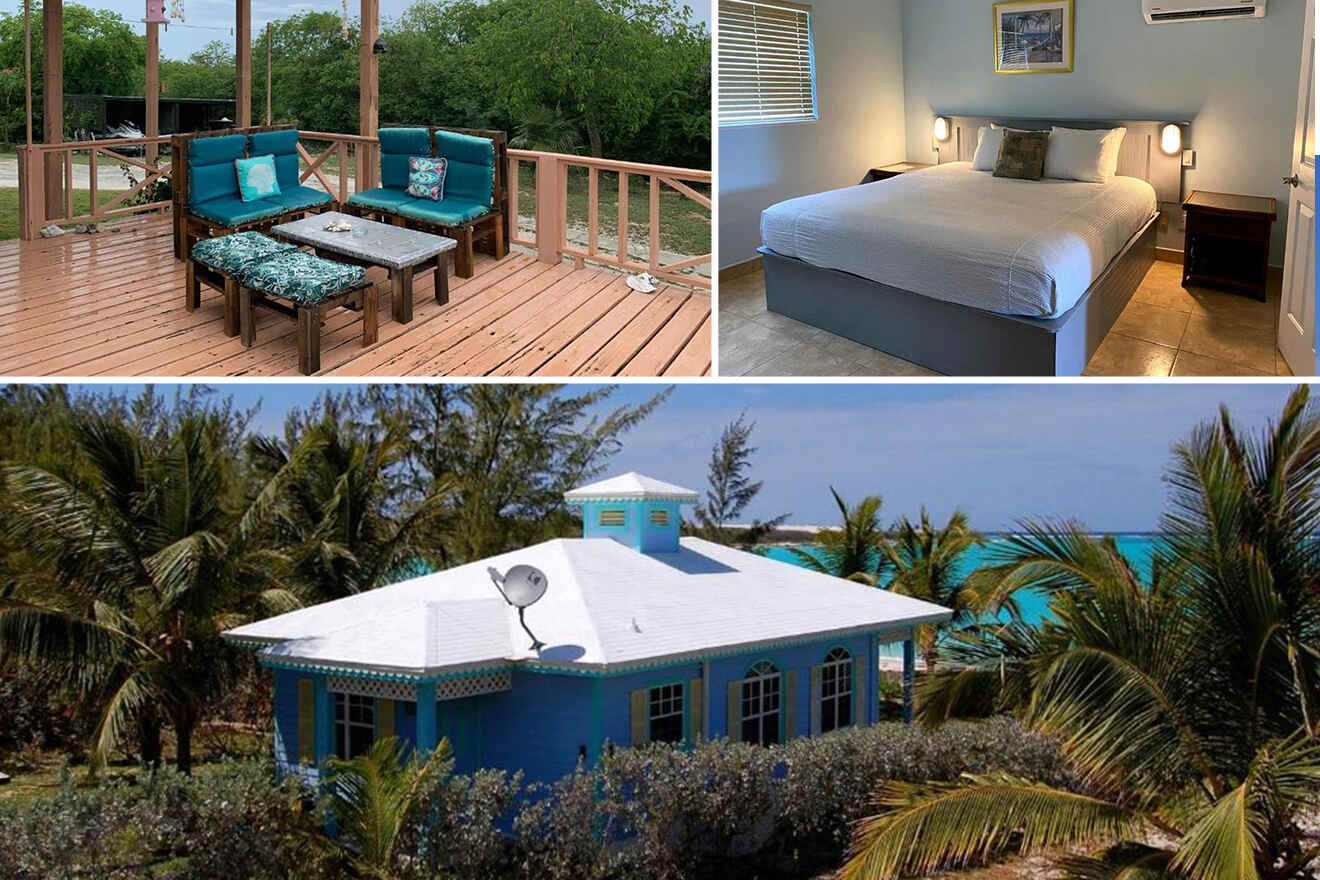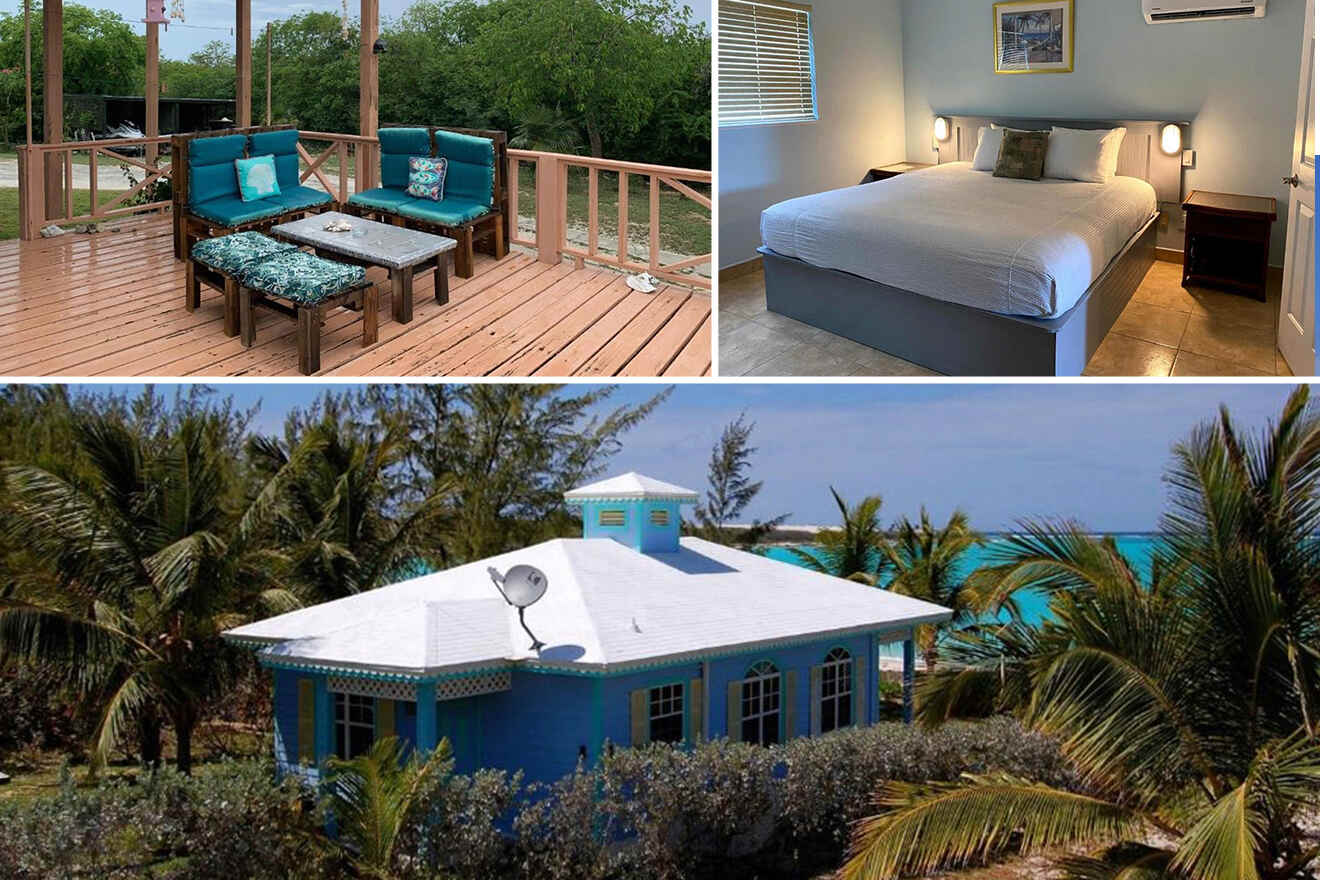 Paradise Bay – How cute are these colorful villas in Great Exuma? Perfect for your vacation to the Bahamas, these accommodations are set on the shores of Paradise Bay Beach right on Queens Highway (not too far from the marina). Wake up, drink your coffee and open your villa door to the white sands and sea! Each place has comfortable rooms, a private bathroom, and gorgeous island views! Go for a dip in the swimming pool, and then enjoy a delicious meal at the restaurant on-site. 
Hideaways Exuma – Tucked away between the trees right near Palm Bay Beach in George Town, Great Exuma, this island resort has different villas with more space than most hotels and many facilities, including rooms with air conditioning, a restaurant (where guests can enjoy Caribbean cuisine), and an outdoor swimming pool. You can use the kayaks and paddle boats on-site, and the accommodation even offers a free shuttle service to Georgetown if you want to explore the island. 
Turtles Nest Bahamas – If you're looking for some budget places to stay in Exuma, then you've come to the right place! Set on the island of Great Exuma in Hermitage, this comfortable guesthouse will make you feel just at home! The little villa has air-conditioned rooms with a private bathroom, free wifi, and a garden. The beach is only a 10-minute walk away, and you can try snorkeling there! If the weather is not on your side, don't worry, there are many board games here to keep you busy!
Sandy Bottom Cottages – Located in Mount Thompson on Great Exuma island, these cottages are just a 5-minute walk to the beach! Offering a comfortable bed, a seating area, and a kitchenette, the accomodation has all you need for a wonderful stay in the Bahamas! You can rent bicycles and cars from the cottages if you want to explore!
BONUS: Best vacation rentals on Exuma Island
Not really into the whole resort experience or hotels? I know many of you prefer to rent a whole villa with your group of friends or families, so that's why I came up with this short list of places to stay in Exuma!
The accommodations are listed from most to least expensive, with prices from US$970 to US$200: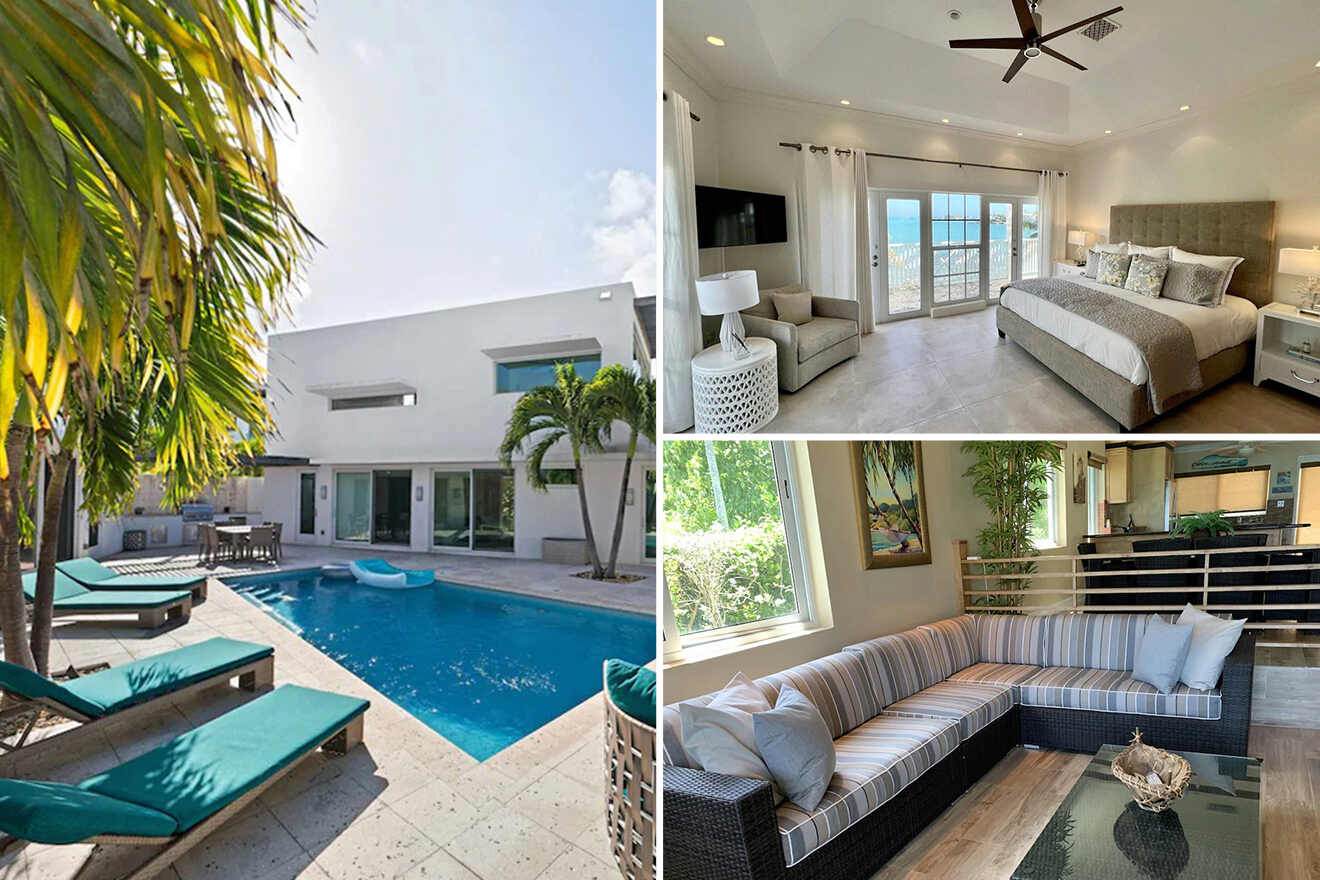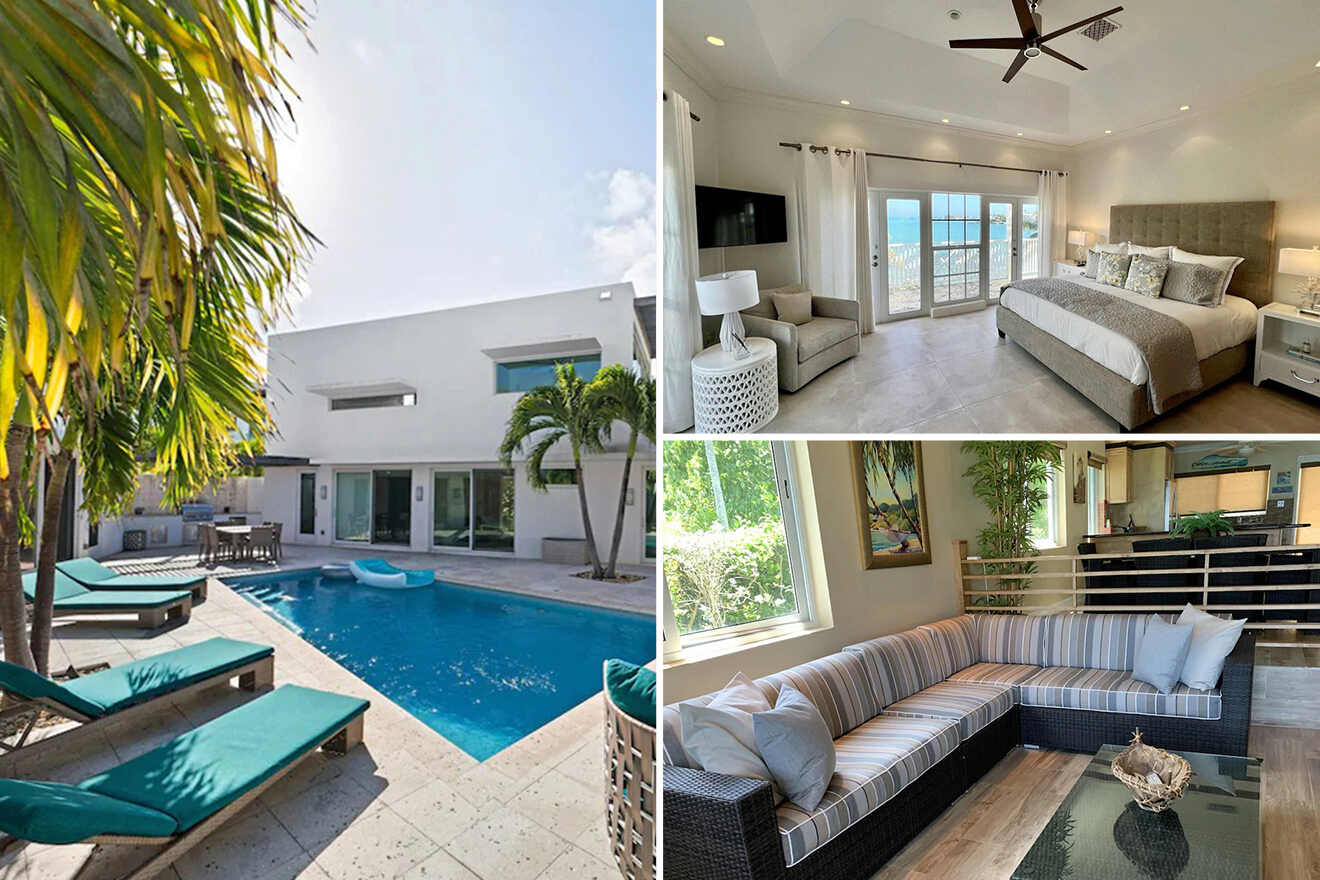 Ocean Villa – Wake up to a breathtaking sight of the sea at this villa that's located on Great Exuma Island! The accommodation can fit up to 12 people and has spacious rooms and 5 bathrooms. You'll have all the necessary facilities like a kitchen and free wifi, plus a beautiful courtyard with an outdoor pool and barbecue facilities, as well as access to Exuma beach!
Unique Villa – How amazing is this Great Exuma villa? Set near the marina right on Exuma beach, the accommodation can fit up to 6 people, and it has 3 spacious rooms with a flat-screen tv and a balcony. With plenty of facilities from free wifi to air conditioning and a kitchen, this place is a keeper! Plus, guests will have access to an outdoor pool and hot tub. 
Beachfront Villa – Enjoy your morning coffee on the patio of this George Town villa in Great Exuma while admiring the views of the marina and Stocking Island. This is one of the best places to stay in the Bahamas for a family or group of 6 people. During your vacation, you'll have access to an infinity pool, tennis courts, and the fabulous Exuma Beach!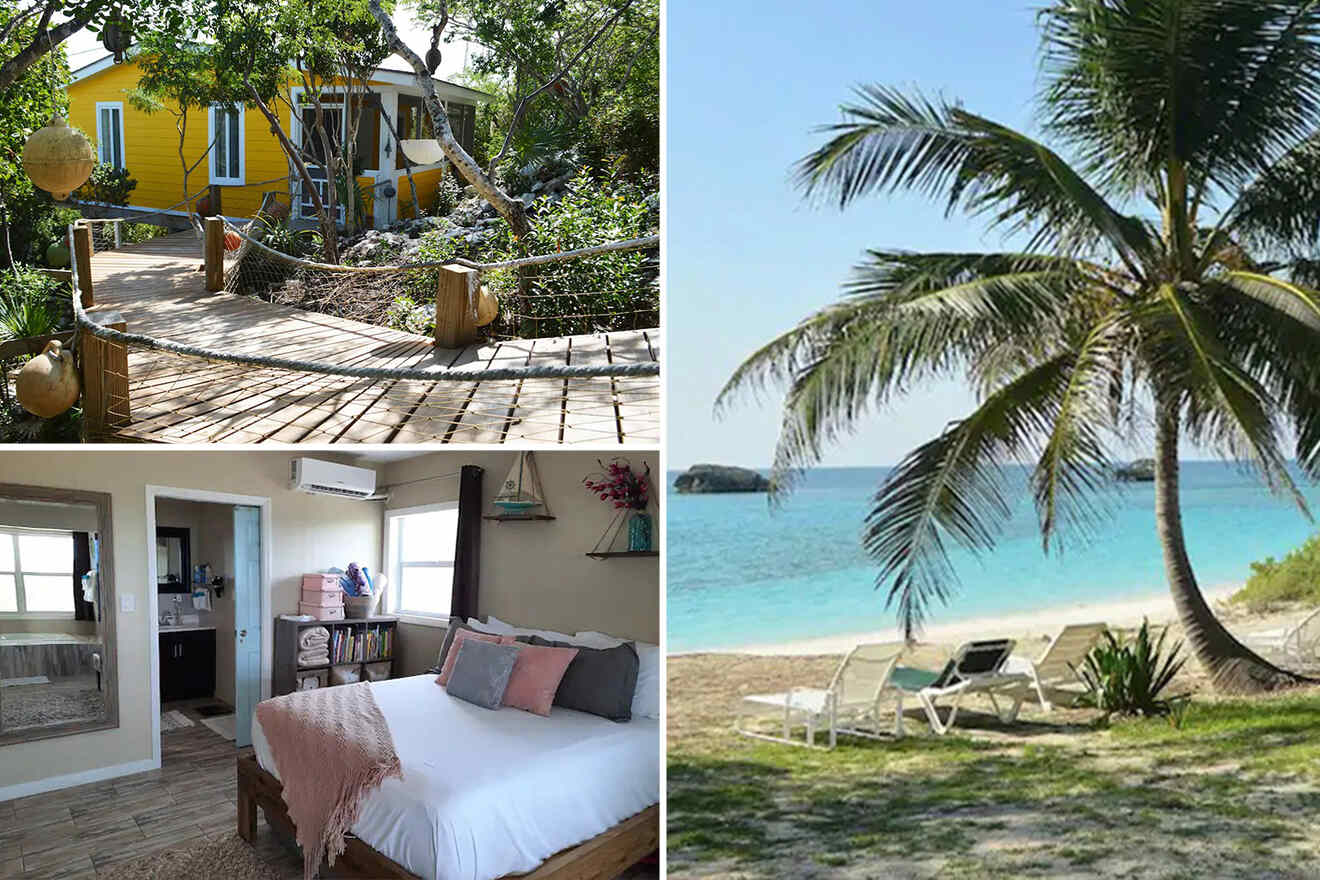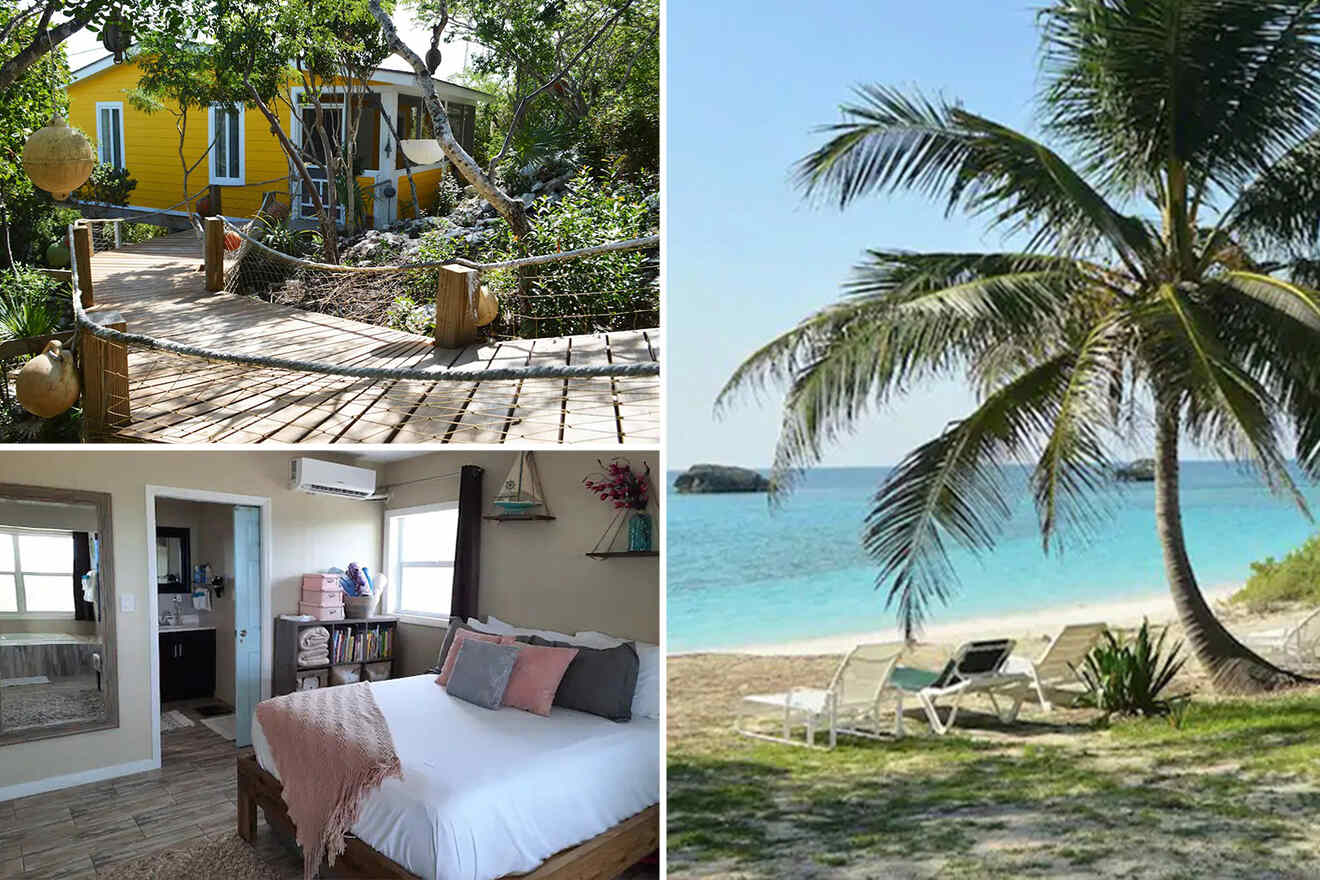 Cozy Cottage – Planning a romantic vacation to the Bahamas? Then you'll love this small cottage perfect for 2 people in Staniel Cay! Set not too far from Exuma Cays Land, Sea Park, and the famous Pig Beach, the accommodation has a kitchen and a bathroom! Enjoy your morning coffee on the porch, and then head over to chill on the white sand beach! 
Coral Breeze – Ready for an epic holiday on one of the best islands in the Bahamas? This Great Exuma accommodation can fit up to 4 people, and it has a kitchen, a bathroom, plus many other facilities. The shops and restaurants are only a walk away and don't worry, the beach is right at your doorstep! 
Sea Star – Enjoy a night of watching the waves and chilling on the beach or porch at this accommodation in George Town, Great Exuma, that can fit 2 people. Perfect for anyone who's planning a tranquil getaway, the accommodation has a living room and a kitchen with a dining area. 
FAQs about hotels in Exuma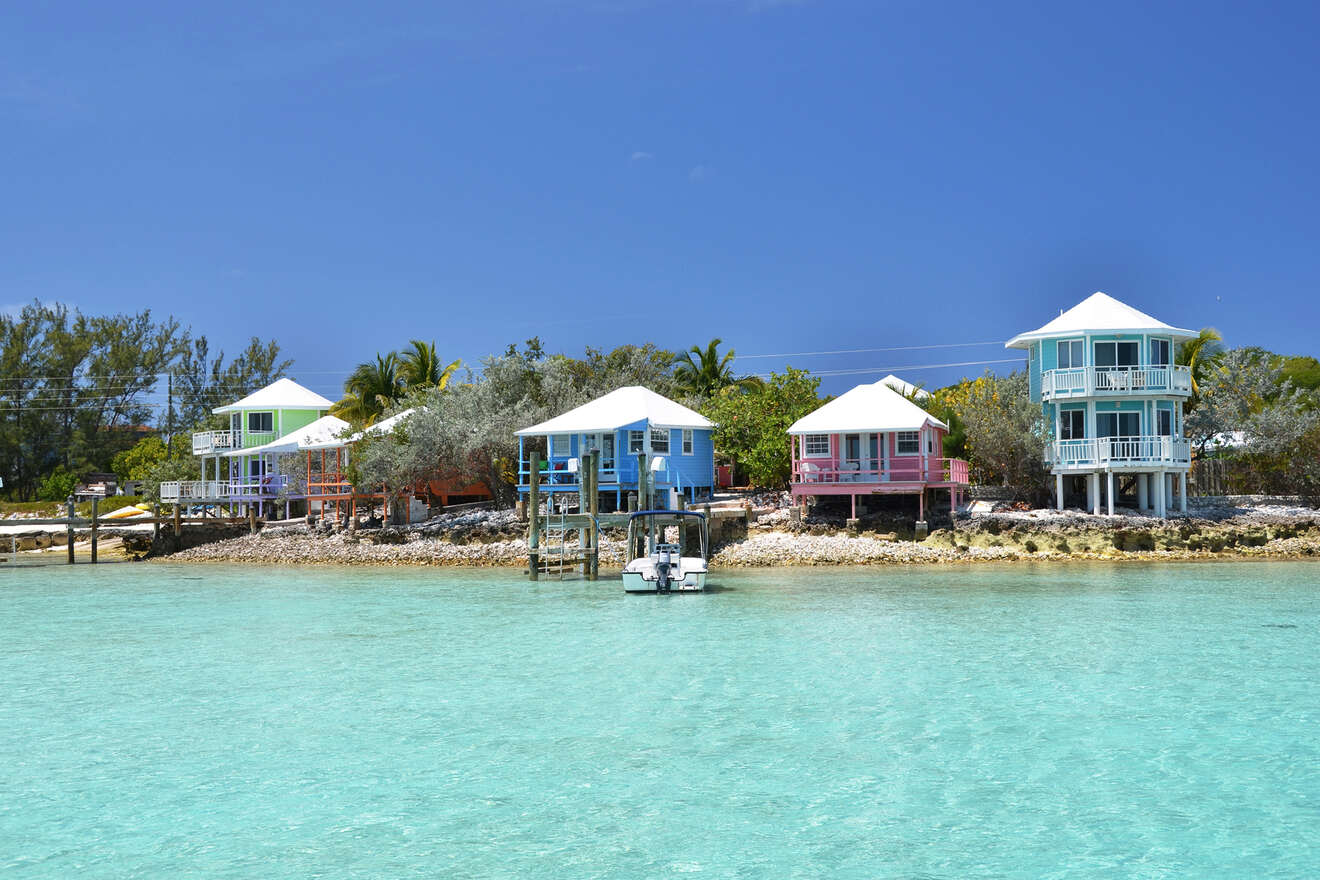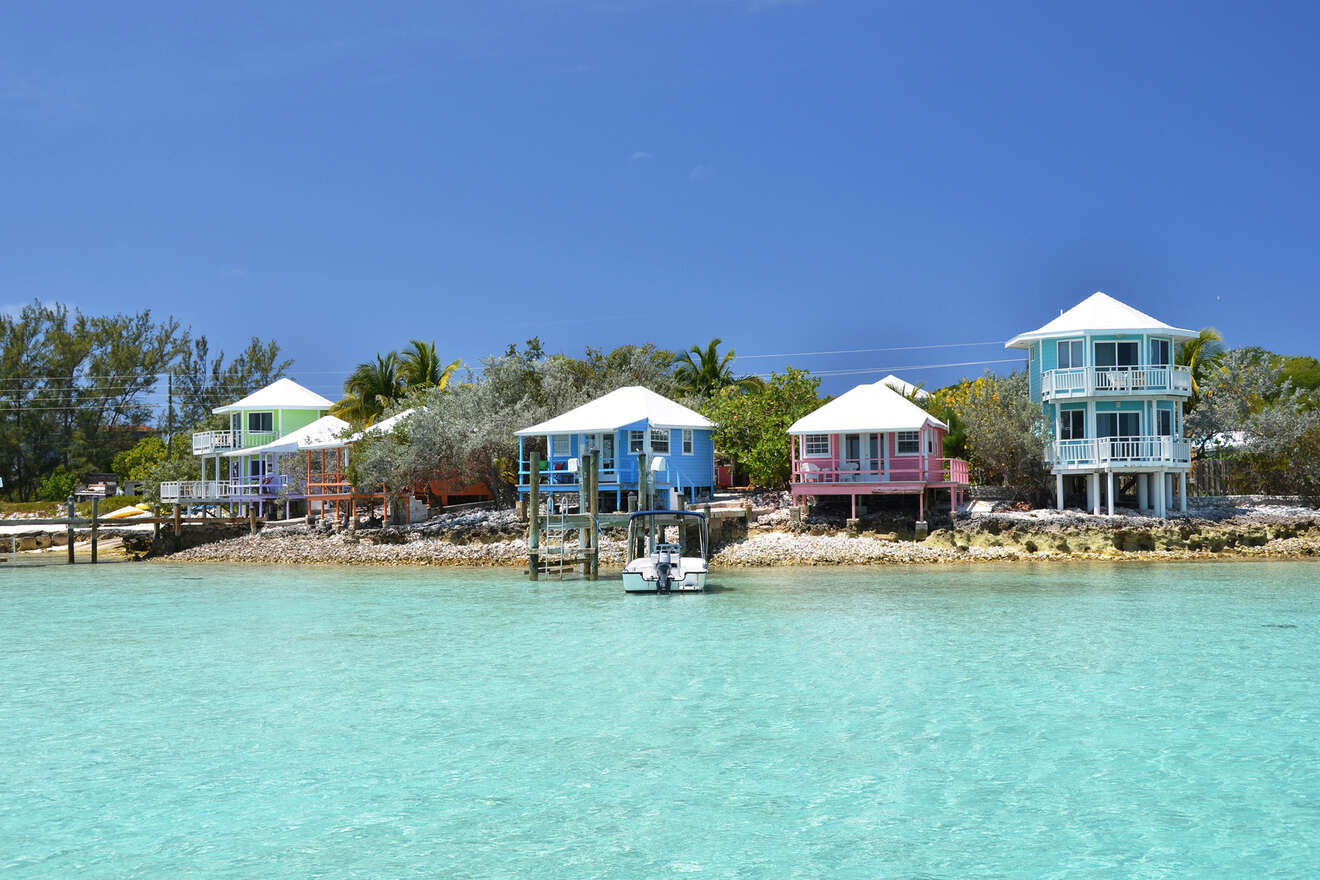 🏝️ What part of Exuma is the best?
The best place to stay in Exuma is Staniel Cay! Known as the crown jewel of the Bahamas, Staniel Cay is where you'll find the famous Pig Beach and great resorts like Fowl Cay Resort. Great Exuma and Stocking Island are also fantastic spots! 
👌 Can you stay on Exuma island?
Yes, you can stay on Exuma Island in places like Stocking Island, Staniel Cay (which is surrounded by shallow waters), Great Exuma, and many others! 
🤔 Is it better to stay in Nassau or Exuma?
If you're planning to relax and spend time on the beach, I recommend booking a resort or hotel on one of the Exuma islands, like Great Exuma. Nassau is much more crowded as it's the capital city of the Bahamas islands. 
❓ Is Exuma, Bahamas worth visiting?
Yes! Exuma is perfect for nature lovers, people who prefer quiet spots, or those of you planning a romantic trip! The Exuma islands are so beautiful and filled with the best hotels and resorts like Kahari Resort.
Conclusion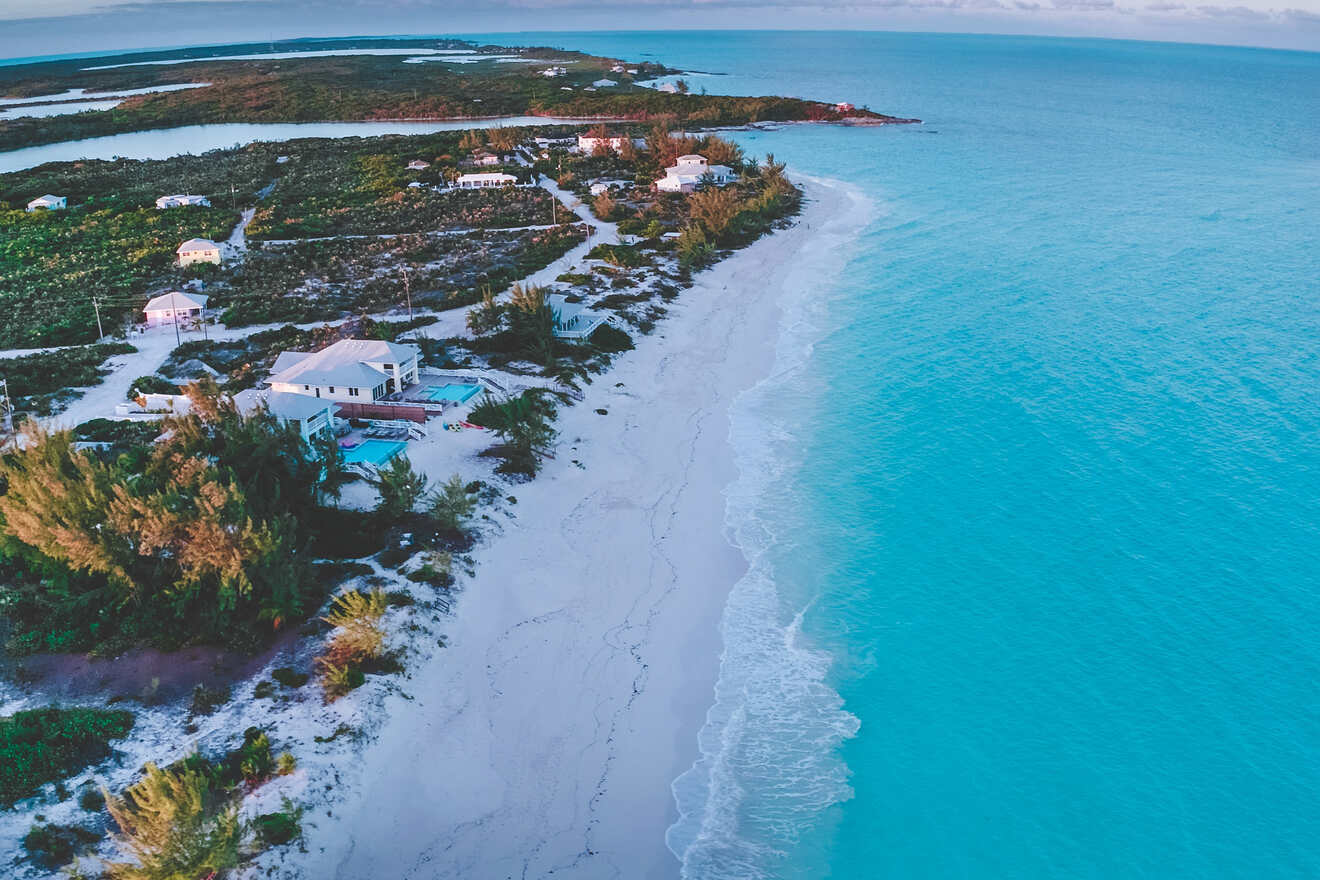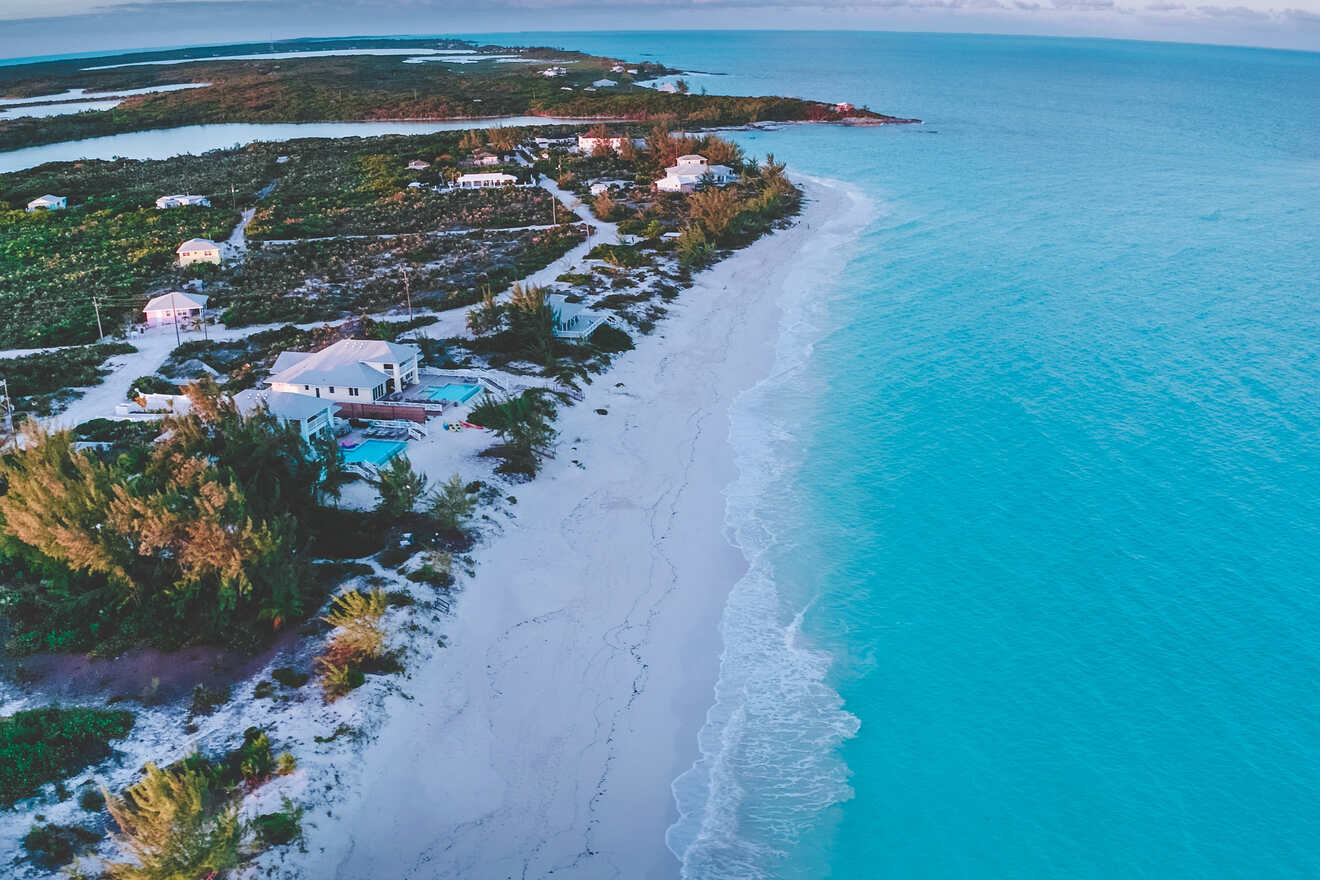 Who's dreaming about sipping cocktails on a white sand beach on Great Exuma island? Wow, the Bahamas sure is a unique place!
This post has all the best hotels where to stay in Exuma, Bahamas, listed from most to least expensive, plus a bonus section with awesome vacation rentals for families or groups of friends.
I know it's hard to pick your favorite resort now, but I'm here to help you as much as I can, so here are my top 2 favorite options: 
Don't forget what I said before! These are the best hotels in Exuma, Bahamas, and they'll sell out super fast. So I recommend booking your Exuma beach resort as far in advance as possible, otherwise, you'll risk missing out on your favorite one! 
Aye, aye, captain! Enjoy your holiday in this heavenly location and if you've got any questions, leave me a comment below and I'll answer it ASAP! 
Safe travels,
Victoria
---
Pin it for later!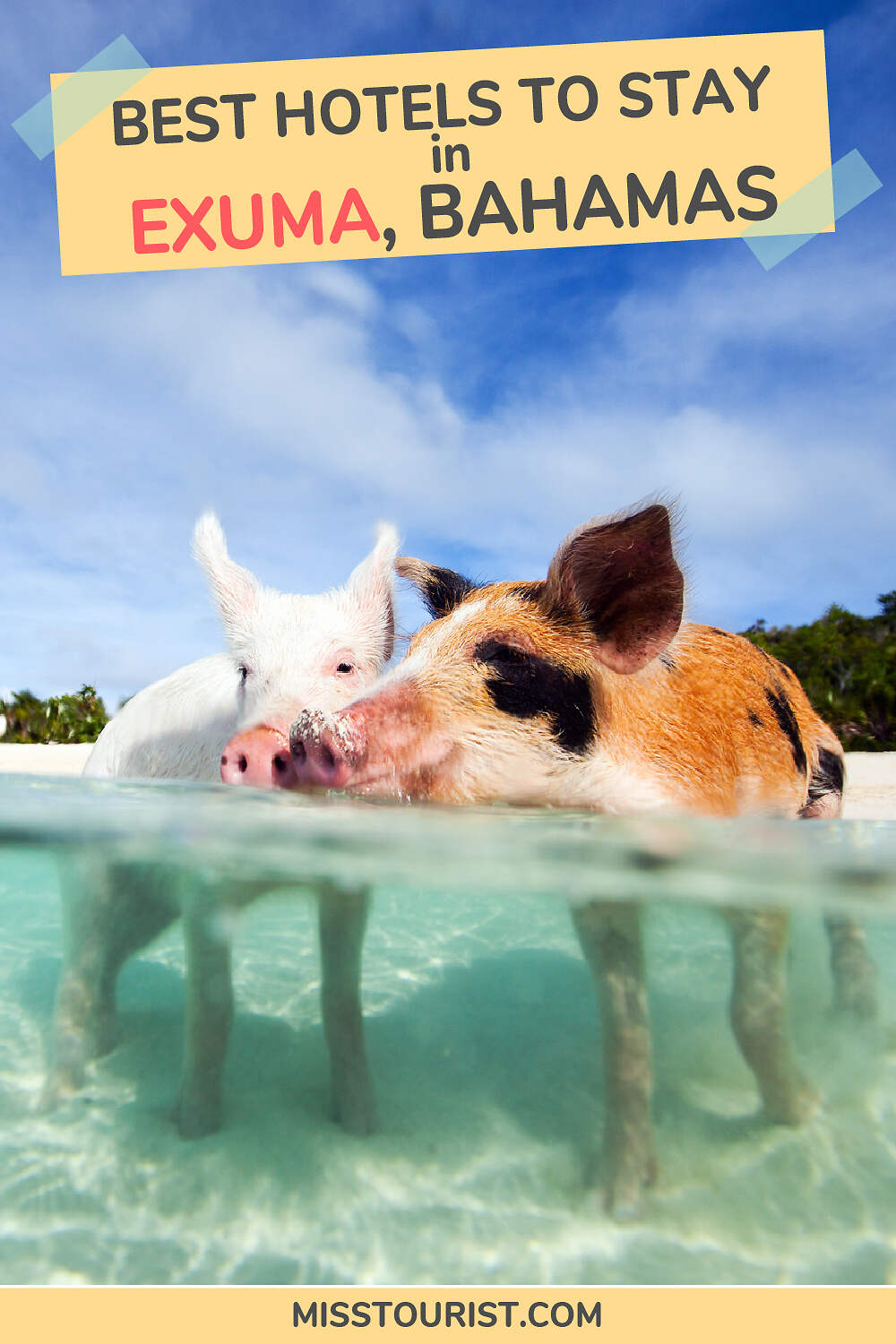 Pin it for later!