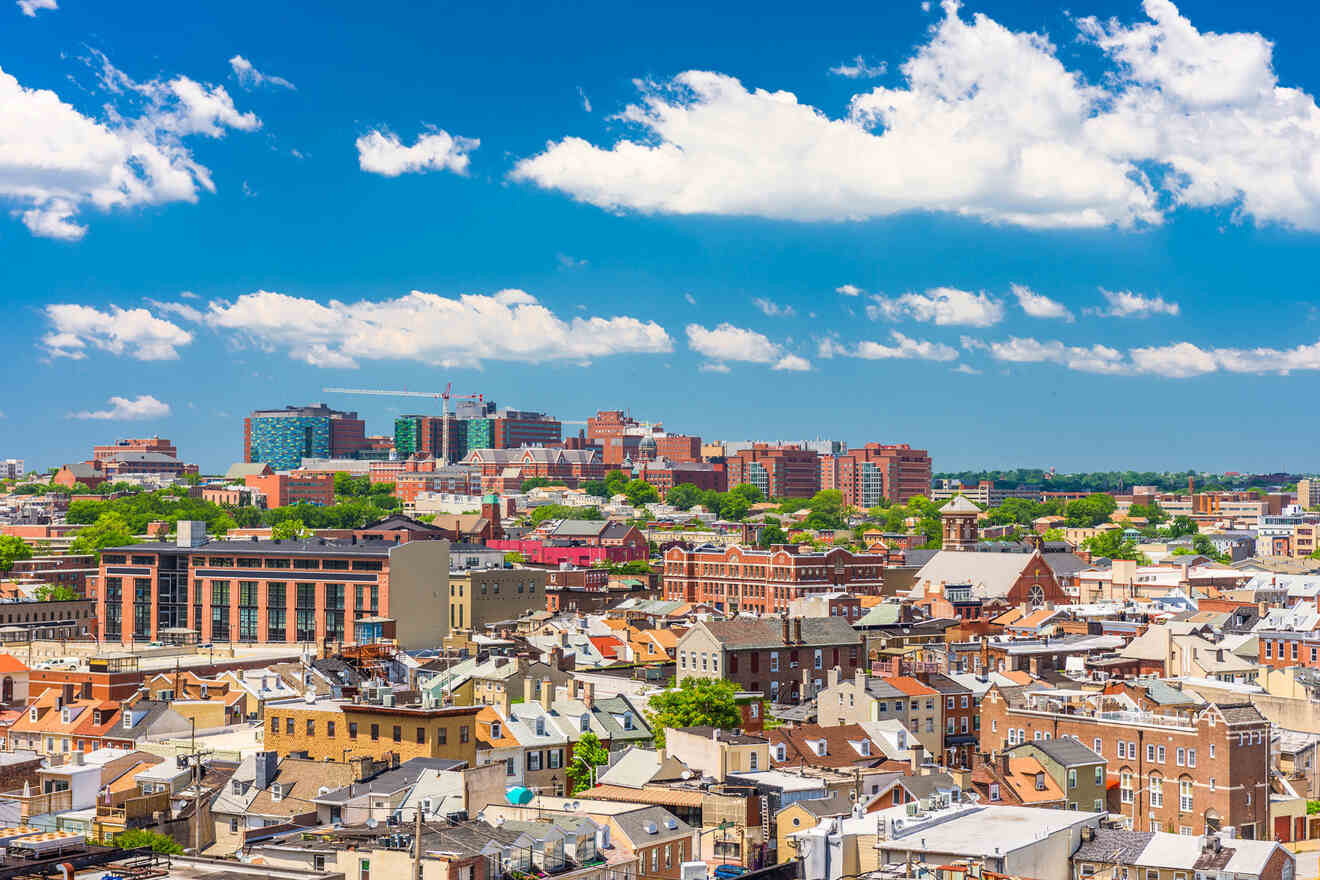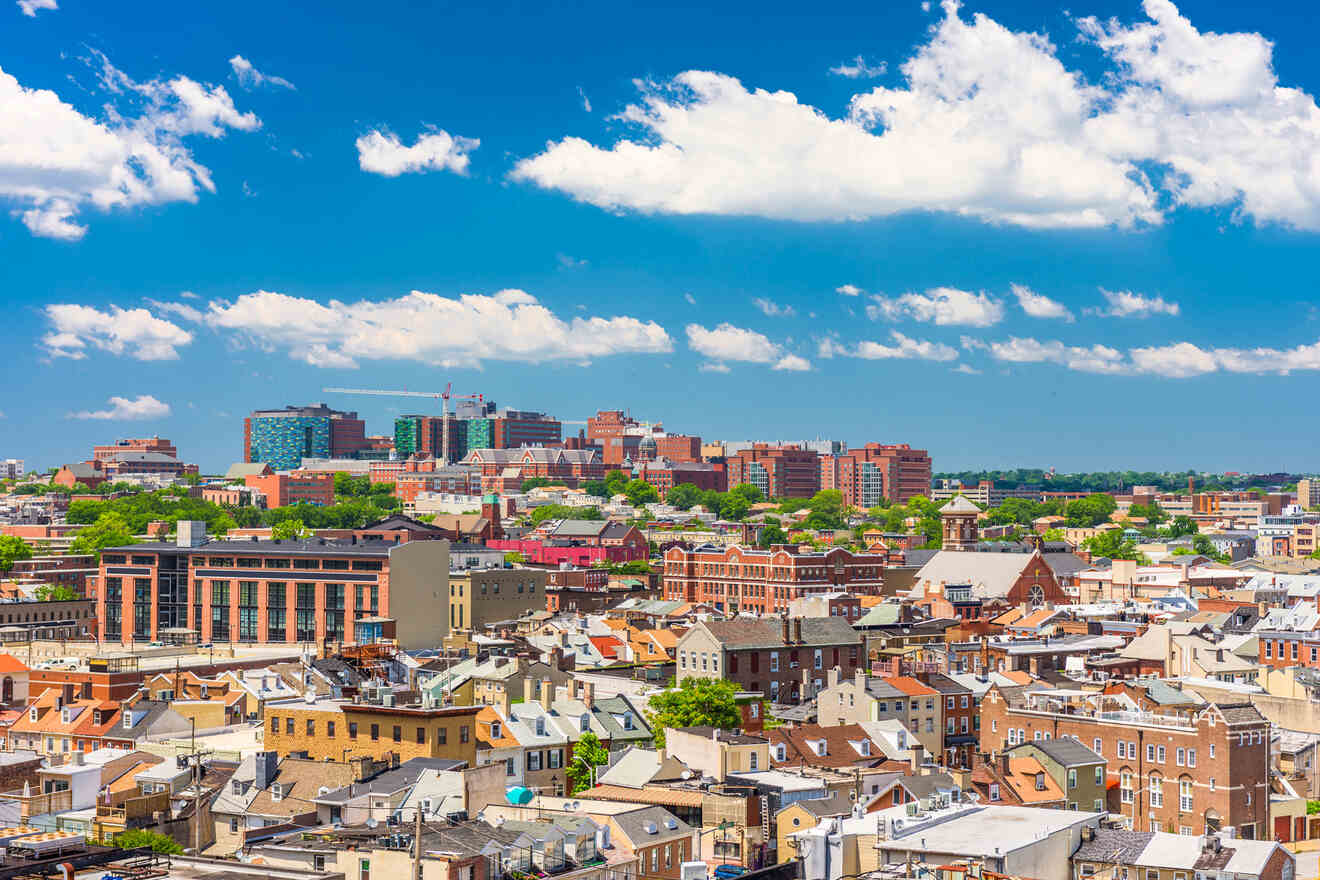 Welcome dear traveler! It's time to explore the beautiful Baltimore in Maryland, USA! A city of rich history and culture, filled with attractions that will make you never want to leave this place! But first, you need to know the details!
Downtown & Inner Harbor is the best area where to stay in Baltimore. These neighboring areas feature many attractions and great hotels (some even come with a swimming pool or two). But if a central location isn't really what you want, I've added 3 more areas perfect for party people, foodies, and culture lovers; Fells Point, Little Italy, and Midtown & Mount Vernon.
Each area has a list of hotels listed from most to least expensive to help you make the best decision! Plus a small list of things to do that will point you to the main and top attractions in that place.
As I always like to say, it's better to be safe than sorry! And that goes for booking hotels as well. Book in advance and you'll get the best deals, plus avoid all the fuss of finding a great hotel last-minute! (And I highly recommend it, especially for Baltimore!)
I think we're ready to go. Buckle up because we've got lots to see!
If you are in a hurry
Eager to book your hotel ASAP? Then have a look at the list below. It has the best hotels where to stay in Baltimore, all located in Downtown or Inner Harbor
airbnb
Hidden Loft
An Airbnb with amazing reviews
budget hotel
Hotel Indigo
Best affordable accommodation in the center
Here's a map with all the areas where to stay in Baltimore that I'll talk about in this post to help you visualize them better:
1. Downtown & Inner Harbor – where to stay in Baltimore for the first time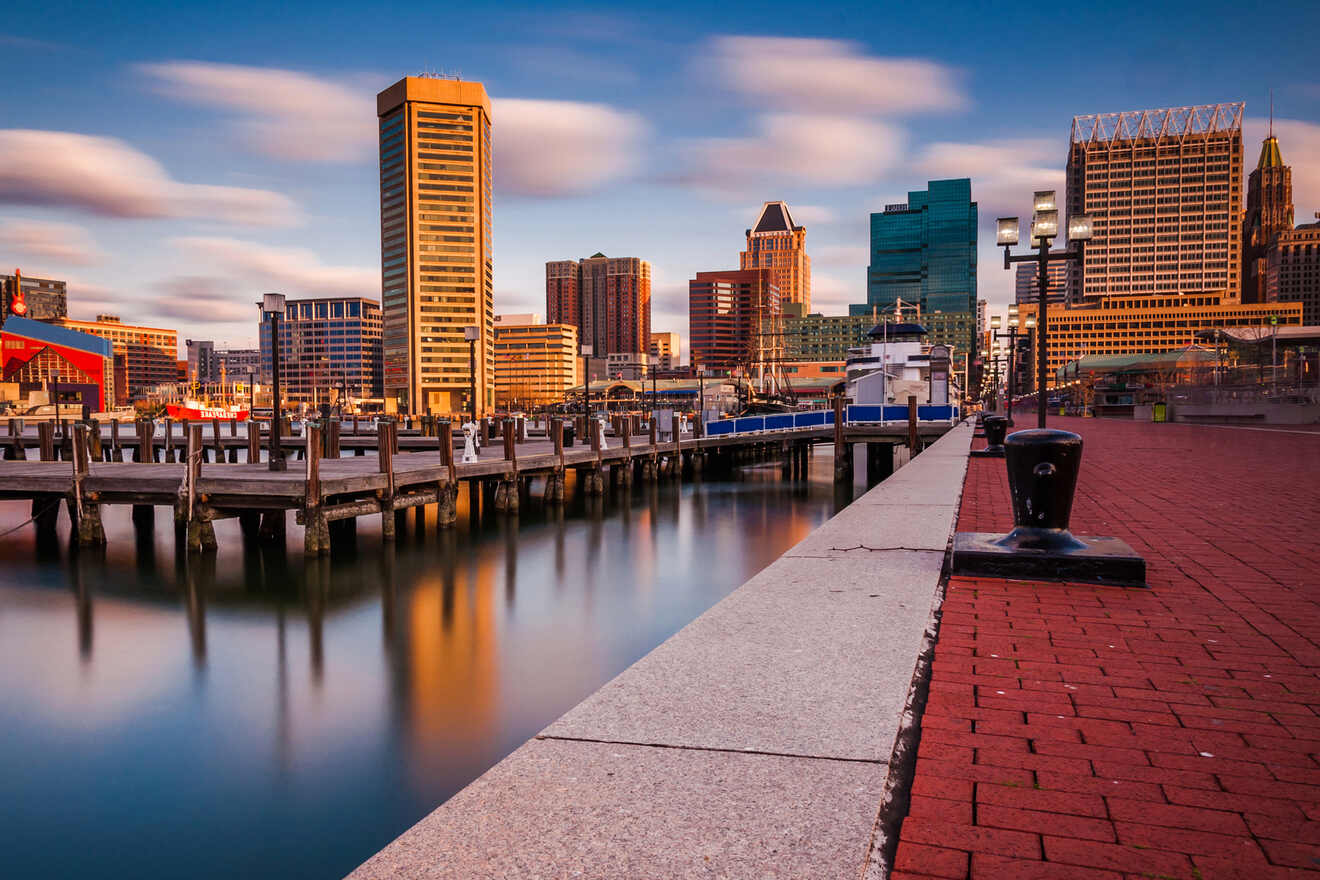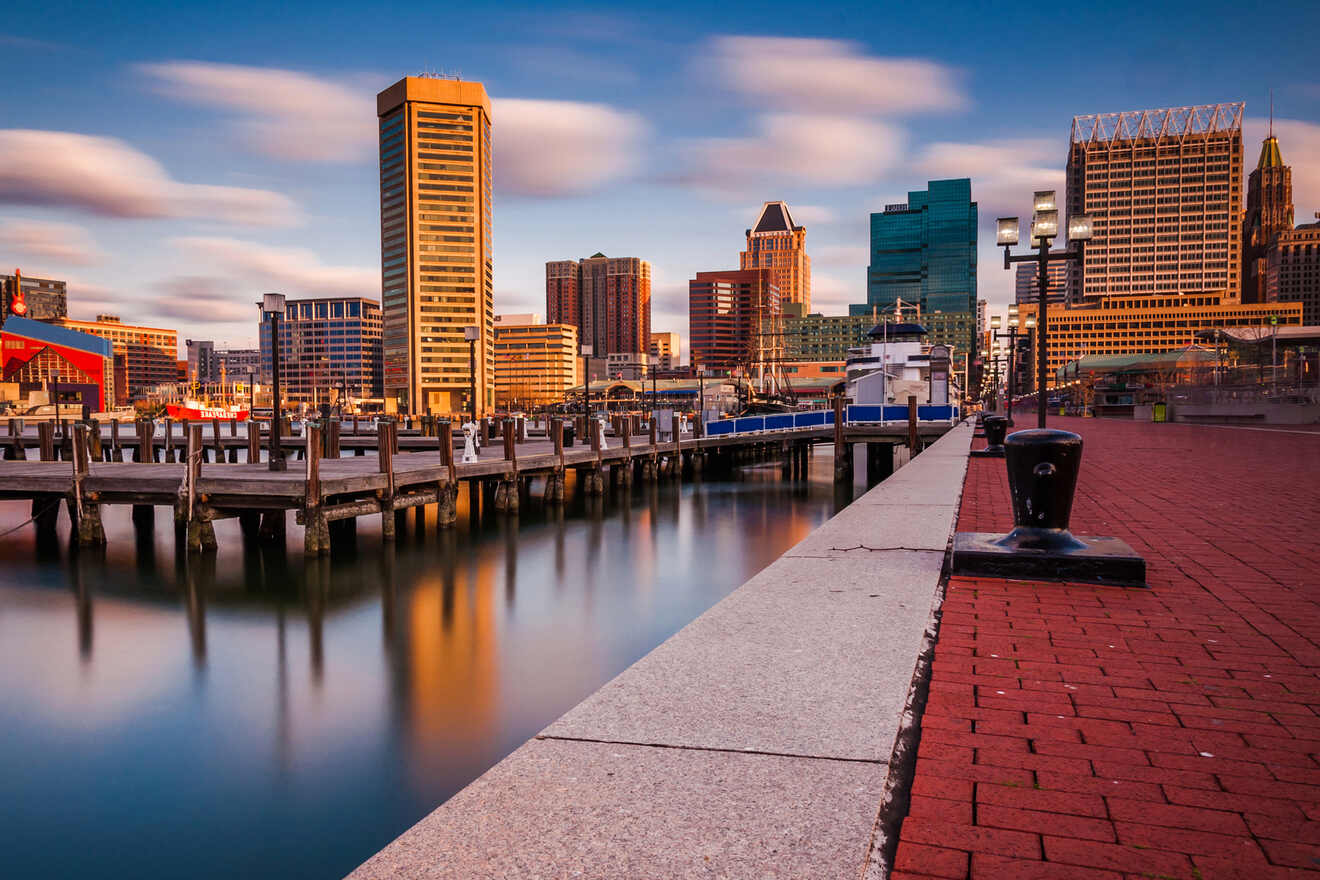 Planning your stay in Baltimore? Well, there's no better place to look for hotels than the Downtown area. As you've probably seen, I've also included Inner Harbor as the two areas are set next to each other and together make up a fabulous spot for tourists!
Why?
Firstly you'll have plenty of things to do and see. Downtown Baltimore also serves as the city's business center, and the architecture here is simply stunning.
Although the media sometimes portrays Baltimore as this scary city, I've got to tell you, they didn't do any justice to all the tourist attractions here like the National Aquarium at the Harbor Baltimore or the American Visionary Art Museum. Although Baltimore isn't such a dangerous place as everyone says, it's better to stay safe and don't roam alone on the streets at night.
While Downtown Baltimore is super modern and perfect for business travelers, the Inner Harbor, which is within walking distance, is one of those historic neighborhoods that you never get tired of exploring.
The Inner Harbor is also one of the oldest seaports in the US and is filled with numerous restaurants, music venues, and museums.
I recommend booking your hotels in Downtown Baltimore and Inner Harbor in advance. There are only a handful of really good ones (the ones in the list below), and they'll sell out super fast!
Luxury hotel
Renaissance Harborplace
Admire the views of the Inner Harbor from the spacious rooms of this hotel with an on-site restaurant. The accommodation has so many modern amenities, including flat-screen TVs and a business center and they offer numerous activities like bike tours and hiking!
Other options in Downtown & Inner Harbor
Mid-Range
Staybridge Suites
A classy, pet-friendly hotel that's centrally located and which comes with cozy rooms and a fitness center
Budget
Hotel Indigo
This affordable hotel near Baltimore Convention Center offers contemporary rooms, city views, and spa services
Airbnb
Hidden Loft
A spacious loft in Downtown Baltimore with many on-site amenities including a kitchen and free wifi
Things to do in Downtown & Inner Harbor
Spot cute animals at the National Aquarium
Admire the art at the American Visionary Art Museum
Catch a sunset near the ships at Inner Harbor
Visit the Enoch Pratt Free Library
Shop for local products at Lexington Market
Take the kids to the Maryland Science Center
Go up to the Top of the World Observation Level
Attend a baseball game at Camden Yards or M&T Bank Stadium
2. Fells Point – best place to stay in Baltimore for nightlife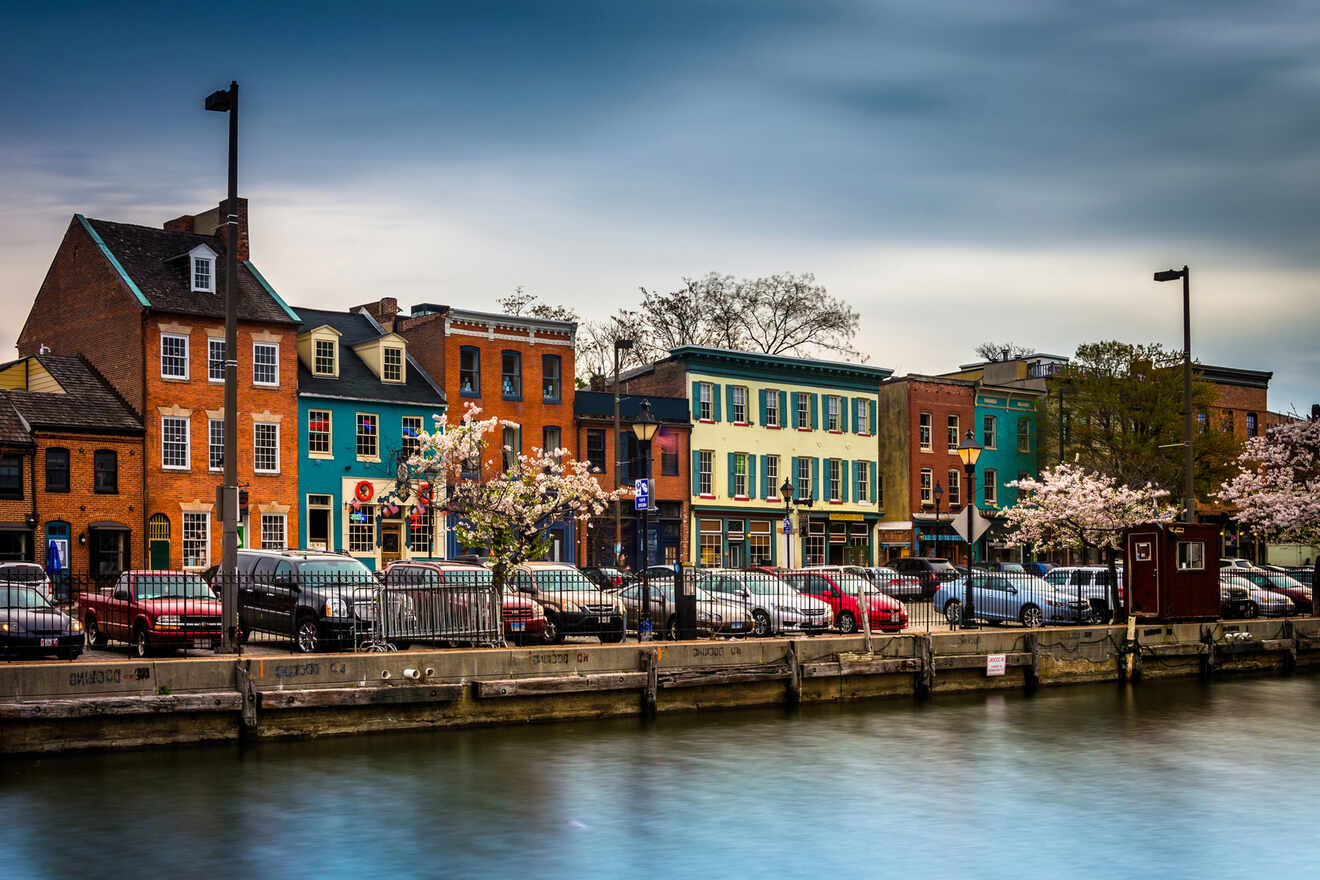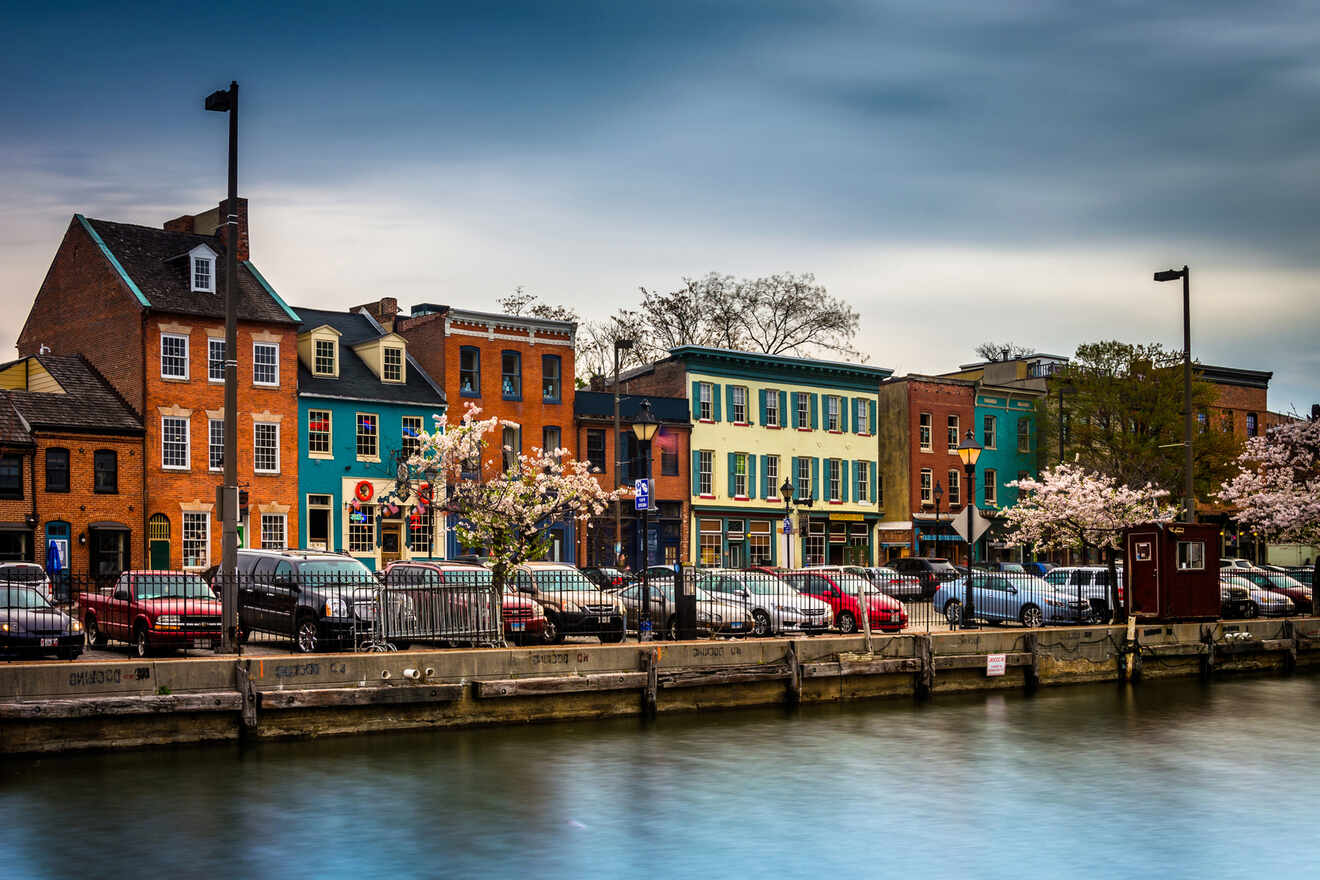 This lively neighborhood is within walking distance from Downtown and the Inner Harbor and is one of the oldest areas where to stay in Baltimore, with houses dating back to the 1700s.
But Fell's Point isn't just another charming and historical place where you can just walk for hours. There are so many music venues, pubs, and taverns here that keep the locals and tourists entertained.
I do recommend exploring Fells Point's cobblestone streets, as you'll come across a few art galleries and museums. Plus, you'll have a chance to admire all those unique houses that still look amazing. If you want to stay in one of these vintage homes, check out our post with the best Airbnbs in Baltimore!
In Fell's Point, you'll also find the ferry terminal if you feel like taking a nice short trip. Or you can take a short boat trip, as there are many boat charters around the area. They even have water taxis for anyone who wants to try that out!
Yes, Fell's Point sounds like a super fun place where to stay in Baltimore, but I think now it's time to check out the hotels because I've prepared such a great list!
Luxury hotel
Sagamore Pendry
Gotta love the classy American style! The comfortable rooms of this hotel come with ceiling-to-floor windows that overlook the garden or swimming pool. Its waterfront location, spa facilities, and fitness center make this hotel a keeper. I would love to chill after a day of exploring in front of the outdoor fireplace!
Other accommodation options in Fells Point
Mid-Range
Canopy By Hilton
A modern hotel with cozy rooms overlooking the Baltimore Harbor that has an on-site restaurant
Budget
Stylish House
Enjoy your stay in Baltimore in this great place with a lovely inner courtyard, a balcony, and free parking
Airbnb
Charming Place
The on-site amenities at this Baltimore home include air conditioning, a backyard, and a balcony
Things to do in Fells Point
Admire the pieces at the Art Gallery of Fell's Point
Have a drink at Max's Taphouse
Visit the National Slavic Museum
Listen to some live music at the Fells Point Tavern
Eat delicious dishes during a food tour in Fell's Point
See the historic Robert Long House
Go for dinner and drinks at Penny Black Bar & Restaurant
3. Little Italy – where to stay in Baltimore for foodies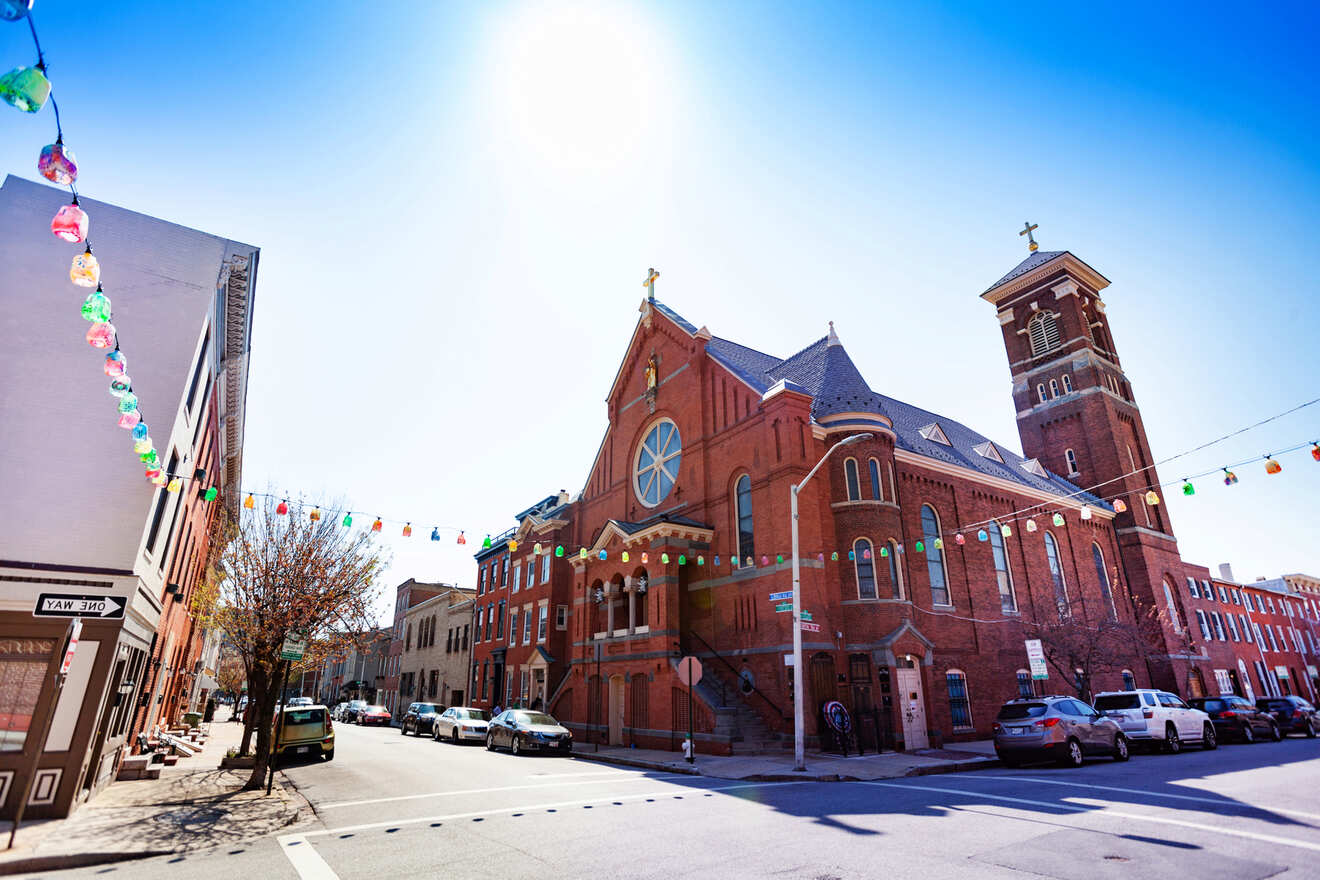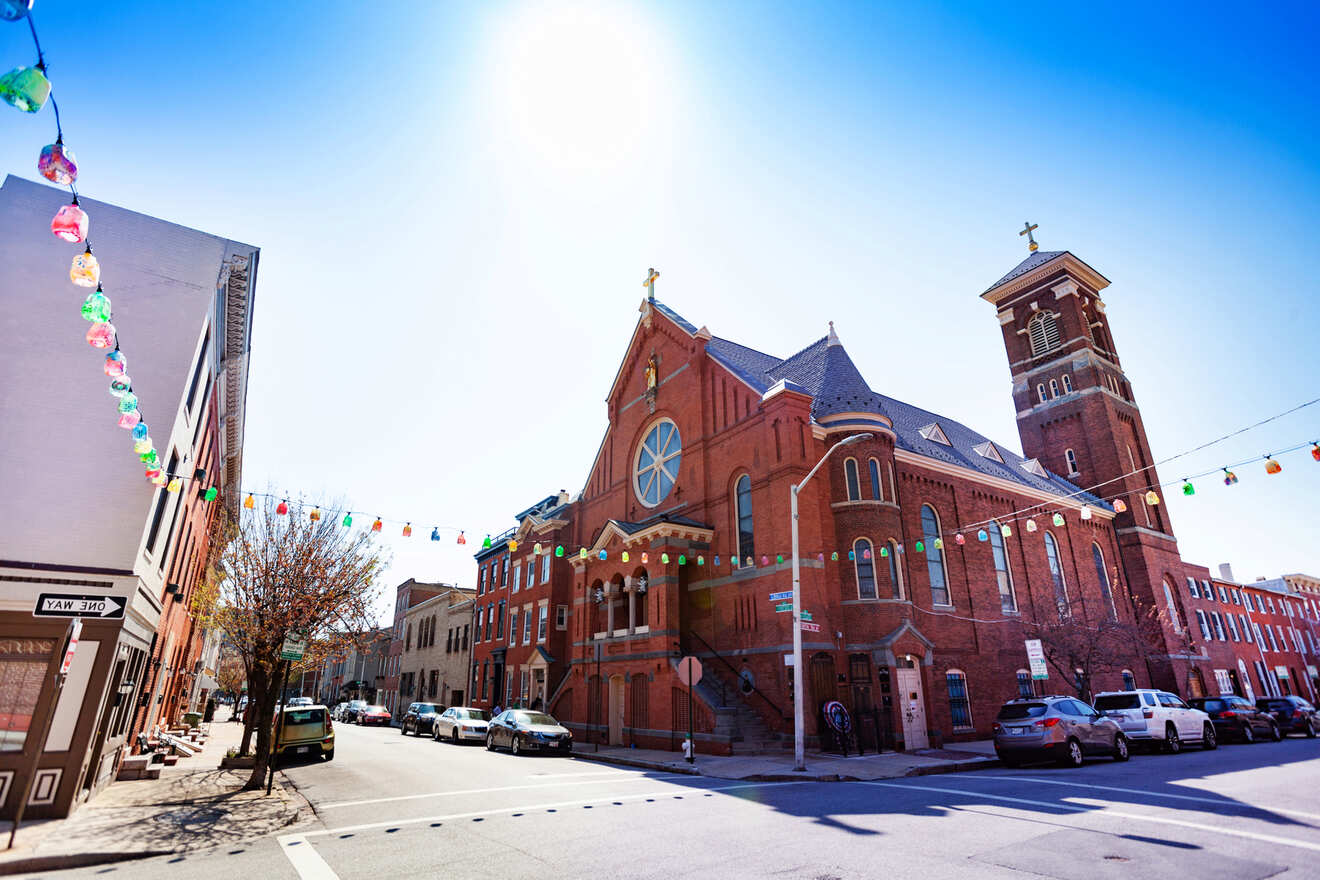 This neighborhood really lives up to its name! It's a corner of Italy set in the US!
Little Italy is known for its strong Italian-American heritage and even the vibe kind of resembles the one you feel in Italy!
For anyone like me who loves Italian food (or any other type of food), this area will be the perfect place where to stay in Baltimore! There are so many restaurants here that you won't know where to start.
However, the area is small, and there aren't as many tourist attractions but don't worry you'll be within easy walking distance of Inner Harbor, Downtown Baltimore, and Fell's Point. So you can always visit the attractions there like the National Aquarium or Camden Yards.
Or if you have some free time during your stay in Baltimore, get a car and go visit Washington, DC! It's only a 1-hour drive away.
While you're here, take a moment to explore Little Italy. The area even has a lovely Catholic Church that looks pretty impressive and is worth a visit! Then, of course, stop at one of the many restaurants and eat a delicious Italian lunch. Angeli's Pizzeria and La Tavola are some of the best ones around!
Luxury hotel
1840s Carrollton Inn
Travel back in time during your stay in Baltimore at this super fancy B&B with spacious rooms decorated with antique furniture and many on-site amenities, including room service and spa facilities. They even have a nice little garden and terrace where you can chill!
Other accommodation options in Little Italy
Mid-Range
BlancNoir
Spacious rooms with a spa bath and a flat-screen tv. This hotel has a sun terrace and outdoor fireplace
Budget
Tru By Hilton
Colorful and modern hotel perfect for business travelers and families that offers breakfast and free wifi  
Airbnb
Little Italy's Gem
This place to stay in Baltimore is excellent for big groups as it has lots of space, a kitchen, and a balcony
Four Seasons Baltimore – Little Italy may be small, but it sure has a handful of great hotels. That's why I thought to add one more for you just in case you want another amazing luxury option. You'll want to spend so much at this hotel! Why? Firstly the views from the ceiling-to-floor windows are fabulous! The rooms are modern, and some of them overlook the harbor or the outdoor swimming pool. Order some room service, and relax in the sauna or hot tub! 
Things to do in Little Italy
Visit the Baltimore Civil War Museum
Grab lunch at Angeli's Pizzeria
Explore the National Historic Seaport
Learn new things at the Reginald F. Lewis Museum
Indulge in all the pastries at Vaccaro's Italian Pastry Shop
Admire the St. Leo Roman Catholic Church
Go for drinks at The Elk Room
4. Midtown & Mount Vernon – trendiest place to stay in Baltimore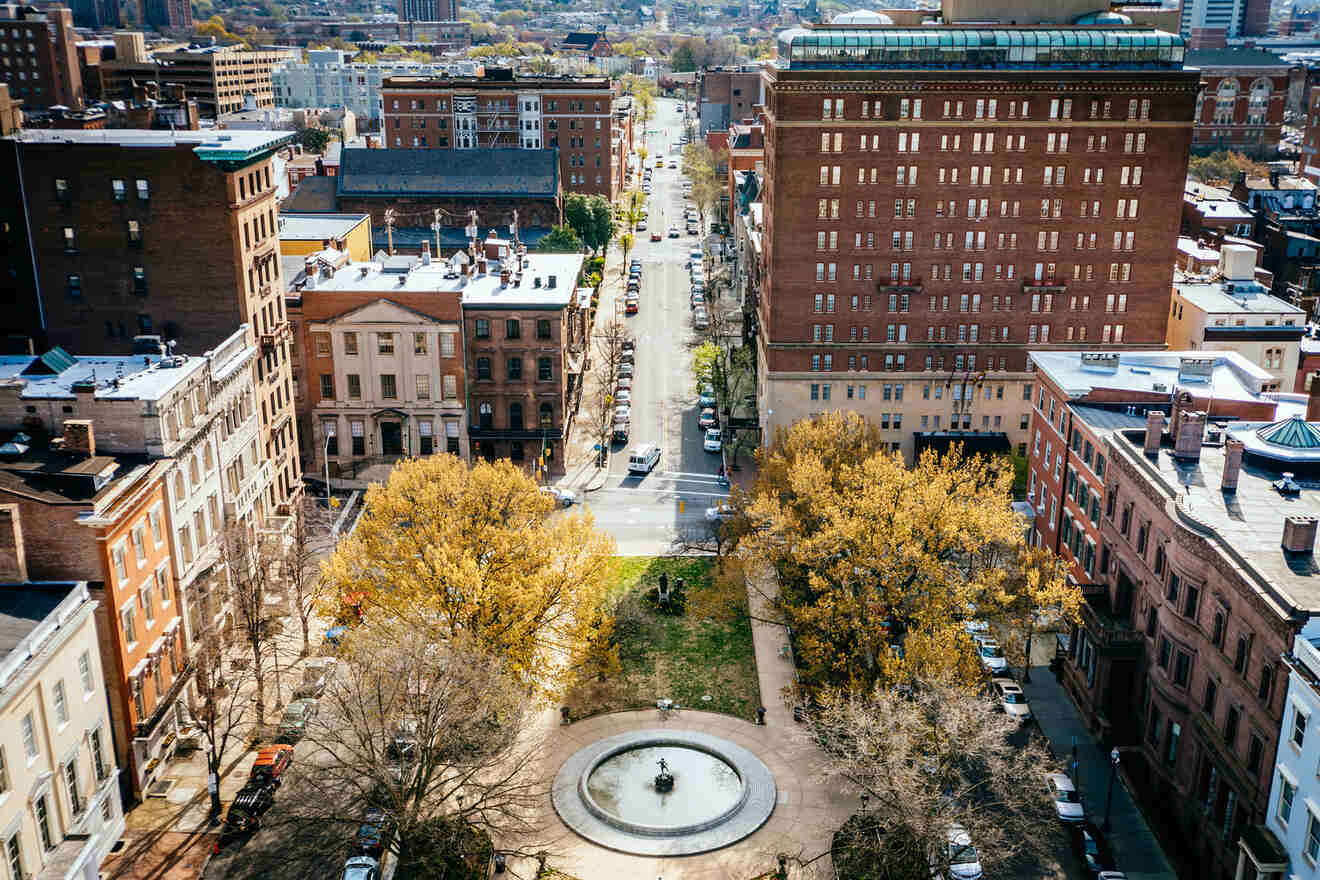 Although all the Baltimore neighborhoods are unique, this elegant area set north of Downtown,  which is also the city's cultural center, has something special!
Midtown is just north of Mount Vernon, a smaller neighborhood with many things to do and see, which is why I grouped these two together. Honestly, you won't have time to get bored here. You'll have so many attractions to visit, like the Walters Art Museum, the Washington Monument, and the George Peabody Library!
It's not only the attractions that make Midtown and Mount Vernon such vibrant places where to stay in Baltimore. There are plenty of restaurants and bars where you can eat delicious food and chill after visiting all those attractions!
Midtown and Mount Vernon are pedestrian-friendly, so you can walk to the attractions and also admire the architecture of this historical area. Plus, Downtown Baltimore is not too far, and you can always go to visit some places there.
Ready to check out all the fantastic hotels in Midtown and Mount Vernon? Here they are:
Luxury hotel
The Ivy Hotel
Comfort and style should be the motto of this boutique hotel! The accommodation is not too far from the Washington Monument and it features beautifully decorated rooms with a gas fireplace. Enjoy a cup of tea in the courtyard or spend some time in the fun games room before exploring the Mount Vernon neighborhood.
Other accommodation in Midtown & Mount Vernon
Mid-Range
Hotel Revival
A historic hotel with a library a fitness center, and rooms that have a unique design and classical furniture
Budget
Modern Apartment
Enjoy your stay in Baltimore in this comfortable place that has a kitchen and a private backyard
Airbnb
Trendy Apartment
I love the vintage vibe of this apartment! It has paintings, old furniture plus lots of space and a kitchen
Things to do in Midtown & Mount Vernon
Visit The Walters Art Museum
Admire the iconic Washington Monument
Take the kids to the Mt Vernon Children's Park
Grab lunch at Marie Louise Bistro
Learn new things at the Maryland Historical Society
Check out the plays at Baltimore Center Stage Theatre
Explore the beautiful George Peabody Library
Catch a concert at the Joseph Meyerhoff Symphony Hall
| | |
| --- | --- |
| 👑 Luxury price: | $250 |
| 💵 Mid Range: | $200 |
| 🛏️ Budget: | $150 |
| 🏠 Airbnb: | $180 |
| 💰 Accommodation prices: | Medium |
| 📍 Best area: | Downtown & Inner Harbor |
| 👪 Best area for families: | Inner Harbor |
| 🛎️ Best luxury hotel: | Renaissance Harborplace |
| 💵 Best mid-range hotel: | Staybridge Suites |
| 👛 Best budget hotel: | Hotel Indigo |
Frequently asked questions about hotels in

Baltimore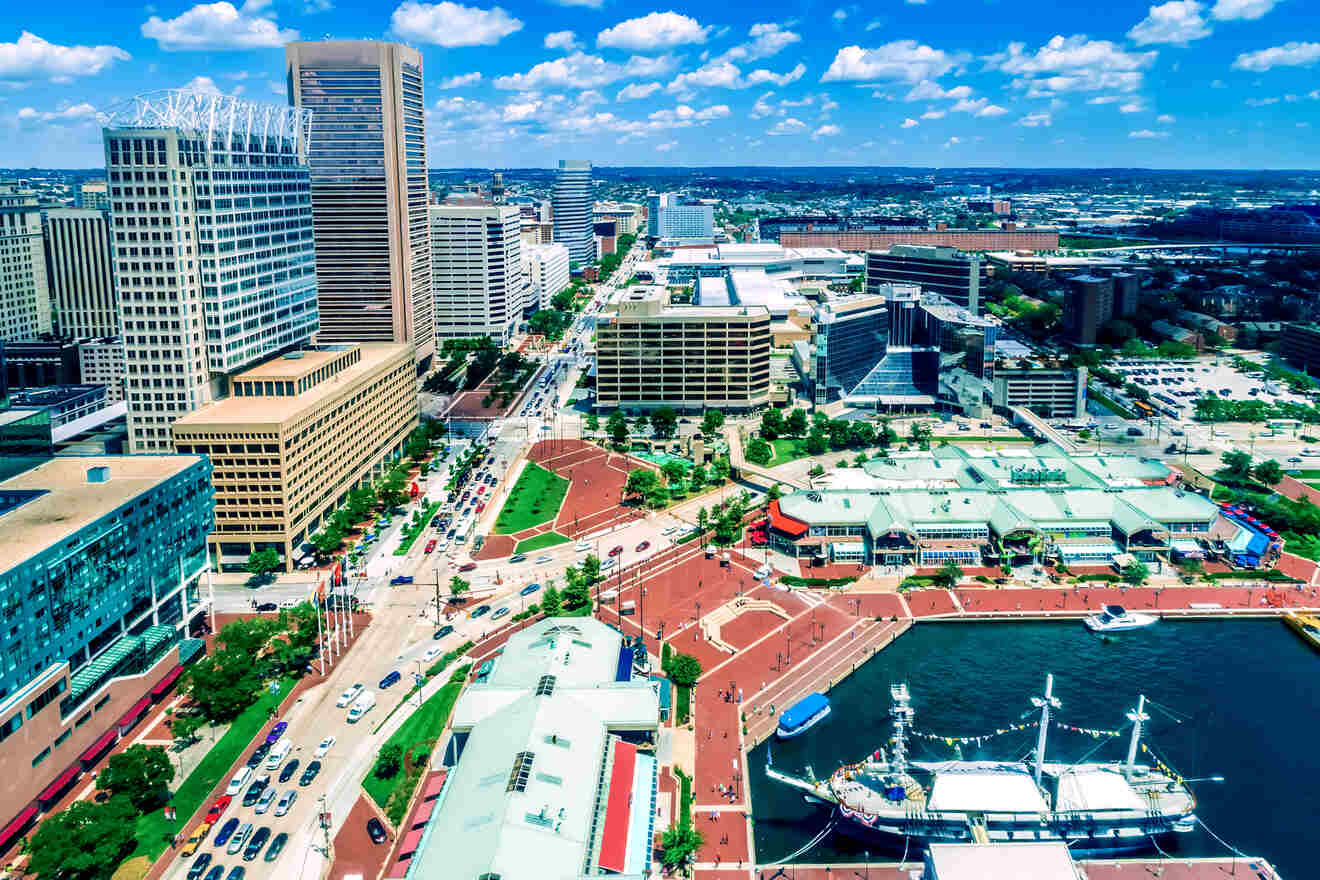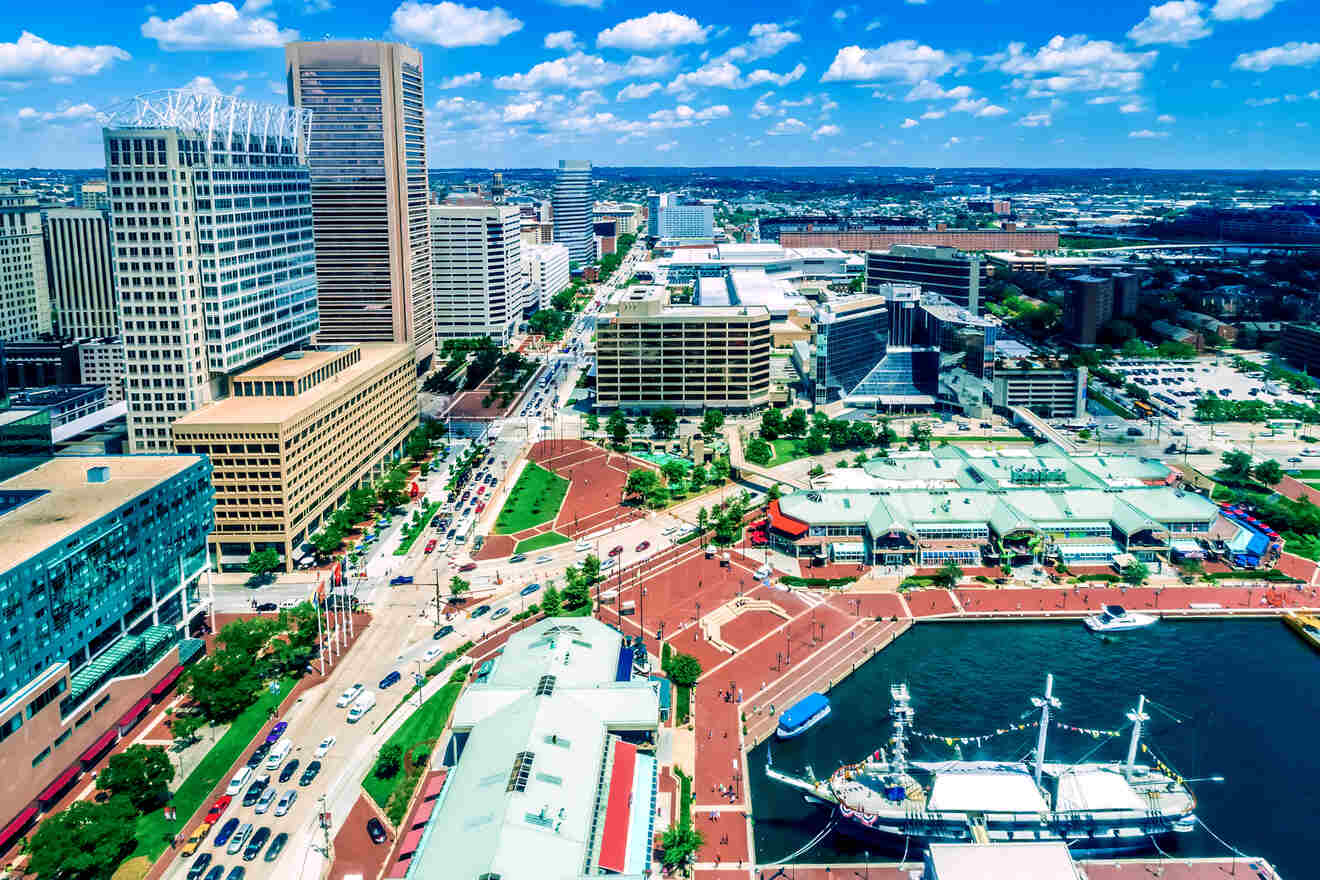 🤔 Where is it safe to stay in Baltimore?
You can stay in all of the areas that I mentioned above like Downtown Baltimore, Inner Harbor, Fells Point, Little Italy & Midtown, but avoid walking alone at night as much as you can. 
🤩 What is the nicest part of Baltimore?
The best parts to stay in Baltimore are Inner Harbor and Mount Vernon. These 2 historical areas are filled with historical and cultural attractions like the Washington Monument, plus they have some great hotels like Renaissance Harborplace. 
🏨 Which are the best hotels in Downtown Baltimore?
Staybridge Suites and Hotel Indigo are the best hotels to stay in Baltimore Downtown with many on-site amenities, including a fitness center and a restaurant. 
⚠️ Is it safe to go to Downtown Baltimore?
Yes, it's safe to stay in Baltimore Downtown but you should avoid as much as you can walking alone at night (and that goes for all areas) and book hotels like the ones on the list that are about a mile or less away from the attractions. 
Conclusion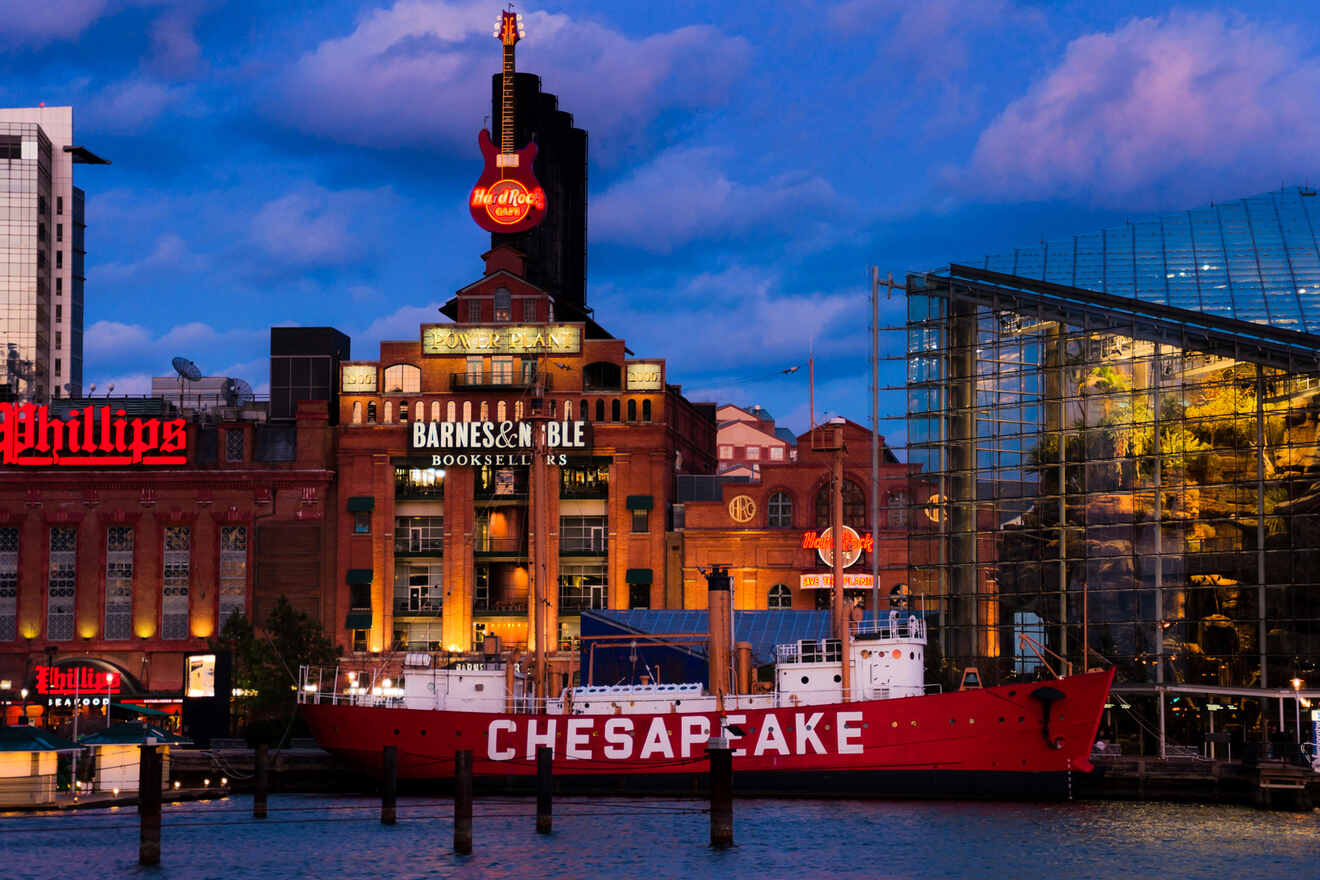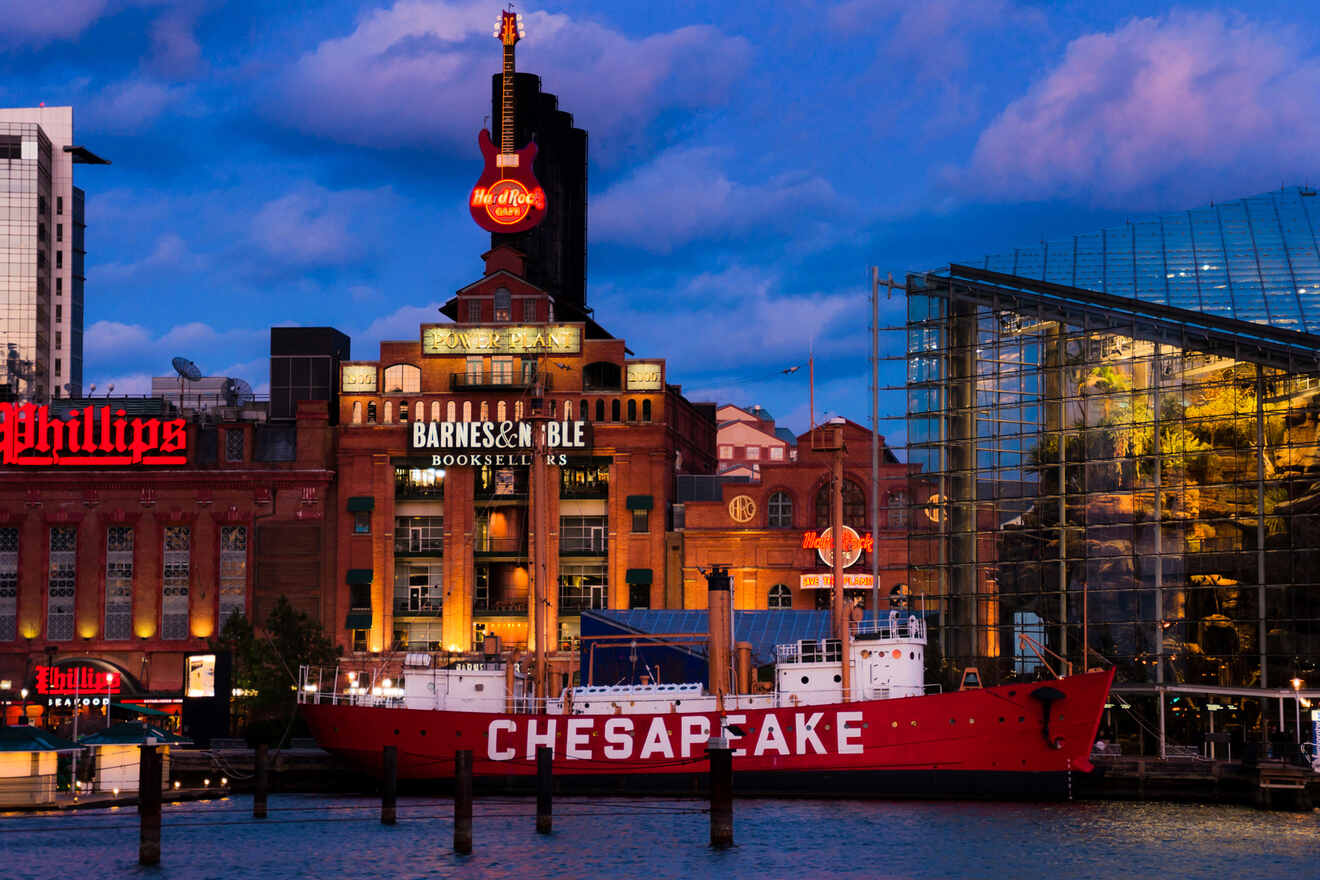 This city sure has lots of things to do and see! I hope you'll get the chance to try them all during your stay in Baltimore.
Until then, let's do a quick recap. In this post, you'll find a detailed guide to the best areas where to stay in Baltimore by interest. Plus a list of hotels from most to least expensive to help you pick the right one for you!
As you might know by now, I like keeping my readers well-informed, that's why I added so many hotels (trust me, it will be so helpful) but if you can't decide which one to pick, here are my top 2 favorite ones, both located in Downtown & Inner Harbour:
Renaissance Harborplace – This modern hotel offers amazing harbor views, a swimming pool, and a bar
Staybridge Suites – This perfect mid-range hotel sits near the National Aquarium and it has a fitness center
Remember what I said earlier! Book the hotels for your stay in Baltimore in advance. The city tends to get super crowded and these accommodations (especially those that come with an indoor pool or spa centers) will sell out super early!
I'm so excited for you to discover this fantastic city! And I'm sure that with this post you'll find it easy to plan your trip now.
However, if you do have any other questions, leave me a comment below and I'll answer as soon as I can!
Have a fun holiday,
Victoria