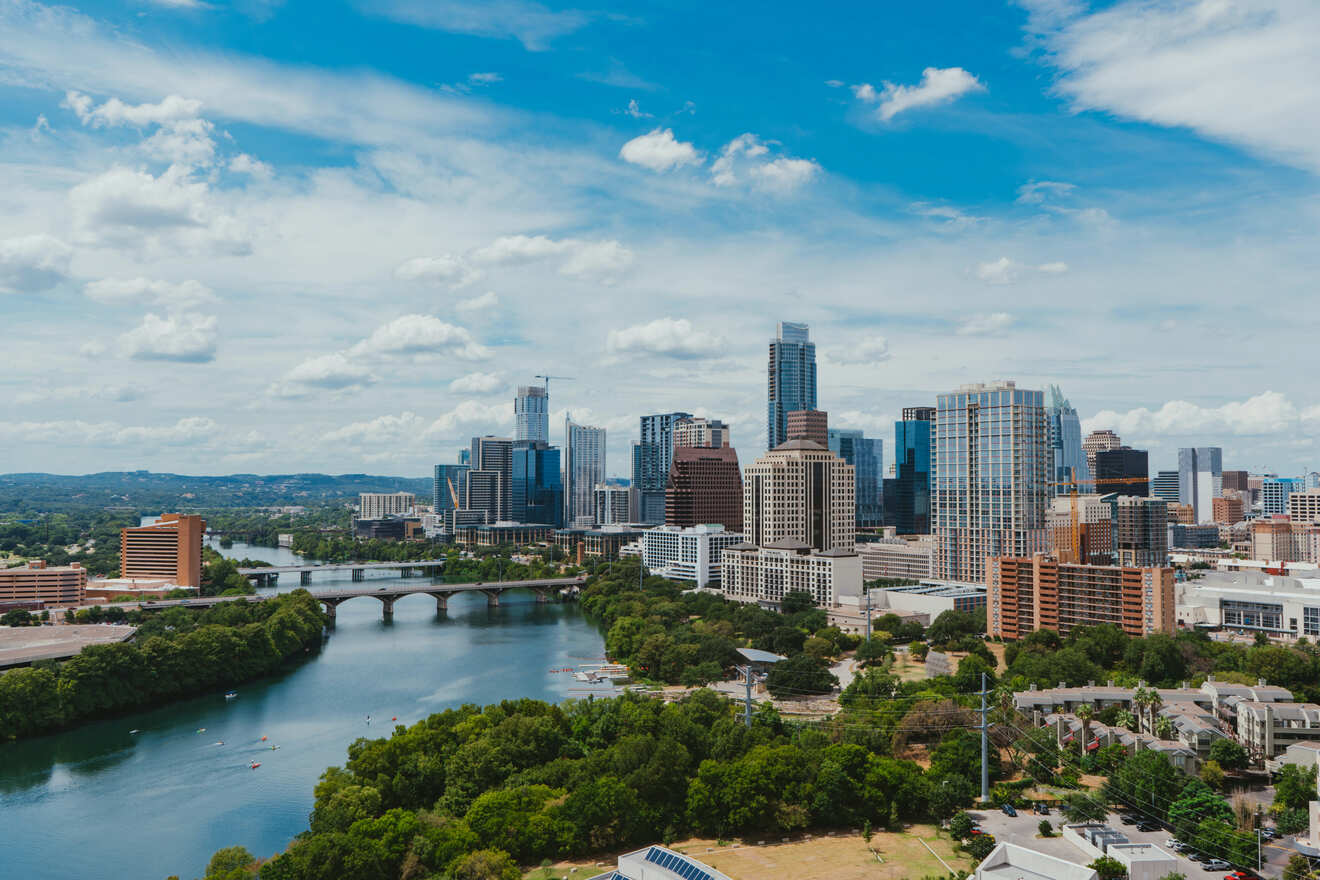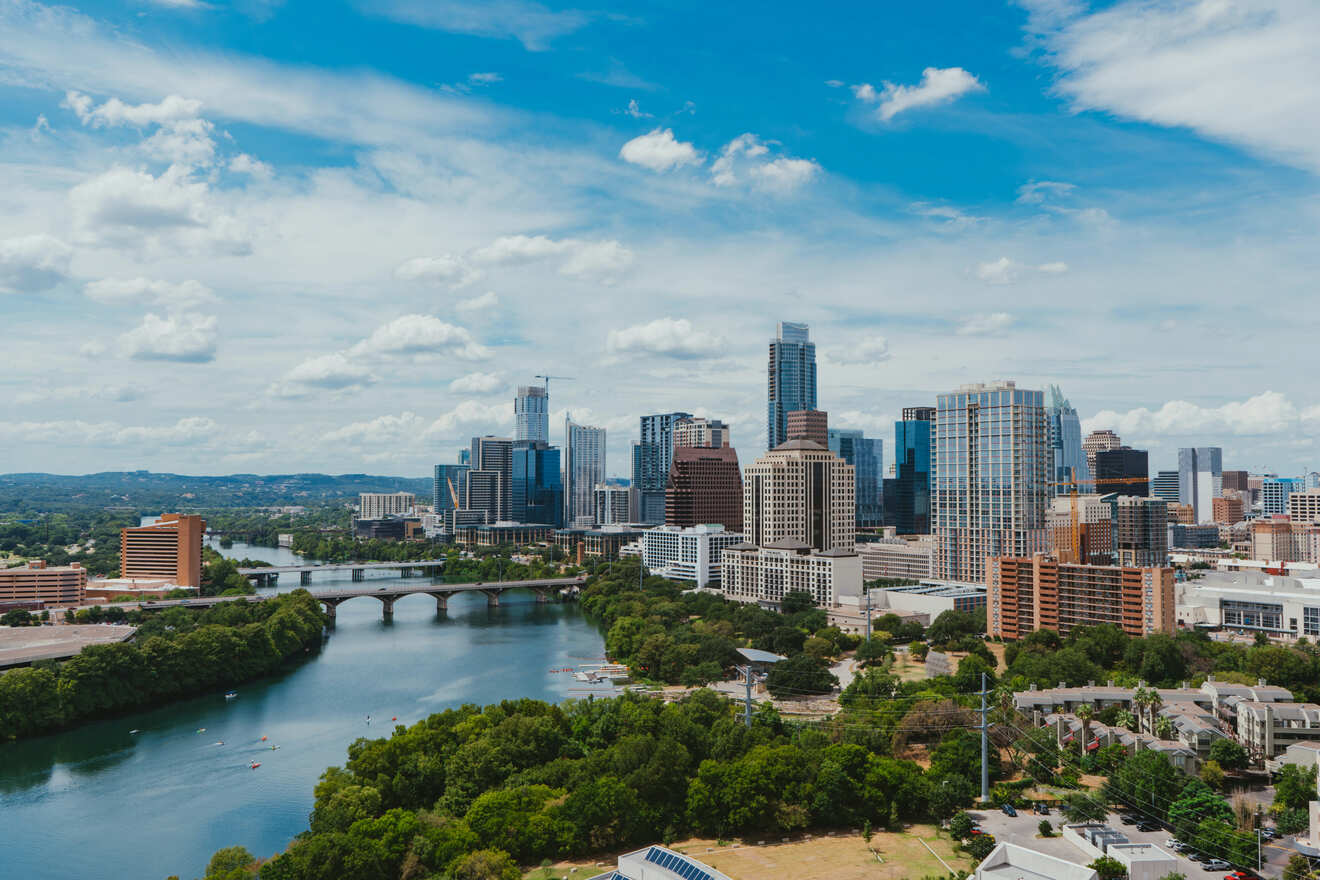 Austin is a great place for fun-loving travelers like you and me. As the state capital of Texas in the United States, Austin is home to an eclectic live-music scene. Whether you're into country, blues, or rock you'll find it here! The city also has many parks and lakes that are perfect for any adventurous traveler looking for fun outdoor activities, and a bunch of attractions, such as the Texas State Capitol building and the Bullock Texas State History Museum. 
I know you're probably already ready to visit this lively city and you're probably looking for hotels and great places to stay in Austin, Texas, luckily you're in the right place. Booking accommodation can be tricky and usually the most confusing part of planning a trip but don't worry, I'm here to guide you on how to find the best neighborhoods where to stay in Austin, as well as top hotels for every budget. I've gone through thousands of listings and these are the best of the best! 
To really make sure you find the perfect place for you I will let you know about the big attractions, shopping areas, popular bars (if you wanna try the city's nightlife), and the top restaurants to satisfy your palate, to ensure you have a vacation worthy of boasting about to all your family and friends back home! Just make sure you book these in advance as these recommendations are the best of the best places to stay in Austin and sell out fast! 
Let's go! 
If you are in a hurry
If you don't have time to read the whole post, these are the absolute top choices where to stay in Austin, Texas, all located in the best neighborhoods at the heart of the city.
airbnb
Getaway Apartment
An Airbnb with amazing reviews
budget hotel
Native Hostel Austin
Best affordable accommodation in the center
To help you easily visualize the best neighborhoods where to stay in Austin that I will be talking about in this post, here is a hand map of the city:
1. Downtown Austin – where to stay in Austin for the first time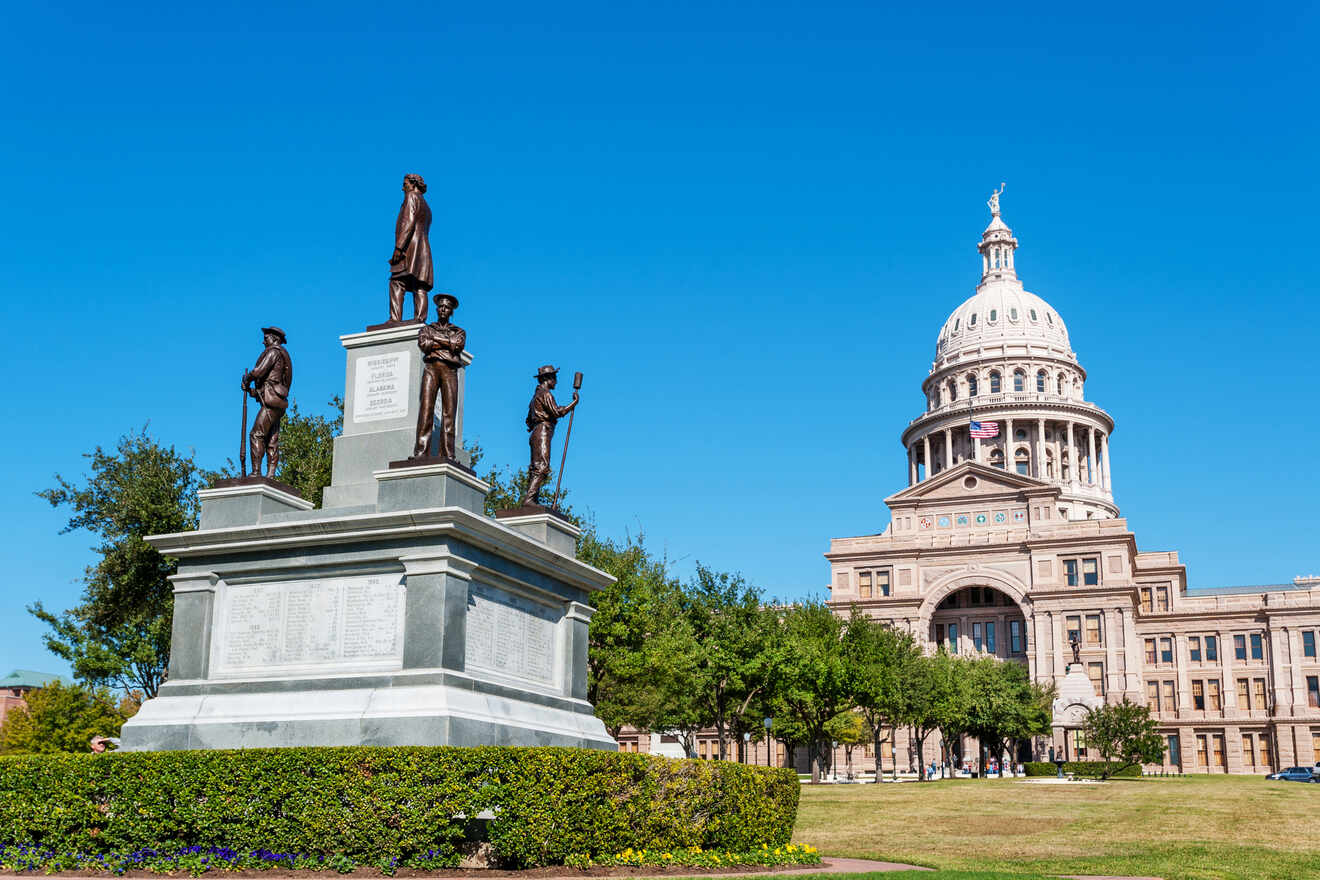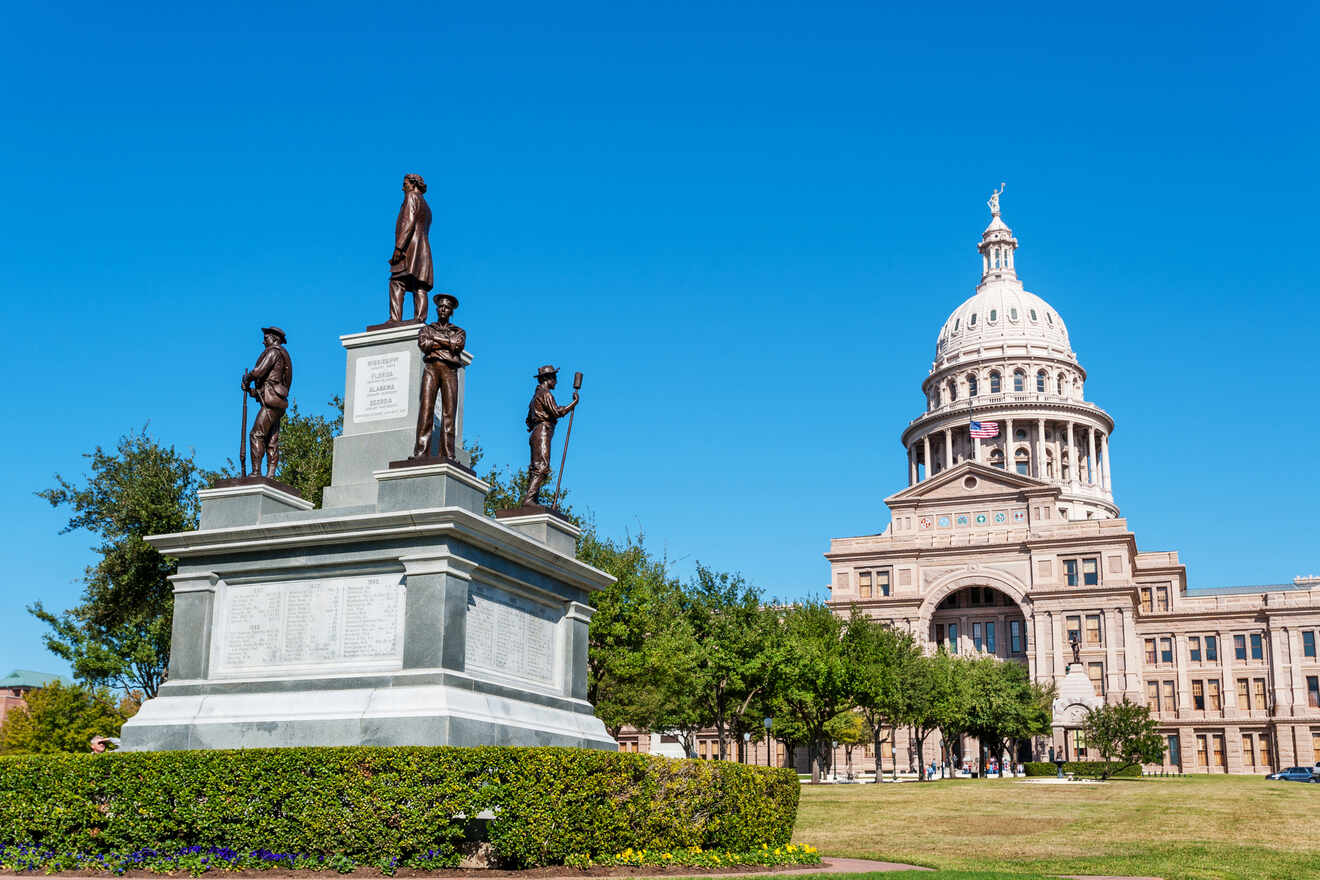 The heart of Austin city, Austin Downtown is home to many famous tourist spots, such as the Texas State Capitol Building, and historic landmarks such as the Paramount Theatre and the Frost Bank Tower. 
Being a busy district perfect for sightseeing with the convenience of having Austin's best activities right on your doorstep, Downtown Austin is definitely the best place to stay for first-time visitors to the city. 
As a multifaceted neighborhood, Austin Downtown takes pride in its fine-dining restaurants, a wide array of bars, and art galleries which really does provide something for every interest. It also serves as the home of people from all walks of life. In the morning, busy professionals scurry the streets, a phone in one hand and coffee in the other, but after the sun sets, Downtown Austin comes to life, giving a new vibe for travelers to enjoy under the bright city lights.
Since this is the most popular place to stay in Austin, Texas make sure to book these hotels in advance. As I mentioned earlier, hotels in Austin sell out quickly but in Downtown even more so! 
Here are the best places to stay in Downtown Austin: 
Luxury hotel
The Stephen F
With an unbeatable location, The Stephen F offers incredibly spacious rooms, 24-hour fitness facilities, an indoor pool, and an on-site restaurant that serves breakfast, lunch, and dinner. Could it get much better than that? Located near 6th Street, All your needs are certainly covered here and I feel like I might just not want to leave my room!
Other accommodation options in Downtown Austin
mid-range
Holiday Inn Express
Offering family rooms, sun terraces, an outdoor swimming pool, fitness center, and buffet breakfast this hotel is great value for money in Downtown
budget
Firehouse Hostel
This hostel is located close to all the famous sightseeing spots and Austin's top nightlife areas making it the perfect budget choice
airbnb
Entire Apartment
A one-bedroom oasis for 4 people near restaurants, shopping, bars, and the nightlife
Things to do In Downtown Austin, Tx
2. East Austin – the most trendy neighborhood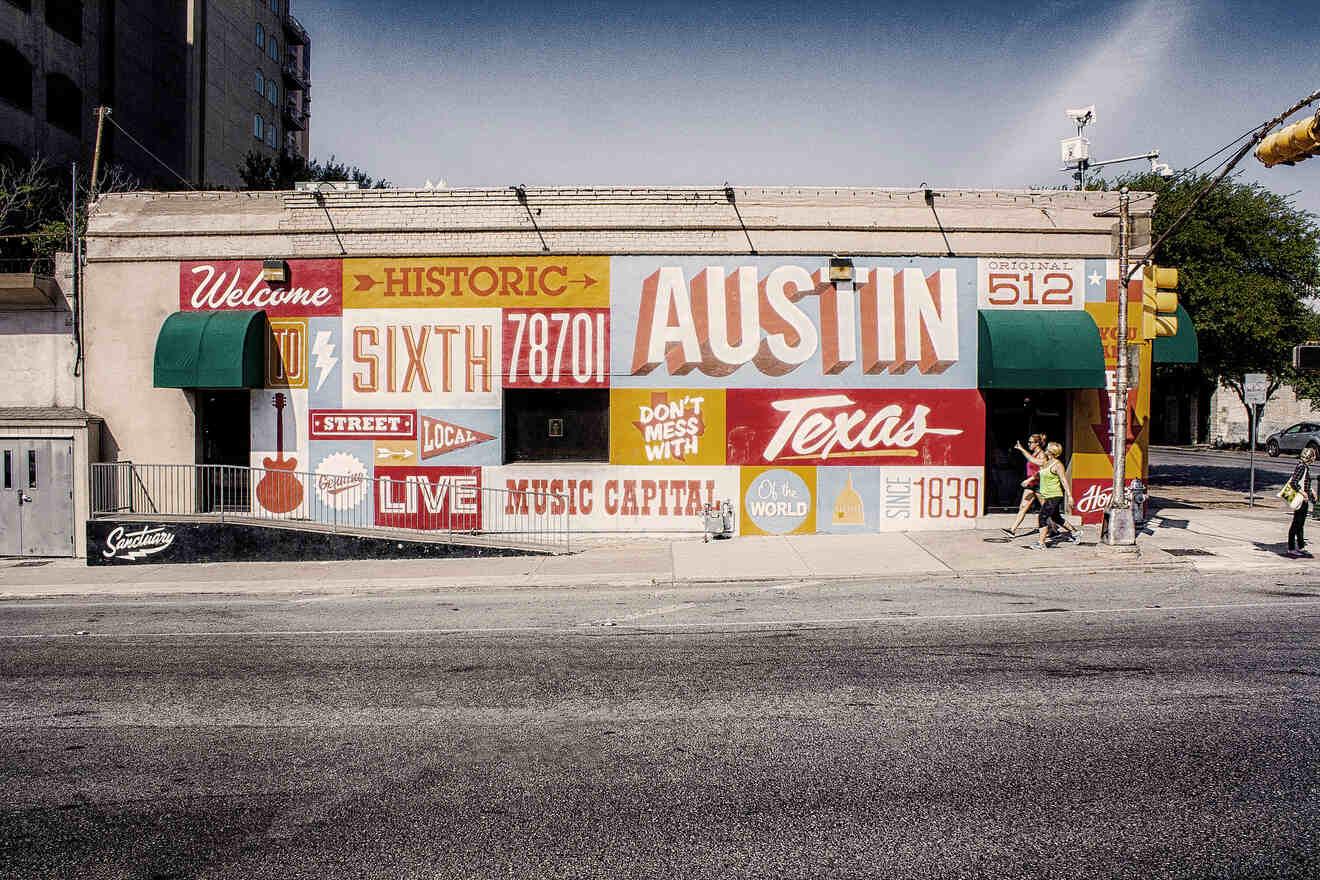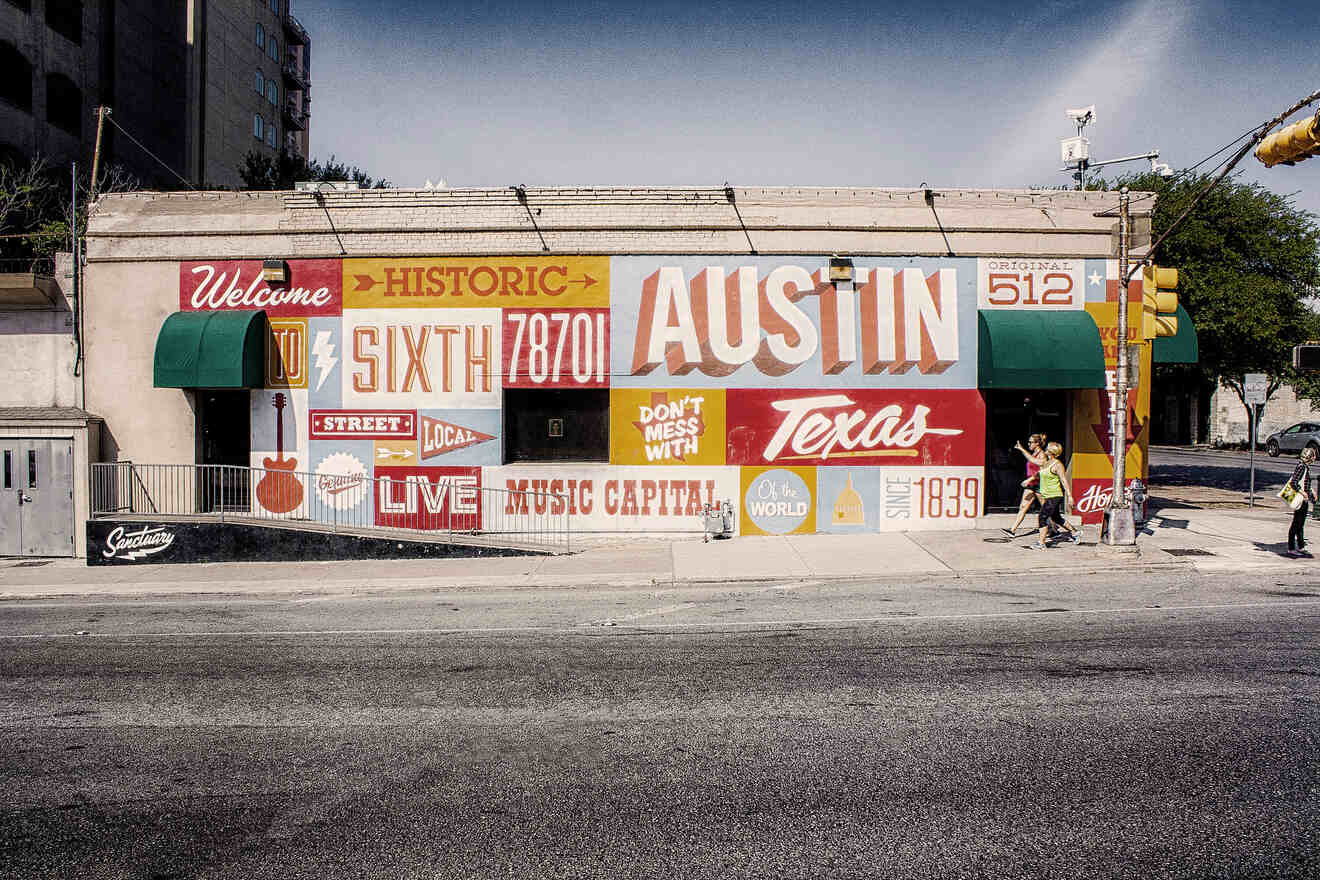 East Austin is one of the city's fastest-growing neighborhoods with its wide range of diversity. Because of its central location right next to Downtown, it's a great place to stay in Austin as it boasts of a great selection of vintage shops, restaurants, clubs, and live music venues, plus, it is the place to find all the coolest hipster hangouts!
If you're a food enthusiast then East Austin is also a great place to discover various selections of food from all around the world (think square-shaped pizza – very instagrammable). Artistic and creative people can feast their eyes on the many art galleries, incredible street art, and outdoor displays to see in the area. 
If you're continuing your trip around the US, make sure to check out these awesome hotels in Houston and Dallas. 
Now that you're hungry, let's find you the perfect place to rest your head in East Austin: 
Luxury hotel
Arrive Austin
Clean, comfy, cozy, the rooms at this hotel make sure you get a restful night's sleep and love every minute of your stay in Austin. Complete with a modern but fun, decorative touch, just like the neighborhood, Arrive Austin is your go-to spot for some luxury living in one of the coolest spots in town!
Other accommodation options in East Austin
mid-range
DoubleTree
This location can't be beaten and this hotel's clean, spacious rooms and accommodating staff make it a great stay in Austin
budget
Urban Retreat
A cozy earthhouse that perfectly complements the hipster nature of this neighborhood. Really get into the spirit of the area with this awesome Airbnb
airbnb
Twilight tiny house
This gorgeous tiny home will feel like your own private ranch in the middle of Austin, with a private kitchenette and bathroom, it's got all the essentials for a great stay
Things to do In East Austin
3. South Congress – an Instagrammable neighborhood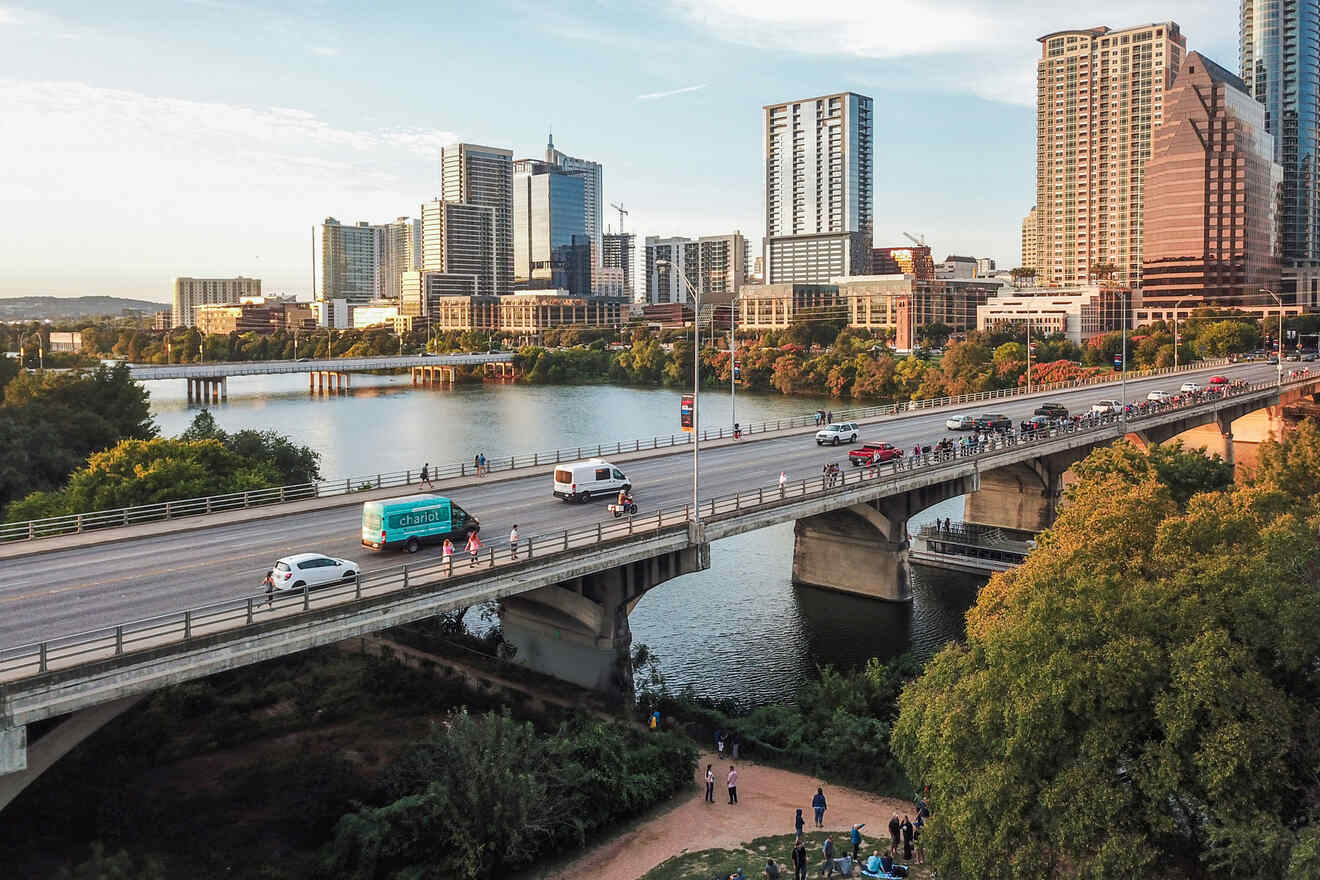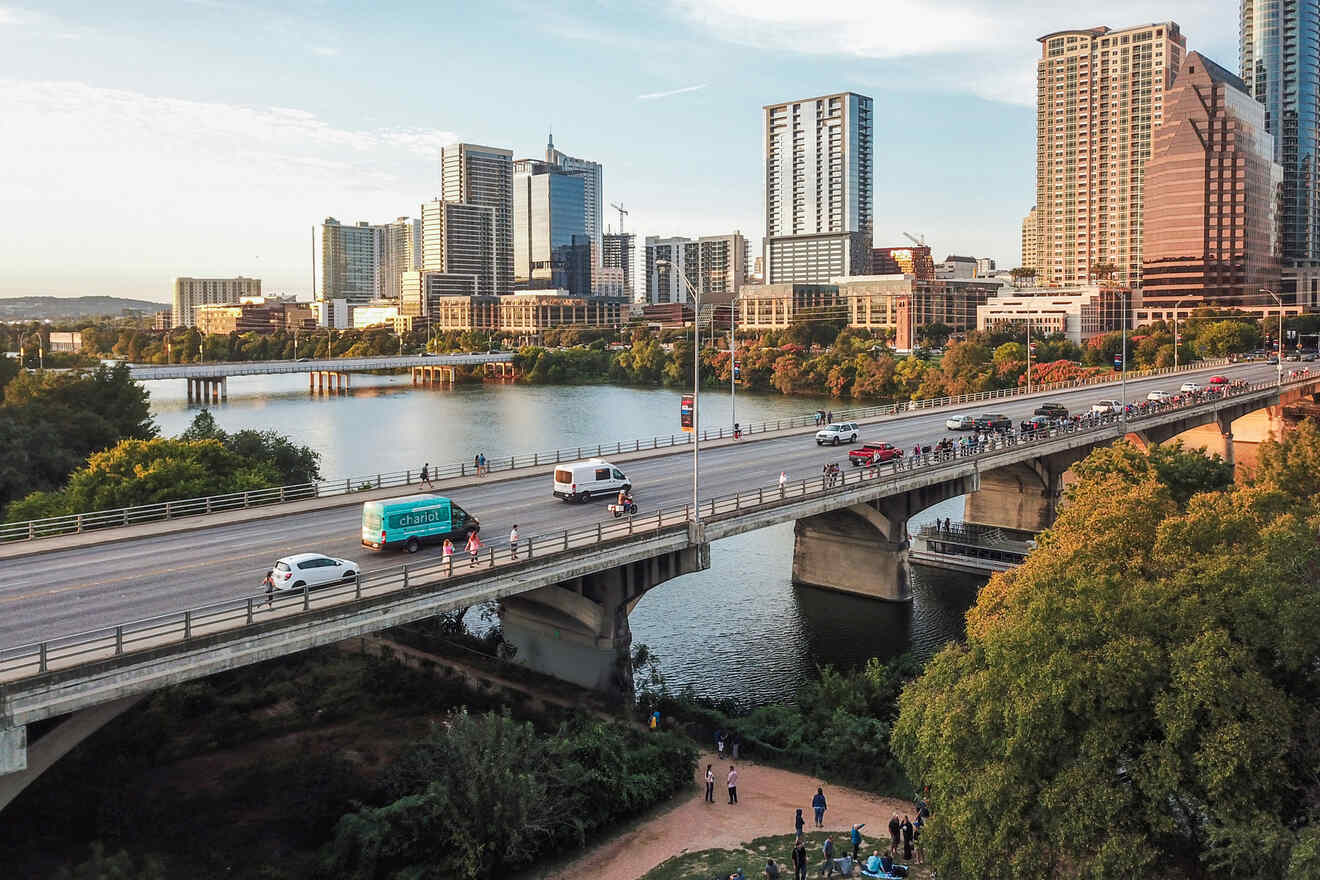 Just across the Colorado River lies South Congress Avenue, also known as "SoCo". Along with East Austin, this is one of the top hang-out destinations even among the local residents and a popular place to stay in Austin. Artsy and accommodating, the neighborhood is often a place where you can find people from all over the world, discover different cultures, eat good food, and take pictures of countless graffiti artworks and murals. So don't forget your camera for this one! 
But South Austin is not all about hipster cafes and urban art. If you want to experience nature in the city, check out the Congress Avenue bridge. Well okay, not the bridge itself but this interesting piece of architecture draws excited visitors and locals hoping to see around 1.5 million bats taking part in a nightly migration! 
If the bats got you feeling a little nocturnal, don't worry you can easily dance the night away in South Congress. The Continental Club is the best spot to go which hosts live performances in front of their iconic red curtain many nights of the week but also you will be connected to the rest of the city by Congress Avenue which runs directly through the heart of Austin.
Lastly, if you're a food lover you will find countless international fusion restaurants and boutique eateries in south congress that are more than worthy of an Instagram post! 
Luxury hotel
Embassy Suites
The beautiful modern design of this hotel will welcome you with open arms as soon as you arrive in South Congress. Enjoy your super spacious room with free breakfast and beverages every day, along with a happy hour offering free drinks and snacks! The relaxing vibe here will be hard to leave at the end of your stay.
Other Accommodation Options in South Congress, Tx
mid-range
Staybridge Suites
With an outdoor swimming pool and free wifi along with a daily buffet breakfast, all you need to worry about here is enjoying your holiday
budget
Quality Suites
Great value for money with its bright spacious suites, free hot breakfast, and an indoor pool
airbnb
St Elmo
Colorful, light, and breezy tiny home with a modern design and small outside area perfect for summer nights. Minimum 5-night stay
Things to do In South Congress, Austin, Tx
Snap a picture of the South Congress Cathedral of Junk
Visit

the creepiest wax museum in Austin the

Sfanthor House of Wax
Enjoy some wine tasting at The Austin Winery
Check out the murals and graffiti walls around South Congress
Have a picnic in Battle Bend Neighborhood Park
Visit the Yard Dog Art Gallery which displays contemporary American folk art
4. Zilker – where to stay in Austin for families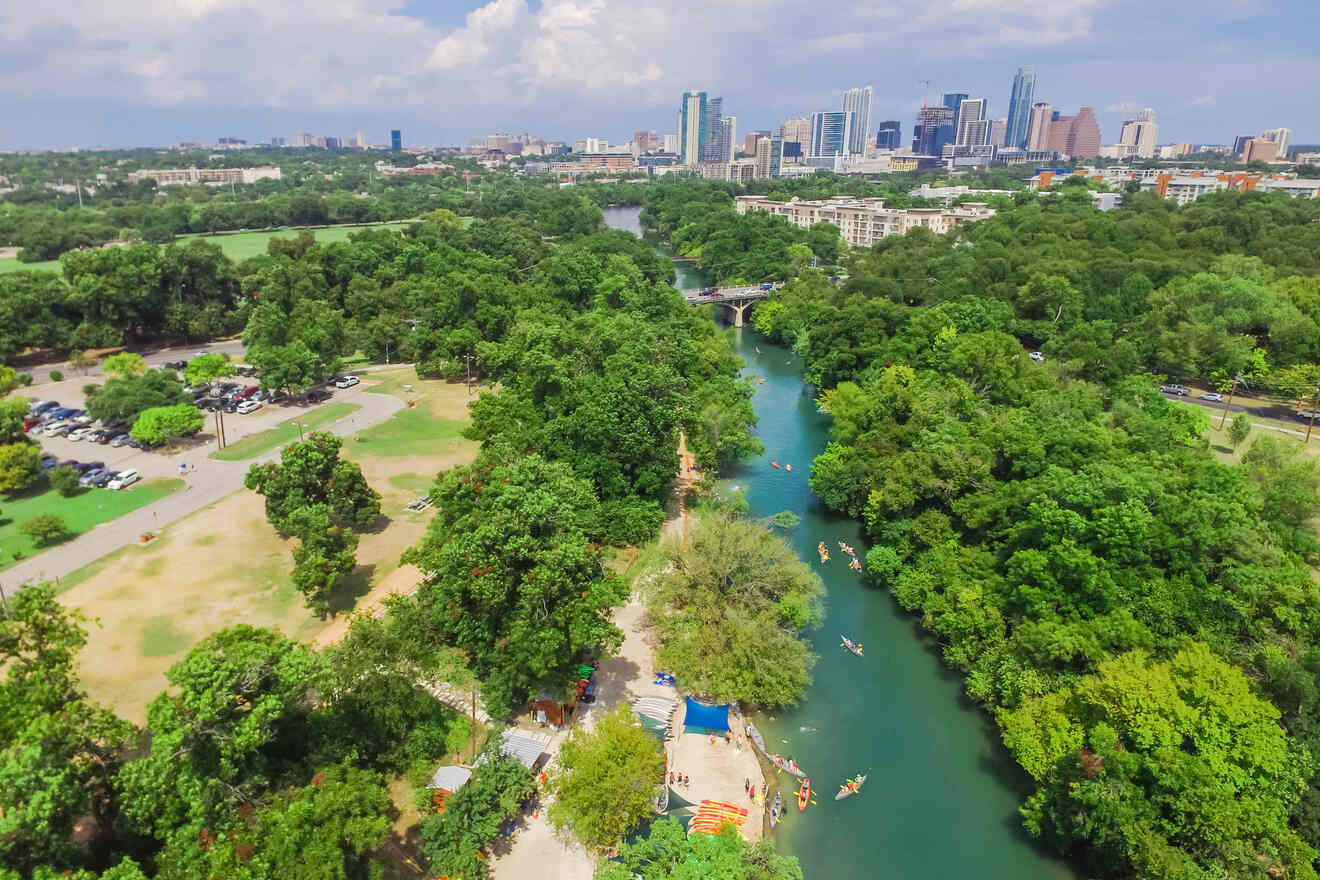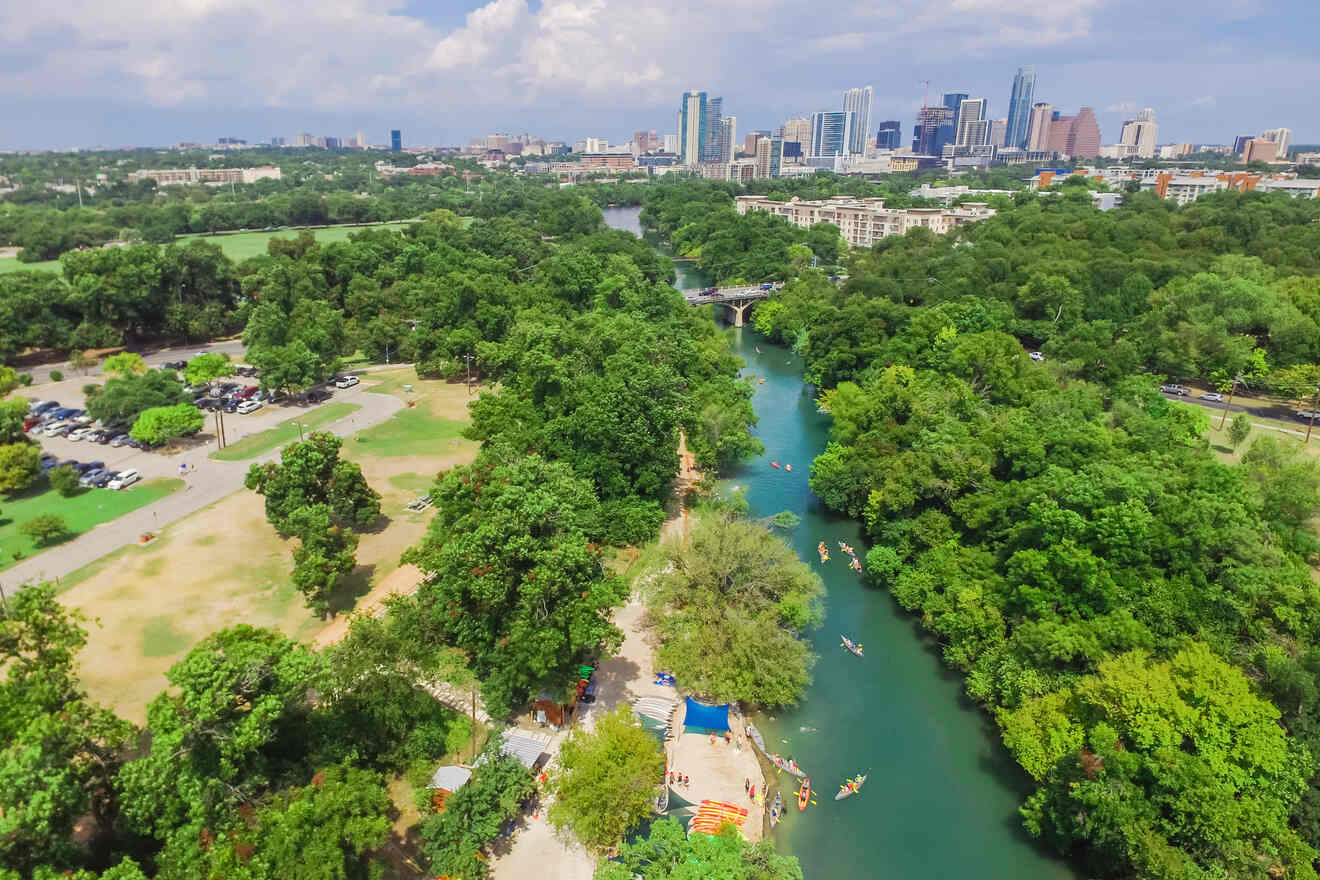 We all wanna treat our families to something nice and fun from time to time. So for travelers visiting Austin with their partners, parents, and kiddos, I got you covered! The Zilker neighborhood is one of the greenest areas in the city, and its close location just southeast of Downtown Austin across the Colorado River makes it the perfect mix of busy and calm for families.
The many outdoor activities in the area for all ages make it a favorite family getaway in Austin, Texas. In Zilker Metropolitan Park, the main attraction and highlight of the Zilker neighborhood, you can go hiking, biking, canoeing, kayaking, or try many other activities in its 350-acres of land. Doesn't that just sound like a paradise for kids (or kids at heart)!?
There are also a variety of trendy cafes, restaurants, and shopping areas you can find in the neighborhood, so you can take your loved ones to family dinners and go shopping afterward to cap off a perfect day of adventures. 
Here are the best places where to stay in Austin, Texas for families:
Luxury hotel
Hyatt Regency Austin
With its spacious rooms, huge views, and incredible pool overlooking the lake, it's easy to see why you might never want to leave this incredible luxury hotel. When you finally pull yourself away from the high-class facilities and delicious restaurants you will be delighted to find a perfect location with great access to hiking and bicycle trails!
Other Accommodation Options in Zilker
budget
Modern Airstream
A unique stay in a converted Airstream trailer in a backyard oasis 
airbnb
Austin Vacay
Perfect for a family of up to six with two bedrooms and a bath
Things to do In Zilker, Austin, Tx
5. Red River Cultural District – the best place for party people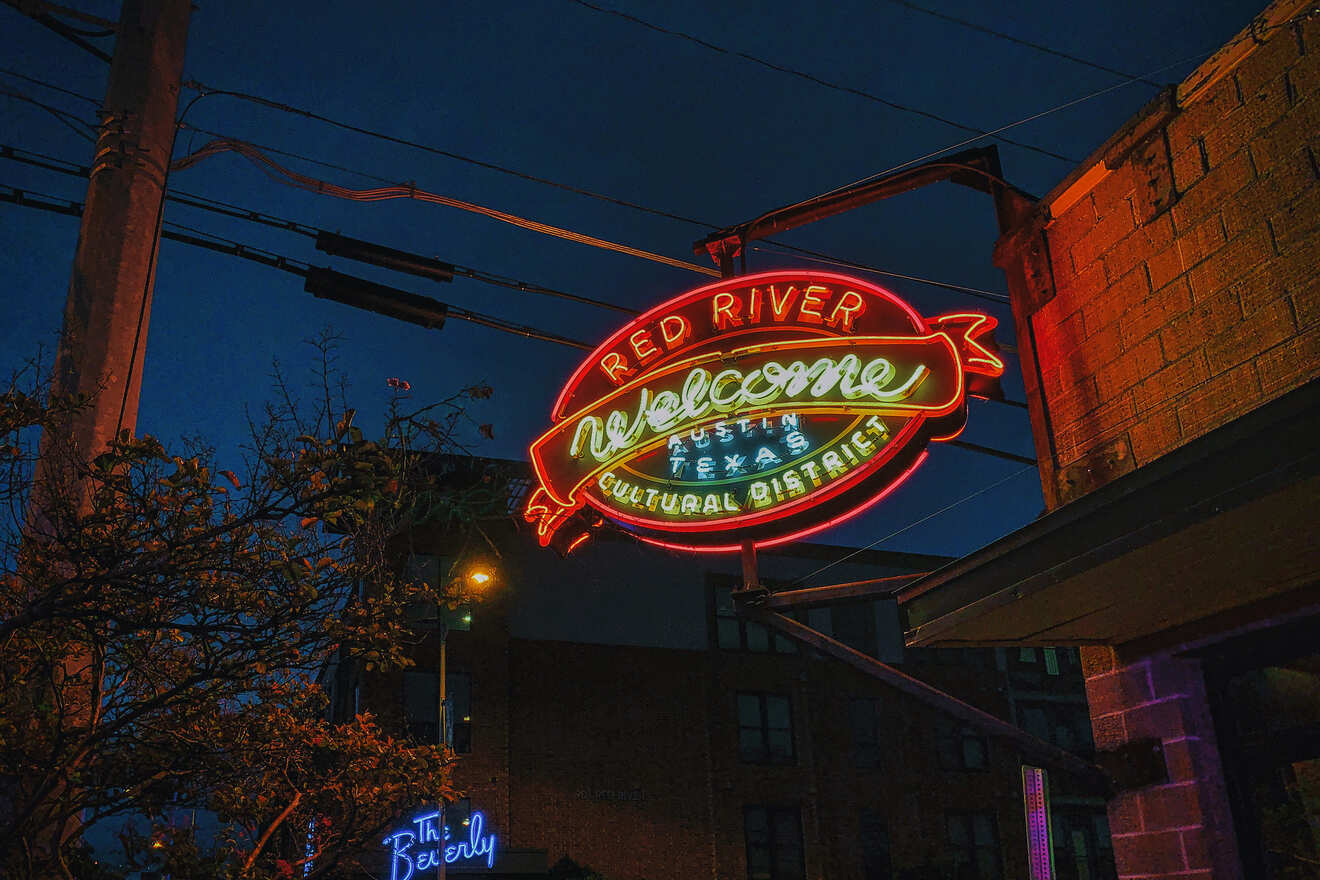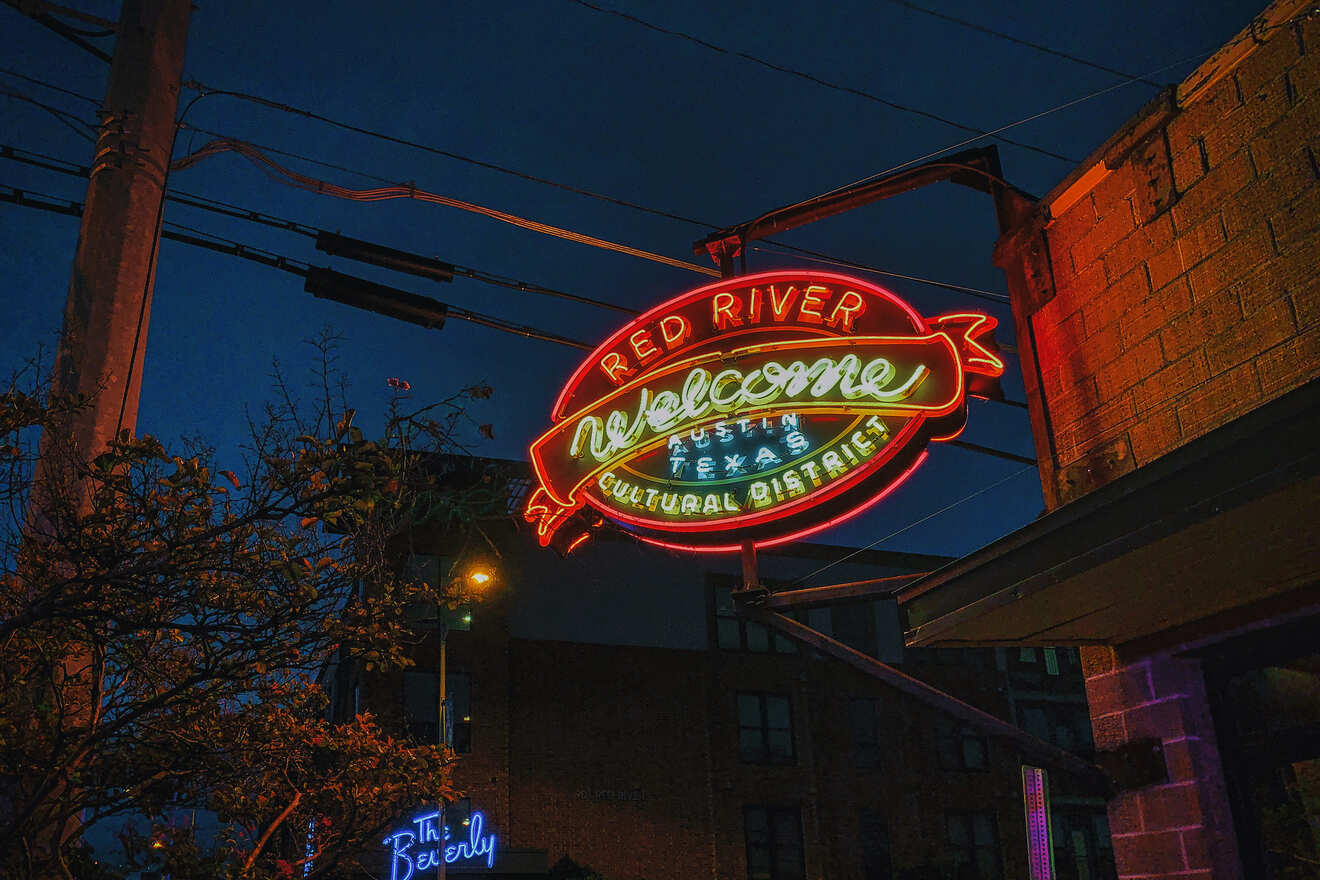 This unique and vibrant nightlife in Austin is something you don't want to miss during your stay in the city. This happening neighborhood is actually a small part of the downtown area but deserves a mention in its own right. There are an abundance of rooftop bars, nightclubs, and trendy hipster restaurants you can check out in this district so if you wanna have a good time your whole stay in Austin, I recommend choosing the Red River Cultural District! 
This cultural area is known for its diversity of live music, food, drinks, and a lot of great venues for people who love the nightlife. As the heart and soul of Austin's music scene, the Red River Cultural District is one of the liveliest neighborhoods where you can find big events no matter when you visit!
To see it all, head to 6th street, which is a popular area for partygoers and is considered as Austin's epicenter of nightlife, one of the best places to stay in Austin, Tx if you don't wanna miss any action. If that's not enough, check out Rainey Street, another area popular with party-goers. 
Luxury hotel
The Driskill
Experience some state-of-the-art amenities, luxury rooms, unrivaled service, a great fitness facility, and award-winning on-site restaurants all in one hotel. That's right, everything you could ever dream of! That's not even to mention that it is also in close proximity to all of the happenings in Austin along 6th street, such as parties, luxury shopping, and popular tourist activities!
Other options in Red River Cultural District
mid-range
Aloft Austin
Superb hotel located at the heart of Austin perfect for those seeking value for money
budget
Native Hostel Austin
A fun hostel offering a unique Austin experience at a fraction of the price of its counterparts
airbnb
Getaway Apartment
This apartment is perfect for couples, with its romantic rooftop view of the bustling Downtown
Things to do In Red River Cultural District, Austin, Tx
Party all night at Cheer Up Charlies 
Dance the night away with live music and DJs at Elysium

Go to

Arlo's Truck

for your late-night vegan cravings around 6th street

Taste the Southern flavor with your whiskey cocktails in the patio of Moonshine Patio Bar & Grill
Fulfill your cravings with mouth-watering pizzas at Hoboken Pie
Have a pub crawl along 6th street to check out the music venues
Make your way down to Rainey Street to experience another of the cities party hotspots
| | |
| --- | --- |
| 👑 Average price for luxury accommodation: | $250 |
| 🏨 How much do mid-range hotels cost: | $150 |
| 🛏️ Average price for a budget stay: | $100 |
| 🏠 How much is an average Airbnb: | $170 |
| 💰 Overall accommodation prices: | Medium |
| 📍 Best area to stay in Austin: | Downtown Austin |
| 🛎️ Austin's most luxurious hotel: | The Stephen F |
| 👛 Best place to stay on a budget: | Firehouse Hostel |
Conclusion
There is so much that Austin can offer to travelers and adventurous people. No matter what adventure you seek in the city, whether it's to party and dance all night, an escapade with your family, a romantic getaway with your partner, or just a solo trip for you to relax and unwind, there's plenty to discover in the city of Austin, Texas. 
I hope this guide helps you to decide where to stay in Austin. The most important thing in every trip and vacation is to have fun, so no matter where you are in Austin, Texas, you're sure to make the most out of your trip.
Remember to book your hotel as soon as possible as the accommodation here sells out fast and you wouldn't want to miss your dream stay or price! If you still haven't decided between the great options on my list, here are my absolute top 2 favorites:
Now all there's left to do is to pack your bags and have the trip of a lifetime during your stay in Austin, Texas! Feel free to leave me a comment if you have any other questions or suggestions about the city, I love reading them!
Have fun and stay safe!
Kate