Packing for Norway in winter has been my most requested post for ages now, which makes sense considering how not knowing what to wear in Norway could absolutely ruin your trip. Norway is a country where you want to spend a lot of time outside in the beautiful nature, and that's going to be hard to enjoy if your freezing or wet. But don't worry! I've now lived in Norway for over seven years, both high up in the mountains of Telemark and far north in Tromsø, so I am a pro at dressing for winter in Norway. 
When it comes to packing for winter in Norway, there are a few essentials that might not be obvious to people who aren't used to -20 degree days, and there are also a bunch of things that people might think they need but in fact are totally unnecessary.
The last bit might be the light packer in me talking, but hey, when you're cramming your suitcase full of winter gear it's nice to be able to leave a few things at home, right?
And if you want more in depth Norway advice, I've also gathered all my best tips for planning an incredible trip through both Southern and Northern Norway in two 95-page ebooks that cover everything you'll need to know to plan a Norway trip that you will love. You can purchase my Norway travel guides here.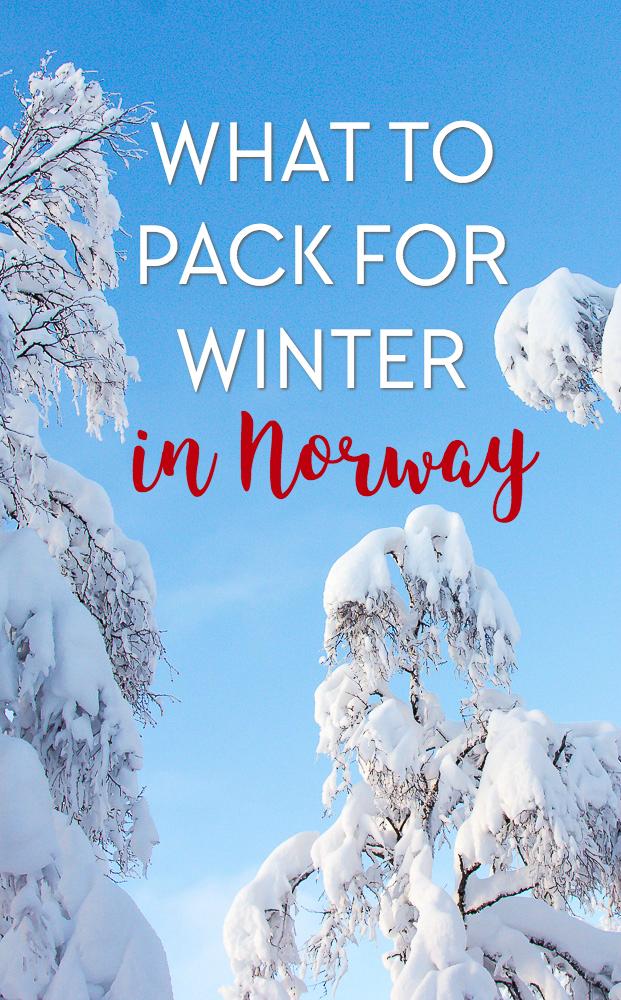 Thermal base layers
I'm putting this first on the list, because a warm base layer (especially leggings/tights) is the single most important thing to have on your Norway winter packing list – and I think it's one of the things people most often forget!
Between the months of November and March, I never, ever, wear jeans without woolen tights or leggings on underneath. Personally I go for woolen tights most of the time, but microfiber, fleece, or silk will all work. In fact even wearing a pair of cotton leggings under your trousers will keep you so much warmer.
But if you want to look Norwegian, pretty much every woman in Norway owns a set of Kari Traa wool underwear. The quality is incredible and the patterns are so Norwegian. 
And for my top half I always opt for a thin, 100% cashmere sweater (I own a couple of these ones) under my other sweater(s) because, oh my goodness, so soft – and warm!
And the nice thing about wool is that you barely ever have to wash it, so you could totally get away with wearing the same cashmere sweater everyday on your trip if you simply air it out each night.
I would aim to bring at least two base layer tops and two pairs of leggings/tights, or possibly more, depending on how long you'll be here for.
Wool
Wool wool wool – that's all you should be packing for your trip to Norway.
Okay, not really. But also sort of really.
Wool is so warm, plus it doesn't retain odors so it's great for traveling. Basically I would say don't bother packing any sweaters that aren't at least 15% wool.
You could get away with just a couple of sweaters for a weeklong trip if you don't mind rewearing them. And if you want to look like a local, I can highly recommend the Dale of Norway sweaters. Amazon carries Dale of Norway sweaters here, or you can find them on Zappos here. I have this one and this one. And I've shared more of wear I buy my favorite Nordic sweaters here. 
A really good hat & scarf
One of the worst things I know is wearing a loosely knit hat on a cold, windy day. I always look for wool hats with fleece lining because less wind can get through and they won't be itchy. 
Also, not go total hat nerd on you, but I've found that the hats with ear flaps actually aren't as warm because the flaps don't cover your ears very tightly unless you tie them under your chin.
And look for a cosy scarf that you won't mind burying your face into. It costs more, but a cashmere scarf will be super warm and soft.
Gloves or mittens
I mean, duh.
It's really worth investing in some thermal Gore-Tex gloves, and I'd actually also recommend bringing some thinner touchscreen gloves so that you can use your smartphone without taking off your gloves. 
But if you're going somewhere really cold, a pro tip from Norway is to wear mittens instead of gloves. Mittens will keep your hands much warmer than gloves, though of course they're a bit less practical. But worth it for the warmth! These mittens would be perfect, and they're so pretty. 
A winter parka
A good quality winter parka will cost you a lot, so I would say if you don't already own a parka you can actually get away with a cheaper parka. You don't need goose down or real fur to keep you warm. Save the money and invest in some woolen layers and winter boots instead.
The truth is, a lot of Norwegians don't even bother wearing winter coats. And no, it's not because they're superhuman Vikings (though a lot of them do happen to be superhuman Vikings as well) but because they prefer to wear a bunch of thick woolen sweaters instead, with a windbreaker on top if it's very snowy or windy.
But you're not Norwegian, so you probably will want to have a winter coat. But you also don't need to spend more than $50 on your parka if you're never going to wear it again, you know?
Winter boots
If you're only going to be in cities then you can get away with thinner boots by wearing really thick wool socks in them, but if you're going to be walking through lots of snow you'll want some real winter boots.
Make sure you have plenty of room in your boots though! Tight boots will actually make you colder, as air between your socks and boots creates warmth. So size up, especially if you want to wear thick socks.
If you're in Norway in the middle of winter they don't really need to be waterproof, but if the temperature might rise above zero then you definitely want something that won't let any slush in.
I wear these Sorels , which I love because they don't have fur on them so I can wear them in the spring and autumn as well. 
And then I actually also have these Sorels as a heavier duty version when I'm in the Arctic watching the northern lights.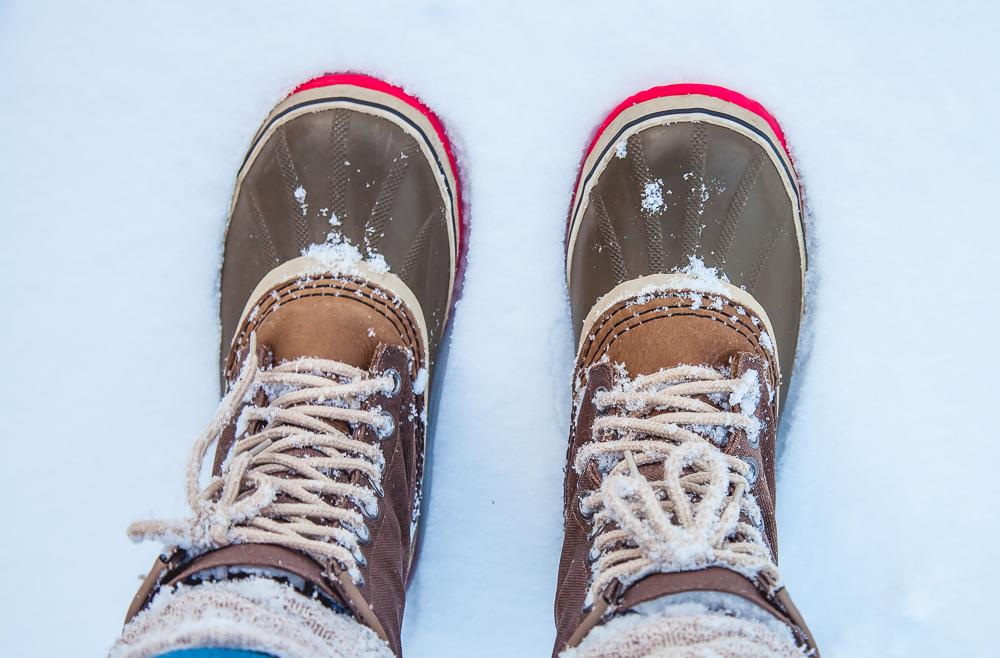 Ice grips
Ice grips can be a real life saver on icy days. I wouldn't say they're essential for your Norway packing list, but they'd definitely be a good addition if you think you'll be somewhere icy!
My dad actually just broke his wrist while visiting Norway over Christmas when he slipped and fell on some ice – and the next time I saw him after the fall he was wearing ice grips on his shoes! I believe that's what people call living and learning.
TRAVEL INSURANCE!!
Uh speaking of my dad breaking his wrist – he's American and did not have travel insurance when it happened, and his regular health insurance refused to pay for the surgery to put his wrist back together (they claimed that he should have flown back to the US for the surgery – with a broken wrist??), so he had to pay for it himself.
If you're European you can use your European health card in Norway, but to be honest I'd still recommend getting travel insurance because you never know what will happen. Norway in winter is icy and prone to blizzards which can seriously mess with travel plans and lead to accidents, so if there's any time you should buy travel insurance it's when you're visiting Norway in winter. 
I personally use World Nomads because that's what I used as a backpacker and I've had to file claims twice with them now and they paid me promptly, no additional questions asked. They also helped get me to a hospital in Beijing when I was too overwhelmed/dying to find one on my own, so I am forever grateful to those guys.
You can find a quote on World Nomads here, or pop your travel details into the chart below:
Some heavy duty moisturizer
If you're not used to cold weather then your skin might just go a bit insane when you get to Norway. Like, in the rest of the world I totally have oily skin, but in Norway it's quite dry. So you might want to bring a better moisturizer than you're used to using.
Now, there's actually a huge debate amongst Nordics about moisturizer. I've had a lot of people tell me not to use water based moisturizer because it will freeze in the cold, whereas others say that's complete nonsense. From my experience, just don't apply moisturizer right before going outside. Give it an hour or so to absorb and then you should be fine.
But! I recently started using face oil and OH MY GOODNESS IT IS LIKE MAGIC. I use this one from Clarins and it seriously transformed my skin. I still use moisturizer afterwards, but this would work fine on its own and then you wouldn't have to worry about it freezing when you go outside, because it's oil. You can buy it at Sephora here, or on Amazon here.
And if your skin does freakout from the cold, don't worry! In about a week the flakes will disappear and you'll have the softest skin of your life. Seriously, some time out in the cold is the best facial I know!
Snow pants
The truth is, a lot of places in Norway don't get that cold. The coast has that whole Gulf Stream thing going on, so winter temperatures often don't get much below zero. But if you're going to be inland, in the mountains, or in the far north, you might need some extra winter gear.
I wear snow pants a lot in the winter, even if I'm not skiing. In fact I was wearing them when I got stuck in that blizzard on the mountaintop, and I was very happy to have them on then! They don't need to be anything fancy – some cheap Amazon snow pants will do the job just fine, though personally I adore my Patagonia snow pants and definitely think they're worth the investment.
Camera + tripod
Okay, obviously you're going to want to bring a camera with you to Norway (unless you're just using your phone, which is also fine!). But if you want capture photos of the northern lights it's also important to have a tripod, as you need a really long shutter speed to capture the lights, so you can't move your camera.
I use this tripod and love it, and I would recommend this phone tripod if you'll just be photographing with your phone.
Northern Lights guide
Speaking of the northern lights, if you're coming to Norway for the northern lights, I've written an in depth ebook covering all aspects of planning your northern lights trip, including the best places in Norway (and the Nordics) to see the northern lights, the best time to see the northern lights, my top northern lights accommodation choices, tour options, how to chase the northern lights (including which apps I use), how to photograph and film the northern lights, what to pack for your trip, and other exciting Arctic activities to try on your trip up North.
If you want to ensure you have the best northern lights trip possible, you can purchase the ebook here.  Your purchase includes both a high resolution file as well as a low resolution file that you can keep on your phone (the only real difference is the photos will be a bit blurry).
Reflectors
Winter in Norway is dark, and all Norwegians wear reflectors at night. In Oslo and Bergen you might be able to get away without them, but if you'll be in any smaller towns or the country side it's seriously dangerous to walk around without reflectors.
Most people where I live wear reflector vests, but you could also just keep a couple of small reflectors clipped to your jacket zipper or pockets.
Headlamp
Speaking of the dark, you might want to pack a headlamp as well, especially if you'll be in the countryside. This is also really handy for setting up your tripod for northern lights photos at night.
Power bank
If you're planning on using your electronics outside a lot (or really at all), consider bringing extra batteries and a powerbank for your phone, because batteries have an annoying way of losing all their power really quickly in the cold.
Hand and foot warmers
And while I've never actually seen a Norwegian use these, if you're not used to the cold it could be a good idea to bring a pack of hand and foot warmers. They're lightweight and really do keep you warm, so you might as well bring a box or two with you on your trip!
Travel adaptor
And if you're coming from outside of Europe, remember to buy an adapter for your electric devices! I absolutely love this travel adapter as it can be used in most countries and has usb slots for charging.
What to Buy in Norway
In general it's best to buy most of your winter gear outside of Norway. Boots, hats, gloves, and snow pants are all very expensive in Norway. But there are a few things that are worth getting here.
Wool socks
I am obsessed with the wool socks sold at Fretex, which is the Norwegian version of the Salvation Army. I can't remember exactly how much they cost, but they're very affordable, and so, so warm.
Fretex also sells wool insoles for your shoes/boots if you find that your boots aren't keeping you warm. And while you're there see if they have any good second-hand woolen sweaters.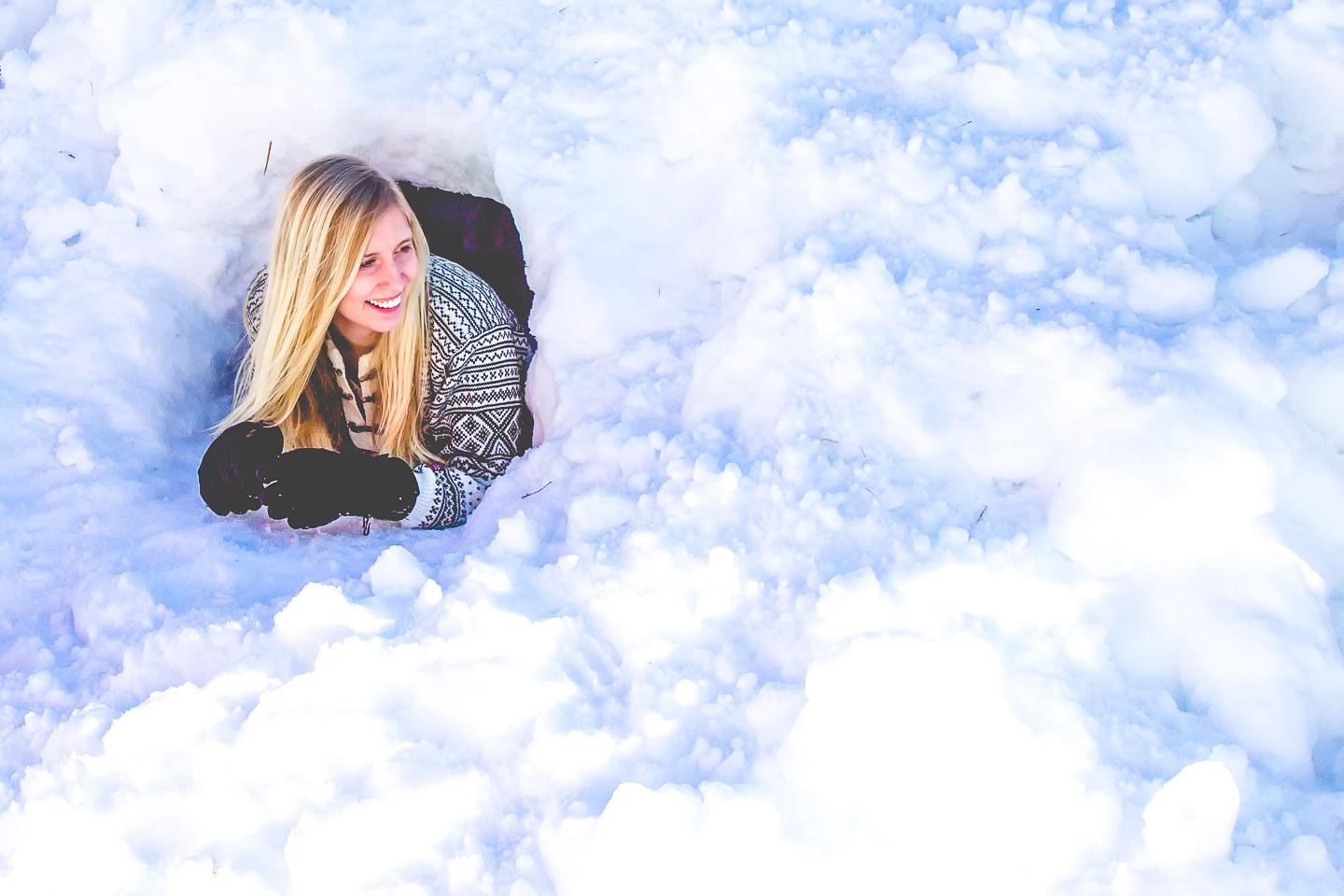 For anyone who's been here in the winter, do you have anything to add to this list?