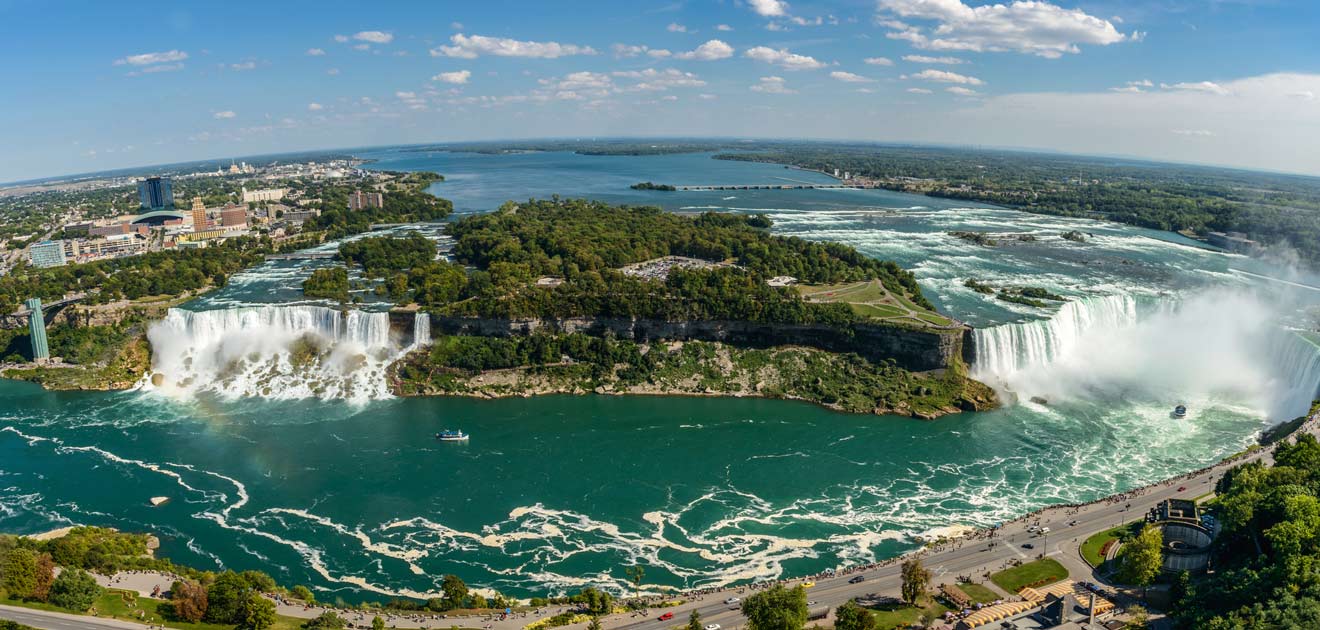 Welcome to one of the world's biggest attractions! The beautiful Niagara Falls is an incredibly popular travel destination attracting millions of people from all over the world each year. You won't wonder why when you see how stunning they are! 
Yep, because there are actually three waterfalls that make up Niagara Falls. The American Falls, the Bridal Veil Falls, and last but not least, the Horseshoe Falls (also known as the Canadian Falls), which is also the largest one! I hope you're ready to remain in awe when you see the whirlpool basin and Niagara Falls! 
Niagara Falls is located on the Niagara River, which connects Lake Erie with Lake Ontario, and with an average flow rate of 1,834 cubic meters (64767.1 cubic feet) per second Niagara Falls is the one of the largest waterfalls in the world!
Lying on the border between the USA and Canada, many people wonder which side is the best? I like to think that both sides offer amazing experiences. While Canada has an amazing panoramic falls view even from your hotel room, on the USA side, you'll get so close to the falls that you'll have to pinch yourself to realize it's not a dream!
Each location has its perks, but let's see which are the best places to stay in Niagara Falls, Canada and USA. There's an option here for each type of traveler from hotels overlooking the falls to budget accommodations with spacious suites! But you know the dangers of traveling to such a popular place, you'll have to book in advance if you want those Fallsview rooms! All the hotels sell out super fast here!
NOTE: Remember that whichever side you choose to stay on, you can always take a day trip to the alternative country. Most people simply need an eTA (Electronic Travel Authorization) to visit Canada or an ESTA permit (Electronic System for Travel Authorization) to check out the USA, both of which can be applied for online!
If you are in a hurry
If you want to book now, there's no reason to wait, so here are the best places to stay in Niagara Falls, all located on the Canadian side:
airbnb
Cozy House
An Airbnb with amazing reviews
budget hotel
Vittoria Hotel & Suites
Best affordable accommodation in the center
Here's a map that will help you visualize the two areas that I will be talking about in this post:
1. Best hotels in Niagara Falls – Ontario, Canada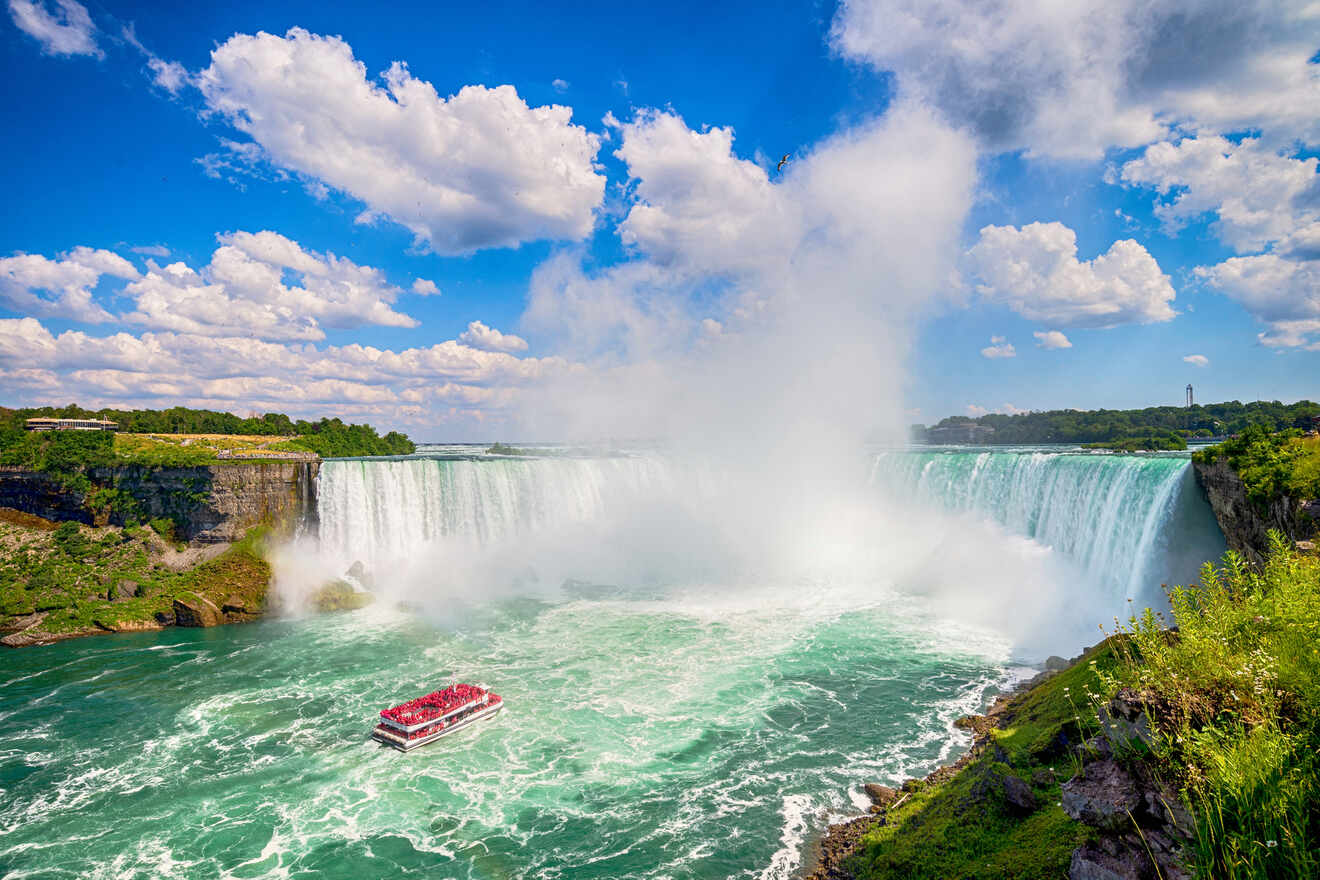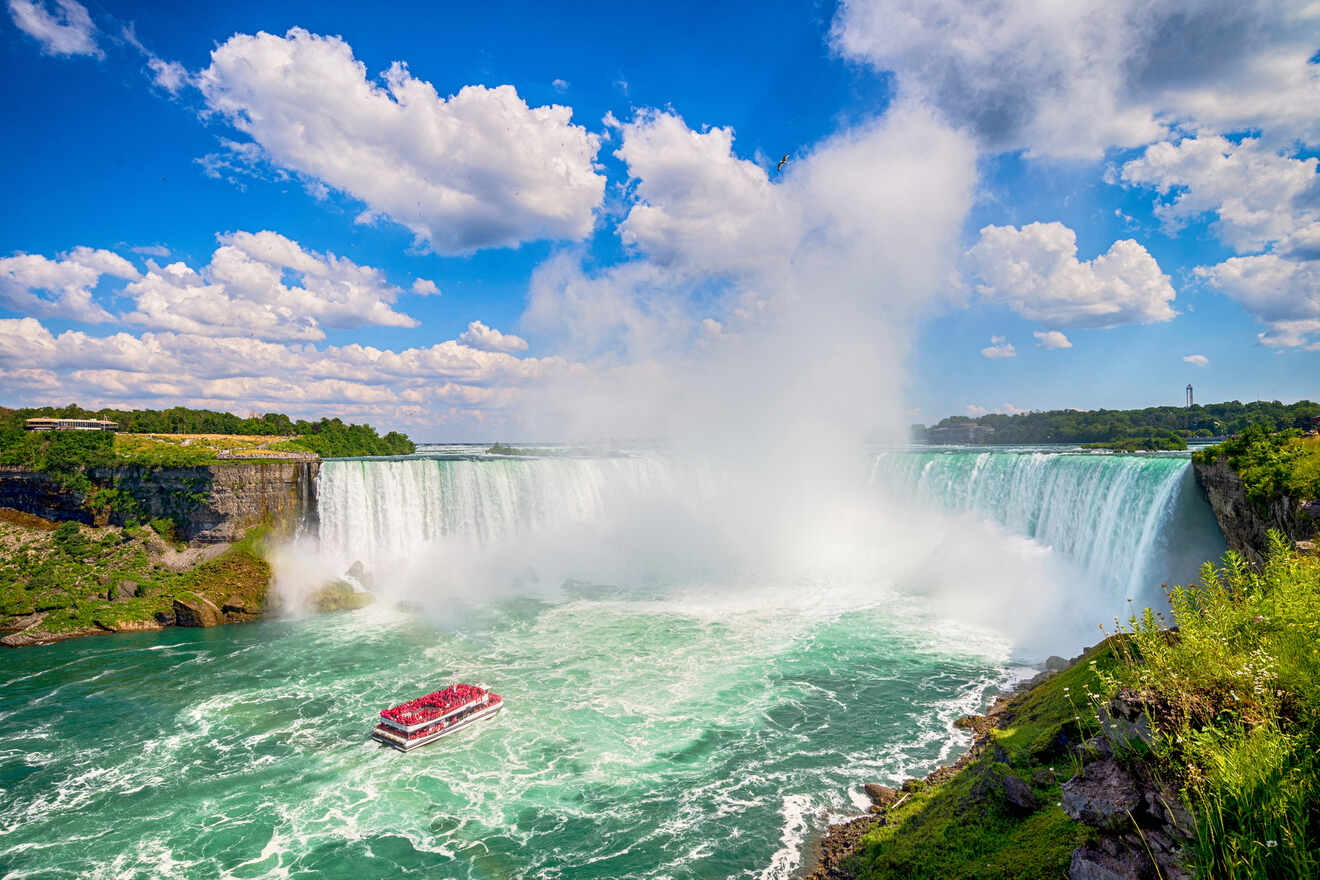 The biggest question when visiting Niagara Falls is, where should I stay, Canada or the USA? While there's no right or wrong answer, the choice varies from person to person, it all depends on what you wish to see and gain from this trip as there are so many great things to do on both sides of Niagara Falls. 
The waterfalls on the Canadian side are located 75 miles (121 km) south of the city of Toronto, Ontario. Access to see the falls is free from both sides, however, if you want to go on tours like the Journey Behind the Falls you'll have to pay. 
On the Canadian side, you'll get to enjoy the great views of both the US falls and Horseshoe, the biggest out of the three waterfalls. Here, there's a pathway located right on the rim of the gorge, overlooking Niagara Falls, right across from you. Although there are a few observation decks on the US side above the falls, you won't be able to see the famous Horseshoe in its full glory. 
Another thing to note is that if you want to be able to see Niagara Falls directly from your hotel room, you must stay on the Canadian side as there are no Fallsview hotels on the American side.
For more stunning views of the falls, you can visit one of the biggest attractions on the Canadian side, the Skylon Tower, which also has a restaurant, so you'll be dining and seeing the main attractions in the city. If you spend a few nights here make sure you come to spend a romantic evening by the falls and enjoy a spectacular view of when it is colorfully illuminated! 
This is one of the perks of staying on the Canadian side as you can't see the light show from the US. And if you have some days left of your trip you can spend them in Toronto, although the view is not the same, there are tons of amazing places that you can visit here too!
Luxury (from $240 USD)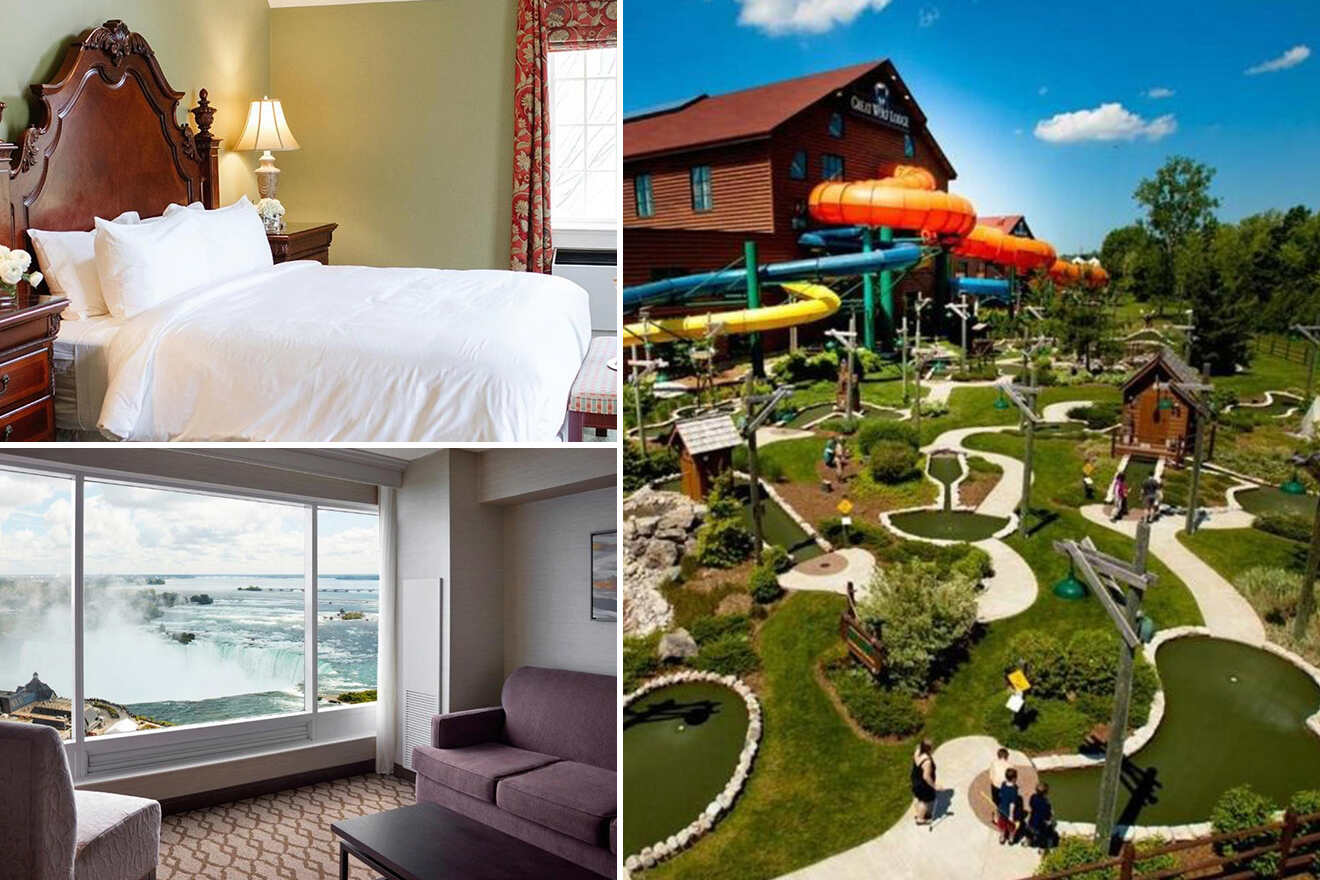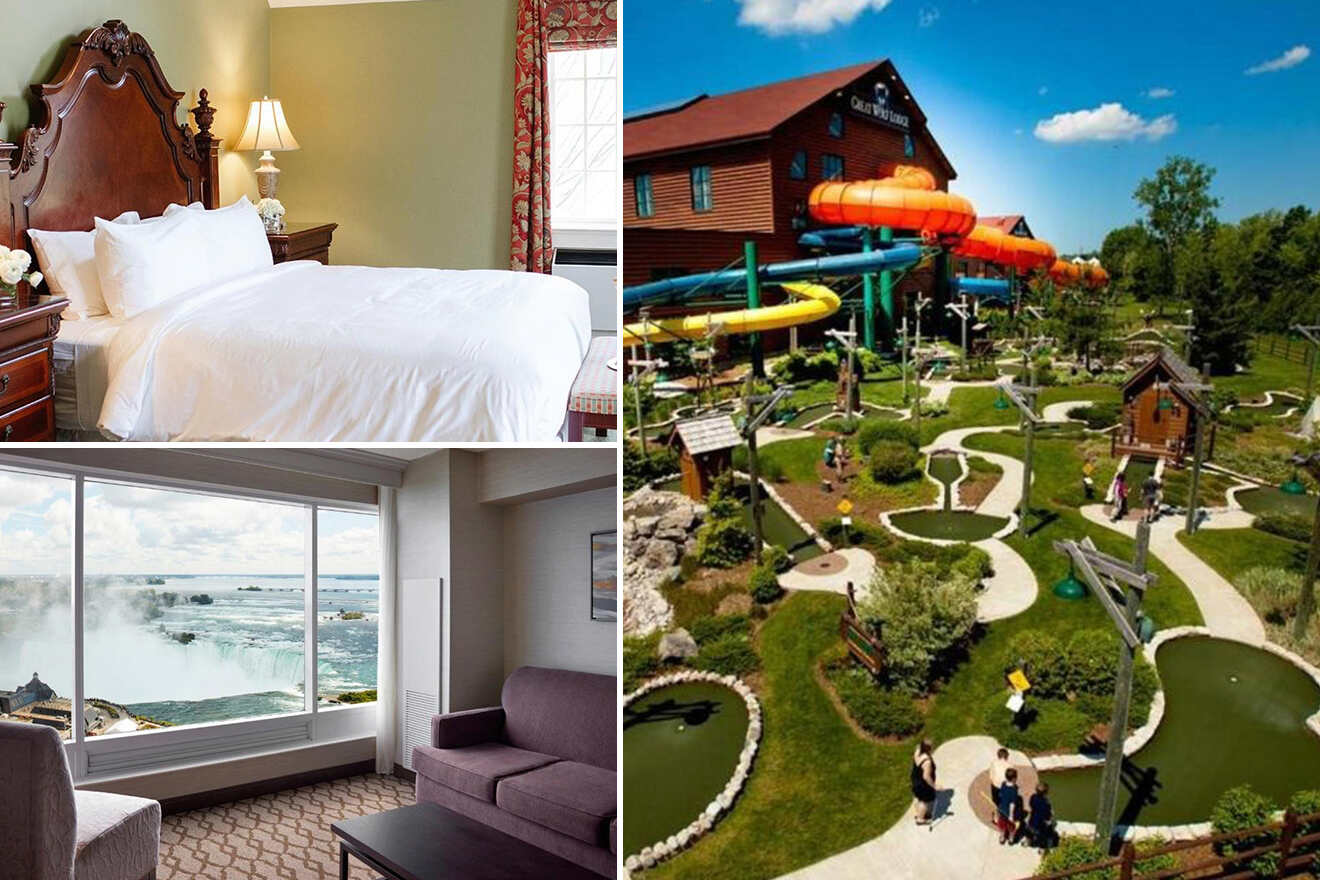 Marriott Fallsview Hotel & Spa – Who wants to wake up with the best view of the Niagara Waterfalls? The luxurious Marriott Fallsview hotel offers the best views ever from the comfort of your room! Located just a five-minute walk away from the Fallsview Casino, you'll enjoy every minute here! Whether you spend it relaxing at the spa or swimming in the pool, this is the best option for your luxurious getaway to Niagara Falls. Even the lounge area boasts an incredible view of the surroundings!
Riverbend Inn & Vineyard – Ready to sip wine all day long and enjoy some peace and quiet during your stay in Niagara Falls, Ontario? Surrounded by a vineyard and tons of green spaces, this luxury hotel offers spacious, elegantly decorated rooms and private bathrooms in Niagara-on-the-Lake just 23 km (15 miles) away from the falls. This is a really beautiful area to stay in if you want to avoid the tourist chaos around the falls themselves and simply enjoy it on a day trip. Sit in front of the fireplace with the kids after a full day of sightseeing and enjoy some tranquility!
Great Wolf Lodge Waterpark Resort – This luxurious resort hotel has all the amenities you could wish for! With a great location, just a short distance, 2 miles (3 km) away from Niagara Falls, Ontario, and suites with private balconies, you'll love spending your holiday here. This hotel is a great option for families and I'm sure the kids won't leave the waterpark and the adults will surely spend a lot of time at the spa or in the indoor pool. The hotel also has a restaurant if you're not in the mood to go out and find a good place to eat so everything you need is covered here! 
Mid-range (from $150 USD)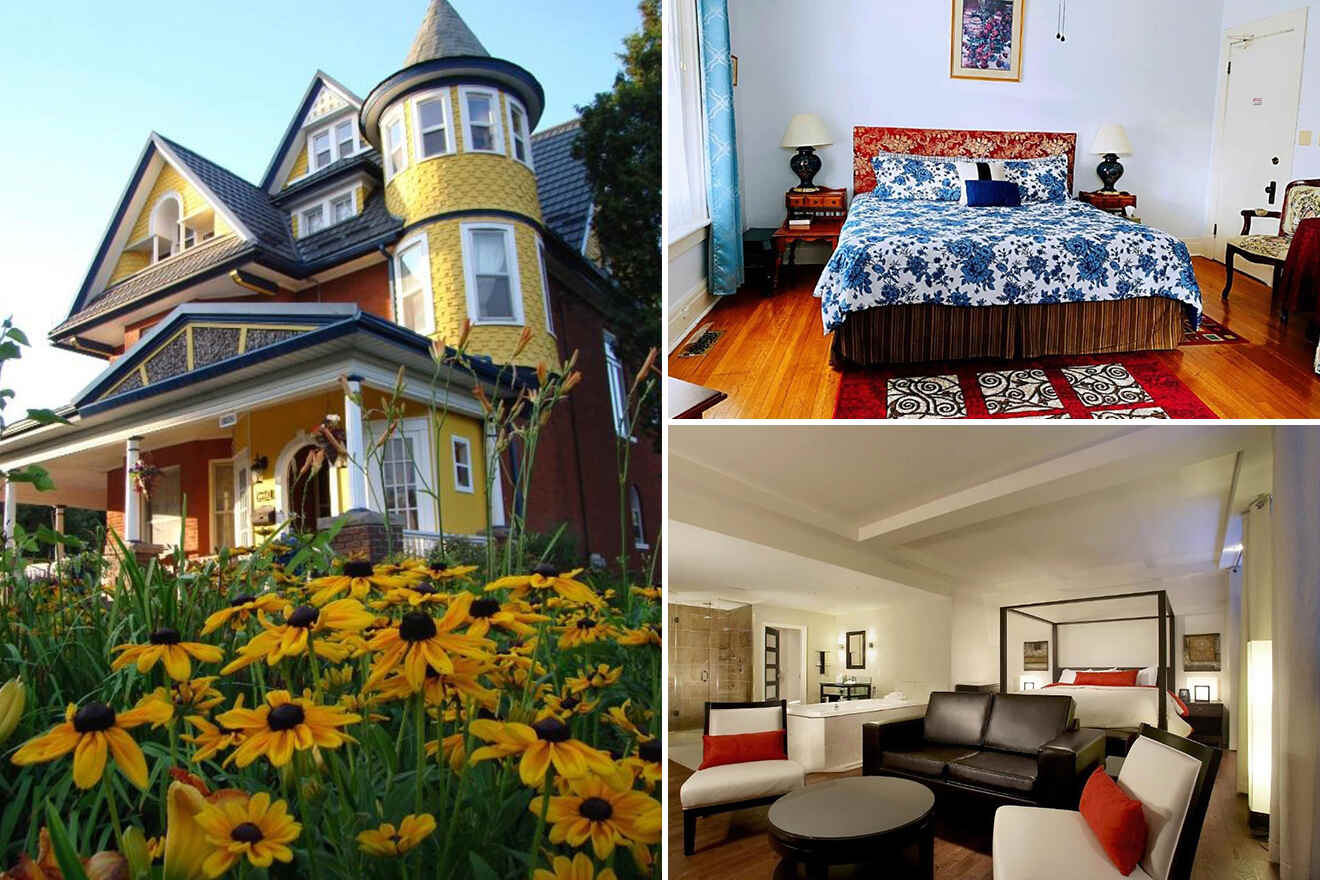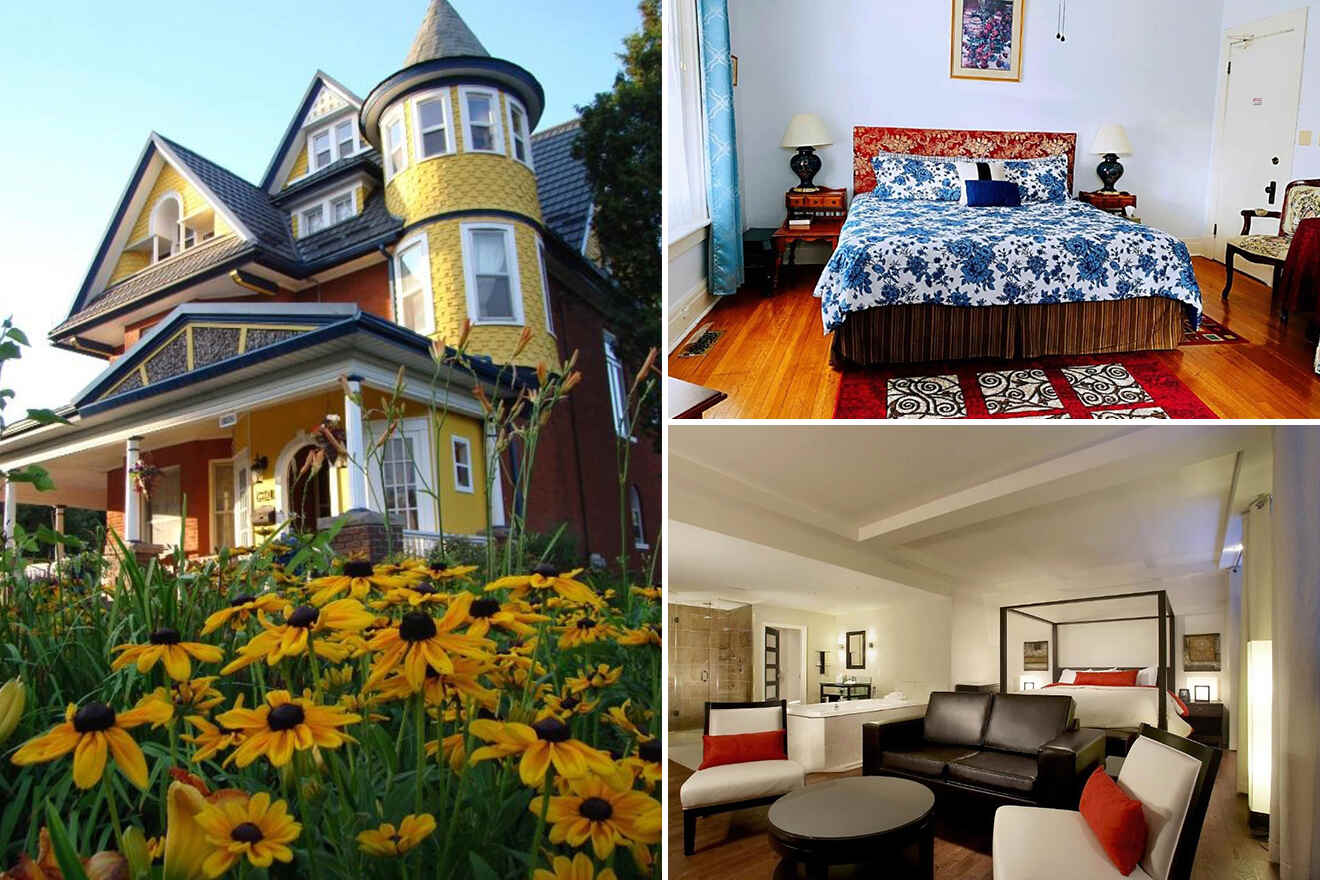 Sterling Inn & Spa – Located within walking distance from the famous boat tour spot, this hotel spa is an oasis of silence and tranquility. It has many amenities, including fireplaces, a fitness center, and a family room. They also offer breakfast and have a restaurant on site. 
A Moment in Time Bed & Breakfast – I love the homey design of this lovely Bed & Breakfast, which has a great location, just a short 20min walk to Niagara Falls. Placed in a restored Victorian building, this house has suites with private bathrooms (TIP: make sure you get the rooms that have spa baths), and it offers free wifi and free parking. Enjoy a lovely sunset view on the porch of the house and relax before you get ready for another day of sightseeing!
Acacia Bed&Breakfast – Feel at home in this lovely B&B located just a short distance (less than a mile away) from Casino Niagara. Enjoy the pretty view from the little patio and relax while drinking a cup of tea after a full day of seeing all the attractions. Every guest has access to a hot tub (which is as good as a pool in my opinion), and to free parking at the location. 
Budget (from $70 USD)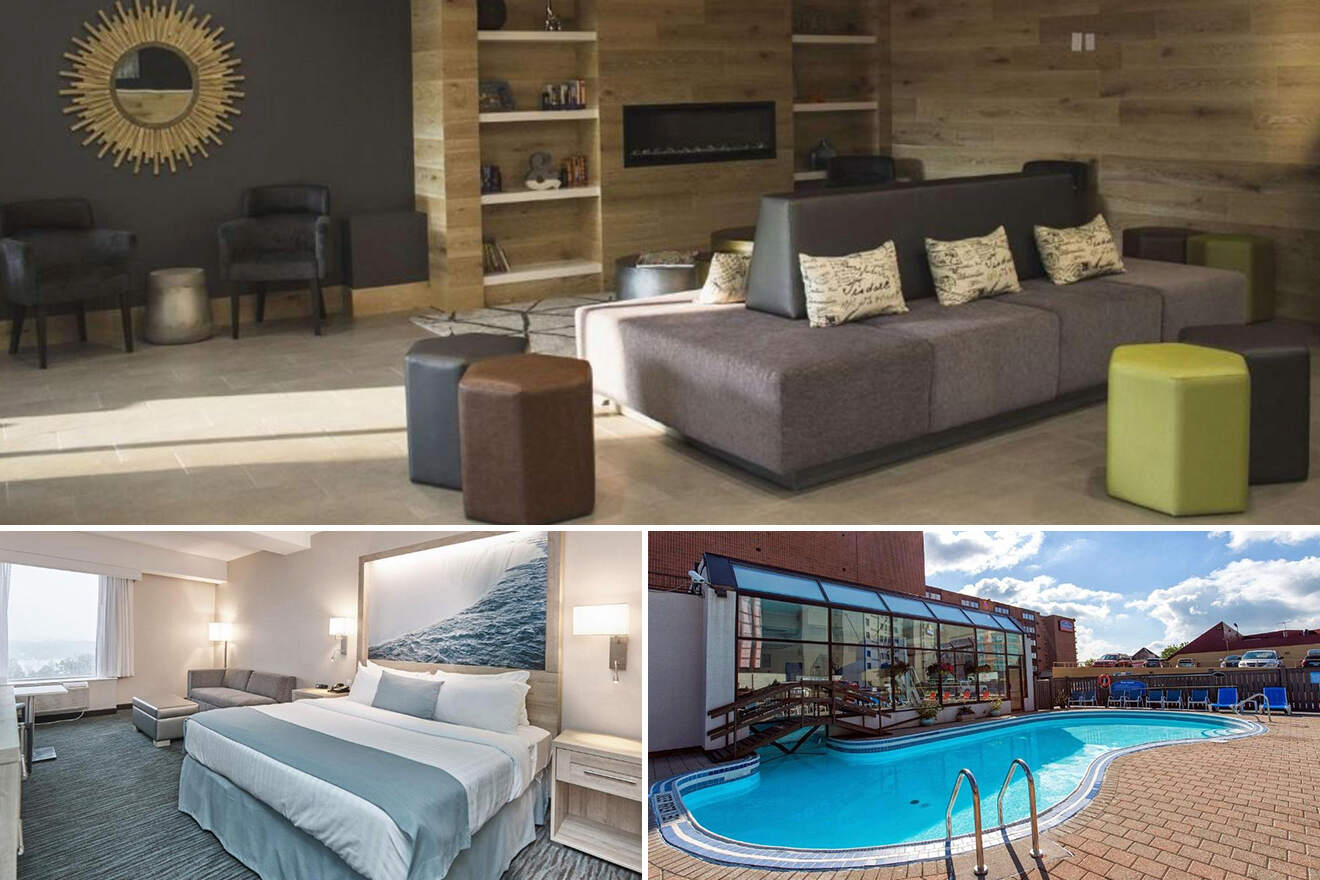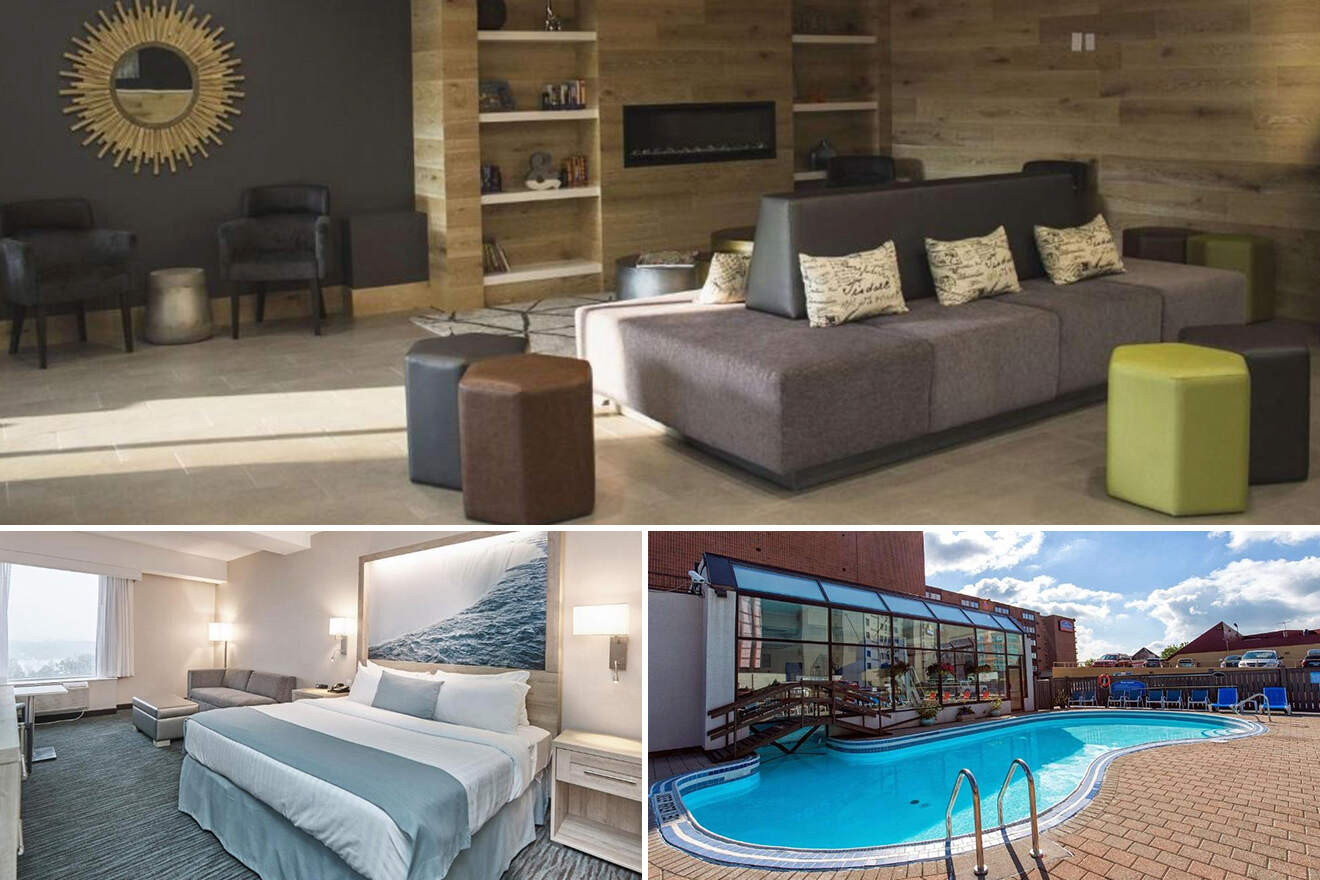 Vittoria Hotel & Suites – Enjoy your stay in Niagara Falls at this budget accommodation that is located within walking distance from Casino Niagara. There's an indoor swimming pool on-site, which I'm sure the kids will love, the rooms are spacious, and in case you're not tired from all the sightseeing, you can hit the fitness center!
Country Inn & Suites by Radisson, Niagara Falls – I would definitely book the king suites of this hotel! Who doesn't love a tub in their room where there's a TV? Best combo ever! This hotel has all the amenities you could wish for. You can swim in the pool or hit the gym if you don't want to skip those workout days during your holiday. There's also a garden where you can soak up the sun all day long and it's located right near Niagara Falls!
Howard Johnson Plaza – Offering both an indoor pool and an outdoor swimming pool this accommodation has a great location, just a short distance (less than a mile) away from the Niagara River. The suites are spacious and some of them even have a tub. The hotel also offers dining options at the restaurant and they have rooms for families. 
HI Niagara Falls Hostel – This friendly hostel is perfect for your budget getaway to Niagara Falls, Ontario. They offer free breakfast and you can book private or shared rooms. The falls are located just a short distance (30-minute walk) away and you can rent bicycles if you want to explore around. The hostel has most of the amenities you can want including a lounge entertainment area and free wifi. 
Airbnb
Cozy House – This lovely house is located just a short distance (10-minute walk) from Niagara Falls and the main attractions on the Canadian side. The lounge area has a TV and there's also a kitchen perfect for dining. You can relax on the patio or in the backyard as the sun goes down!
Victorian House – Am I the only one who absolutely loves Victorian houses? The modern suites of this house will be perfect for your getaway to the Canadian side of Niagara Falls. The falls viewpoint is located less than a mile away from the accommodation and the house has a spacious room and is equipped with a TV, air conditioning, and security cameras. They also offer free parking and a small kitchen. 
Things to do in Niagara Falls – Ontario, Canada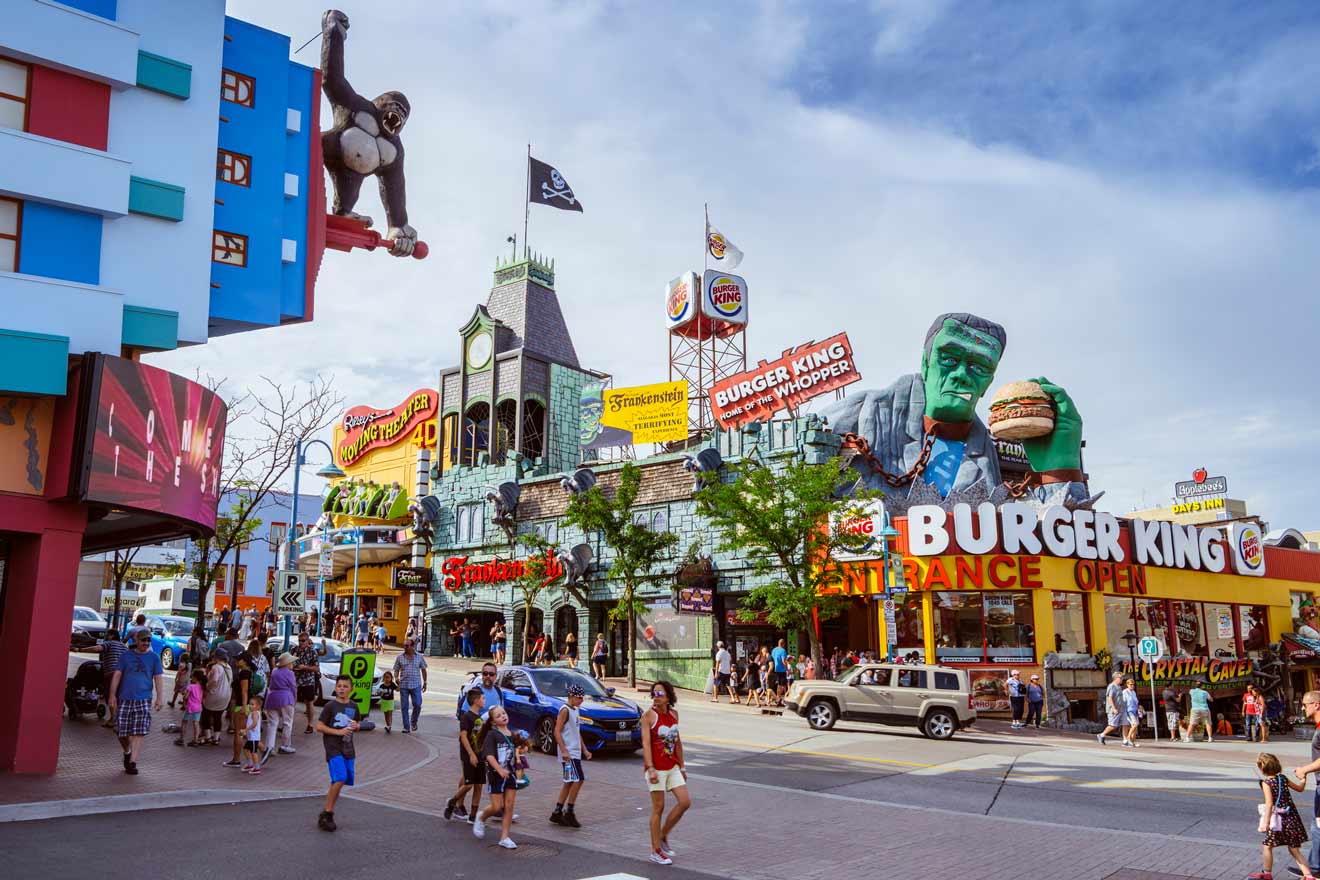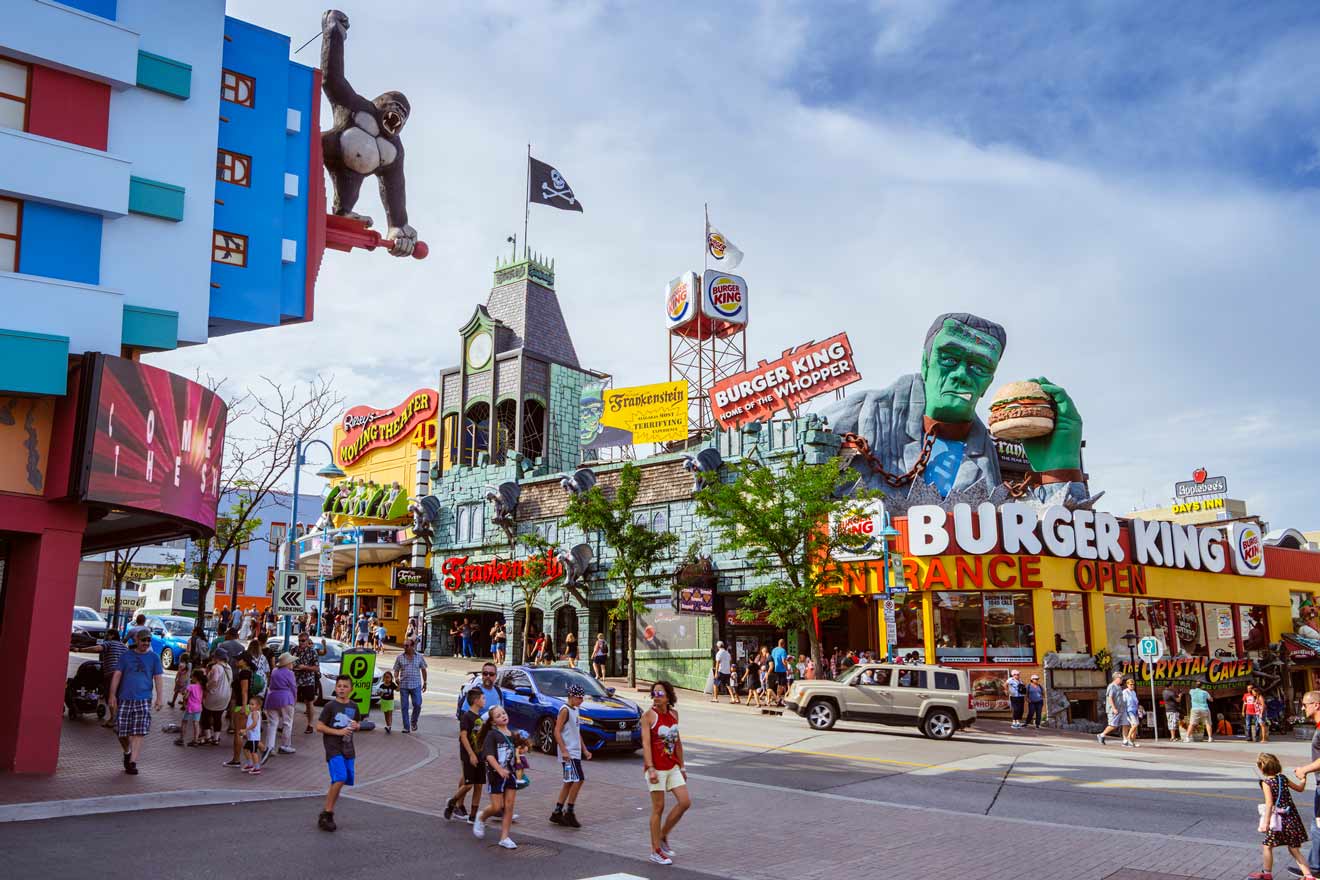 2. Best hotels in Niagara Falls – New York, United States of America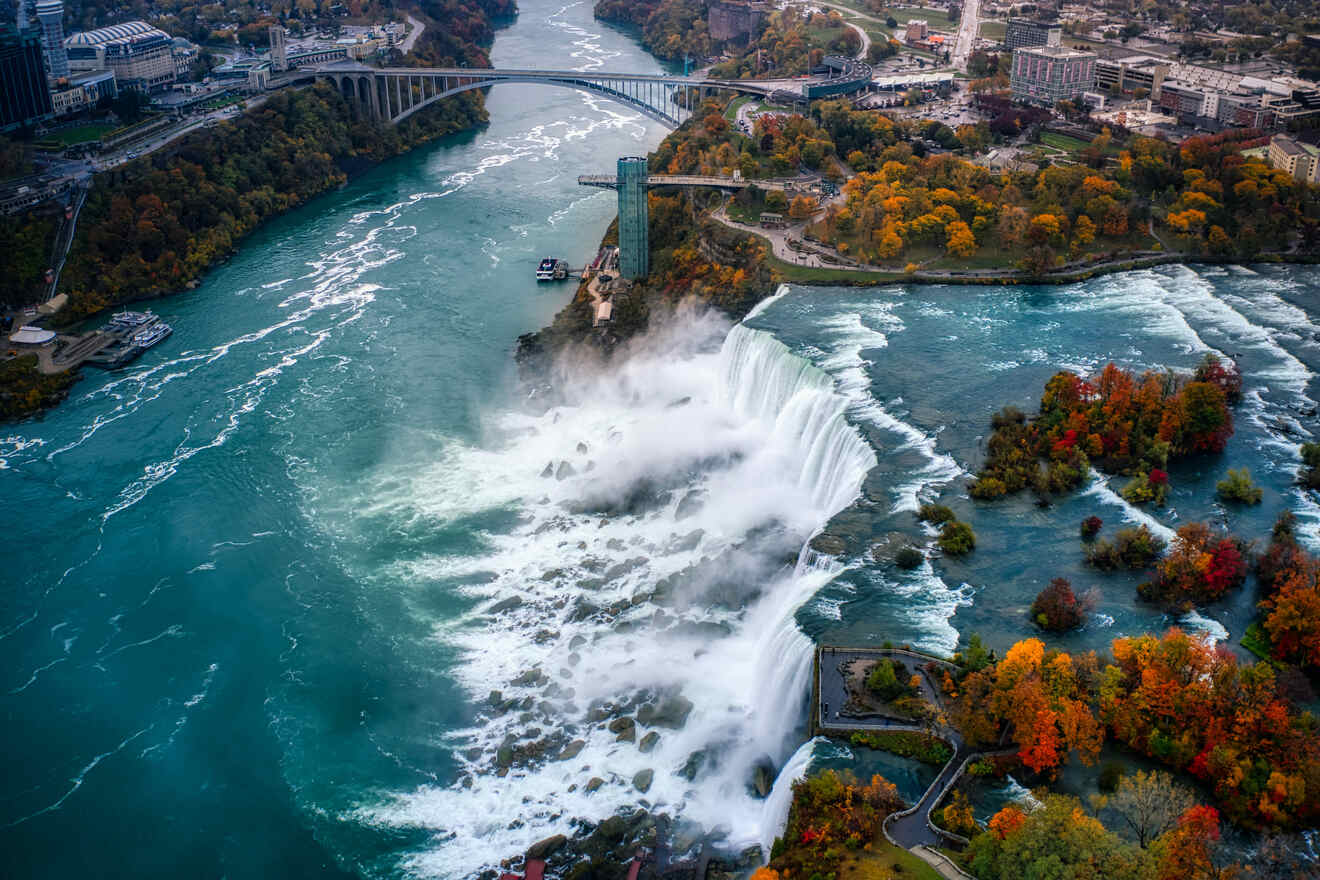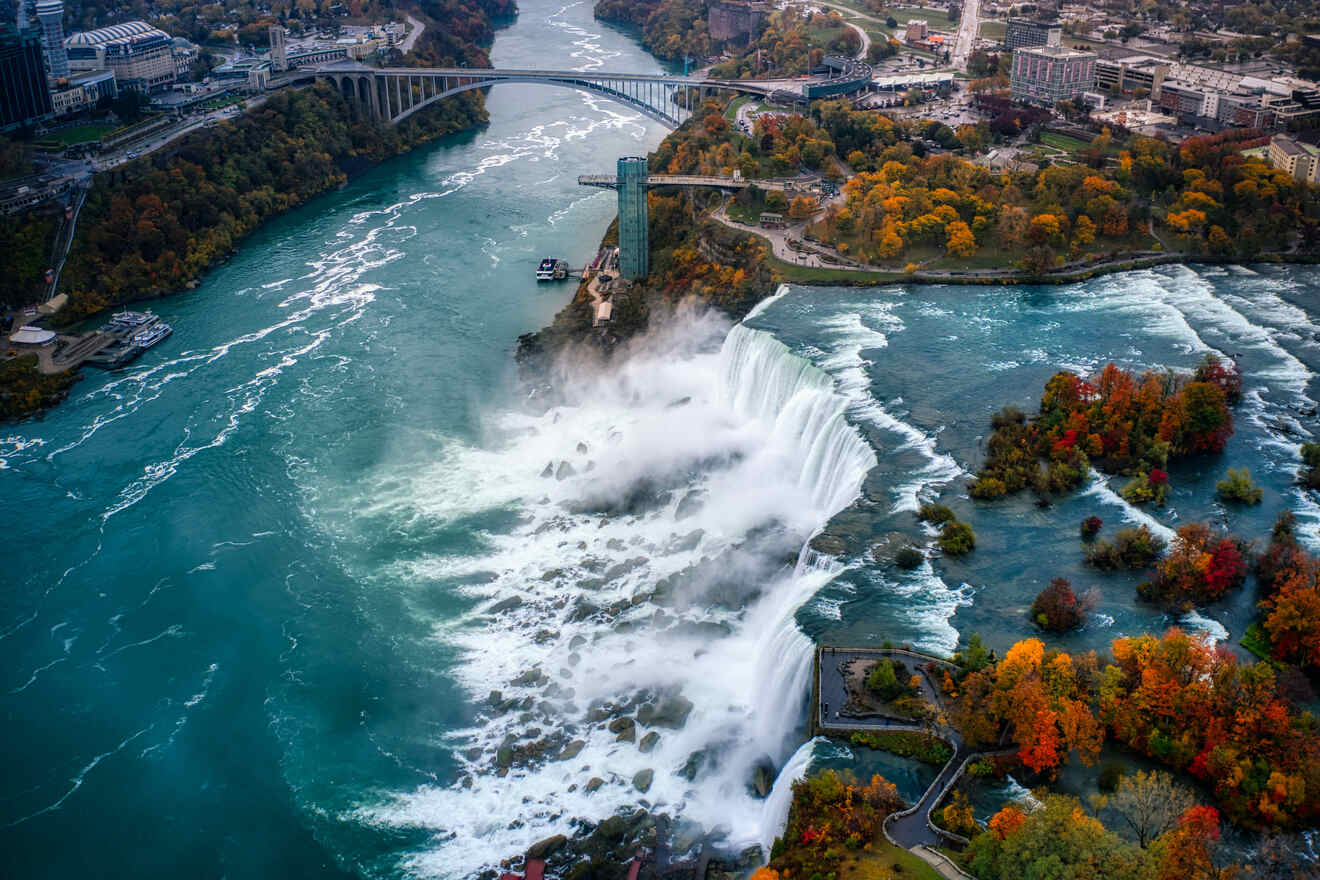 Located in Western Upstate New York, just 20 miles (30 km) away from Buffalo city, New York, the US side of Niagara Falls might not offer you a front-on view of the beautiful attraction however, there's a saying that "in Canada, you can see the falls, but in New York, you can feel that waterfalls". 
Basically in the US, you can get super close to the water! Visit the Observation Tower for just $1.25 per person to get a great view of all of the falls. 
It's a common misconception that you can't see the American Falls at all from the US side however, if you want to see them from below, you can pay to visit the Cave of the Winds walkways, where you'll see all 3 of the Niagara Falls. Be prepared to get up and personal with the water and maybe receive a free shower! No kidding, you'll get super close to the falls here!
In Niagara Falls, NY, you can take the Maid of the Mist boat tour, just another chance to get wet! Similar to the Canadian boat, the tour will take you right to the bottom of the Horseshoe Falls so get your camera ready, but just make sure it's waterproof! 
Something unique to the US side is that you can also visit Goat Island, which divides the American Falls from the Horseshoe Falls. And if you still have some days left here's a list of all the cool things you can do in Niagara Falls besides enjoying the stunning view all day long. 
While there are some great hotels that stand out among the crowd on the US side, I only like to recommend the best of the best options for you all and unfortunately, some of the ones located within walking distance here are not very good. So, I have included some hotels in this list that are located a little further away but are great options for each price point and still offer easy access for day trips to visit the falls.
Luxury (from $240 USD)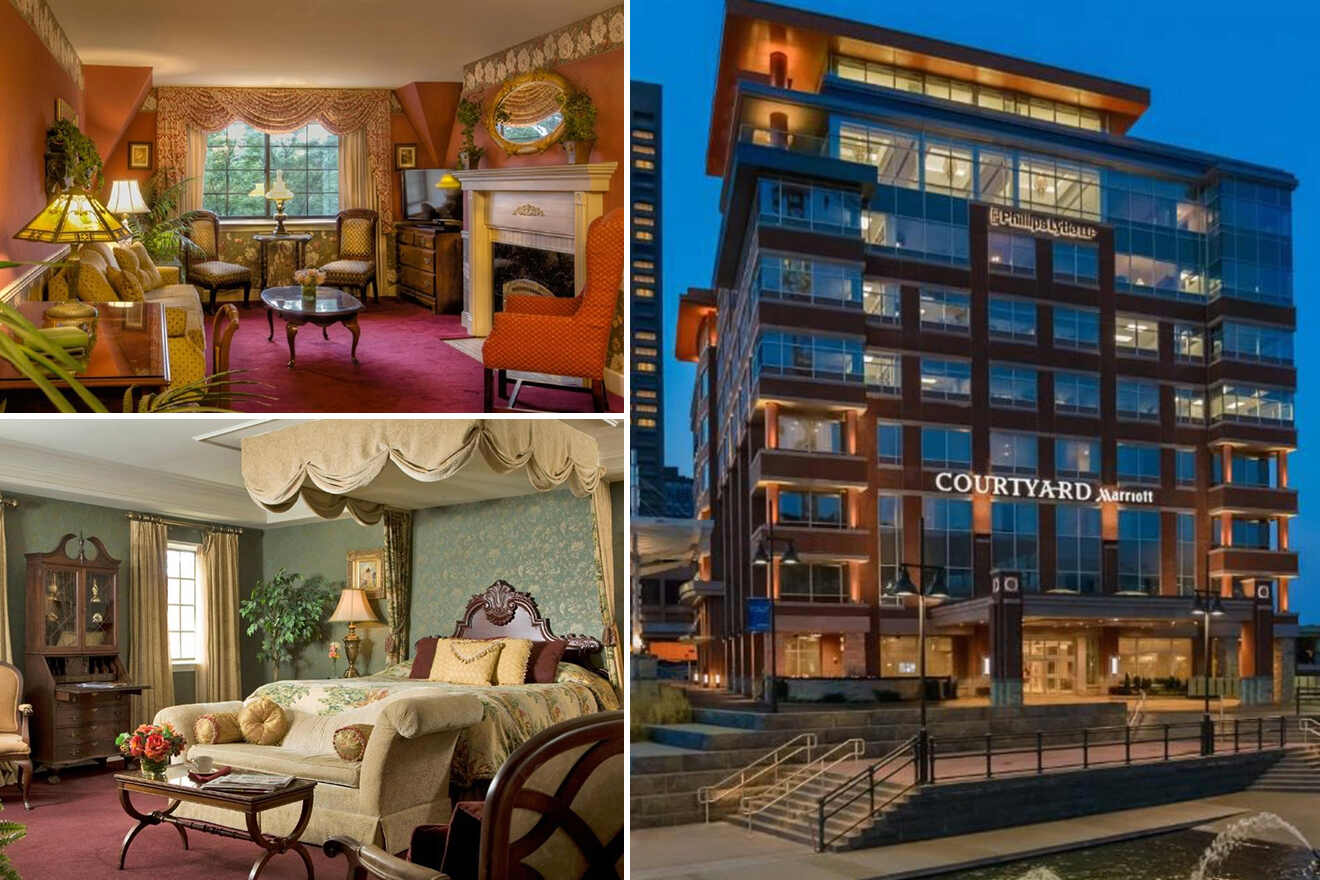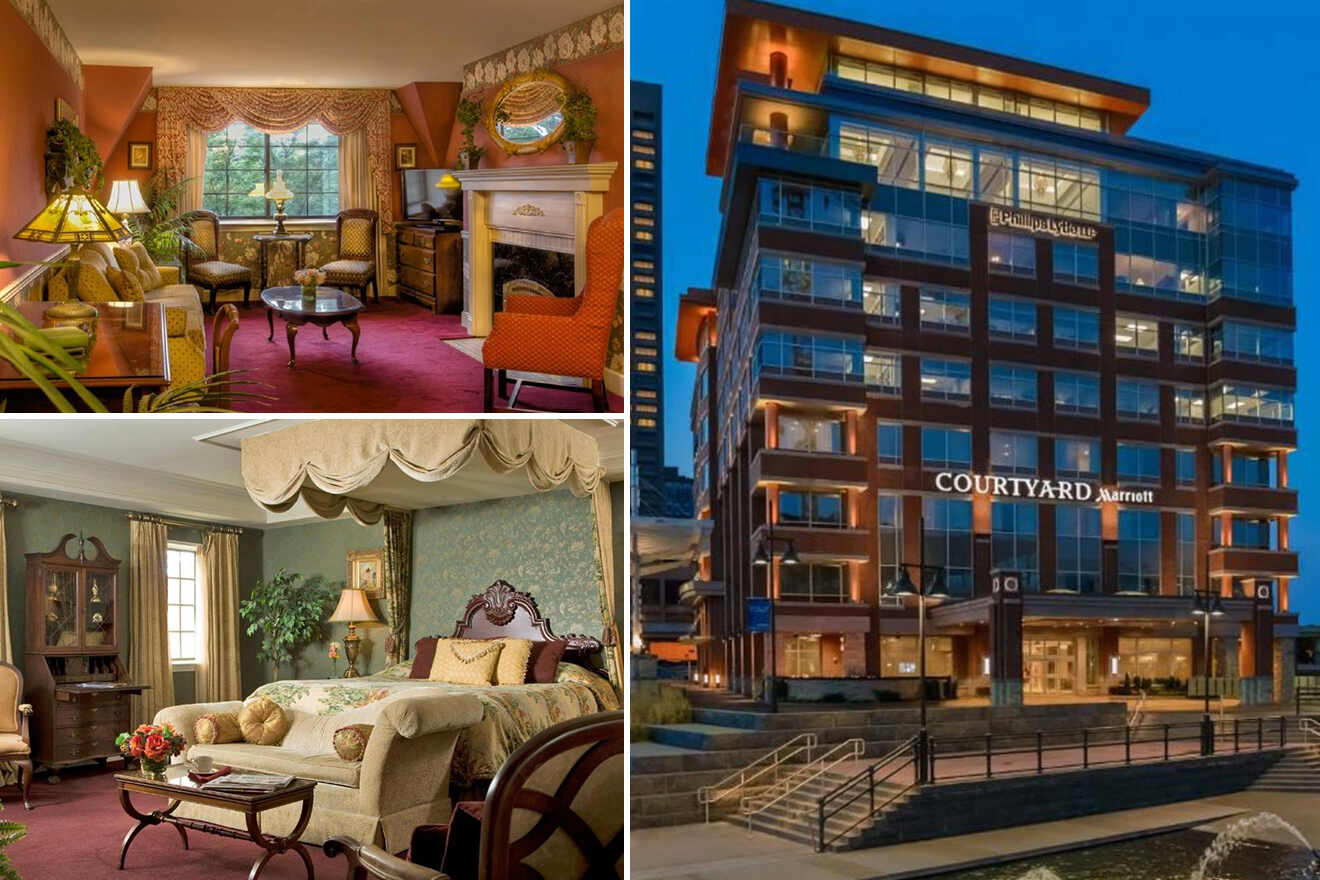 Red Coach Inn – I love the vintage suites of this luxurious inn located just a short walk from the American Falls. Some of them even have fireplaces, so remember that when you book! Enjoy a quiet night on the patio after eating a delicious dinner in the restaurant and there is also a bar on-site if you need a nightcap! The inn offers family rooms and free parking, plus you can order room service up to your suites and spend a lazy morning indoors before heading to view Niagara Falls. 
Courtyard by Marriott – This falls Marriot hotel has a modern design and en suite bathrooms and is located around 40 miles from the falls in Buffalo. You can chill in the indoor swimming pool or hit the fitness center if you're in the mood. The rooms are quite spacious and they have coffee makers and you'll also find a lounge area with a TV at this accommodation. This is a great choice if you want luxury and comfort with the ability to easily take day trips to visit the falls. 
Mid-range (From $140 USD)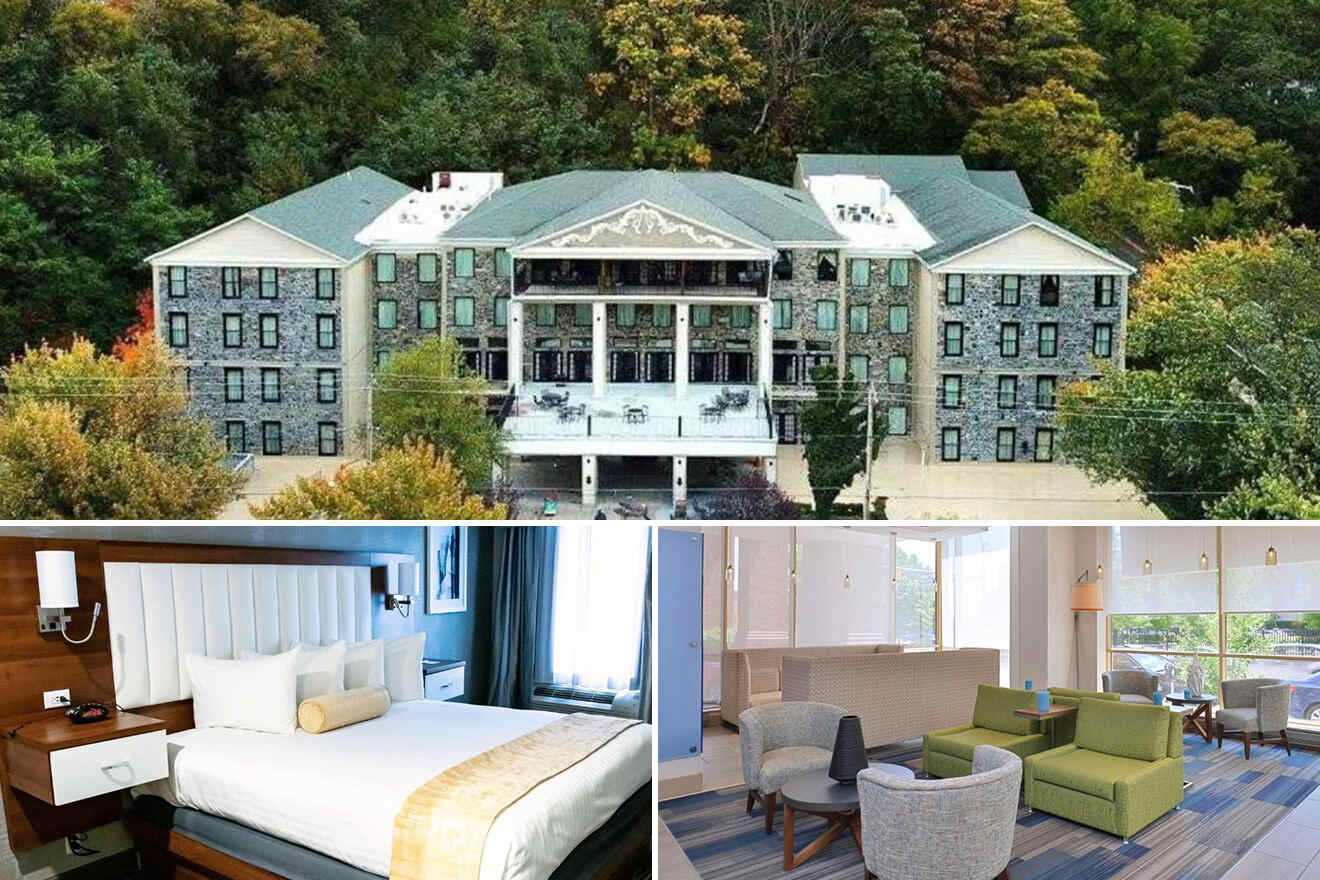 Holiday Inn Express & Suites Buffalo – Your perfect option for a mid-range getaway just 25 miles (40 km) from Niagara Falls in Buffalo. This inn has tons of amenities, including family rooms with en-suite bathrooms and a lounge area. You can eat breakfast at the hotel restaurant before heading out and don't forget to hit the fitness center if you can! Niagara Square is less than a mile away and the suites have a lovely view of the city!
Niagara Crossing Hotel – Enjoy a full day of doing nothing at this hotel spa overlooking the Niagara River just 8 miles (13km) from the falls. Some of the rooms have fireplaces and they also have suites for families. The décor is quite elegant and the restaurant looks like one of those movie ballrooms! The location is great as you'll be surrounded by trees and nature so this is a good choice if you're not all about the tourist attractions!
Best Western On The Avenue – The suites of this mid-range hotel are very spacious and they have private bathrooms located in Buffalo. You will find many restaurants in the nearby areas but the accommodation still offers a buffet breakfast each morning to fill you up before you head off to visit Niagara Falls. 
Holiday Inn Express – Grand Island – Spend a whole day swimming in the pool of this mid-range hotel that also has a fitness center located on Grand Island just 8 miles (13km) from the falls. The suites are spacious and they fit up to 3-4 adults making it perfect for a friend's trip to the famous attraction. You can eat breakfast here before heading outside to explore Niagara Falls or if you're too tired you can chill on the sun terrace and simply enjoy the vibes while planning your future outing. 
Budget (from $70 USD)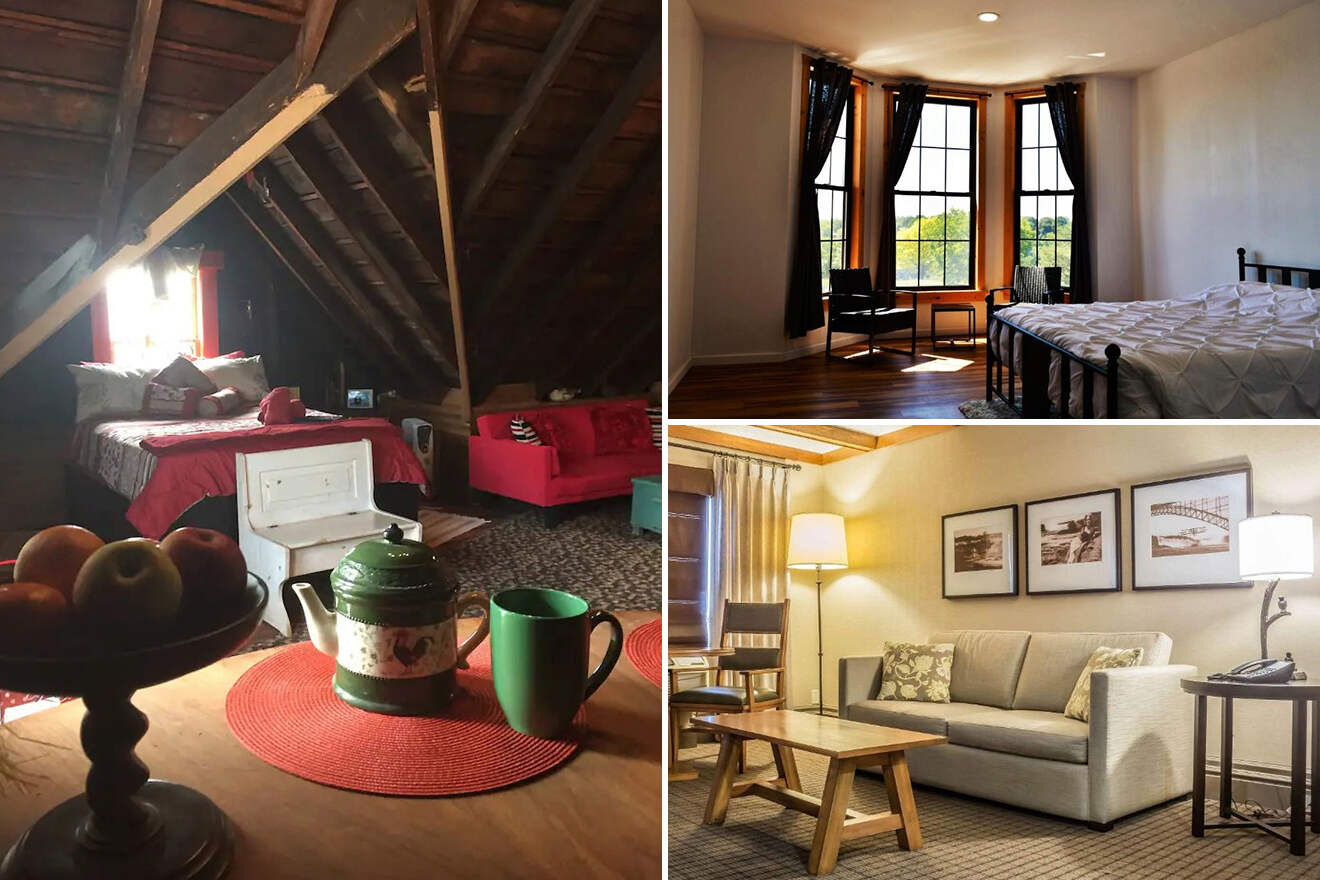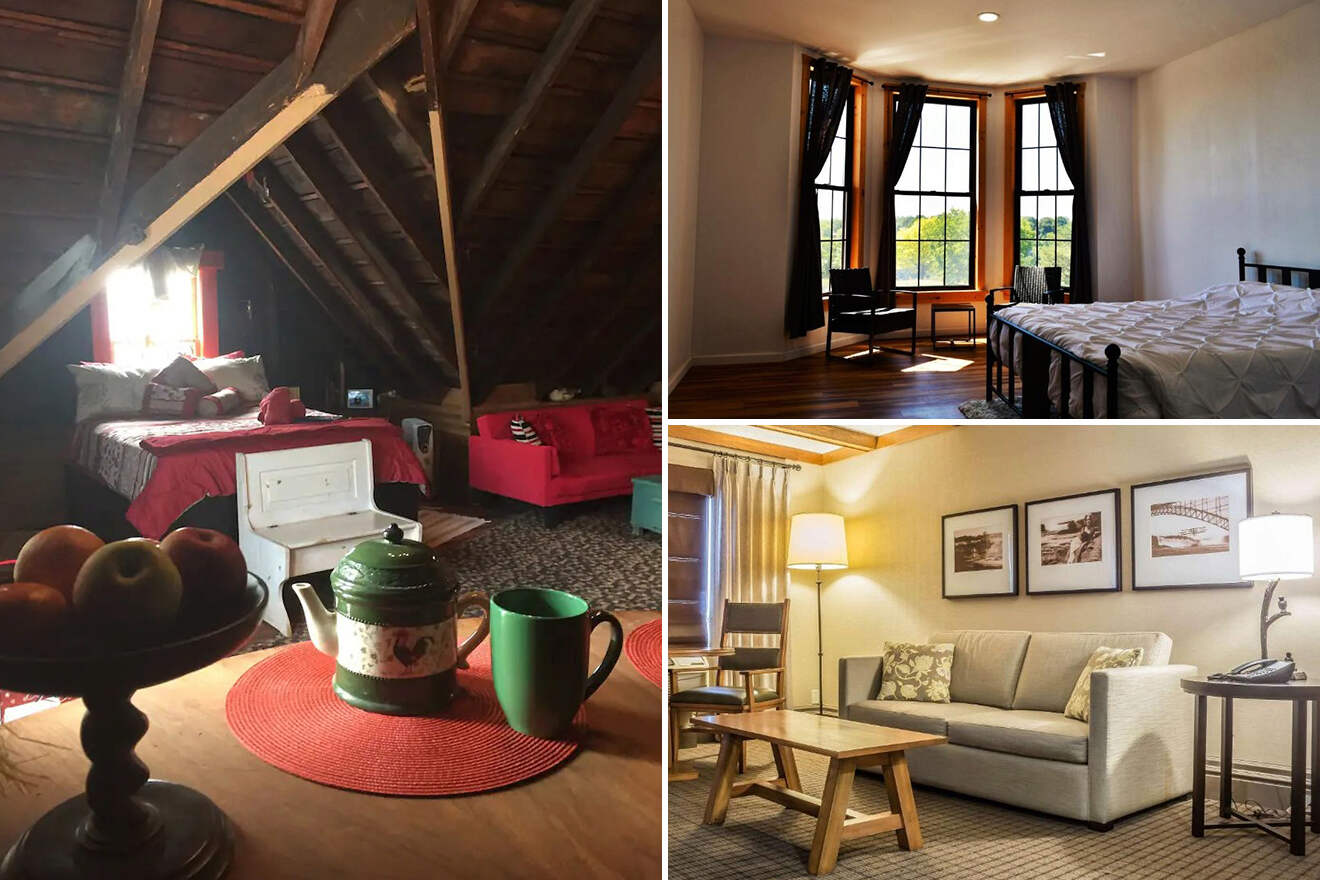 Gorge View – A homie and cozy accommodation located on the US side of Niagara Falls that offers free wifi and parking. You can mingle with the other visitors in the garden or shared kitchen before going to see all the attractions. The hostel has family rooms and it's located less than a mile away from the famous Rainbow Bridge which is the border between the US and Canada. 
Comfort Inn – With a super convenient location, right at the Niagara Falls State Park entrance and close to many attractions like the Niagara Fallsview Casino, this budget hotel will offer you comfort with many amenities. They have rooms for families with en-suite bathrooms and the breakfast is delicious in case you want to grab a quick bite before heading out!
Airbnb
Historic House – This must be the closest thing you'll get to living in an art history museum! Located just a short distance from the attractions, this boutique house dates back to the Civil War! You'll have a cozy room and a lounge area that you can use, but there's also a backyard and a patio where you can chill. Although you won't find a pool here, trust me, you'll enjoy every minute of your stay here! 
Things to do in Niagara Falls – United States of America
Frequently asked questions about Niagara Falls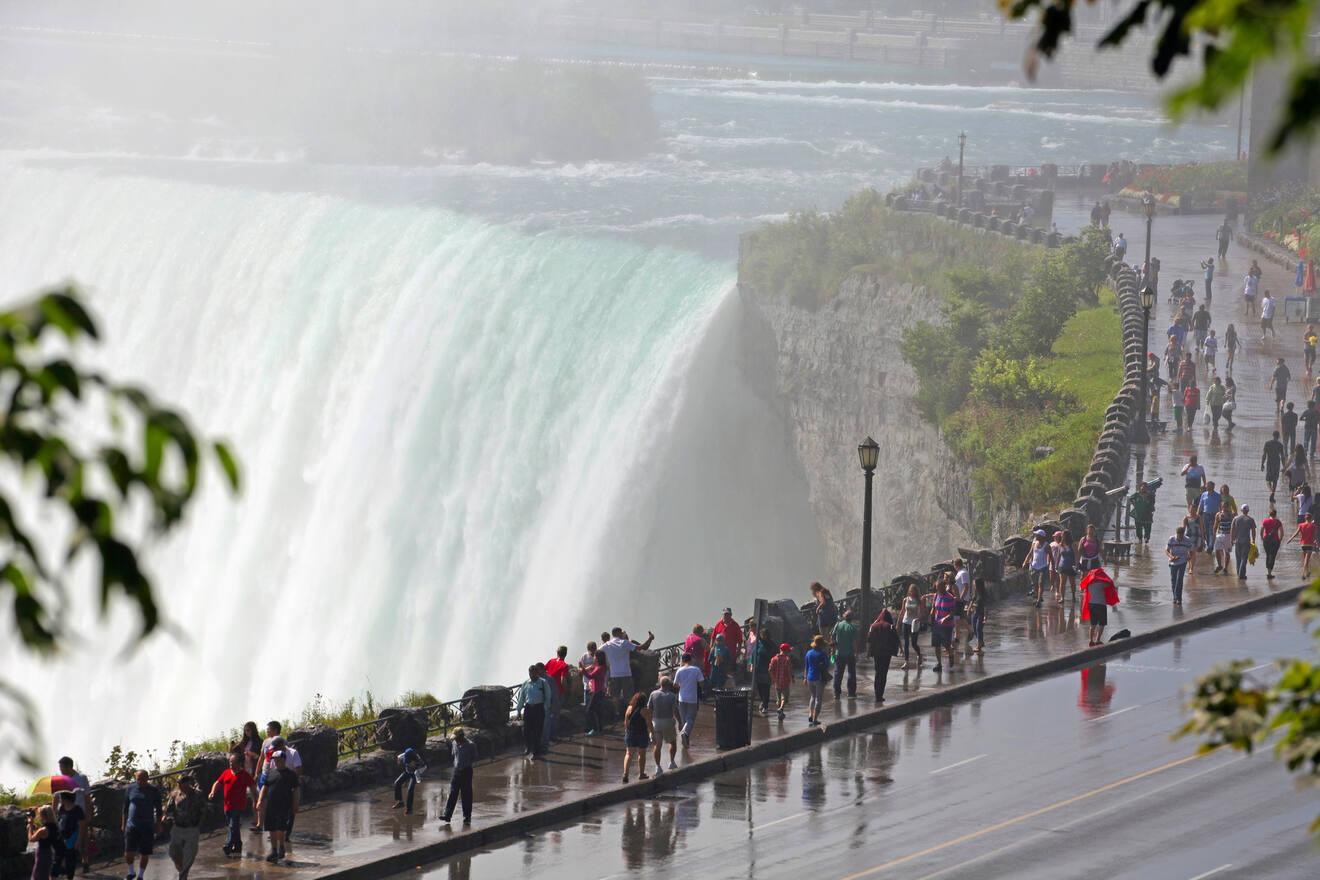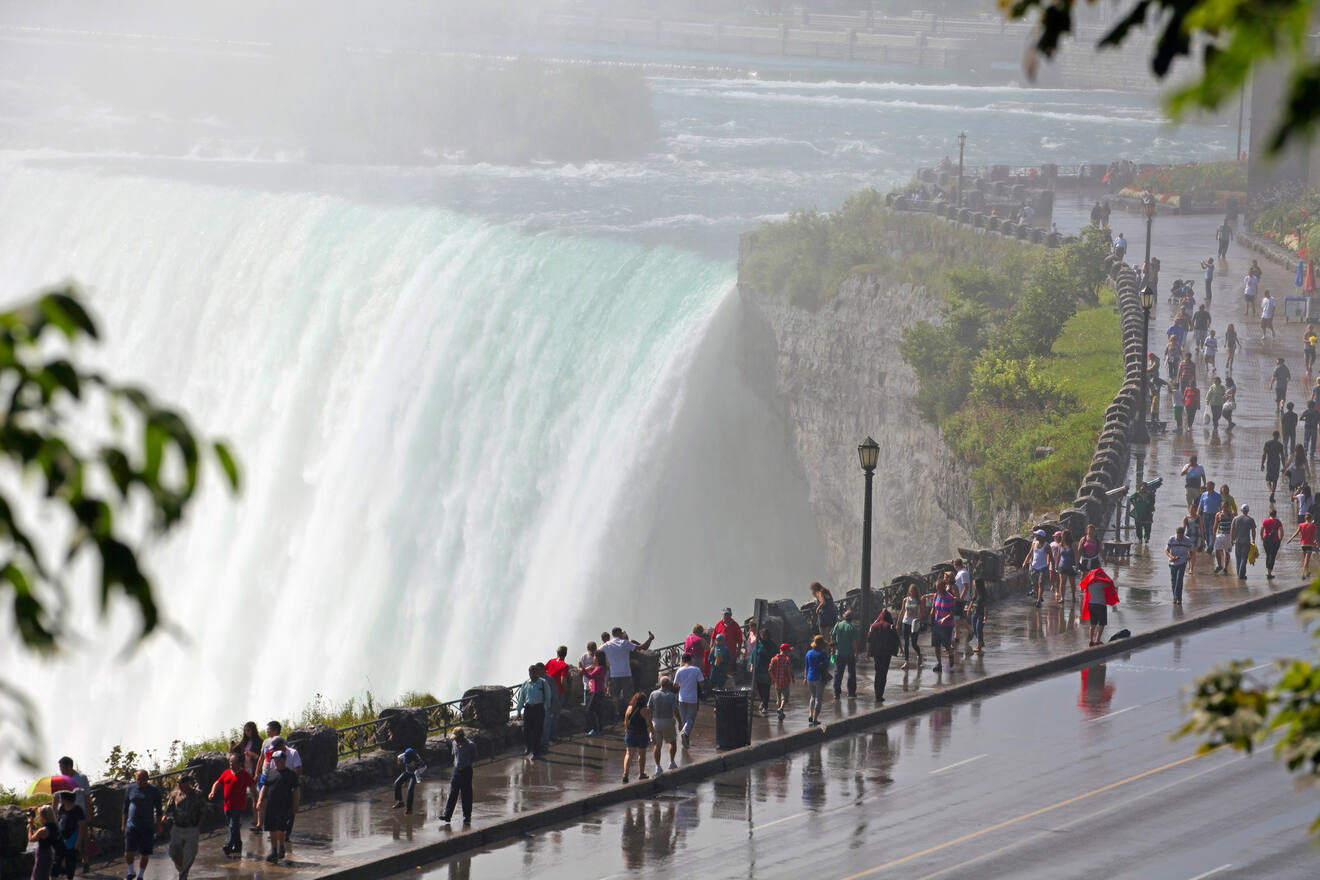 🌊 Where should I stay when visiting Niagara Falls?
🏨 Which hotel has the best view of Niagara Falls?
One of the best places with amazing Fallsview rooms is the Niagara Falls Marriott Fallsview Hotel & Spa, a hotel overlooking the beautiful scenery that offers dining options on-site, a pool, and it's located just a short distance from the Fallsview Casino.
🤔 Is the American side of Niagara Falls worth seeing?
Yes, the American side will offer you the chance to get super close to the water, something you can't do without taking a boat ride on the Canadian side. 
📅 What is the best month to go to Niagara Falls?
The best time to visit Niagara Falls is during the summer (June-August) – that's when the temperature will allow you to enjoy the beautiful Fallsview without freezing.
♨️ What are the best hotels in Niagara Falls with a jacuzzi?
Conclusion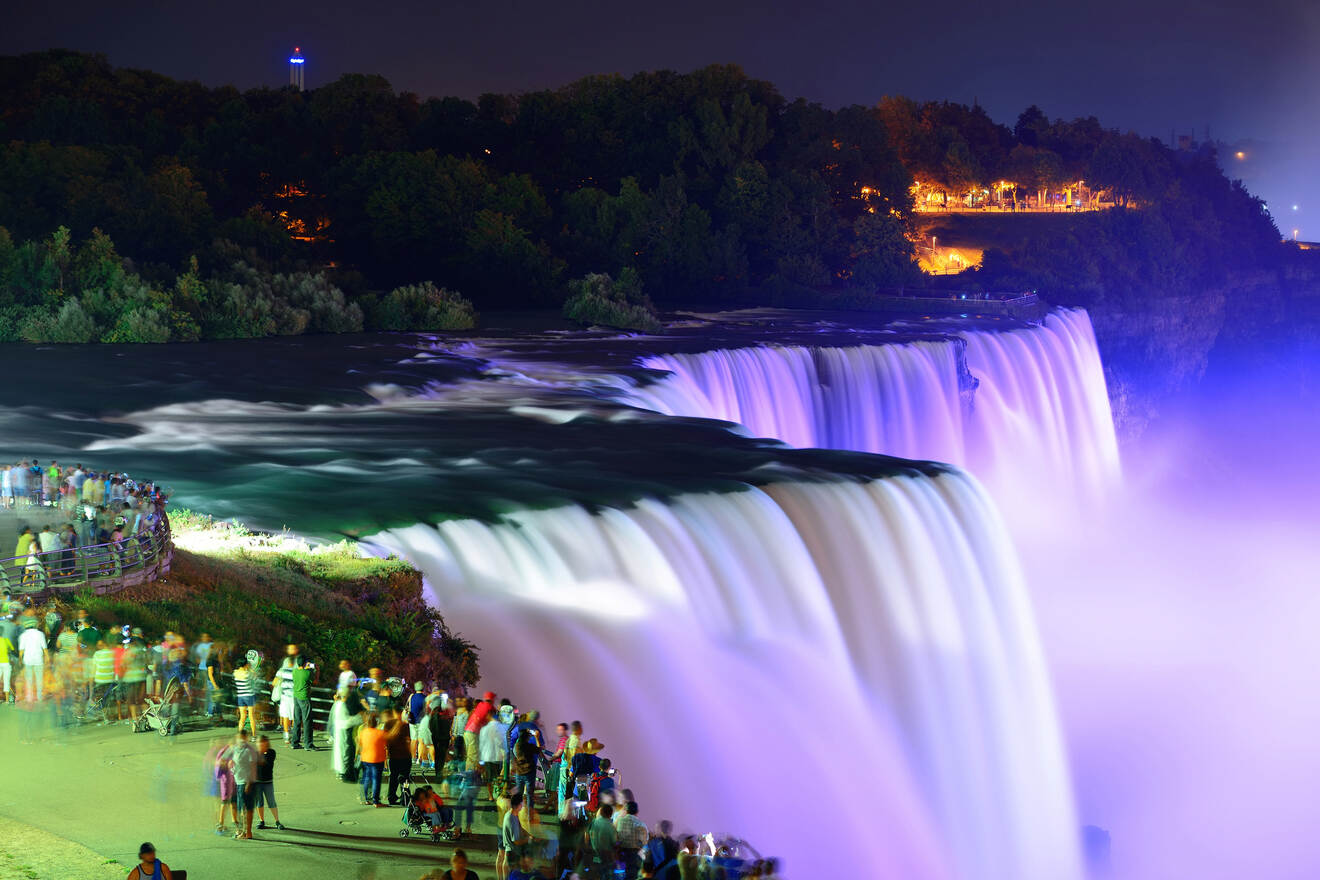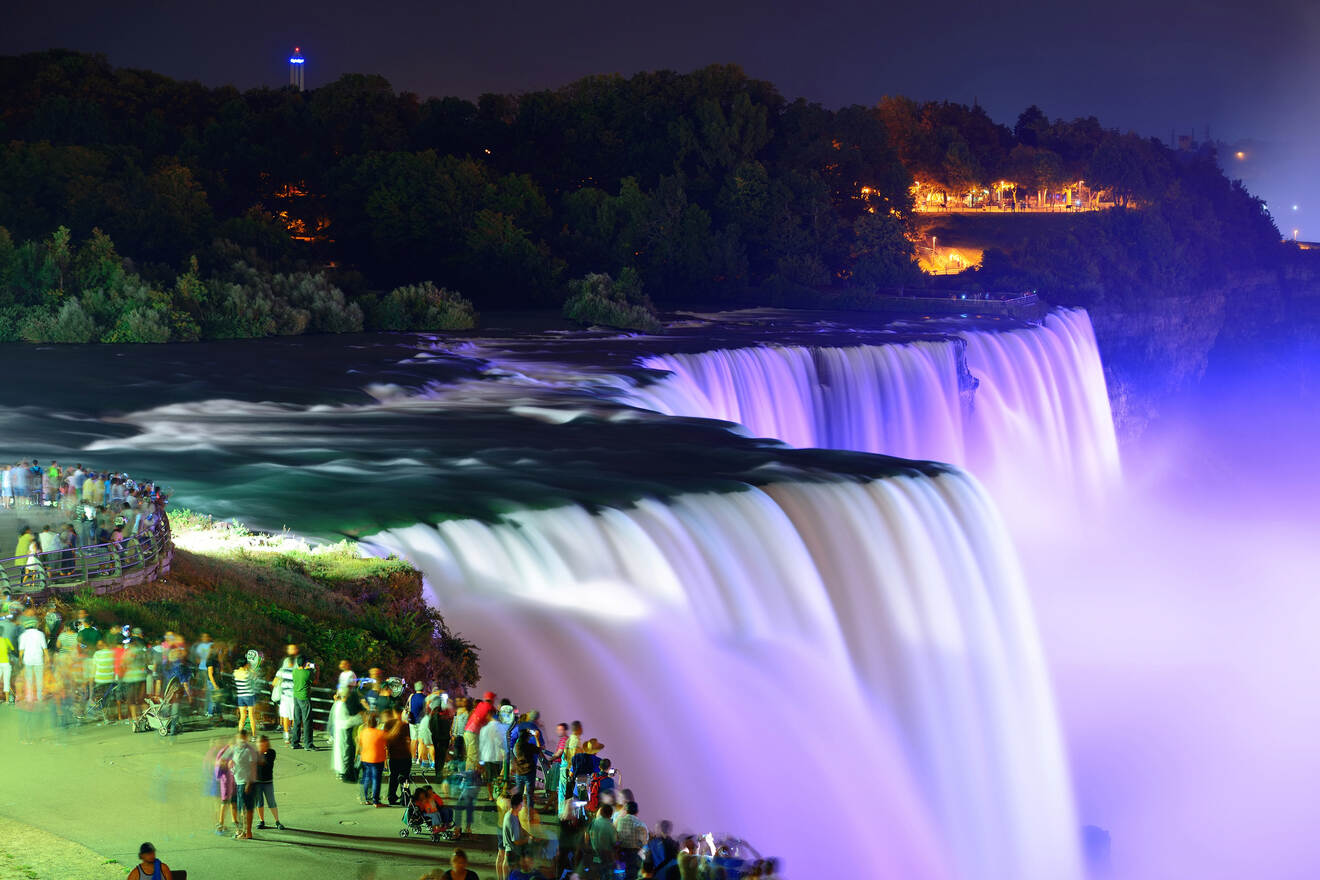 That's it from me, my dear readers! I hope this article helped you decide which are the best places to stay in Niagara Falls and which hotel to book. I'll let you be the judge of which view of Niagara Falls is the best! Canada or the US? Leave me a comment and tell me your opinion, I want to hear all about it!
There are tons of amazing hotels here but these are my top two favorites located on each side of the border, just in case you couldn't choose from all the hotels in Niagara Falls!
I did my part! Now you should do yours and book these hotels in advance, that's if you want to get those Falls view rooms or even just to have the legendary Horseshoe Falls just a short distance away from your hotel.
I hope you enjoy your adventure in this stunning location! Enjoy the Fallsview and all the fun boat tours that will leave you soaking wet! I'm sure you'll have the time of your life here!
Safe Travels, 
Victoria