Thinking of moving to Brazil? Searching for the best places to live in Brazil? In this guide, you'll discover the best spots where to live.
Being such a fun, diverse and beautiful country, Brazil is on the list of places to live for many digital nomads and expats.
PSSST. Your travel medical insurance can now cover COVID-19!
If you grab SafetyWing Nomad Insurance, it'll be covered just like other illnesses. I've been using it since 2019 and I can assure you it's the perfect solution for nomads like you and me.
From its party atmosphere and friendly locals to its stunning beaches and delicious food, one thing is for sure; you will never get bored here.
However, like with every country, the experience of living somewhere is always different from visiting as a tourist. So, you'll need to put some consideration into where to base yourself in Brazil.
This South American country has a reputation for being a dangerous place, but this is not the case for every city. In fact, there is more than one safe place to live in Brazil that's popular with expats and digital nomads. 
So, to help you out, here are the seven best places to live in Brazil!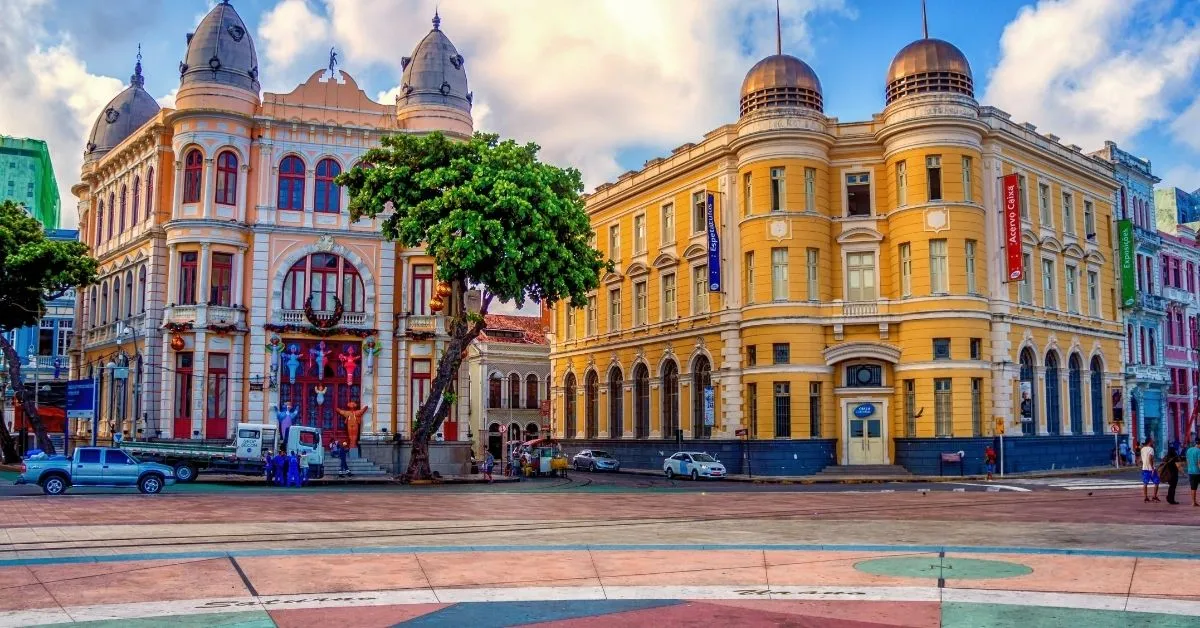 São Paulo
Sao Paulo is the most populated city in Brazil, with 12.4 million inhabitants, including many international expats and digital nomads. In fact, it's home to settlers from all over the world, with Arab, Italian, and Japanese neighborhoods, just to name a few.
As a result, expats gravitate to Sao Paulo for its diverse mix of people and ease of getting by without speaking Portuguese. 
At first glance, Sao Paulo might look like it's all skyscrapers and business workers. Still, there's so much to uncover in this vibrant city. Aside from plenty of work opportunities, Sao Paulo has an incredible food scene, rich architectural tradition, and a temperate climate. 
Even so, there's no denying that this city can feel crowded, and the people are not as laid back as in other Brazilian cities.
It's comparable to New York and London, so if you're a big city kind of person, you'll thrive here, but if crowds stress you out, it may not be one of the best cities to live in Brazil for you.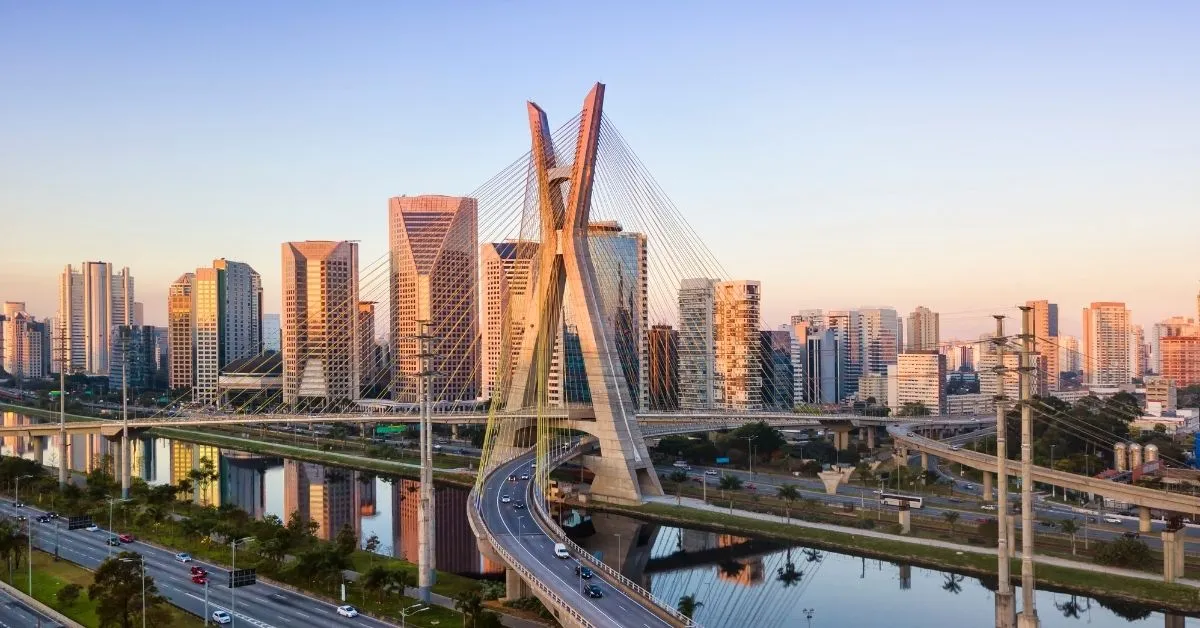 Rio De Janeiro 
Rio de Janeiro is world-famous and the most popular destination for tourists coming to Brazil. With 7 million residents, it's still a big city but has a friendlier vibe than Sao Paulo.
It also has many incredible beaches, such as the renowned Copacabana beach. Furthermore, Rio is famous for its carnival and vibrant 24/7 party scene; thus, it's easily one of the best cities to live in Brazil for party-loving expats. 
Over recent years, Rio has developed a hipster vibe, and today there are many upcoming, trendy neighborhoods like Botafogo. It's undoubtedly the place to be if you're looking for a good time and there are tonnes of cultural activities to try too.
What's more, Rio boasts a modern and efficient transport system and is a gateway to the rest of South America.
However, Rio certainly has its downfalls. Not only is it a pretty expensive place to live, but it's not the safest place to live in Brazil, either.
Of course, some neighborhoods are much safer than others, but street crimes like pickpocketing happen continuously all over the city.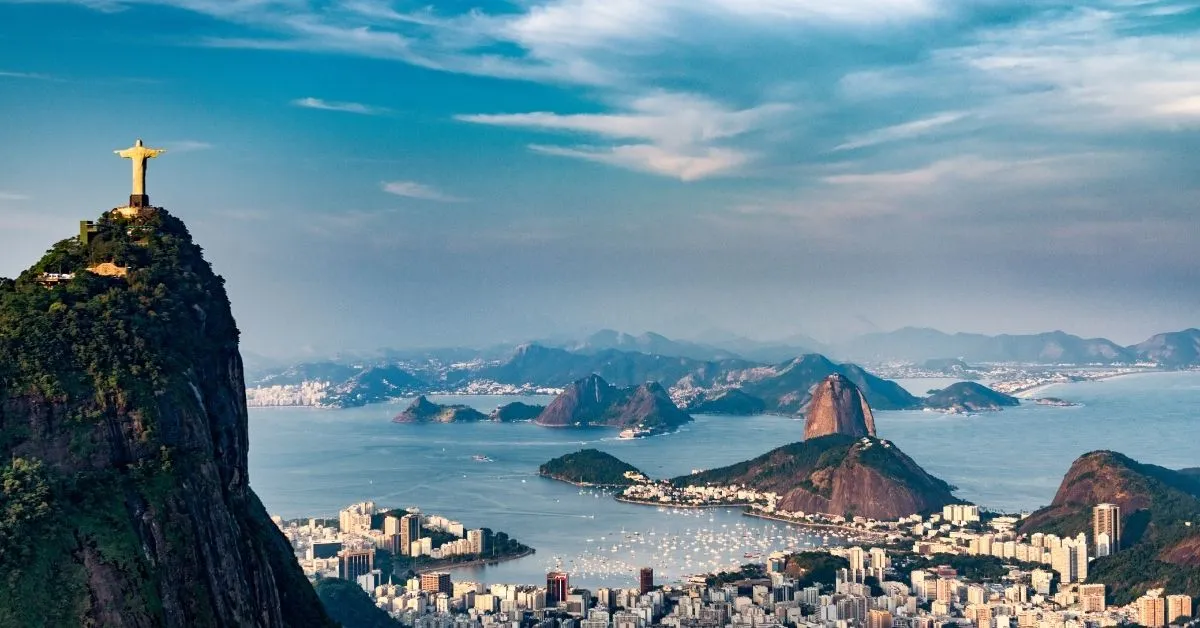 Fortaleza 
Fortaleza is lesser-known than Sao Paulo and Rio but is a pretty idyllic city for expats and nomads nonetheless.
With 2 million inhabitants, it's not a crowded place but is still brimming with life and is an affordable place to live. It's also full of culture, and if you speak the language, it's an excellent place to integrate with the friendly locals. 
What makes Fortaleza even more popular is its coastal location. The city has stunning beaches, dunes and lagoons, and a hot climate all year round.
If you love tropical temperatures, you'll enjoy the average high temperatures of 30°C. However, if you prefer milder weather, it might get a bit unbearable at times. 
Aside from beautiful beaches to top up your tan, Fortaleza offers plenty of things to do, and there is usually an event of some sort going on.
There's also lots of bars, restaurants, and museums, especially in Dragao do Mar. Plus, some of the best parties happen here all year long. Because of this, Fortaleza has a fast-growing digital nomad community. 
Unfortunately, many locals are yet to learn English, so this is somewhere you'll need to speak Portuguese to get by. However, if you do, you can explore the nearby fishing villages and the surrounding nature in this northeastern region.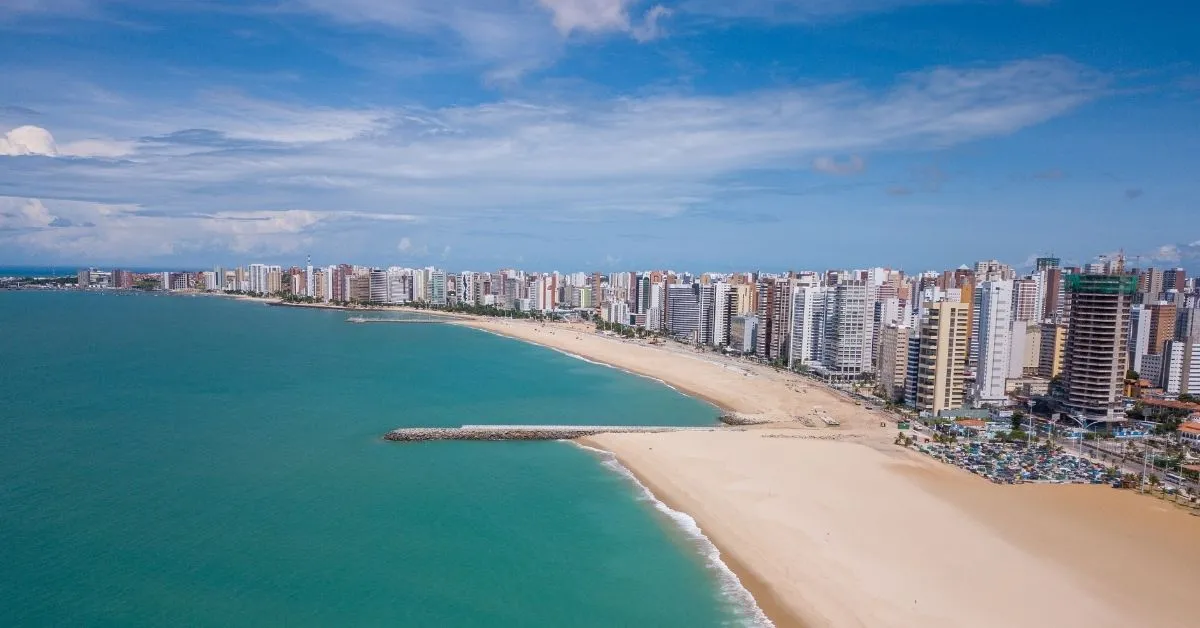 Salvador 
Salvador is a port city in the northeastern state of Bahia with a population of 4 million people. It has a large international student community and is growing popular among expats, too, resulting in a very diverse mix of inhabitants.
However, despite its cultural diversity, Salvador has a rich heritage and is one of the oldest colonial cities on the continent. 
The city is full of incredible historical architecture, pastel-colored buildings, and old cobbled streets. What's more, the old Upper Town is a UNESCO World Heritage site itself.
In addition, the city has beautiful beaches, a lively atmosphere and lots of unique, tasty food to try. 
Salvador is much more affordable than the bigger cities. It is perhaps the cheapest place to live in Brazil for expats, with an estimated cost of living around $700 per month.
However, there is a lot of poverty here, so petty theft is common. What's more, English is not commonly spoken among the locals.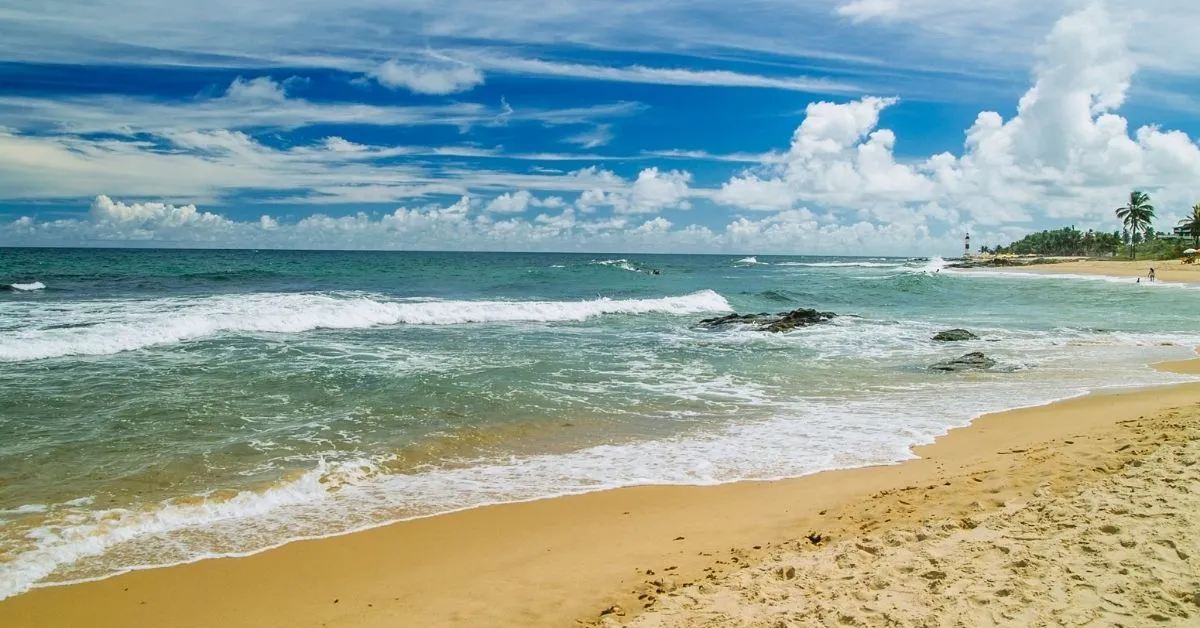 Porto Alegre
Porto Alegre is the education hub of Brazil and is a modern, wealthy city with a strong European influence. Along with a large settlement of Portuguese and Spanish, there's a decent student and expat community, which gives the city an international feel.
Moreover, the climate is milder than in many parts of Brazil; thus, it feels more Mediterranean than tropical. 
Although rent is cheaper in other cities, the quality of life makes Porto Alegre a good choice for remote workers and expats in Brazil.
However, the major downfall of Porto Alegre is the high crime rates. For this reason, many digital nomads choose one of the safer cities over this one.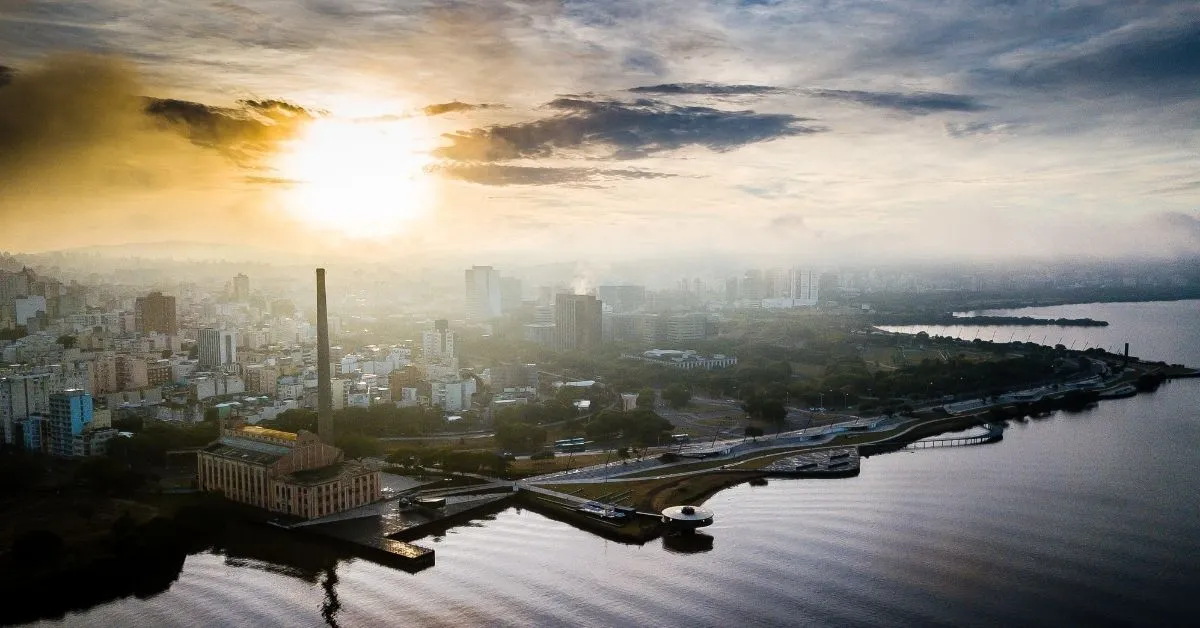 Curitiba
Curitiba is not a famous city but is one of the best places to live in Brazil for anyone concerned with environmentalism.
This is because it's the most sustainable city in Brazil, praised for its enormous natural spaces, efficient waste management schemes, and innovative recycling projects. 
With its many parks, Curitiba offers something most other Brazilian cities do not; green spaces. As a result, Curitiba does not look or feel like a concrete jungle at all.
Instead, many of the streets are lined with trees, and there are small parks in between the modern skyscrapers. What's more, Curitiba has the best botanical gardens in the country!
The climate here is another huge plus as it's much milder than some of the humid cities further north.
However, while its sustainability factor makes Curitiba a fabulous town for eco-conscious nomads living in Brazil, it lacks the warm welcome and fun-loving vibe of other places. Even so, it's a very safe place to live in Brazil.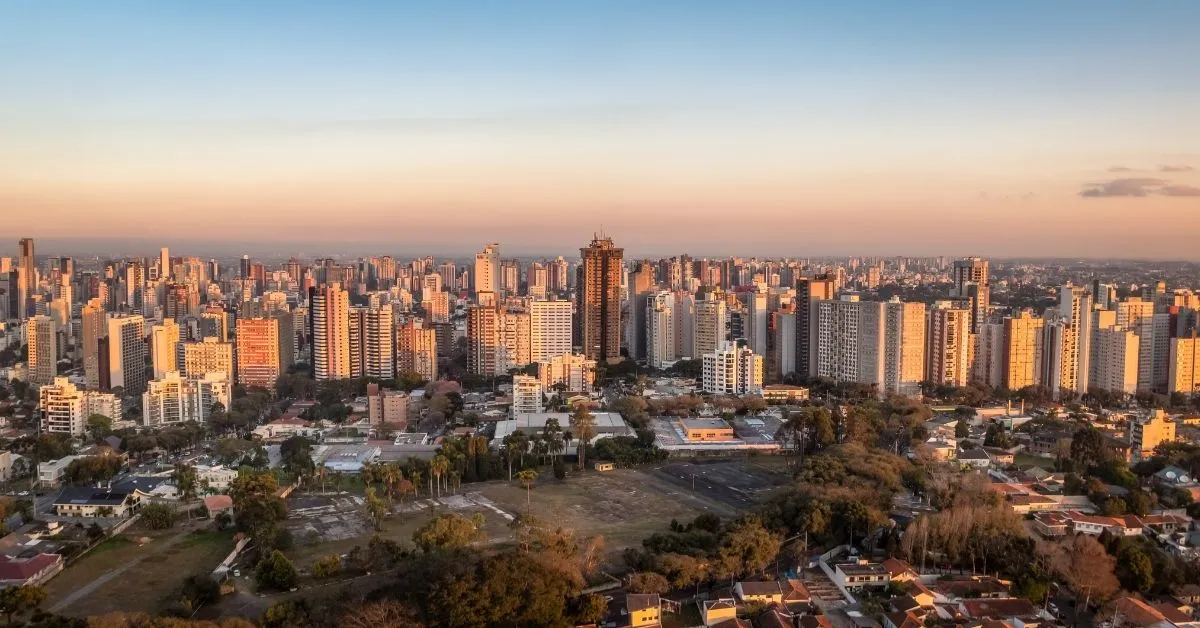 Florianopolis
With its beautiful beaches, an abundance of things to do and see, and a growing expat community, Florianopolis is undoubtedly one of the best places to live in Brazil for digital nomads or remote workers.
It's a safer and cheaper alternative to Sao Paulo and Rio with far fewer people, too. You won't even have to compromise on nightlife as Florianopolis has fantastic beach clubs and bars and a carnival that rivals Rio's. 
With over 60 beaches, this is the city for beach-loving nomads moving to Brazil. However, the city's charm doesn't just come from its pristine white sand and turquoise oceans.
The city is adorned with trees; there's a saltwater lagoon and an incredible jungle backdrop to explore, making the quality of life here excellent.
Furthermore, as it is located between Curitiba and Porto Alegre, Florianopolis has a similar climate to these two cities, with temperatures never going under 13° or over 30°.
Therefore, there are not any considerable drawbacks to this beautiful and action-packed city, making it the most underrated Brazilian city.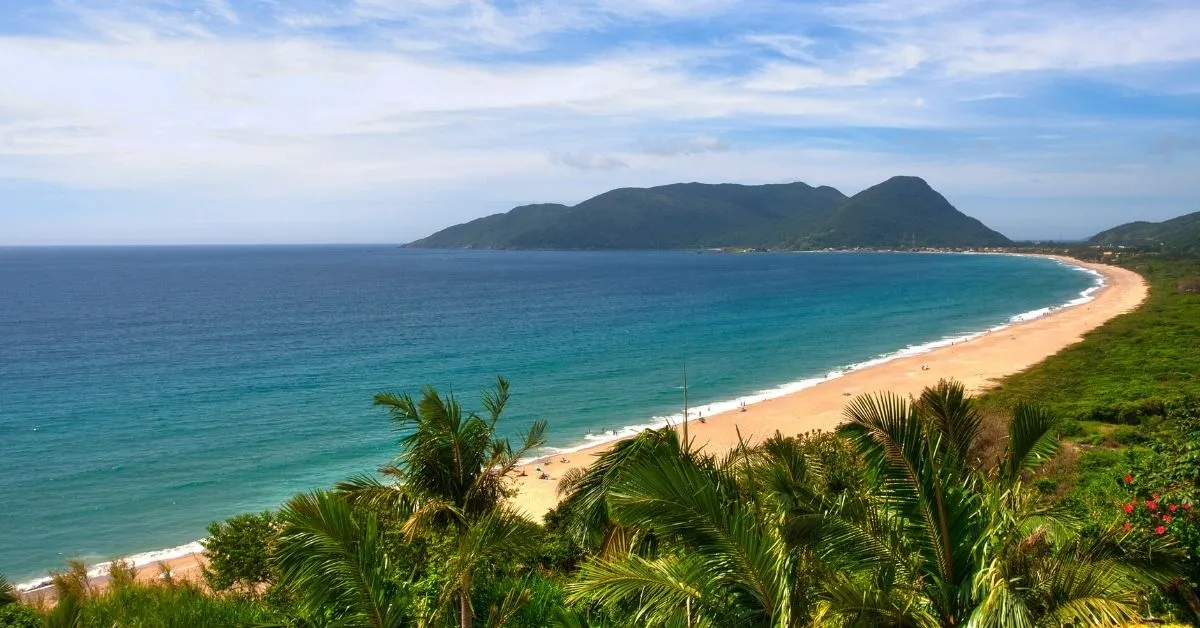 Final Thoughts On The Best Places To Live In Brazil
Choosing between these seven best places to live in Brazil comes down to personal preference.
If you love the hustle and bustle of big cities and live for Friday night, Sao Paulo or Rio will be your best bet.
However, if you're looking for an equally fun but less crowded alternative, you may want to consider Florianopolis. Regardless of where you choose, living in Brazil will be an experience of a lifetime!
Not sure if Brazil is the right destination for you? Read one of the following guides: