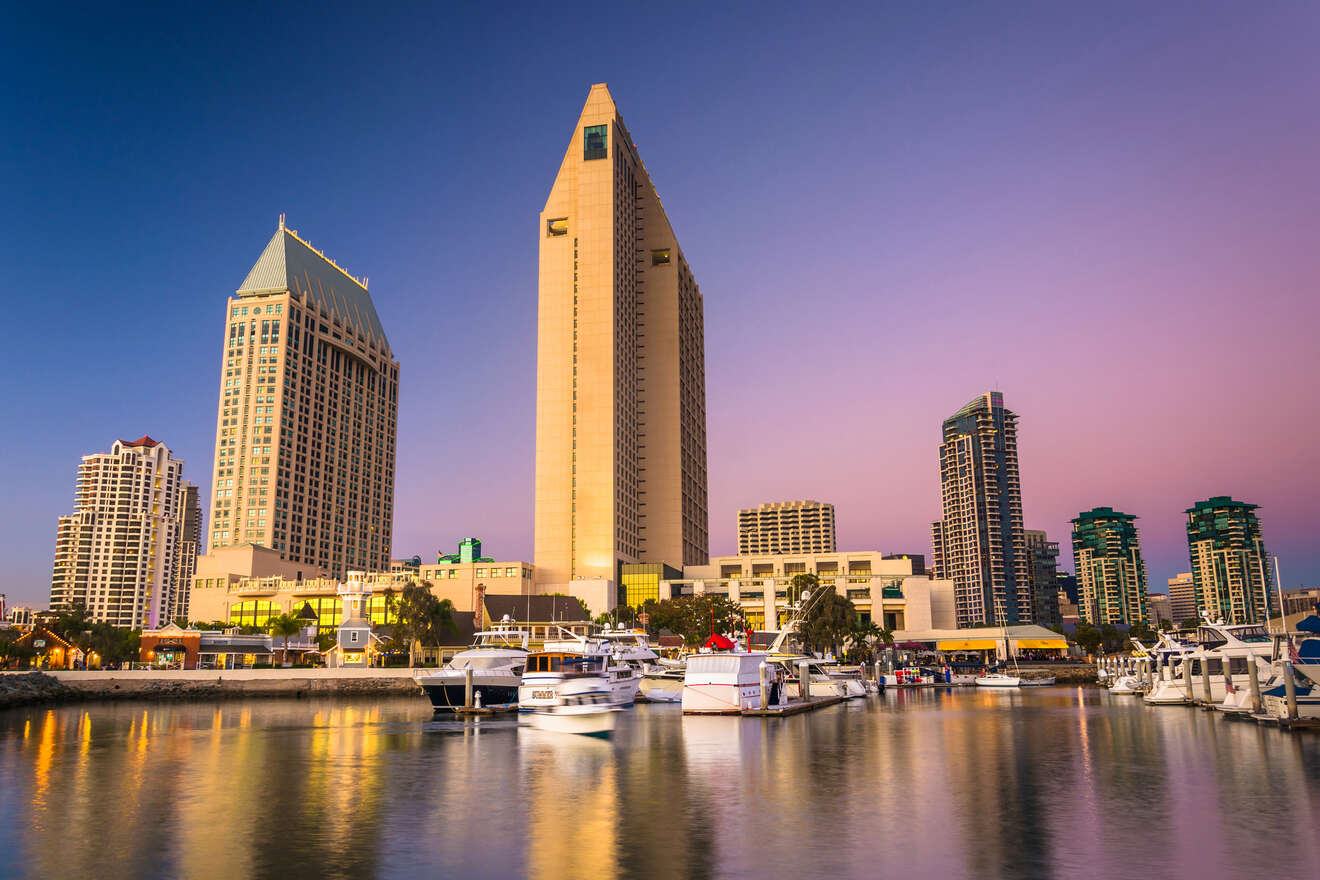 Hola amigos, and welcome to one of the most picturesque cities in Southern California! An oasis of amazing beaches, tide pools, and unique pine forests! This laid-back town is located along the Pacific Coast and certainly knows how to show its tourists a good time.
Combining both urban areas and beach towns, San Diego has something for anyone, that's why I'm sure you'll come back from this trip more relaxed and happy that you've crossed every box on your travel agenda. I hope I'm not the only one who takes the time to write those things! And one important thing to add to that list is to book in advance, this area is a top tourist destination, and you don't want to miss out on getting the best deals!
Enough with all the chit-chat, you guys know the drill by now! We have to find where to stay in San Diego! And it's tough this time, but don't worry, I've broken down the areas by interests and budgets. That way you can easily decide whether you're more into that beach atmosphere that Coronado Island has, or you have to be in the urban heart of the city!
Vamonos, the Pacific Beach is waiting for us!
If you are in a hurry
If you want to book now, then don't wait! Quickly browse this list with the best hotels all located in Downtown (Gaslamp Quarter):
airbnb
Stylish House
An Airbnb with amazing reviews
budget hotel
Hi San Diego
Best affordable accommodation in the center
Here's a map that will help you visualize all the areas for where to stay in San Diego that I will be talking about in this post:
1. Downtown (Gaslamp Quarter) – where to stay in San Diego for the first time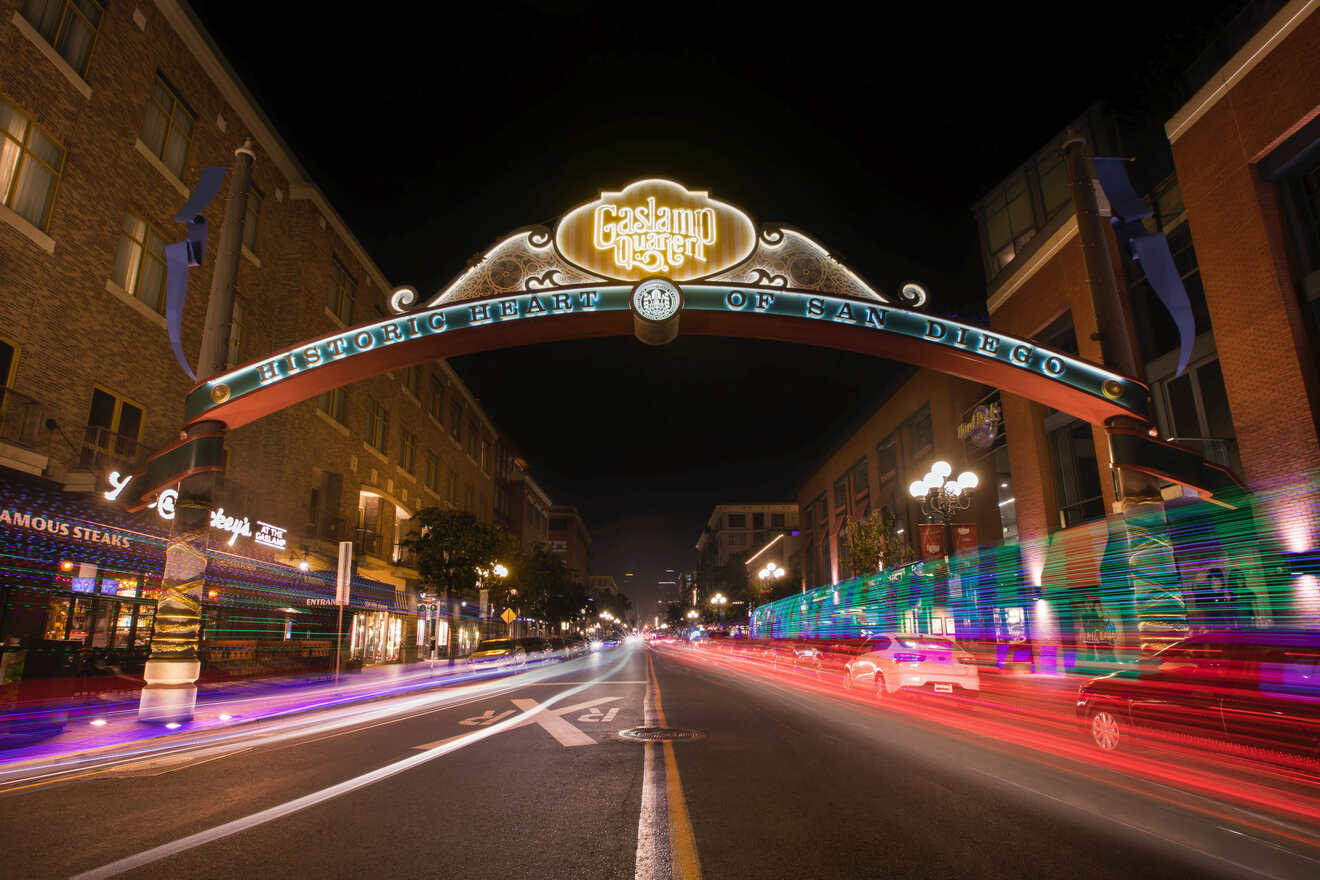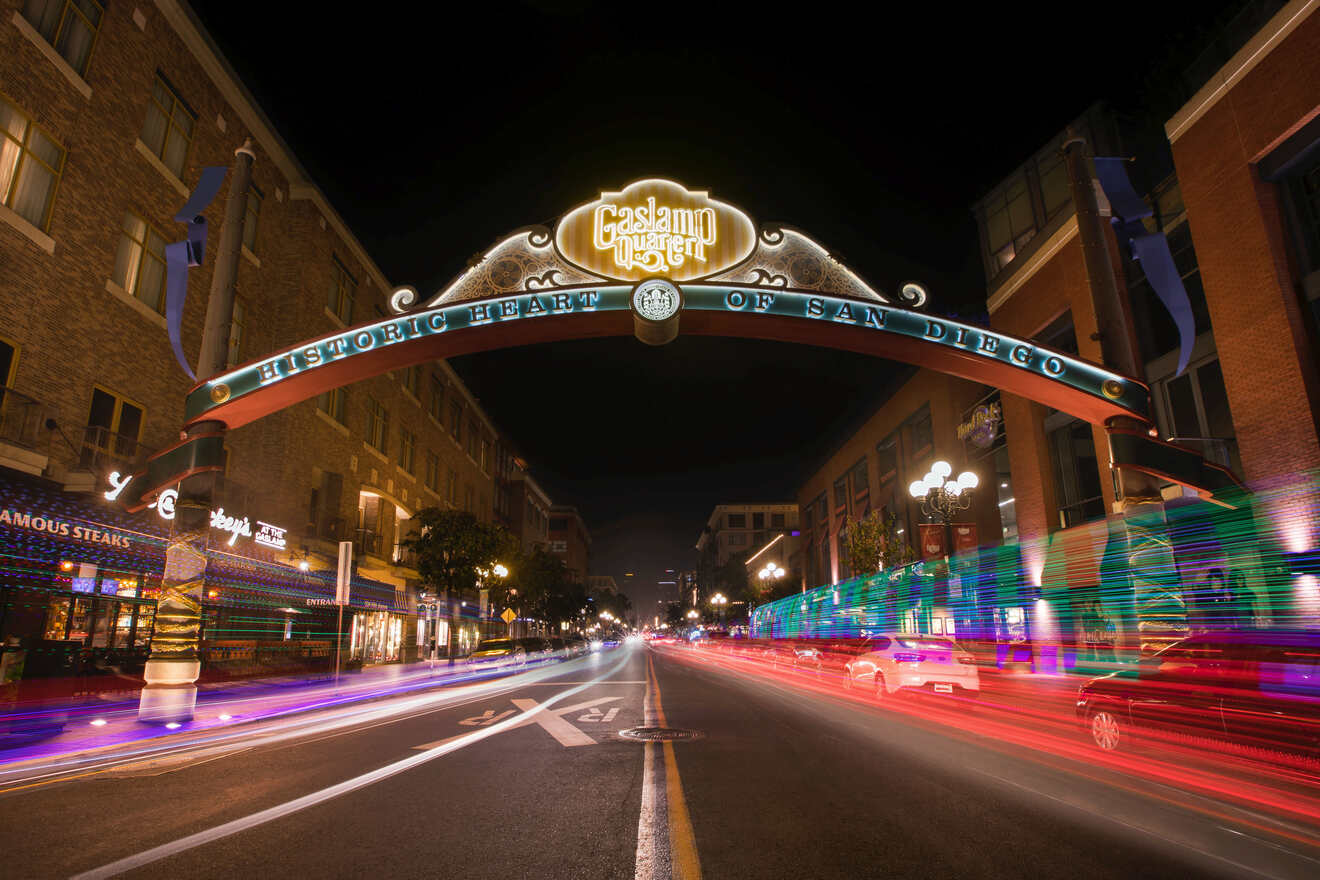 Who doesn't want to find accommodation in an area that has it all? The Gaslamp Quarter is a sub-neighborhood located in the Downtown area, and it's where every person wants to be when they travel to San Diego. You can't be surprised about that, especially when you get to take part in all the action for the first time!
Gaslamp is a combination of old Victorian buildings, amazing restaurants, and clubs, making this area the perfect place to party all night long! Needless to say that you won't rest for a bit, but at least you don't have to worry about being too far from the San Diego Airport, as it is located just 3 miles (5 km) away from the Gaslamp Quarter.  
The area comprises 16 walkable blocks, give or take a few skyscrapers, art galleries, and museums. My favorite thing about the Gaslamp Quarter has to be the amazing rooftop bars, there's nothing like having a good cocktail at sunset after a day of sightseeing! However, I know some of you will want to spend some time shopping, so definitely check the stores in Horton Plaza Park.
Near San Diego Downtown, you'll find the famous family-friendly Balboa Park, home to the San Diego Zoo, the Natural History Museum, and a Botanical Building. Although the hotels in this area are amazing, the Airbnb scene is on fire here, so if you're looking for a unique stay in San Diego, check these 9 cool Airbnbs.
Luxury hotel
Andaz San Diego
Fancy a late-night swim on the rooftop terrace pool of this luxurious hotel? Watch the sun setting over the skyscrapers with a cocktail in your hand! The hotel restaurant is also located on the rooftop so you can enjoy dinner with a top view. The rooms are spacious, and they have a private bathroom with a tub!
Other accommodation options in Downtown (Gaslamp Quarter)
Mid-Range
Gaslamp Plaza Suites
Get your daily dose of vitamin D on the rooftop terrace of this hotel in San Diego that has a restaurant and a bar
Budget
Hi San Diego
A nice affordable hostel with an interesting design that offers shared or private rooms and a lounge area
Airbnb
Loft-Style Apartment
Enjoy a cup of coffee in this funky contrasting apartment with spacious rooms and a kitchen
Things to do in Downtown (Gaslamp Quarter)
Enjoy the amazing nightlife in the Gaslamp Quarter
Catch a play at Balboa Theatre
Listen to some live music and have a drink at Tin Roof
Check the shops and restaurants at Horton Plaza Park 
Spend a day visiting all the cool spots in Balboa Park, like the San Diego Zoo
2. Downtown (Seaport Village) – where to stay for the best views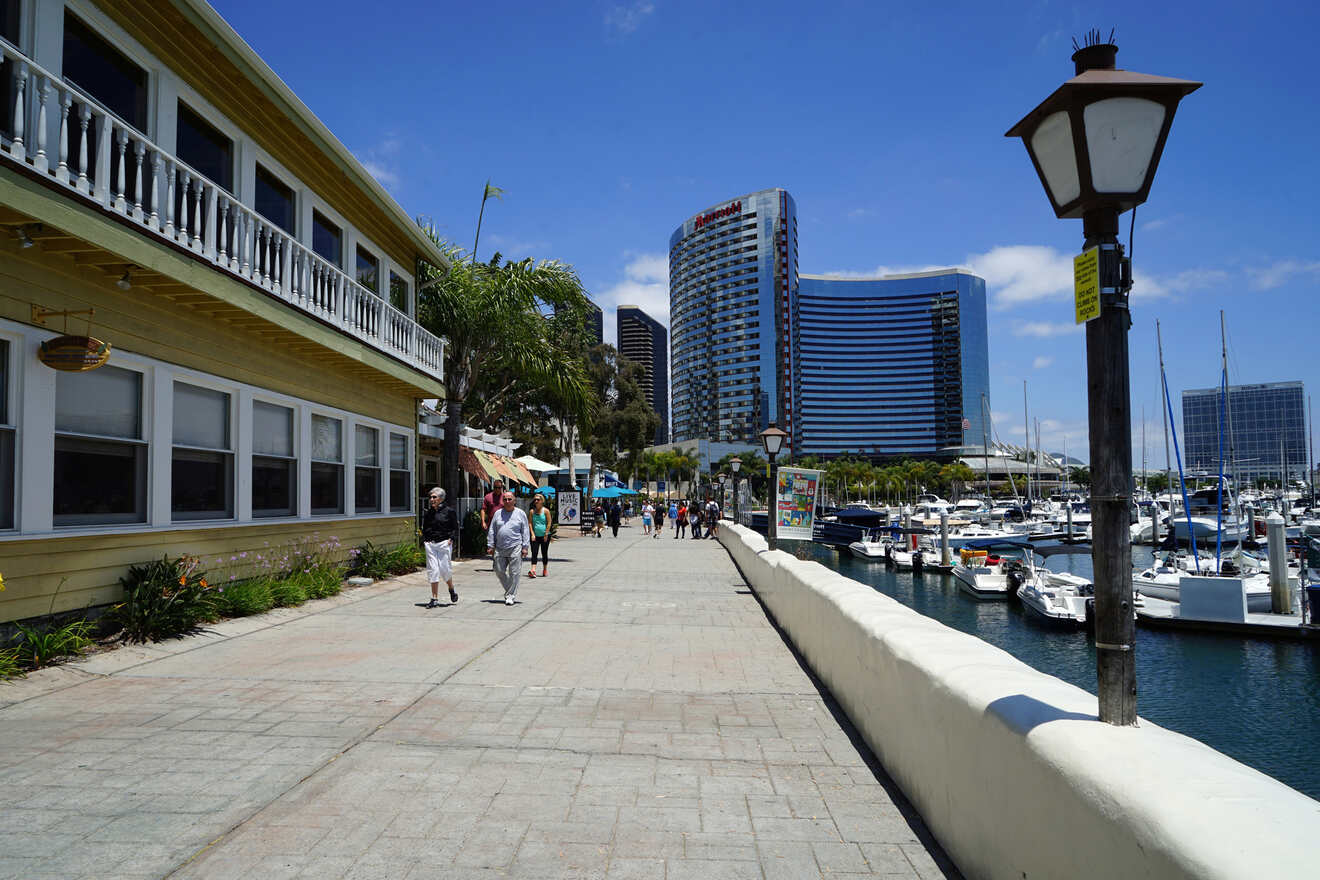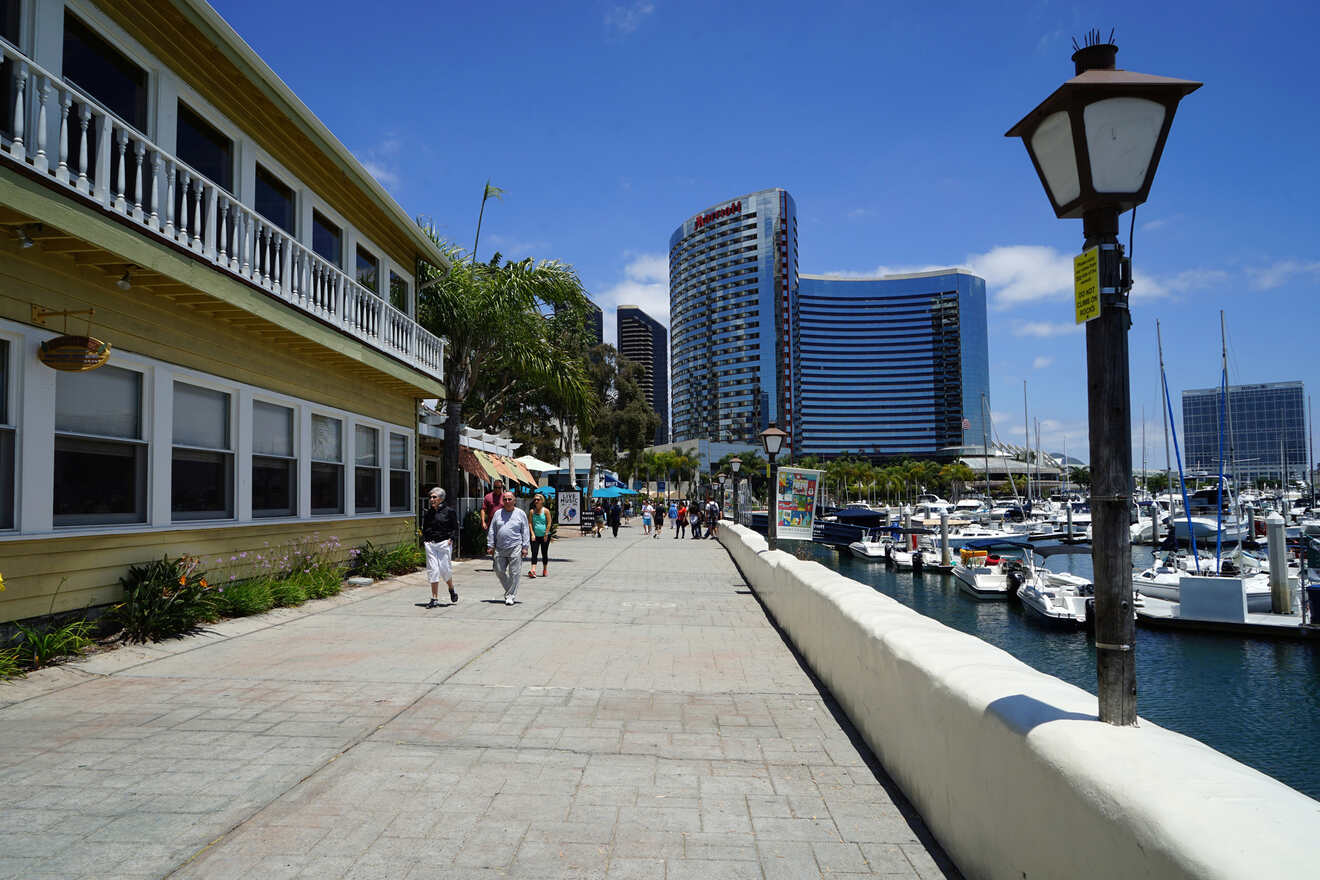 Seaport Village is another sub-area part of Downtown San Diego, located near the sea and the harbor. If you're looking for a picturesque place to stay in the city, then this is your spot!
Seaport Village offers the most amazing views, especially at sunset. And I'm sure you'll be happy to find out that this is the home of the famous 25 feet long Kissing Sailor Statue, called 'Unconditional Surrender", a very romantic spot in the Tuna Harbor Park, where couples usually snap a quick pic.
The neighborhood sits on the San Diego Bay, and of course, there is also a nice harbor where you'll find all the cool boats, some nice restaurants, shopping spots, and the Maritime Museum of San Diego.
Seaport Village is also located near the San Diego Convention Center, where they usually hold the Comic-Con International, an event in July where tons of comic book fans gather up. Usually, at that time, the city feels even more crowded than before so you really have to book in advance!  
Luxury hotel
Manchester Grand Hyatt San Diego
You can't beat the views here! Sunbathe under the San Diego sun all day long and swim in the pool of this luxurious hotel! The restaurant has a lovely terrace from where you can enjoy a delicious dinner, a glass of wine and some nice views of the boats. The rooms are super spacious and the staff is very friendly!
Other accommodation in Downtown (Seaport Village)
Mid-Range
Best Western Bayside Inn
Admire the city views from the balcony of your room and enjoy some time by the pool of this nice mid-range hotel
Airbnb
Cozy Room
A nice private room where guests have access to a private bathroom and a swimming pool
Things to do in Downtown (Seaport Village)
Visit the USS Midway Museum
Take a picture of the famous Kissing Sailor Statue called "Unconditional Surrender"
Admire the ships at the Maritime Museum of San Diego
Enjoy the ocean breeze and catch a sunset at the Waterfront Park
Walk around the San Diego Convention Center
Eat at Allegro, a nice Little Italy restaurant
3. Old Town and Mission Valley – best place to stay for history lovers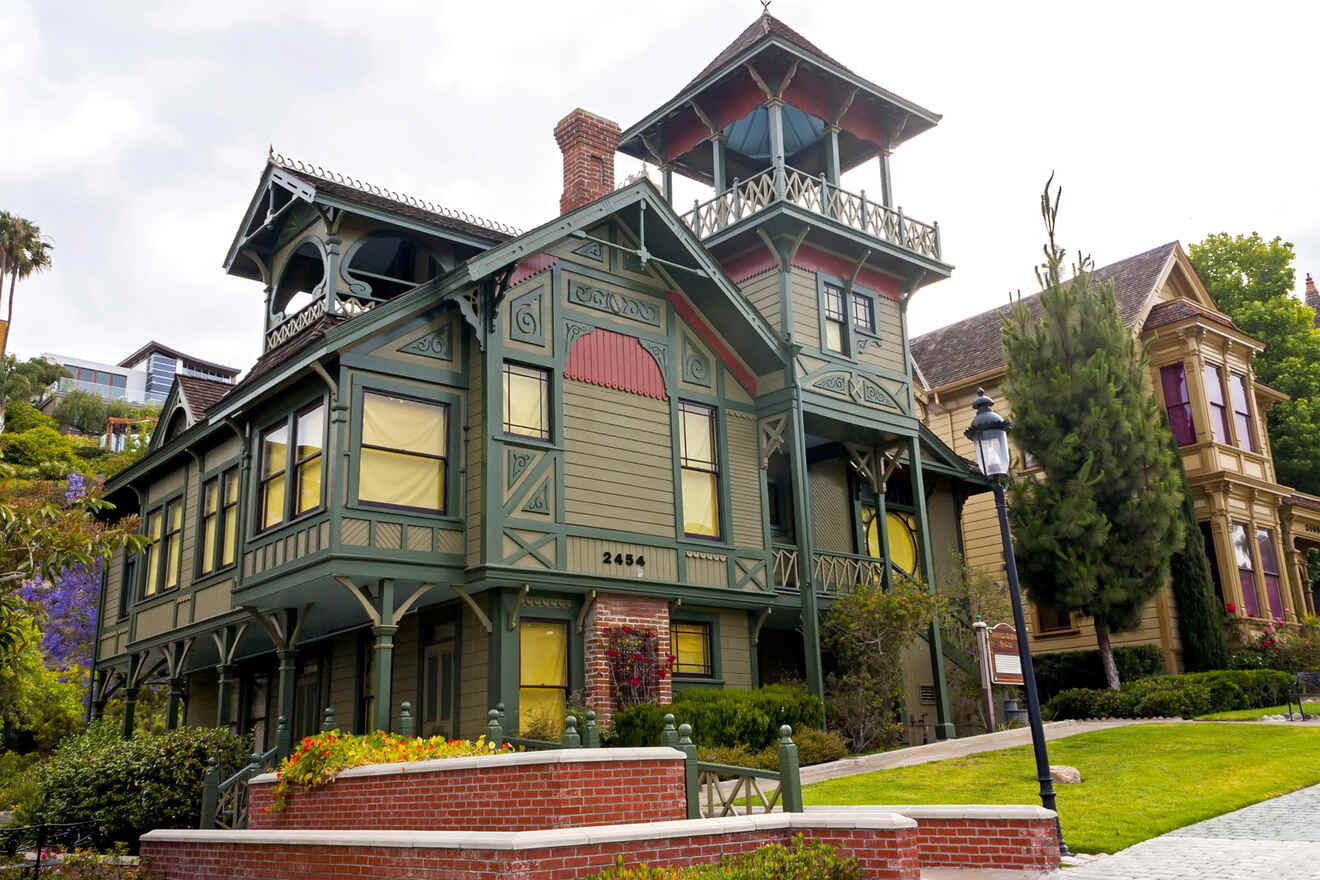 These neighboring areas are located 4 miles (6 km) north of the San Diego Downtown and the Gaslamp Quarter but are easily accessible by public transportation.
The Old Town is the city's historic heart. Expect many colorful small houses, local markets filled with souvenirs, and amazing Mexican bars and restaurants. In contrast, Mission Valley (not to be confused with Mission Bay which I will talk about next), is a more peaceful area, filled with green spaces and parks, perfect for those of you who want to get away from the crowds in the Old Town.
You can take guided tours around the Old Town San Diego State Historic Park and learn tons of cool things about this place. I'm sure the historians in you will find it hard to leave this area! And suppose you're not easily scared by stories about haunted houses. In that case, you should definitely stop by to visit the Whaley House, an important landmark in San Diego, CA, and as people say, one of the most haunted houses in the United States!
Here you'll also find some of the best places to stay in San Diego, some hotels are even placed in the old historical buildings of the neighborhood! The Old Town is also the start of the city's hotel circle, meaning many people will specifically be looking to stay here. That's why you have to book in advance, no one wants to miss the opportunity of staying in a historic house from the 1800s!
Luxury hotel
Hilton Garden Inn San Diego
This hotel looks like a Kardashian mansion! Chill in the lounge area by the pool at night and drink a glass of wine with your friends. This luxurious Hilton San Diego hotel has spacious rooms, with elegant decor and a large private bathroom. Get your nightcap from the bar and rest before you get ready for another day of sightseeing!
Other accommodation in Old Town & Mission Valley
Mid-Range
Courtyard San Diego
Soak up the San Diego sun by the pool of this mid-range hotel that has family rooms and free wifi
Budget
Cosmopolitan Hotel
I love the vintage decor of this hotel that has a terrace, a bar and is located in a historic 1800s building
Airbnb
Bright Apartment
Enjoy the ocean views from the comfort of your room in this studio that offers free parking and a kitchen
Things to do in Old Town & Mission Valley
Take a guided tour around the open-air San Diego State Historic Park 
Play some golf at the Riverwalk Golf Club in Mission Valley
Try not to get scared when visiting the haunted Whaley House
Learn new things at the Mormon Battalion Historic Site
Spot some amazing Victorian houses around the Heritage County Park San Diego
4. Mission Bay – where to stay in San Diego for families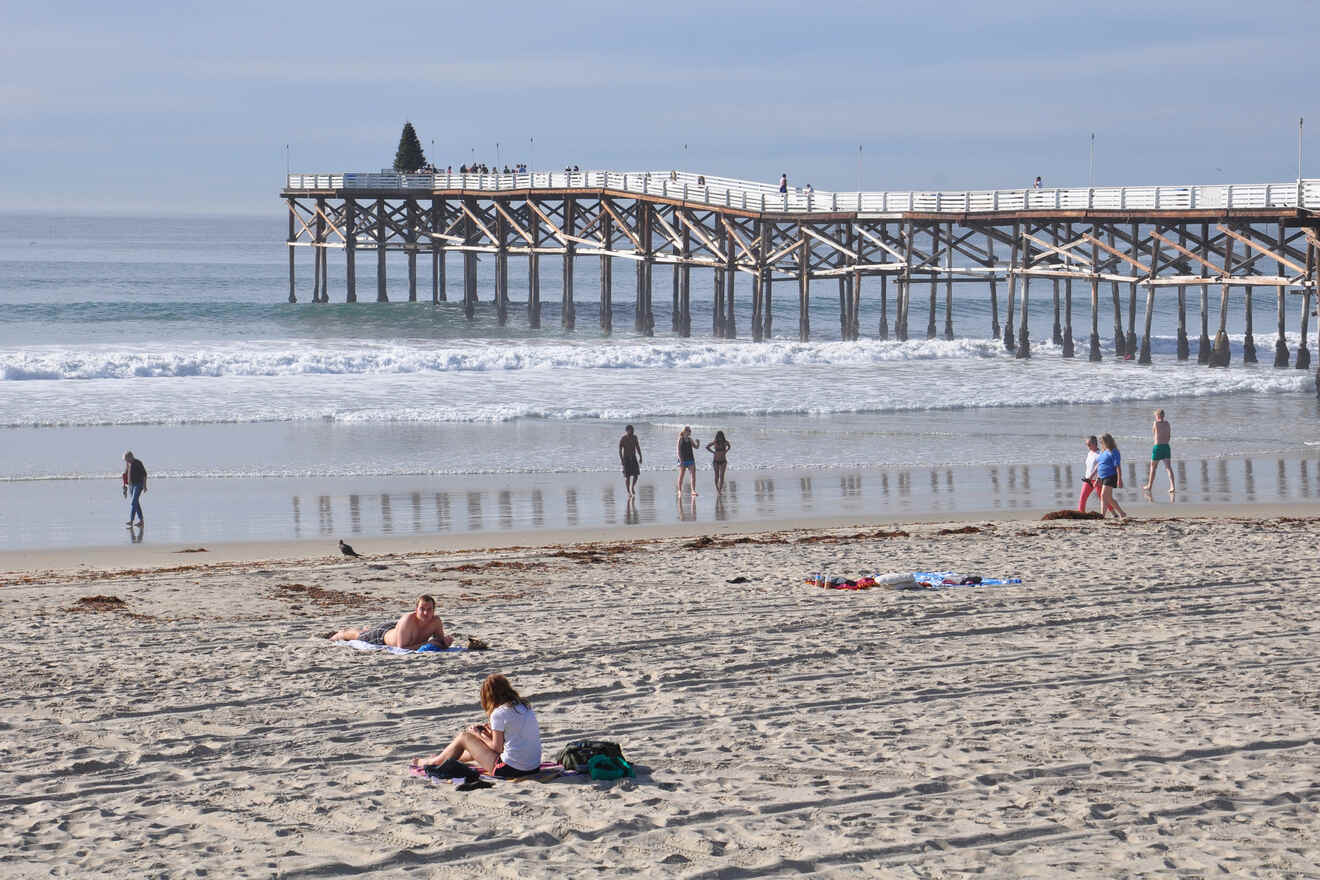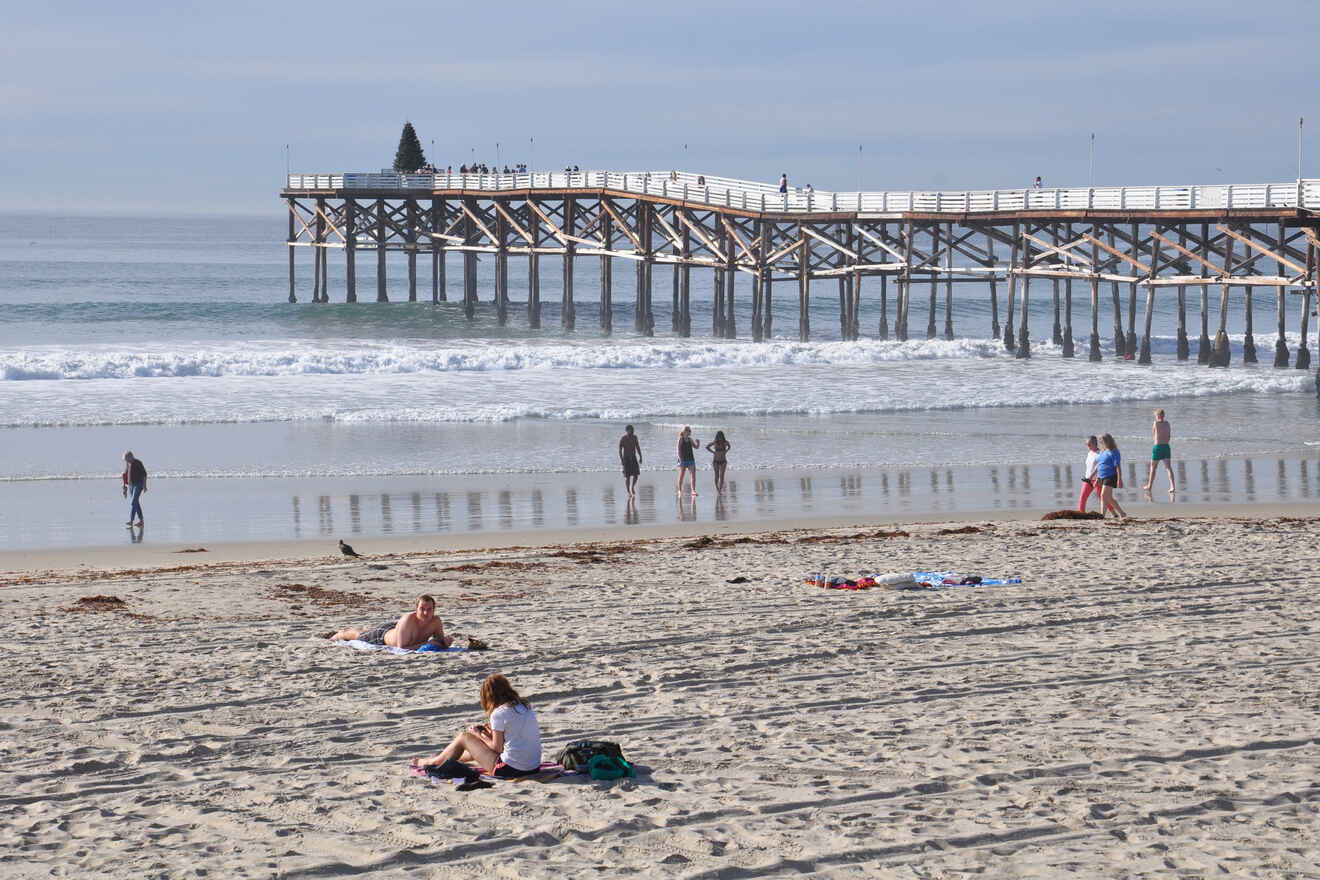 Located between Old Town, Mission Valley, and Pacific Beach, this neighborhood has that laid-back Californian atmosphere, and it's super famous among families who travel with their little ones due to the SeaWorld San Diego. A super fun themed park that has tons of activities, from roller coasters to the chance to meet cute underwater animals!
Mission Beach is one of the best beach towns in San Diego, and I'm sure the kids will agree when they find out that besides the SeaWorld Park, there's also Belmont Park, a historic amusement park that looks exactly like those cool parks from the movies. Here you can eat, drink and go on roller coasters, well, maybe not in that exact order but you get the gist!
Don't worry I've got something for the parents as well, the Sunset Cliffs Natural Park is a beautiful spot in San Diego where you'll get some of the best picturesque views. Just imagine many weirdly shaped cliffs, strong waves, and rocks everywhere! Don't forget the camera!
Luxury hotel
Blue Sea Beach Hotel
The all-white design of this hotel makes me think about Greece, and the beach view helps as well! Watch the kids play while you chill by the pool of this luxury hotel that has spacious family rooms and offers free wifi!
Other accommodation options in Mission Bay
Budget
Ith Beach Bungalow
A budget Mission Beach hostel that offers BBQ facilities, free breakfast, and private parking
Airbnb
Modern House
Your home away from home! This cute house has a backyard filled with flowers and a small balcony
Things to do in Mission Bay
Have some family fun at SeaWorld San Diego 
Ride the roller coasters at Belmont Park
Catch a sunset at Sunset Cliffs Natural Park
Sunbathe all day long at Pacific Beach
Eat at the best restaurants near Mission Beach
5. Coronado – best place to stay in San Diego for couples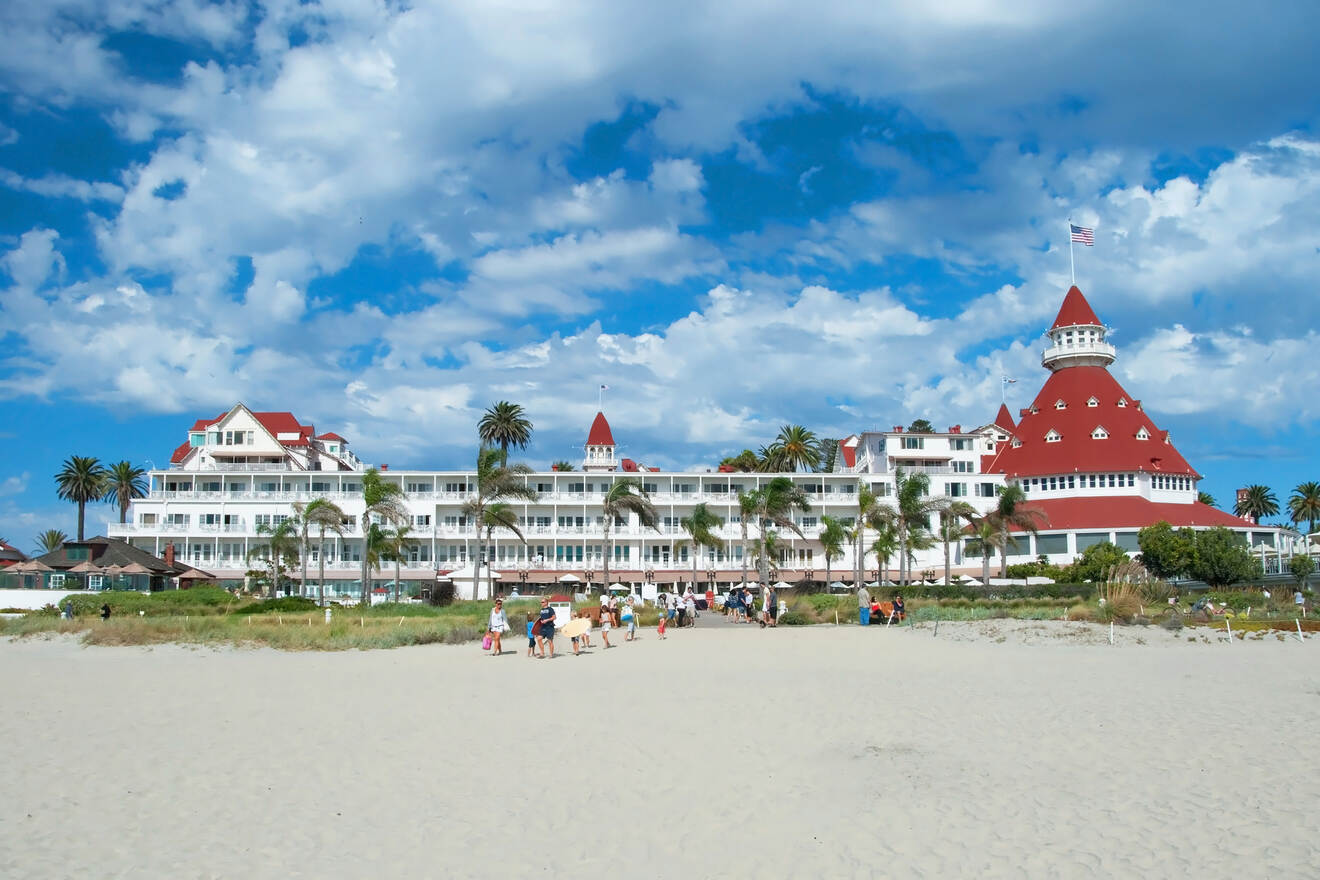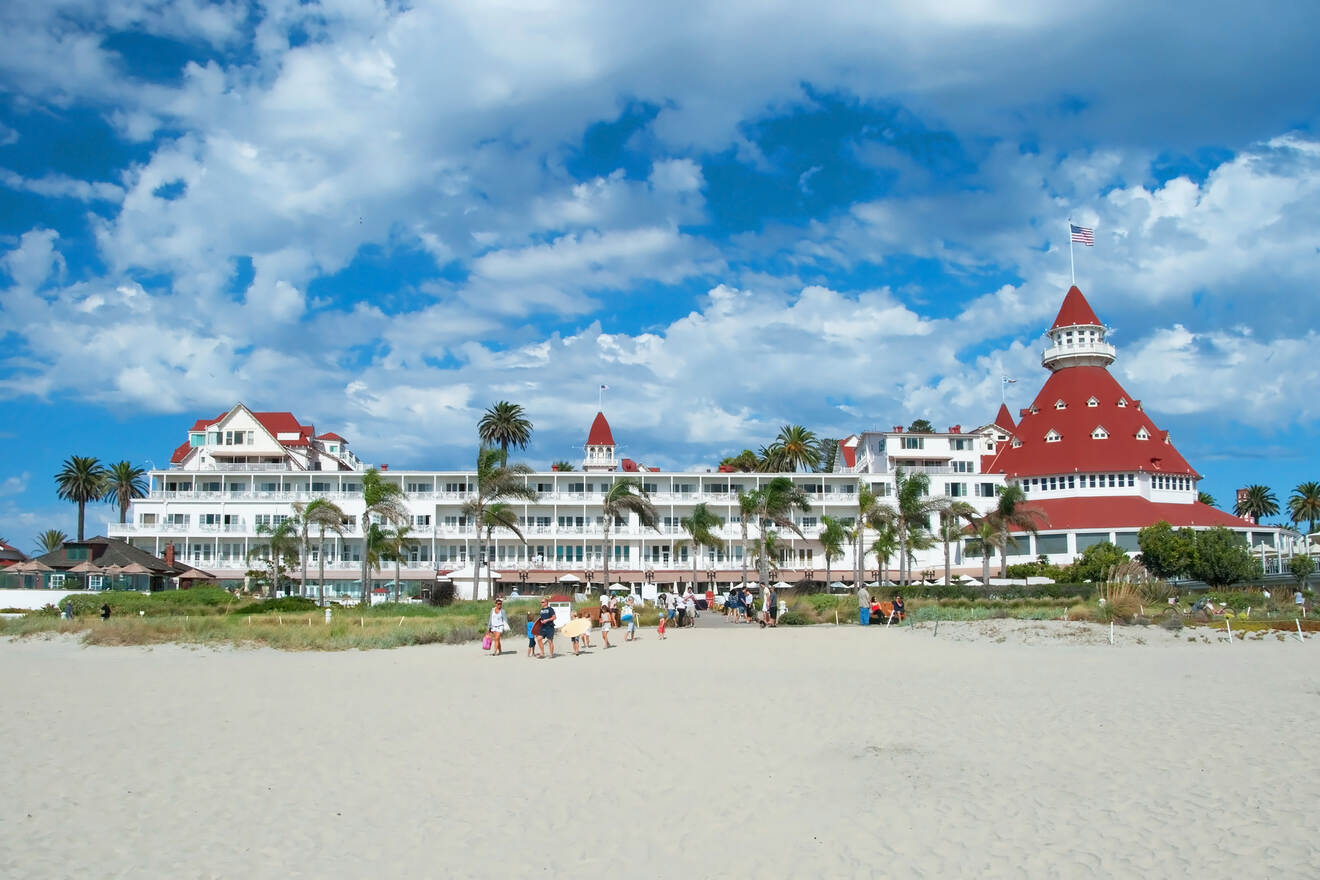 Located just across the San Diego Bay this area is a peninsula, separate from the city, and it is also known as Coronado Island. Don't worry though, you can take the bridge to reach Downtown San Diego or you can jump on the ferry and enjoy a quick thirty-minute trip.
Also known as the "Crown City," Coronado is perfect for your romantic getaway to San Diego, CA. The peninsula is super tranquil and peaceful, Yulia the owner of the site even said that at night the highway is so empty and free of cars that you can even walk on it (although we don't recommend it).
Mostly a resort town, here you'll enjoy all the privacy you need to have romantic late-night walks by the beach. Coronado Beach was named the best beach in the United States in 2012 and it's also home to the famous Hotel del Coronado, built in 1888, which looks like a small village of its own!
Luxury hotel
Coronado Island Marriott Resort & Spa
The perfect place for your romantic getaway in San Diego! I love the laid-back atmosphere at this hotel where you can chill under the palm trees, have a late-night drink while enjoying the views of the ocean, and swim in the pools! The city looks amazing from here!
Other accommodation options in Coronado
Mid-Range
El Cordova
I like the traditional design of this inn that has an outdoor pool, a bar, and two restaurants
Budget
Cherokee Lodge
Enjoy the fresh air on the outside terrace of this pet-friendly hotel that has spacious rooms
Airbnb
Cozy House
Such a cool house that offers the best beach vibes and has two rooms, a balcony, and a kitchen
Things to do in Coronado
Take romantic walks by the Coronado Beach
Explore the Silver Strand and admire the views of the San Diego Bay
Have a romantic picnic in the Glorietta Bay Park
See the famous Hotel del Coronado, which looks like a small village
Learn new things about the city at the Coronado Historical Association
6. North Park – the trendiest place to stay in San Diego on a budget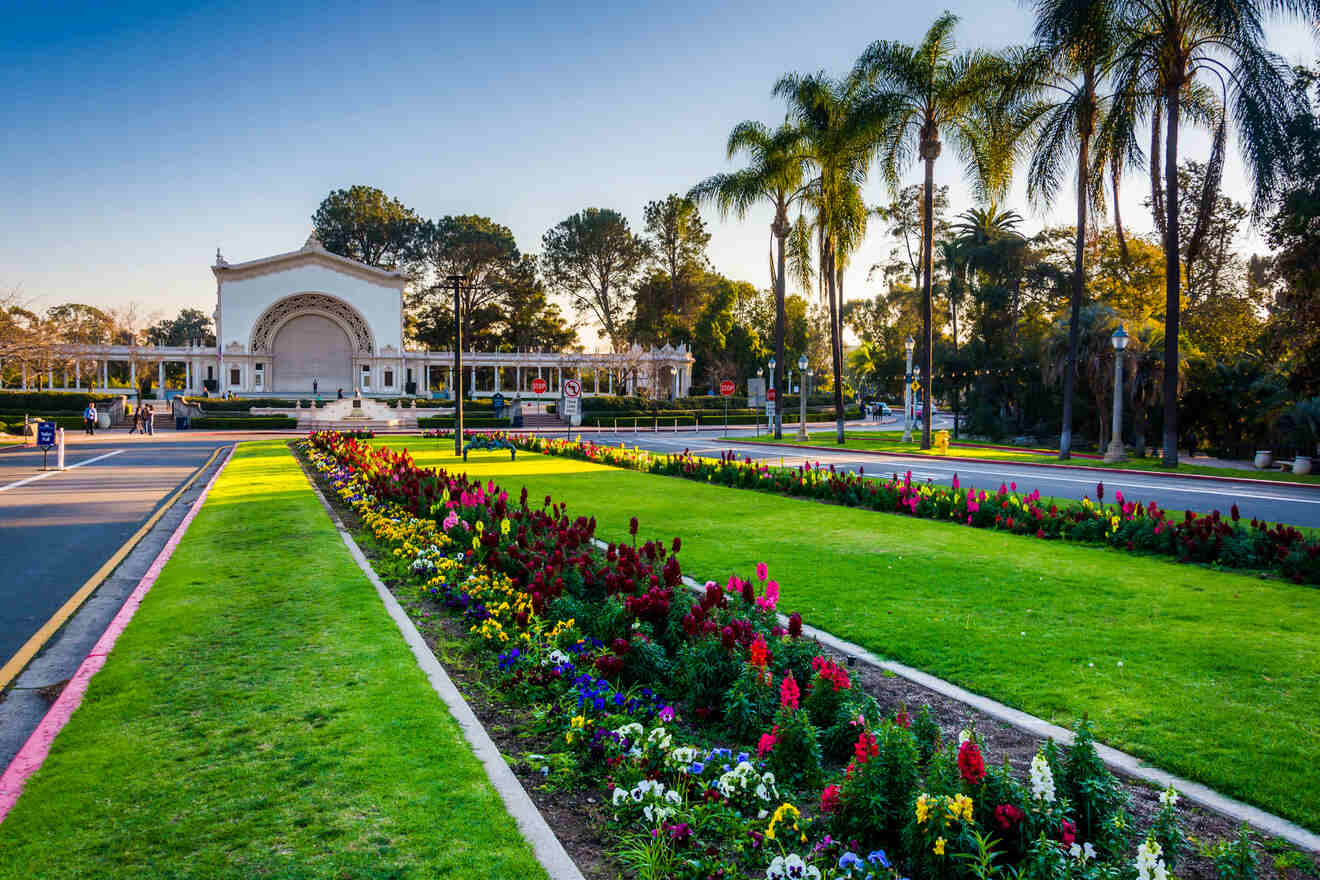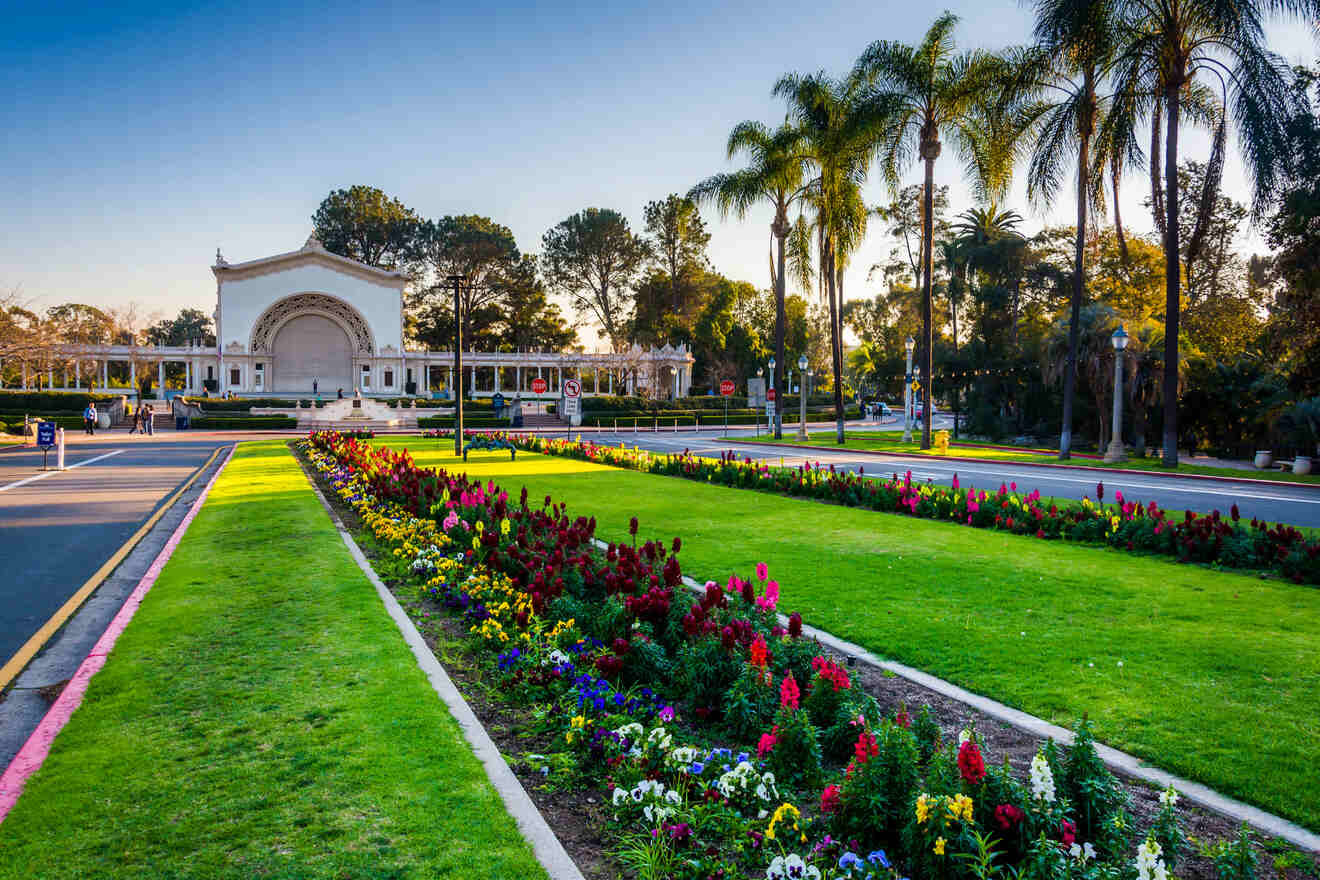 Located 4 miles (6 km) away from the Downtown (Gaslamp Quarter), this hip and trendy neighborhood reminds me a bit of some of the streets in London or Brighton in the UK! Just like in those cities, in North Park, no one is afraid to let their creativity flow and come up with some amazing street art and murals!
That's why Forbes magazine included North Park on their list of the hippest hipster neighborhoods in 2012! Definitely grab your camera and snap a pic of the streets in this neighborhood because they're super unique.
Situated super close to Balboa Park and San Diego Zoo, which you should for sure take some time to visit (probably like a whole day), the North Park is super diverse and you'll find tons of cool cafes and pubs. One of the best places here is the Lips Restaurant, a club run by drag queens where you'll have the best time! Sometimes they even have live acts!  
Although I couldn't find any stunning luxury and mid-range hotels to recommend as you know I only give you the best of the best options, I've found two amazing budget hotels and an Airbnb with great reviews that I love! They are not located in the geographical borders of the neighborhood but they're super close.
Other accommodation options in North Park
BUDGET
Casa San Diego
Feel at home in this lovely house where you can chill in the backyard and make some BBQs with your friends
Budget
The Lafayette Hotel
You won't get enough of this hotel that has a minimum 3-night stay, a great pool, and a restaurant  
Airbnb
Hip Guest Suite
I love the décor of this stylish guest suite which has tonnes of natural light and an outside dining area
Things to do in North Park
Admire the stunning street art in North Park
Catch a live performance at Lips Restaurant
Spend a whole day at the Balboa Park and San Diego Zoo
Take a picture with the "Greetings from San Diego" mural
Have a beer at the Belching Beaver
7. La Jolla – where to stay in San Diego for outdoor activities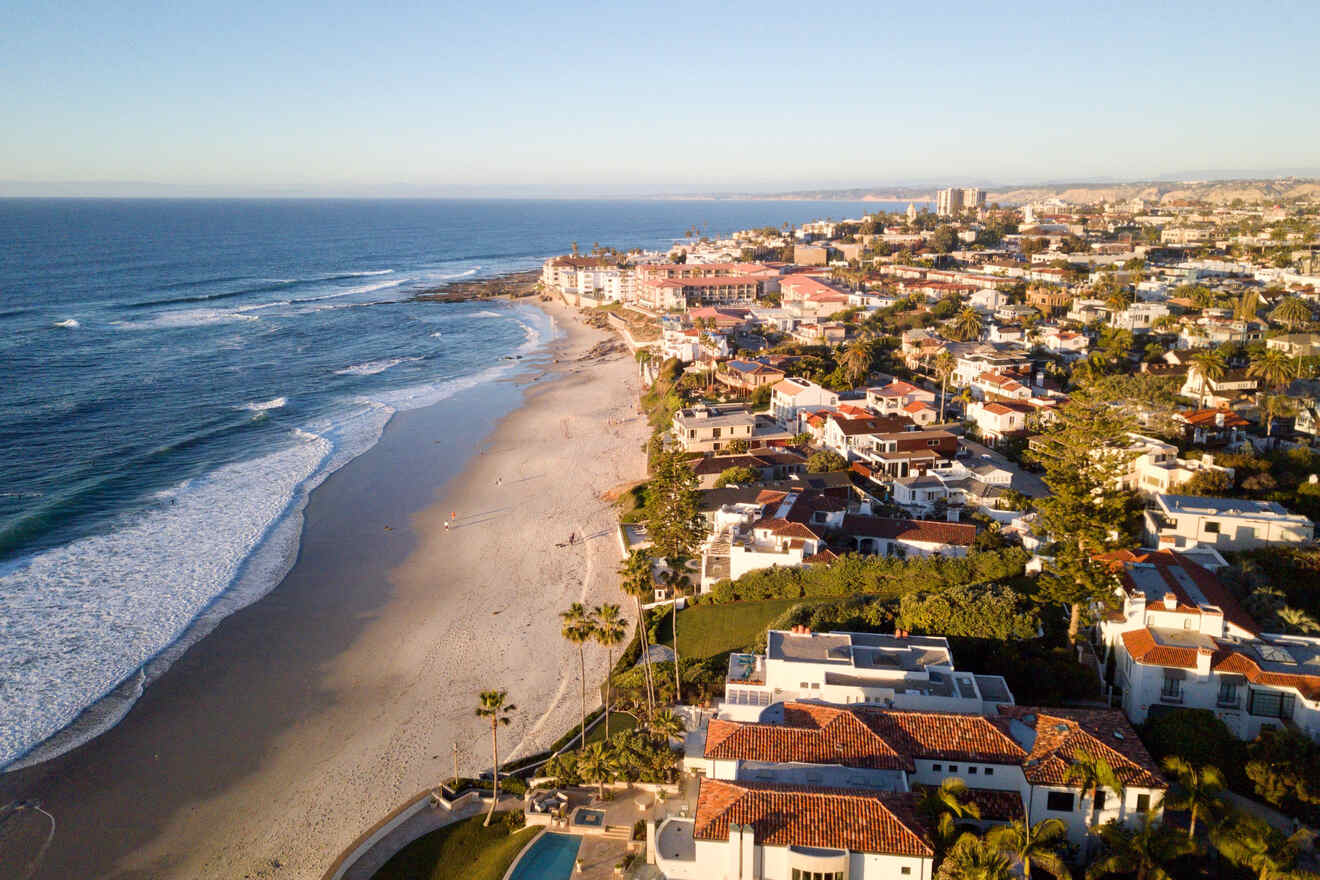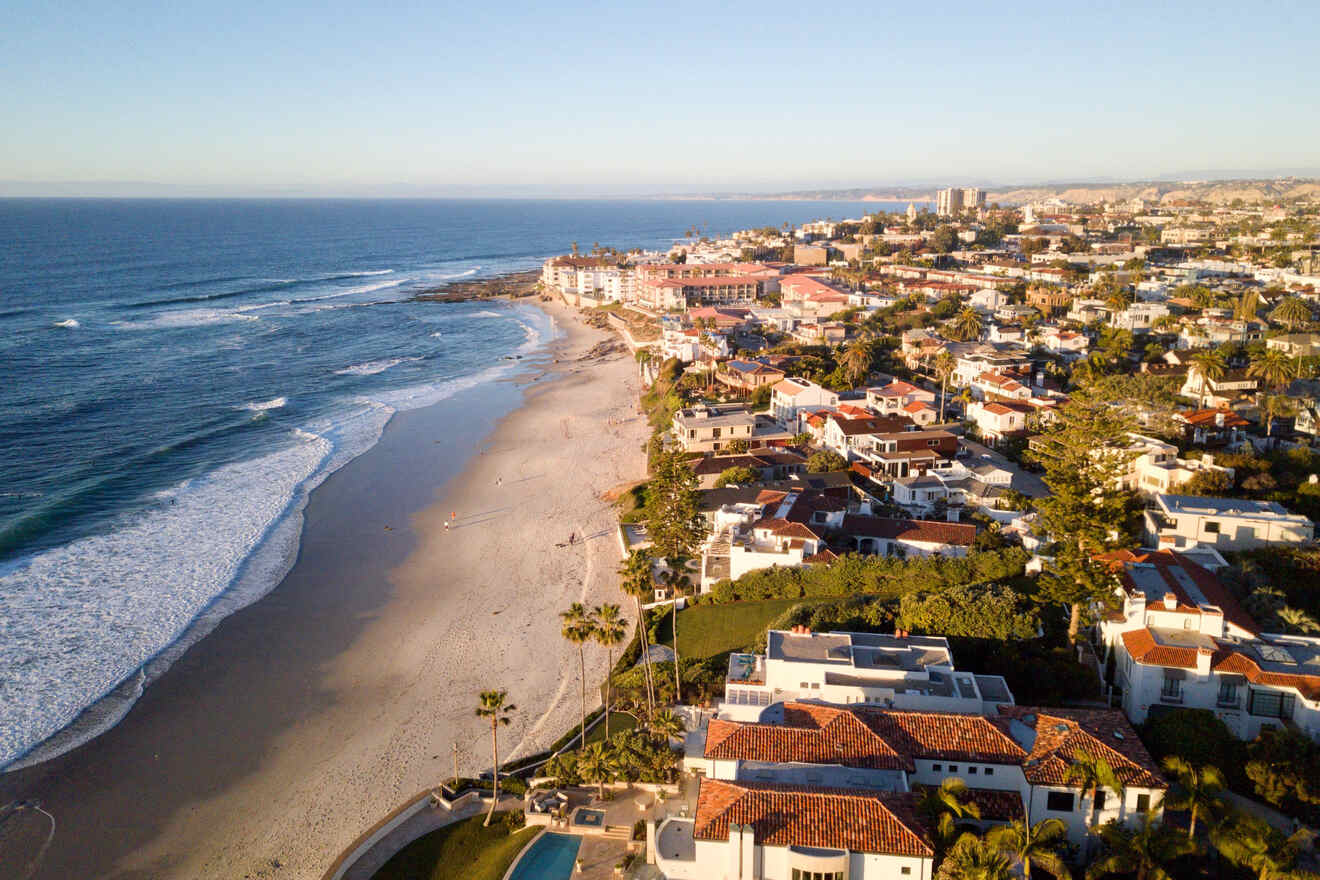 La Jolla and its southern neighbor Pacific Beach are some of the most popular beach towns in San Diego. Located just 10 miles (17 km) north of Downtown and reachable by public transport, the beautiful La Jolla shores have convinced tons of tourists to find hotels in San Diego, and once you see them, I'm sure you'll feel the same.
All you'll want to do is relax on the white sand and swim in the blue water all day long. Plus, you get to meet some cute seals! Yep, La Jolla Cove and other beach spots here are famous because of these adorable animals!
If you're looking for where to stay in San Diego, CA, to make the most out of all the outdoor sports opportunities, this area is definitely the spot for you. Besides exploring the sandstone canyons near the La Jolla shores, you can go diving in the Kelp Forest, an underwater park where you'll be able to meet tons of cute animals! And if you can't get enough of the fishes, the Birch Aquarium hosts many events for you underwater lovers.
This town is not only filled with beaches, but it also has a Natural Park where you're basically getting the best of both worlds, hiking trails in the forest with the top beach views! Here is a list of the best hotels but if you're more into Airbnbs and discovering cool houses, we also have a list of the best Airbnbs in La Jolla.
Luxury hotel
The Lodge at Torrey Pines
All you can do here is relax! I love the unique wooden decor of this luxury hotel, it goes perfectly with the scenery! Sit by the fireplace at night and plan your next day of sightseeing or go for a swim in the pool if you haven't had enough at the beach! The hotel also offers a fitness center and a restaurant too.
Other accommodation options in La Jolla
Mid-Range
Hyatt Regency La Jolla
Sip cocktails by the pool or head to the fitness center of this hotel that has spacious rooms and a bar
Budget
California Dreams Hostel
Make new friends at this fun hostel from where you can rent beach equipment and learn surfing with a teacher
Airbnb
Elegant Studio
Enjoy your stay in this lovely beach town studio that has a patio, a spacious room and offers free parking
Things to do in La Jolla
Go diving in the beautiful Kelp Forest
Admire the scenery while playing at the Torrey Pines Golf Course
Go hiking the trails of the La Jolla Natural Park
Take the kids to the Birch Aquarium, the largest oceanographic museum in the US
Family fun at the Children's Pool La Jolla
| | |
| --- | --- |
| 👑 Luxury price: | $250 |
| 💵 Mid-range hotel: | $180 |
| 🛏️ Budget: | $120 |
| 🏠 Airbnb: | $250 |
| 💰 Accommodation prices: | Medium |
| 📍 Best Area: | Downtown (Gaslamp Quarter) |
| 🛎️ Best luxury hotel: | Andaz San Diego |
| 👛 Best budget hotel: | Hi San Diego |
Frequently asked questions about San Diego
🚗 Where is the best area to stay in San Diego without a car?
The best area to stay in San Diego without a car is the Downtown (Gaslamp Quarter), as the attractions and hotels all are within walking distance. Here you can stay at the Andaz San Diego, one of the best hotels in the city.
💗 What is the nicest part of San Diego?
Each area is different, here is a quick break down:
● Downtown: awesome urban vibes – stay in Andaz
● La Jolla: for beaches and outdoors – stay in Hyatt Regency
● Coronado: most quiet spot – stay in Marriott Resort
● Mission Bay: great place for families – stay in Blue Sea Beach
🤔 Should I stay in La Jolla or San Diego?
Although La Jolla is considered an independent area, technically, it's still in San Diego, just an hour away by public transport. 
● San Diego – best for the urban side of a city
● La Jolla – if you prefer beaches and nature spots 
💑 Which accommodation in San Diego is good for couples?
🌆 What hotels in San Diego have nice views?
Conclusion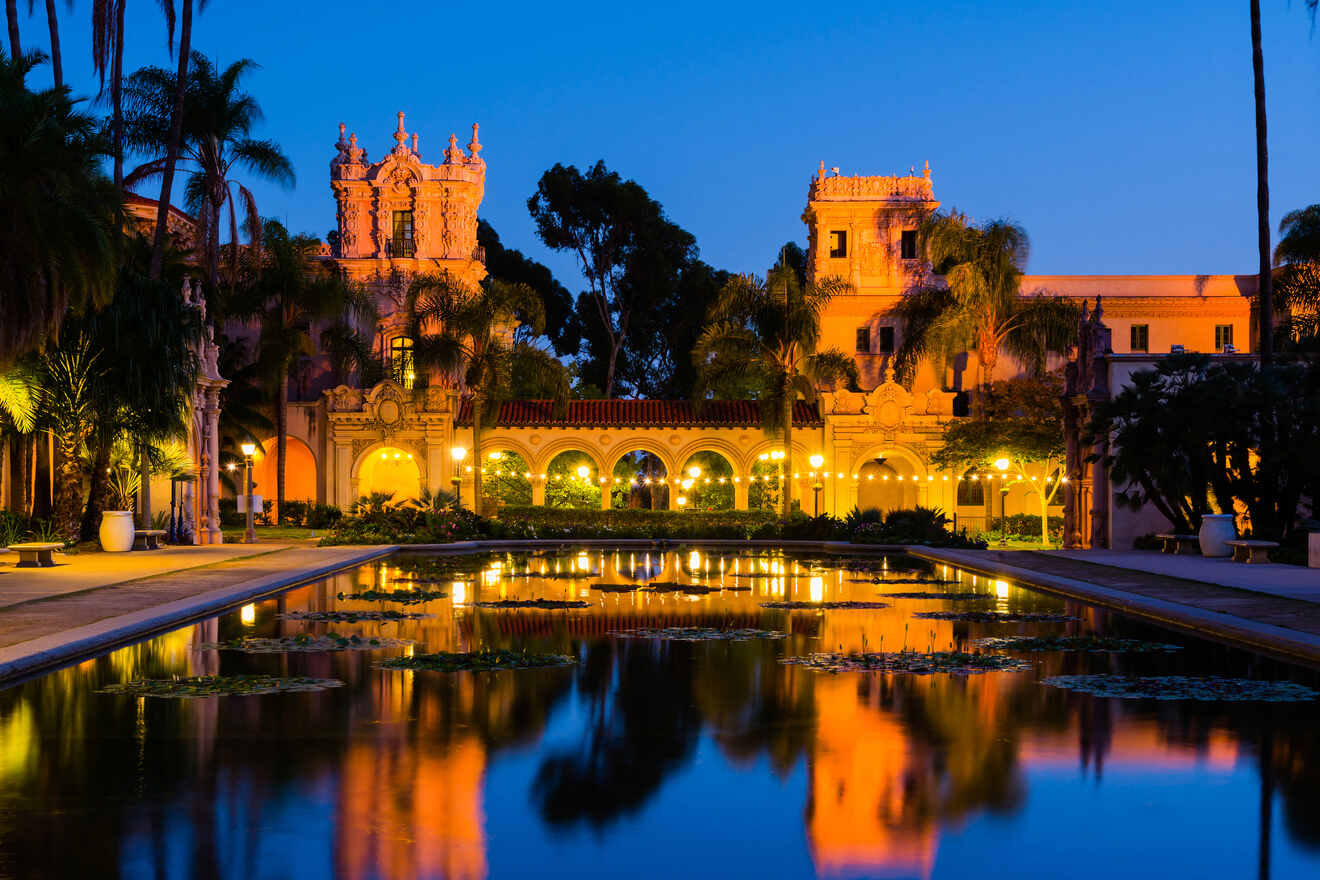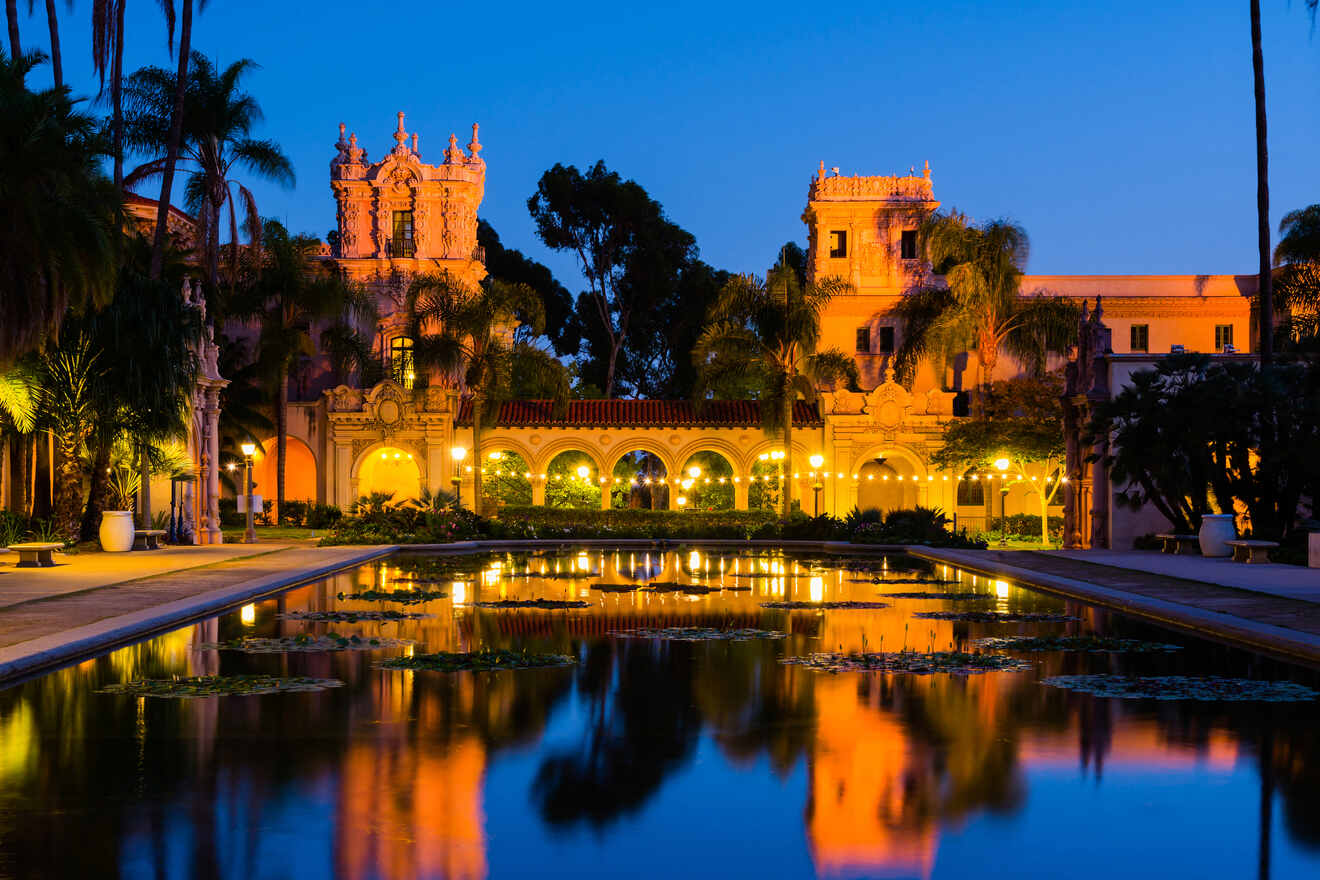 Woohoo! That was so much fun! I'm definitely going to hit the beach myself soon. I hope this article helped you decide where to stay in San Diego, which hotels to book and where you can get the best views of the Pacific Ocean!
I know there are tons of amazing hotels here are my top two favorites both located in Downtown & Gaslamp Quarter
I know we're all busy these days, but don't forget to book these hotels in San Diego in advance, this may be big but you know all good things don't last, and that applies to hotels as well! I hope you have fun exploring all the parks in Mission Bay, eating the best food in Little Italy, and shopping until your credit card gets tired in Seaport Village!
If you have any questions about San Diego or any suggestions for our travel community, leave me a comment below and I'll reply ASAP!
Have a good trip,
Victoria