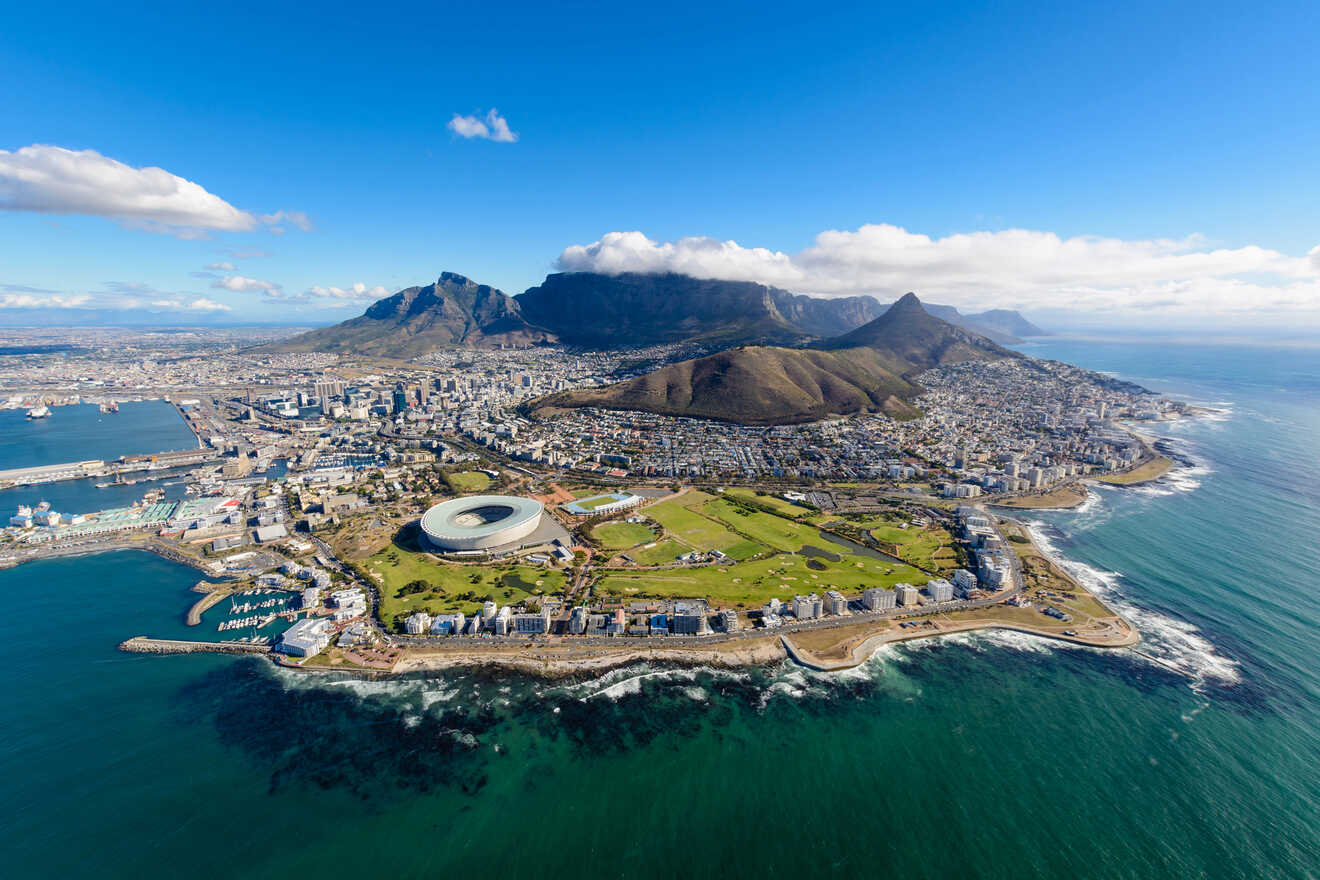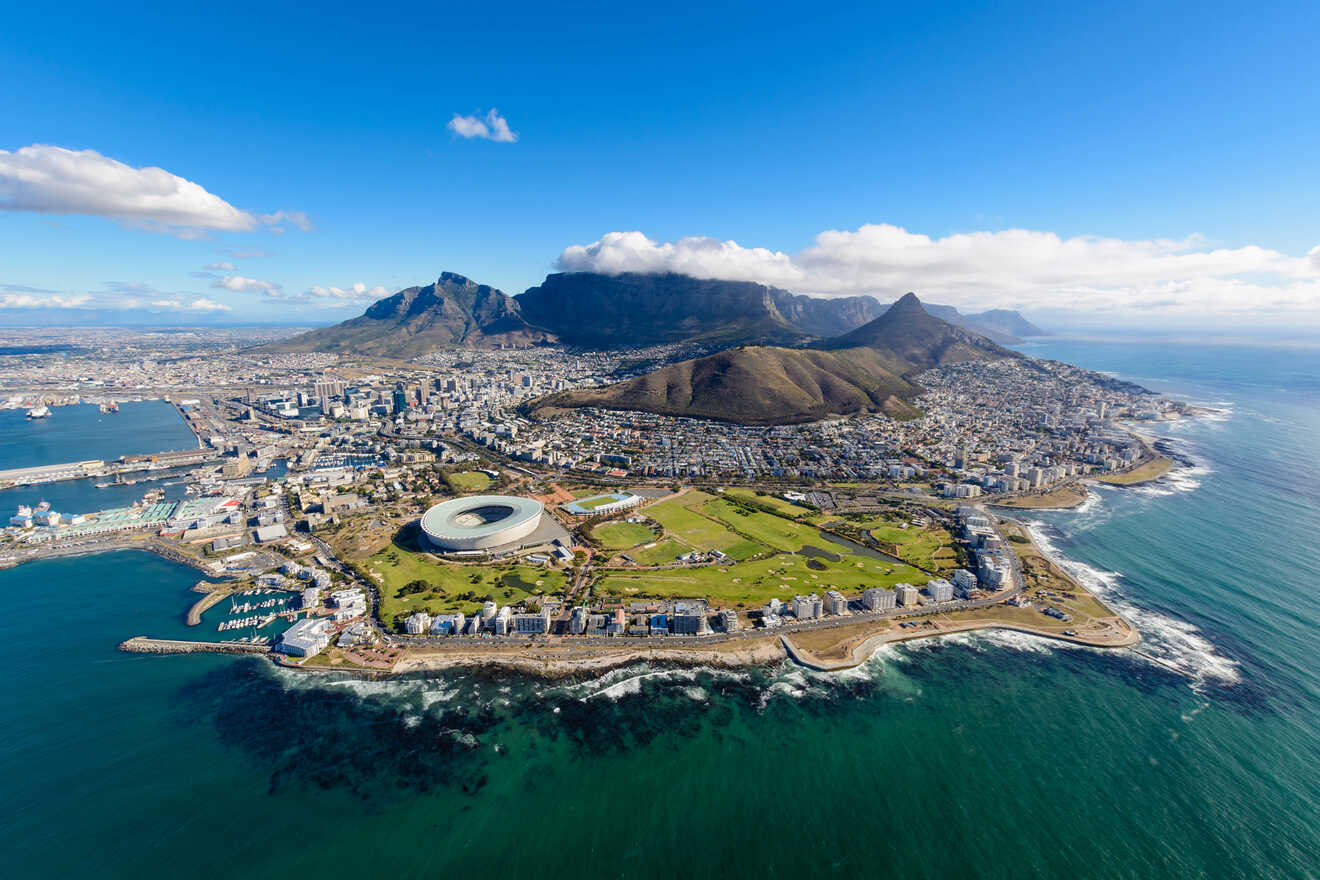 Welcome to the best place to visit in the world according to the New York Times in 2014! Not a lot has changed since then in Cape Town, only that it just became even more beautiful and interesting! 
Also known as the "Mother City", this cool historical town is a mix of all the amazing different cultures that call this city their home. Cape Town was partly built over the sea so it shouldn't come as a surprise that apparently, the Table Mountain (an important landmark in South Africa), rose from the sea almost 300,000 years ago!
Amazing cultural history, incredible beaches, and great architecture are just a few reasons why you should visit this amazing city. If you're wondering where to stay in Cape Town, I've got you covered! I've looked through hundreds of hotel lists to find you the absolute best one for each price range, and I only recommend the best-rated hotels that I would choose for myself! 
Make sure you book the accommodations in Cape Town quickly, they go so fast as everyone wants to see the hidden jewels of South Africa!
Let's go!
If you are in a hurry
Here's a list of the best hotels in City Bowl, Cape Town, that will help you decide quickly
airbnb
Modern Apartment
An Airbnb with amazing reviews
budget hotel
Onomo Hotel
Best affordable accommodation in the center
Here's a map that will help you visualize all the areas in Cape Town that I will be talking about in this post
1. City Bowl (CBD) – where to stay in Cape Town for the first time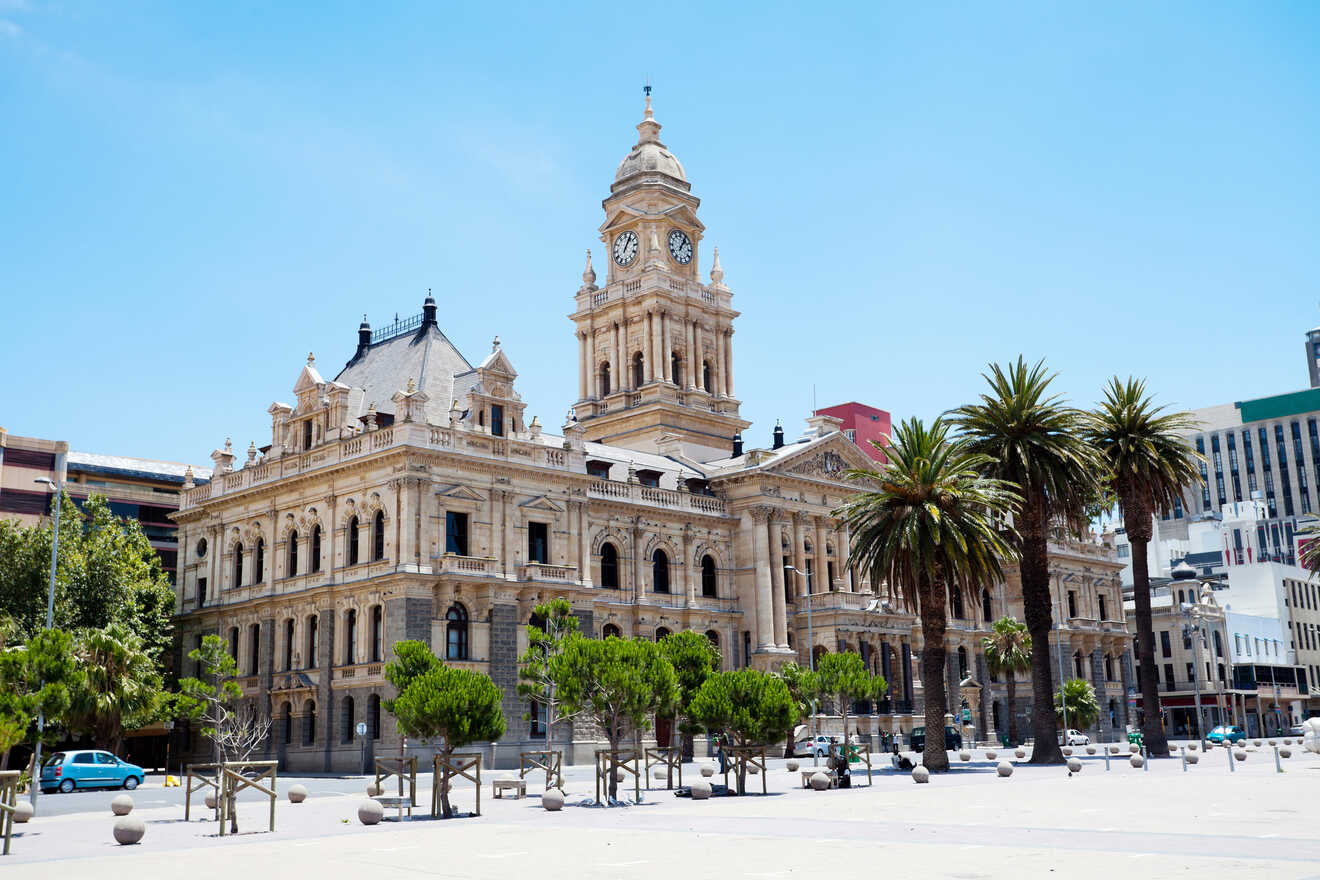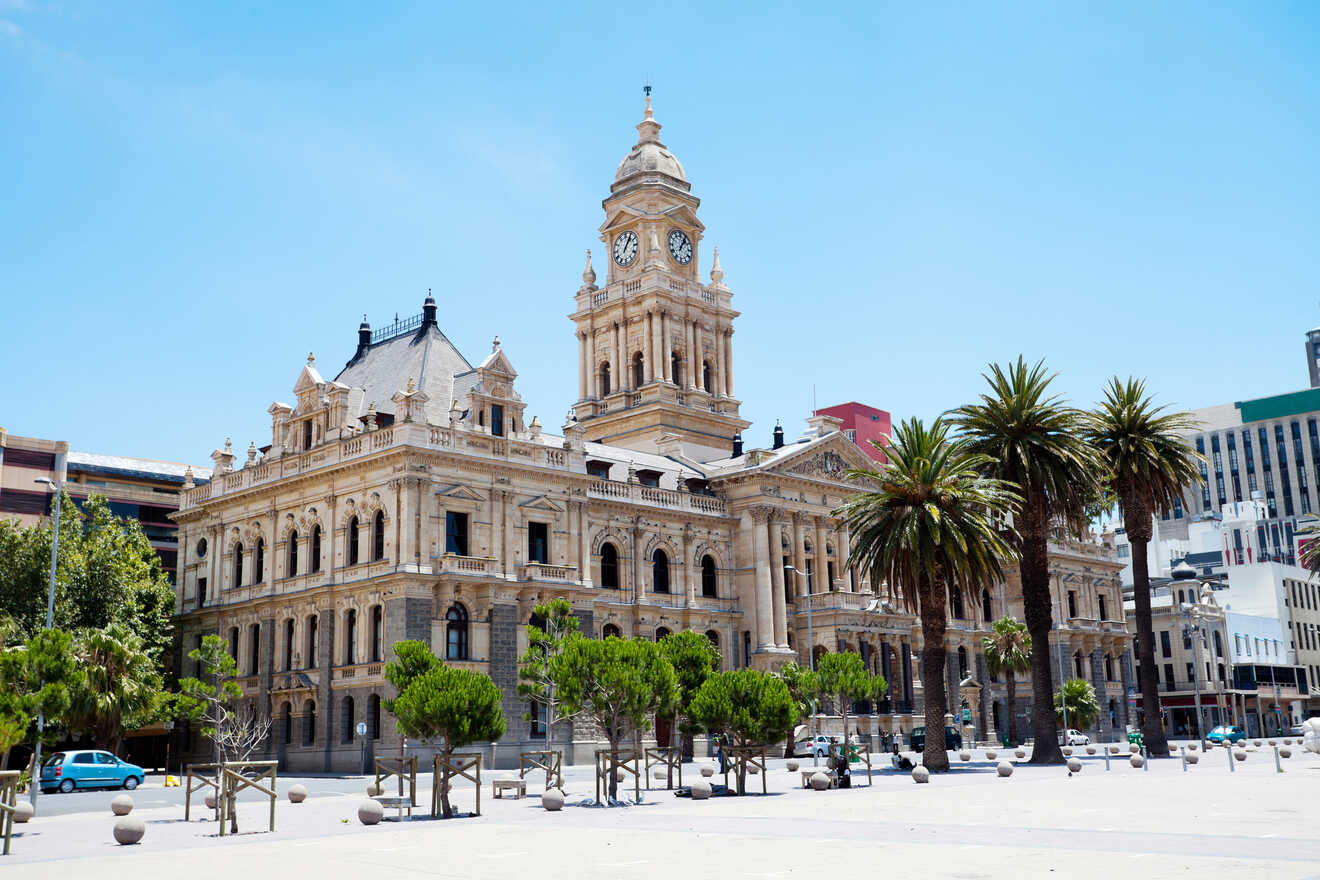 I don't know about you but when I go to a place for the first time I want to pick a neighborhood that offers me a cocktail of everything that the town has to offer. Plus I don't really like using public transport, especially in the summer, so if most attractions are within walking distance then it's sold! That's why I think the City Bowl area is one of the best places to stay for any first-time travelers to Cape Town! 
The City Center or Central Business District (CBD) is set within the City Bowl neighborhood, which has gained this name because it's surrounded by the mountain range. The public transport here also has great connections from this neighborhood so you can visit other areas if walking doesn't really do for you. 
With tons of places to stay from luxury hotels to budget guesthouses, the City Bowl remains a favorite area for backpackers! If you're looking for more cool tropical places to go backpacking check this post that has the perfect itinerary for your trip to Tanzania! 
After you've settled in, head down to Bee Street which is basically where the whole "shabang" happens! You'll find many food markets and galleries here that are just waiting for their tourists! Set at the base of Table Mountain, you won't get a better view of it than from this neighborhood and as everyone enjoys the hustle and bustle of the City Bowl, this is where the heart of the city lies! 
Luxury hotel
Mount Nelson
Enjoy the garden breeze and the sound of birds in Cape Town's best luxury hotel that has a restaurant area fitted for royalty! You will fall in love with the elegant décor and spacious rooms of this place! You can enjoy afternoon tea on the terrace while admiring the views and cool down during the hot days in the swimming pool!
Other accommodation options in City Bowl
mid-range
Radisson Blu
The perfect mid-range hotel for those who want luxury facilities with rooms that have city views and a pool 
budget
Onomo Hotel
Relax in the rooftop pool of one of the best hotels for budget guests that has a restaurant and a sauna
airbnb
Modern Apartment
Enjoy a rooftop terrace with views of Table Mountain, a BBQ grill, a kitchen and cozy rooms
As you probably know all the best accommodations go super fast, especially in places like Cape Town that are always packed with tourists. But don't worry, in case you've missed the hotels above, here are some great alternatives:
Things to do in City Bowl
2. Camps Bay – where to stay in Cape Town for families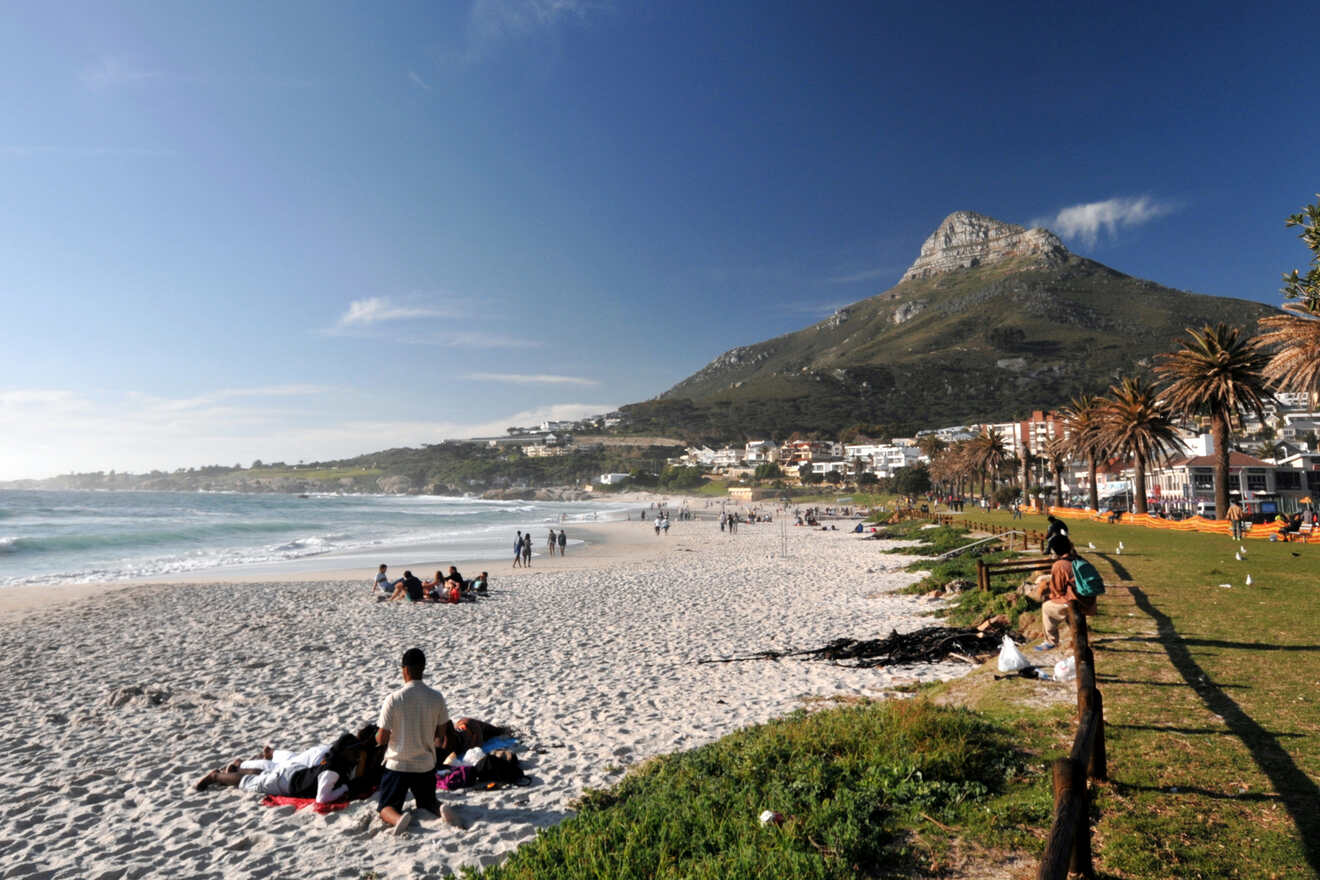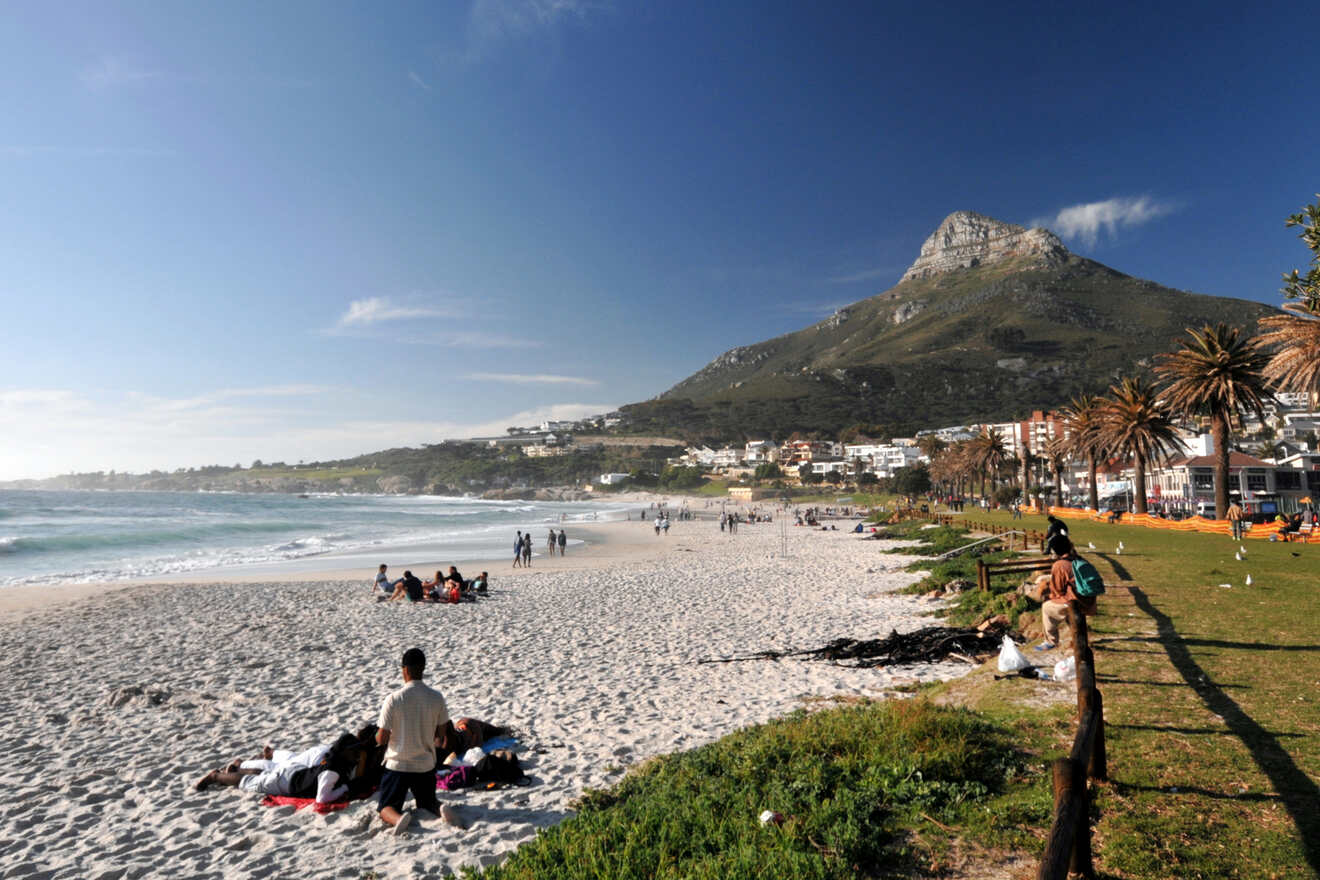 Palm trees and mountain views from the beach? Count me in! Located south-west from the city center, just a 10-minute drive away, the Camps Bay area in Cape Town has amazing sea views and a great family-friendly beach with different activities making it one of the best places to stay in the South African capital if you're traveling with kids. 
The scenery at Camps Bay beach is so charming that you'll want to spend more than one day here! With the beautiful white sand and sparkly water, nothing will beat catching the sunset over the ocean. You can organize a fun day with the family here, there are lockers and toilets so you don't have to worry about bringing the little ones. 
I do recommend taking a camera so you can get that perfect picture of the Lion's Head mountain here! The stunning views of this place bring photographers from all around the world, it's quite a famous place so you should definitely book your hotels in Cape Town's Camps Bay area pretty fast as they do sell out!
Table Mountain National Park is just a 4-minute drive away from Camps Bay! If you haven't already heard about this iconic landmark in South Africa, get ready to remain in awe at its beauty!
I'm sure all the nature lovers amongst you will feel like you hit the jackpot when coming here! There are about 2,200 plant species and don't be surprised if you come across animals like ​​caracals, rock hyraxes, or chacma baboons. There are over 350 trails here so you can hike as much as you want or families will find it convenient to take the cable car! See, perfect for everyone!
Luxury hotel
The Marly
The perfect place for your luxurious getaway to Cape Town! Listen to the sound of the waves in this beachfront hotel from the balcony and enjoy the sea views. The rooms are suited for families and make sure you take a dip in the rooftop swimming pool! 
Other accommodation options in Camps Bay
mid-range
Primi Seacastle
Enjoy your stay in Cape Town in this Camps Bay hotel with panoramic views of the beach and beautiful decor
airbnb
Cozy Apartment
Charming, trendy apartment with modern rooms, self catering services, and stunning views
Things to do in Camps Bay
Have a fun day in the sun at the family-friendly Camps Bay Beach
See the Twelve Apostles in the national park
Take a picture at sunset of the Lion's Head Mountain at Camps Bay
Go surfing at Glen Beach
Try Cliff-jumping at Beta Beach
Take the kids swimming in a tidal pool at Maiden's Cove Braai Area
Go on an adventure with Scootours Cape Town
Take the cable car or hike with the family to explore Table Mountain National Park
3. Green Point – best place to stay for nightlife & sports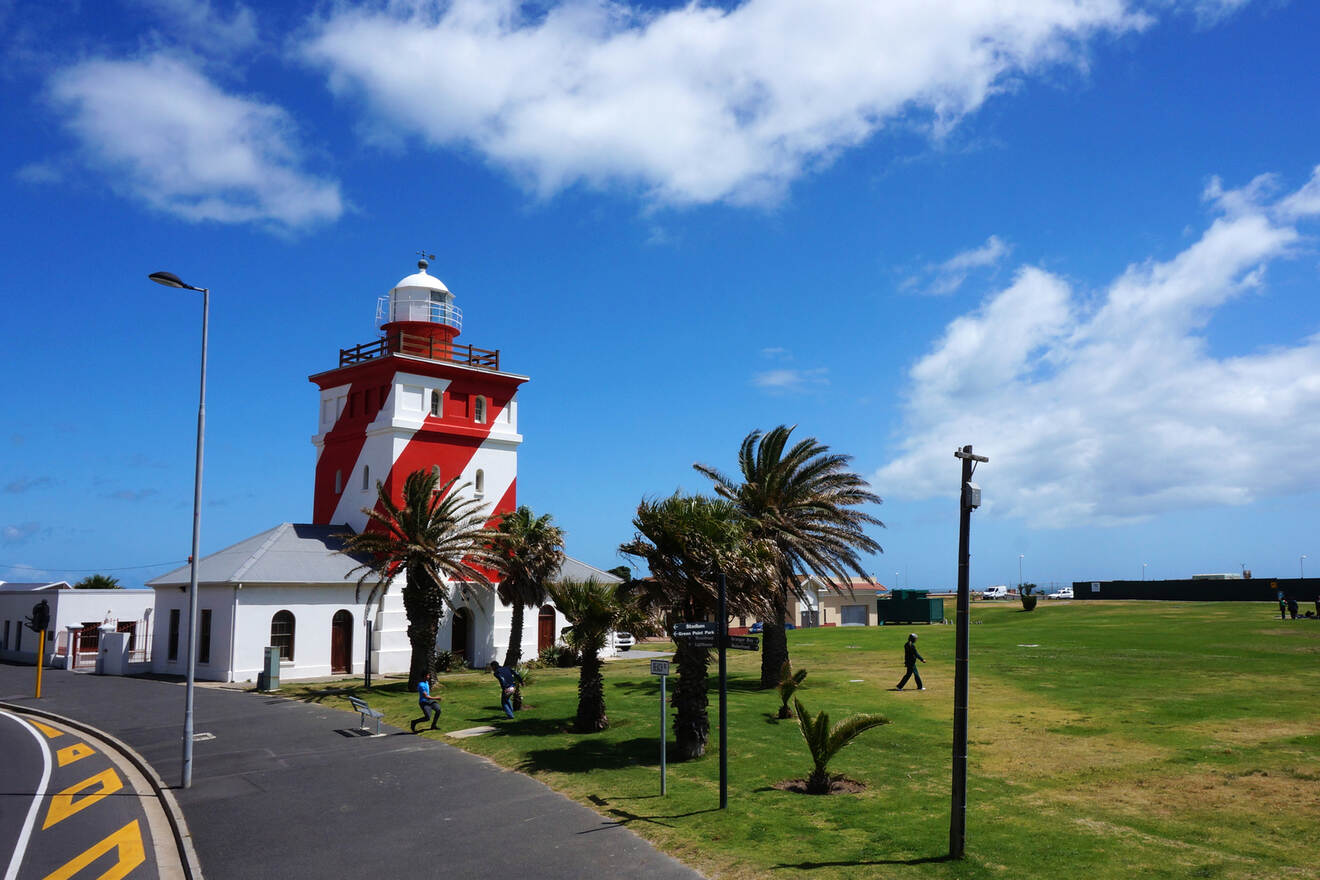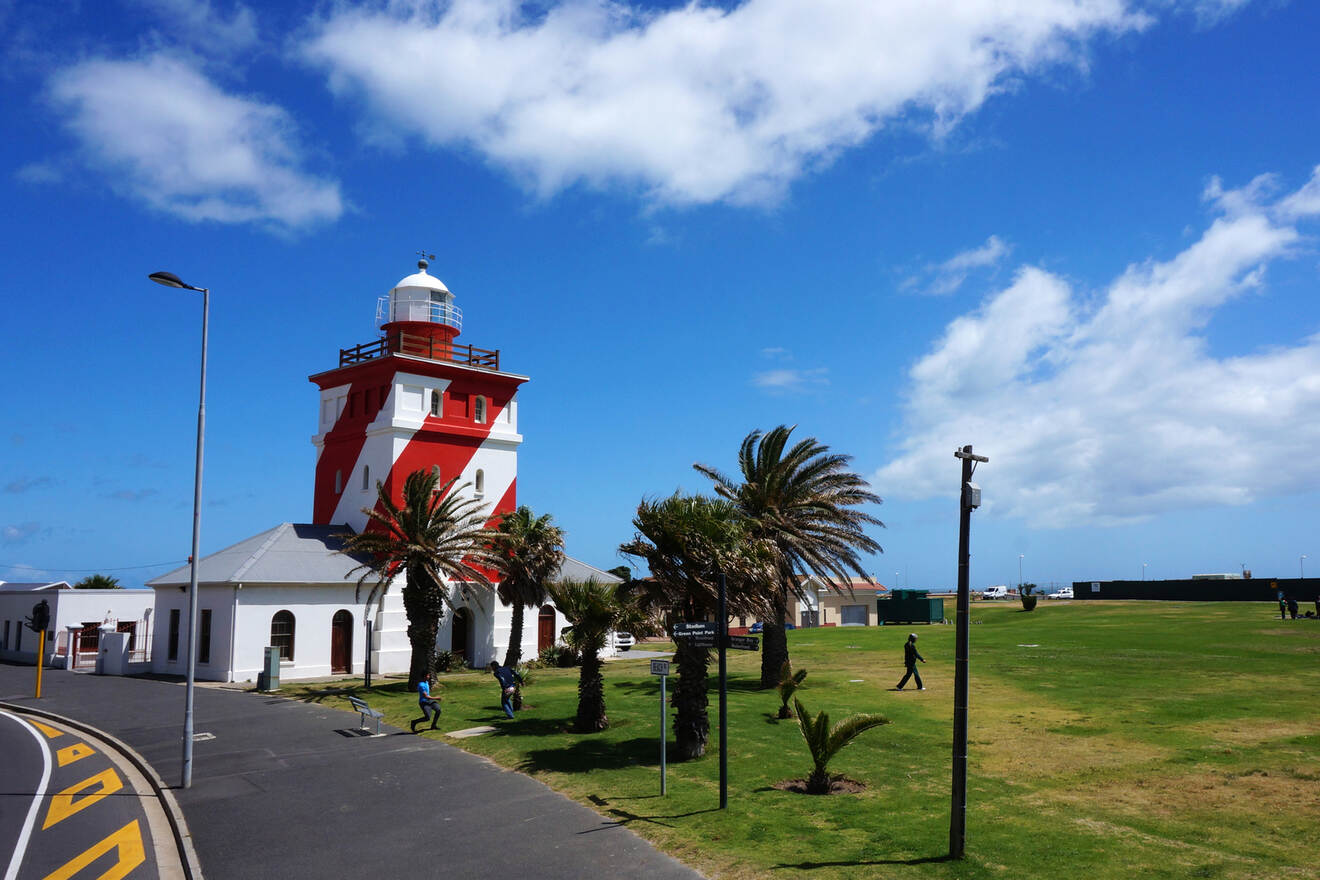 Located on the north side of the city, this trendy neighborhood has a central location in Cape Town which means that you'll be close to all the good attractions and nice beaches, like Mouille Point beach. The star of the show in this area is the Cape Town Stadium, an important South African landmark that looks a bit like a UFO spaceship if you ask me! 
The atmosphere here is very nice and unique here and I guess that's because there are so many diverse things to do! Not to mention the fact that you have the futuristic Stadium combined with the small streets which are still filled with Victorian houses! They give a nice touch to the area. On top of that throw in some vibrant nightlife and you've got yourself one of the best places to stay in town! 
There are tons of guest houses spread across the area with views of the Atlantic sea. Brace yourselves because if you choose to stay in this part of the city you'll have easy access to all the trendy and vibrant clubs in Cape Town! The carefree vibe and gay-friendly social scene bring people from all around the world! 
P.S. If you're looking for more chill places in Africa check this post on where to stay in Zanzibar, one of the most beautiful islands! 
Over the years Green Point has gained that modern and chic look and many locals choose to spend their time here. What's more, you don't really need to use public transport as the city center is located within walking distance. 
Luxury hotel
DysArt Boutique Hotel
Live your best life in this 5 five-star hotel fitted for a rock star! With modern designed rooms and a delicious buffet breakfast, this chic hotel will make you want to stay here forever! Relax in the swimming pool with a cocktail by your side and enjoy the African sun!
Other accommodation options in Green Point
mid-range
Sugar Hotel
The star of all the boutique hotels that has free parking, modern rooms, and a wellness center
budget
[email protected]
A top affordable hostel that has a vibrant decor and laid-back vibe. Breakfast is served onsite at the bar & grill
airbnb
Modern Apartment
Enjoy the best ocean views in Cape Town's amazing penthouse that has modern rooms and a huge patio
Things to do in Green Point
Visit the Cape Town Stadium and shop in the local markets 
Have a picnic in the Green Point Park
Enjoy the vibrant nightlife at Crew Bar
Watch the sunset la Green Point Lighthouse
Feel like a kid again by visiting the Blue Train Park
Play golf at the Metropolitan Golf Club
Take a walk along the rocky Mouille Point Beach
4. Sea Point – a quiet area where to stay in Cape Town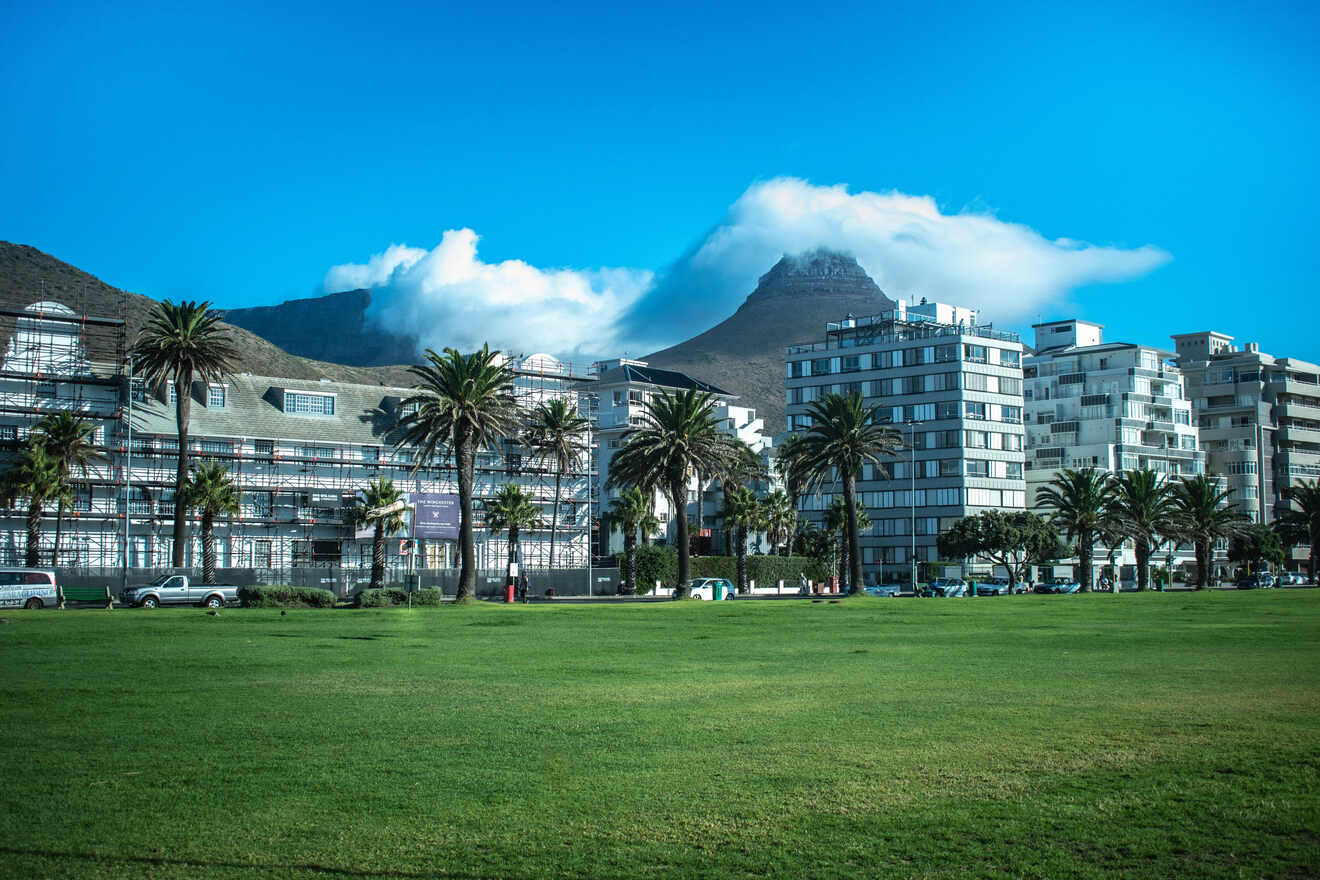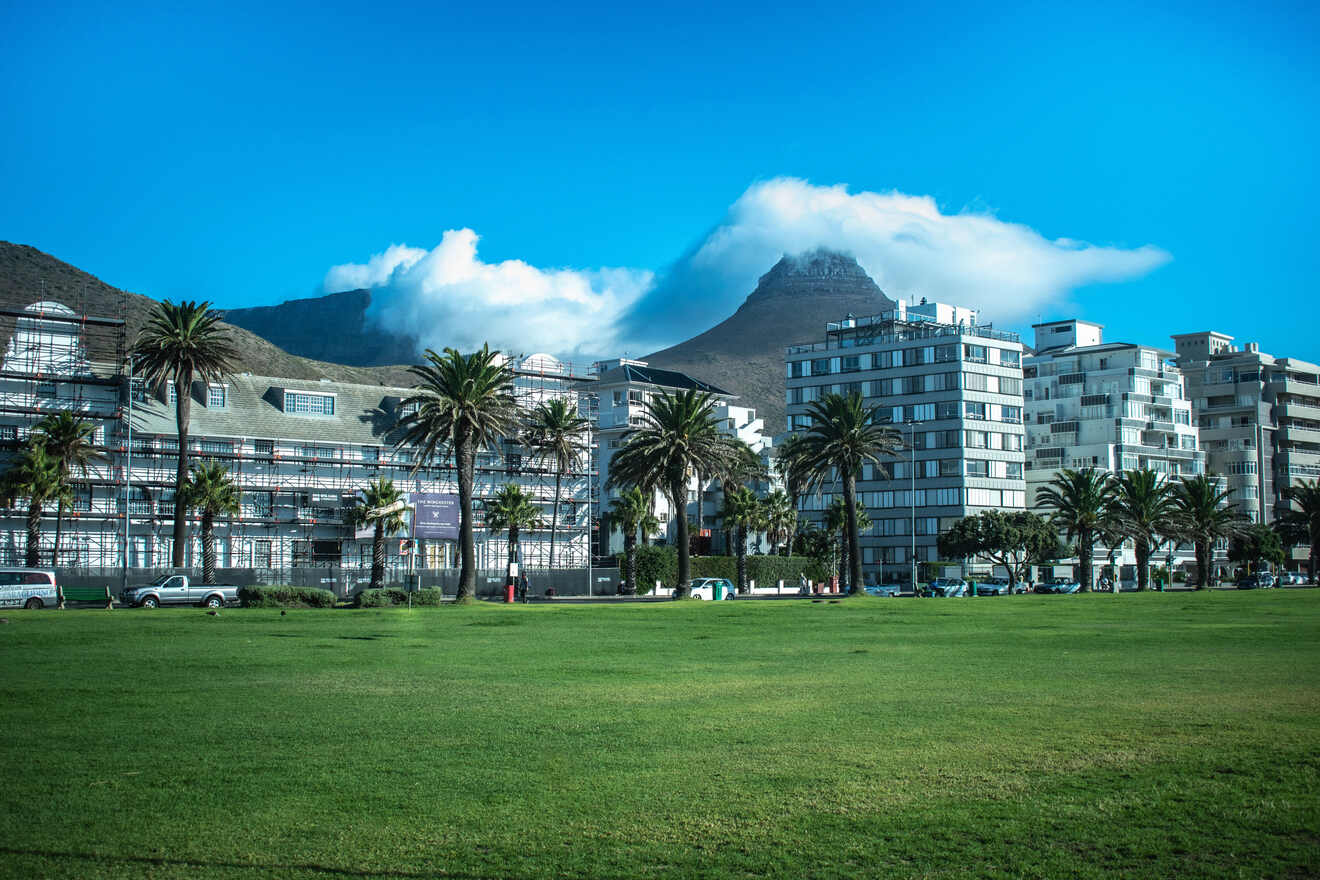 Located in the northwest part of the city between Green Point and Bantry Bay, this area is a prime location for people who are coming to stay in Cape Town with families. Get into the South African spirit while walking along the Sea Point promenade at sunset and enjoying the views of the Atlantic! 
Sea Point is a bit further away from the city center of Cape Town so you will be outside of the hustle and bustle in case you prefer a neighborhood that's a bit quieter! The lovely Sea Point promenade is full of local people who are either jogging, cycling or just walking around. They're really into sports across this neighborhood! Plus there are tons of parks and an outdoor swimming pool near Bantry Bay that's open during the summer.
You'll find some of the best hotels in Cape Town here, as well as guest houses! I completely forgot that any person who loves food (as much as I do, at least) should try all the restaurants across the beachfront, especially if you're a fan of fine dining! I highly recommend the grilled fresh fish with a glass of South African wine! This is what I call a top-notch holiday! 
Luxury hotel
President Hotel
I found the perfect spot for your luxurious getaway to Cape Town! Dip your toes in the amazing infinity pool of this Sea Point hotel and have a drink at the bar terrace while enjoying the mountain views! Oh, it gets better! They serve a delicious English breakfast and the rooms are very spacious and fitted for families!
Other accommodation options in Sea Point
mid-range
Villa Costa Rose
Enjoy the views of Table Mountain in this mid-range hotel that has rooms with patios and a swimming pool
budget
Milton Lodge
A lovely quaint lodge with family rooms that has a unique design and BBQ facilities perfect for summer 
airbnb
Minimalistic Apartment
Enjoy the views of the city in this modernized Sea Point apartment that has a kitchen and a washing machine
Things to do in Sea Point
Eat delicious fresh fish and drink wine in the restaurants and bars
Take the kids to the Sea Point Pavillion Swimming Pool
Enjoy the international cuisine at the local outdoor Mojo Market
Spot wild animals at Inverdoorn Reserve
Try cool water sports at Broken Bath Beach or Queen's Beach
Stroll across the beachfront promenade at sunset
Go visit the Mouille Point in Green Point 
Head to Bantry Bay to explore a high class area
5. V&A Waterfront – best place in Cape Town for luxury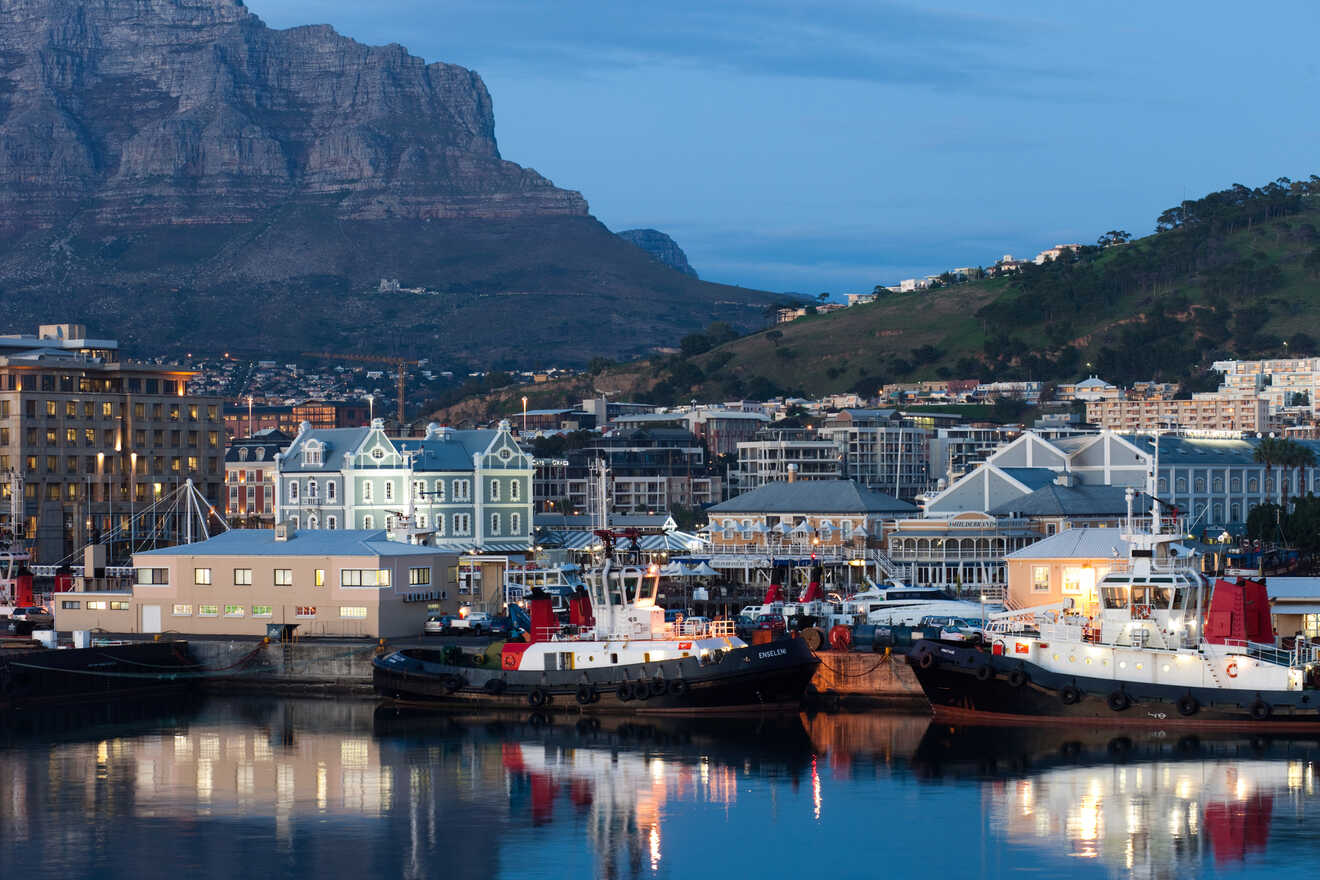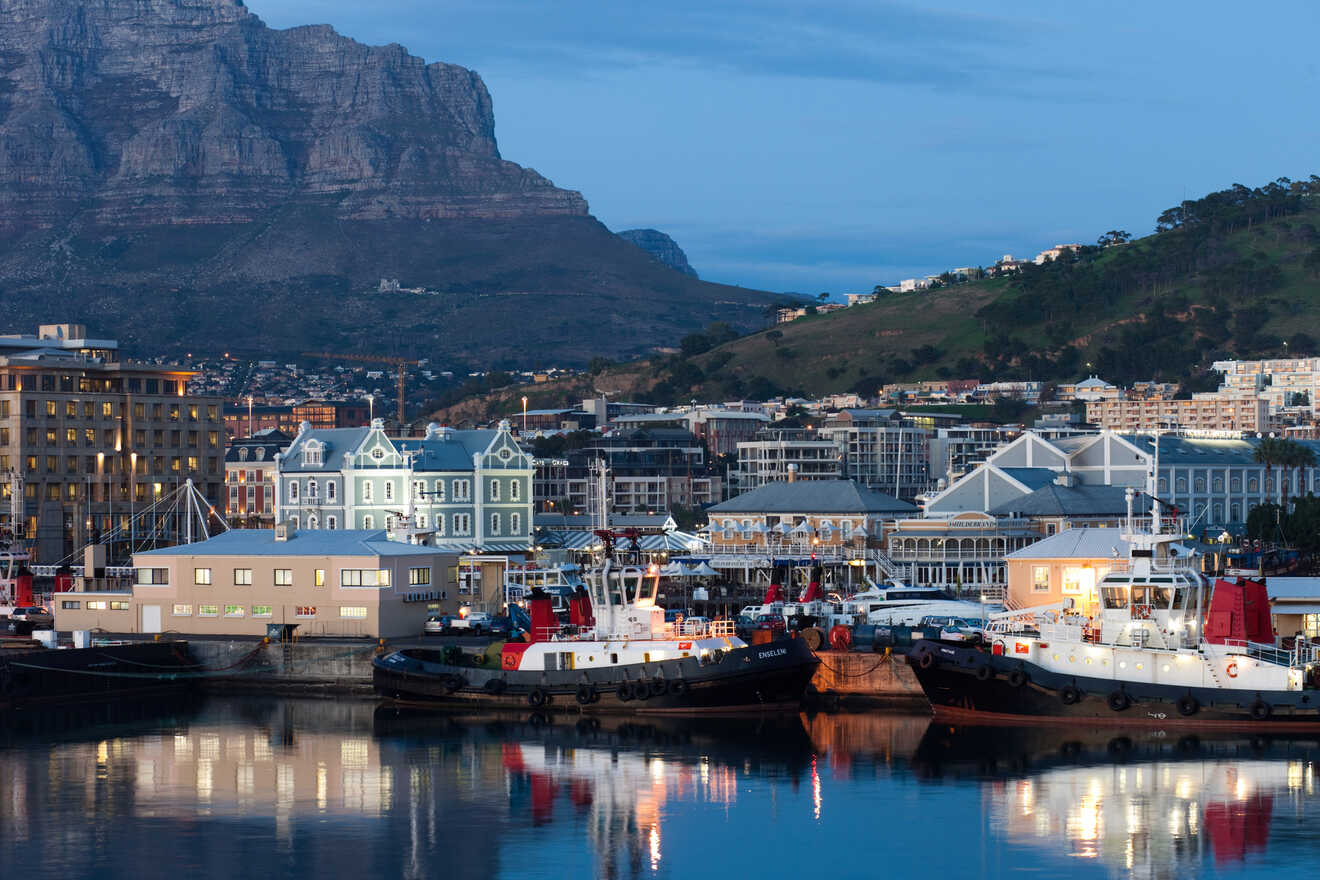 Located in the northern part of the city, right next to Green Point, this historic neighborhood was named after Queen Victoria and her son Alfred! 
If you want to go all out during your holiday and stay at the most luxurious boutique hotels in Cape Town, then I've found your match! 
The views at the harbor are world-famous and you can't really wonder why, when you have the mountains on one side and then the Atlantic ocean on the other. I would recommend booking your trip here in advance, everything runs out super quickly!
Seaside romantic dining like you've seen in the movies and luxurious shopping spots are some of the things that make so many tourists come here every year, not to mention the bars and restaurants along the V&A Waterfront, with prices to match their uniqueness and prime location! 
This neighborhood is located within walking distance of the city center so you can easily go there once you're done exploring this area. However, once you step foot here it will be hard to leave it. Maybe it will get easier when you embark on a new adventure with a boat tour to visit Robben Island, a historic spot where Nelson Mandela was imprisoned!
Luxury hotel
One&Only
This place will offer you the celebrity treatment you deserve and unique views of Table Mountain and the V&A Waterfront. Swim all day in the infinity pool and enjoy the comfort of its elegant rooms before you hop in the amazing rain shower! Live your best life in one of Cape Town's best luxury hotels!
Other accommodation options in V&A Waterfront
mid-range
Radisson Red Hotel
Enjoy your stay in the elegant rooms of this mid-range hotel that has a pool and which hosts live music events
budget
Atlantic Point Backpackers
Cape Town's best hostel is located within walking distance from the Waterfront, it has a pool and family rooms 
airbnb
Idyllic Apartment
Luxury condo with elegant rooms and a waterfront balcony, which has a pool and a lovely kitchen
Things to do in V&A Waterfront
6. Bo Kaap – where to stay in Cape Town for history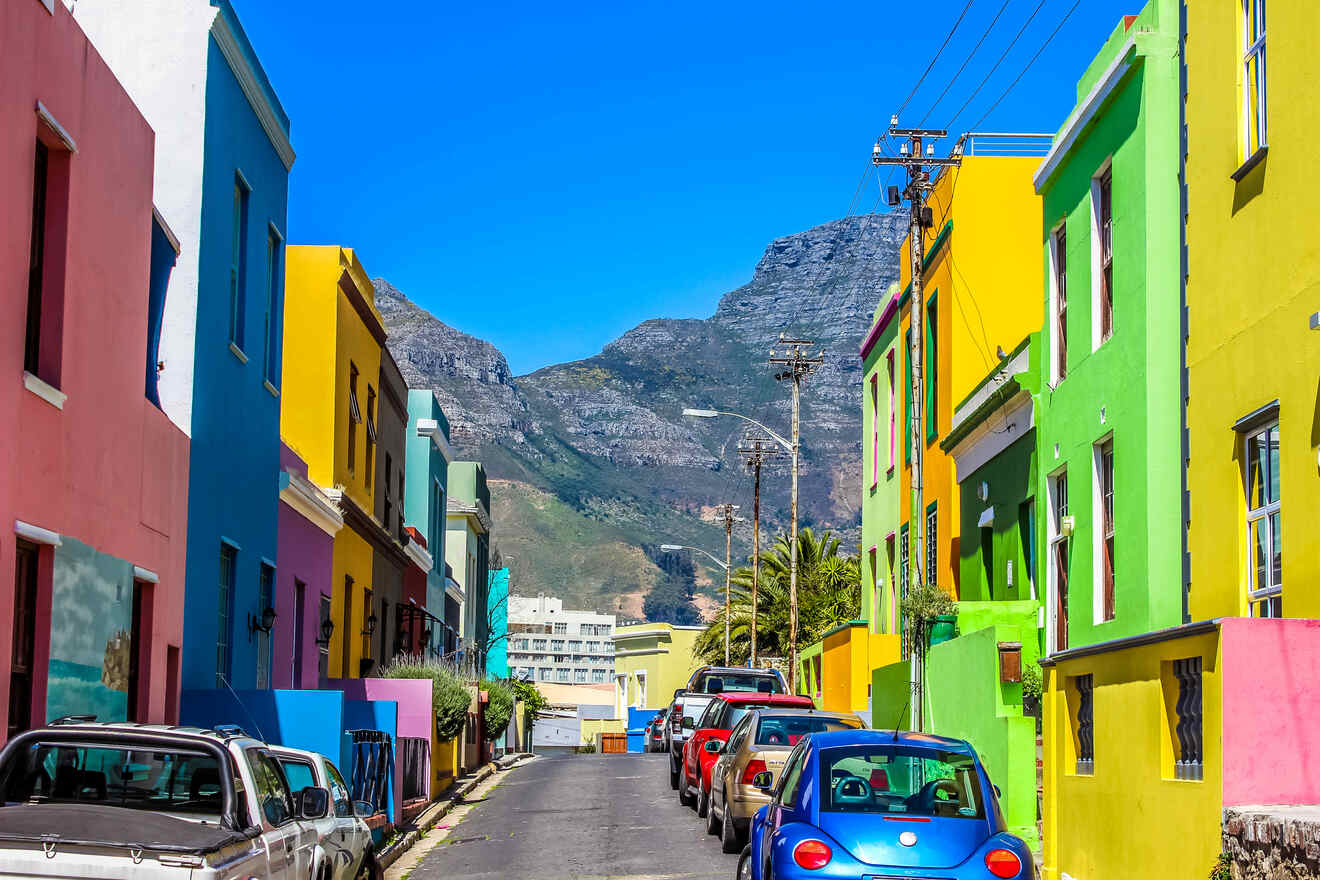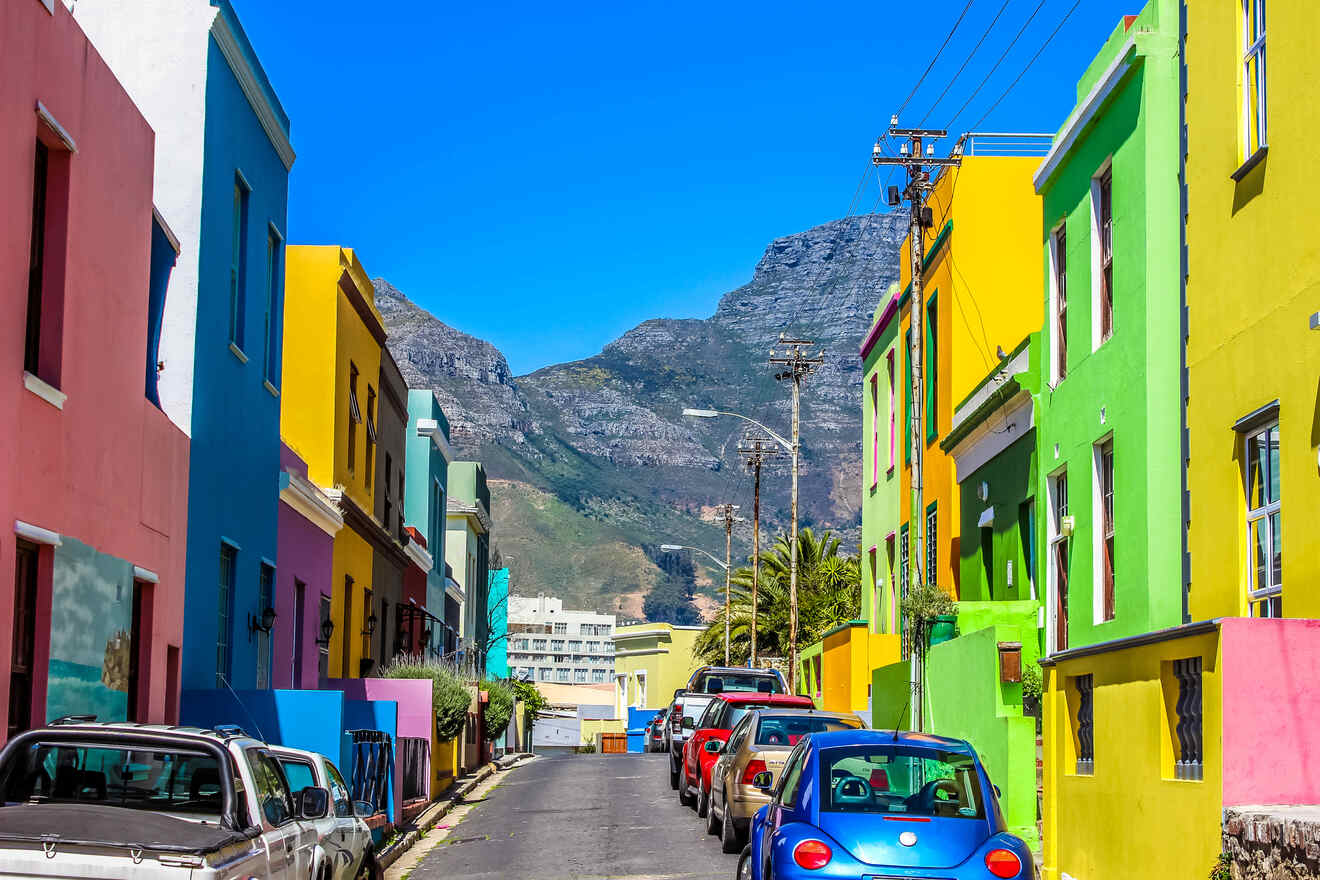 Get ready to take tons of pictures here! Located just minutes north of the City Center near Signal Hill, this happy colorful neighborhood is so rich in history! With old colonial houses that date back to the 1750s and are painted in pink, lilac, orange and blue, it will be hard not to have the best time ever in Bo Kaap! 
It's a bit of a cultural mixture here as many of the local people who live here are descendants of the free slaves who were brought from Africa, Sri Lanka, India, and the Indonesian Archipelago. Any foodie who wants to try as many international cuisines as possible will be lucky to stay in Bo Kaap. Also known as the Malay Quarter, this neighborhood is packed with restaurants, cafes, and bars. 
I love a place that allows me to explore as much of the town as I can whilst having its own unique story. Bo Kaap's proximity to the City Center will make you love this place, as you get to see all these beautiful historic houses but at the same time be super close to the modern side of the city!
Luxury hotel
Rouge on Rose
This boutique hotel offers a unique vintage aspect, individually decorated rooms, and a great local authentic experience! Relax here while admiring the city views. You can order breakfast up to your room but I highly recommend going downstairs and having it served by the lovely staff! There's free wifi and parking on the premises too so all your needs are covered!
Other accommodation options in Bo Kaap
mid-range
Hyatt Regency
One of the best hotels in the neighborhood with great city views, a pool, restaurant and a lovely breakfast
budget
La Rose B&B
This uniquely decorated B&B has one of the best gardens a laid back atmosphere, and they offer breakfast
airbnb
Hilltop House
Relax in front of the fireplace of this luxurious spacious house on a hill in South Africa with a balcony
Things to do in Bo Kaap
Learn new things at the Iziko Bo Kaap Museum
Have a unique experience with the Bo Kaap Cooking Tour
Walk around the streets of Bo Kaap and admire the colorful houses
Go explore the City Center, De Waterkant area, and V&A Waterfront
Admire the beautiful views of the Signal Hill
| | |
| --- | --- |
| 👑 Average price for luxury accommodation: | $150 |
| 🏨 How much do mid-range hotels cost: | $80 |
| 🛏️ Average price for a budget stay: | $40 |
| 🏠 How much is an average Airbnb: | $80 |
| 💰 Overall accommodation prices: | Low |
| 📍 Best area to stay in Cape Town: | City Bowl (CBD) |
| 🛎️ Cape Town's most luxurious hotel: | The Marly |
| 👛 Best place to stay on a budget: | Onomo Hotel |
BONUS: Top 4 Cape Town beaches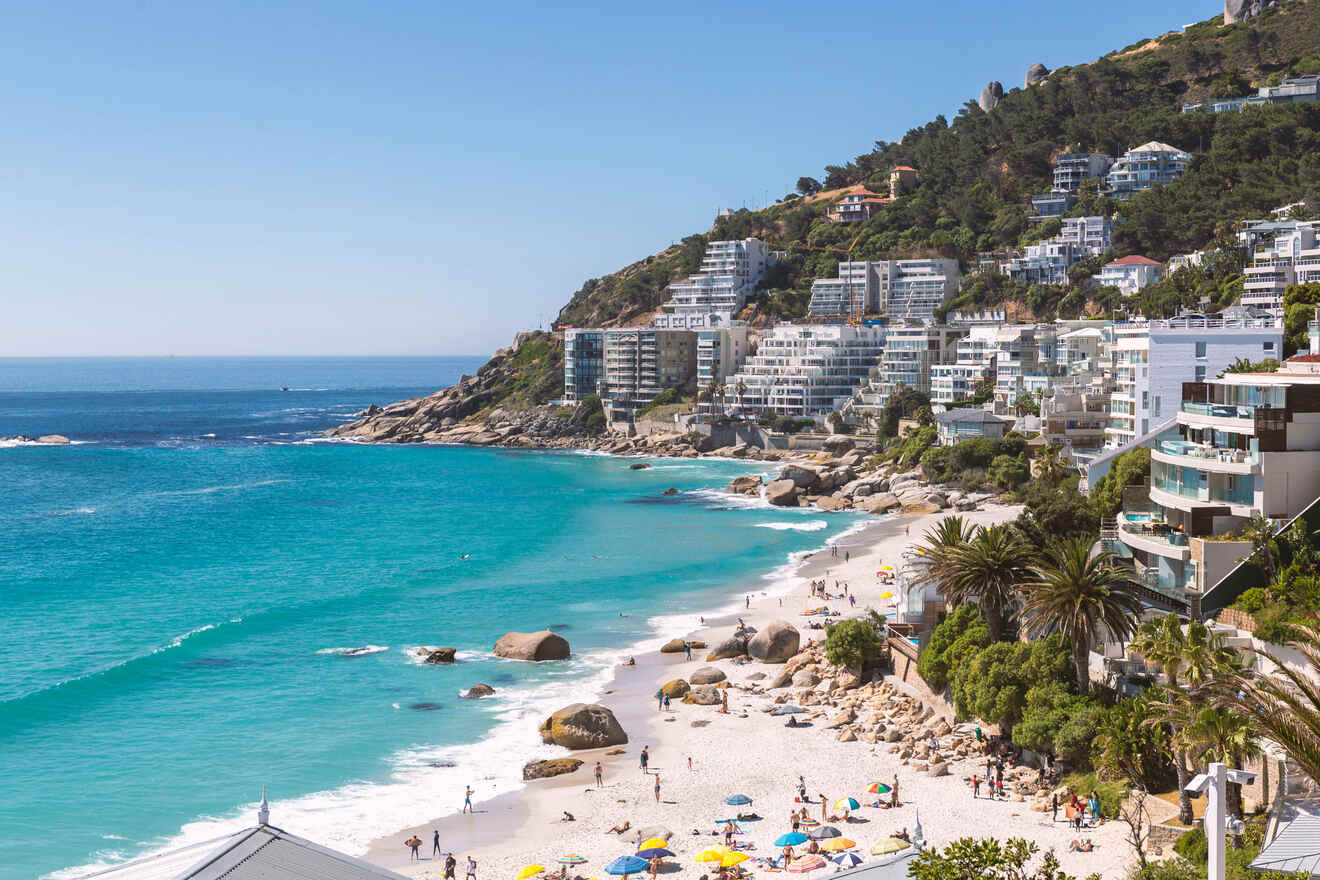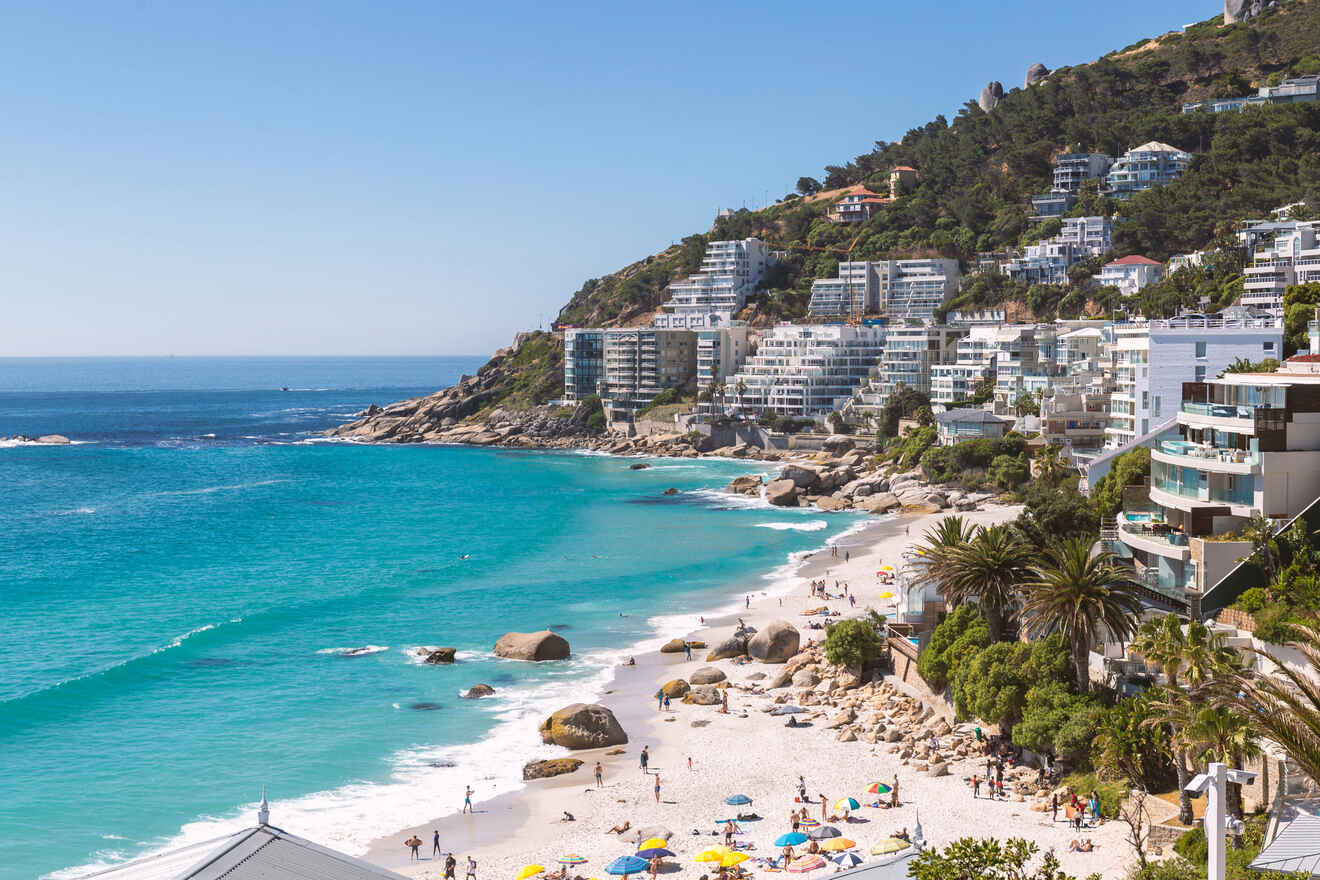 I know you're all already so excited to visit the beautiful Cape Town city and try all those amazing things to do but I don't feel like I've done my job properly if I don't offer you a few of the best beaches around the peninsula as the 1,740-miles-long coast has some of the best beaches in the entire world!
That's because they combine the charm of the white-gold sand with the views of the mountains so you basically get the best of both worlds! Some of these beaches are quite far from the central areas so I highly recommend renting a car to get around easily.
Note: The waters are not as warm as they might seem, the currents come from Antarctica but that didn't stop anyone from diving deep into the Atlantic Ocean!
1. Boulders Beach
Located 20 miles (40 km) south of Cape Town, this unique beach is full of … PENGUINS! Yep, welcome to the home of a big colony of African penguins. 
The water here is a bit warmer so it will make a great swimming spot but you're all going to be busy looking at these cute animals so forget about that! They are super instagramable however, I don't recommend getting too close to them as you don't know how they might react.
2. Clifton Beaches
The Clifton Beaches are located 10 miles (20 km) south of the Cape Town City Center and if you rent a car you will get there in just 20 minutes! There are four beaches in total and they are numbered in the order that you get to them when coming from Cape Town. 
The beaches are all as beautiful as one another with white sand and clear waters, surrounded by mountains. However, each of the beaches has its own personality. If you want some peace and quiet, head to Beach 1. The 2nd beach is filled with young people, the 3rd one is a gay beach but open to all people, and the 4th beach is the most popular one which has an award for clear water and safety.
3. Llandudno Beach
Located 10 miles (20 km) south of Cape Town this secluded beach is often frequented by locals who want to escape all the touristy spots! The place is perfect for some relaxing time in the sun and maybe pack for a picnic to make a whole day out of it. If the cold water of the Atlantic ocean doesn't scare you then dip your toes in the water or you can even surf here!
4. Oudekraal Beach
A bit closer to home, this beach is located inside the Table Mountain National Park and is so picturesque! With its big rocks from where you can watch the sunset and beautiful clear water. There's a fee that you have to pay in order to stay on the beach but you will have BBQ facilities on the sand! How perfect is that?
Frequently asked questions about Cape Town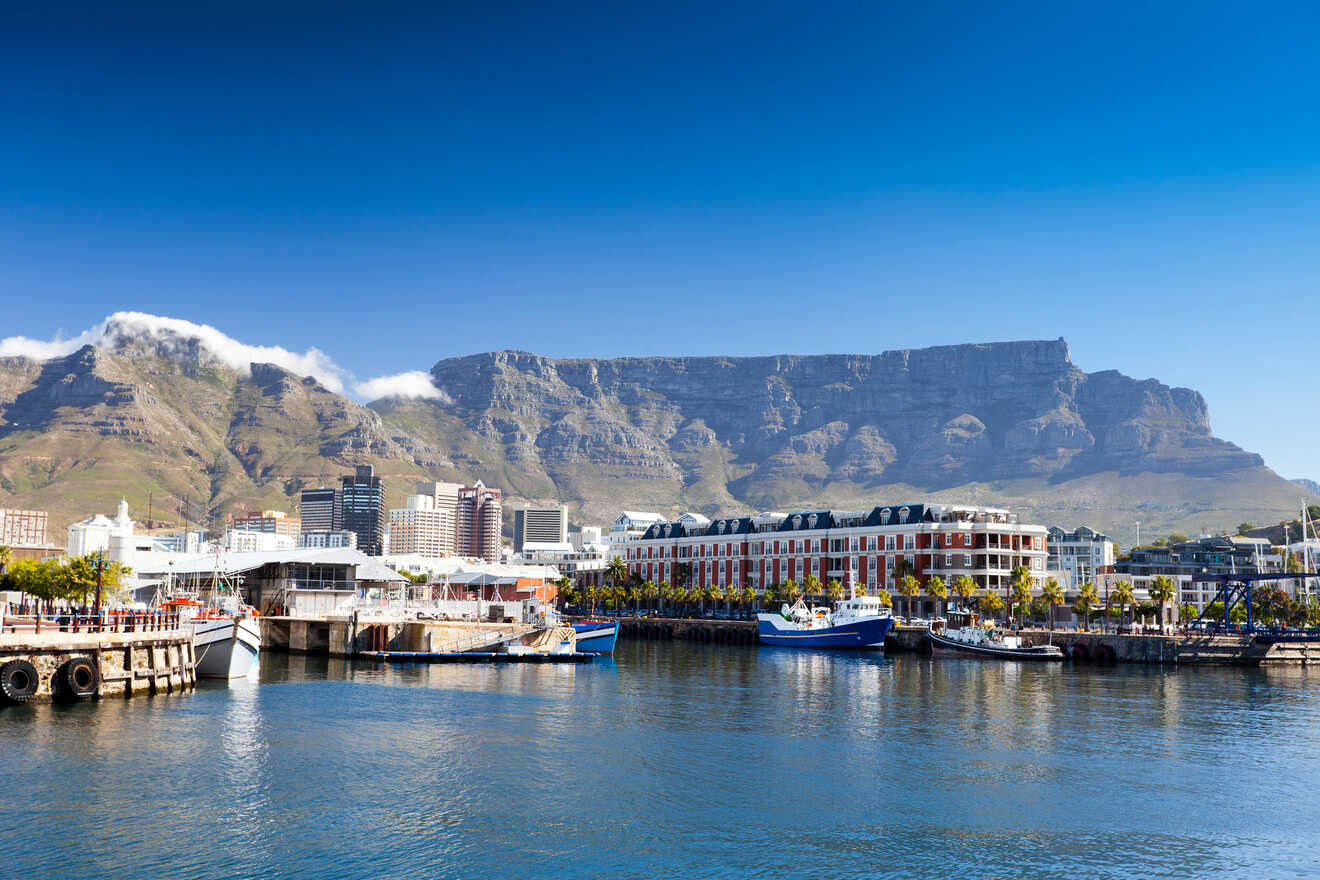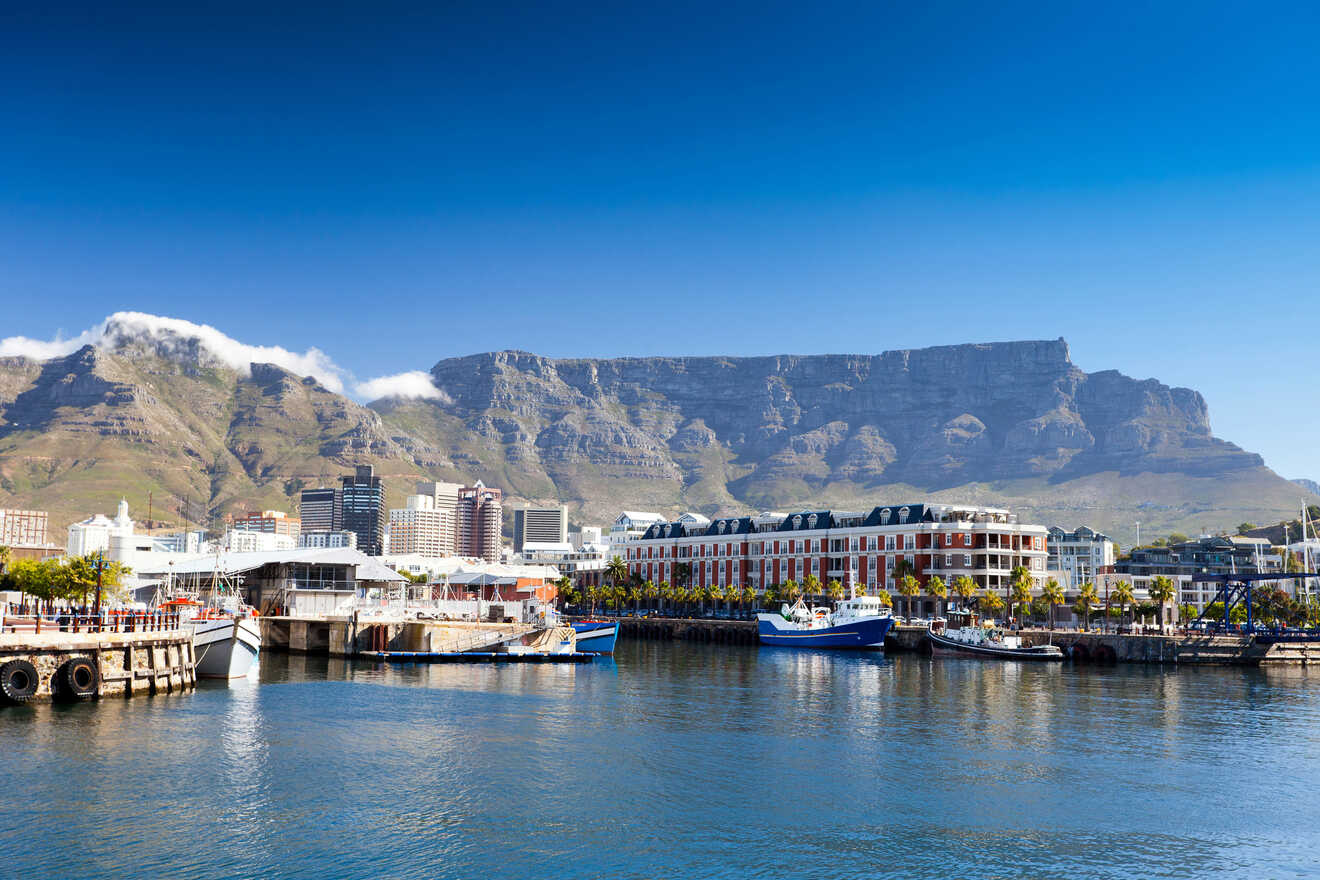 🌅 What is the best area to stay in Cape Town?
The City Bowl (CBD) is the best neighborhood to stay in South Africa's capital, Cape Town as it will offer you a perfect mixture of attractions and some of the best hotels and guest houses. I recommend staying at the Mount Nelson hotel, it's the best!
🚫 Where should you not stay in Cape Town?
The Cape Flats is the most dangerous area and should be avoided by tourists who are coming to visit the town. It's an area that even locals don't walk in since 95% of crimes in Cape Town occur in this neighborhood.
✅ What are the safest areas in Cape Town?
All the areas mentioned in this article are really safe, plus other neighborhoods like Gardens, De Waterkant, Bantry Bay, and Clifton. However, you should avoid walking alone at night in secluded spots.
👪 Where to stay in Cape Town with a family?
Camps Bay or Sea Point are the best neighborhoods in town to stay with the family. There are different types of activities that they can enjoy together. Like swimming and different watersports. You can stay at the President Hotel, which has family rooms!
❤️ Best place to stay in Cape Town for couples?
The V&A Waterfront is a great place for couples as they can enjoy outdoor candlelight dinners. However, it was estimated that every month at least two people get engaged on the top of the Table Mountain so there must be something in the air there!
Conclusion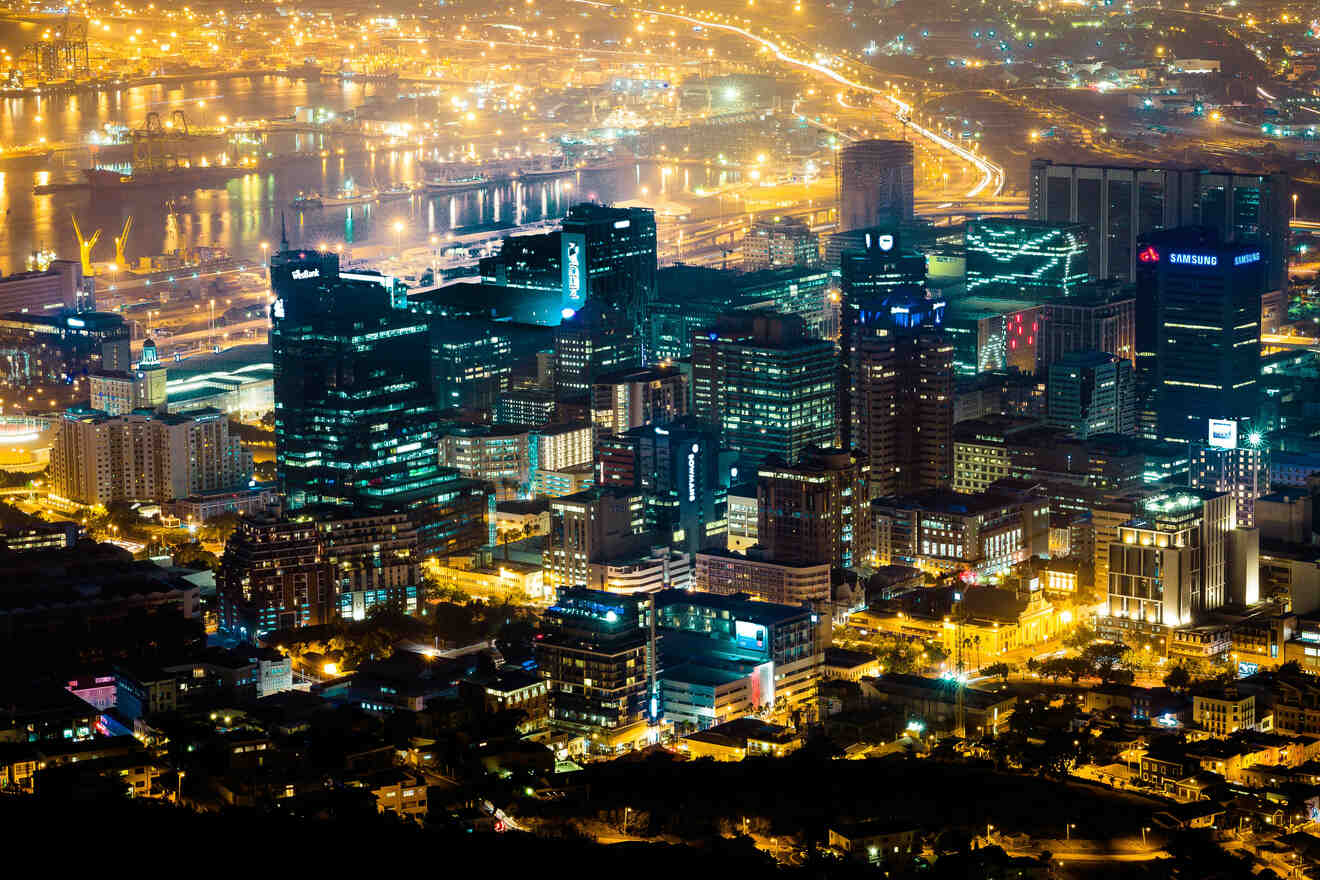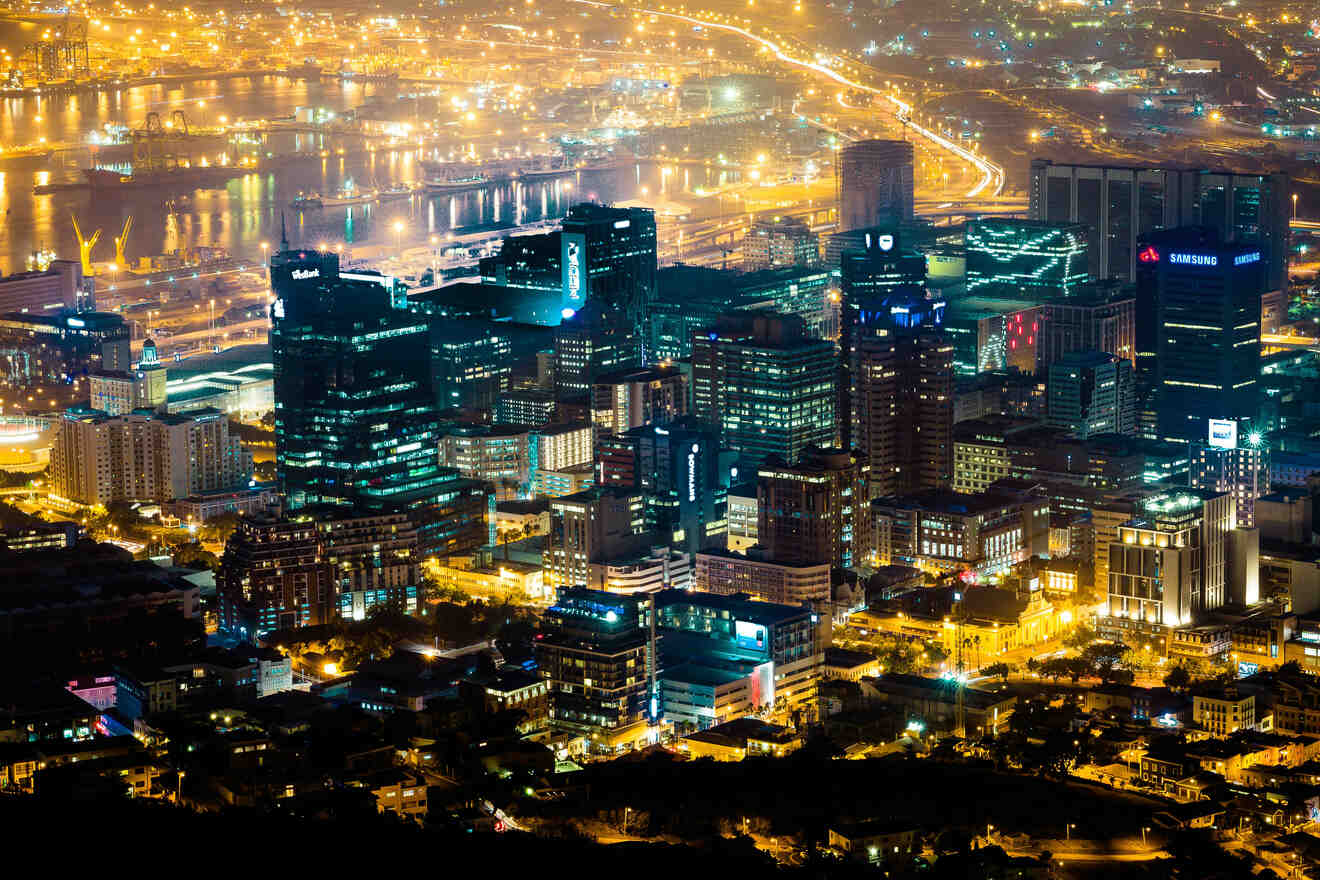 Here I leave you! I hope this post helped you decide where to stay in Cape Town. I tried my best to offer you the Cape Town best hotels and guest house choices that have beautiful gardens and outdoor activities!
You have so many choices but I know that probably you're like me and like to have a wide range of hotels and neighborhood options but here are my top two favorites both located in the City Bowl. Do make sure to book them or any of the hotels on my list in advance as they are a top choice for all travelers.
Now you're all organised, you're off to take long promenades along the V&A Waterfront and explore the beautiful Table Mountain in Cape Town. Make sure to take a trip to Robben Island and don't forget to take a moment and admire the beautiful paradise that you're in! 
Do leave a comment if you have questions or suggestions about Cape Town for our readers!
Safe travels, 
Victoria