There are many beautiful beaches on Madeira, each with its own unique appeal. Some – with tranquil waters and soft, silky sands – are ideal for family swimming and sunbathing. Others have a more stark, natural beauty, or are popular spots for surfing.
In this guide, we will take a look at some of the very best beaches in Madeira, Portugal. I'll tell you where to find them, who they are suitable for, and the facilities you can expect to find at each.
PSSST. Your travel medical insurance can now cover COVID-19!
If you grab SafetyWing Nomad Insurance, it'll be covered just like other illnesses. I've been using it since 2019 and I can assure you it's the perfect solution for nomads like you and me.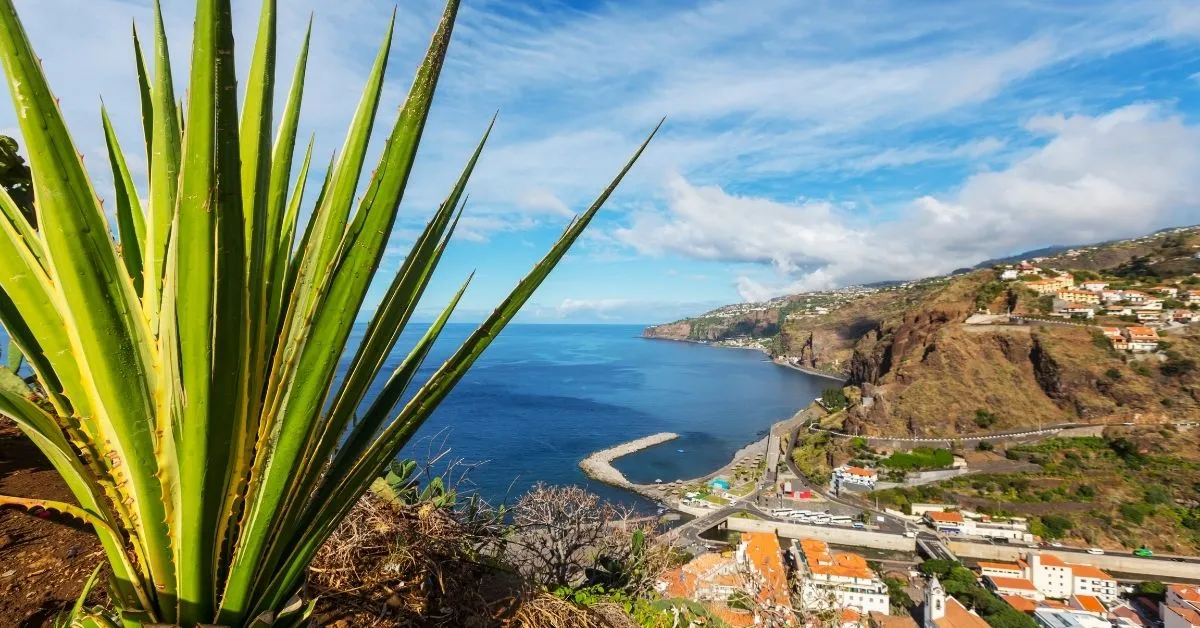 Porto Santo Beach – Porto Santo Island
The fact that Porto Santo Island has been dubbed 'The Golden Island' tells you just how spectacular its beach actually is! One of the finest sandy beaches in Madeira, it extends for 9km, almost the entire length of the island.
The sand itself is soft and silky, rich in health-promoting minerals – and its turquoise waters look inviting all year round. In fact, this entire area is popular for its therapeutic properties and there are lots of wellness hotels on the island.
Clean and tranquil, this is a great beach for families and has a few snack bars, sun shades, toilets, and showers. The best way to get there is via a ferry ride from Funchal, which takes a little under 2 hours and runs every day.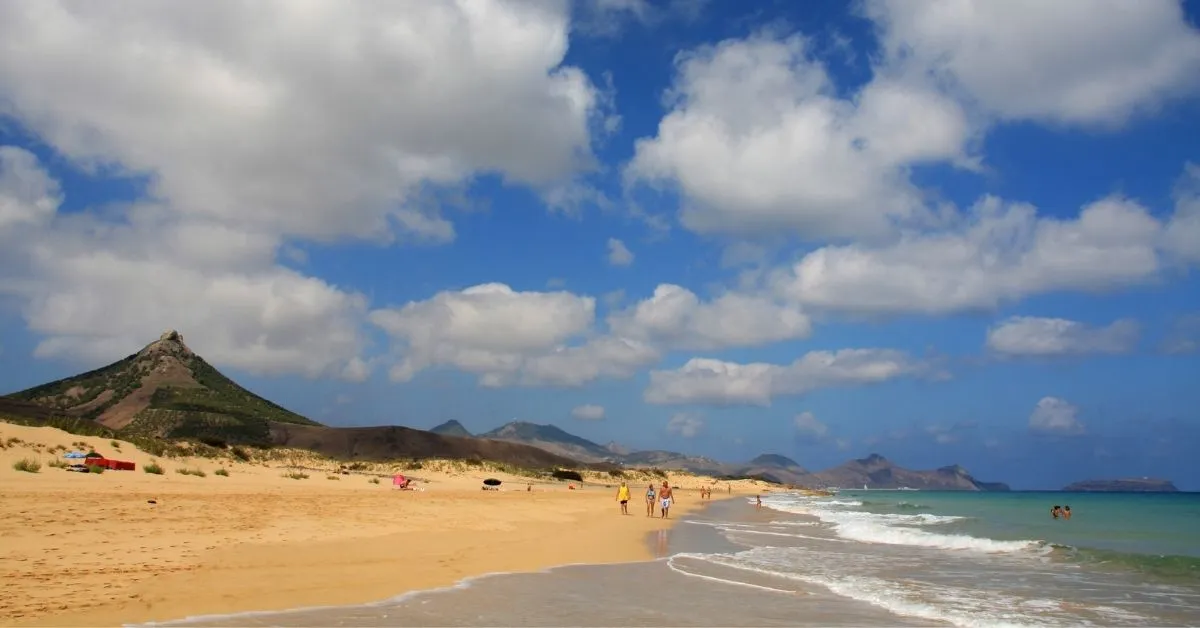 Praia Do Vigário  – Camara De Lobos
This pebble beach in Madeira is tucked beside the dramatic cliff of Cabo Girao, which is the highest cliff in Europe. It is popular with locals from Camara de Lobos and has a relaxed, laid-back vibe.
The water can sometimes be quite rough here, but there are usually several lifeguards on duty during the high season and this remains a favorite beach with families.
There is also plenty to do, including a pool for safer swimming and a variety of watersports. There are good facilities too, including changing rooms, showers, toilets, plus various snack bars and restaurants nearby.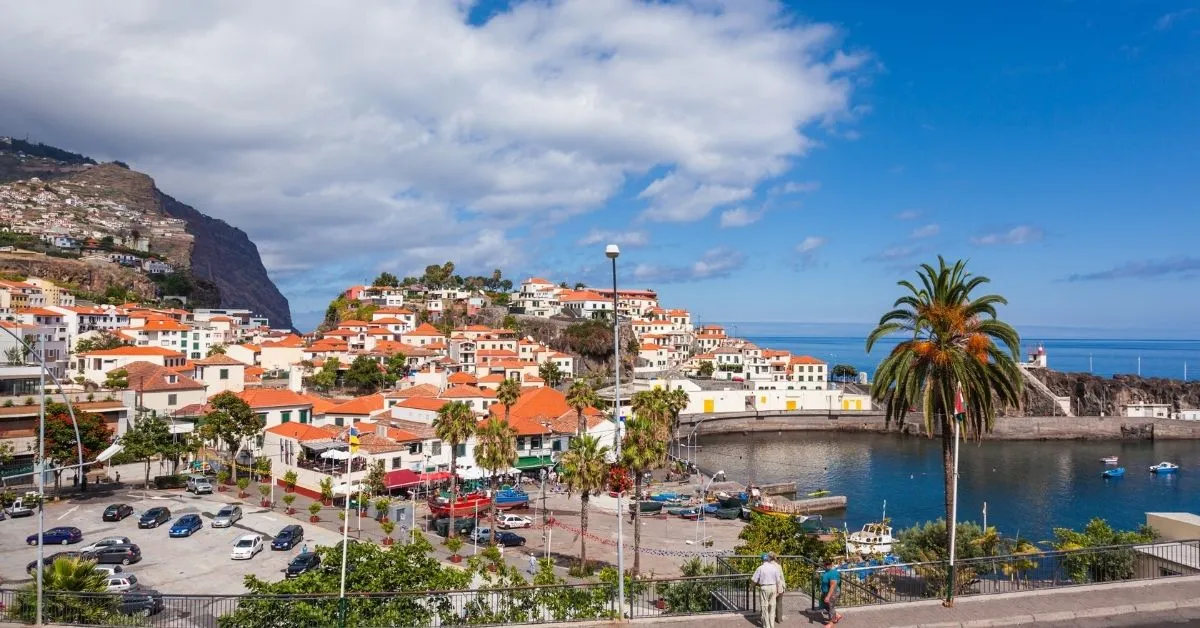 Praia Do Porto Do Seixal – Seixal
Seixal – around a 40-minute drive from the city of Funchal – has several beautiful beaches. But this may be one of the best! It's quite small, with striking black sand, and gives you stunning views of the North coast of Madeira Island.
On a sunny day (of which there are many) you can get some amazing photos here! The beach – located beside the port – has no lifeguards, but the water is quite calm as it is protected by a pier.
This makes it safe for adults and children alike. It is also equipped with very basic showers.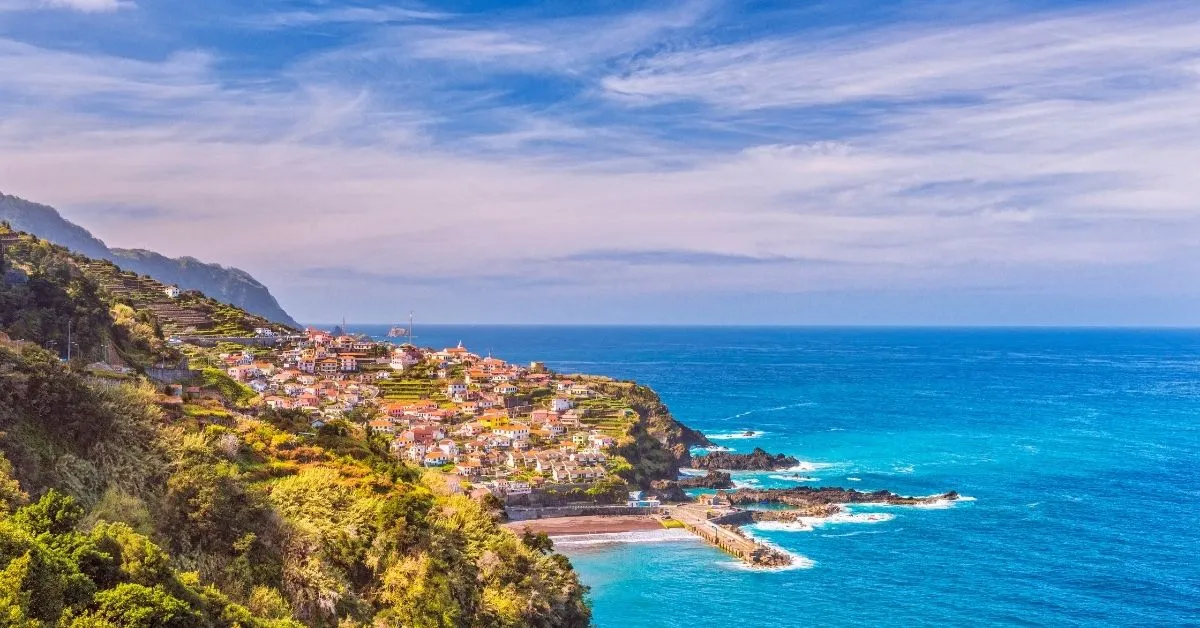 Formosa Beach – Funchal
If you are staying in Funchal, then you can walk to this beach which is located just west of the city centre. A mixture of black sand and pebbles, it is the largest beach in Madeira and is usually very busy in the high season, when it is packed with visitors and locals alike.
The atmosphere is very lively, with all sorts of watersports on offer and frequent outdoor contests. The clean water can be quite rough sometimes, but there is a team of lifeguards constantly monitoring bathers.
The facilities here are excellent and include changing rooms, showers, toilets, snack bars, and a car park. There is also a medical centre and even a kindergarten, suitable for children aged between 2 and 12 years.
Praia De Machico
This is one of only two golden sandy beaches in Madeira (the sand itself is imported but the beach still looks beautiful!). It is located in the tranquil town of Machico in southeast Madeira and is close enough to the airport to get some pretty amazing views of the planes flying in and out!
PSSST. Want to get FREE accommodation in exchange for work?
If you're traveling on a budget or want to save and extend your trip, this could be exactly what you're looking for. Worldpackers is a platform that connects travelers like you with hosts. It's just like volunteer work –exchange your skills for free accommodation. SAVE $10 using my discount code. Learn more about how it works here.
It is just a 10-minute walk from the local bus station and there is a supermarket on the way, so it's easy to throw together a quick picnic to take with you.
The seafront itself is divided, with the more popular, golden part (the Praia da Banda Alem) on one side of the river and the more natural Praia de Sao Roque – with its typical mixture of black sand and pebbles – on the other.
The waters here are fairly calm and there is both a lifeguard and a rescue centre. You will also find changing rooms, toilets, snack bars, and a seafood restaurant.
Praia Da Prainha – Caniçal
Just a few minute's drive from Machico beach, Praia da Prainha (which translates to 'small beach') is located in an urban area near Caniçal.
Despite this, it is often dubbed one of the 'secret' beaches of Madeira, as it is quite secluded and not at all visible from the road. In fact, it is not the easiest beach to get to, and access requires quite a steep downhill trek. But it is worth the effort!
Prainha Beach is exceptionally pretty and has lovely golden sand with a fine texture that is easy to walk on. It is surrounded by vertical cliff faces which add to the drama of its appearance and is an excellent spot for scuba diving, with the artificial reef structure Parque Subaquático Ocean Revival just a few kilometres offshore.
However, there are no facilities and nowhere locally to buy food and drinks – so be sure to bring a picnic.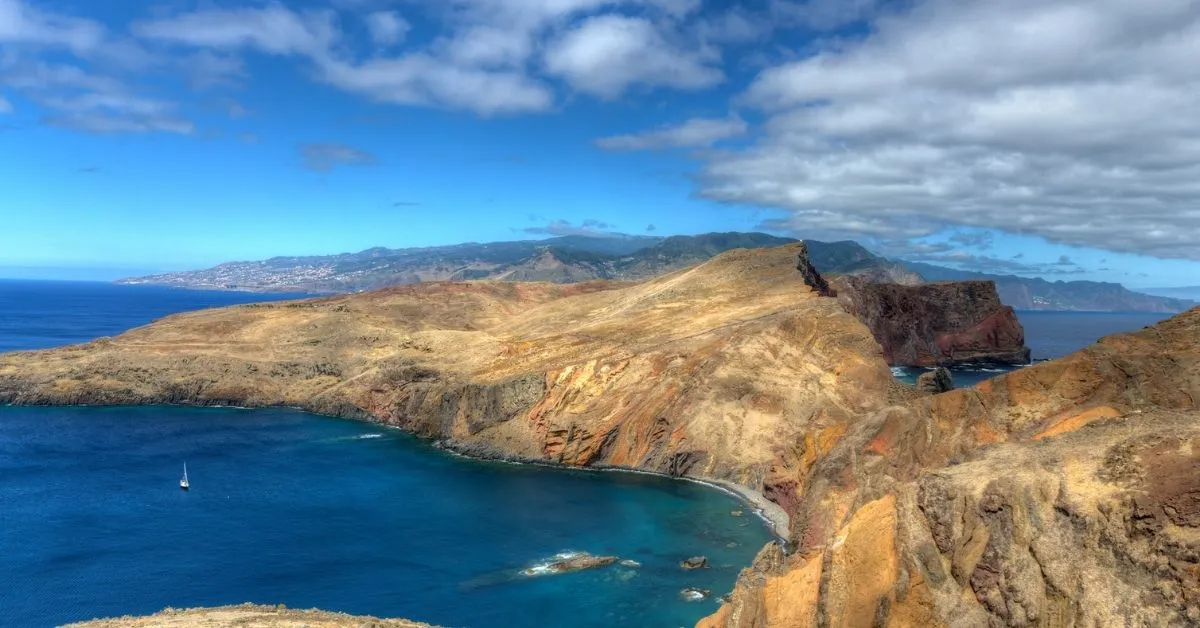 Praia Da Ponta Do Sol
As its name might suggest, this is one of the best beaches on Madeira to head to if you want the longest hours of sunshine! Small, pebbled (with some rocks), and nestled between cliffs, this sheltered spot has pleasant temperatures and warm water all year round.
The waters here are calm – if a little challenging to get to at times due to the rockiness of the beach – but the atmosphere is very tranquil and it's the perfect spot to get away from the crowds.
Located on Madeira's southern coast, Ponta do Sol has plenty of facilities, including free sunbeds, ample parking, showers, toilets, changing rooms, restaurants, and bars.
Praia Das Palmeiras (Also Known As Santa Cruz Beach)
Just 15 minutes by car from Funchal – or around one hour by bus – this is often voted one of the best beaches in Madeira. Ideal for Instagrammers, it is lined with majestic palm trees and offers lovely views of Ilhas Desertas, Madeira's neighboring islands.
It can be very crowded in the high season, packed with families and with a fun, vibrant atmosphere. It is an especially good spot for children, with free, plastic toys on the pebbled beach, a climbing area, and a 'treasure island' with its own resident dragon.
There is also a swimming pool area for adults and children alike. This is also the point at which Madeira's infamously short sea runway juts out into the ocean, so it is a great spot to sit and watch some of the hair-raising landings!
There is a supermarket right beside the beach and other facilities include showers, toilets, and lifeguard surveillance in the summer.
Praia Da Calheta
Artificially constructed with beautiful, fine Moroccan sand (plus a little from Portugal), this is another of the best sandy beaches of Madeira.
It has two sea walls designed to keep the sand from being taken by the tide and which also help keep the waters calm, making it ideal for family swimming.
As it is such a popular spot, there are lots of things to do here! All kinds of watersports are on offer – including windsurfing and canoeing – and you can even rent a catamaran.
There is a large marina, too, plus medical services, toilets, changing rooms, showers, and a nice variety of restaurants and bars.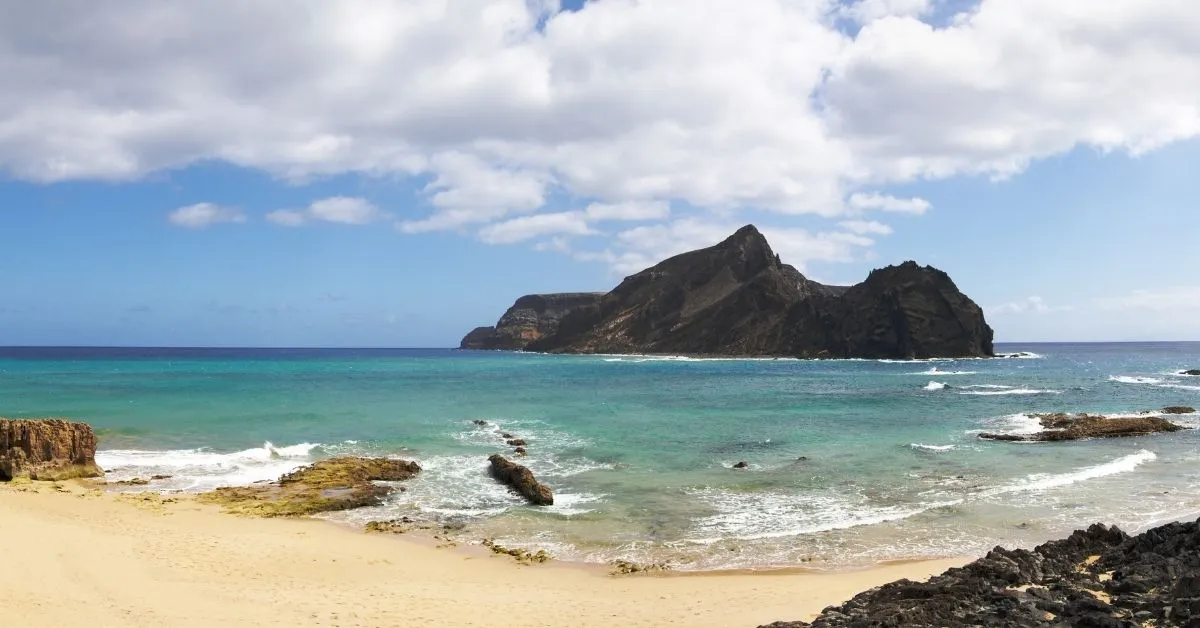 Praia Da Alagoa – Porto Da Cruz
One of the best beaches in Madeira for surfing – or watching students from the surf school taking their lessons – Alagoa beach is on the island's northeastern corner.
It is located right beside the magnificent Penha d'Águia (Eagle Rock) – one of Maderia's most famous geological symbols – and is made up of a mixture of black sand and pebbles.
Its many facilities include a solarium, on-road parking, changing rooms, toilets, and sun loungers, plus a restaurant and bar.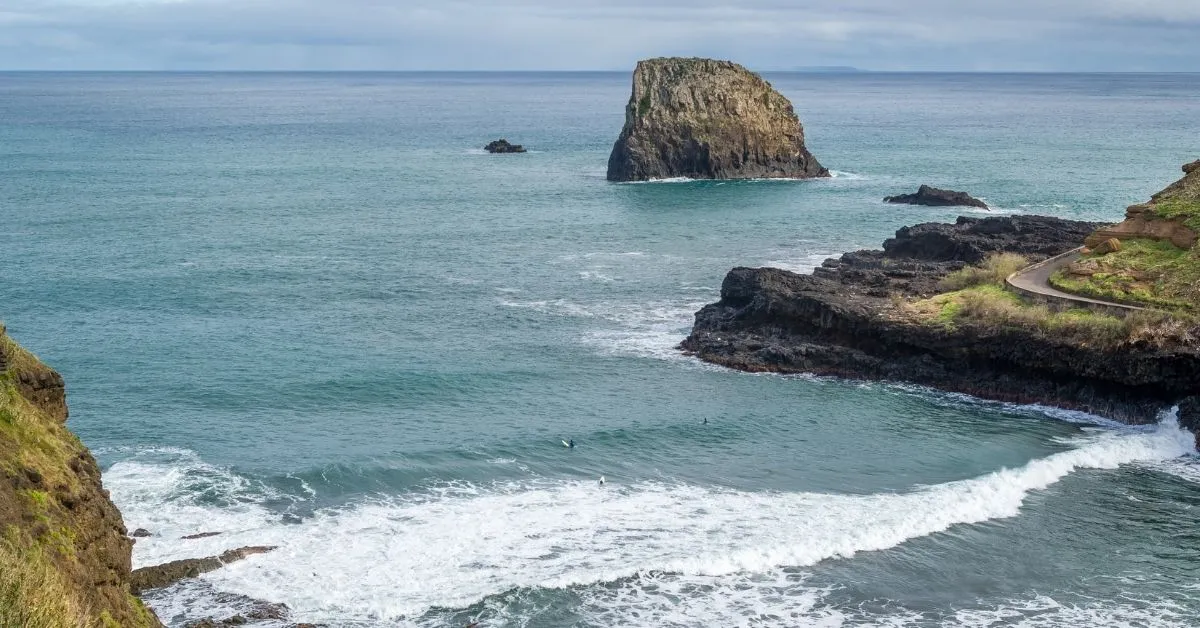 Praia Do Jardim Do Mar
Close to Calheta, the area of Jardim do Mar has beautiful green hillsides that are covered in flowers in the summer (in fact, its name translates to 'garden by the sea', which suits it perfectly!).
There are actually three pebble beaches here – Portinho, Enseada, and Ponta Jardim, which are more popular for their picturesque setting and great surfing than they are for swimming.
This is a relatively isolated area and the beaches are very natural and beautiful. This means they tend to be quieter than the beaches more oriented towards sunbathing and swimming and there is no lifeguard surveillance.
That being said, there are still all the facilities you would need for a visit, including parking, showers, a restaurant, and a bar.
Final Thoughts
Whether you are looking for a holiday filled with sun and sand or simply want to soak up the island's natural beauty, the beaches of Madeira really do have something for everyone.
I hope this guide has helped you choose the ones you'd most like to see during your visit to this warm and welcoming island.