One of Andalucia's most famous cities, sun-soaked Seville has a rich culture and an artistic heritage. So how many days in Seville do you need to see the best of its historical attractions and experience its mix of traditional and contemporary culture?! 
This city is where Flamenco was born and is filled with incredible landmarks. These include the palace of the Reales Alcázares, the Maestranza bullfighting ring, and its awesome cathedral – the third-largest in the world.
PSSST. Your travel medical insurance can now cover COVID-19!
If you grab SafetyWing Nomad Insurance, it'll be covered just like other illnesses. I've been using it since 2019 and I can assure you it's the perfect solution for nomads like you and me.
Despite its roots in the past, the city has a distinctly modern vibe too. Its crowded tapas bars and plazas are lots of fun and buzzing with life.
Coming to a decision on the length of your stay depends on how much you want to fit into each day.
Are you happy to be constantly on the go, with every minute filled with activities? Then 2 days would be enough to see most of its highlights and give you a chance to fall in love with the city!
If – however – a relaxed pace is more your style, then plan for a 3 or 4-night break. This will give you a chance to see everything you want to, with some extra time to spend at your favorite spots.
You'll also have the freedom to linger over a nice meal or a leisurely cup of Spain's distinctive torrefacto coffee. But there are a few more things you might like to think about before deciding just how many days for Seville you will need.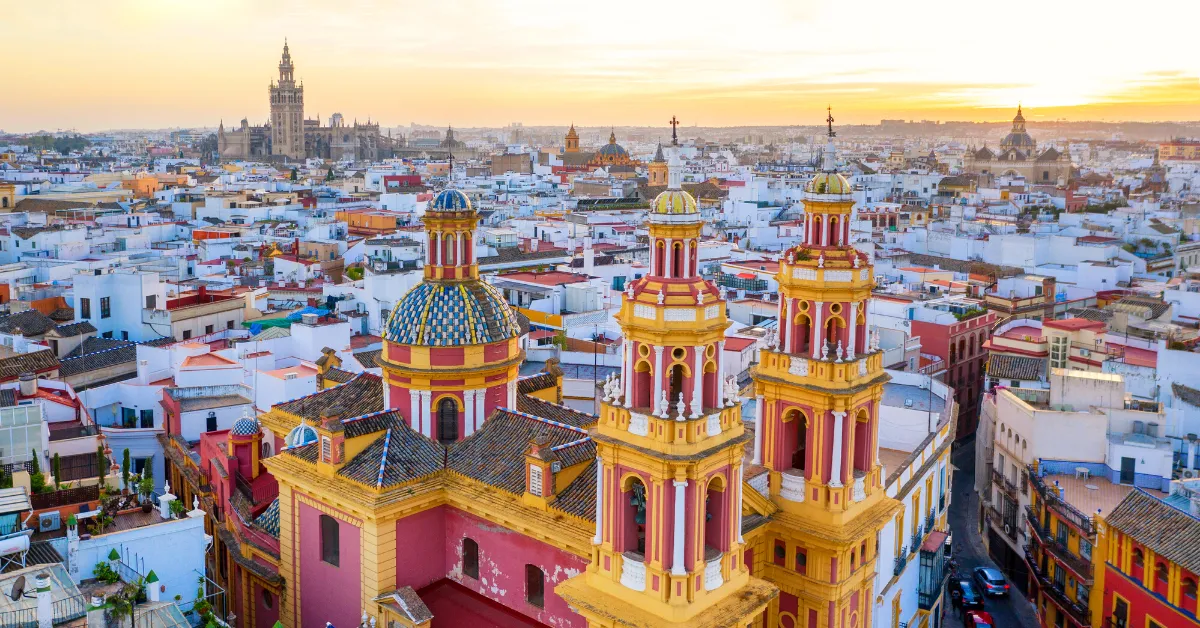 How To Choose How Long To Stay In Seville
Here is my guide to planning the length of your first visit to Seville – or any new destination – and all the factors you'll need to take into account.
To help you figure out exactly how long you'll need in Seville, make a list of the things you want to do in Seville, and consider the time of arrival and departure. Then, look at the distance between places to keep it realistic.
At the end of this exercise, you'll know how many days in Seville you'll need.
Time Of Arrival, Hotel Check-In Time, And Time Of Departure
If you arrive in the city early enough, you will have time for sightseeing on your very first day. Similarly, a late departure will allow you to plan activities for your last day too. 
But if you arrive very late – or leave very early – your free time on those days will be limited. So make sure you think about this when deciding how many nights you'll need and add an extra one if necessary.
Some travelers prefer to book private transfers in advance to save time on arrival.
Next, compare your times for checking in and out with your arrival and departure times. Are they pretty close? 
If not, you may find yourself stuck with your luggage, which can seriously hamper how much you can see and do! 
Before departing for your trip, contact your hotel or accommodation provider and ask if they will store your bags for you. Most will be happy to do so, although you may be charged a fee.
If not, then you will need to make your own arrangements. 
Possibly the simplest option is to contact a private company offering luggage storage. You'll find many online and you can book and pay in advance for complete peace of mind. 
Alternatively, you can store your bags at Santa Justa railway station, or at one of the 2 bus stations – Prado de San Sebastián and Plaza de Armas.
Activities In Seville
Planning just what you want to see and do whilst in the city is key to deciding just how many days in Seville is enough! 
Use the information in this guide and your own research to make a list of all the activities you definitely want to include in your visit. Then work out how long you will need for each. 
My list of Seville highlights (below) includes some suggestions for how long these activities will take.
PSSST. Want to get FREE accommodation in exchange for work?
If you're traveling on a budget or want to save and extend your trip, this could be exactly what you're looking for. Worldpackers is a platform that connects travelers like you with hosts. It's just like volunteer work –exchange your skills for free accommodation. SAVE $10 using my discount code. Learn more about how it works here.
Don't forget to add on the amount of time it will take to travel from one attraction to another. 
And allow for time spent queueing, too, particularly if you are visiting in peak season.
This runs from spring until early fall. If possible, it's worth buying tickets to some of the most popular attractions in advance, as this will often allow you to skip the long lines!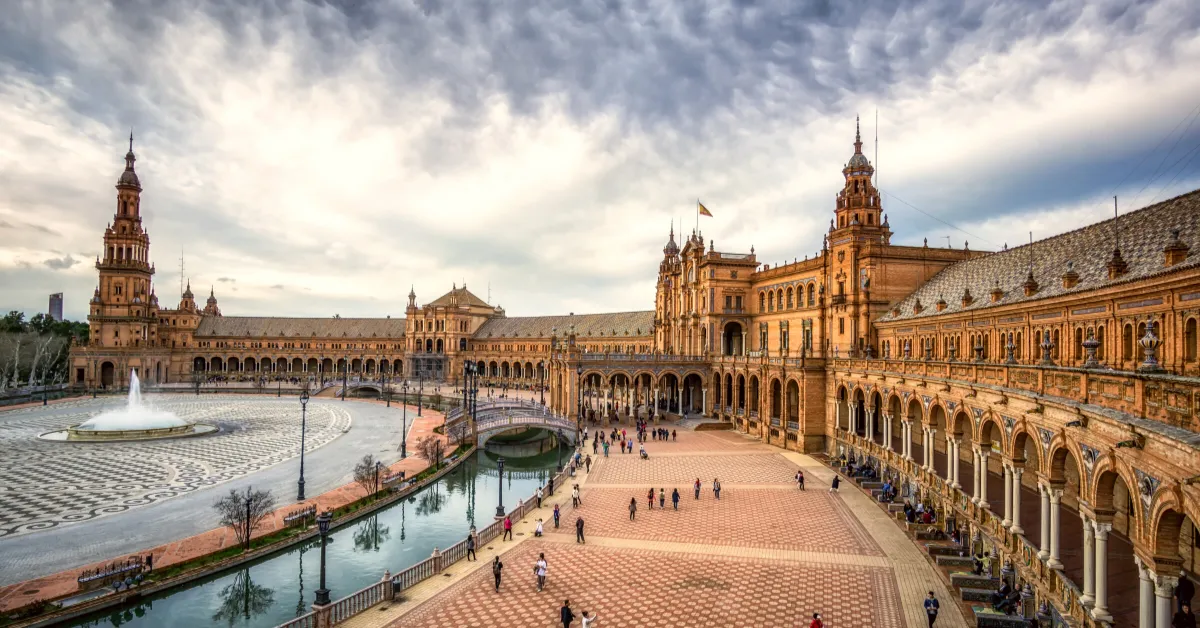 Pace Of Activities
There are lots of things to see and do in Seville, but it's important to plan a realistic schedule of activities! 
If you try fitting in too much you will feel constantly rushed… and that's not the point of a vacation.
Make sure you research the places that you want to visit ahead of time – just because attractions are well-known doesn't always mean that they will appeal to you personally!
And ensure the pace of your itinerary is a comfortable one, with some free time allocated to simply soak up the city's atmosphere.
Transportation
Seville is ideal for a short visit because it is so compact. This makes it very walkable and all of its UNESCO World Heritage sites are within just minutes of each other. 
Nevertheless, there is an excellent public transportation system, too. This will efficiently take you to wherever you want to go either inside or outside of the city. 
The bus network has 50 lines and more than 400 vehicles, so it's one of the quickest and easiest ways to get around. 
There's also a subway system – the Seville metro – which is quite new and still quite limited in its range. However, it does cross the city from east to west and connects the center of Seville with some of the suburbs.
Seville is a great place for biking, with over 100 km of pathways. For this, you can use the municipal bike rental – Sevici. 
Or you might prefer to get a taxi. You don't need to go to a rank and can just hail one wherever you see it.
I don't recommend renting a car for a break in Seville – it's extremely difficult to navigate and many parts of the city center are pedestrianized.
What To Do In Seville
Here are my recommendations for some of Seville's very best attractions and activities. I've also included how long you'll need to set aside for each.
See A Flamenco Show
The art form of Flamenco is integral to Seville's history and culture. This enthralling show takes place at the Casa de la Memoria – an intimate theater venue dating back to the 15th century.
The costumes are both elaborate and unforgettable and you can't help but be caught up in the drama of the dance, accompanied by energetic guitar rhythms.
Suggested time: 1 hour
Visit The Royal Alcázar
This beautiful medieval palace – declared a World Heritage Site in 1987 – is one of Spain's best examples of Christian and Moorish architecture. It is also one of Seville's most popular attractions, so this skip-the-line ticket is the best way to view it.
You will learn more about its incredible history as the main residence of several monarchs and its use as a filming location in the Game Of Thrones TV series.
Suggested time: 1 to 2 hours
See Seville From La Giralda Tower And Tour The Cathedral
Seville's cathedral is colossal in size and filled with historical treasures, including the tomb of Christopher Columbus and works by Goya. Use this skip-the-line ticket for quick access and be sure to climb the La Giralda Tower for spectacular views across the city.
You also have the option of upgrading your ticket to include an audio tour, helping you learn more about the cathedral's history and how it was transformed from a 12th-century mosque to a church.
Suggested time: 1 to 2 hours
Take A Romantic Ride By Horse-Drawn Carriage
One of the most charming ways to see the sights around the city of Seville is via an elegant horse-drawn carriage with a professional coachman. You'll start this authentic experience in the old quarter and pass many of the city's main attractions and monuments.
Your journey will also take in Plaza de España and María Luisa Park – two of Seville's most beautiful areas – and will end at Plaza del Triunfo.
Suggested time: 45 minutes
Cruise The Guadalquivir River
Viewing the city from the water gives you an entirely new perspective on its historic monuments and buildings. Cruising under Seville's old bridges you'll see the towers of Plaza de España and the sites where ships filled with gold would dock after their global adventures.
Suggested time: 1 hour
Try Some Traditional Tapas
Andalucia is famous for its delectable tapas and on this tour, you'll get to visit the bars serving the best examples! With a knowledgeable guide, you will discover 5 different venues away from the usual tourist areas where you can experience some deliciously authentic cuisine.
Including 10 to 13 servings of tapas, 4 to 5 drinks, and a dessert, you'll come away feeling satisfied and with a greater understanding of how the city's culture has influenced its cuisine.
Suggested time: 3 hours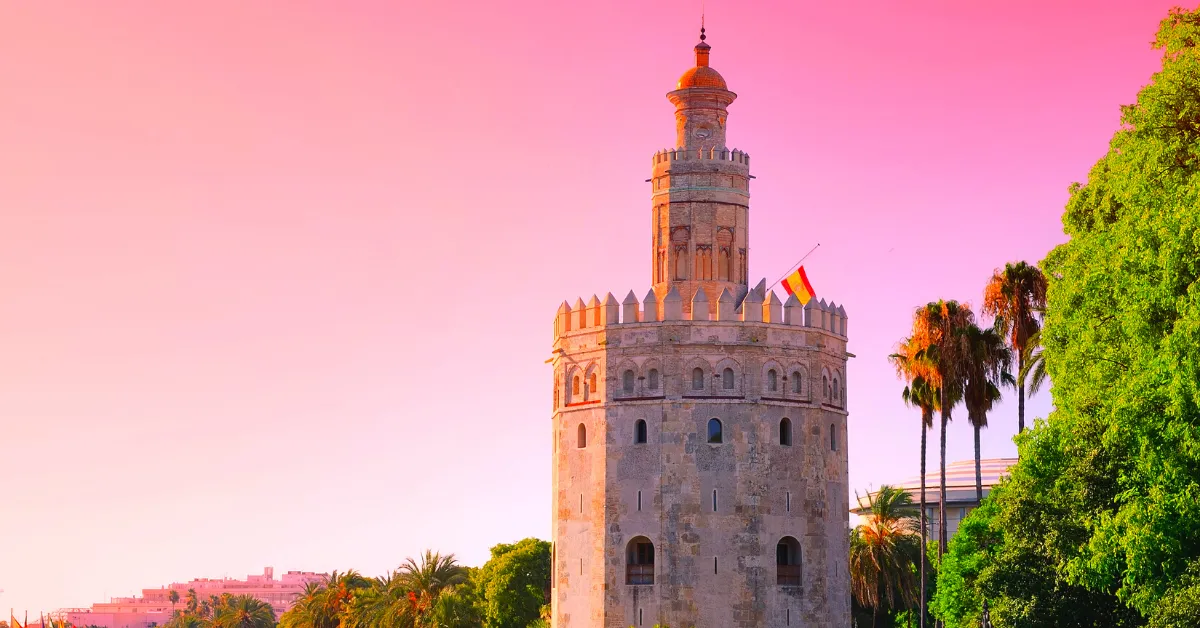 Final Thoughts On Seville Getaways
So how many days do you need in Seville to see its major landmarks and understand what makes the city tick?
I hope that this guide has helped you come to a decision and put together a fun-packed itinerary for a memorable trip.
Traveling to Spain soon? Read one of the following blog posts: