Located on the southern side of the Aegean sea, the beautiful island of Santorini has lots to offer its visitors.  From its blue-domed churches and wineries to its dormant volcano and unique landscape, there really is something for everyone. 
So how many days in Santorini do you need to see all of its main attractions?
PSSST. Your travel medical insurance can now cover COVID-19!
If you grab SafetyWing Nomad Insurance, it'll be covered just like other illnesses. I've been using it since 2019 and I can assure you it's the perfect solution for nomads like you and me.
Well, the answer to that depends very much on the type of break you are looking for. 
If you like to remain 'on the go' and are happy with a fast-paced visit, then you could see the very best of Santorini in a couple of days.
But if you prefer to take things just a bit more slowly – and give yourself the opportunity to pause and soak up your surroundings – then I'd recommend opting for a 3 to 4-day stay instead.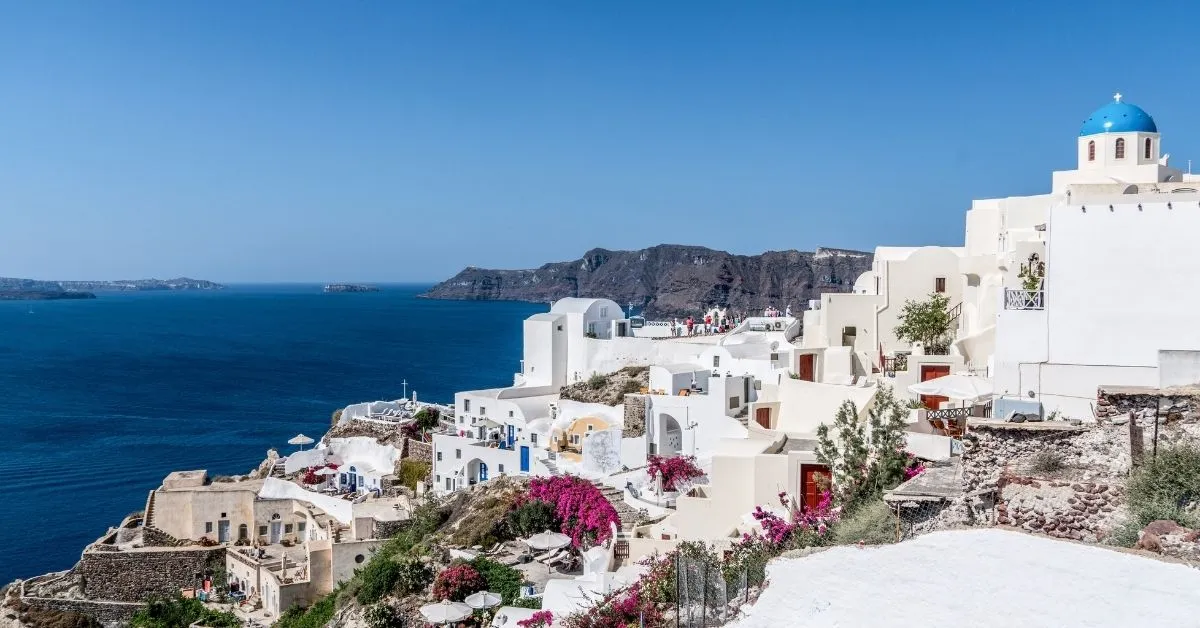 How To Decide How Long To Stay In Santorini
This guide is designed to help you decide how many days for Santorini you'll really need, with a look at all the different factors to consider. 
I've also included a handy list of the very best sights and attractions, with my suggestions for how long to spend at each. This should help you decide on the perfect length for your stay and to put together a realistic itinerary that makes the most of every moment.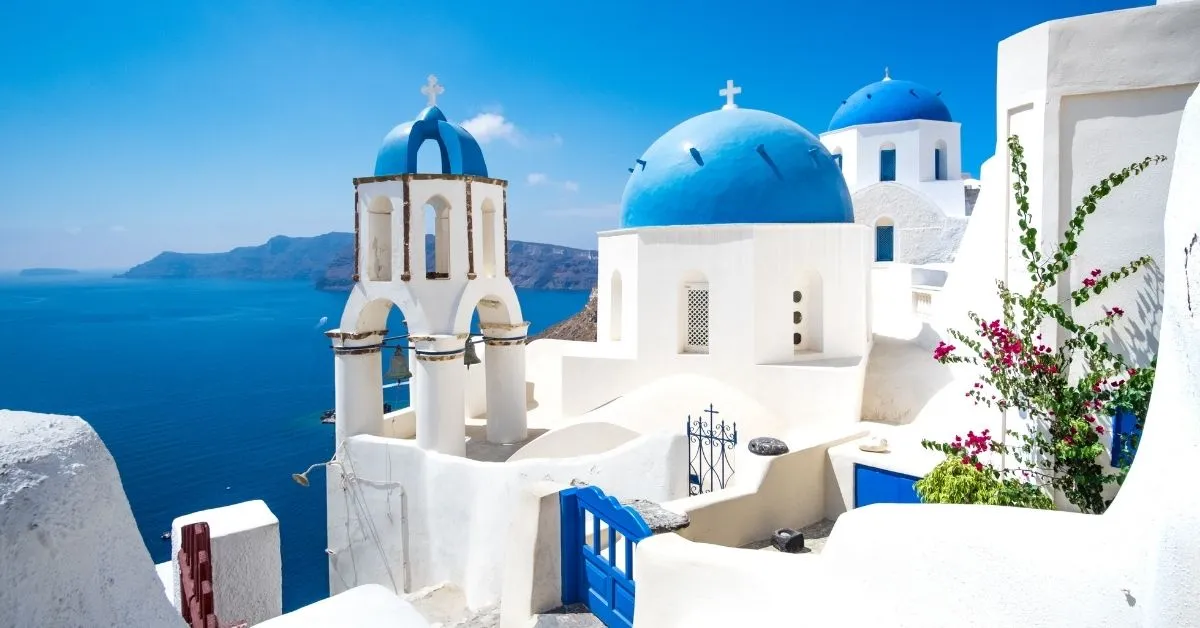 Time Of Arrival, Hotel Check-In Time, And Time Of Departure
The time at which you arrive in or leave Santorini can affect how much sightseeing you can do on those days. If you decide you need 2 full days to see everything you want to – but arrive very late on your first day – then you might want to consider tagging on an extra night.
That said, organizing a private transfer to your hotel can help you save time too.
You also need to think about the times that you check in and out. Is there a gap between those and your arrival/departure times? If so, then you need to plan what you'll do with your luggage.
Whilst most accommodation providers are happy to store your bags either before or after your stay, don't just assume this will be the case and be sure to check ahead.
If it turns out there is no luggage storage facility at your accommodation, then you need to make alternative arrangements. Fortunately, there are many private companies offering this service across Santorini.
Just be sure to book ahead – especially at the height of the season – as they can get very busy.
Activities In Santorini
Santorini offers lots for its visitors to see and do, so you will need to take a look at all the attractions and decide which ones are 'must sees'. My list of What to do in Santorini (below) will help you with this. 
If there are lots of things that appeal to you – particularly if they are located some distance apart – then you really need to allow yourself enough time to see them all. It can be disappointing to leave a destination feeling as if your visit really didn't do it justice.
That said, we recommend you book your activities and tours in advance to make the most of your trip to Santorini.
Pace Of Activities
When deciding how many days in Santorini is enough, your preferred pace of activities is key!
Although I've given suggested amounts of time to spend at Santorini's main attractions, you could possibly spend less time at each one in order to squeeze more into a short visit. This is fine if you are someone who enjoys a fast-paced break.
But if you want to really get a feel for the island – and even spend some time relaxing and people watching – then you should definitely opt for a longer stay of around 3 to 4 nights.
Transportation
Getting around Santorini is relatively easy – but if you only have a short amount of time then speed is of the essence! 
For that reason, I strongly recommend renting a car, as it gives you complete independence and flexibility. Alternatively, rent a motorbike which is not only more fun but is much easier to park!
PSSST. Want to get FREE accommodation in exchange for work?
If you're traveling on a budget or want to save and extend your trip, this could be exactly what you're looking for. Worldpackers is a platform that connects travelers like you with hosts. It's just like volunteer work –exchange your skills for free accommodation. SAVE $10 using my discount code. Learn more about how it works here.
There are other options, but they may be more suitable if you are staying for longer than 2 days as your travel time will be a little greater. 
There is a good, low-cost bus service on the island, which uses Fira as its main hub. All routes start and finish there. There are also taxis, but no UBER or Lyft. Taxis on Santorini don't use meters and the prices are fixed, so you can find out your fare in advance. 
What To Do In Santorini
Here are Santorini's best attractions, with my suggestions for how long to spend at each.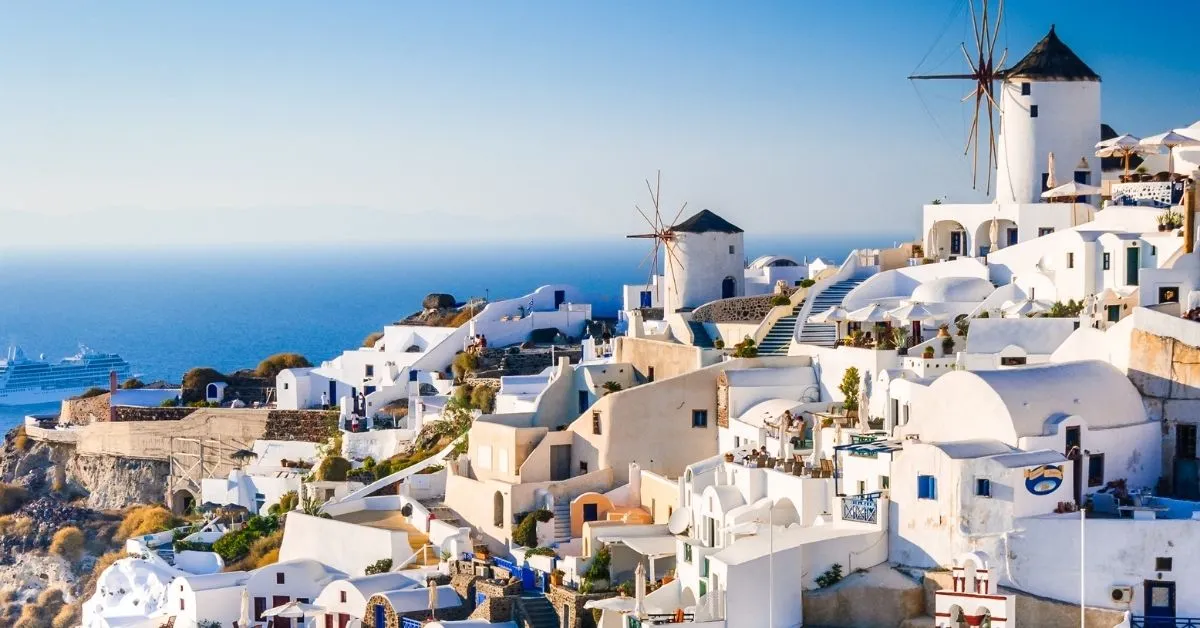 Fira
This is Santorini's capital and one of the very best parts of the island. 
A small city, it looks like the scene from a postcard, with pretty narrow cobbled alleys, stunning views of the caldera, and its lovely white and blue houses at every turn. 
There are lots of ancient churches to explore and the Archaeological Museum of Thera is located here, where you can learn more about the island's heritage. 
Be sure to check out the old port (Gialos) at the bottom of the cliffs below the town. You can reach it by cable car, or via the 587 Karavolades stairs that wind down the hillside.
Suggested time: Minimum of 3 hours
Akrotiri Archaeological Site
Akrotiri is often referred to as the 'Greek Pompeii' because it was once covered in volcanic ash from an enormous eruption. This Bronze Age settlement is now one of the most important archaeological sites in the Aegean, perfectly preserved and absolutely fascinating to visit. 
It is covered by a bioclimatic roof and you can walk above and among the two and three-story buildings. This allows you to see up close the work areas and homes just as they were before the eruption. 
You can book an Akrotiri guided walking tour to learn more about the ancient civilization of Santorini.
Suggested time: 1 to 2 hours
Santo's Winery
Spectacular volcanic views coupled with the very best wines and food – what better experience could you ask for? 
This state-of-the-art winery is located in Pyrgos, a traditional village situated on the top of a caldera. 
During your visit, you get to try a variety of wines as you listen to music (sometimes live, depending on when you visit). You can opt for a guided tour to learn about the history of Santorini wine, or visit in the evening for a uniquely romantic experience. 
There is also a shop and restaurant.
That said, you could combine a wine tasting tour with other highlights if you're on a tight schedule. We recommend browsing the tours here to see what's available.
Suggested time: Minimum of 2 hours
Santorini Volcano
No visit to Santorini would be complete without a hike to the top of the legendary volcano that sits just off its shores. 
There are frequent boat services to take you there, with some stopping on the edge of the geothermal points that heat the ocean so you can feel for yourself the drastic temperature difference.
As you ascend the slopes of the volcano you can actually see smoke coming through the rocks and the ground feels warm when you touch it – a unique experience! 
Be prepared for the heat and a rugged (but relatively easy) hike.
Some people combine a cruise, hot springs, and a hike during their trip to the Santorini volcano. You can browse the guided tour options here.
Suggested time: Minimum of 3 hours
Oia At Sunset
The sunsets are beautiful all over Santorini – but nowhere more than at Oia, a scenic village on the island's northwest edge. 
The best spot to choose is at the ruins of Oia's Byzantine Castle, which gives you not only the most spectacular sunset views but also allows you to look right across the entire city. Be sure to arrive well before the sun goes down as this popular spot gets very busy!
Suggested time: 2 to 3 hours
Hike From Fira To Oia
Hiking this 9 km trail is one of Santorini's most popular activities and the views along the route are simply jaw-dropping.
One moment you are passing through pretty little villages with lovely white buildings, the next you are looking in awe at the raging ocean water and rugged coastline. 
The path is a combination of dirt trails and paved streets with little shade, so make sure you wear the right shoes and bring plenty of water. Although you can walk the route in either direction, the journey from Fira to Oia is mostly downhill and the easier option.
Suggested time: 3 to 5 hours
Open Air Cinema
The perfect, relaxing end to a busy day's sightseeing is to catch a movie at the wonderful open-air cinema located in Kamari Village. 
It has about 100 seats and offers everything you could possibly want for your movie experience, including traditional Greek food, wine, beer, and even cocktails! 
It's worth reserving your seat in advance, as this allows you to skip the line to get the best seats in the house. It also guarantees you a seat, as this popular cinema can get very busy!
Final Thoughts On Santorini Getaways
So just how many days do you need in Santorini to see the best of this romantic Greek island? I hope this guide has helped you decide and has inspired an exciting itinerary that will suit you and your group.
Traveling to Greece soon? Read one of the following blog posts: