Searching for a solution to send money abroad easily? How about a multi-currency account? In this post, we'll tell you exactly how Wise works.
One of the biggest problems for travelers overseas is accessing their money. Withdrawing money using your bank's debit card often comes with high fees and terrible conversion rates. International money affairs are not just a concern for travelers, though.
It's essential for digital nomads and expats living and working abroad to have full access to their finances. 
What if I told you there is an innovative modern banking solution that will make your life easier, not harder, when traveling.
Let me introduce you to the online money transfer app, Wise.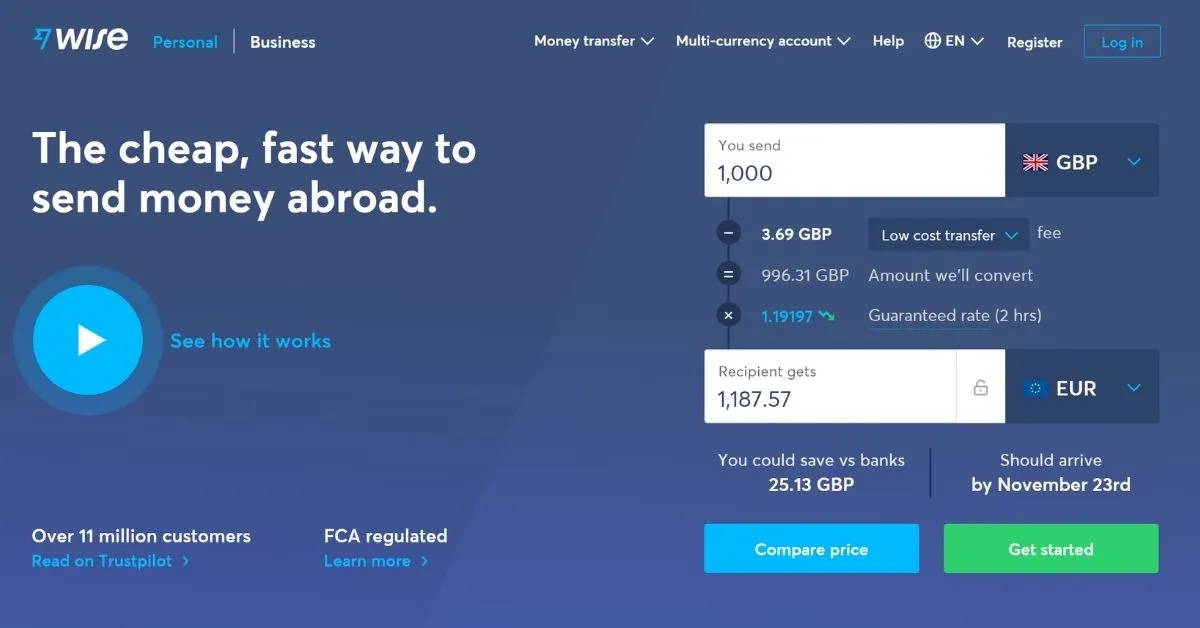 What Is Wise?
Previously known as TransferWise, you may have heard of this electronic money platform before. Perhaps you've wondered "how does Wise work" and "how will it benefit me?"
Wise was founded in the UK in 2011, starting as a simple overseas money transfer service. However, over the last ten years, Wise has grown into an extensive multi-currency account.
Nowadays, it's an essential financial tool for anyone who spends considerable time outside their home country. 
What Does Wise Allow You To Do?
Convert and hold your money in over 50 currencies using the real exchange rate.

Withdraw cash from ATMs all over the world in the local currency using your Wise debit card.  

Pay for goods online and in shops in the local currency using your Wise debit card.

Receive payments in 9 different currencies with authentic account details that you can share with others to get paid like a local. These include GBP, EURO, USD, CAD, AUD, NZD, and more.

Send money to 80 countries

Transfer money between your bank account and Wise whenever you like, in less than a minute.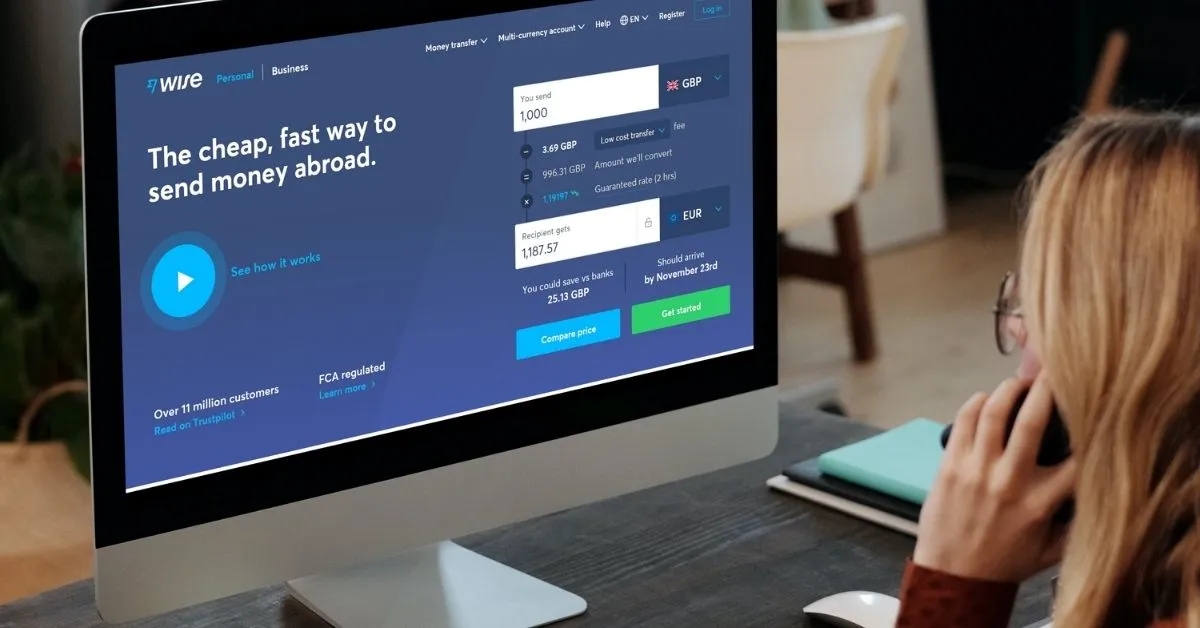 Is Wise A Bank?
Wise is an electronic money account, not a bank. It is designed to make sending and receiving money abroad cheaper and easier than with a traditional bank.
Although you will receive a Mastercard debit card that you can use in multiple countries, Wise does not function as a bank and stands out in various ways, such as:
You can not go overdrawn or take out a loan

You will not earn interest on the money you hold in your Wise account

Your money is protected in a different way than it is with a traditional bank. Instead of using financial protection schemes, like the FSCS, Wise safeguards your money following FCA regulations.
That said, you should note that certain countries are not eligible for bank cards. Now, if you just want to get paid in a multi-currency account – this could still be interesting because you can transfer money to any accounts (including yours) at very low costs.
For example, as a Canadian, I cannot apply for the Wise bank card – but I use Wise to transfer money, to get money, to pay my freelancers, and so on. I use Wise every week.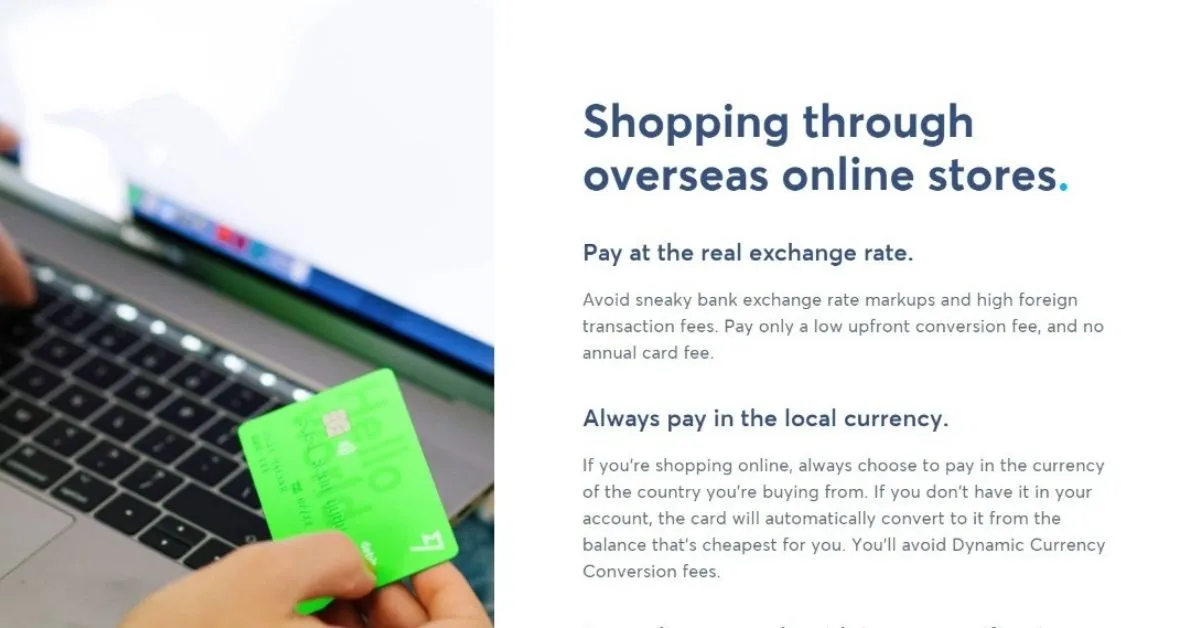 What Makes Wise Better Than Banks?
One of the biggest benefits of using Wise for international payments rather than your bank is their excellent foreign exchange rates.
Unlike most banks, Wise does not take a huge cut each time you send money abroad. Plus, they are super transparent by clearly displaying any fees plus the exact conversion rate before you confirm a transaction.
Moreover, Wise's fantastic exchange rates make using their debit card to withdraw cash on vacation a much better option than using your bank card. Plus, their exchange rates beat those of any currency exchange.
You can check the current rates on the homepage of their website using the currency calculator.
What's more, banks typically charge a fee every time you receive money from abroad or make an international payment. This is not the case with Wise, as you have multiple currencies in your wallet.
How Does Wise Work
Wise offers various benefits, depending on your needs. Here's an overview of how to use Wise if you're a traveler, digital nomad, or expat.
Wise For Travelers
Suppose you're going on vacation or an extended backpacking trip. In that case, you'll surely don't want to carry a ton of cash around with you.
So with Wise, you can load up your account by sending money from your bank account. Then, convert it to the currency you will need. Take your Wise debit card with you and use it to withdraw any amount of money you want from any ATM.
If you can't apply for a Wise Bank Card because of your country, you can always take a look at the Revolut travel card instead. That said, when I left Australia in 2016, I wanted to transfer money from my Australian bank account to my Canadian bank account and this is how I found Wise.
Wise For Digital Nomads
Wise is fantastic for digital nomads who are receiving currencies in multiple currencies. For example, say you're an American digital nomad currently living in Thailand. You have clients worldwide, so you get paid in USD, AUD, and GBP.
You can give your clients your account details for each of these countries, and they can pay you using these details. Your money will then appear in your Wise account in the currency your client sent. 
Now, as you're living in Thailand, you will want to convert the money to the local currency, Thai Baht (THB). You can quickly and effortlessly convert your USD, AUD, and GBP to THB at real-time exchange rates on the Wise app.
You can then withdraw your Thai Baht at a local ATM using your debit card or pay for goods in shops with the card.
Wise For Expats
What if you're working abroad and getting paid in a local currency, and you want to put a certain amount of your income into your savings account back home?
Wise makes this process super simple, too. For example, suppose a British person is on a working holiday in Australia. They can give their employer their AUD account details through Wise and get paid straight into their Wise account.
They can then convert it to GBP and send it to their bank account in the UK in less than a minute. 
How To Create An Account On Wise
Creating a Wise account is hassle-free and takes only a few minutes.
Sign up via the website or app with your email address. Choose your country of residence and set a password.

Fill out all the personal information required and verify your account via the confirmation email Wise will send you.

Verify your identity in two ways. Firstly, Wise will send you an SMS with a security code to your mobile phone. You'll then be required to upload your passport or another form of official ID.

Once your account is verified, you can add funds straight away. You can link your bank account to add funds via a bank transfer, or you can send money via a debit/credit card payment or through Apple Pay.

Wait for your Wise debit card to arrive in the post. In the meantime, you can share your multi-currency account details with clients to start receiving your payments into your Wise account. 
How To Send Money With Wise
Once you've set up your Wise bank account, sending money is easy.
From the homepage on the website, click on send money, or from the app, tap send.

If you have multiple currencies in your account, you'll need to select which balance you want to transfer from.

If making an international transfer, choose the currency you wish to send from the drop-down menu. 

Type in the amount, and you'll instantly see the fees for the transaction. Note that you cannot send less than 1 USD or the equivalent. 

If sending money internationally, you'll see the exact amount the recipient will receive as well as the conversion rate. You can click the comparison button to compare Wise's rate with competitors such as MoneyGram and Paypal. Wise is very honest and will tell you if another company is currently offering a better rate.

If you're happy, tap "continue" then "add a new recipient." 
If you are transferring money to your bank account, you can click on "myself" then enter your bank details. 

If sending to an individual, tap "someone else" and input their details. 

If paying a business, tap the "Business/Charity" option instead.

Note that you will need the address of the account as well as the bank name.
After inputting the details, click continue to review and confirm the transaction. 

Wise will tell you how long it took for the money to reach the recipient, which is usually only a few seconds. However, for various reasons, it can sometimes take longer. In these cases, Wise will email you when the transfer is complete.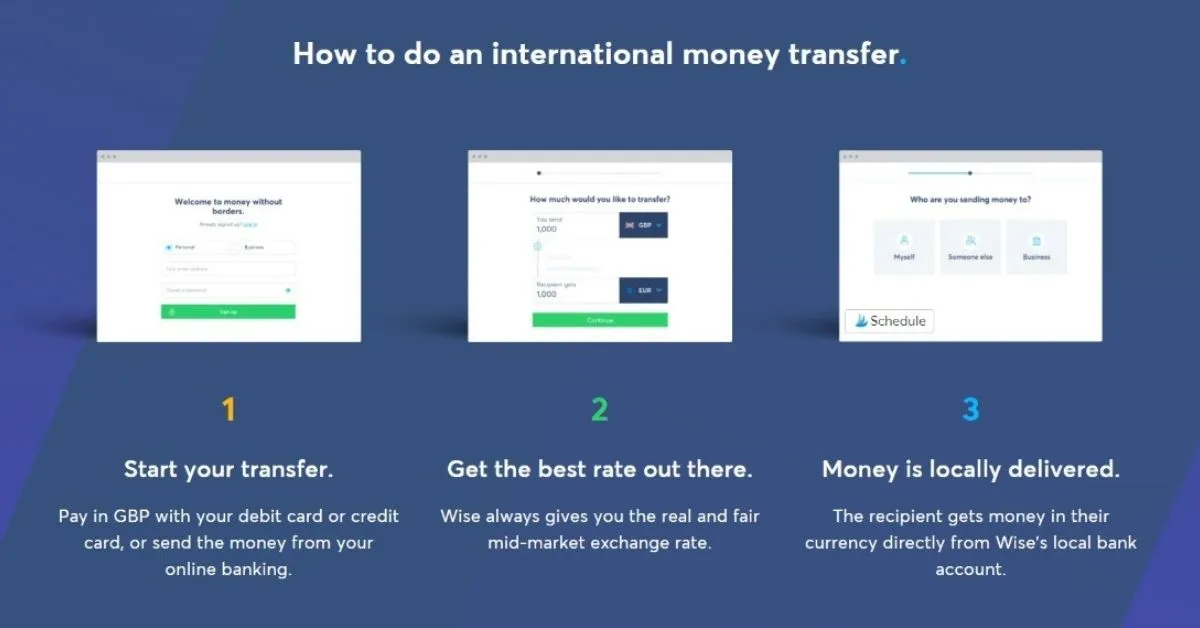 Sending Money To Other Wise Accounts
If you know the recipient also has a Wise account, the process is even quicker. Instead of selecting "add a new recipient" on the app, select the option below to send to friends on Wise.
You'll need to tap turn on to sync your Wise app with your phone contacts, as this is how they will find which of your friends has a Wise account. Therefore, you'll need to have their phone number saved.
If you're sending money via the desktop version, you can simply add their email address and that's it!
When you send money to another Wise account, you do not pay any fees. The only exception is if you are converting currencies. 
Final Thoughts On Wise
All online financial services can seem a bit confusing at first. Luckily though, Wise is super straightforward and both setting up an account and sending money is quick and stress-free.
So, if you were previously wondering "how does Wise work," I'm sure this guide has given you the knowledge you need.
What's more, Wise is a well-established company that complies with the financial regulations of all the countries it operates in, so you know your money is in good hands.
I've been using Wise for years now and I'm happy to recommend it.