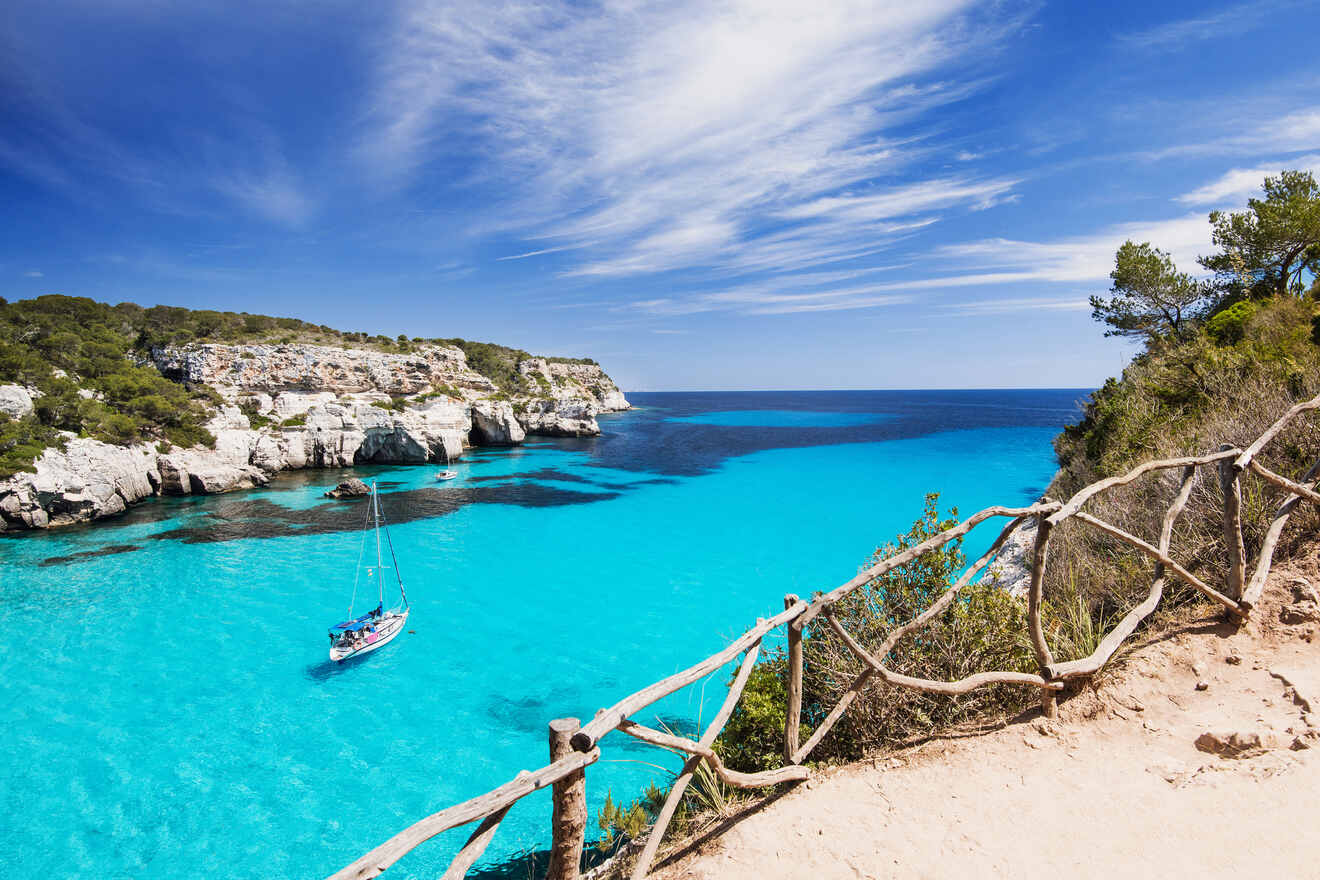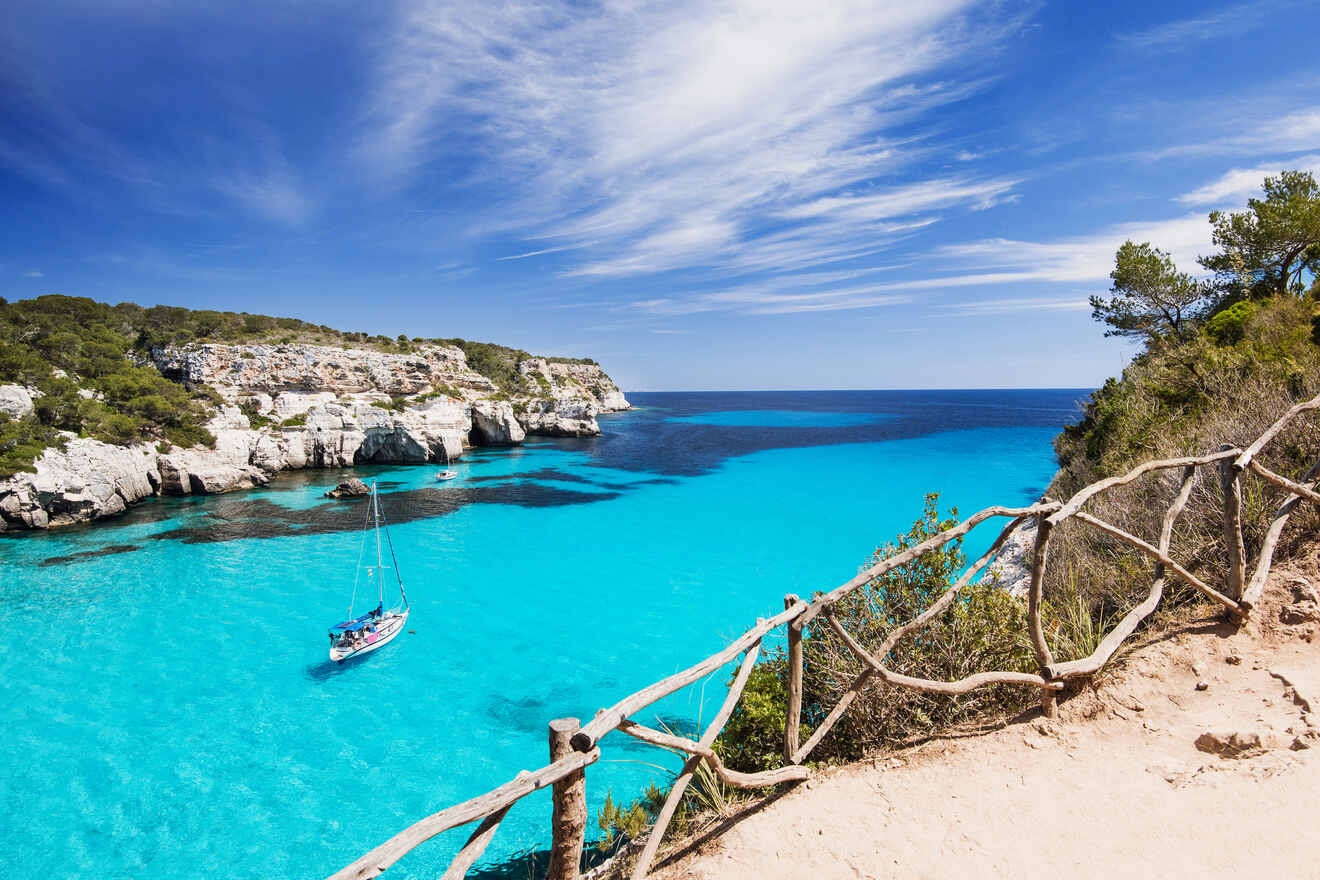 If you love soaking up in the sun all day, exploring archeological sites, and staying in a charming resort town then you've come to the perfect place. In this guide for where to stay in Menorca, I will be walking you through a carefully chosen list of hotels on the coast and the best beaches in town. 
Welcome to the home birth of mayonnaise, first created during the French rule in the 18th-century, and to the land where people take their gin very seriously! Say hello to Menorca, a lovely island made with tons of beach space and historical places. 
Menorca has the world's second-largest natural harbor, coming right after Pearl Harbour in Hawaii. The harbor is located in the capital city, Mahon, and it's a lovely place that you have to explore especially at night! The natural beauty of the island was rewarded and declared a UNESCO Biosphere Reserve in 1993, and you can't be surprised. I mean, have you seen their caves and beaches? 
You'll definitely want to book your resort in advance, especially if you stay in Ciutadella during July and August, where the Summer Music Festival takes place!
Now the not-so-fun part, choosing a resort town to stay in Menorca! Don't worry, Menorca is filled with amazing hotels and some of the best places to stay are so unique that you'll want to move here forever! And the good thing is that you will find a wide range of resorts located near the beaches, perfect for both families and couples! 
Vamonos, the beach is waiting for us!
If you are in a hurry
If you want to book now quickly check this list with the best hotels for where to stay in Menorca:
airbnb
Stylish Loft
An Airbnb with amazing reviews
budget hotel
Hotel La Isla
Best affordable accommodation in the center
Here's a map that will help you visualize all the best places to stay in Menorca and areas that I will be talking about in this post:
1. Mahón – where to stay in Menorca for the first time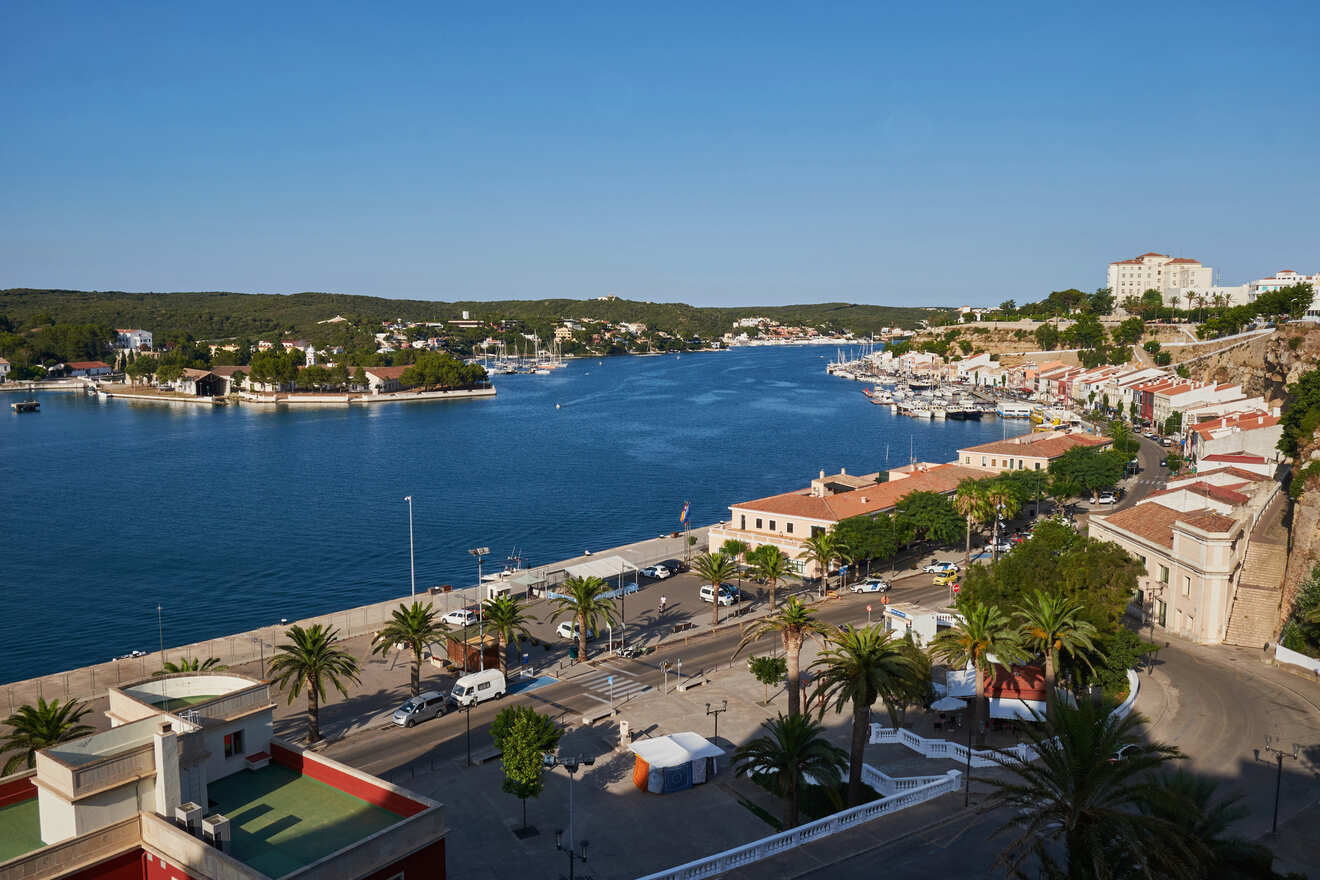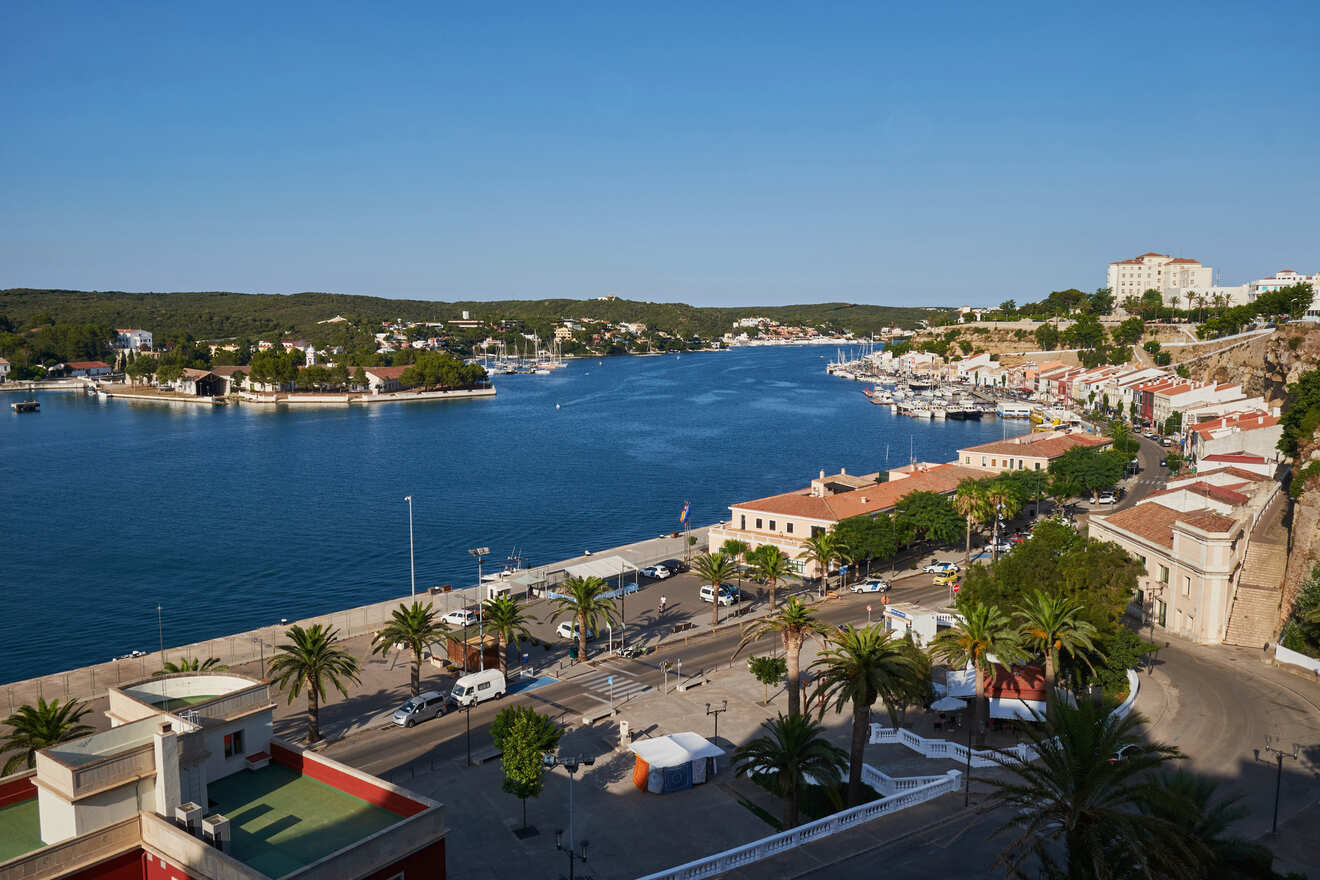 Are you ready for some fun in the sun? There's something about Spain, it just gets me in a good mood! Maybe it's the Mediterranean beaches (which are stunning by the way!), or it's just the atmosphere, but either way, get yourself a cocktail and let's visit the beautiful Mahón neighborhood. This is the perfect place if you're visiting this island for the first time, and is also where the airport is located. 
The capital city boasts an impressive natural harbor, it's the second-largest one in Europe! This charming paradise has some of the best seaside cafes, seafood restaurants, and small boutique stores from where you can buy authentic souvenirs! That's always the first thing I do while I'm on holiday, it just gets me in the greatest mood!
It's lovely to explore Mahón during the day, you can visit some of its biggest attractions like the Santa Maria church and see the stunning organ that has more than 3000 individual pipes. However, the best way to enjoy the magic of this town is at night when the harbor becomes alive and all the clubs and bars open their doors! The street lights create a beautiful ambiance and you can hear the live jazz music playing as you walk along the natural harbor. 
Luxury hotel
Casa Ládico
Enjoy your stay in Menorca in this modern luxury hotel which is set in a 19th-century building! You can relax at the spa center or soak up the Spanish sun at the swimming pool which is surrounded by a beautiful lush garden! The rooms are very spacious and they have a private bathroom.
Other accommodation options in Mahón
mid-range
Artiem Capri
Have a lovely holiday on the Mediterranean sea in this beautiful hotel with spacious rooms and a spa center 
budget
Hotel La Isla
A friendly guesthouse located near the airport that has a laid back atmosphere and they offer room service 
airbnb
Stylish Loft
Relax by the fireplace in this modern and spacious loft apartment that has a kitchen, free wifi, and a bathtub 
Things to do in Mahón
Visit the Menorca Museum in Mahon
Admire the architecture of the peaceful Santa Maria de Maó Church
See some beautiful art at Ca n'Oliver Museum in Mahon
Eat a delicious meal at the friendly Mestre d'Aixa restaurant
Go exploring the Sa Plaça Market in Mahon
Check out the wide range of restaurants and bars along the natural harbor
2. Ciutadella de Menorca – best place to stay in Menorca for history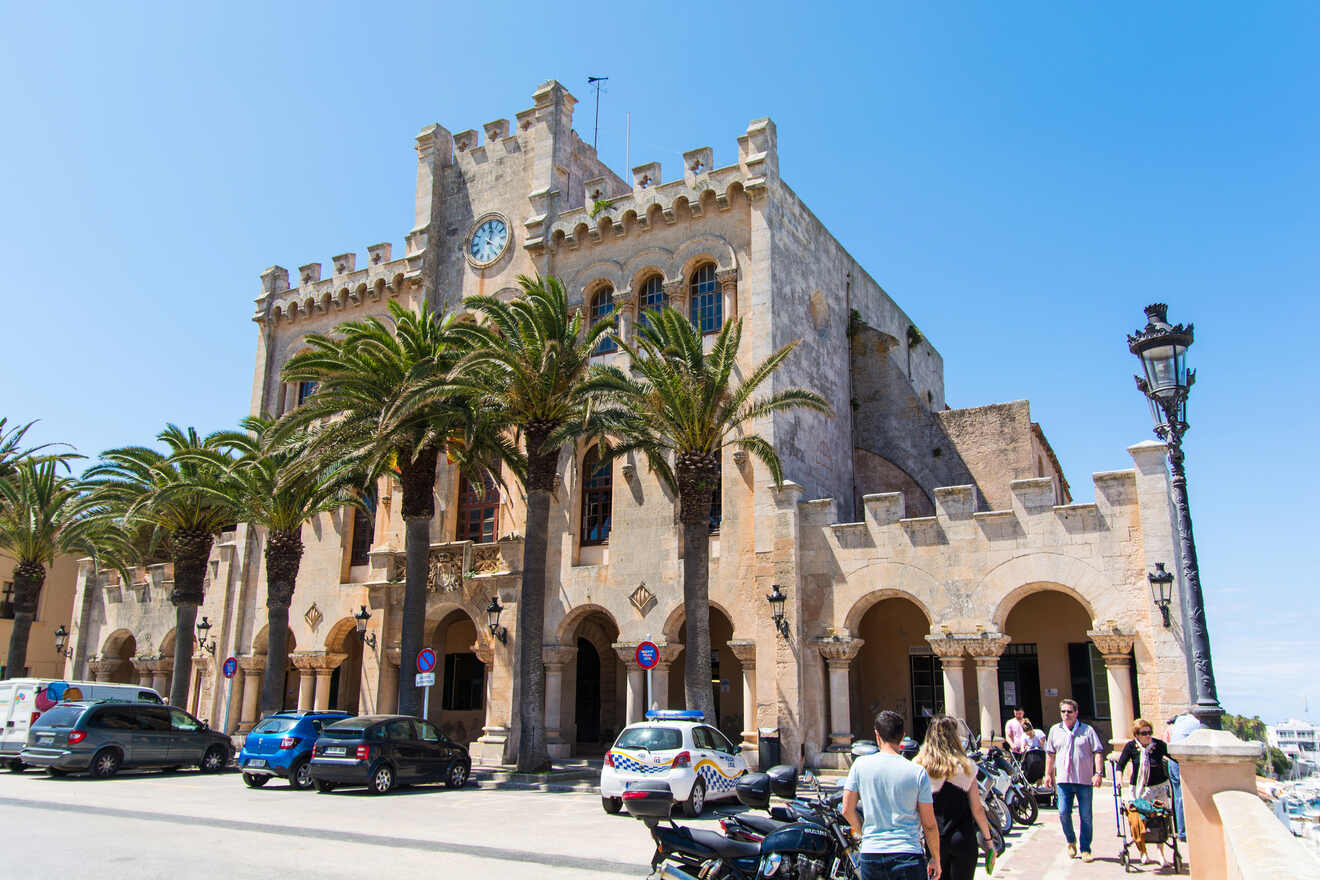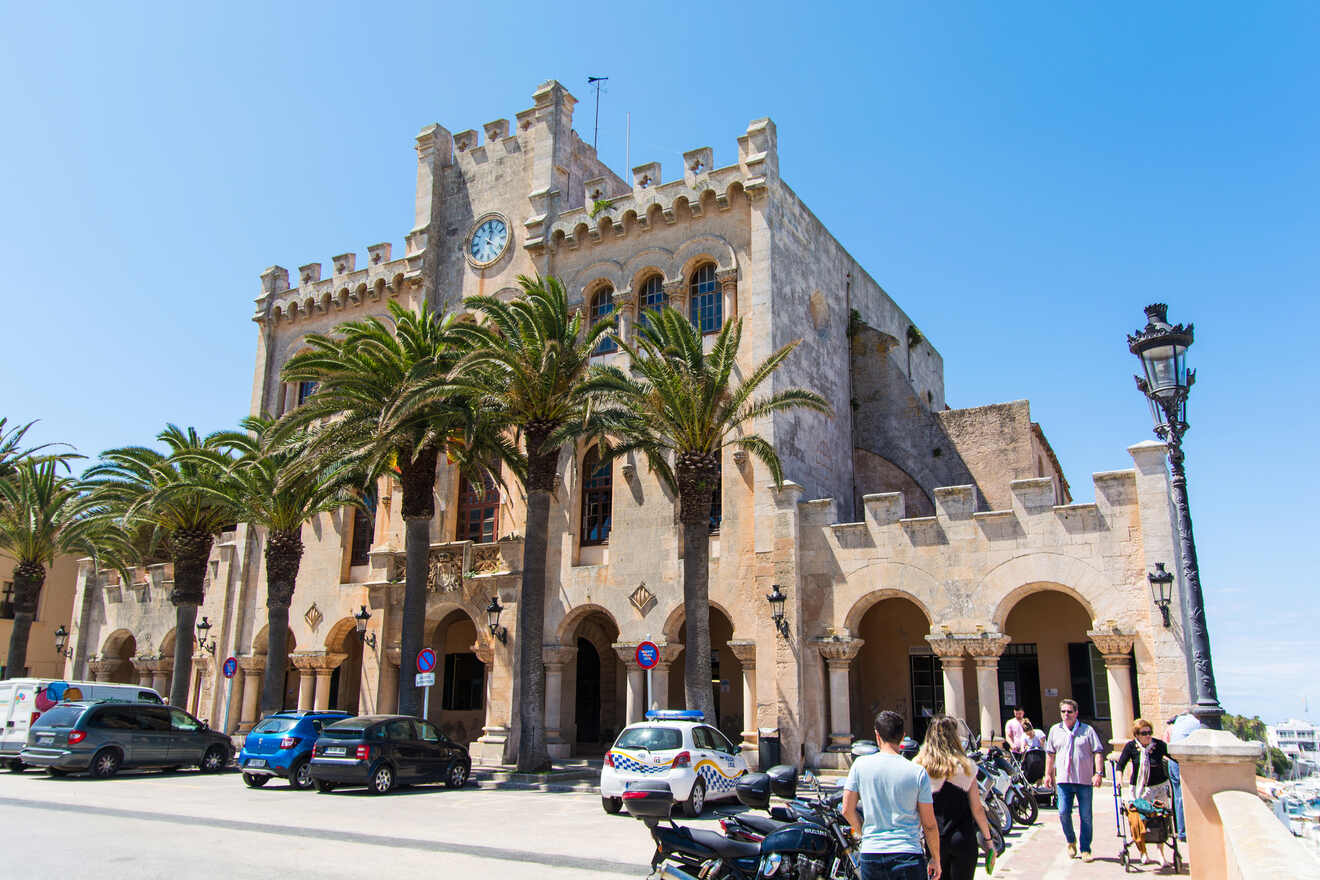 Located on the west side of the coast, 40 minutes drive from the Mahon airport, this village was once the capital of Menorca and is now one of the best villages to visit if you want to learn about the island's history during your holiday. Ciutadella de Menorca dates back to Roman times and until the 18th century when Mahon claimed its popularity, this coastal area charmed everyone with its baroque and gothic atmosphere which still exists until this day. 
I would explore Ciutadella de Menorca all day long! It's hard to resist walking the labyrinth of streets and seeing all the picturesque views of the light brown old houses with ornate brickwork. Although it's a beautiful place to stay, this area is mostly frequented by Spanish people during the weekend but is often overlooked by tourists coming from outside the country. This means that you will be able to enjoy some peace and quiet and maybe a lovely romantic time with your loved one! 
The friendly restaurants and bars by the port offer amazing views of the natural harbor. Make sure you try the local drink here, Gin Xoriguer mixed in with lemonade.
If you stay in Ciutadella de Menorca during July and August then you're in luck, because that's when the Summer Music Festival takes place. During those months this part of the island becomes alive during the day and night. Adults and children alike all love coming to stay here during the summer, but make sure you book in advance because all the best hotels sell out super fast during the festival period.
Luxury hotel
Hotel Can Faustino Relais & Chateaux
Can I stay in this 17th-century beautiful building forever? With a picturesque view of Ciutadella and the Mediterranean sea, this luxury hotel has not one but three buildings that have a traditional authentic design! Have a cocktail by the outdoor pool or head inside if it's too hot, they have an indoor one as well or, end your day with a spa session!
Other options in Ciutadella de Menorca
mid-range
Menorca Patricia
Located near the numerous coves on the coastline, this hotel has an outdoor pool, modern decor, and a bar 
budget
Cala Bona y Mar Blava
Enjoy a peaceful stay in this hotel that has a charming view of the Mediterranean Sea and a pool
airbnb
Modern Apartment
A private and quiet apartment that has a kitchen, two spacious rooms, and a balcony 
Things to do in Ciutadella de Menorca
Catch an art exhibition at VidrArt Gallery in Ciutadella de Menorca
Admire the architecture of the Ciutadella de Menorca Cathedral 
Enjoy the beautiful Cala'n Blanes beach in Ciutadella de Menorca
Learn new things about the town's history at Palacio Olivar 
See old artifacts at the Museum Municipal de Ciutadella
Enjoy the coastline entertainment in the Jazzbah bar at night
Go exploring the Municipal Market in Ciutadella de Menorca
3. Punta Prima – where to stay in Menorca for families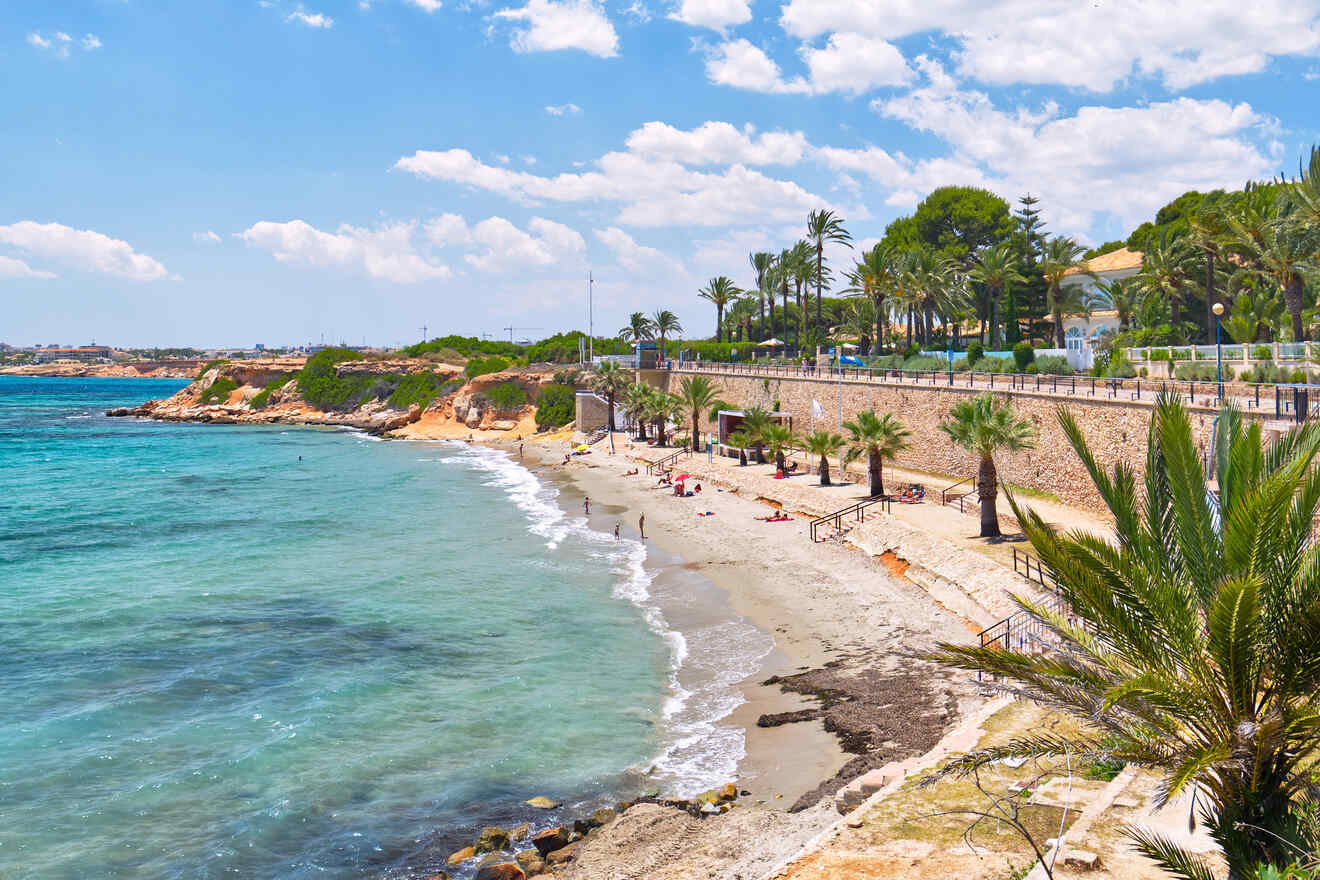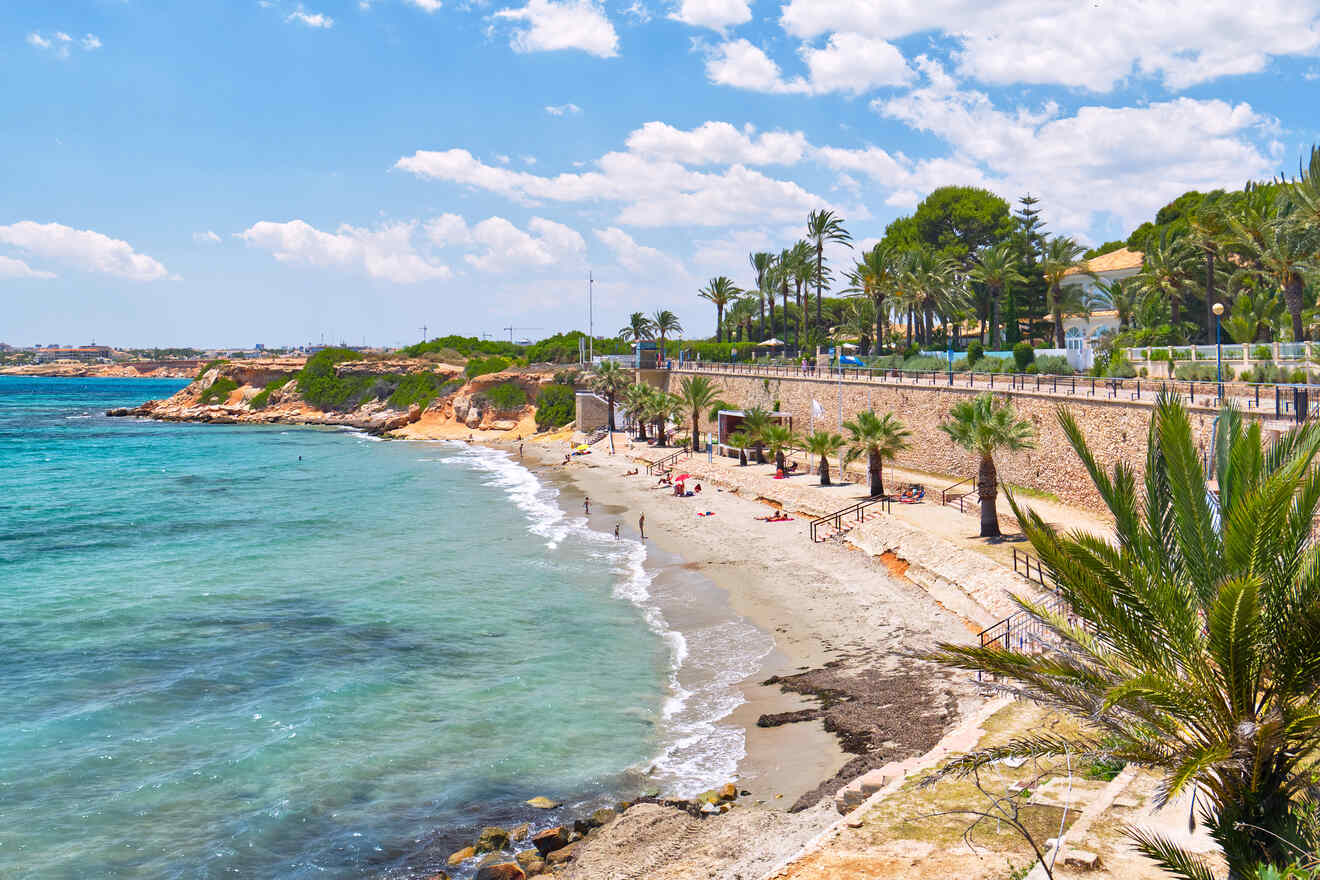 Located on the southeast part of the island, just 6 mi (10 km) away from Mahon, and a fifteen minutes drive from the airport, this resort town is one of the best villages in Menorca where you can bring your whole family and be sure that everyone from children to parents will have a great time during the holiday!
You will find a wide range of accommodations here from luxury resorts to budget hotels. Punta Prima is located in the "golden triangle" of the southeast coast, meaning that you have a lot of local charming villages nearby to explore with the kids. If you're traveling with the family and have a layover in Barcelona and hate the long lines, here's a post that will help you avoid the waiting time at some of the biggest attractions in the city. 
The white sand of the Punta Prima beach and the crystal clear water will definitely make you want to spend all day here. Families with small children should definitely stay in Punta Prima during their holiday to Menorca. This area is quiet and you'll find a family-friendly beach, perfect for adults and kids, with swings, slides, and other cool activities.
The atmosphere is very friendly and relaxed here, and if the beach doesn't really do it for you or the kids, you can go to the Splash Sur Menorca Waterpark and spend a fun day here. 
Luxury hotel
Prestige Suites & Spa
Relax by the outdoor pool while listening to the sound of the waves and enjoy the views of the garden. This luxury hotel is definitely the best place to stay in Menorca for families, the rooms have beautiful décor and great views. You can't get bored in this hotel that has three restaurants, a golf course, and a spa center!
Other accommodation options in Punta Prima
mid-range
Occidental Menorca
Have fun in the waterpark of this Menorca hotel that has 5 pools, a spa center, and family rooms with a balcony
budget
Comitas Isla del Aire
Enjoy the garden views from the pool of this lovely hotel that has a kids playground and family rooms
airbnb
Casa Milos
Relax in the pool with views of the sea in this romantic B&B that has traditional decor, a patio, and a kitchen
Things to do in Punta Prima
Enjoy a fun day at the family-friendly Punta Prima beach
Watch the sunset at the Torre de Son Ganxo lighthouse 
Take the children to the Splash Sur Menorca Waterpark
Go windsurfing with Supaire
Explore the Cala de Biniancolla cove
Eat some delicious Spanish food in the best restaurants at night
4. Cala Blanca – best place to stay in Menorca for beaches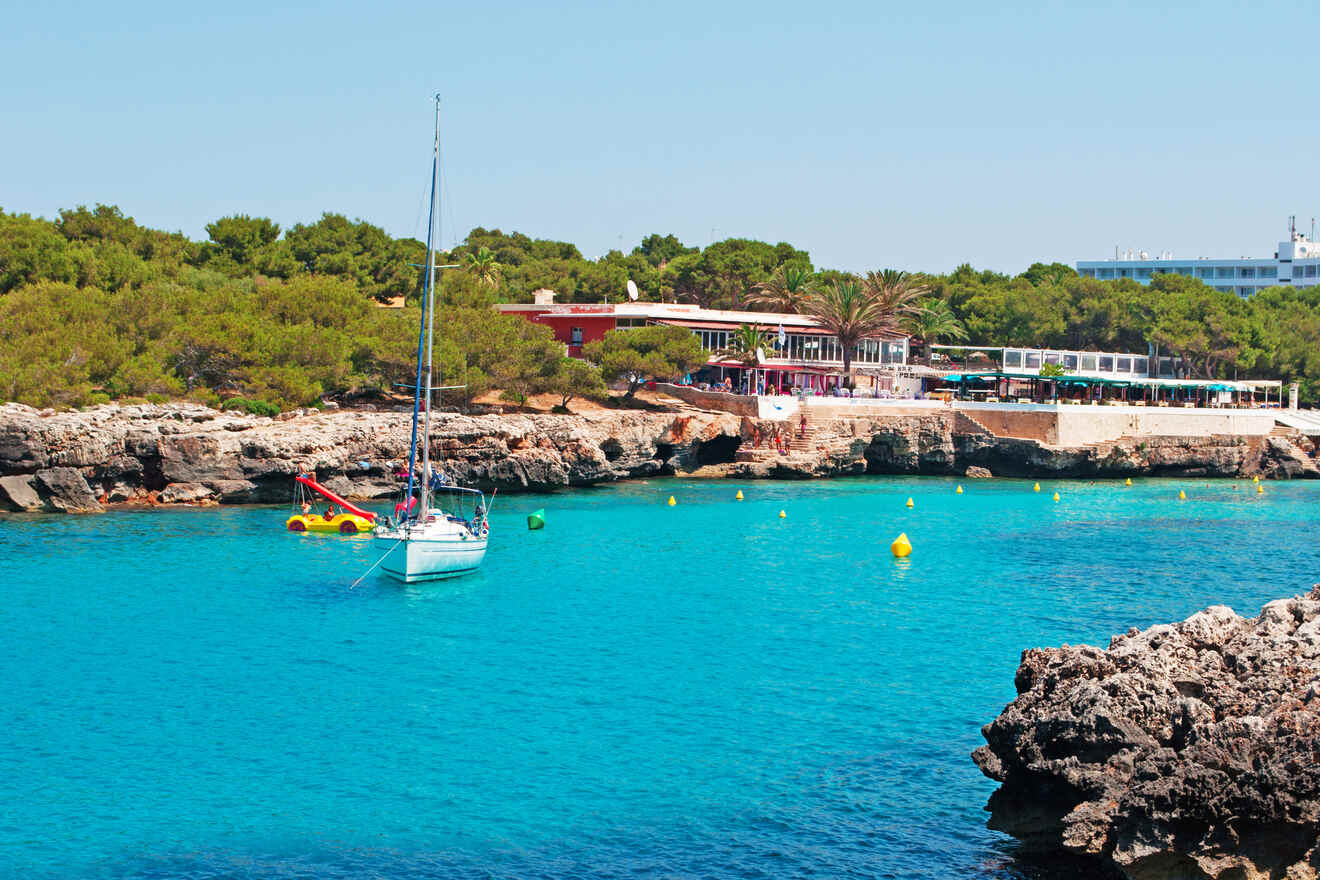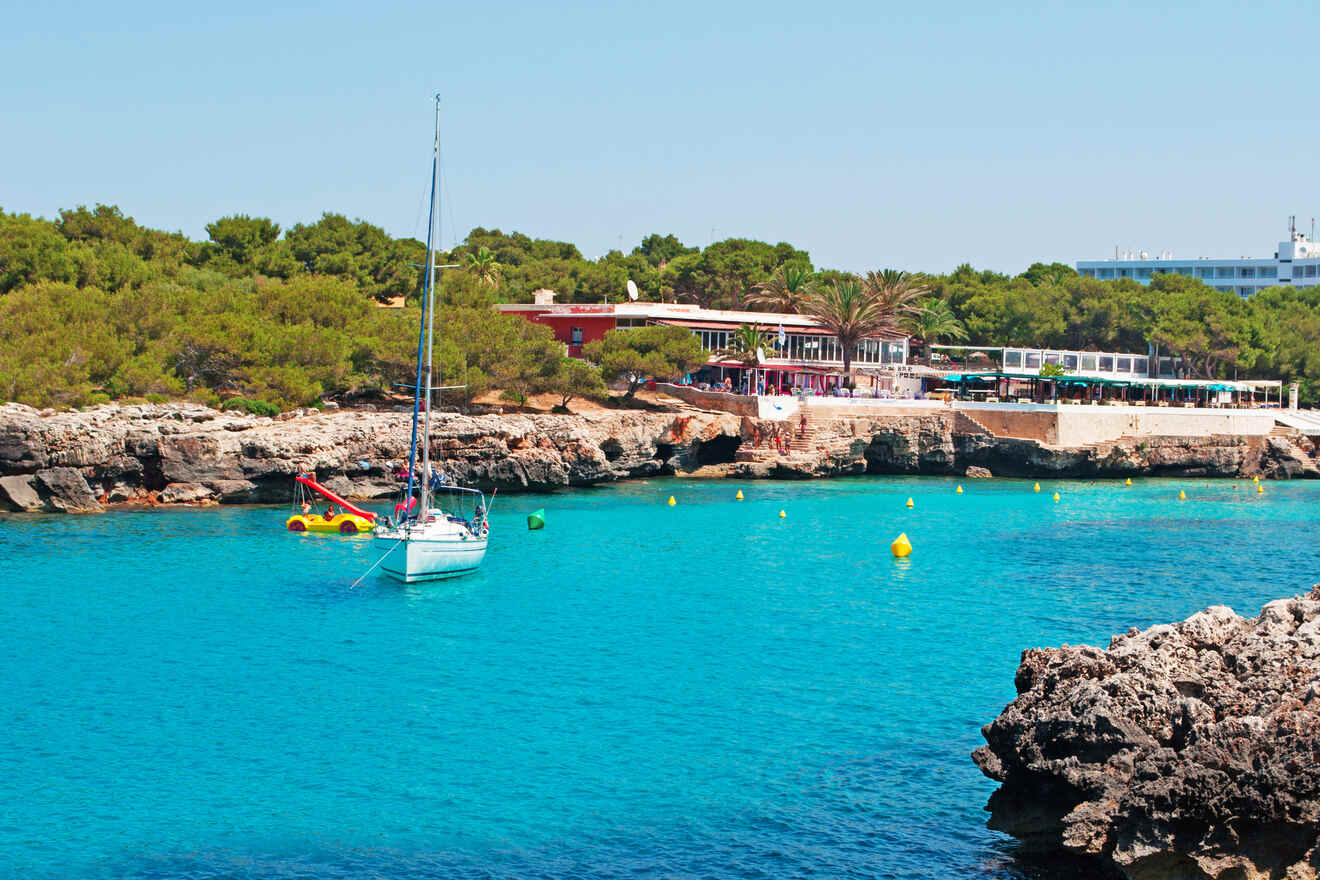 Located on the west coast of Menorca, 3 miles (5 km) away from Ciutadella de Menorca and just a forty minutes drive from the airport, this resort town is a corner of paradise made out of cove beaches, white sand, and turquoise waters. This resort area is filled with lots of restaurants and all the best hotels are nearby the two main beaches here, Cala Santandria Beach Playa and Cala Blanca.
This area is one of the best places to stay if all you want to do during your holiday is spend time tanning and swimming in the amazing water. Adults will probably love the fact that there will be many bars on the beach. I love a good old cocktail or cold beer while I'm at the beach, it gets me in that holiday mood! 😉
If you're feeling adventurous and you're up for some coastal fun, there are a few cliff trails in Cala Blanca, there's a great one that is accessible from Mahon and Ciutadella de Menorca and takes you to the beach in this beautiful coastal area. 
Luxury hotel
Globales Cala Blanca
A beautiful spot for your getaway to Menorca, this hotel is located within walking distance from the beach. You can enjoy breakfast on the outdoor terrace that has a nice view and then head to the pool for a swim. I would end the day by watching the sunset from the terrace and drinking a cocktail from the hotel's bar. Simply perfect!
Other accommodation options in Cala Blanca
mid-range
Sagitario Playa
Relax at the spa of this nice resort that has two pools family rooms and a tennis court near the beach
budget
Vista Playa II
Enjoy your stay in Menorca in these traditional whitewashed apartments that have a garden, and an outdoor pool
airbnb
Authentic House
A perfect place for your holiday in Menorca, this family-friendly house has a garden, a pool, and a kitchen 
Things to do in Cala Blanca
Visit the beautiful caves of Menorca at the Cova de s'Aigua 
Go cliff-jumping at Es Clot de Sa Cera beach 
Check the local bars and restaurants of the Cala Blanca 
Go on an adventure and walk the Cami de Cavalls trail
Soak up the Spanish sun at the Cala Santandria Beach and Cala Blanca beach
5. Cala en Porter – best place to stay for nightlife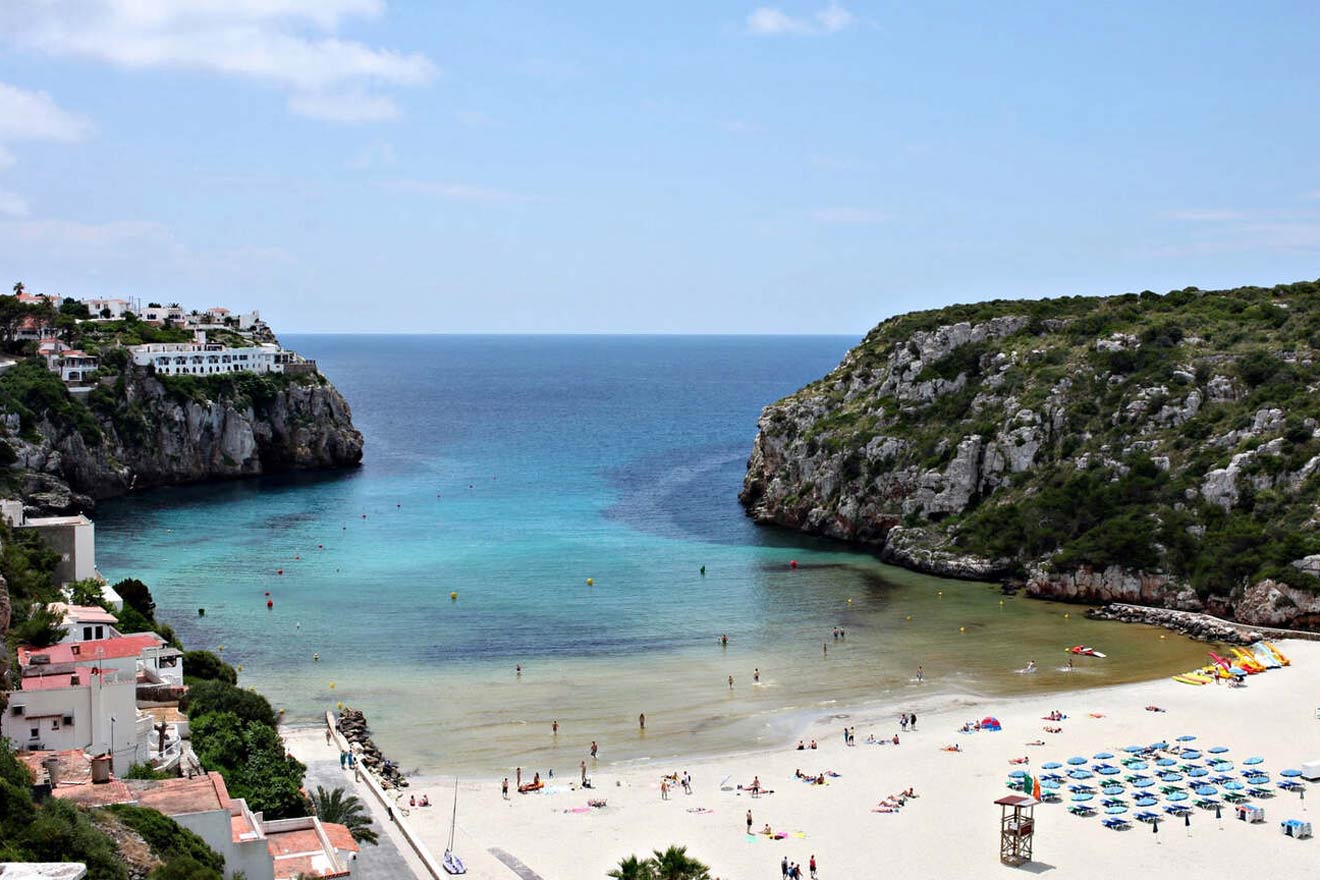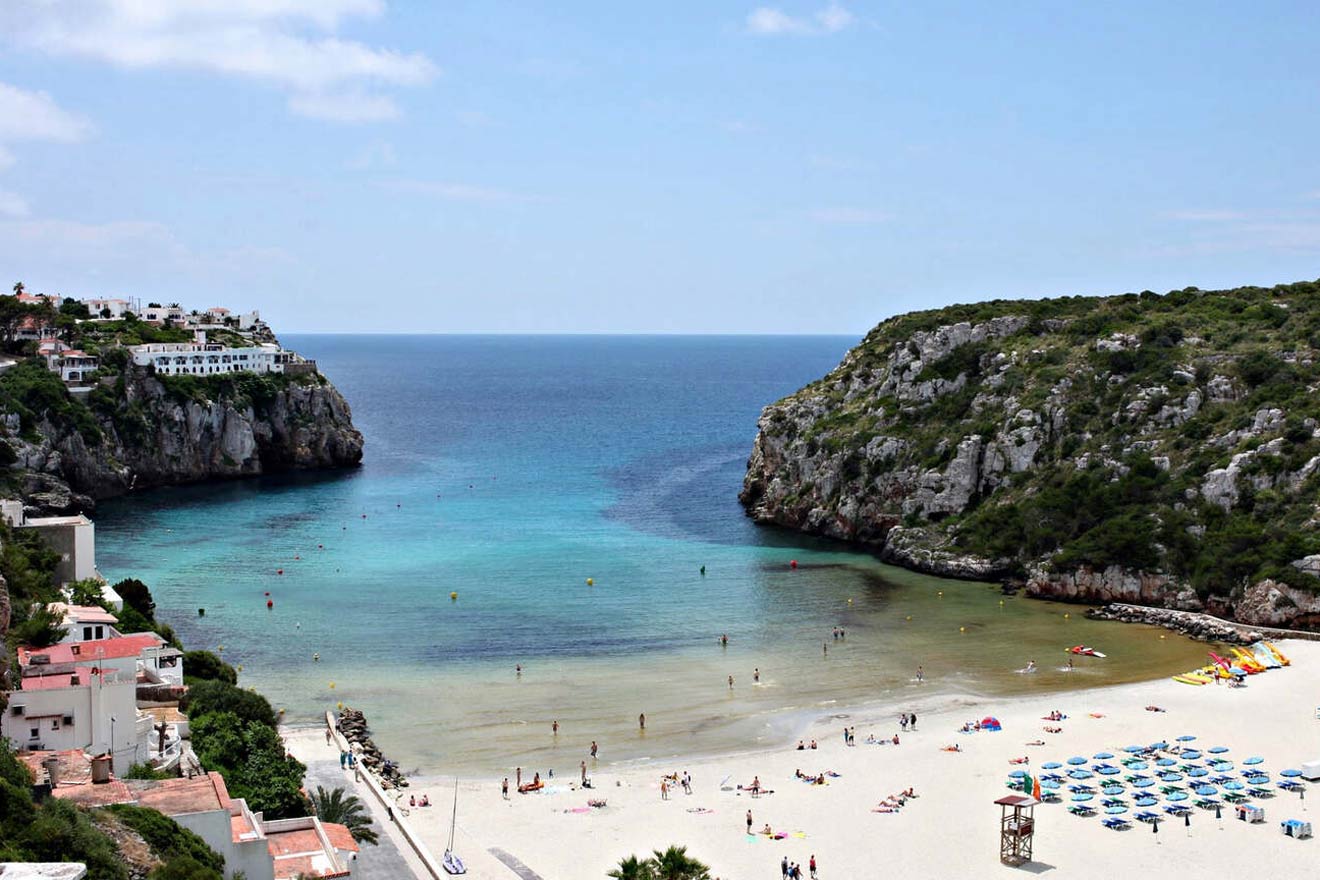 Located on the south coast of Menorca, 15 minutes away from the airport, this resort town is favored by all adults who are coming to have a good time and explore every club and restaurant on the island. This lively area has an incredible beach surrounded by cliffs and whitewashed houses where you can relax all day long and get ready to explore the nightlife of Menorca. 
The beach of this hillside town is situated almost 200 stairs away from the resorts and hotels, so you better be ready to walk down in order to access the water, but I assure you it's totally worth it! I simply love the private atmosphere of the beach in Cala en Porter, it is definitely one of the best places to stay if you want to experience that authentic island coast fun. 
Of course, the beach is one of the reasons people are coming here but let's not forget the main one, the nightlife of Cala en Porter. Get ready to see the most amazing and unique club that you've ever laid your eyes upon. Cova d'en Xoroi is a bar inside a cave! 
Yep, you've heard me! Honestly, you can't really beat a sunset here, the height of the cave, the terrace, and the drinks will make you fall in love with this place. It's no wonder no one ever wants to leave Cova d'en Xoroi, and they spend hours here drinking and just enjoying the views of the Mediterranean sea. 
Luxury hotel
Torralbenc
This place is perfect for anyone who is looking for a romantic stay in Menorca. I love the authentic look with the whitewashed walls and traditional decor. This hillside hotel has an outdoor pool with the best views of the town. After exploring the nightlife here you'll crave a hot meal from the hotel's restaurant, it's the best!
Other accommodation options in Cala en Porter
mid-range
Hotel Sa Barrera
One of the best beachfront hotels in Menorca where dinner comes with a view and they have a bar and a pool
budget
Vintage House
A lovely apartment on the coast that has a spacious room, a kitchen, and a terrace with a nice view 
airbnb
Disfrute de Menorca
Enjoy some peace and quiet in this authentic villa that has an outdoor pool, free wifi, and a cozy room 
Things to do in Cala en Porter 
Watch the sunset and get a drink at Cava d'en Xoroi 
Go and see the beautiful caves at the Cales Coves beach
Enjoy the nightlife of this lively town in Menorca
Walk along the Bahia Park
Go day-drinking at the Cala en Porter beach 
Eat at the best local restaurants
Try kayaking 
6. Son Bou – where to stay in Menorca for water-sports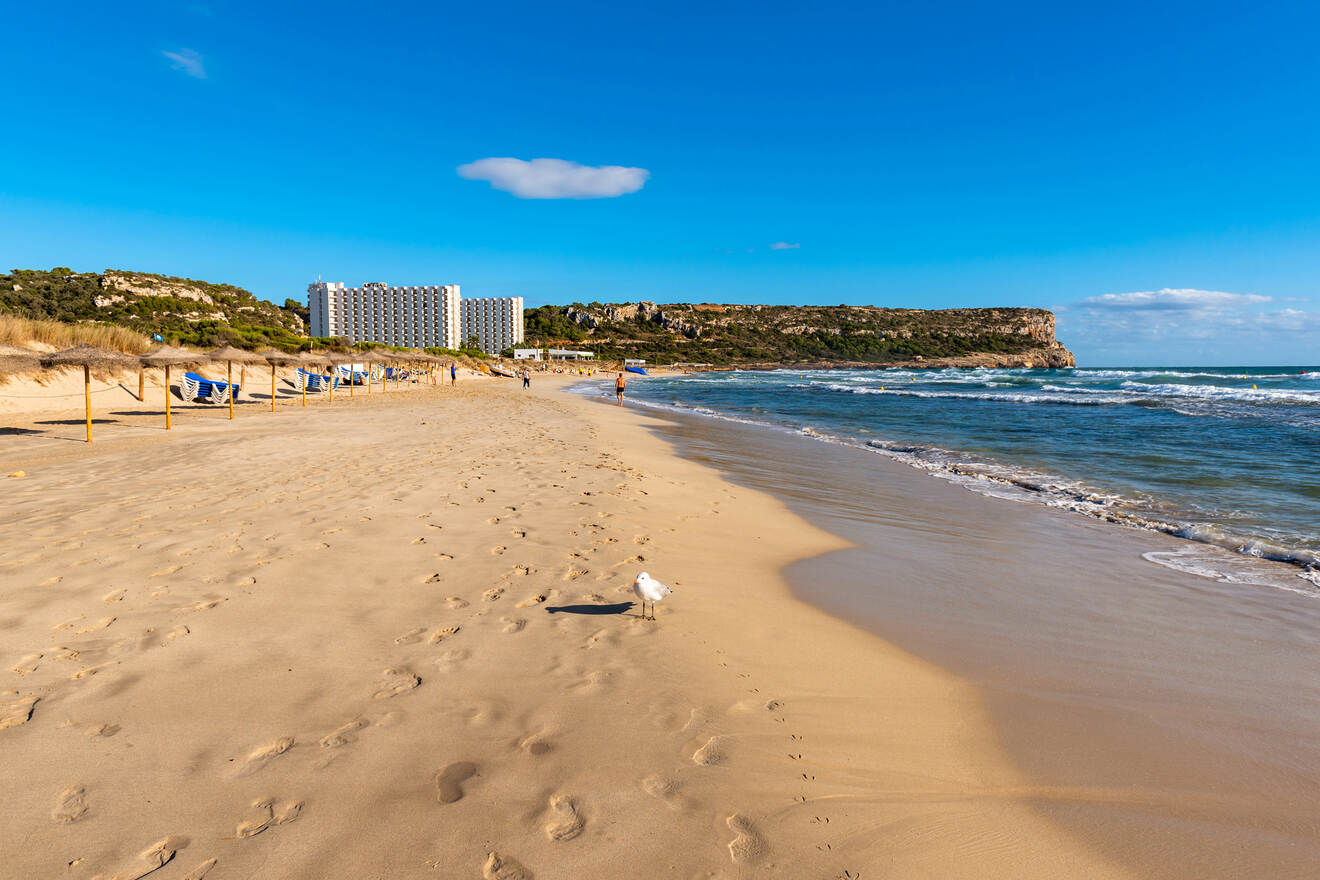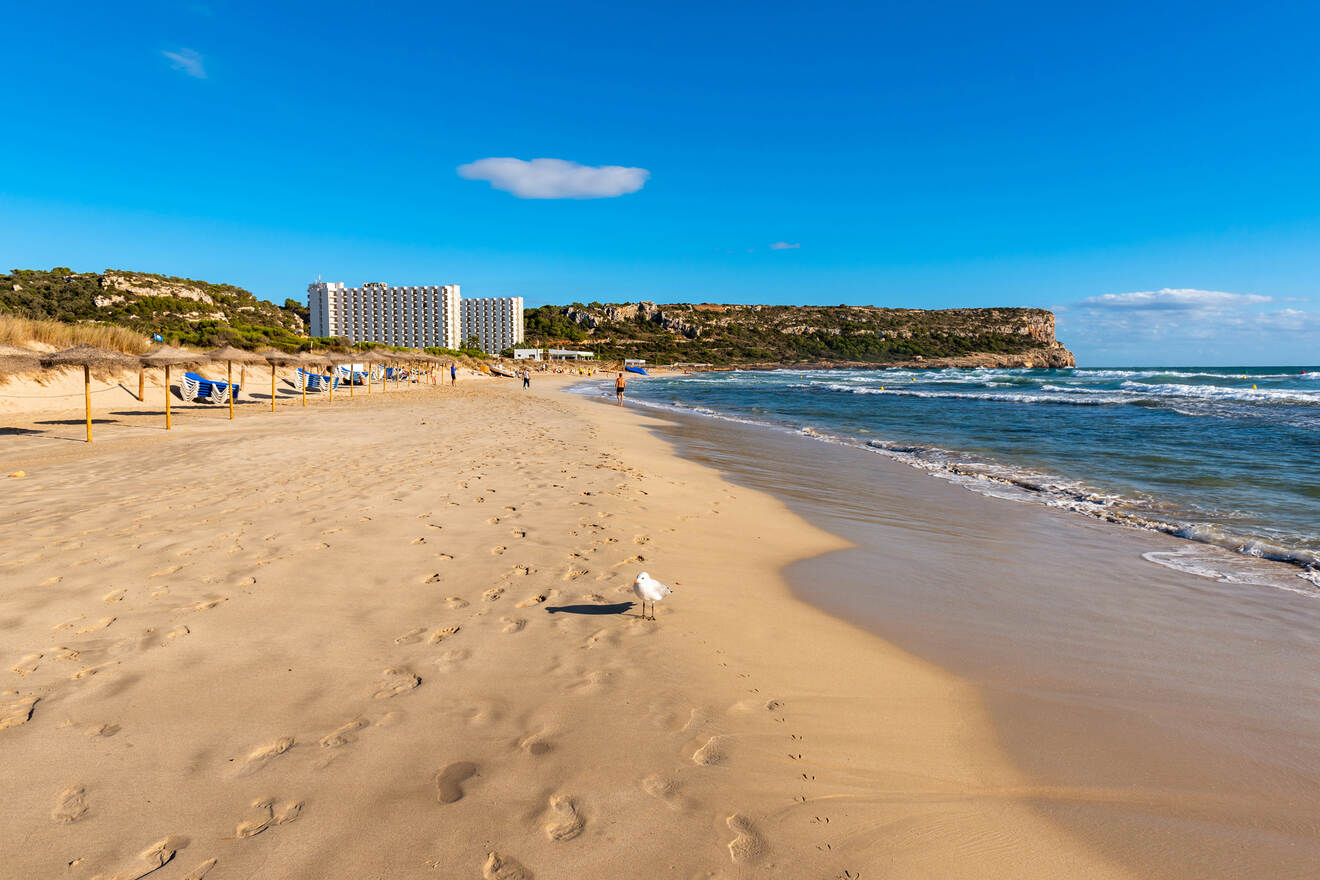 Located in the middle of the south coast, just 20 minutes away from the airport, this resort town is famous for its 1 mile (2 km) long beach which is perfect for anyone who loves kayaking or other water sports!
For families with small children, you will find a lot of sunbeds and umbrellas where you can stay all day in case the little ones need a nap or to shield them from the sun. Adults, they haven't forgotten about you, there are also a lot of beach bars if you need a cold beer or lemonade to cool off!
The waters and dunes at the Son Bou beach make this resort area the best place in the city to go scuba diving and if you're not feeling very energized you can go sailing on a boat tour, they are amazing! You get to see almost the entire island and coast and take the best pictures at sunset.
On the east side of the beach, there is a commercial center which comes in handy for any tourist in the city who wants to grab a bite or have a drink before or after going to see all the beautiful beaches. The restaurants here are for all budgets so you don't have to worry about pricey meals.
There are many resorts and hotels in Son Bou as well as villas and apartments. This area really has it all, I think that if you want to get a whole experience of Menorca, Son Bou is the perfect spot!
Luxury hotel
Royal Son Bou Family Club
Families will absolutely love this resort hotel in town! It has numerous activities for both adults and kids including a swimming pool and a children's pool, a playground, and a games room. It's fair to say they won't get bored! It's one of the best places to stay as it also has a great view of the beach and two restaurants that have an international buffet.
Other accommodation options in Son Bou
mid-range
Valentin Son Bou
Have fun on the tennis courts and games rooms of this hillside hotel that has spacious rooms and a restaurant
budget
Mestral & Llebeig
One of the best hotels in Son Bou for families who travel with kids, that has a pool, a garden, and great city views
airbnb
Traditional Apartment
This apartment is located within walking distance of the beach and it has a lovely patio, a pool, and a kitchen
Things to do in Son Bou
Go scuba diving on the Son Bou beach 
Visit the unique Basílica de Son Bou with the family
Go on a boat tour with the family for the best views of the coast
Admire the beautiful Cala de Llucalcari bay beach and sunbathe all day
See all the biodiversity of Menorca at Prat de Son Bou nature preserve
Take the kids out to eat at the commercial center nearby
| | |
| --- | --- |
| 👑 Luxury price: | €230 |
| 🏨 Mid Range: | €150 |
| 🛏️ Budget: | €100 |
| 🏠 Airbnb: | €220 |
| 💰 Accommodation prices: | Medium |
| 📍 Best Area: | Mahon |
| 🛎️ Best luxury hotel: | Casa Ládico |
| 👛 Best budget hotel: | Hotel La Isla |
BONUS: Ibiza, Mallorca or Menorca? Which best for you?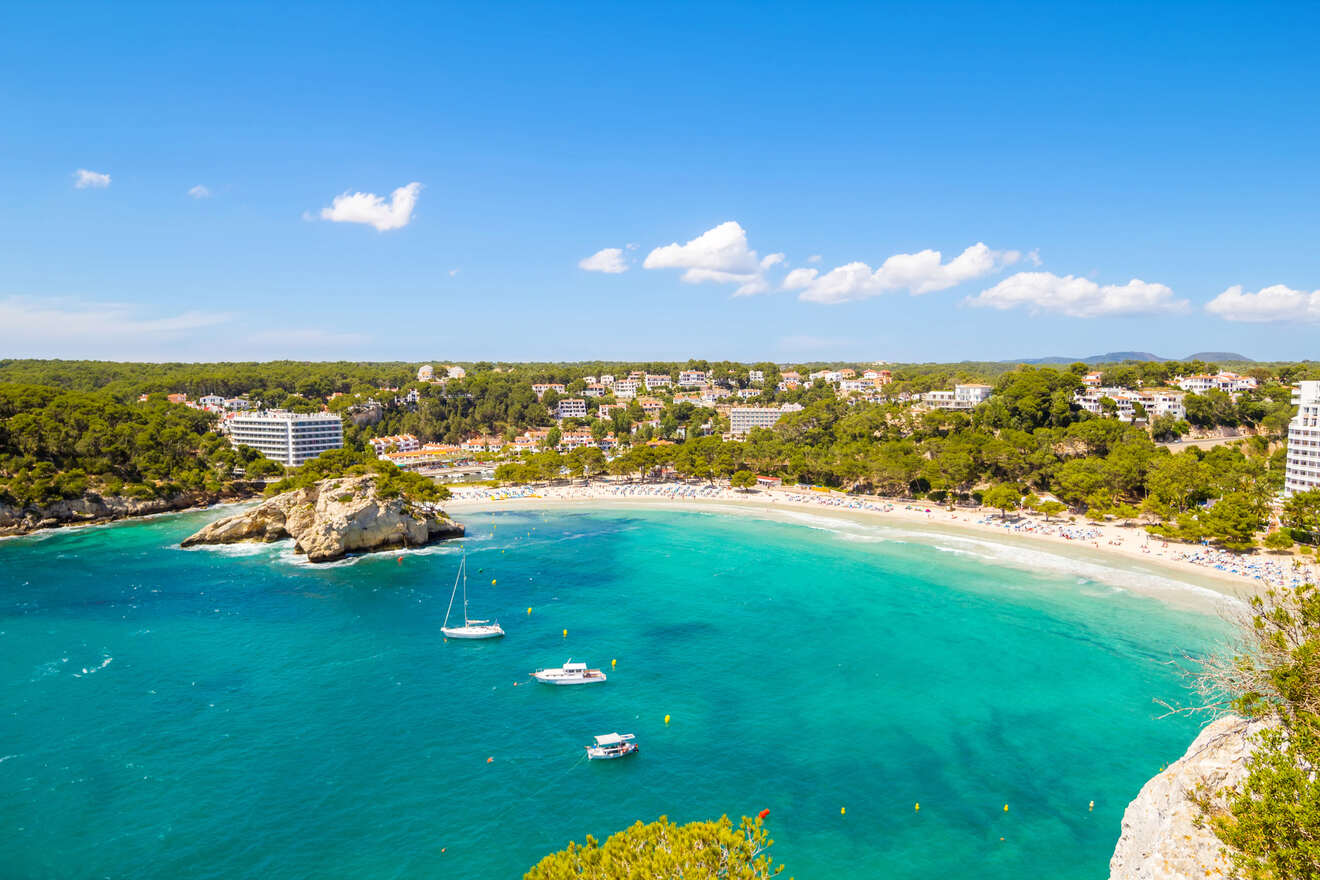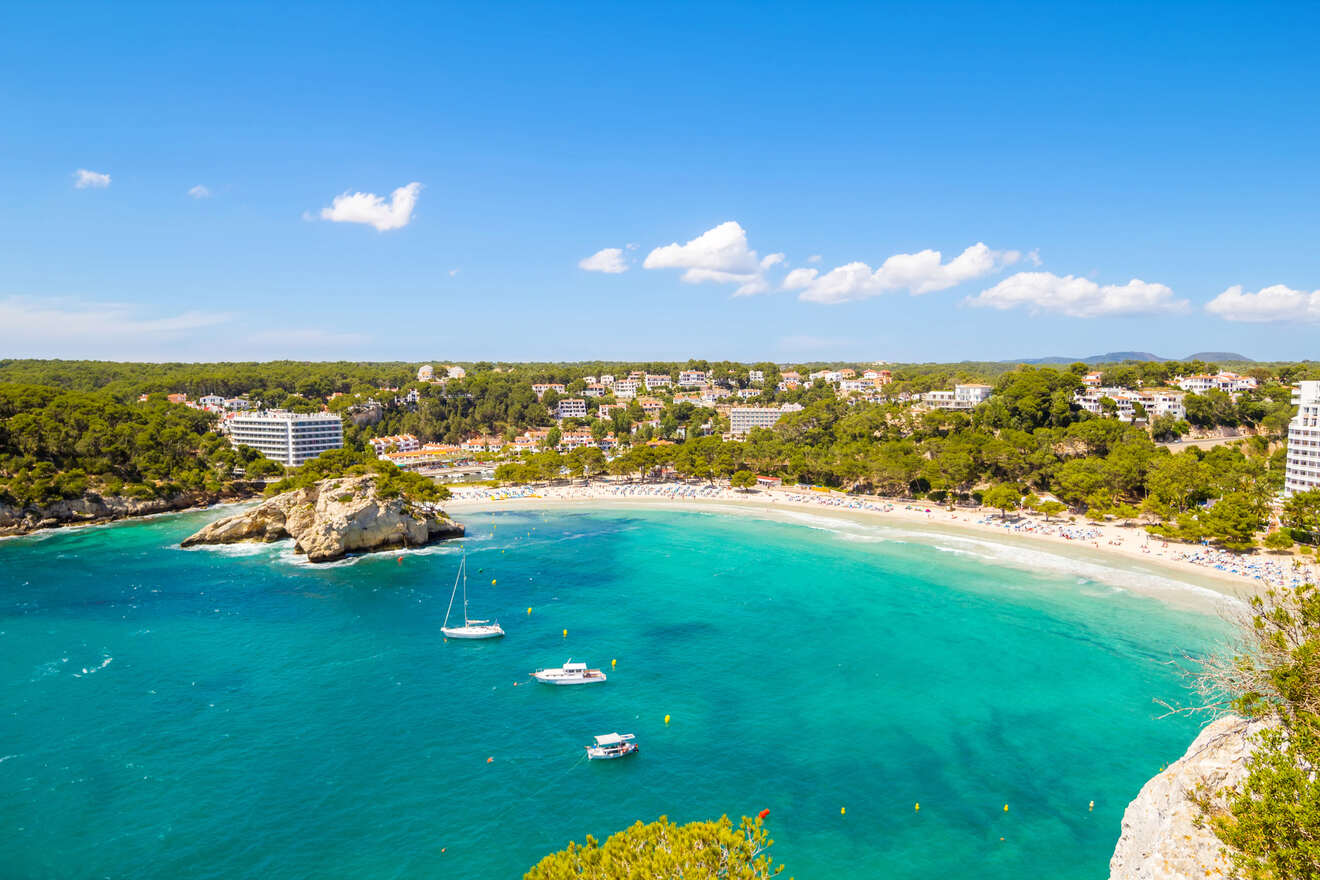 I know, it's hard to decide where to go on your holiday in Spain! Ibiza, Mallorca (Majorca) or Menorca, that is the question! Each island has its perks, not to mention that you'll find the best beaches and resorts no matter where you're going. However, as much as they have in common they are different at heart! 
We all know that Ibiza is the party island where all adults go and forget about their problems. Mallorca is where you go and try every possible outdoor activity in the world and Menorca is the quiet version and hidden sister of the two where families take their kids on holiday. But even while they have their stereotypes, they all still have so much more to offer different types of visitors. 
Still not sure which Balearic Island to visit and which town to choose? Let's see if I can help you clear your mind and make the best decision!
1. Ibiza
We all know the famous party island, Ibiza is one of the best places to stay if summer parties, phenomenal nightlife, and beautiful beaches are your top favorite things. Although the night party scene is the main thing that attracts people here and what sets this island apart from Mallorca and Menorca, let's not forget that Ibiza also has a great beach and nature spots that you can visit when you're not out there drinking all night!
Old Town Ibiza is a UNESCO World Heritage site and there are areas suited for each type of traveler, you can find more about that in this post on where to stay in Ibiza, which will help you decide which resort to choose and which beach you should definitely see. 
I highly recommend coming here if you know that you want to party all night long and don't have a problem with the island being filled with people who want to do the same thing. Secondly, you also want some beach fun and you're ready to pay a lot for your holiday. Yep, Ibiza is definitely the most expensive island out of the three with luxury resorts and boutique hotels. But you can't put a price on happiness right?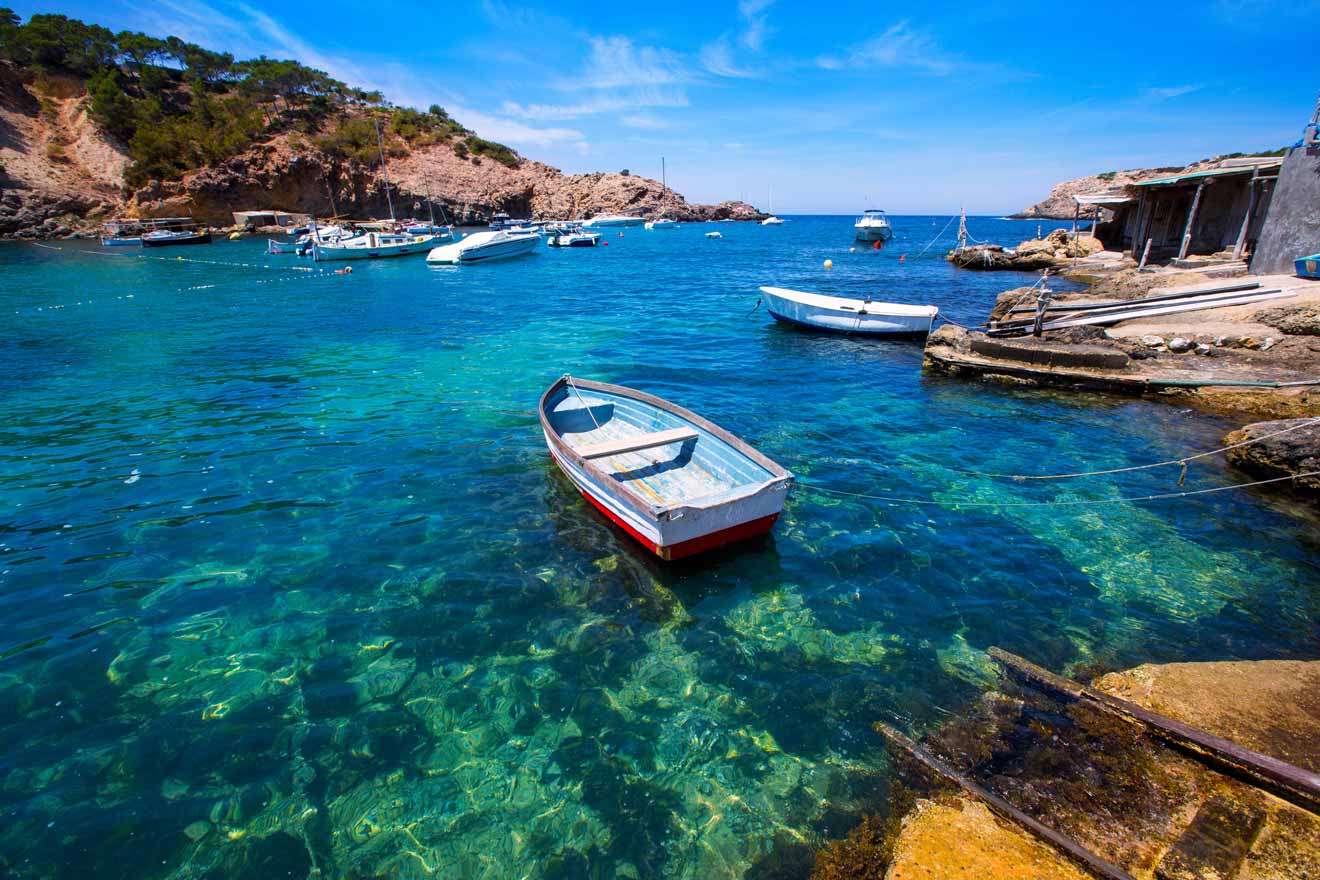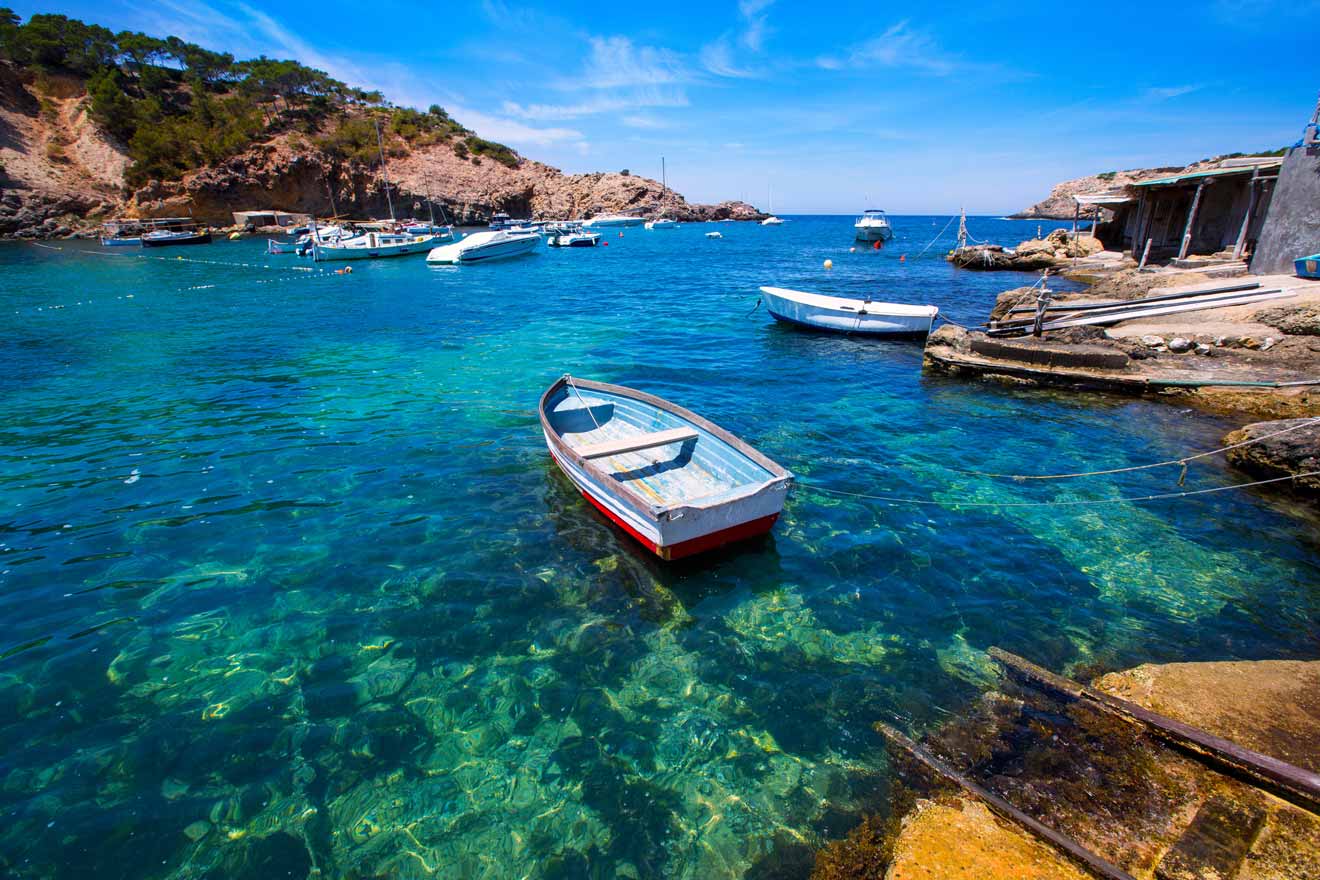 2. Mallorca
Mallorca is basically Menorca's big brother.
Mallorca or Majorca as the locals call it, is the largest of the Balearic Islands located off the shore of mainland Spain and is one of the best places to stay if you're an adventurous person who loves combining all the beach island fun with mountain climbing and beautiful forests. I simply love having the best of both worlds, beach, and mountains and Mallorca is definitely the island for that!
What sets Mallorca apart from Ibiza is definitely the fact that it has numerous activities that you can do. Here you can go hiking or cycling on secluded trails at Talaia de la Victòria in the resort town of Alcudia, enjoy the wildlife at Parc Natural de s'Albufera de Mallorca wetlands, or go snorkeling at the beach pretty much anywhere. If you want to find out more about what things you can do in Mallorca and which are the best places to stay here then check this post. 
I guess it's clear that what sets Mallorca apart from Ibiza is the variety of activities but what sets it apart from Menorca is the wildlife, the mountain views, and all the climbing that you don't really get elsewhere. 
3. Menorca
As we've seen, Menorca is the hidden gem in the Balearic Islands and one of the best places to stay for families. There's a quiet resort town on every part of the island with beach access and amenities for children. What sets it apart is definitely the whole vibe and the people who visit it. In Ibiza you'll find tons of youngsters whilst in Menorca, it's an older and more family orientated place.
The difference between Mallorca and Menorca would be the number of visitors, while Majorca is known internationally not everyone has heard about its quiet sister. So if you love traveling to more secluded places then this island is for you. Because of this, Menorca is also definitely better for people who are traveling on a budget with the lowest prices overall out of the 3 islands.
Frequently asked questions about Menorca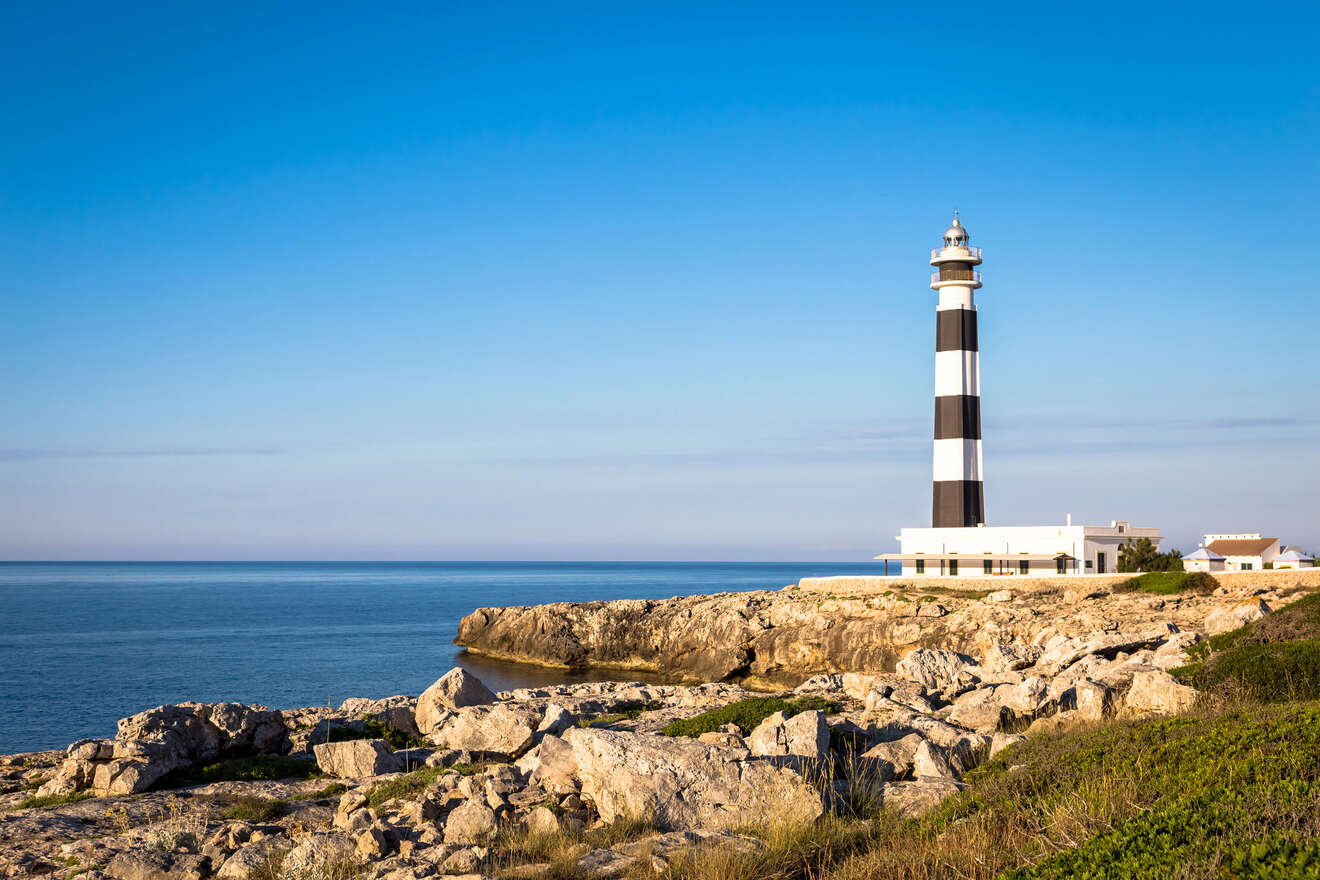 🏝️ What is the nicest part of Menorca?
Mohan, the capital of Menorca is definitely one of the best places to stay on the island! It has the best views of the natural harbor, even at night, amazing resorts, family hotels, and local boutique shops! You can stay at the beautiful Casa Ládico hotel.
🔥 What is the most popular resort in Menorca?
Lago Resort Menorca is probably one of the most popular resorts in the city. Overlooking the town's marina, this resort has an outdoor pool, an outdoor lounge area with Balinese beds, and a spa center. 
🤔 Which is nicer, Menorca or Majorca?
It depends on what type of holiday you're going for. Menorca is the hidden gem with fewer tourists and the best place to stay if you're traveling with families, while Majorca is fitted for active people and has some of the best beaches in the world.
🚗 Where should I stay in Menorca without a car?
If you're looking for where to stay in Menorca without a car then I recommend booking a resort at Cala en Blanes, Cala en Bosch, or Cala Galdana. Here you'll find beach resorts that will provide you with all you need during your holiday.
💰 How much does it cost to stay in a hotel on Menorca?
The average accommodation cost for a double hotel room in Menorca ranges from $22 (€20) in a hostel to $130 (€110) in a 3-star hotel and about $250 USD (€230 EUR) for a luxury hotel.
🏩 What hotels on Menorca are good for couples?
If you're looking for where to stay in Menorca with your loved one, then the Torralbenc hotel in Cala en Porter should definitely be your top choice. It has the best views at night and the local authentic design of the rooms is amazing. 
Conclusion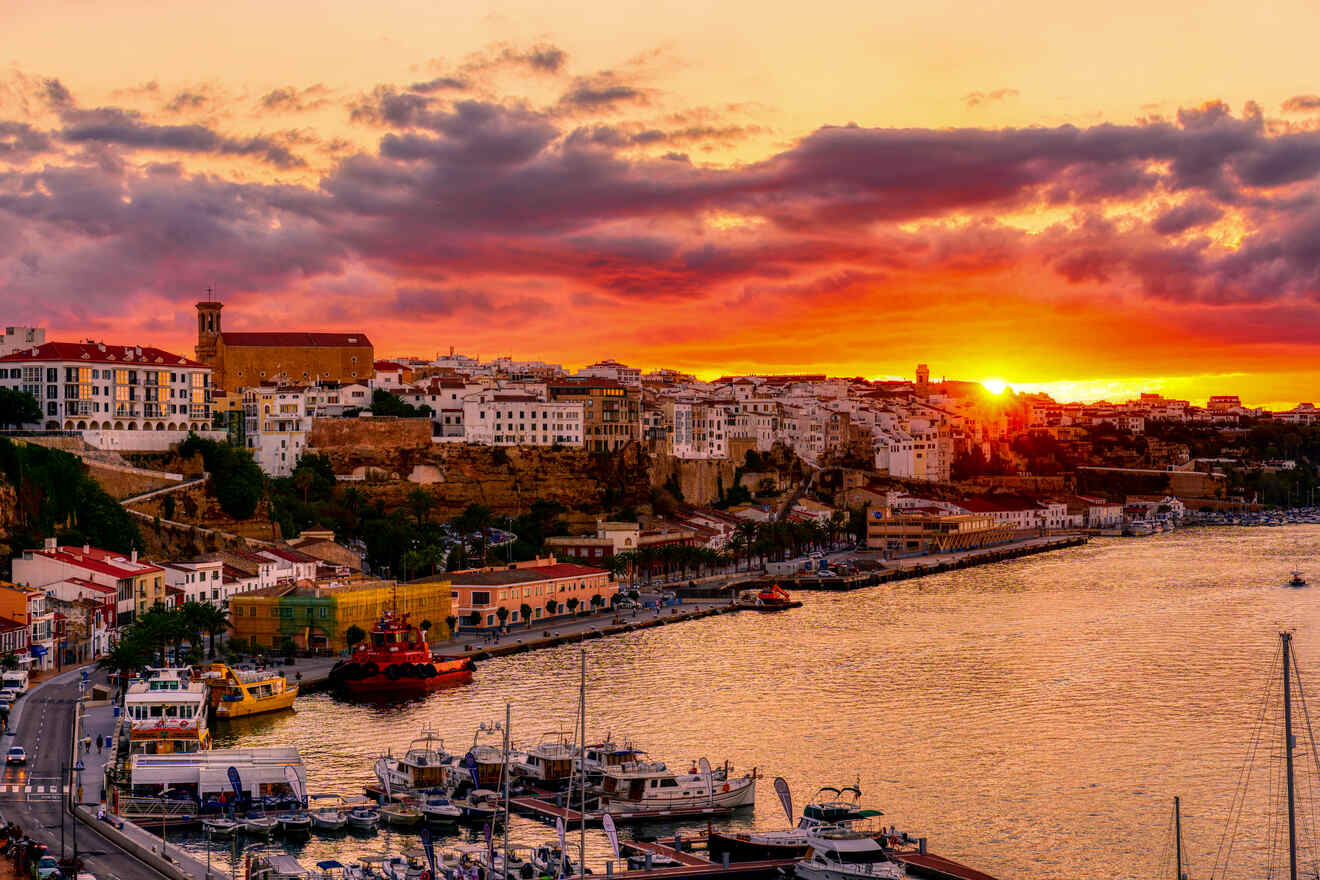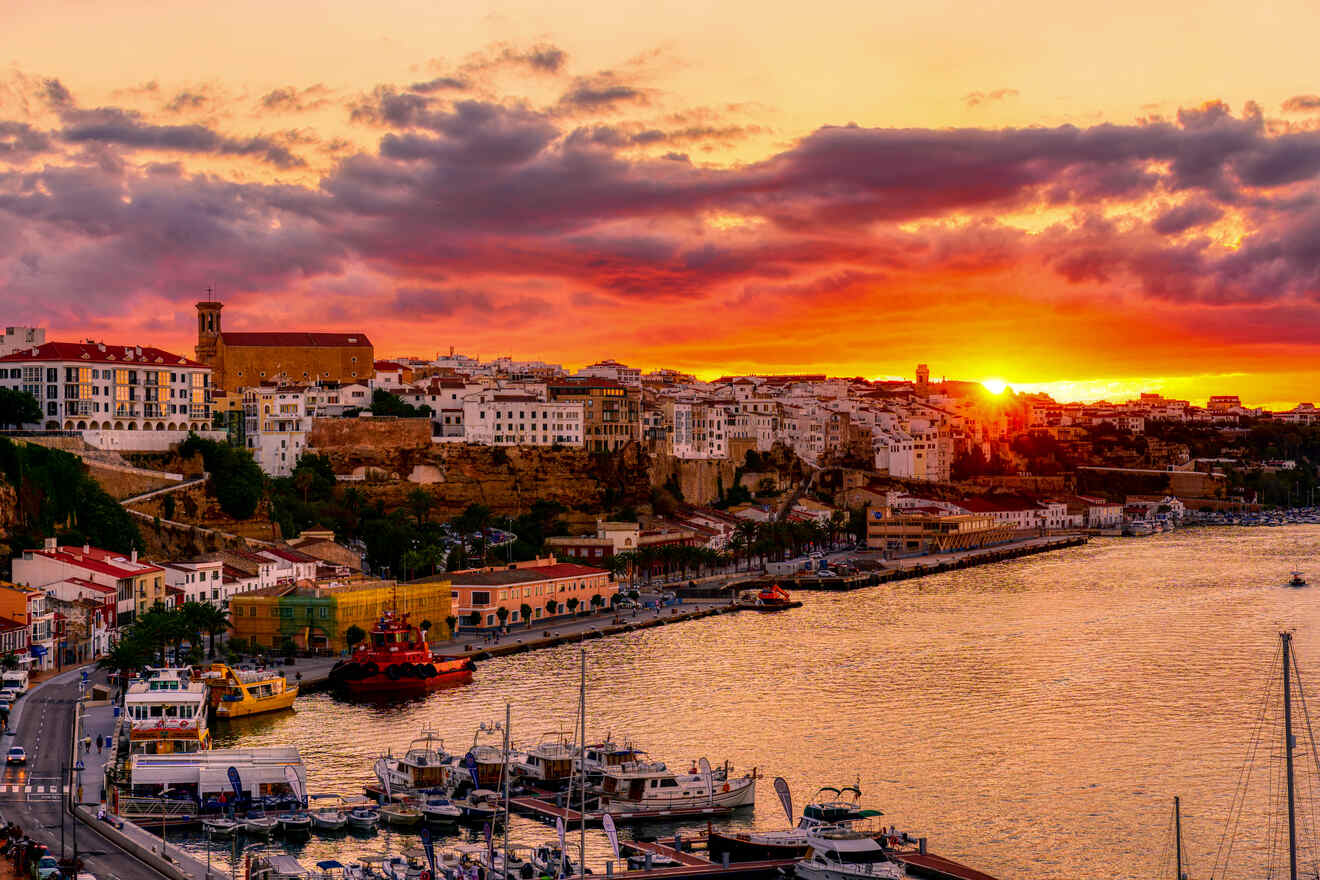 Woohoo, that was so much fun! I'm craving some beach time so much right now that I might go to the airport and visit an island! I hope this post helped you decide where to stay in Menorca, which resort town is better for you, and which playa de Menorca you have to visit first!
I know I've given you tons of options, but here are my two favorites, both located in Mahon. However, I would advise you to book these or any others on this list in advance, Menorca's towns are famous for their many resorts but they sell out super fast especially in the summertime. 
Casa Ládico – An amazing 19th-century building with a spa center
Artiem Capri – One of the best hotels in town with an indoor and outdoor pool
I hope you enjoy your stay in Menorca, at the resort of your choice, and exploring the harbor in Mahon at night! Have all the beach fun that you can and discover the hidden secrets of this beautiful island! Don't forget to leave a comment if you have any questions or suggestions, I am always happy to read them!
Viajes Seguros, 
Victoria