Camping in the Peak District gives you the freedom to explore some of England's most beautiful scenery and escape the hustle and bustle of everyday life.
If it's your first visit to the area, then you may be wondering which site might be the most suitable for your group. Alternatively, you might be considering wild camping in the area and need some suggestions for the best spots to try.
PSSST. Your travel medical insurance can now cover COVID-19!
If you grab SafetyWing Nomad Insurance, it'll be covered just like other illnesses. I've been using it since 2019 and I can assure you it's the perfect solution for nomads like you and me.
This guide to Peak District camping sites aims to answer all of your questions. Not only does it list some of the most popular spots in which to pitch your tent, but it also contains guidelines for free camping in the Peak District and the rules you need to follow to ensure a safe and enjoyable stay.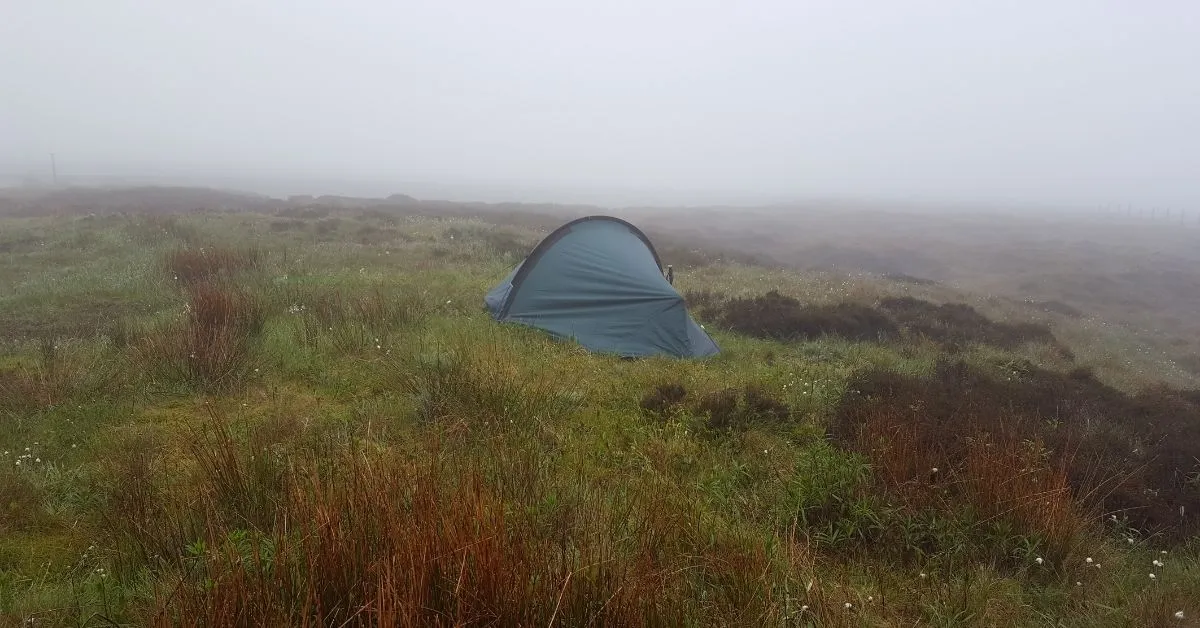 Camping In The Peak District
Split into two areas – Dark Peak and White Peak – the Peak District National Park is a beautiful mixture of rolling hills, valleys, and plateaus.
In White Peak, you can explore the scenic limestone dales, along with quaint and attractive towns and villages. The Dark Peak area has a more dramatic landscape, with seemingly endless moorlands and gritstone escarpments.
Despite its name, the Peak District doesn't actually have lots of peaks! Its highest is the 636 m Kinder Scout, one of the most popular parts of the Park, which gives you views of streams, moorland, and even a waterfall!
No matter which area you choose to camp in, you are guaranteed breathtaking scenery at every turn and lots of opportunities for walking, hiking, and observing the region's varied wildlife.
Best Campsites In The Peak District
Here are a few campsites in the Peak District. These camping spots are amongst the best in the region.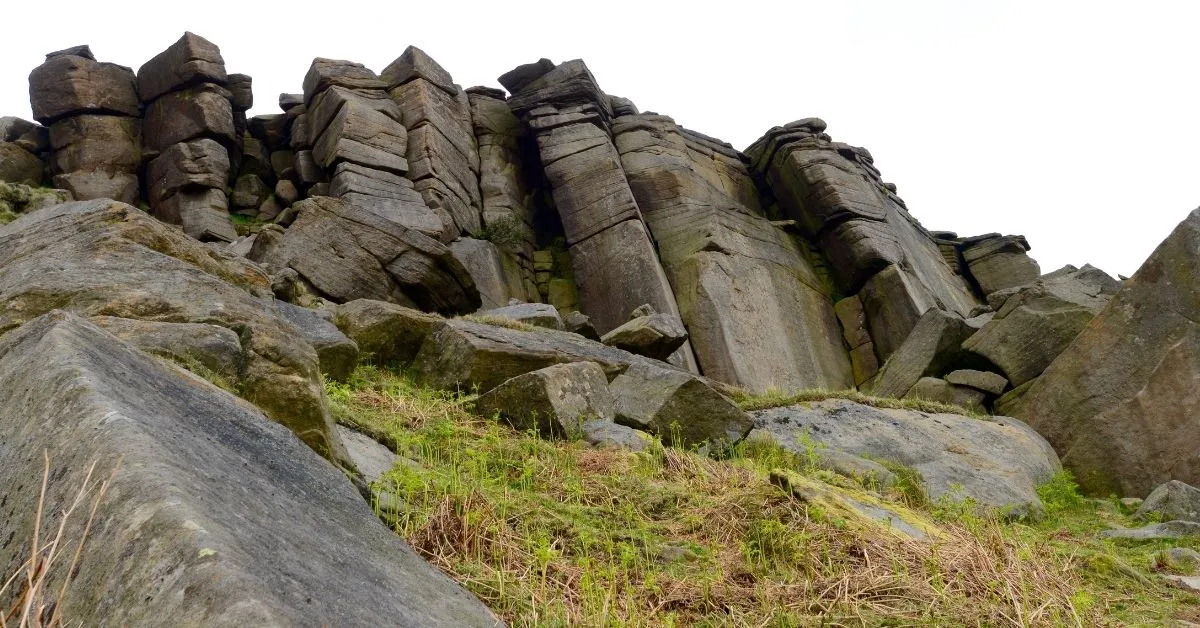 North Lees Campsite At Stanage Edge
This is located in a sheltered valley 1.5 miles north of Hathersage and is ideal for those who enjoy outdoor adventures, with world-class climbing and bouldering available nearby. The camp itself is nice and quiet and has basic showers and toilets.
Whilst there is no children's play area, there are certainly plenty of natural play areas to enjoy! This is a large camp – spread across four fields – but the trees and walls surrounding them make the camp feel cozily small!
Something to note is that the camp is set on a slope and the ground is somewhat uneven, so it is not ideal for caravan camping or for those who prefer flat ground.
Callow Top Holiday Park In Ashbourne
This is an award-winning campsite close to Ashbourne, Bakewell, Matlock, and Buxton. Ideal for the whole family, it has lots of great amenities, including an outdoor heated swimming pool, a paddling pool, a play area, a supermarket, Calor gas sales, water points, and a chemical disposal site.
Its elevated position gives you lovely views of the local area and there are some excellent walks around the camp. Callow Top is especially good for cyclists, with the Tissington Trail within easy reach and bikes available to hire from Tissington Village.
It also features a well-stocked fishing lake and is just a 20-minute drive from the world-famous Alton Towers amusement park. The camp is suitable for tents, caravans, trailer tents, and motorhomes.
Golden Valley Caravan Park In The Hamlet Of Golden Valley
Wondering where to camp in the Peak District with kids? Look no further than the Golden Valley Caravan Park, which boasts one indoor and 4 outdoor play areas, Segway sessions, train and log cart rides, plus a visiting ice cream van! It is in a beautiful location, set in 26 acres of woodland alongside the Cromford Canal, and offers 150 camping and touring pitches, either with or without electric hook-up.
The camping pitches are on grass, but you need to bear in mind that this is a woodland area – so they won't be totally flat! There is a well-stocked fishing pond, plus two toilet/shower blocks, a Jacuzzi, laundry facilities, a cafe, and a bar. 
Upper Hurst Farm At Hulme End, Near Hartington
One of the best Peak District camping sites for gorgeous scenery is the family-run Upper Hurst Farm. Surrounded by hills, its pitches offer 360-degree panoramic views of the surrounding countryside, and the camp itself is run with the environment very much in mind.
Children will love seeing the resident alpacas, peacocks, Shetland ponies, owls, and free-range chickens, with their eggs available to purchase and enjoy for breakfast! There are 25 'super' pitches and 15 camping pitches, plus a toilet/shower block with underfloor heating, a wet room, kitchen facilities and laundry facilities. There is also a large, mown field for children to play in.
Hayfield Camping Club Site
Close to the village of Hayfield and at the foot of the Dark Peak area, this family-friendly campsite is ideal for walking and hiking.
Whether you're looking for a sedate stroll or a more challenging ascent up the Kinder Massif you'll find a walk to suit you, along with towns and villages like Bakewell and Castleton to explore. There are some very good family attractions nearby, including Go Ape! at Buxton Country Park and Freshfields Donkey Sanctuary.
And if you visit in September, you can even get to see sheepdog trials at the Hayfield Show! The camp has laundry facilities, an outdoor play area for children, toilets, showers, chemical disposal facilities, a washroom, and a small shop. There is also parking available next to each pitch. 
Peak Pods At Bakewell
If tent camping isn't really your thing, then why not consider glamping in a pod? This year-round site has a fabulous location beside the quaint little village of Alport on the banks of the River Lathkill.
Each larch wood pod has a double bed, en suite shower room and toilet, and a well-equipped kitchen. But you can still get the feel of a more traditional camping experience, with firewood available from the owners to enable you to build your own campfire.
A strip of woodland beside the camp makes a great play area for children, and each pod has a barbecue and outdoor furniture to enable you to relax and enjoy your surroundings.
There is even gas central heating to keep you toasty should you choose to visit during winter!
Wild Camping In The Peak District
The purpose of wild camping is to truly get away from it all – and that includes getting away from busy caravan parks and campsites!
Instead, your aim is to find a spot in the wilderness far from other people where you can get back to basics and experience the peace and tranquility of the natural environment.
The problem, however, is that wild camping on the privately-owned National Park land of the Peak District is actually illegal. The law states that – in order to wild camp on privately owned land – you need to have the owner's permission. Without it, you are technically trespassing.
That being said, many people do wild camp there without issue and it tends to be pretty well tolerated. But if you happen to pick a spot where there is some form of residence nearby, then it is advisable to go and ask for permission to stay.
And remember that if you choose to wild camp without having sought permission first, you will need to be prepared to move on if asked to do so.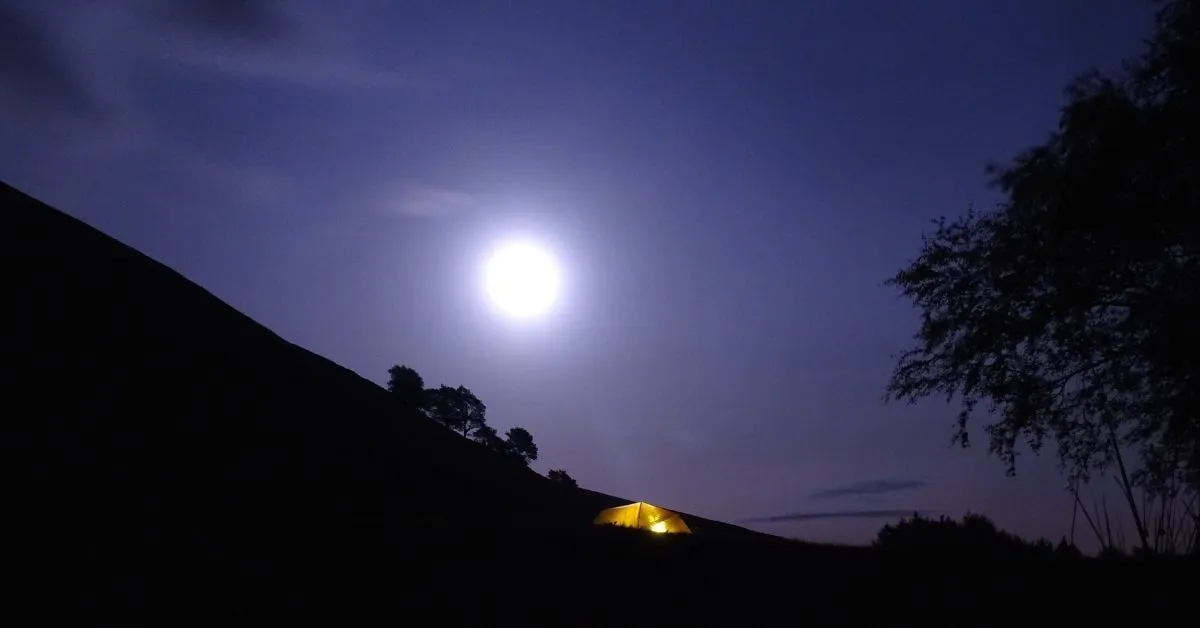 What Are The Rules Of Wild Camping
There are some very definite dos and don'ts when it comes to wild or free camping in the Peak District. 
The most important is that you absolutely must NOT have an open fire. The ground in the region is peat and peat moss when dry is incredibly flammable. This has led to many fires in the area, some of which have caused extensive damage to the local wildlife and vegetation.
Use a camping stove or a portable barbecue rather than an open fire to prepare your camping meals, and even then you will need to make sure you protect the grass so you don't scorch it.
This ties in with the wild camping mantra of 'Leave No Trace'. No trace at all! This means that you need to take everything with you when you leave, including all rubbish and food waste.
Before departing, take a moment to thoroughly scan the area for anything you might have missed. But this rule also means that you should cause as little disruption to the area as possible, so try not to move around rocks and avoid stepping on flowers and plants.
In order to avoid polluting the natural environment, don't wash in natural waterways with soaps and ensure all products you use are environmentally friendly.
You should always try to arrive late and leave early when wild camping in the Peak District. If possible, aim to put up your tent no earlier than an hour before sunset then wake up early and take it down soon after the sun comes up.
This way you will be far less likely to be asked to move on. Choose a spot well away from roads and paths so that your tent never becomes an eyesore for others. Don't stay in any one spot for more than one night.
Obviously, there are no bathrooms so there are a couple of rules to follow when you need to go to the toilet. If you need to pee, then it's as simple as finding a bush away from the sight of others.
For anything else, you will need to dig a hole (bring along a camping shovel for this). The hole you dig should be at least 15 cm deep and you should make sure it is at least 30 m away from any water source, where it could cause contamination.
When you are finished, make sure the hole is filled in and covered, then clean your hands with hand sanitizer. Any toilet tissue or other sanitary materials should be placed into an eco-friendly poo bag or nappy bag and taken with you when you leave. 
Finally, be quiet throughout your stay and respect the natural peace of your surroundings.
What Are The Best Spots For Wild Camping In The Peak District?
The Dark Peak area is much better for wild camping than White Peak, where you will struggle to find remote areas away from other people. 
Choosing the best spot for you will depend on a few different factors. First, you might like to think about any hiking routes you plan to follow, then use an OS map of the area to pick a few spots that might suit you. 
You can also try using social media. In general, wild campers don't like to give too much away about the great spots that they find. After all, attracting other people to the same spot pretty much defeats the object of wild camping!
Even so, there are a fair number of videos on YouTube shared by other campers with some experience of the area, so they are worth checking out. 
Although you will only ever know for sure if a spot is suitable by actually visiting it, you can improve your chances of finding the ideal location if you look on the map for a flat spot that's far from any roads, but not too exposed.
Ideally, you would also want to look for somewhere close to running water. When you arrive in person, make sure any potential camping spots are not too damp. The nature of the ground in the Peak District means that any damp areas can very quickly turn into bogs in a downpour!
Some of the best Peak District camping sites for wild camping include:
Kinder Plateau: This is a vast area and you can easily spend time here without encountering anyone at all.
Bamford Edge: There are several pleasant spots here, but this is becoming quite a popular area so your chances of bumping into other campers are quite high.
Burbage Valley: There is plenty of woodland here in which to lose yourself.
Derwent and Bleaklow: Both of these areas are quite flat, making it easy to find a good spot
Final Thoughts On Camping In The Lake District
I hope that this guide has helped you decide on where to camp in the Peak District.
Pitching a tent really is the best way to see and experience the natural beauty of the area and a camping holiday provides a fun and memorable getaway for the entire family.