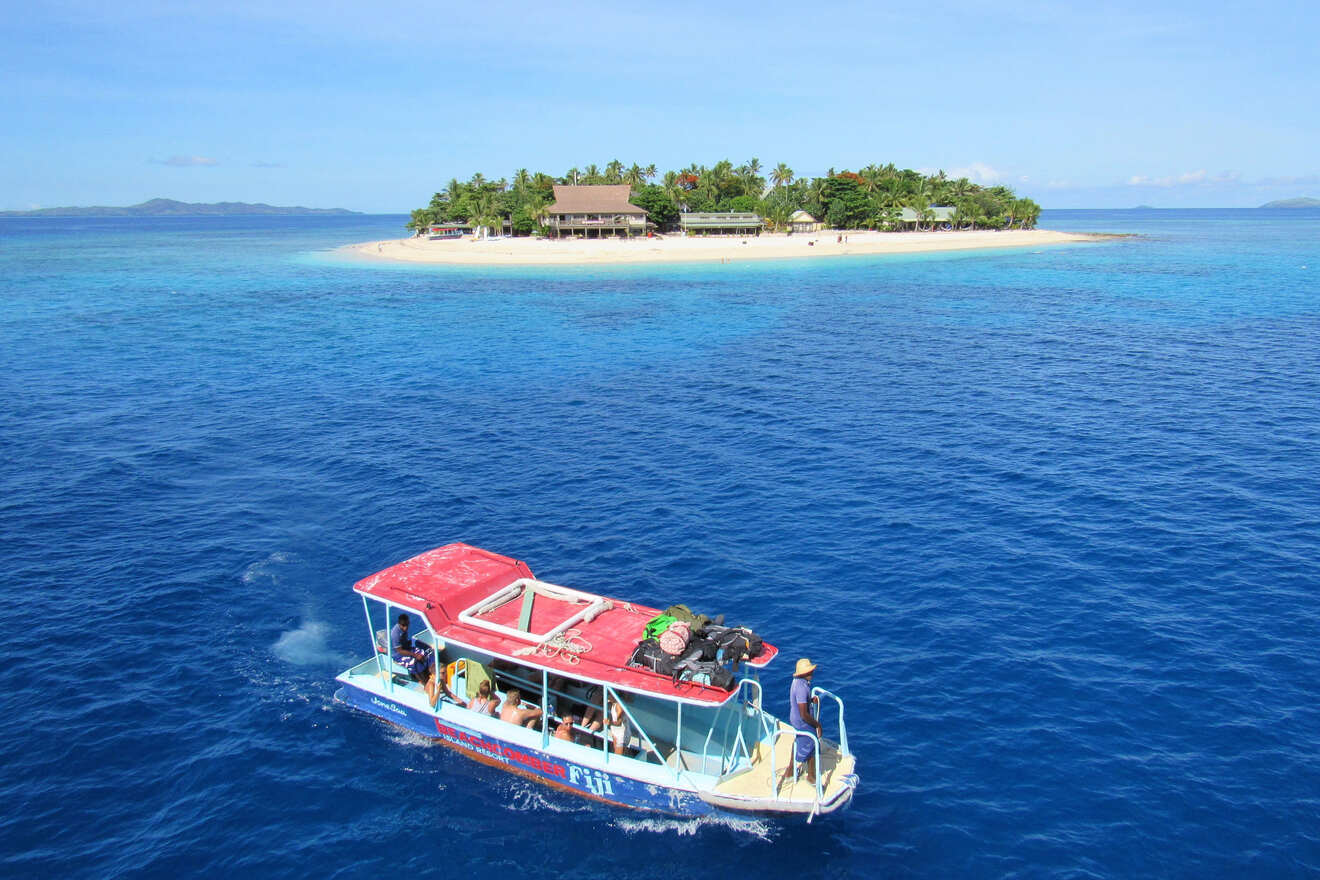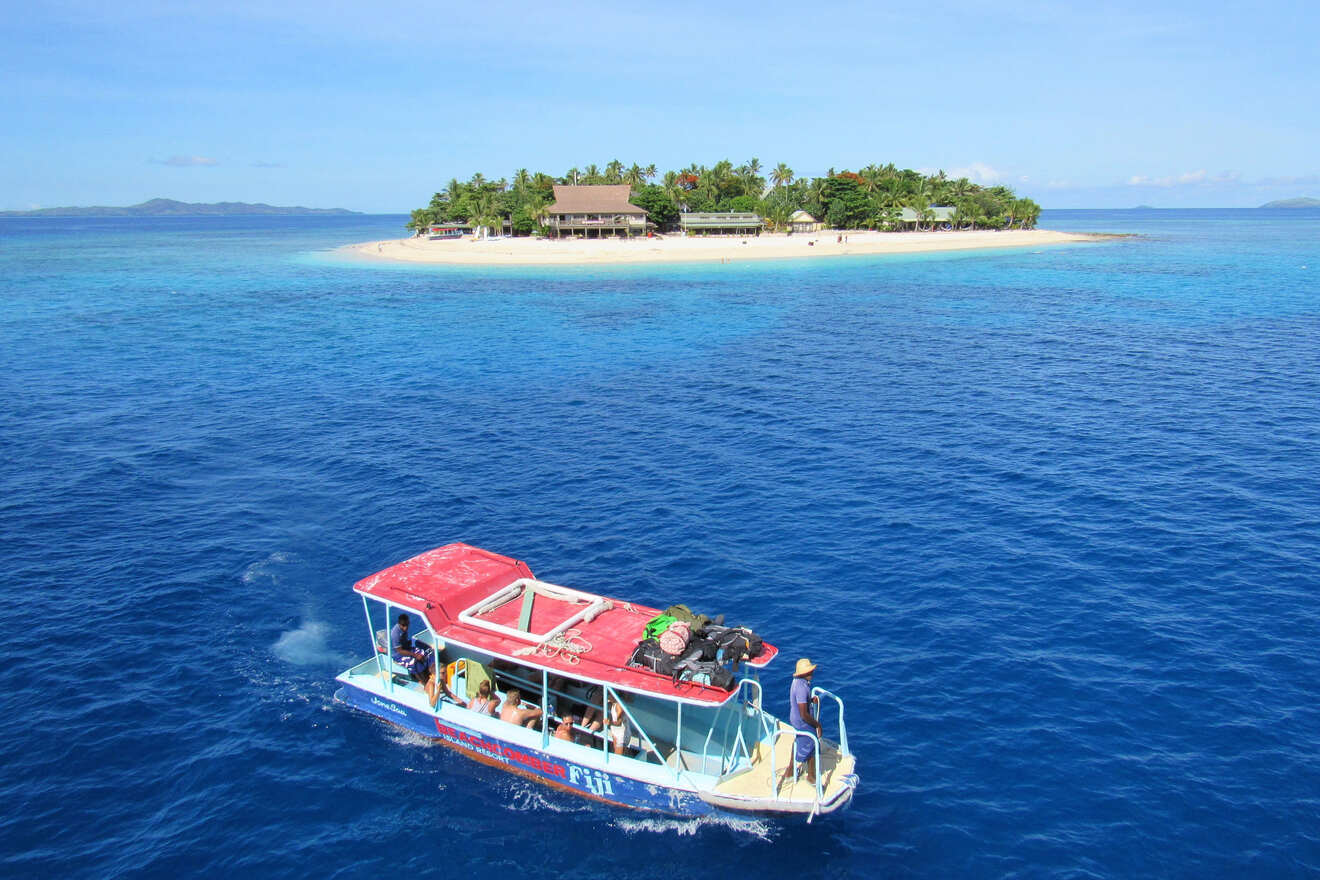 Oh, Fiji… what's not to love about this paradise in the South Pacific? Pristine waters, white sandy beaches, and a huge ocean that contains more than four percent of the world's coral reefs and 1500 different species of marine life. I would like to move here for a few months! 
There are 333 Fiji islands in total, and 223 are uninhabited! That's a lot of free space; no wonder people are buying islands and turning them into private resorts. With more than 4,000 square miles of coral reef, including the Great Astrolabe Reef, it's also no wonder that Fiji is a top destination choice for many diving enthusiasts!
I know it's hard to decide where to stay in Fiji, especially if you look at all the pictures, but don't worry, I've come up with a list of the best islands here, including all the amazing resorts and hotels, and some good restaurants! 
I've looked through hundreds of hotel lists to find you the absolute best one for each price range, and I only recommend the best-rated hotels that I would choose for myself! Make sure you book everything that I'm recommending in advance, this is a famous destination so everything sells out super quickly!
So, let's go, the island of Viti Levu and all the others are waiting for us!
If you are in a hurry
Here's a short list of the best hotels on Yasawa Island, to help you decide quickly
airbnb
Private Cottage
An Airbnb with amazing reviews
budget hotel
Barefoot Manta Island
Best affordable accommodation in the center
Here's a map that will help you see all the islands that I will be talking about in this post
1. Yasawa Islands – where to stay in Fiji for the first time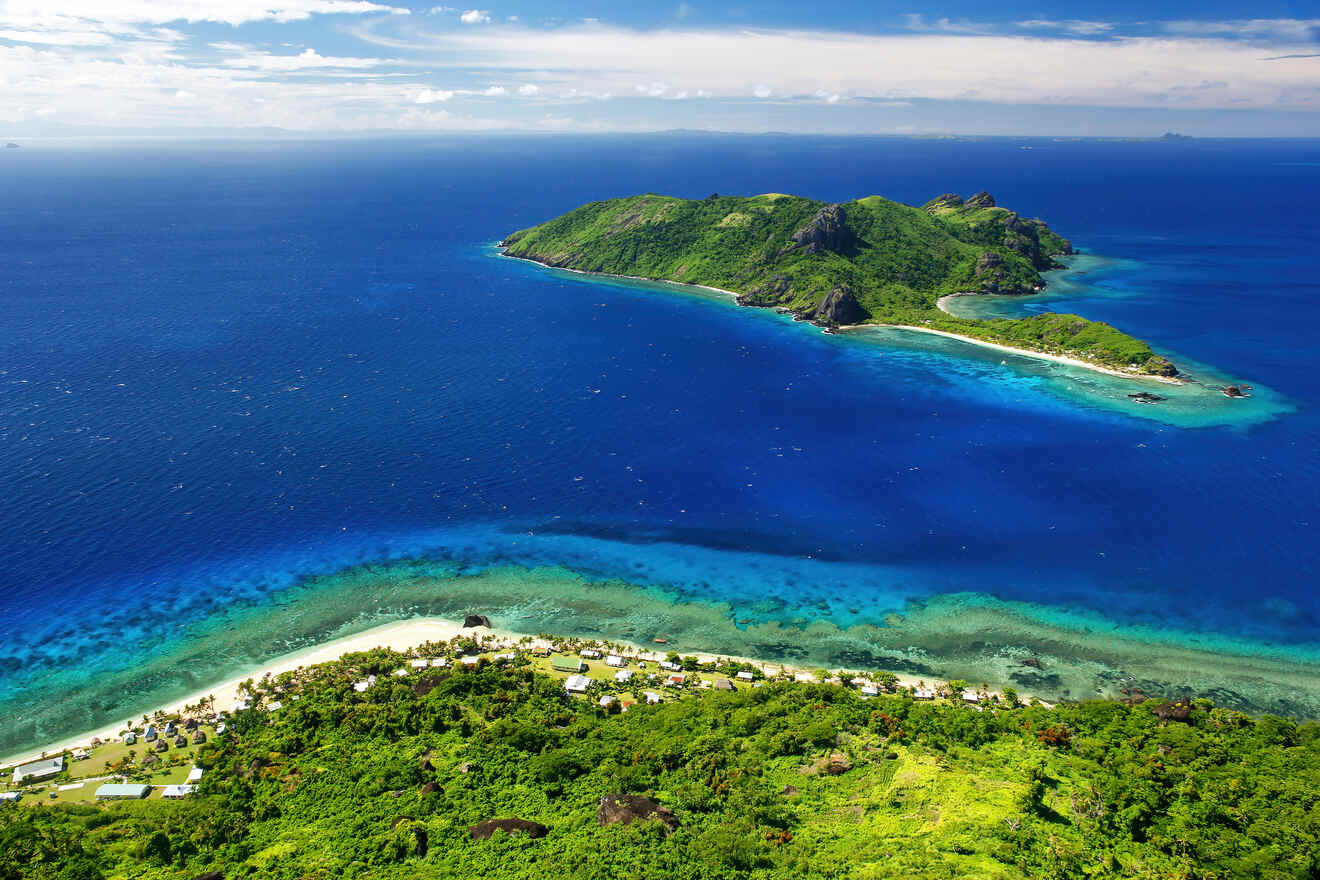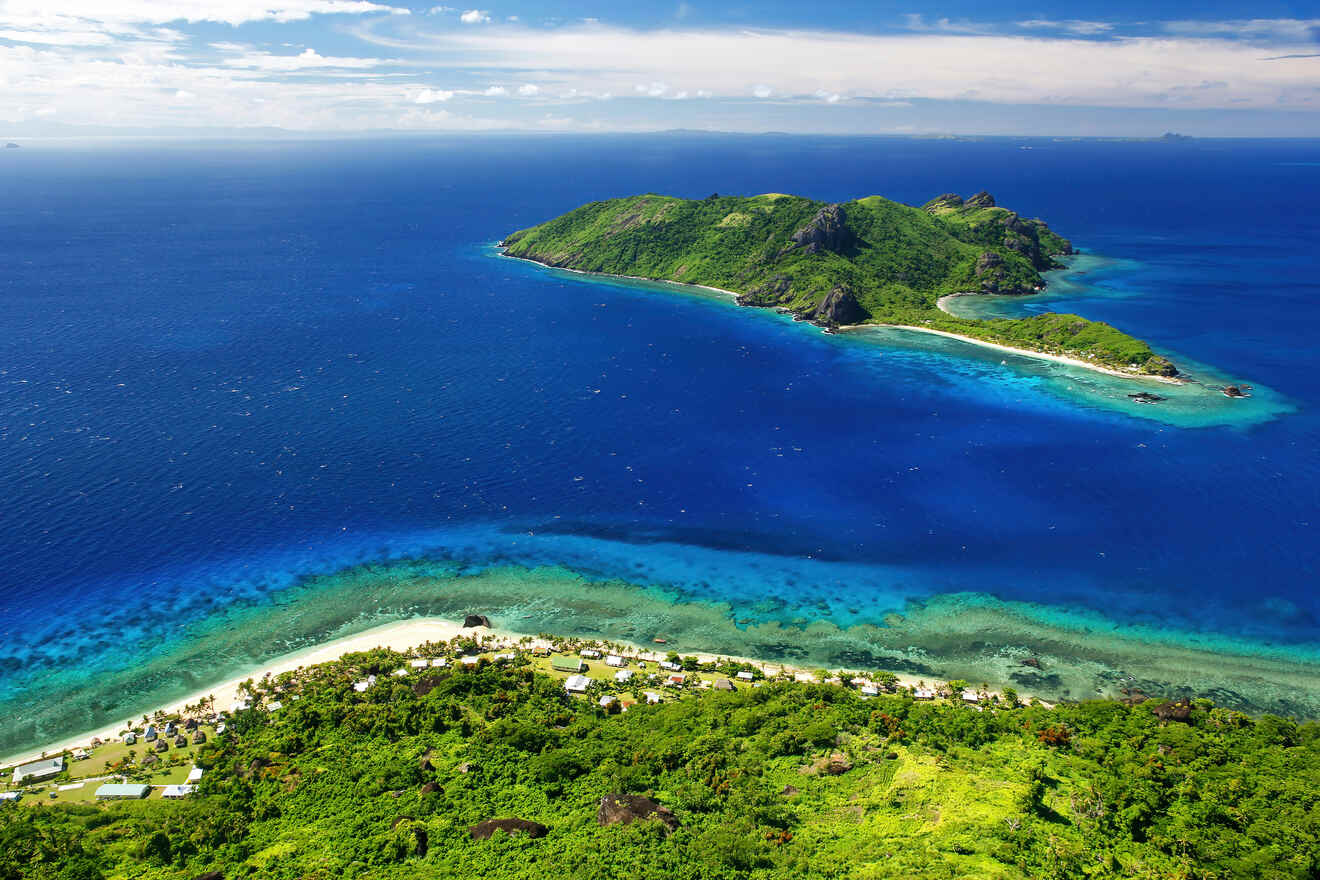 Pristine beaches, blue water, and sunsets will convince you to stay here forever! Or at least longer than the time you had in mind! The archipelago, made of 20 outer islands, is located northwest of Nadi on Viti Levu, the main island in Fiji. This region is an actual paradise, especially for those of you who love nature and for all the water sports enthusiasts! 
If you're traveling here for the first time then the Yasawa Islands look exactly how you picture Fiji in your mind! Small sandy islands with the most amazing blue water, palm trees, and the perfect place for ultimate relaxation.There are tons of hop on hop off boats that run daily from Nadi through the Mamanuca Islands, which I will talk about later, and up to the Yasawa islands so it is super easy to island-hop if you want to explore other beautiful places.
I'm sure you won't be surprised to hear that many Hollywood movies were filmed in Fiji. The famous Blue Lagoon movie was filmed right on the Yasawa Islands! 
You'll definitely want to spend all day on the beautiful beaches, in one of the hammocks with a coconut in your hand. I would probably do the same. If you're looking for more island fun, check this post on the best things to try in Norfolk Island, Australia.
This region is not popular for its many shops or banks, that's why it's the perfect getaway from all day-to-day activities, you'll love it so much here that you'll forget to think about any problems! Leave that somewhere far away! Just make sure to book these in advance as the Yasawa Islands are the most popular in the country! 
Luxury hotel
Navutu Stars Resort
This beach resort is one of the best places to stay. They offer a private beach area and secluded terraces in some rooms! Guests can take a day off and relax at the spa, then go for a swim, have a drink at the bar, and enjoy a candle-light dinner at the restaurant!
Other accommodation options in Yasawa Islands
mid-range
Mantaray Island Resort
Stay in Fiji in a lovely resort with a private beach area, a bar, a restaurant, and rooms with balconies
budget
Barefoot Manta Island
This island resort has some nice rooms an outdoor terrace, a restaurant, and a bar 
airbnb
Private Cottage
An amazing cottage that has beach access, cozy rooms, a backyard and they offer breakfast 
Things to do in Yasawa Islands
Buy a Bula pass and explore other islands like Turtle Island
Visit the Nanuya Lailai island where they filmed the Blue Lagoon movie
See the beautiful coral reef on Drawaka Island
Go diving in the Tavewa Island
Admire the beautiful Sawa-i-Lau Cave
Learn new things about the Fijian culture at the Bukama village
Experience Kava ceremony on the Yasawa Islands
Relax on the white sand beach of Yanggeta Island
2. Viti Levu – the main Island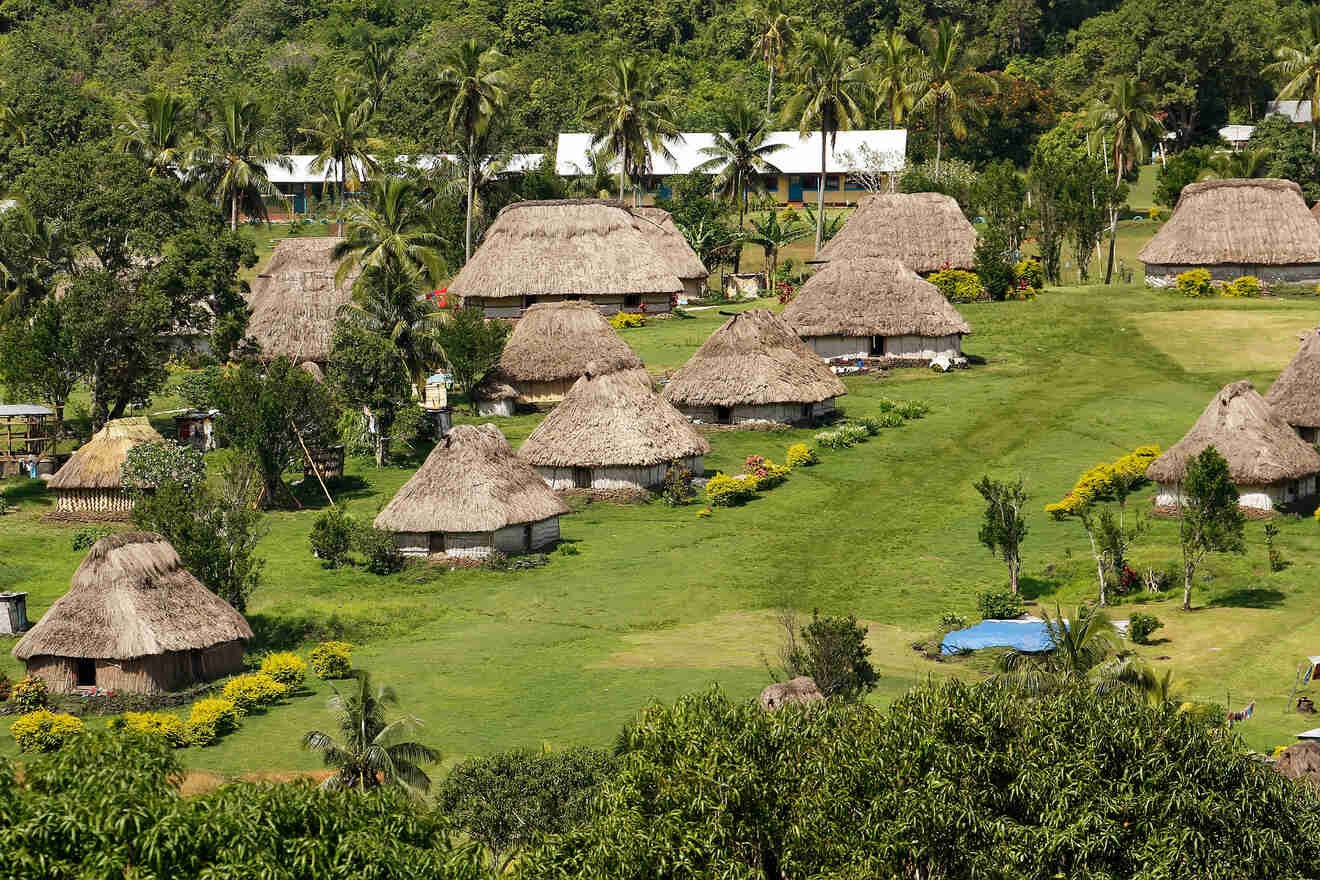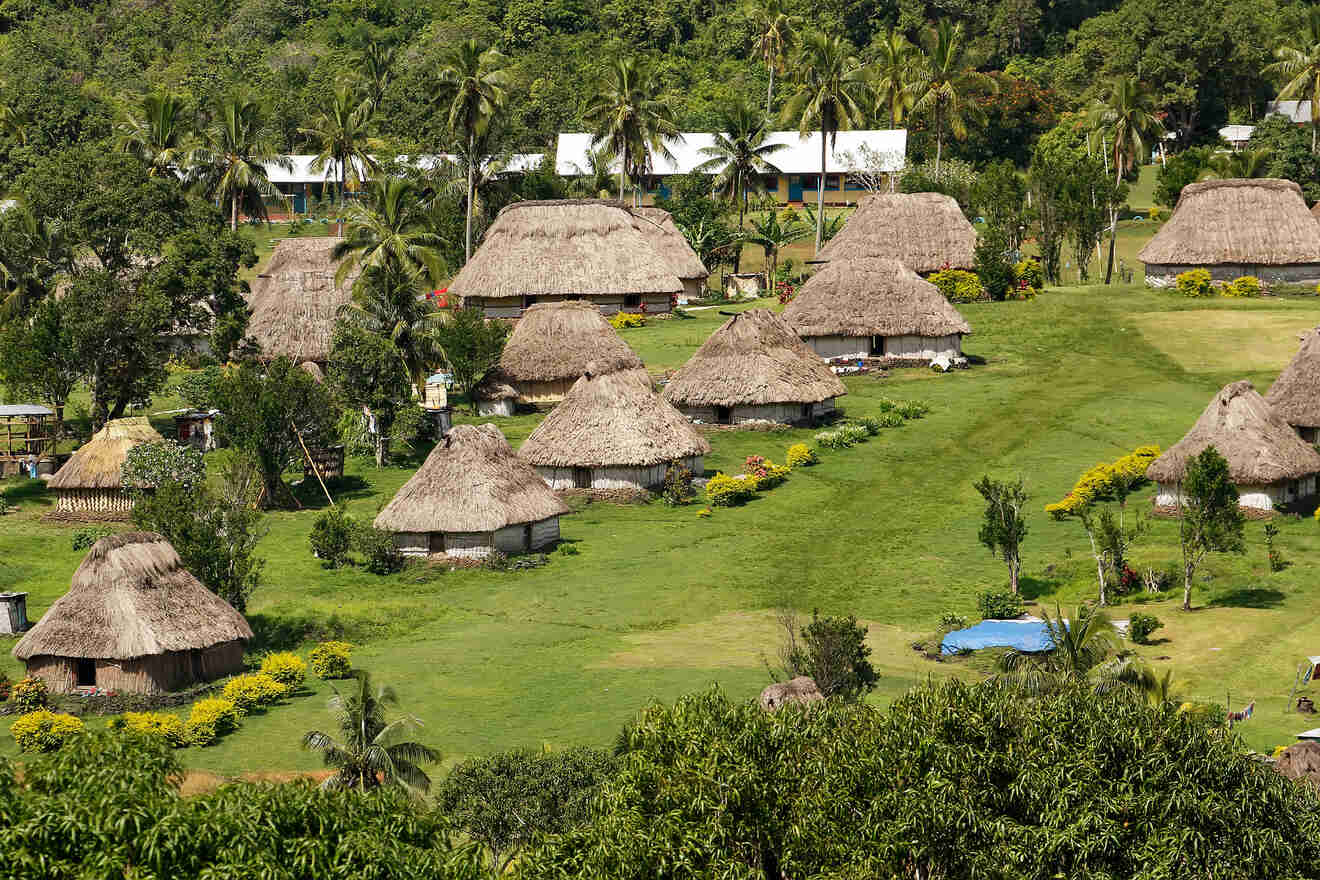 This is the largest and the main island in Fiji which includes the areas of Nadi, Suva, Coral Coast, and Denarau. Here is where you'll find the capital city and is most likely where you will fly into when you arrive in Fiji
When booking your flights keep in mind that there are two international airports in Viti Levu (Nadi Airport and Suva Airport) which are located on opposite sides of the main island, so make sure you know where you are staying and which airport is the closest to your hotel or resort.
FUN FACT: Local people say that a serpent God used to live in the mountains of Viti Levu and that he would dictate if it was day or night when he would open and close his eyes! 
Since the Island is quite large, I have broken it down into a few main places as each part is very special in its own way. 
2.1 Nadi – close to the airport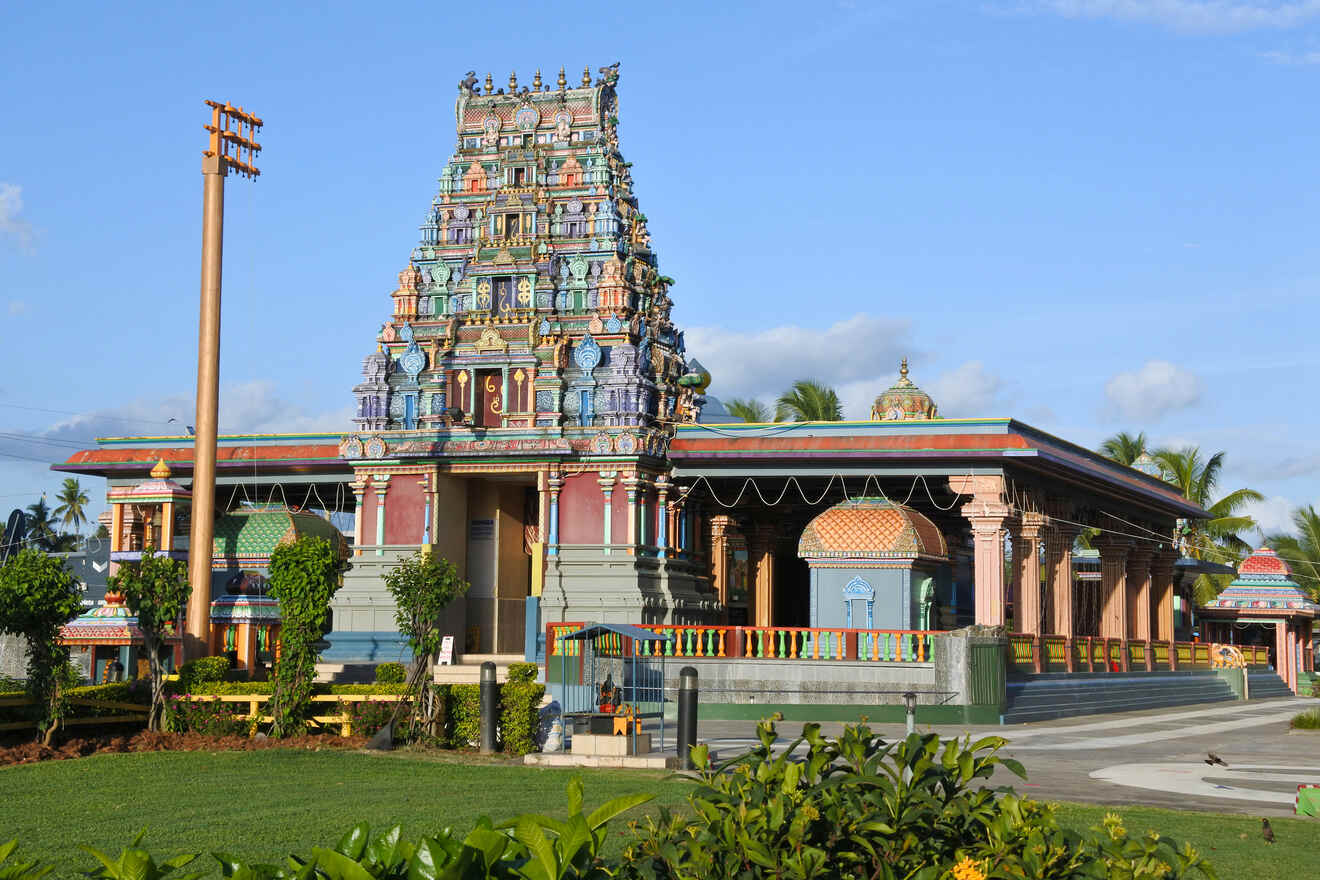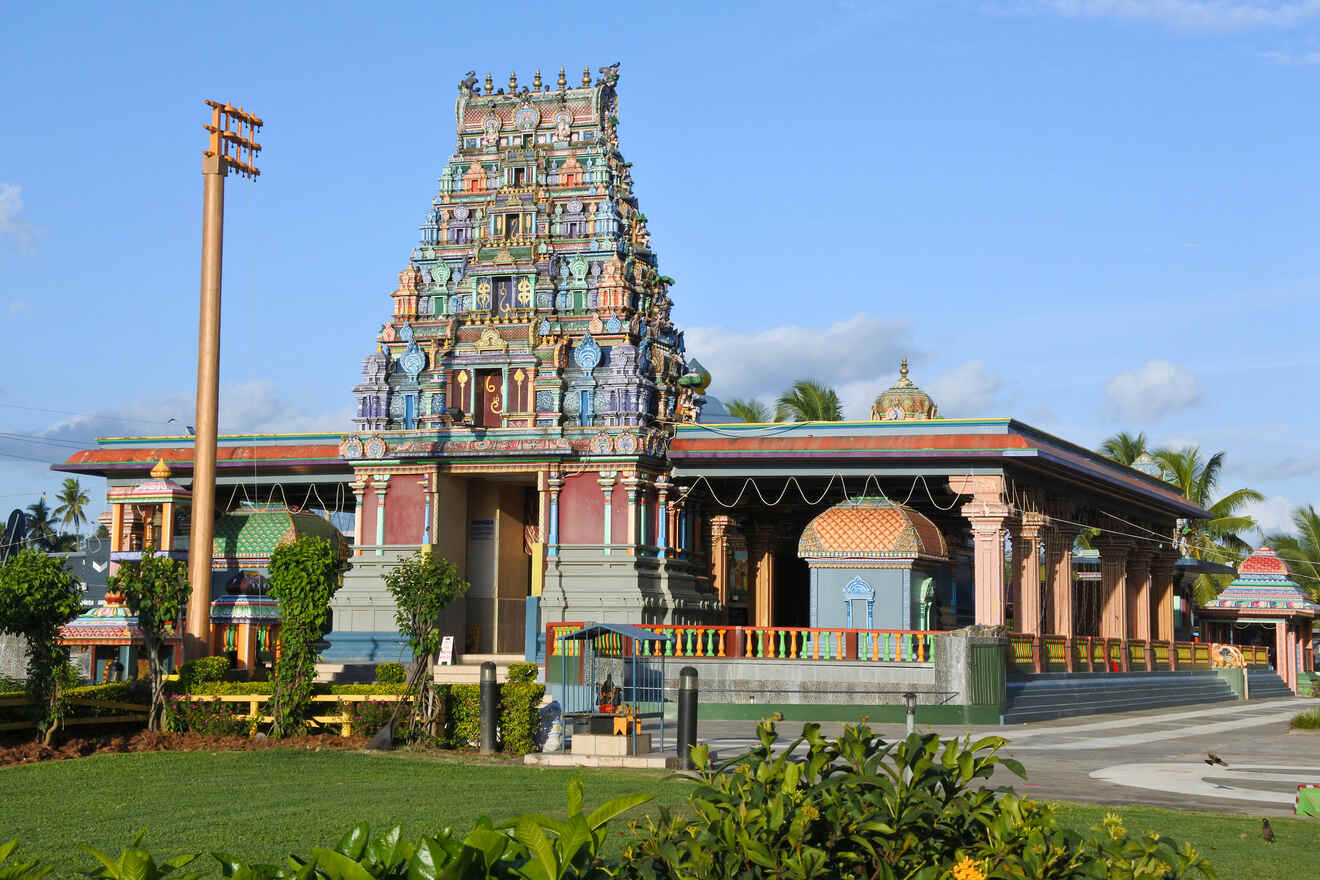 Located on the western side of the main island of Viti Levu, you'll probably fly into Nadi Airport when you come to Fiji. Most people start their Fijian adventure in this friendly city as it's less than 15 mins drive from the airport and it's a great area to stay for a night or two before you head off to island hop.
What I love about this place is that it has both the city and beachy vibes plus this place it's so culturally diverse. You'll learn a lot of cool stuff here! The Sri Siva Subramaniya Hindu temple is a big landmark here, almost every tourist has a picture with it, make sure you get one too! 
Nadi is broken up into two sections. There is the city of Nadi where the temple is as well as the majority of the regular shops, markets, and local people. Between here and the airport you will find Wailoaloa Beach, this is where all the tourists stay and it's about a 15 minutes bus ride from both the city and the airport in either direction!
The public bus into town here is pretty unique, at one point the bus drives along the beach itself! 
Did you know that nearly 40% of the population of Fiji are Indian descent? If you love their traditional food as much as I do then I recommend coming here and eating the most incredible meals for less than $3! You would experience two totally different cultures in one in Nadi!
From Nadi, you can get a boat to go to Yasawa Islands and Mamanucas. Most hotels/hostels offer free transport from the airport to the hotel, and often they can also organize the boat for you, basically like calling a cab to your front door at home!
Luxury hotel
Platinum Cava Apartments
Stay in Fiji in these modern apartments that are great for families! The outdoor swimming pool looks amazing, I can already picture myself with a cocktail in my hand admiring the beautiful mountain views. Guests have access to the kitchen and free parking.
Other accommodation options in Nadi
mid-range
DoubleTree
A great beachfront island resort in Nadi, that has a beautiful swimming pool restaurant and a bar
budget
Bamboo Beach
Stay in Fiji Nadi in this cool hostel that has a pool near the beach, a beach bar, and Kava parties
airbnb
Spacious Apartment
An apartment with spacious rooms that is great for families and they offer free parking access
Things to do in Nadi
Visit the Sri Siva Subramaniya Hindu temple
Admire some exotic flowers at the Sleeping Giant Orchid Gardens
Go hiking on the Nausori Highlands
Eat a delicious meal at Taste Fiji on the main island 
Sunbath on Wailoaloa Beach in Nadi
Buy fresh fruits at the Nadi Market
Get cool souvenirs from the Nadi Handicraft Market
Dine in the authentic Indian restaurants
2.2 Coral Coast & Pacific Harbour – where to stay in Fiji for tranquility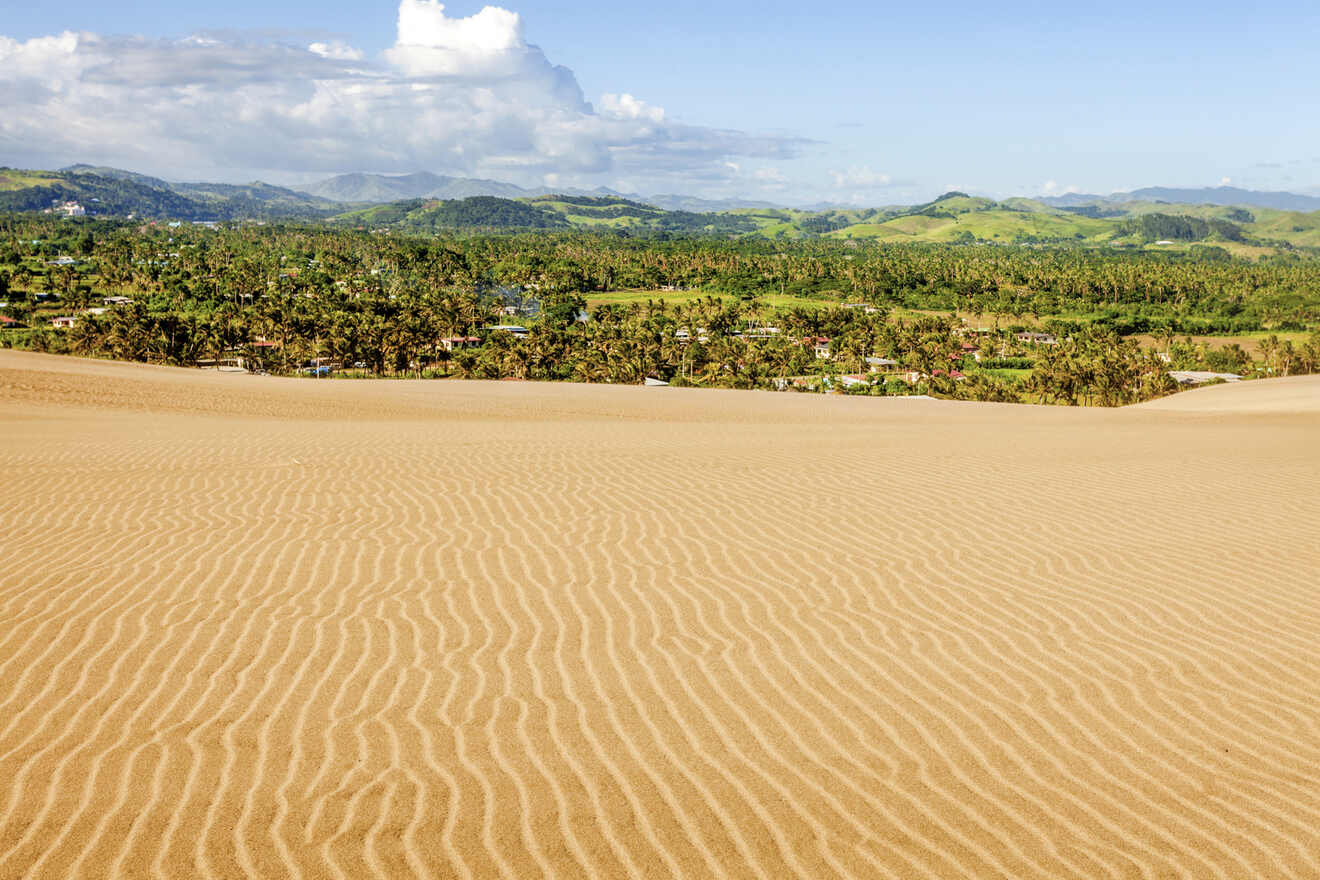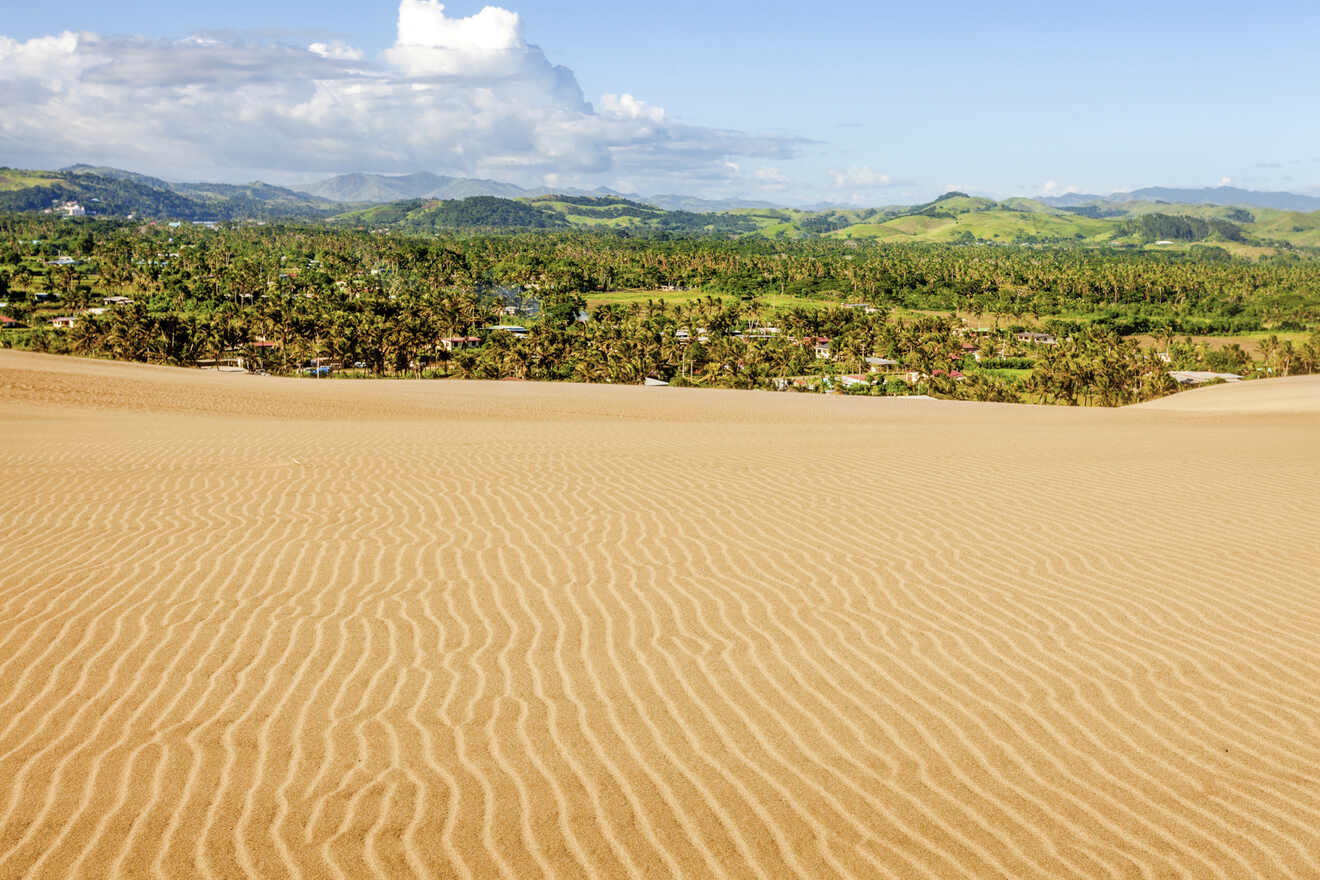 Located on the southern side of the Viti Levu island, between Sigatoka and Suva, just an hour (or two on Island time) away from Nadi, this is the perfect place to stay in Fiji if all you wanna do is chill out, relax, do some yoga and swim in the beautiful crystal clear sea.
In order to get here, you'll have to fly to Nadi International Airport. The atmosphere is very laid back here and that's no surprise! Have you seen how beautiful the Coral Coast is? Palm trees, coral reefs, and amazing sunsets will make you not want to leave this place ever.
Although there are plenty of hotels to choose from here, they're all spread out along the coast and Pacific Harbour, often with large grounds and private beaches making this area pretty special. There are a few little towns you can visit if you are looking for a market or some local shops, restaurants and bars, otherwise, the Coral Coast is all about enjoying nature with waterfalls, beaches, and time with the kids if you're traveling with families. 
The Coral Coast is home to Fiji's first National Park, so make sure you stop by the Sigatoka Sand dunes for a unique experience. Also, you're in Fiji so definitely try and learn a new water sport. Natadola beach is one of the most famous on the island for the numerous cool underwater activities, take a day off from the sightseeing and get yourself a surf lesson.
Luxury hotel
InterContinental Fiji Golf Resort
Dining by the pool with views of the gardens and lagoons? Sign me up! You can spend a romantic holiday in this beachfront luxury resort that has 3 outdoor swimming pools, a bar and a restaurant. Relax at the spa and enjoy your stay in Fiji.
Other accommodation options in Coral Coast
mid-range
Yatule Resort & Spa
Stai in Fiji in this lovely resort with rooms that have a terrace, you'll find two restaurants and a pool 
budget
The Beach House
A friendly hostel with a private beach area, the best outdoor showers you'll ever see and a volleyball court
airbnb
Bure Vonu
A secluded guesthouse with beach access, cozy rooms, free wifi and they have a lovely backyard
Things to do in Coral Coast
2.3 Denarau – best place to stay in Fiji for the luxury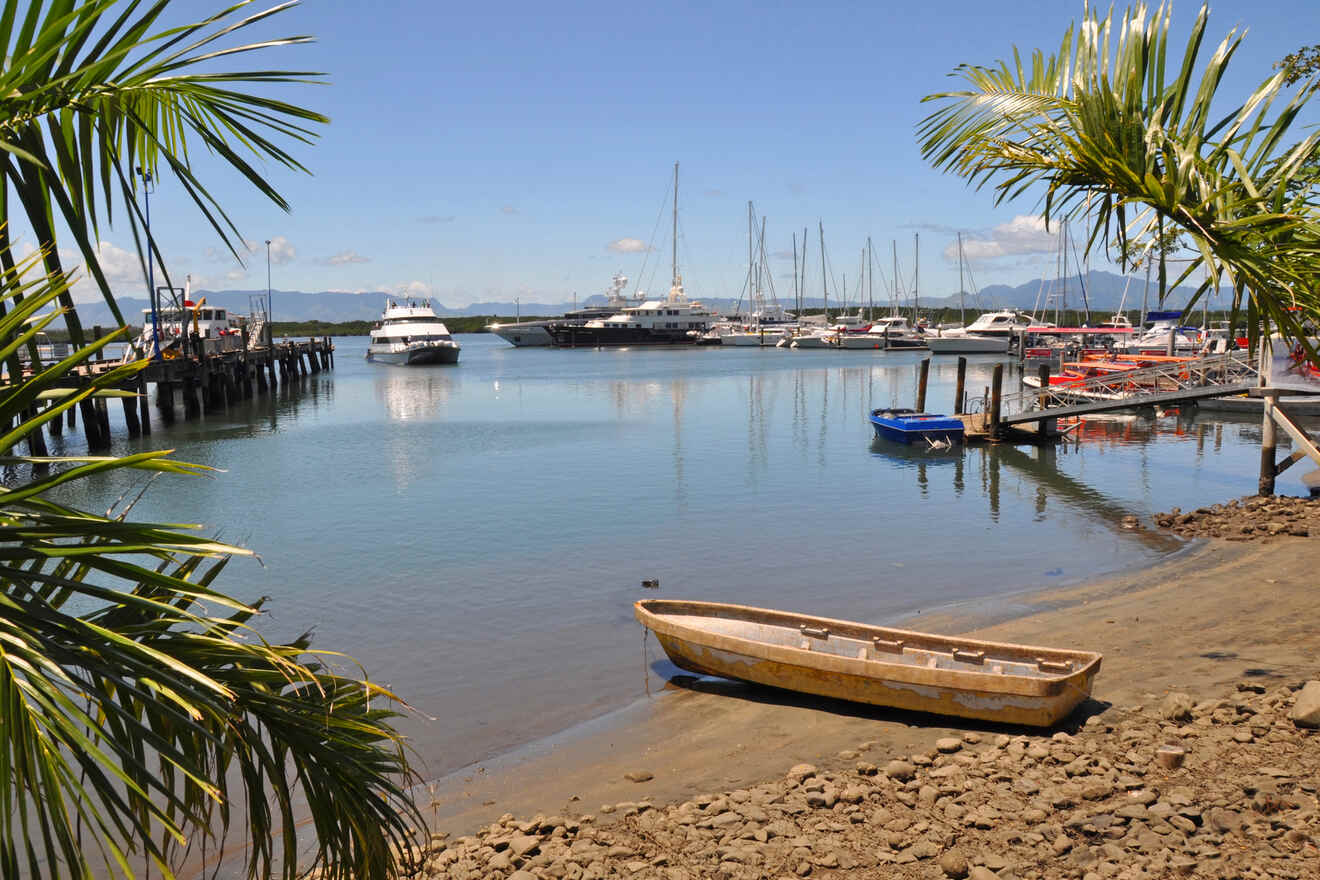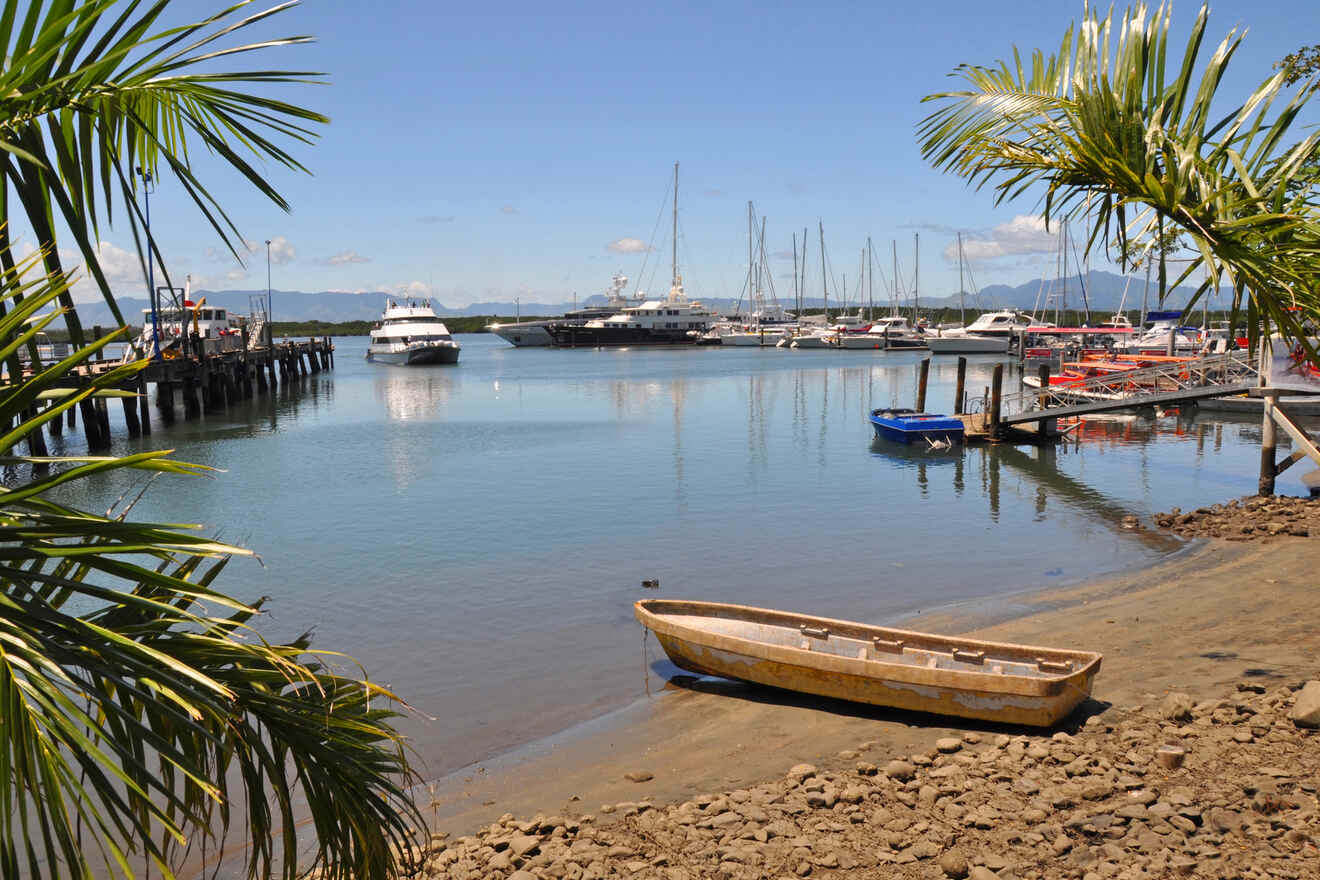 Located on the western side of Viti Levu just 3 miles (5 km) away from Nadi sits Denarau Island. Known for its Port Marina and the amazing luxurious yachts, this island is actually made by man from reclaimed mangrove swamps. 
In recent years Denarau has developed from not much to see to a top touristy location due to the fact that you can find deluxe beach resorts that offer you a wide range of amenities for your holiday, like the unique swimming pools and fine dining restaurants. If you want to explore outside of your resort, you can rent a yacht or go and play golf all afternoon. 
Even if the beaches here aren't like the ones on the other islands, you're in luck if you stay on Denarau Island because the transportation links are great. You have the Nadi International Airport really close and if you want to go on the other islands in Fiji there are helicopters that go to the nearby islands daily, as well as the many boats and ferries that leave for Mamanuca Islands and Yasawa Islands from the Port. 
Here are the best places to stay in Denarau:
Luxury hotel
Radisson Blu Resort
This beautiful resort in Denarau has four restaurants on-site and a spa center! Relax in one of the lagoon-style swimming pools and then hit the 18 Hole Golf Course at sunset to admire the amazing views of the island. You'll also find family rooms here.
Other accommodation options in Denarau
mid-range
The Palms Denarau
One of the best hotels in Fiji, that has a restaurant on-site, an outdoor pool, free parking and is great for families
budget
Fantasy House
Value stay in Fiji, Denarau in this cute guesthouse that has elegant rooms, an outdoor pool, and free wifi
airbnb
Modern Room
This budget apartment in Denarau has a lovely pool, a hot tub, air conditioning, and a spacious kitchen 
Things to do in Denarau
3. Mamanuca Islands – where to stay in Fiji on budget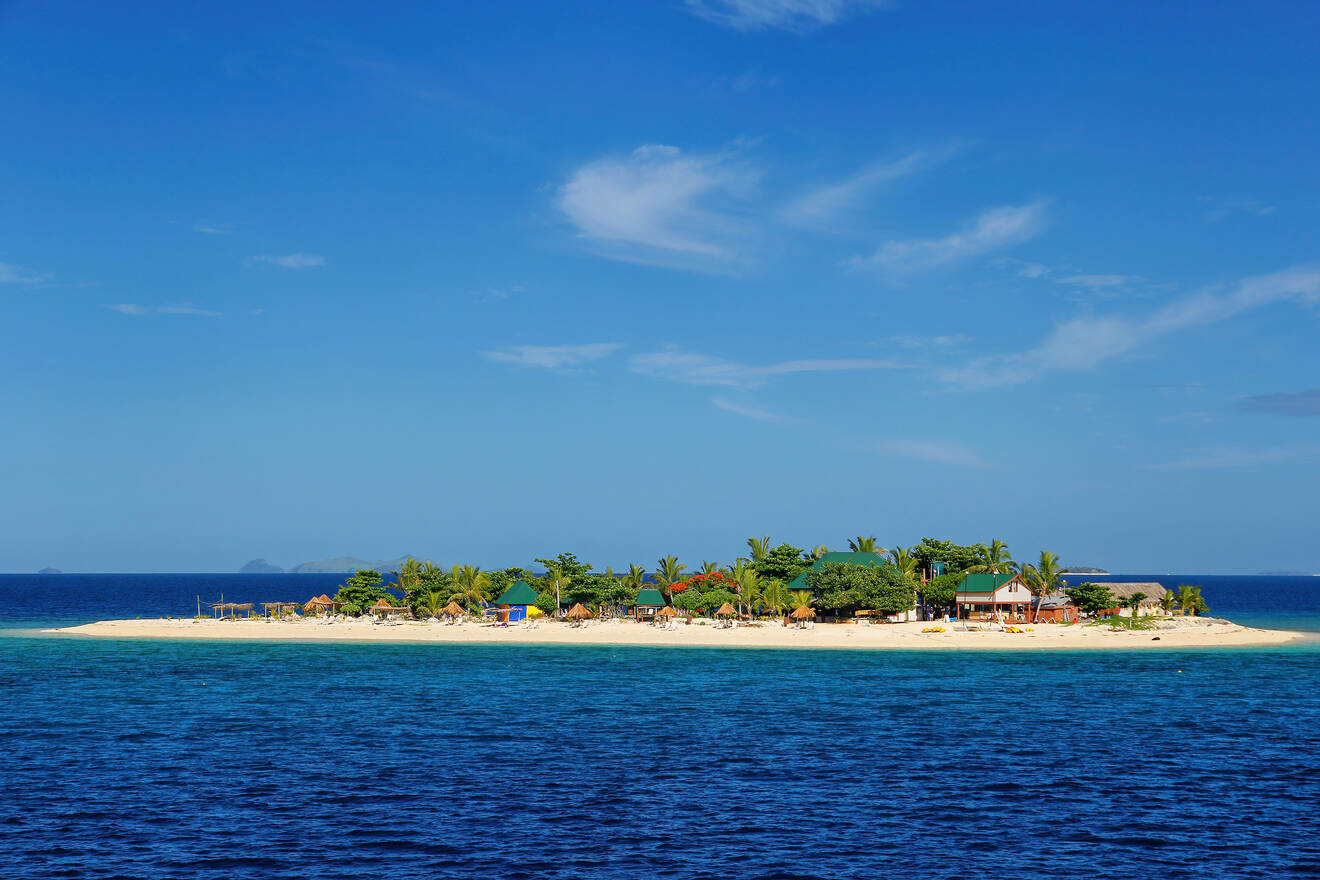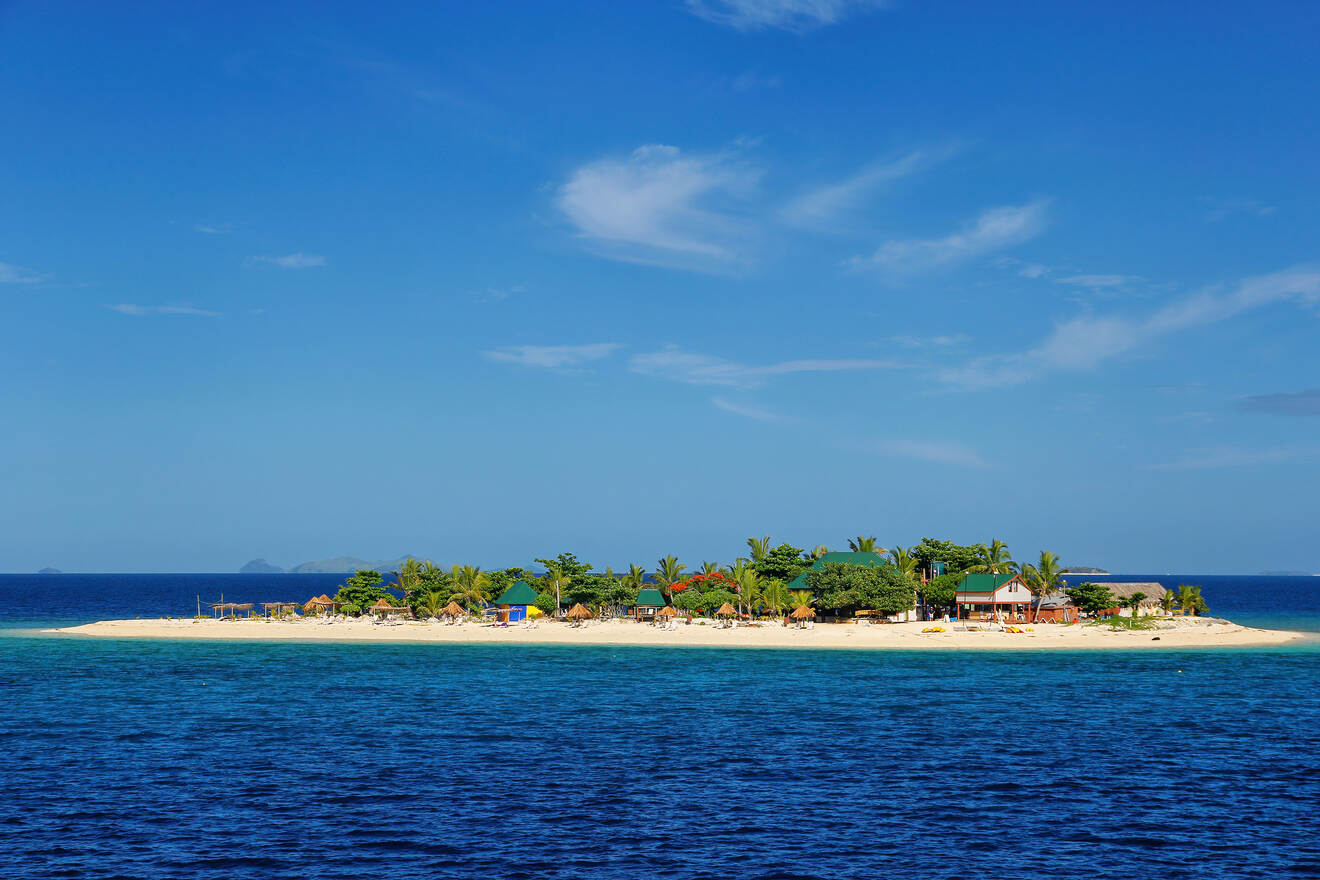 A beautiful group of twenty volcanic islands that are situated off the west coast of Viti Levu, the Mamanucas are one of the best places to stay as they're really close to Nadi International Airport, and they're famous for their diverse activities and beautiful pristine beaches. Plus, many tourists who travel on a budget choose to come here as they are very similar to the Yasawa Islands but they have more affordable hotels and accommodation options!
If you want to know how to get around the islands then remember that the Mamanucas are split in two parts. In the northern part, you'll find a group of flat small islands and in the southern part, you'll find the more tropical part of the Mamanucas. 
PRO TIP:I know you've been wondering if the famous movie with Tom Hanks, "Castaway" was filmed in Fiji, and yes they chose the uninhibited Monuriki island to shoot this amazing movie and you can visit it! Let's hope that's the last time someone can't find their way around this place! They also filmed some of the survivor seasons on the Mamanuca Islands so get ready for some epic landscapes.
This tropical paradise is wonderful if you want to try all the cool Fijian activities on your holiday, like hiking, surfing, swimming with sharks, kayaking, scuba diving, and many others. Make sure that you visit the famous dive site, The Big W, where apparently people saw a bronze whale shark! Wow! 
Also, you can go to Gotham City, and no, you won't find Batman but there is a big number of batfishes here, that's why they gave it this name. Have you ever dreamt of swimming with tonnes of sharks? Well if you come to "The Supermarket" on Mana Island you'll find that!
Luxury hotel
Likuliku Lagoon Resort
Make the most of your trip in the Pacific while staying at this idyllic resort. The views from the rooms are so unique! Enjoy a candlelight dinner by the beach and try the amazing spa treatments before you head to the beaches. 
Other accommodation options in Mamanuca Islands
mid-range
Musket Cove Island
Stay in Fiji Mamanuca during your holiday and enjoy drinking cocktails at the bars and the swimming pools 
budget
Ratu Kini's Resort
A great beachfront budget resort on Mana Island that offers free breakfast and the rooms have air-conditioning
airbnb
Vale-I-Yata
An affordable villa on the Fiji islands that has an amazing view, an outdoor pool, free wifi, and air conditioning 
Things to do in Mamanuca Islands
Go scuba diving on Tokoriki island
Take the boat to visit the Cloud 9 pontoon in the middle of the ocean 
Try diving at The Big W
Swim with sharks at "The Supermarket" near Mana Island 
Go Scuba Diving in "Gotham City"
Explore the island where they filmed the "Castaway"
Relax on the pristine tropical beaches of this pacific paradise 
4. Taveuni – best place to stay in Fiji for scuba diving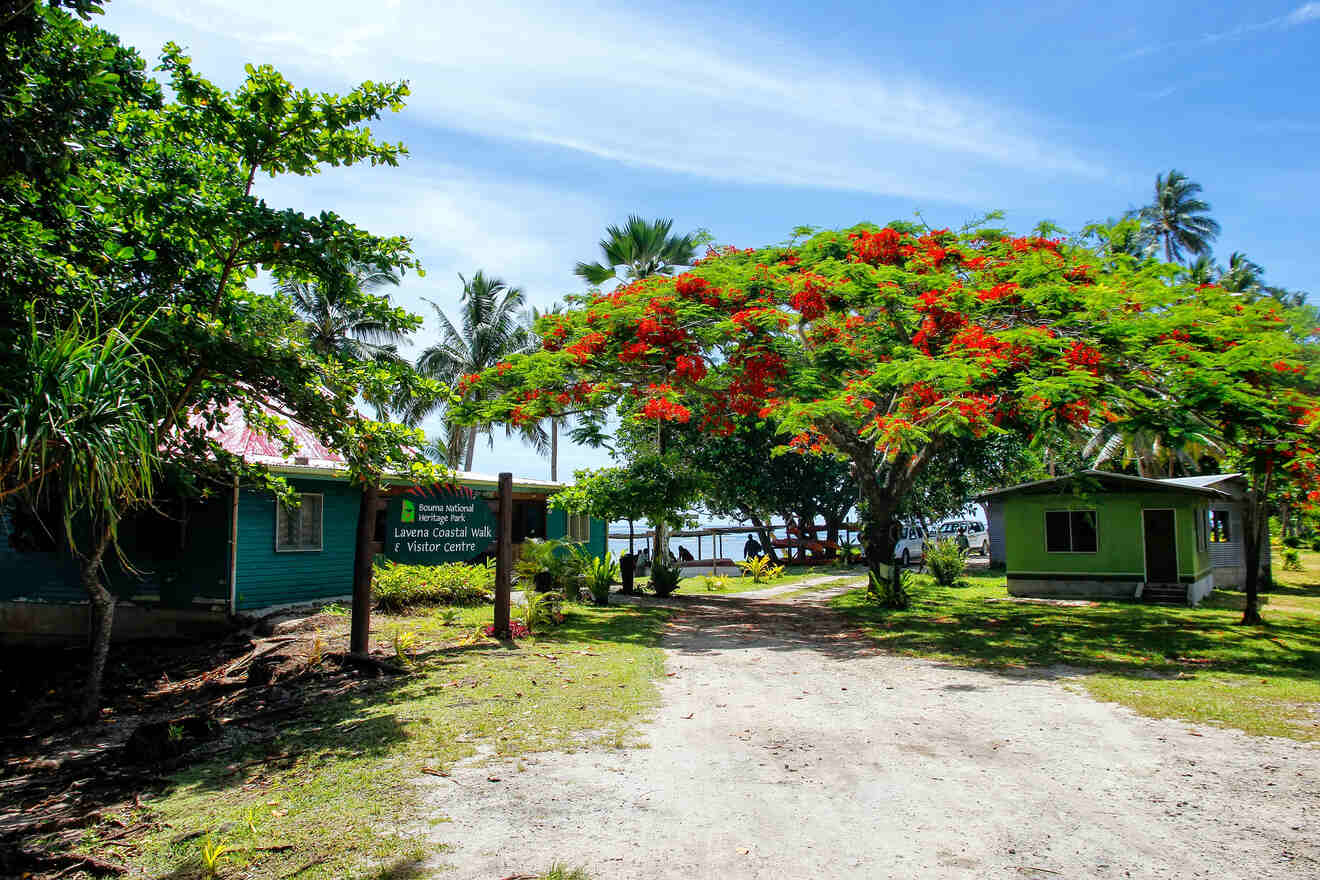 This picture-perfect island is one of the best places to stay in the Fiji islands during your trip if you want to scuba dive in some of the most popular sites in the world. The best way to get into Taveuni Island is to fly from the main island of Viti Levu. You will arrive at Matei airport in Taveuni in one hour, more or less, depending on which airport you fly from. 
If you're wondering where to stay in Fiji so you won't come across a lot of tourists, Taveuni Island is the best choice for you! There are only a handful of hotels and although there are plenty of tours and attractions to see all the unique sights in nature, this place it's not completely tourist focussed like the Yasawa Islands. That means you'll get to experience a bit more of the authentic local vibe here!
Also known as the "Garden Island of Fiji" this beautiful paradise will make your holiday unforgettable! Go deep into the jungle and explore the tropical rainforests, waterfalls, and discover all the beautiful plants and trees.  
The Tagimaucia flower has a special story, the word means "to cry in one's sleep" in Fijian and the legend says that long ago a princess cried all night in her sleep because her father wouldn't let her marry the love of her life! Her tears were transformed into red flowers which bear her name now! 
On Taveuni Island, you'll find the most amazing diving locations! The Great White Wall is one of them and everyone in the South Pacific comes here to wonder at a reef of white coral and the Rainbow reef. The spectacular Tavoro Waterfalls should also be on your list, as well as the Bouma National Heritage Park, a protected jungle where nature lovers will feel in their habitat, with tons of different species of birds and unique pools. 
Luxury hotel
Taveuni Island Dive Resort
I love this place on Taveuni Island, it's like living in your own little village! One of the best resorts to stay in during your trip, it has a private beach area, a sun terrace, and a restaurant with delicious food. Adults can enjoy the laid-back atmosphere by drinking a cocktail and checking the shops on site. 
Other accommodation options in Taveuni, Fiji
mid-range
Aroha Taveuni
A friendly hotel on the Archipelago, near the beach with a cool outdoor shower and a pool with nice views
budget
Maravu Taveuni Lodge
Stay in Fiji, at this on budget lodge near the beach that has an outdoor terrace, as well as a bar and restaurant
airbnb
Raintree Gardens
Located in a nice area to stay this cute house has two rooms, a balcony, free wifi and a backyard 
Things to do in Taveuni, Fiji
5. Vanua Levu – where to stay in Fiji for the local experience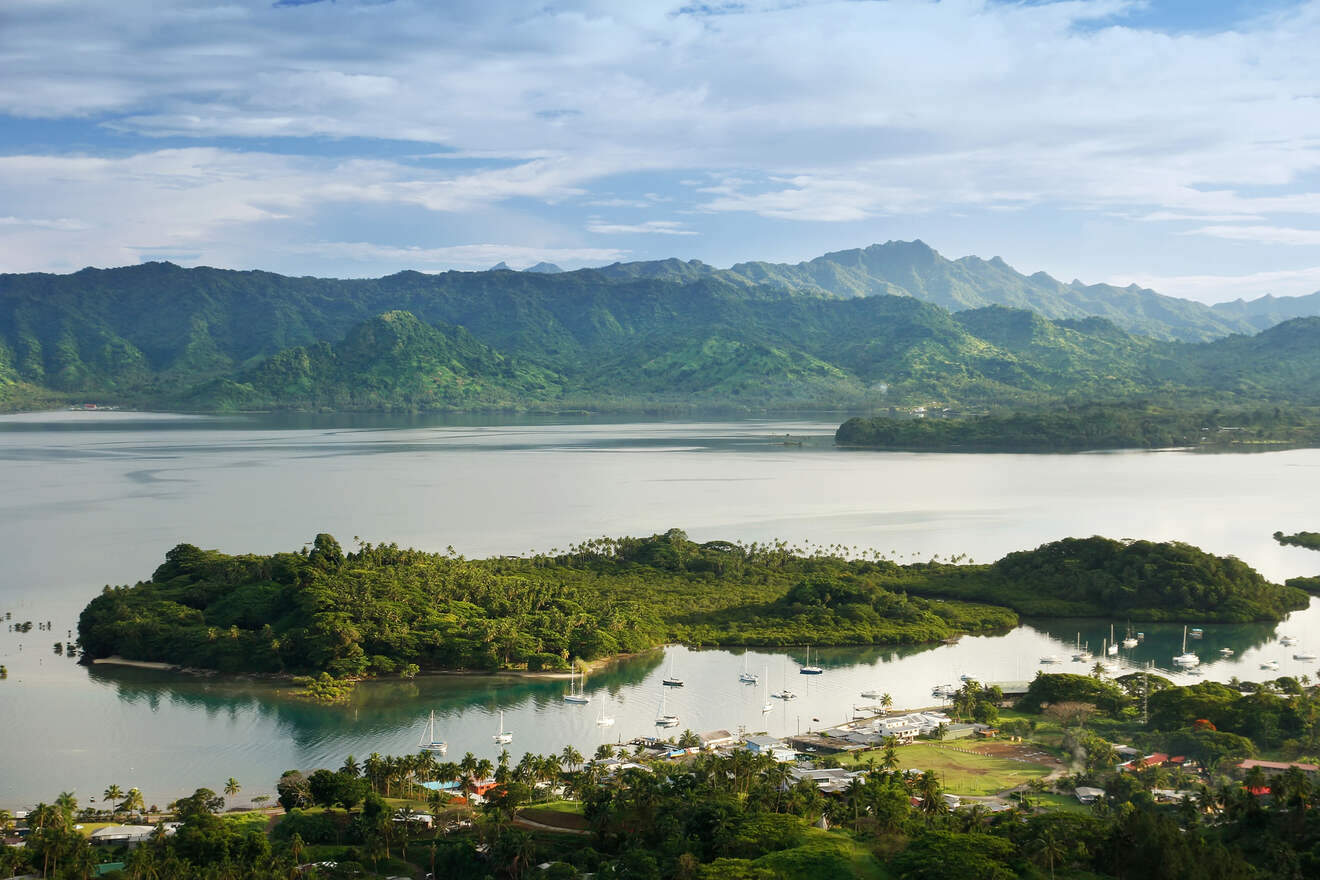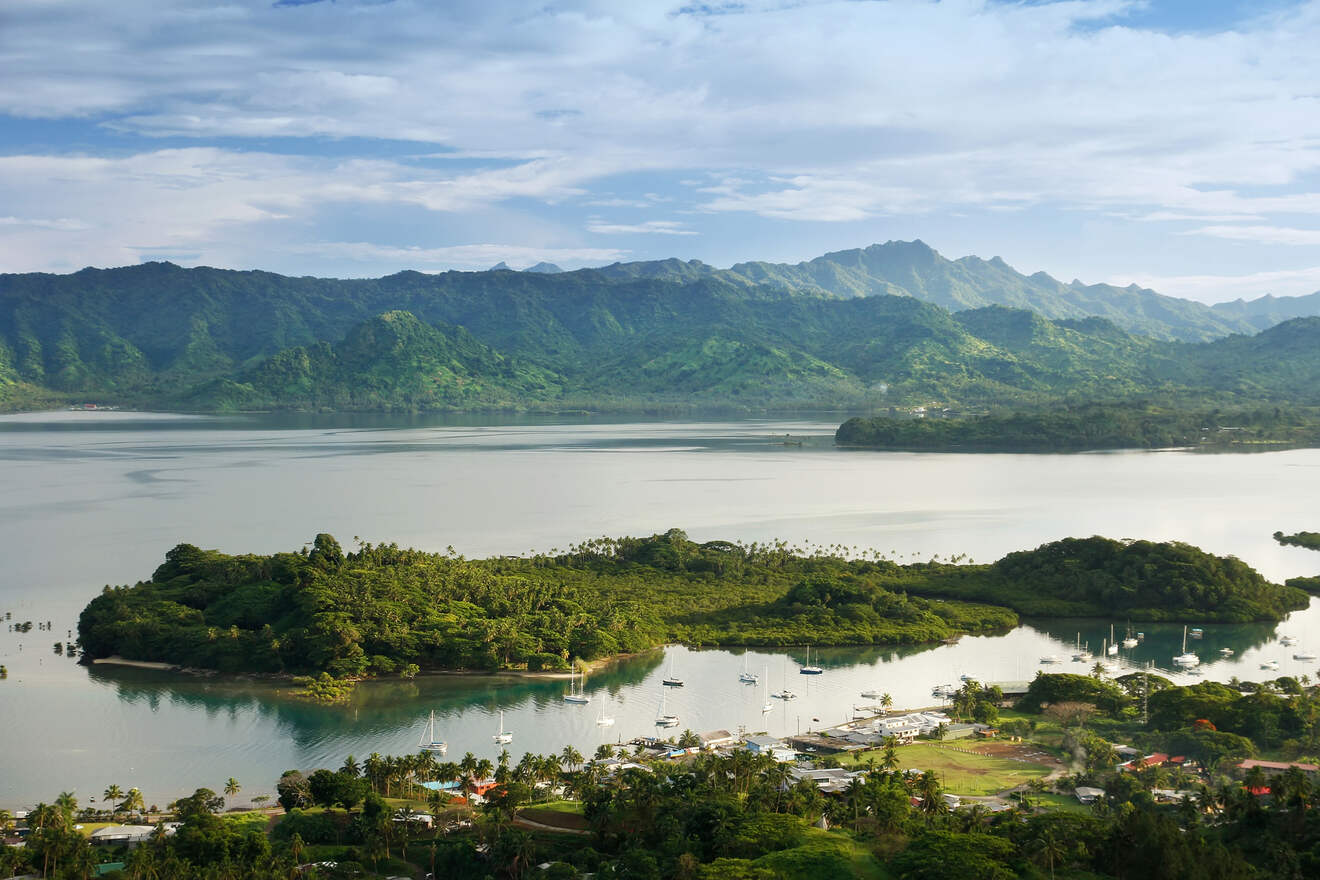 I know it can be hard to believe that this archipelago in the South Pacific has any islands that haven't been transformed into top tourist locations with many luxury resorts at every corner. I'm sure some of you would love to experience the authentic atmosphere of the islands of Fiji. That is why I recommend staying on Vanua Levu island! 
One of the best-kept secret locations in the Pacific this place wasn't touched by mass commercialization like the island of Viti Levu or the other ones.
Although there aren't high-class bars and restaurants on every street, you'll love the atmosphere here. Known for its sugar and copra plantations, if you want to explore Vanua Levu you'll find tons of hidden villages, mountain trails, and fantastic waterfalls! You're still in Fiji so expect to see some unique beaches and reefs but for those of you who prefer rainforests, fear not, you'll find tons here to visit and admire. 
Vanua Levu is perfect if you're wondering where to stay in Fiji in order to get authentic vibes. Discover the rural side of the spectacular South Pacific islands and enjoy some good old beach time!
Luxury hotel
Koro Sun Resort & Rainforest
Stay in Fiji in one of the best resorts! I just love the authentic island vibes of this place. Spend a whole afternoon in the outdoor pool that has the most amazing views of the rainforest. Adults can enjoy a day at the spa and families will find the kid's playground useful!
Other accommodation options in Vanua Levu, Fiji
mid-range
Salt Lake Lodge
Enjoy your trip on the island in this amazing lodge that has BBQ facilities and offers free kayaks 
budget
Palmlea Farms Lodge
Live the Fijian life on the island in this unique budget hotel that has a great view of the lagoons and reefs
airbnb
Fijian Apartment
Stay in Fiji, Vanua Levu during your trip in this friendly place perfect for adults that has an outdoor pool
Things to do in Vanua Levu, Fiji
Go diving in the Namena Marine Park
Visit the beautiful Savusavu harbourside town
Discover the spectacular Waisali Rainforest Reserve
Get souvenirs in the shops of Labasa
Go for a swim in the Nakawaga Waterfall
Admire the beautiful Fijian hidden gems on a Pearl Farm
Relax in one of the hot springs in Savusavu
Visit the Tropical Gardens Fiji with the kids
Go on a fishing trip or another adventure activity
BONUS: Best 3 beaches in Fiji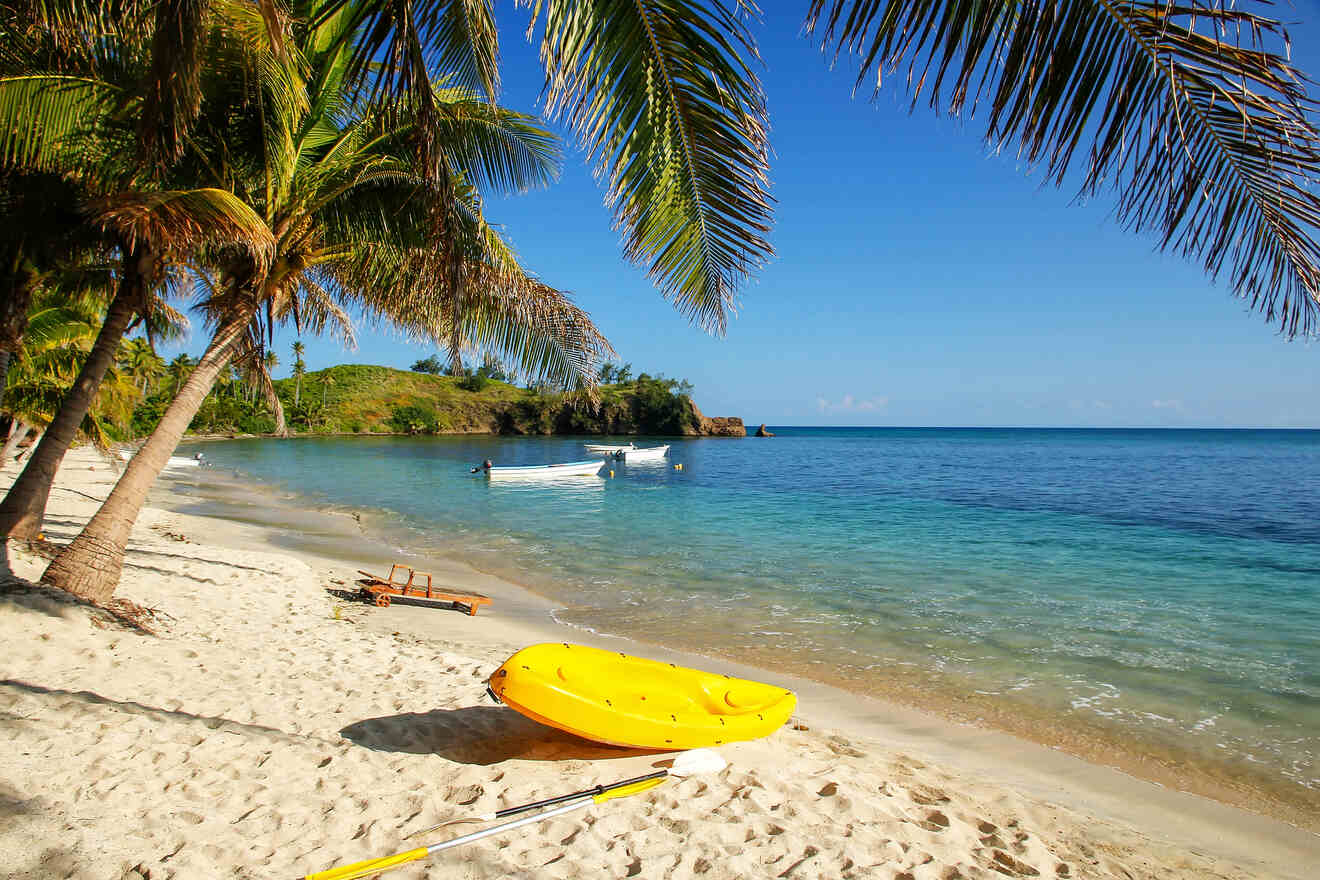 I know that most beaches in the Pacific are really special and unique but you know that I love to recommend my readers the best of the best. When it comes to where to stay in Fiji we have already decided what island you should choose for your trip depending on your preferences and what local beaches you can find there. 
However, if you're still in the mood for some more adventures outside the comfort of your resorts and hotels, come with me, and let's find the best beaches on the Fiji islands that are definitely worth your time.
While not all of them are located on the islands that I talked about earlier, many of them are accessible as day trips from different locations and I'll let you know where you have to go in order to have access to them. So let's find Fiji's best beaches, lagoons, and snorkeling sites!
1. Blue Lagoon Beach
Located on Nacula Island in the Yasawa Islands, this beach is world-famous for its pristine white sand and crystal clear water. On top of that, you have the tropical side of the area which looks so beautiful in contrast with the colors of the water and sand. You can get to Nacula by seaplane or you can take the Bulla Boat to get here.
Take your camera for this one, and spend your days relaxing on this remote beach. Sunbathe, or maybe get in the water and do some snorkeling! I'm sure you'll see all the colorful cute fishes as it's super clear. This is a lovely place, especially nice for couples or for those of you who want some peace and quiet. If you love this beach that much then you can actually stay at the Blue Lagoon Resort.
2. Natadola Beach
Located on Viti Levu, the main island in Fiji, you can get here by flying into Nadi Airport, which is the closest one to the beach just one hour away.This corner of paradise was included in the top 100 best beaches in the world by CNN Travel.
It's not hard to see why you have to come here during your trip! You can spend all day on the beach either admiring the beautiful lush tropical side of it or maybe venture into the Pacific water and swim until the sunset! This spot is also great for snorkeling, as it has some of the most amazing coral reefs so add it to your bucket list! If you stay as close to the beach as possible then book your place at the InterContinental Fiji Golf Resort.
3. Castaway Island Beach
Located in the Mamanuca Islands, south of the Yasawa Islands, Castaway Fiji is accessible by boat from Denarau Marina or from Nadi Airport by Heli or seaplane. This is one of the best beaches for swimming in the archipelago. Another famous movie location, they filmed Survivor on Castaway Island! If you decide to stay here for a few nights then I recommend the Castaway Island Resort!
There are tons of underwater activities to try here like diving, snorkeling, kayaking, or windsurfing. Or you can chill on the beach with a glass of champagne in your hand! Castaway Island is also known a little as a party island, this is what I call the "good life"!
Frequently asked questions about Fiji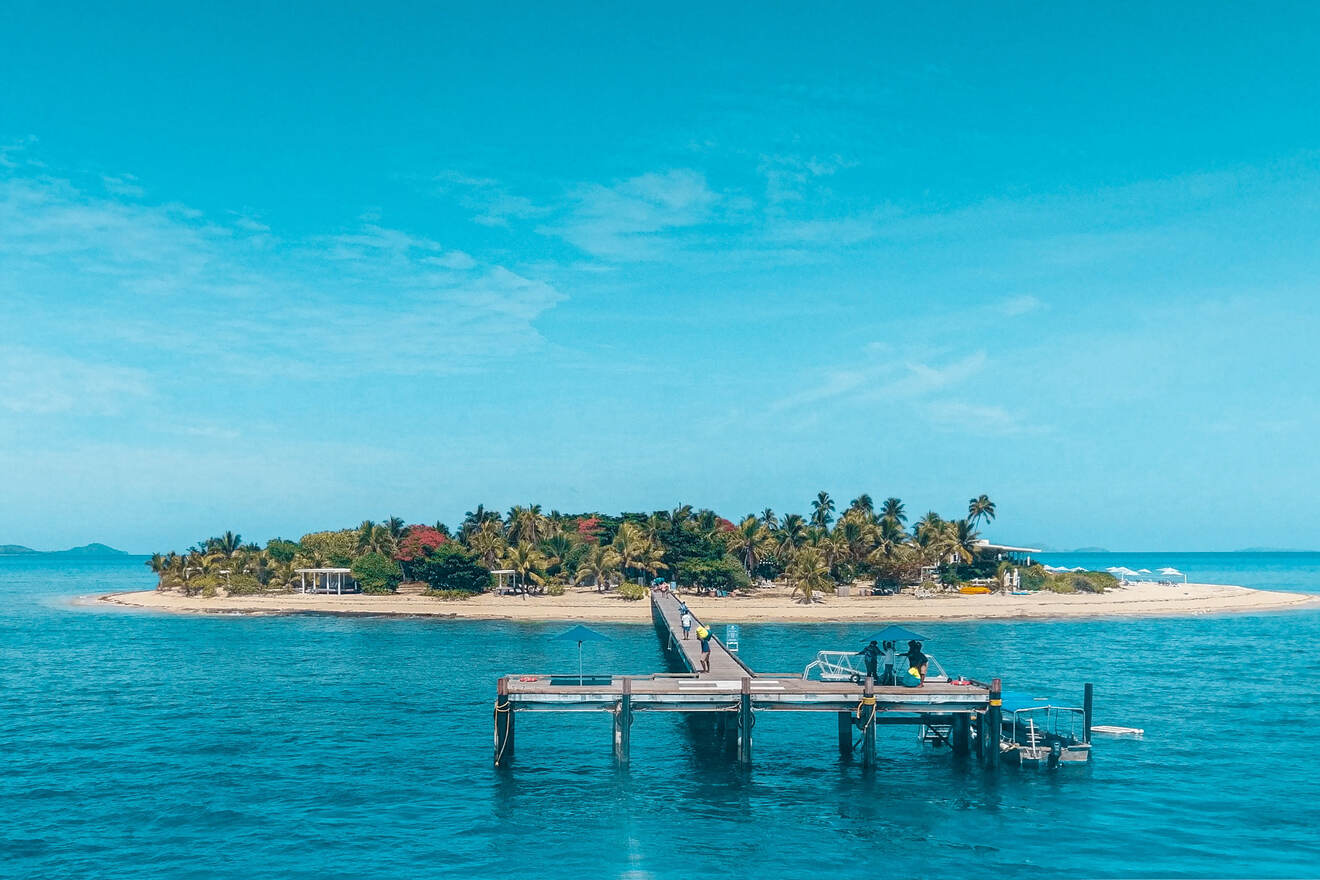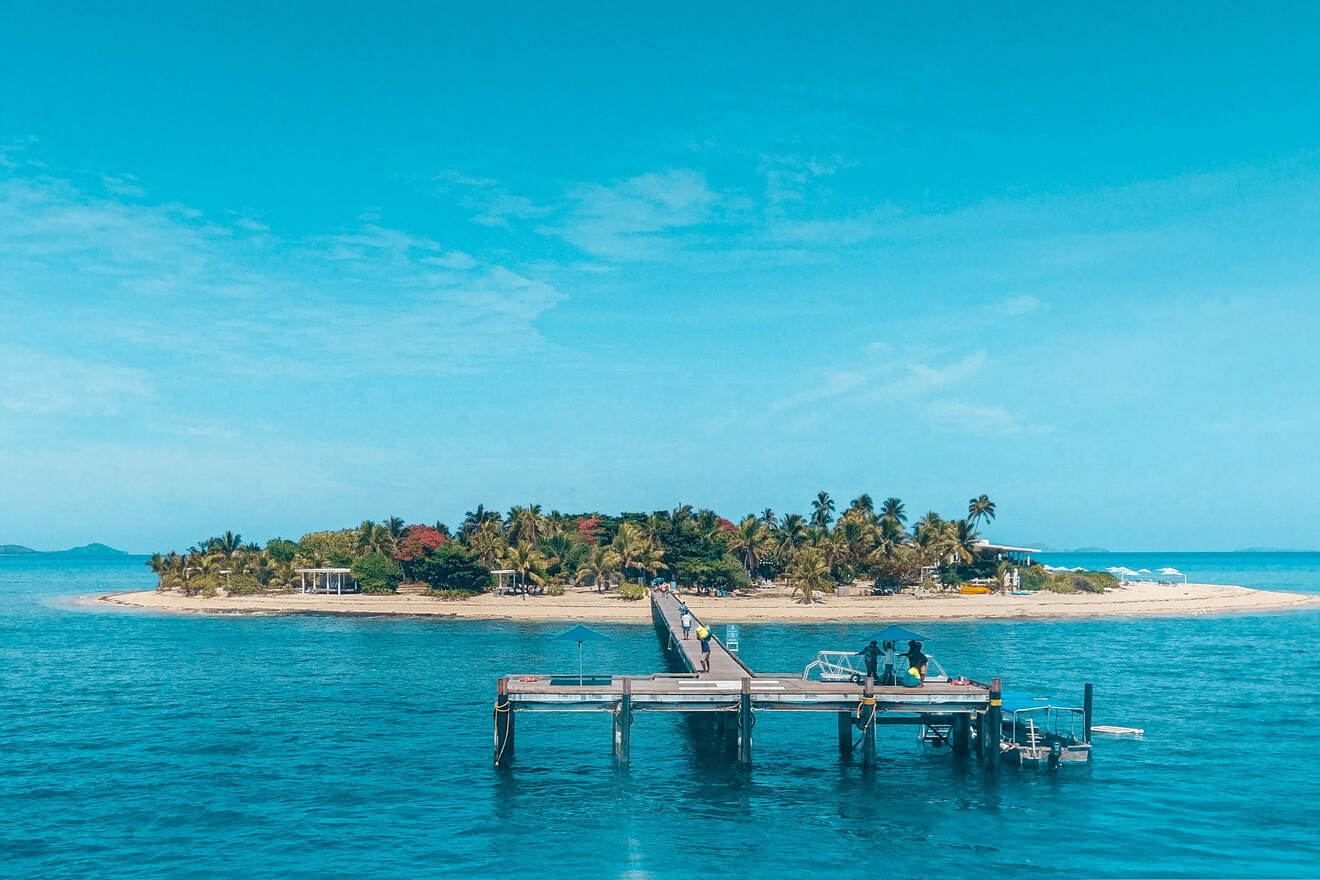 🏝️ What part of Fiji is the most beautiful?
The most beautiful part of Fiji has to be Tauveni Island, also known as the "Garden Island of Fiji" this is where you'll find tons of waterfalls, rainforests, lagoons, unique beaches, and the best hotels and resorts in Fiji.
🚫 What should you avoid in Fiji?
Make sure you avoid eating reef fish as it's possible that they are toxic because they feed off coral which at certain times of the year can have a toxic bloom on them which causes infection.
💸 Is Fiji cheaper than Bali?
No, Bali has cheaper areas, hotels, and resorts than Fiji. Mostly due to its remote outer islands, Fiji is more expensive overall, however islands closer to Nadi have great budget restaurants and bars and tons of hostels. Fiji is statistically safer than Bali though.
🏨 What is the best luxury hotel in Fiji?
The Radisson Blu Resort in Denarau is one of the best luxury hotels in Fiji that has all amenities and it's great for families!
💰Where to stay on a budget in Fiji?
If you're wondering where to stay in Fiji on a budget trip, The Beach House is a great on-budget hostel on the Coral Coast, the owners are super friendly, there are tons of free activities and the outdoor shower is the best!
🌠 Where should I stay for one night in Nadi?
DoubleTree by Hilton on the main island is the perfect place where to stay in Fiji for just one night as it is less than 15 mins from the airport but located right on a beach. I recommend this as it is one of the top Fiji hotels, especially for families with kids. You'll also find a few local shops, restaurants, and bars nearby.
Conclusion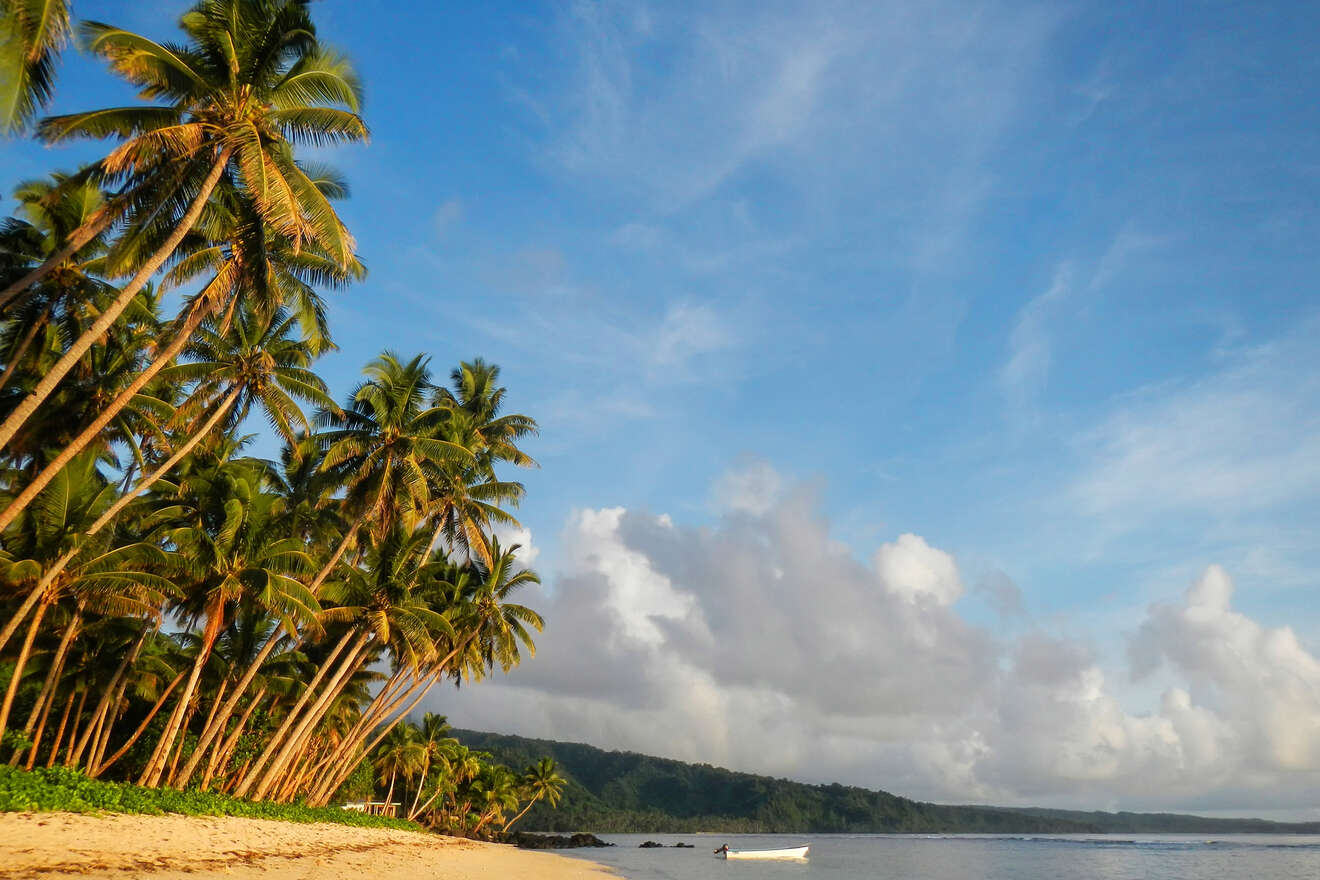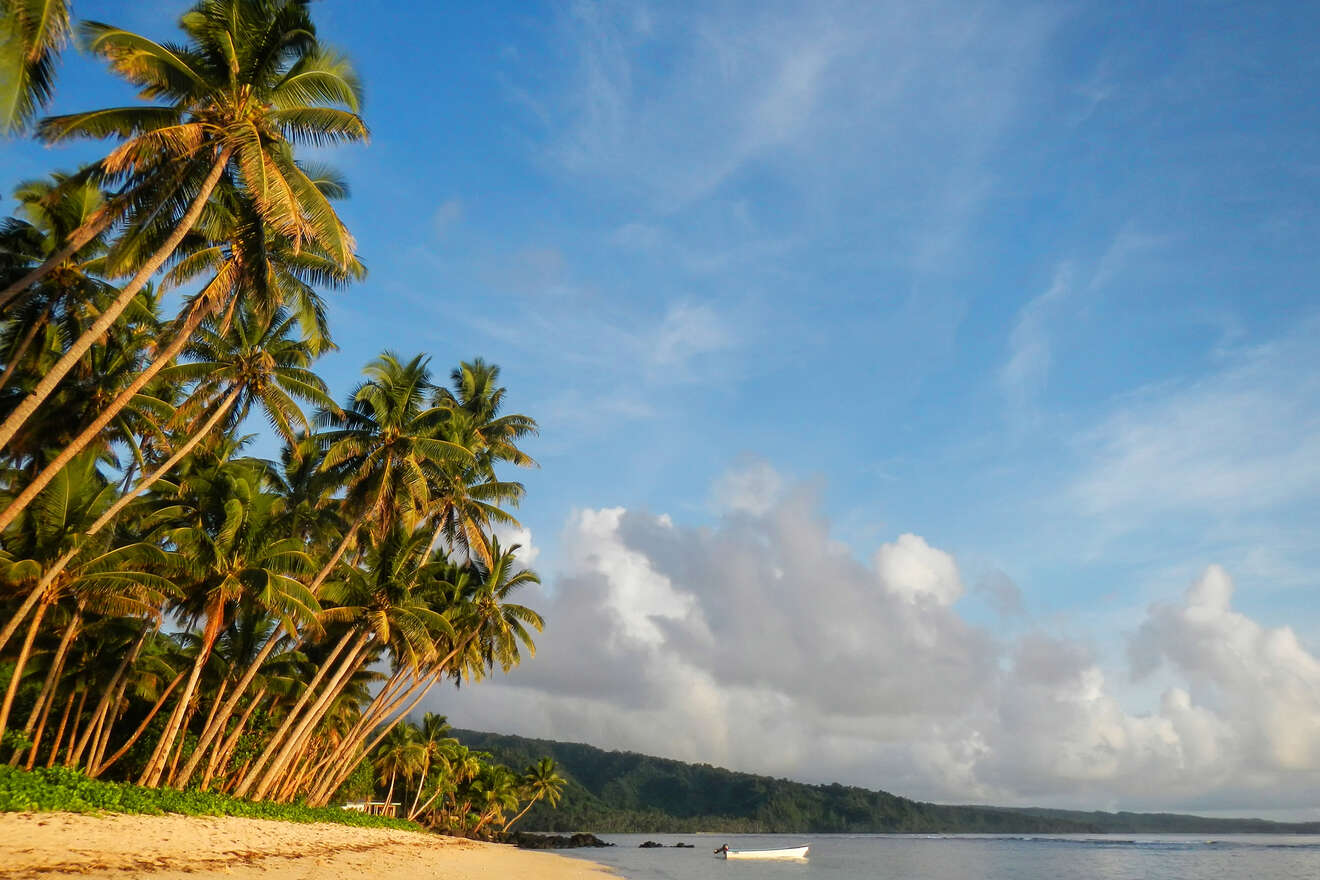 Wow, that was quite an adventure! I can't wait for you to hit all the bars and restaurants here, not to mention all the cool pictures you'll take at the amazing resorts and hotels! I hope this article will help you decide where to stay in Fiji. Whether you choose the main island of Viti Levu or you decide that the Yasawas are better suited, I'm sure you'll have a great time no matter what.
I know I've given you so many hotels and resorts to choose from but here are my top two favorites, both located on the Yasawa Islands. Just make sure you book in advance so you won't miss the good deals 
Well, that's it from me! You're probably already booking your place on some remote island on the Coast (and if not then you should because these places sell fast)! I wish you the most amazing holiday, go sightseeing, take day trips and hit all the bars! You'll probably think about moving to Fiji more than once!
Do leave a comment if you have any questions or suggestions for our fellow travelers!
Safe travels, 
Victoria