Being such a vast continent, the climate in Europe varies drastically, depending on where you go. In addition, traveling in the shoulder season of spring makes the weather in Europe even more unpredictable. 
So, if you're planning an epic Europe trip in spring, it's only natural to feel a bit confused about what clothes to take with you. Luckily, thanks to our experience traveling in Europe, we know the best way to dress in all seasons.
PSSST. Your travel medical insurance can now cover COVID-19!
If you grab SafetyWing Nomad Insurance, it'll be covered just like other illnesses. I've been using it since 2019 and I can assure you it's the perfect solution for nomads like you and me.
So before you start packing for Europe, read our guide on the best travel clothes for Europe in spring.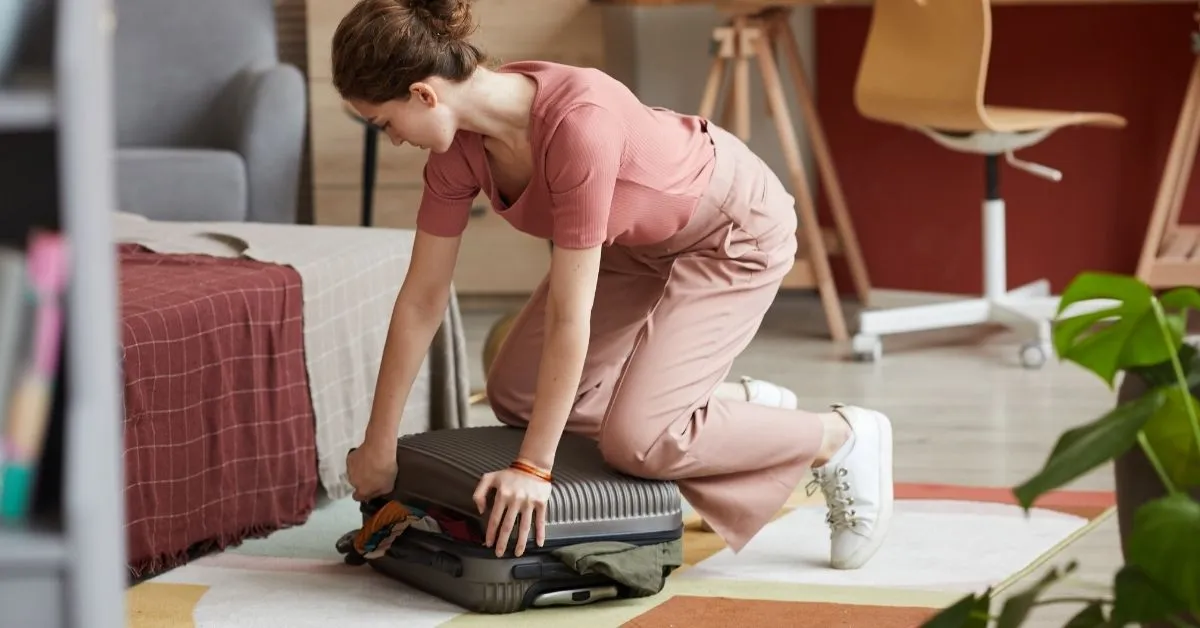 What To Pack For Europe In Spring
When deciding what to pack for Europe in spring, think about what countries you are visiting before planning your outfits. It's no secret that spring can be winter-like in some parts of the continent, like Sweden, Scotland, and Poland.
In contrast, in the Mediterranean areas of Spain and Greece, Spring has a warm, summer feel.
If you're only visiting one country, the packing will be a much easier process than if you're backpacking across the continent. Even so, as spring in Europe is so changeable, it's also best to pack for multiple seasons regardless.
Of course, if you're traveling with a backpack or small suitcase, you can't take your entire wardrobe. So how do you ensure you're covered for the varying climates while still traveling light? 
The best way we've found to do this is by taking multiple layers. Having a mix of short sleeve t-shirts, long-sleeve tops, jumpers, and a good jacket or two will allow you to adjust to the unexpected weather changes.
So let's break down exactly what layers you'll need when packing so that you can know exactly what to wear in Europe during spring.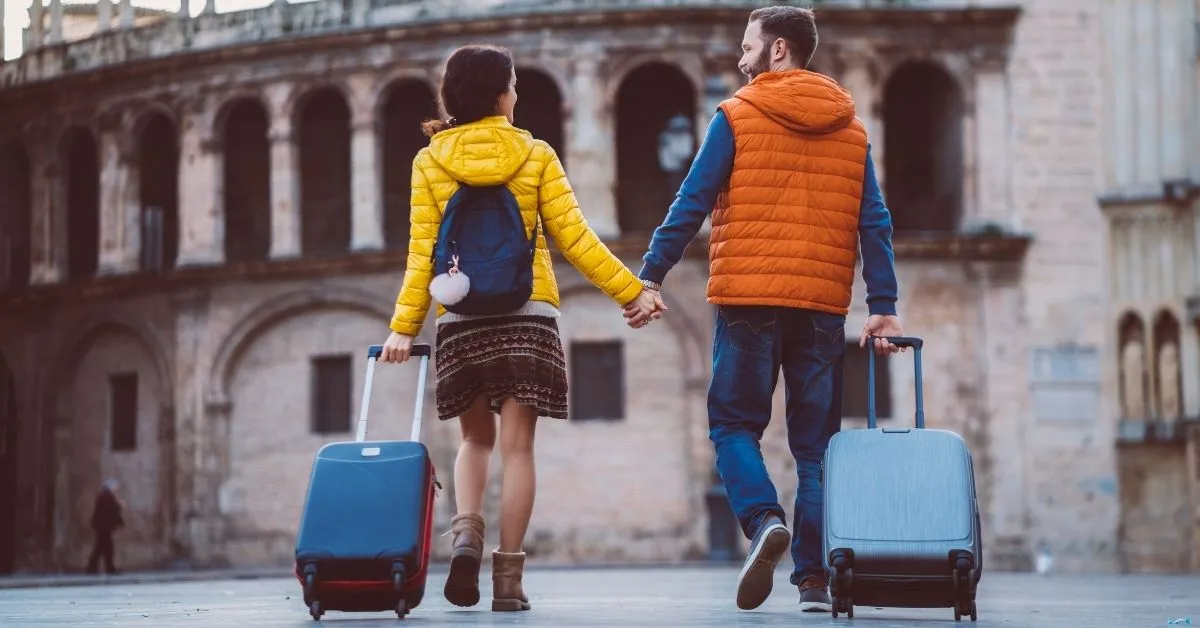 T-shirts & Vest Tops
Short-sleeve tops are a base layer that you'll be wearing every day during your trip. So pack plenty of t-shirts, vest tops, and tank tops. You'll find spring days in Europe often start chilly and then warm up considerably throughout the day.
So, if you're out hiking or walking around, you might find you get warm enough to take off your outer and mid-layers.
Hoodies & Sweaters
Hoodies, sweaters, jumpers, and cardigans make warm mid-layers, offering you insulation against the cold winds. Even if it seems like a warm day, we recommend taking a hoodie and sweater with you wherever you go.
As spring is such a temperamental season in Europe, you just never know when the temperature will drop.
During the day, you may be able to interchange jumpers and jackets as your outer layer. Still, in the evenings, you might find you need both layers.
Jacket
No matter where you go in Europe in the spring, don't forget to pack a jacket. Unless you're heading to a nordic country like Denmark, Norway, or Sweden, you probably won't need a super thick winter coat.
However, a thin, lightweight jacket with some insulation will undoubtedly come in useful.
A windproof and water-resistant jacket like this MAGCOMSEN Men's Hooded Windbreaker Jacket is ideal, as it gives you total protection from the elements. It's also lightweight and quick-drying.
Note that if you're traveling around only one European country, the climate can differ significantly from the north to the south. Spain and Italy are two examples, as the northern regions remain cold during the spring.
However, the southern areas are starting to feel summer-like. So, you may not need a jacket for your entire trip, but you will most likely need it for part of it. 
Rain Jacket
If your jacket or coat is not waterproof, you'll need to bring a rain jacket too. Of course, certain countries in Europe have a higher chance of rainfall in spring than others.
However, as many rain jackets are thin, lightweight, and can be packed down to a small size, there's no reason not to include one when packing your travel outfits for Europe.
For example, this 33,000ft Packable Shell Rain Jacket is 5000mm waterproof with fully sealed and welded seams to keep water out. It's so easy to fold down and pack in the included carrying pouch, which you can keep in your daypack or hang from the outside of it.
Long Pants
Long pants are the most common lower body apparel in Europe during the spring, so ensure you pack plenty of these. Include a mix of jeans for city exploring, hiking or sports pants for outdoor activities, and a couple of smart/casual trousers. 
For women, leggings are also one of the best travel clothes for Europe in spring. You can find thin and breathable leggings for warmer locations like the VIV Collection Brushed Buttery Soft Print Fashion Leggings.
Or, if you're traveling in colder countries, take a couple of thermal leggings like these Conceited Premium Women's Fleece Lined Leggings. 
Shorts
PSSST. Want to get FREE accommodation in exchange for work?
If you're traveling on a budget or want to save and extend your trip, this could be exactly what you're looking for. Worldpackers is a platform that connects travelers like you with hosts. It's just like volunteer work –exchange your skills for free accommodation. SAVE $10 using my discount code. Learn more about how it works here.
If you're visiting a Mediterranean country like Greece, Malta, or Cyprus, expect warmer temperatures than elsewhere in Europe. In that case, pack a couple of pairs of shorts. 
Even if it doesn't seem hot in the morning, the temperature can quickly rise around midday. So keep some shorts in your daypack that you can change into if needed. 
Scarf & Hat 
If you're traveling in Northern or Eastern Europe, a scarf and hat are necessary for spring. This is because the winds here are still icy, so it's essential to protect your neck and ears.
Even if you're visiting the UK, Ireland, France, or Germany, we still recommend a scarf, but you can choose a thin fashion shawl instead of a thick winter one.
Sunglasses
Even if the temperature is low, springtime in Europe brings increased sunshine and daylight hours. Therefore, even if it's not beach weather, you can still expect bright, sunny days, so sunglasses are essential. 
Footwear is another important consideration when choosing travel clothes for Europe in spring. Again, the countries you're visiting will determine the footwear you'll need.
Still, in general, we suggest a good-quality pair of ankle boots that will offer you comfort and warmth when exploring cities and sights.
Choose a low heel for comfort and opt for waterproof material to keep you dry in the unexpected April showers. We love these SOREL Chelsea Rain Boots for women, which have rubber sole traction and a supportive EVA footbed.
Don't forget your favorite sneakers or running shoes for long walks and hikes. And if you're heading to the Mediterranean and planning a beach day or two, pack a pair of flip flops or sandals. 
Dresses
Finally, an additional item that women may want to take to Europe in Spring is a couple of long dresses. One or two chic dresses are enough to give you something nice to wear whenever you go out to a nice restaurant and bar. 
As the nights are still chilly in most parts of Europe, we suggest avoiding short, strappy summer dresses. Instead, opt for a midi or maxi dress for more coverage. This Boho Floral A-Line Flared Midi Dress by Floerns is ideal.
Pair it with boots rather than sandals or heels, and if you're traveling to a chilly part of Europe, you'll need some warm tights too.
Europe Travel Outfit Ideas For Spring
Now you know the type of layers you'll need on your upcoming trip, it's time to plan some stylish outfits. Here are our top Europe spring outfit ideas for men and women.
Men
Below, you'll find our outfit ideas for men during European spring.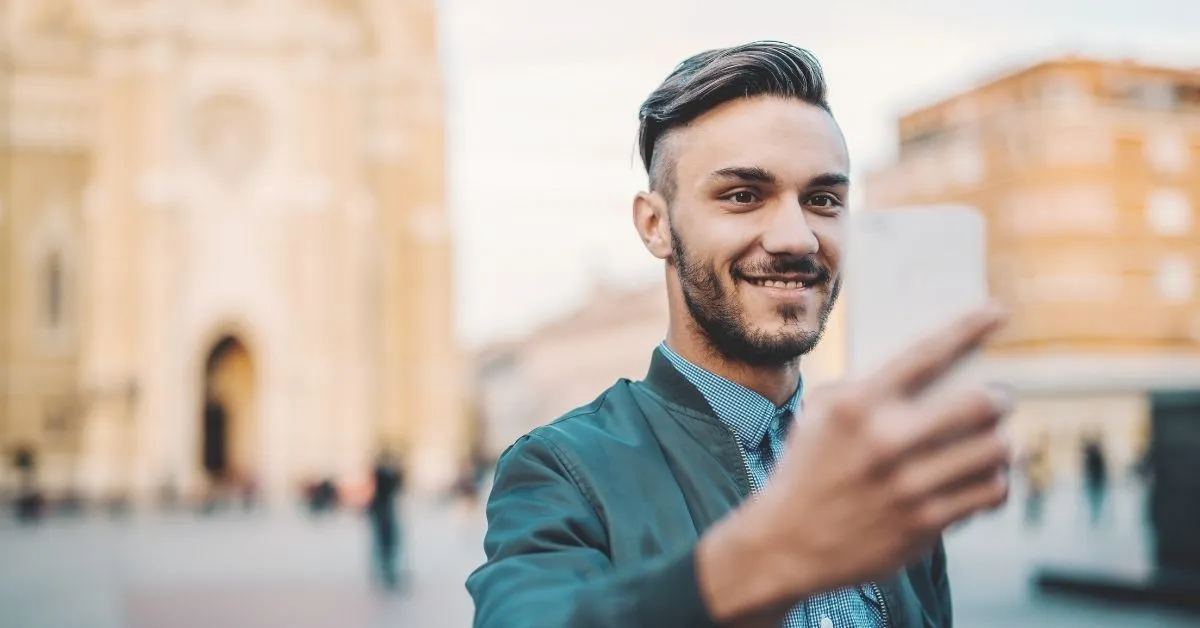 City Explorer
When you're walking around a new European city, you want to look stylish, feel comfortable, and blend in with the locals. Create this look with these comfortable and durable Rockport Waterproof Storm Surge Toe Boots.
They feature an Adidas adiPRENE shock-absorbing heel cushioning so you can walk around all day without getting sore feet.
Pair them with these Match Straight Tapered Jogger Trousers and Sailwind Henley Long Sleeve T-Shirt. Layer with this Esobo Cotton V Neck Sweater and this Sandbank Softshell Flight Bomber Jacket.
It not only looks fashionable but it's windproof, too. However, it won't keep you dry in the rain so don't forget your rain jacket!
Outdoor Adventurer
Europe is an adventurer's playground, from hiking to mountain biking to canyoning. Whatever activity you choose, stay dry and warm with this comfy yet functional outfit.
Start with top-quality waterproof boots like the NORTIV 8 Men's Ankle High Hiking Boots. They feature shock-absorbent cushioned insoles, lightweight EVA midsoles, and high-quality rubber soles. 
Pair them with these TACVASEN Quick Dry Hiking Pants, made from a breathable, lightweight, and fast-drying fabric. Up top, choose the Under Armour Tactical Tech T-Shirt as your base layer and the CRYSULLY Men's Tactical Pullover as your mid-layer. 
Finally, stay dry with the Columbia Men's Watertight Ii Jacket with waterproof and breathable technology and an adjustable storm hood with an abrasion-resistant chin guard. It's also super lightweight and can be packed down to the size of a pocket.
Sleek Traveler
A night out in an exciting new destination calls for a stylish and sleek look. Many of our favorite evening outfits for Europe involve these Polar Fox Brooke Lace-up Chukka Boots, made from hand-crafted, durable vegan leather.
Pair them with these Plaid&Plain Men's Slim-Fit Dress Pants and the Calvin Klein Liquid Touch Polo Shirt, made from a soft, durable, and lightweight cotton fabric.
Add a layer of warmth with this Goodthreads Merino Wool V-Neck Sweater and this URBANFIND Slim Fit Bomber Jacket. 
Finally, if you're in a colder European country, add this stylish Marino Avenue Knit Striped Scarf in a color that compliments your outfit. 
Women
Below, you'll find our outfit ideas for women during European spring.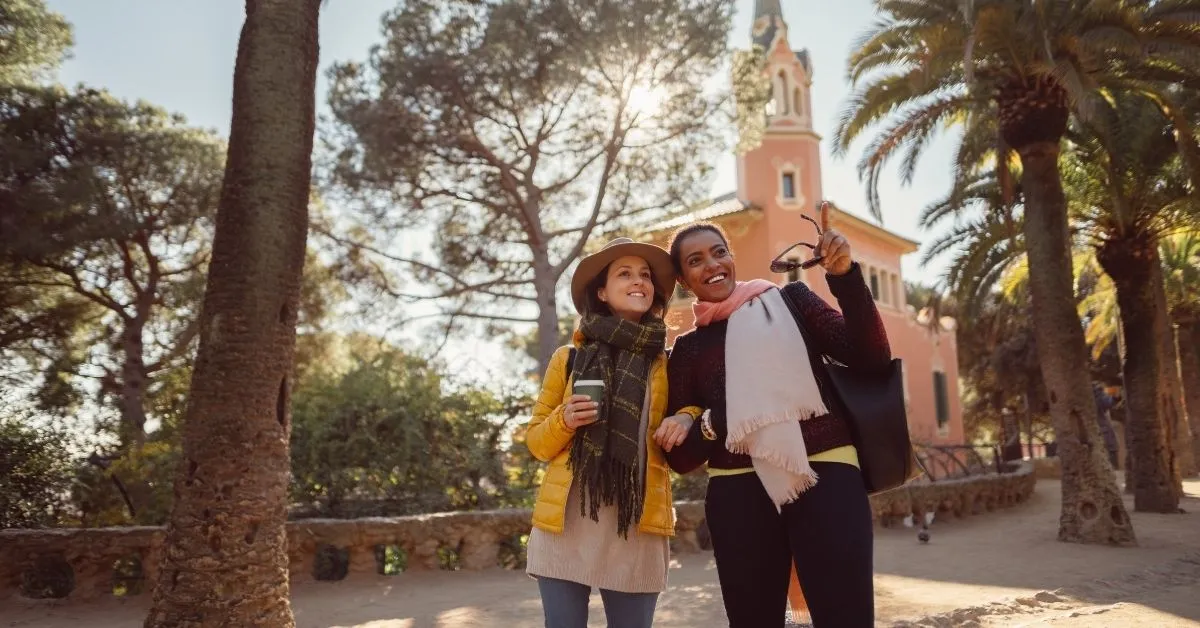 City Explorer
Whether you're admiring the ancient monuments of Athens or shopping in Milan, you won't want to stand out as another classic tourist. So pair these pretty MaxMuxun Faux Suede Flat Ankle Boots with these comfy but elegant GRACE KARIN High Waist Pencil Pants. 
Next up, pair this SheIn Keyhole Back Blouse in a light color like beige with the MEROKEETY Waffle Knit Batwing Cardigan. Then, stay warm and dry no matter the weather with the SaphiRose Long Hooded Rain Jacket.
This look gives the perfect balance between smart and casual, so you can go straight from sightseeing to bar hopping without having to change your outfit. 
Outdoor Adventurer
Wear this cozy and comfortable outfit if you're exploring the English countryside, hiking in the Alps, or going for a coastal walk in Portugal.
First, give your feet the ultimate protection with these Columbia Newton Ridge Plus Waterproof Amped Hiking Shoes. Then keep your legs warm with these OUGES Women's High Waist Yoga Pants.
They are designed for sports and outdoor activities and are made from a super soft moisture-wicking material.
Up top, start with this C9 Champion Soft-Tech Tee, made with comfortable and breathable fabric. Then, layer it up with the TBMPOY UPF 50+ Hoodie. The lightweight, moisture-wicking fabric will prevent you from overheating, and the sun protection qualities will prevent any sunburn. 
Finally, stay dry with the Diamond Candy Lightweight Hooded Hiking Coat. The soft and lightweight shell is windproof and waterproof, and the adjustable cuffs help you retain warmth if the temperature drops. 
Chic Traveler 
If you're checking out the city's most hip bar, fine dining restaurant, or iconic theatre, do it with style and elegance. Pair this MEROKEETY Striped Knee Length Swing Midi Dress with these Tish Lucia ​​Pointed Toe Ankle Boots.
Then, stay warm with this Allegra K Faux Suede Biker Moto Jacket and this gorgeous MaaMgic Cashmere Feel Pashmina Shawl.
Final Thoughts On Travel Clothes For European Spring
We hope this guide has given you a better understanding of what to pack for Europe in spring. As the climate varies throughout the continent, we strongly recommend researching the usual spring weather in each destination.
Moreover, always pack for unexpected weather when traveling during the shoulder season!
Need help with clothing? Read one of the following blog posts: