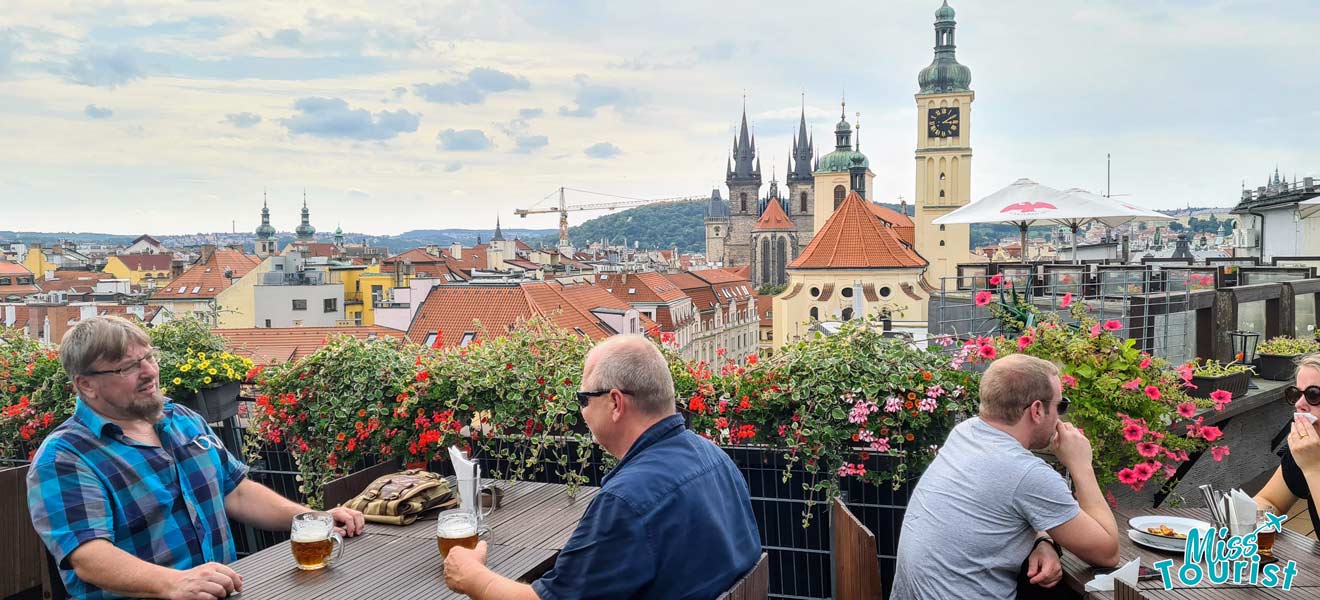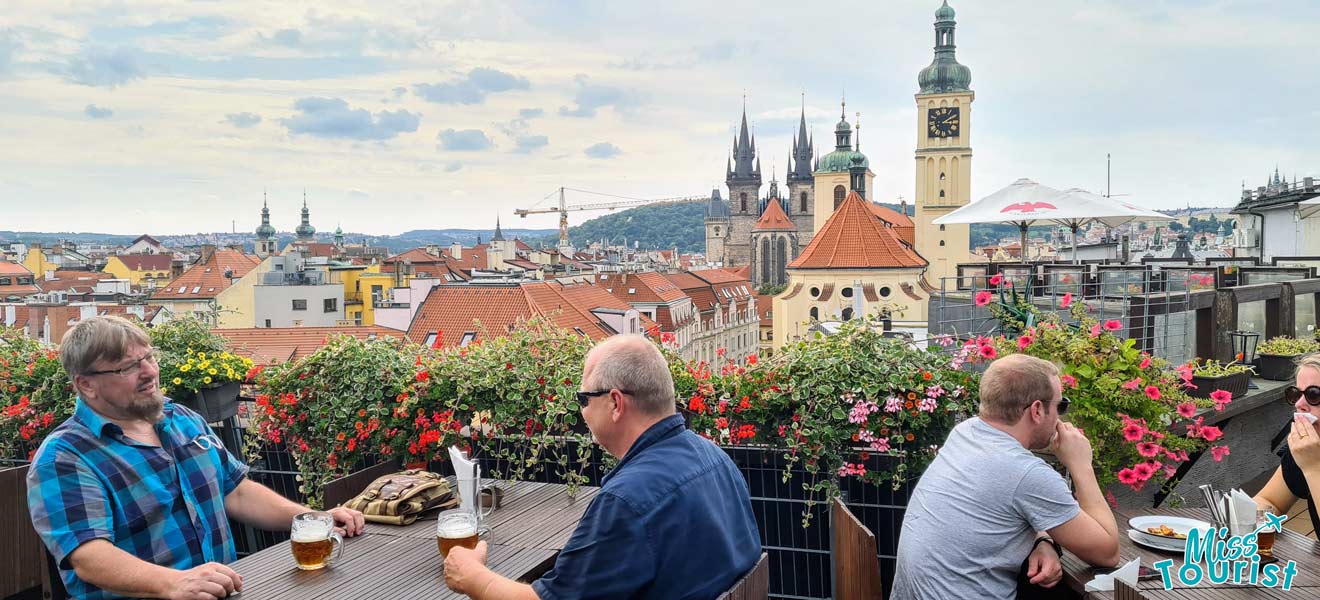 Prague is a great city for a food lover. You can find anything from a typical traditional knedliki/beer to a delicious ice cream at night or some authentic Russian food on a cold winter day. As a big foodie, I am often on the hunt for great places to eat – but I often dislike familiar big-chain places because it becomes a routine.
So, whether you're into traditional Czech cuisine or fancy a more international cuisine, there's a place that serves your fancy and I am happy to recommend you the best restaurants in Prague in one page!
In order to write this post, I ate at many of these restaurants myself, asked many of my local friends, but a huge thanks goes to the guys from 100 Spires City Tours for providing most of the recommendations for this post, they really know their stuff – not only about the food, but about the city in general! Do check out their tours too! 🙂 
In this post you will find a full list of the best restaurants and cafes in Prague first sorted by area and then I added some sections that are of special interest too (brunch spots, food spots for vegans etc.). 
Are we also going to talk about the best beer gardens in the city? You betcha! 
Na zdraví, let's go!
NOTE: since many of the places in the lists either do not have a proper website or have it in Czech, I am going to link to Google maps instead (you will need to know the location in any way). If you want to visit the page of the restaurant, you can do so directly from Google maps. 
Best restaurants in the Old Town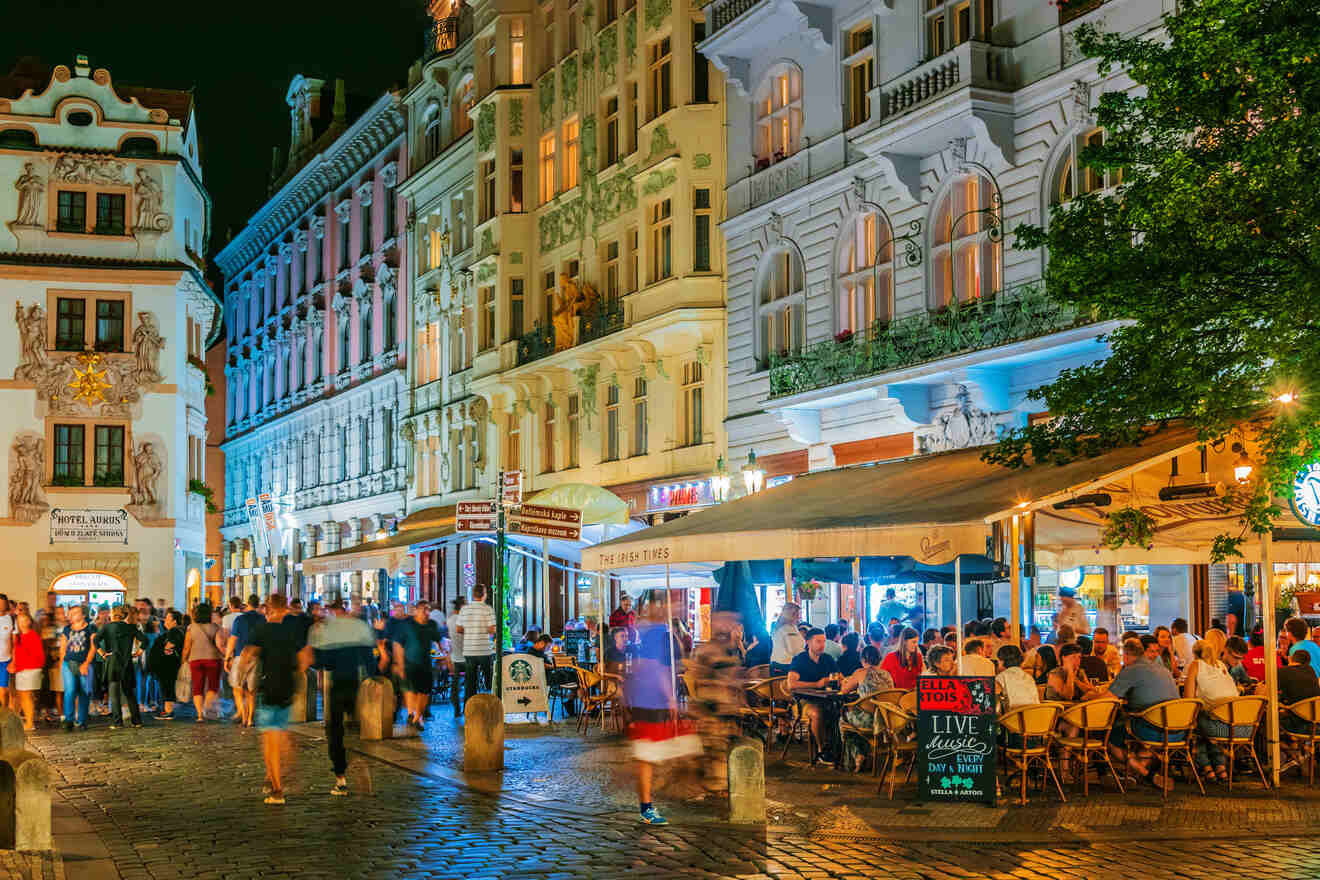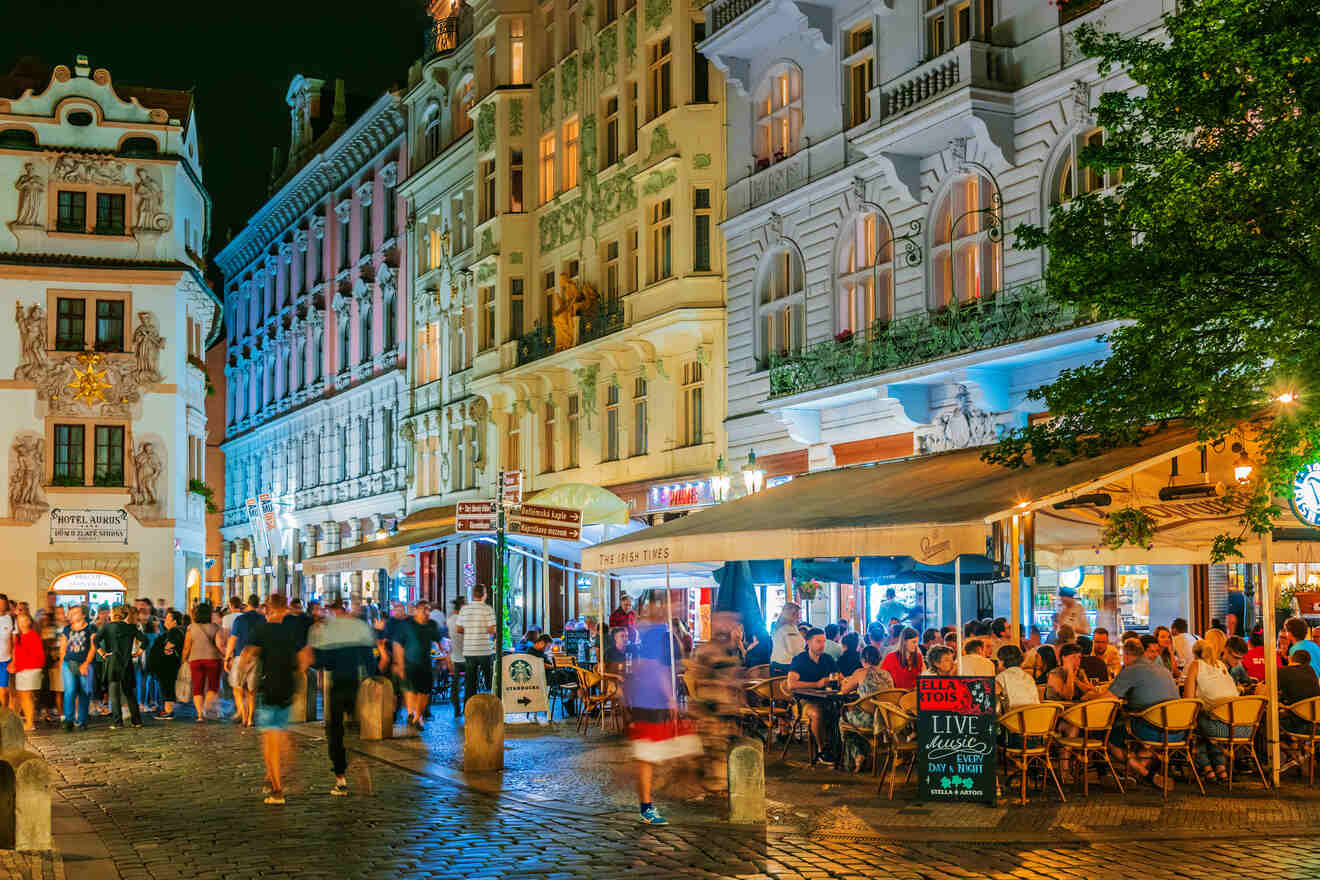 Lokal – The one place to go to if what you want is good food and good beer, ask for half dark beer, it's their special
U Medvidku brewery – one of the oldest breweries in Old Town.Go upstairs, that's the brewery, downstairs is the restaurant
U Rudolfina – Typical Czech place with good pilsner and great food
Kolkovna – Michelin guide recommended, try their famous pork knuckle
T-Anker – pretty amazing views of the city! I've heard that the service wasn't good, but when I was there it was empty, so food came fast and it was good
Best restaurants in Lesser Town 
U Glaubiců – famous for its quality and great value for money Czech food
Malostranská Beseda – that's where the locals go! The food is good but service can be grumpy sometimes
Tlustá myš – Again, the service can be a problem (but where is it not in Prague?), but the food is good and it is reasonably priced
Kolkovna Olympia – all 3 in one: good food, good beer, good service. Try the goulash and the pork ribs!
Best restaurants around the Castle District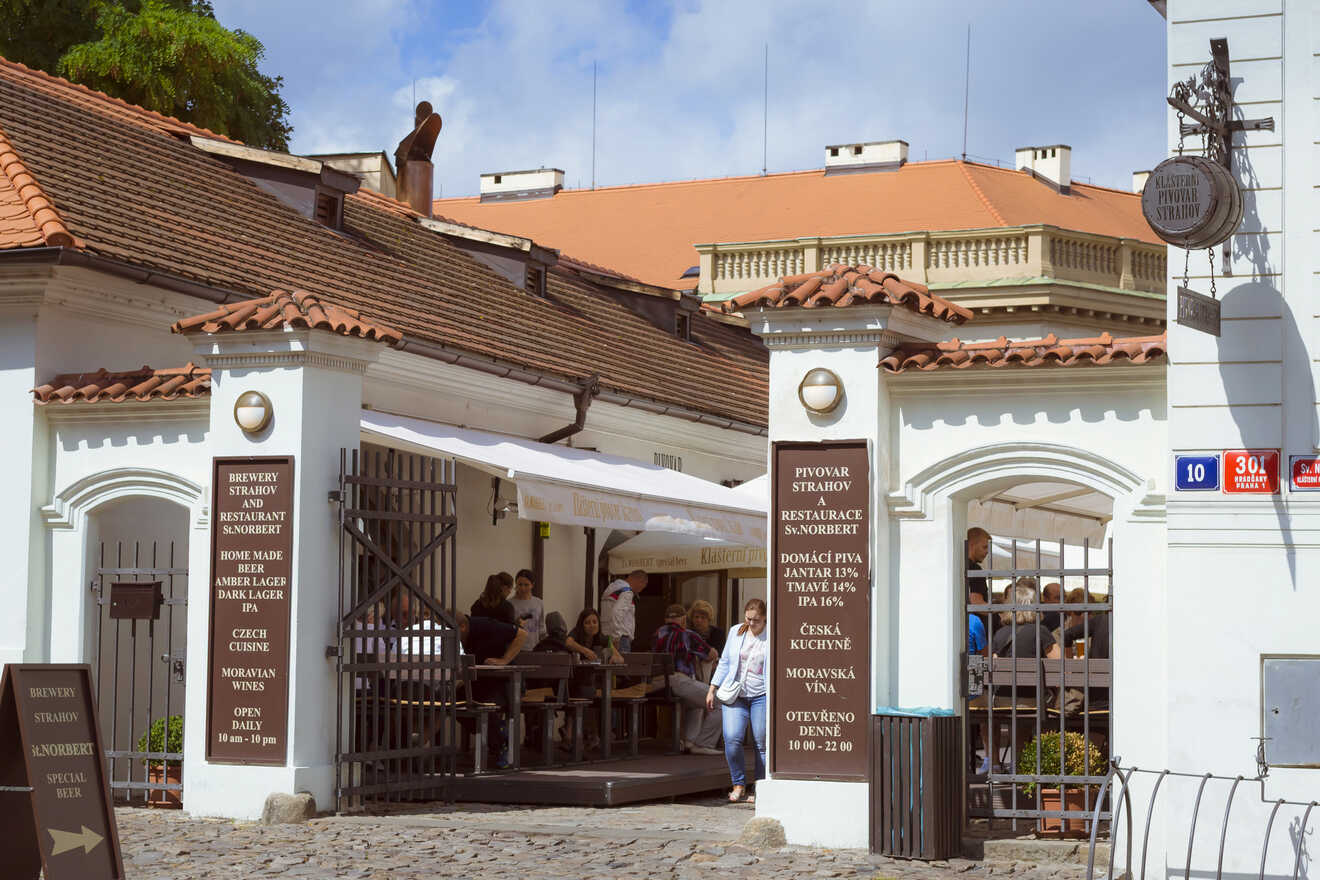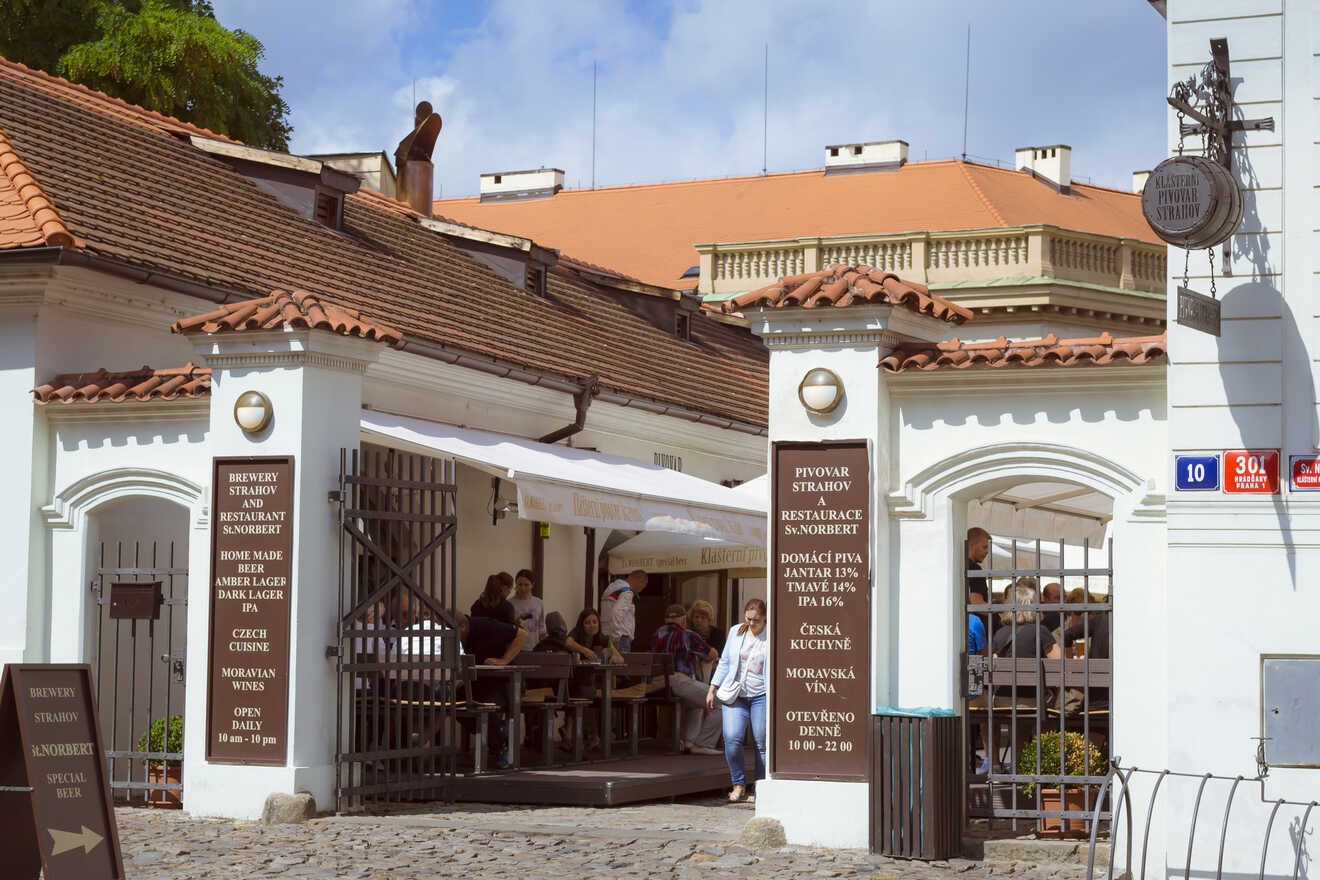 Villa Richter – it is located right in front of the south exit. This one is fancy, but hey, it has great reviews and super nice views!
Kuchyň – it is translated as "Kitchen" – you choose your food by going to their kitchen and seeing what they have to offer today, pretty cool concept! The views are awesome too!
St. Norbert's Brewery – this is one of Prague's microbreweries. Great beer, great food, great price (considering the location)
Where to eat in New Town
Narodni Pivovar – Microbrewery, big quiet terrace, affordable prices, lots of meat options and good beer (their own, of course!)
Cafe Louvre – Both Kafka and Einstein frequented this place often and I think you can still feel the atmosphere from that time! The interior is classic inside, but also check out their quiet rooftop terrace if visiting in the summer! 
Tiskarna – good typical Czech food and beer options, they also have a varied wine selection. There are some great vegetarian options too!
U Fleku – The oldest surviving brewery in Prague. Always pretty crowded in the evening, but they have 8 huge salas and one big outside terrace. Fun fact: the server will bring you beer BY DEFAULT (I guess you can refuse it, but it is somehow assumed you will have it)
Next Door by Imperial – This one is more on a fancy side, it is run by a Czech TV cook celebrity. I strongly recommend reserving a table in advance, especially on Friday night. Delicious food and amazing service – a perfect romantic dinner or a special occasion place! 
Other cuisines restaurants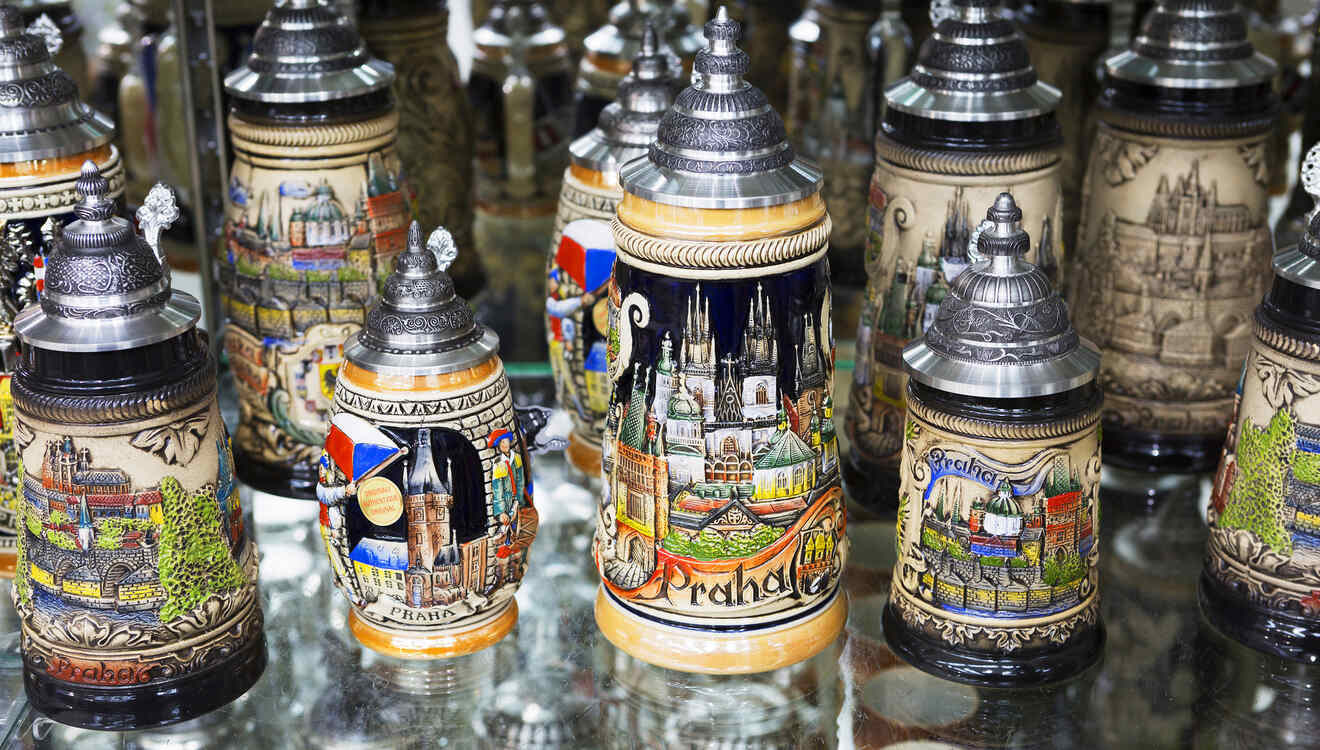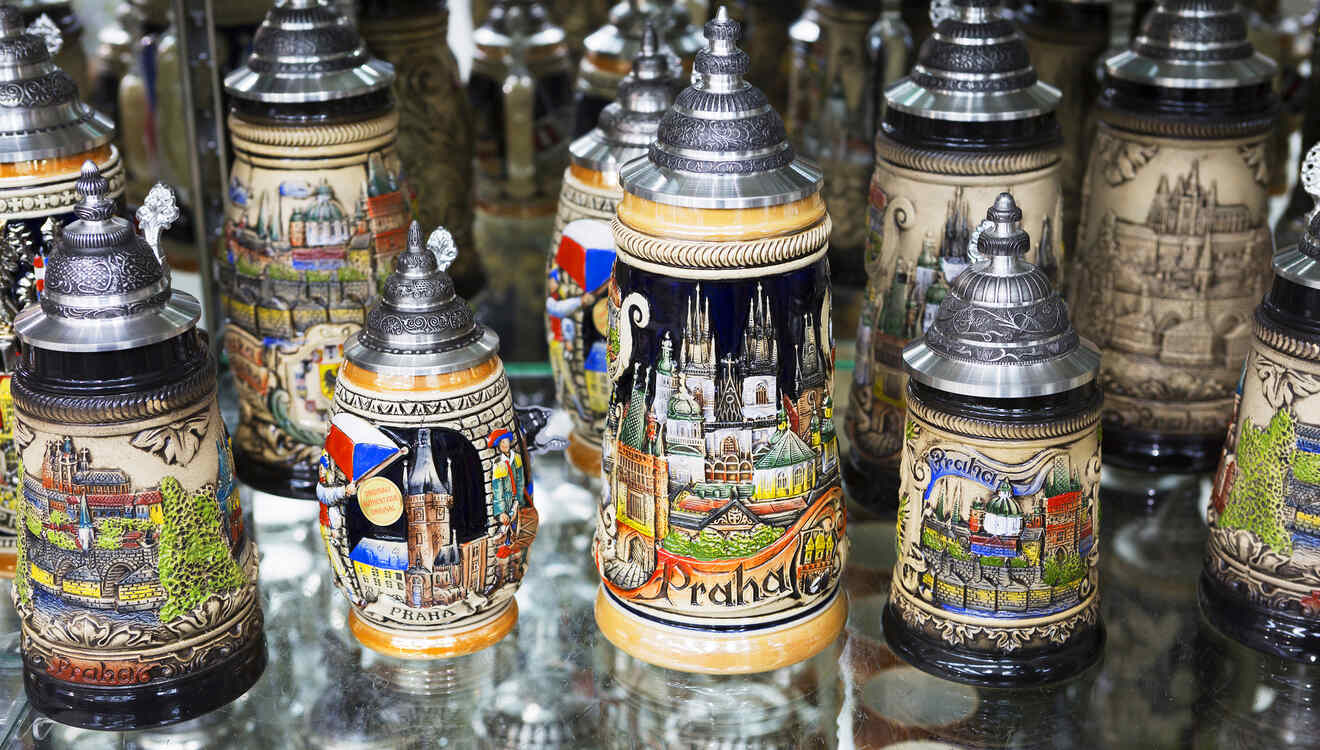 Mexican – Las Adelitas, Alebrijes, Cantina, La Patrona
Italian – Giallorossa, La Ventola, Marina Ristorante, Pastar
Indian – Pind, "K" – The Two Brothers, Curry House
Japanese – Katsura, Mash Hana, Hanabi
Thai – NOI, Lemon Leaf, Modry Zub
Best brunch spots in Prague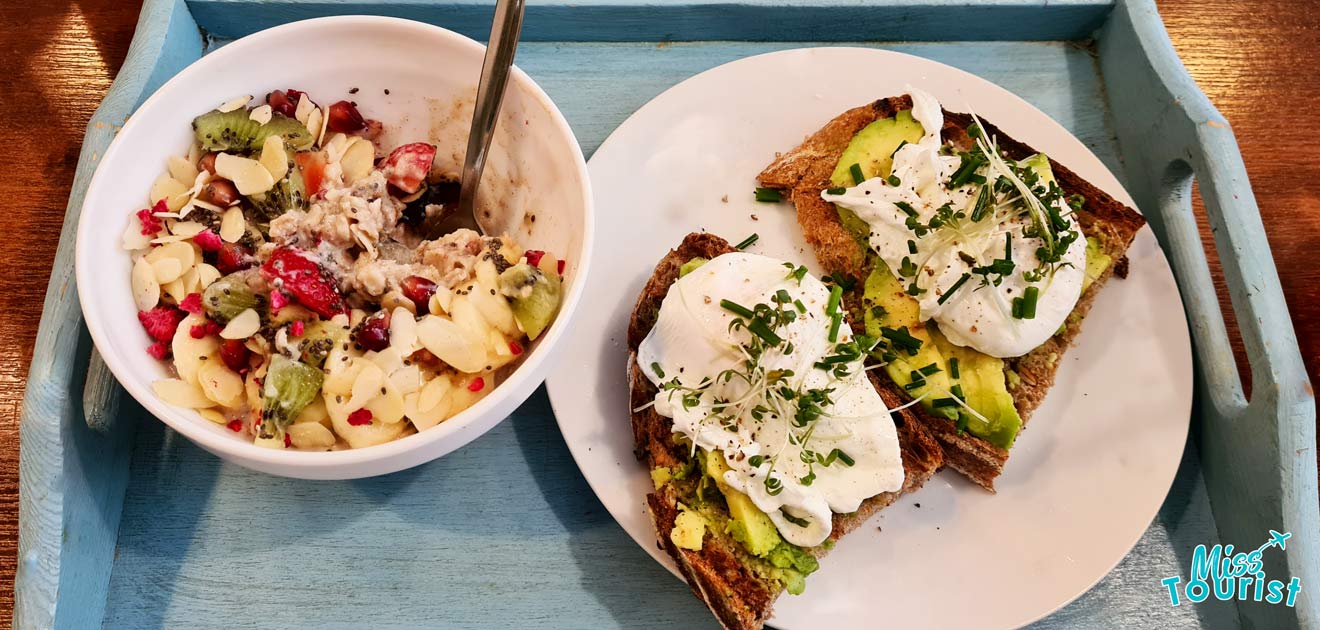 Styl & Interier – the garden is gorgeous and their omelets are the best!
Dolcemente – go there for the best croissant and cakes 
Pilot cafe – for healthy breakfasts, they have nice eggs with spinach
BEE'S Café & Restaurant – they have a really lovely garden and the interior is also very nice. Great eggs Benedict too!
BarFud – brunch on weekends in zizkov! Bottomless mimosas and Bloody Marys, just like we like it 😉 
Great bars in Prague
Hemingway Bar – best place to taste the real absinthe
NOD – nice place to chill with drinks in comfy seats, not too loud
Hany Bany – a place super popular amongst students 
Vzorkovna – cheap casual bar with live music every evening after 10 pm
Tiki Taky bar – great cocktails and a nice garden
Crazy Daisy – one of the best signature bars in Prague, nice presentation of the cocktails 
U Maleho Glenna – best Jazz bar in Prague, performance starts at 9 pmm (check their website to see the details)
Jazz Dock – Great for the view of the city and the river, book your tickets at least a day in advance 
Best beer gardens in Prague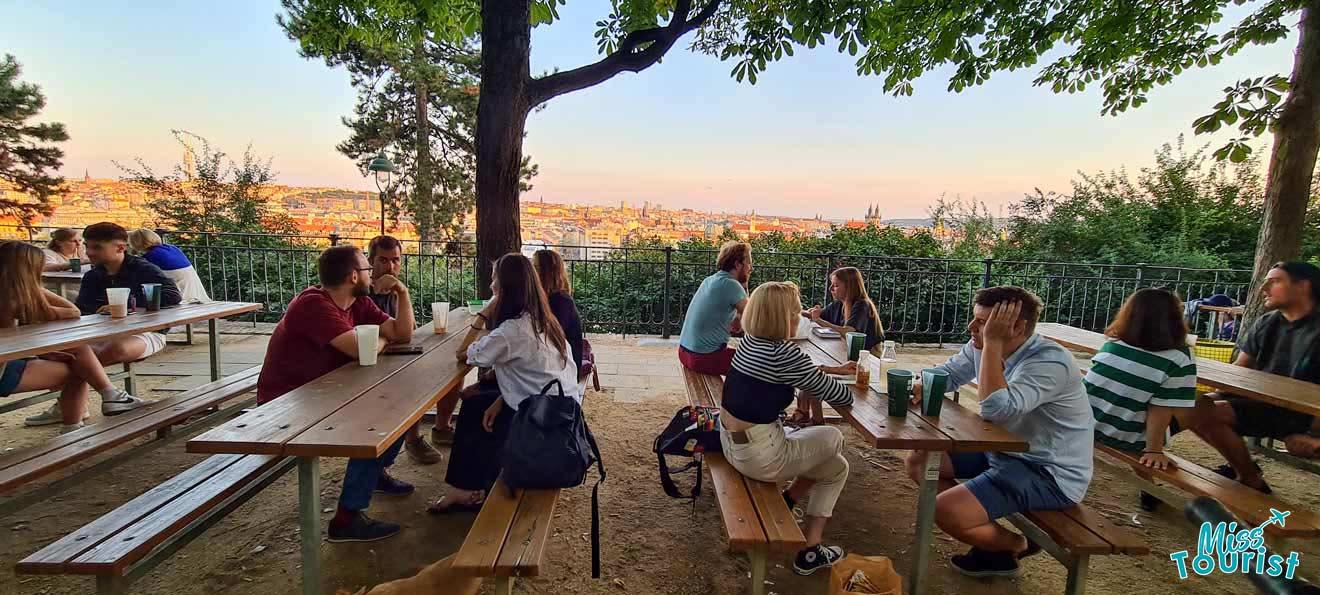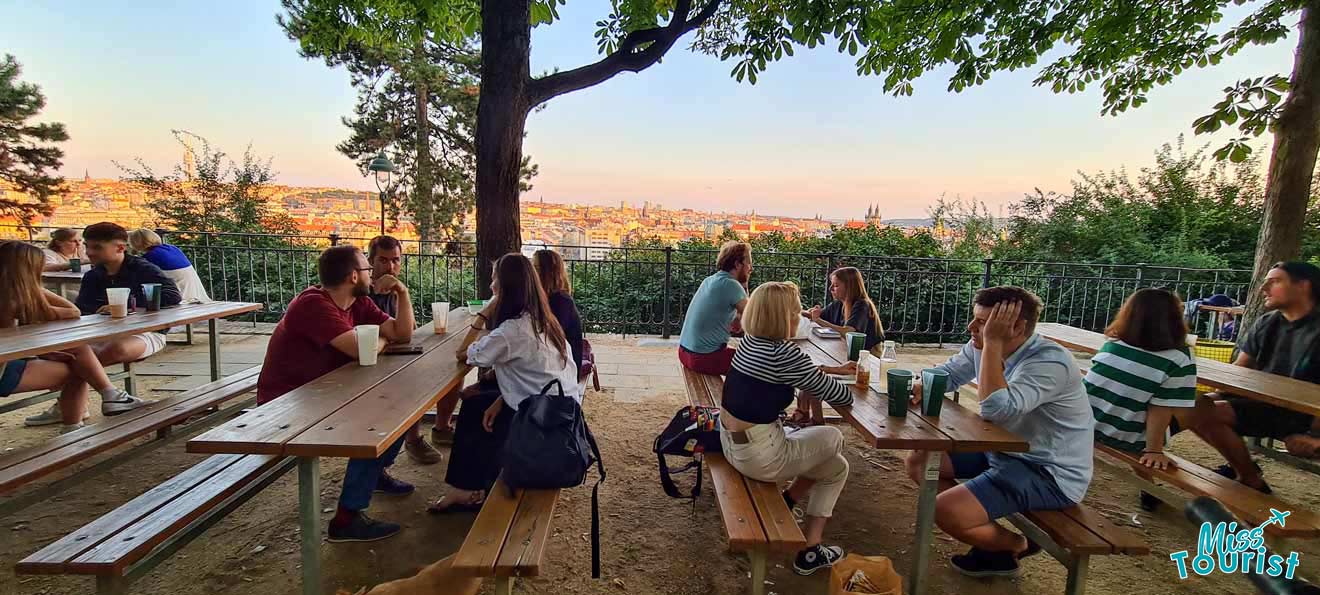 Czech people drink 188 liters of beer per person per year. Yes, that means roughly 0,5lt (19oz) per person per day!
Here are some great bars and Czech beer gardens: 
Letna Park – the most famous of them all for the breathtaking view to the whole city and just a super nice chill atmosphere. You can buy your beer from one of the stalls or come with your own
Strelecky Island – Go there not only for the view to the bridge and chill atmosphere, but also for the amazing beer with the view! 
Riegrovy Sady Park – this place can host over 1000 people and it is pretty popular to watch a football match, for festivals etc. 
Výtopna – a railway-style restaurant in the Old Town Square where you get your meal served by model train cars
Lókal – this place serves the most delicious traditional dumplings and a great variety of regional Czech beers
U Kunštátů – one of the top craft beer gardens in Prague, located near the Old Town Square and Old Town Hall
Best cafes in Prague
Nice places with good coffee and where you can just sit and relax:
Mama Coffee – Classic bitter coffee and tasty sandwiches
Republica coffee – a perfect short break spot
Cafe Národní – hidden in the courtyard, away from the busy street. Great brunch options!
Choco Cafe – amazing chocolate cakes and just chocolate to buy
Cafe 11 – 3 min away from the Old Town square. Amazing homemade pies and great smooth coffee
Cukrar Skala – yummy unique desserts
Cafes to work from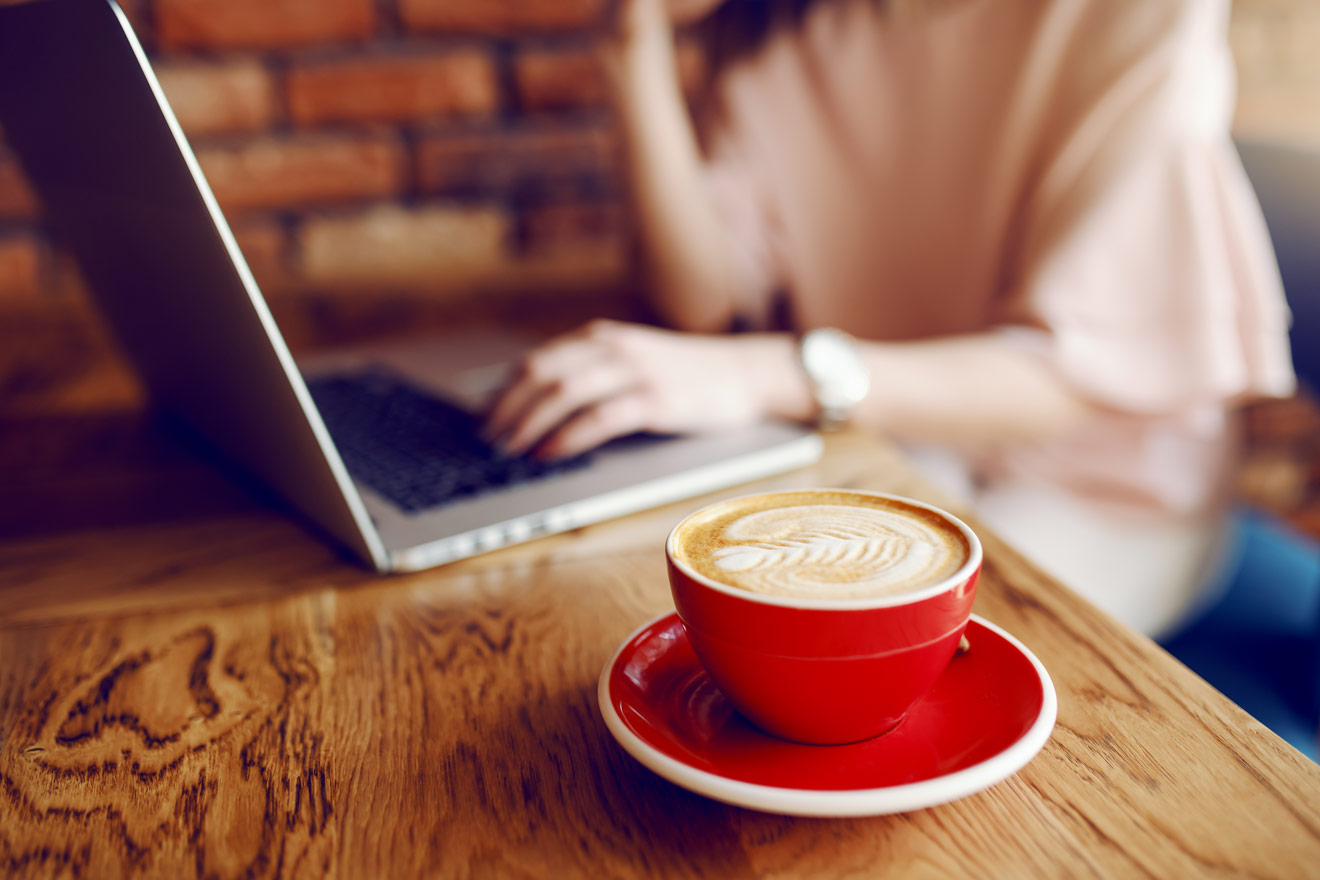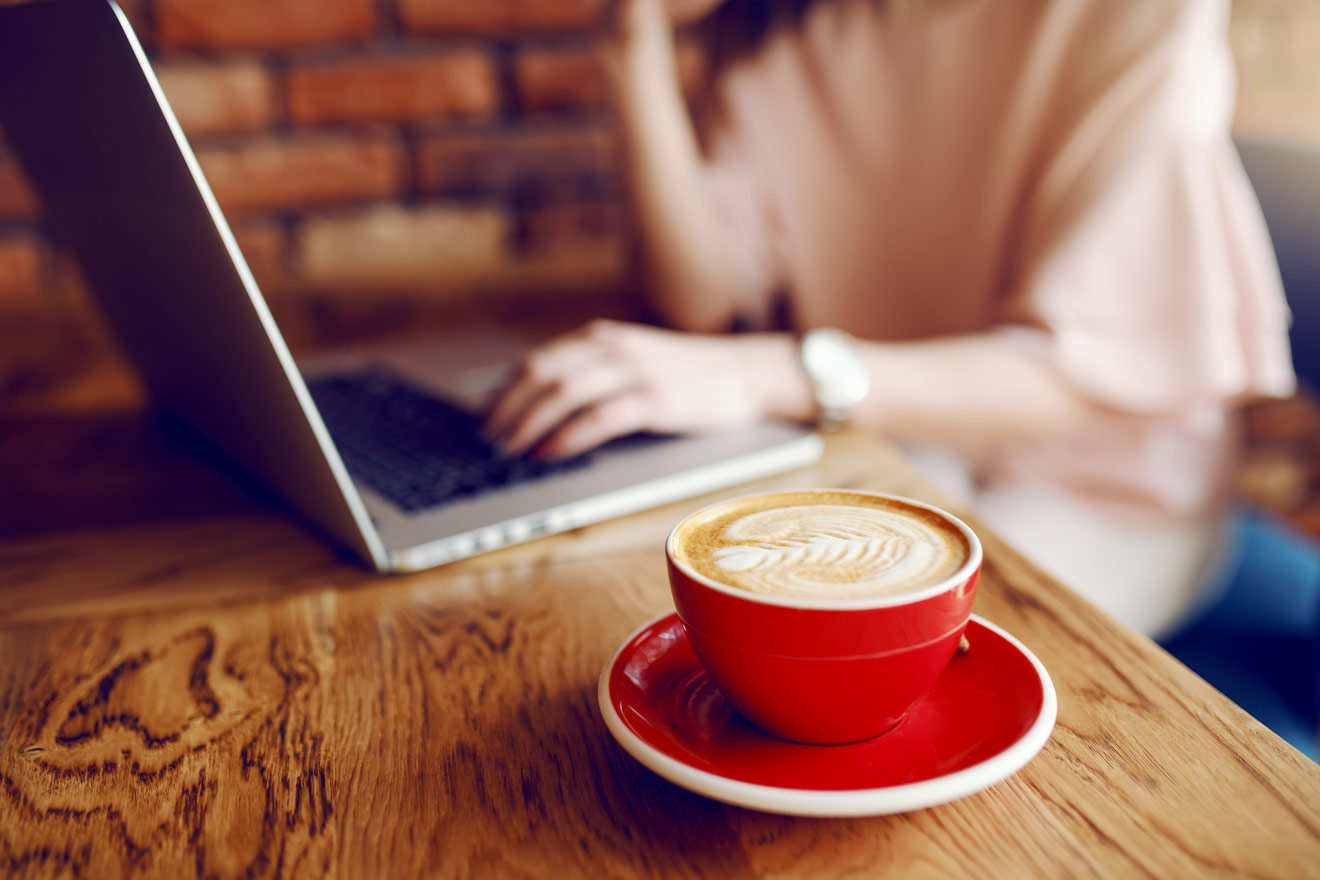 These are places that won't kick you out or look judgemental if you take your laptop out: 
Cafedu – if you are a fan, try their matcha latte, it is pretty good! Great spot for studying and working 
Vnitroblock – good natural light and lots of greenery. Orders a cup of coffee/lemonade and you can hang out!
The Globe Bookstore and Cafe – pretty quiet during weekdays, so a good place to do some work. They have wifi, aircon and a courtyard
Cukrárna Alchymista – lovely garden you can work in
Kolektor – one of the hippiest coffee shops in town. Great coffee and cool music
Best vegetarian places in Prague
All the vegetarians, vegans and pescatarians out there – I hear you! You can definitely forget about trying most of the local food in Prague, but I can recommend some awesome places if you don't eat meat/fish/you are gluten free etc.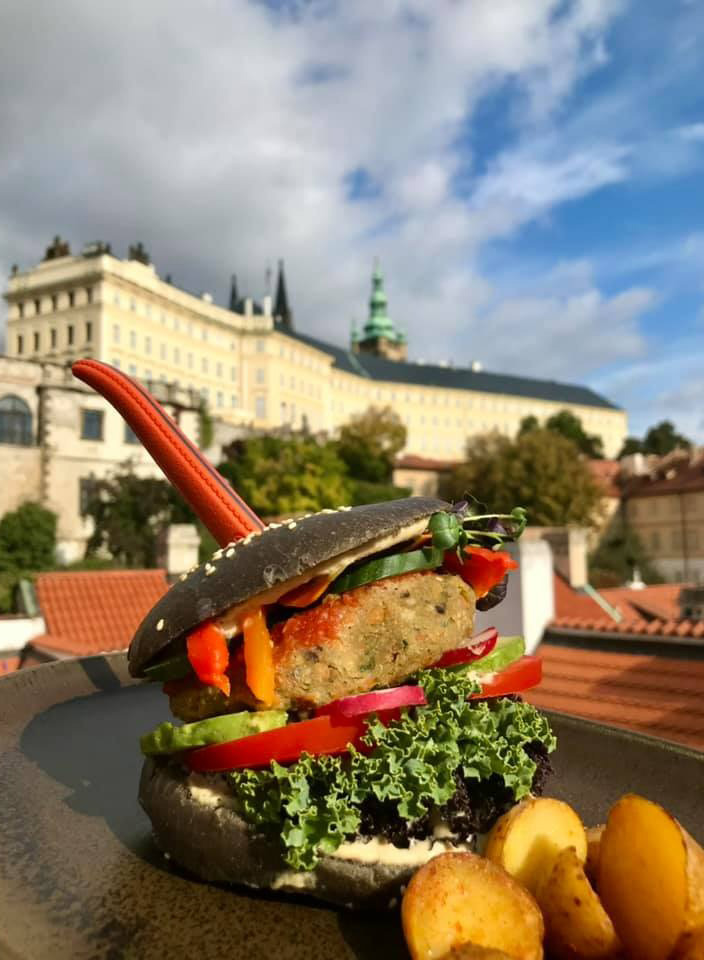 Satsang – completely vegetarian! They do an amazing bottomless brunch on a Saturday too!
Loving hut Vinohrady – nice buffet of vegan options, fast, delicious and affordable
Maitrea – amazing food and atmosphere, try their vegetarian goulash! 
Best desserts 
Here are some options I left for a dessert (pun intended 😉 ): 
U kurelu – try their salted caramel cheesecake, yum!
If cafe – great tea/coffee and delicious cakes
Happy Bean Bistro – vegan veggie friendly amazing desserts
Žižkavárna – delicious cakes even for the most picky eaters
La Bohème Café – nice and cozy atmosphere, try their peanut butter bagel
Cukrárna Alchymista – nice garden/terrace, superb cheesecakes and great coffee 
Bakeshop Praha – delicious chocolate marble and carrot cakes (and everything else actually!)
What food to try in Czech Republic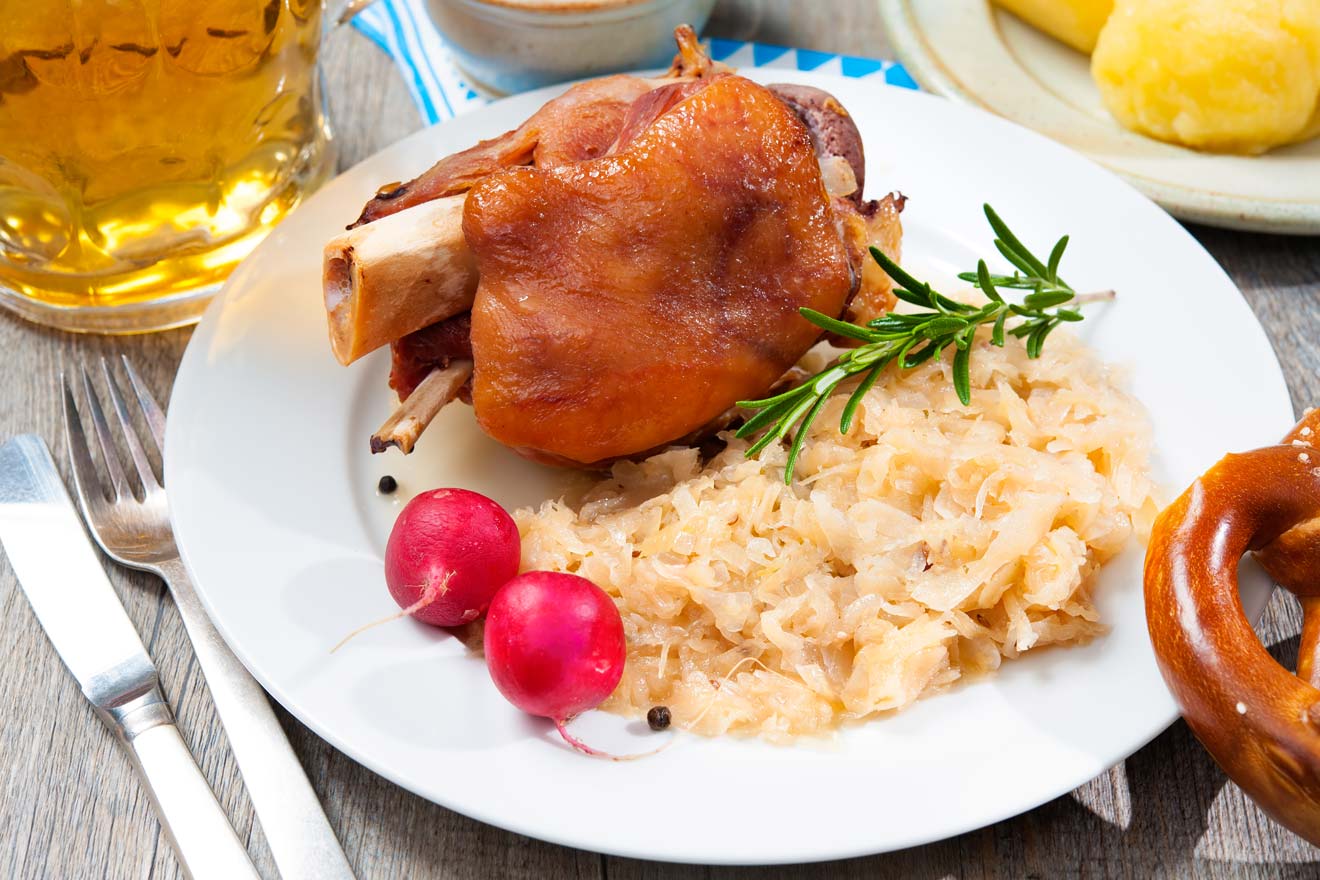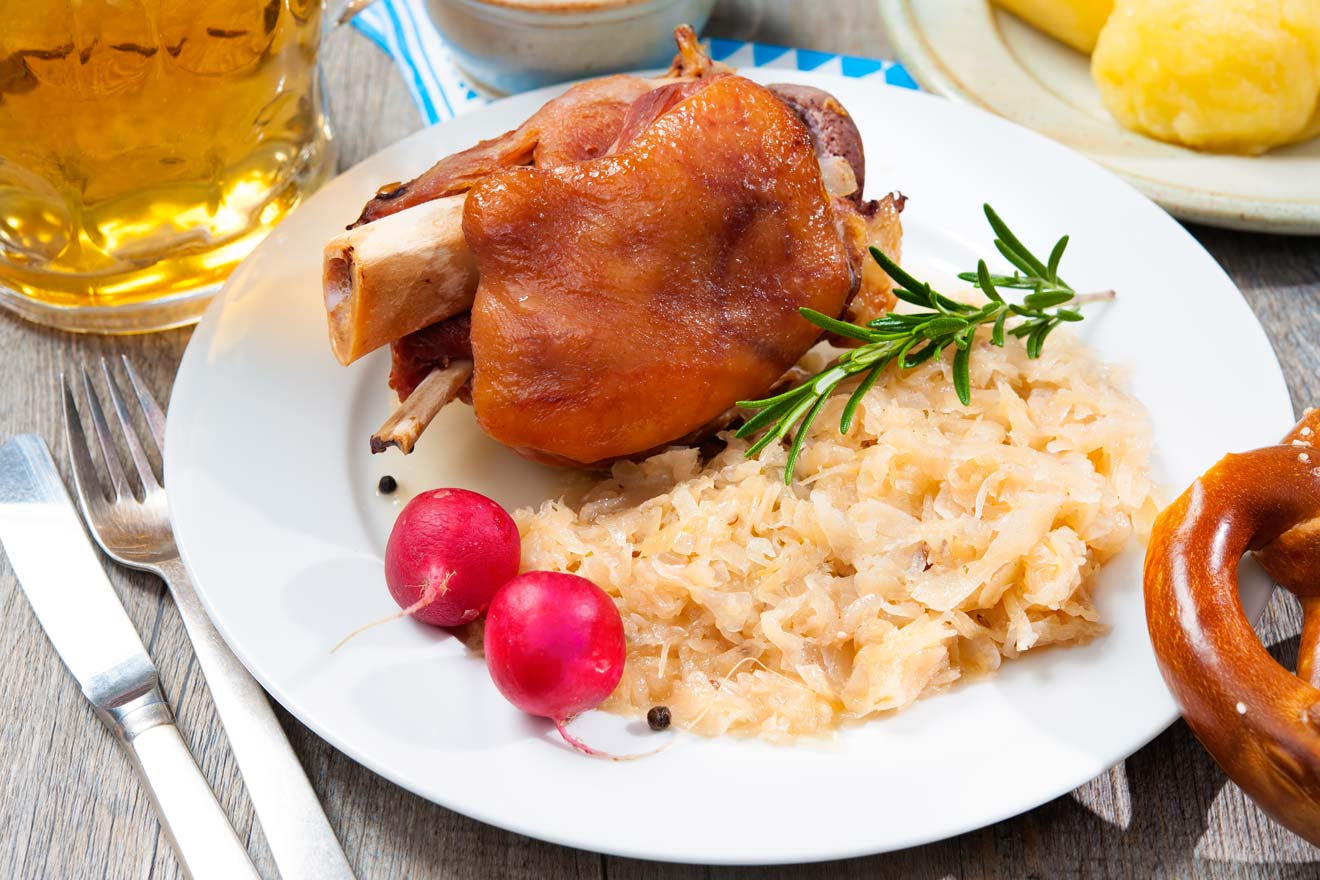 I am going to mention the names in English and in Czech in case you will go to a restaurant where the menus are not in English: 
Pečené vepřové koleno (Pork knuckle) – shank is first boiled in broth/beer,onions, garlic and spices, and then grilled. Served with sauerkraut or stewed cabbage. 
Knedliki – steamed pieces of boiled flour or potato dough. Can be made with meat or potatoes, cottage cheese etc. 
Polévky (soups): Bramboračka soup, thick potato soup with smoked meats. Gulášová polévka – Popular thick soup based on pork, beef, poultry or rabbit meat.
Svíčková na smetaně – Stew of young beef or veal tenderloin with sauce and dumplings. 
Nakládaný hermelín (pickled cheese) – Camembert-like cheese aged in olive oil and spices, very hmm.. special 
Topenci – marinated sausages 
Trdelník (rolled dough) – you will see it literally everywhere, usually topped up with icecream. Trdelník is actually not from Czech Republic at all, it is actually originally from Hungary 🙂 But hey, it is great as street food!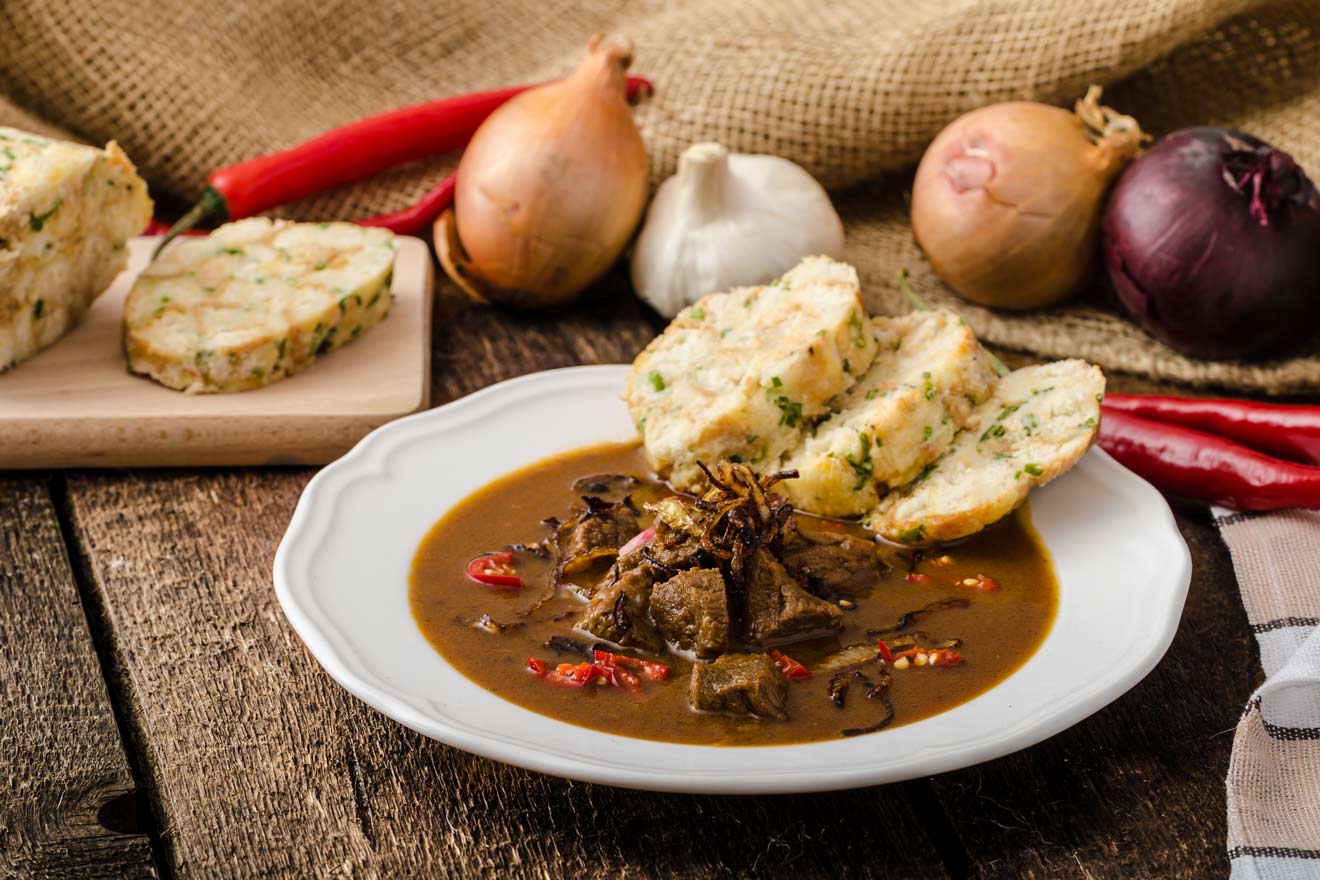 If you are a true foodie and would like to try the most traditional dishes and have someone explained everything, I can highly recommend this food tour!
If you are looking for a special experience, try this 3-5 courses medieval dinner with unlimited drinks. Not only will you get a great ambience and food, but you will also be entertained along the way by performers – there are swordsmen, jugglers and more! 
Two words on tipping in Czech Republic
You are expected to leave about 10% for service in Czech Republic. 
If you don't have cash, here is a trick I learnt from a local – when paying for your meal, just tell them the total price (say, your bill was 500 CZK and you want to leave 50 as tips – just say "I want to pay 550") and voila – the server will get your 50 CZK!
Frequently asked questions about eating out in Prague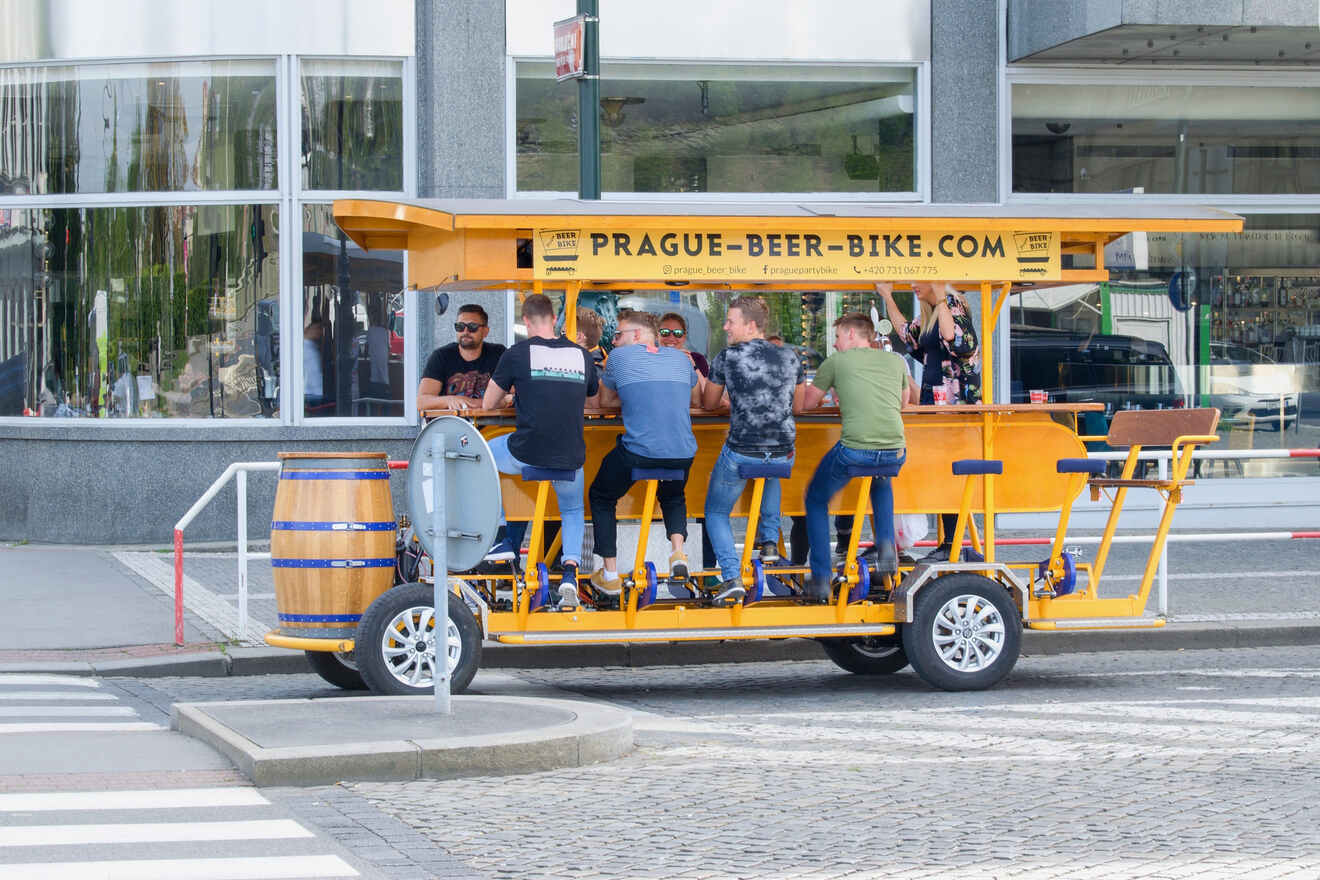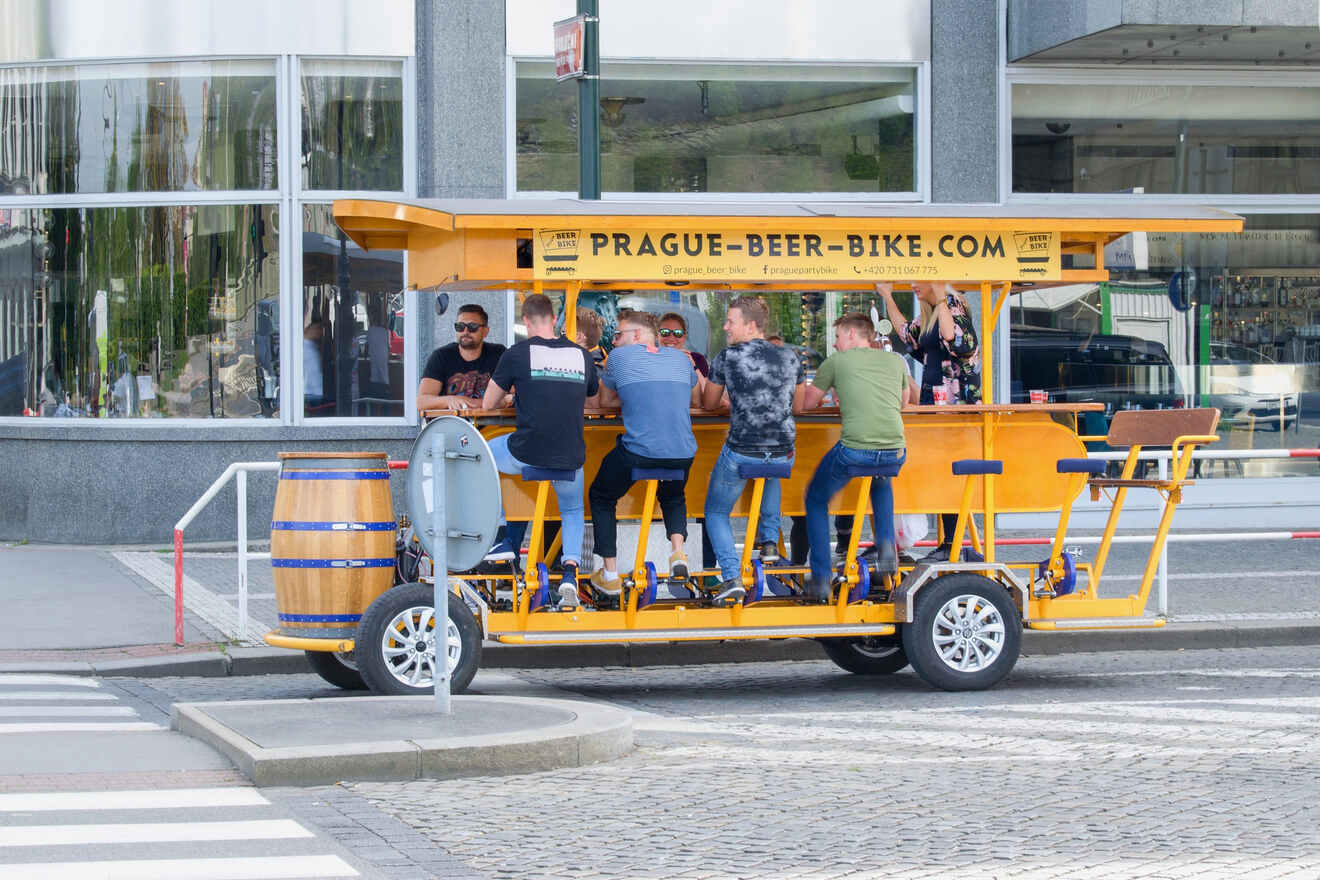 🍲What is traditional Czech food?
Pečené vepřové koleno (Pork knuckle), Knedliki (steamed pieces of boiled flour) and Svíčková na smetaně (Stew of young beef and dumplings) are the most popular local dishes
🇵🇱 Where do locals eat in Prague?
Locals' favourite restaurants are Lokal (good food and beer in the city center), U Medvidku brewery (one of the oldest breweries in Old Town) and U Rudolfina
💰 Do you tip waiters in Prague?
Yes, tipping is expected in Prague and in Czech Republic in general, 10% is standard but if you loved the service, you can give 15%, your server will be happy. 
🍽️ How much is a meal for 2 in Prague?
This varies depending on the type of restaurant, but on average you should expect to pay ~€20-25 for a dinner for 2 with beer. 
💳 Can I use my debit card in Prague?
Yes, in most cases you will be able to pay with credit or debit card almost anywhere, but there are some restaurants that will only accept cash, so make sure to have some small money with you at all times. 
Conclusion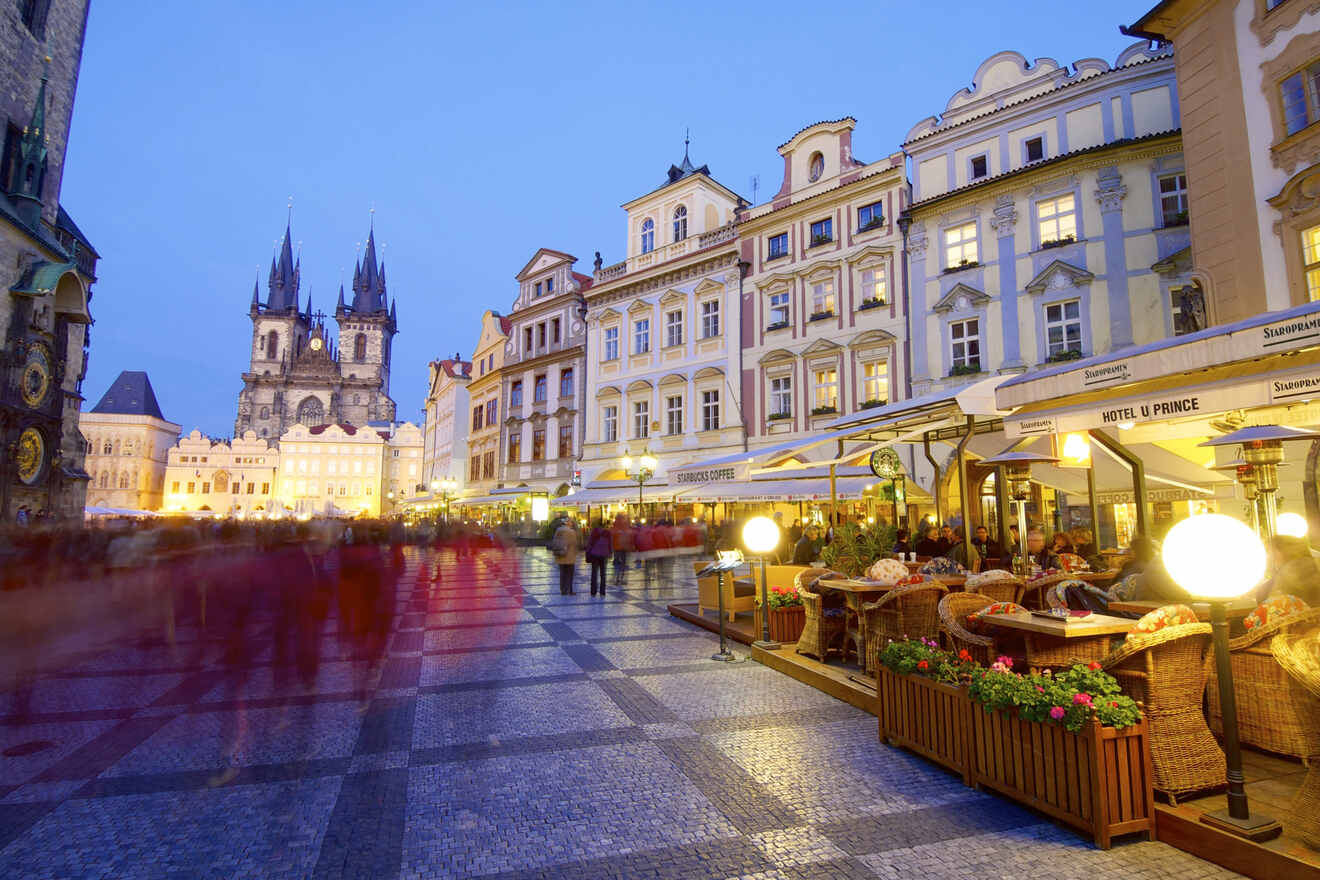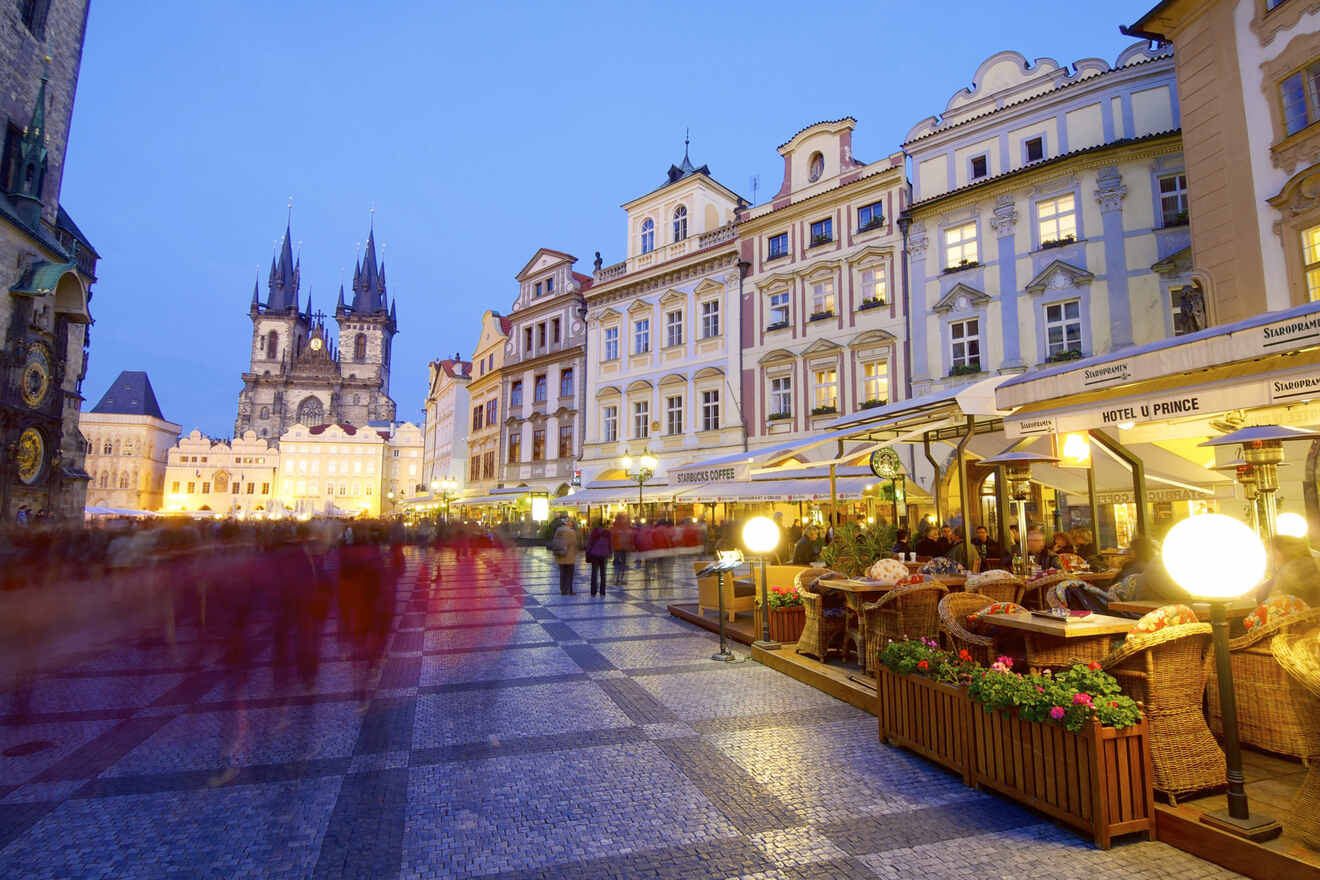 Thank you for reading through my post about the best restaurants in Prague – I hope you found some delicious places to go to and some good beer to enjoy. I would love to hear your opinion on the places in the list – what did you like and dislike? 
And if you have some other ones to add, I am all ears – I will try my best to keep this list updated (there are many new cool places opening up on a monthly basis, so I would definitely need your help to keep up with that!)
We also spoke a little bit about the other restaurants tips that you should know about such as tipping and level of service. Last but not least, I briefly told you about the main dishes to try in the country. 
Again, I hope this article was useful to you and if so, make sure to check out other posts on Prague, we have quite a bit of useful info on the city of spires. Hope you will love it as much as I loved writing about it!
Yulia