Oahu is the most visited Hawaiian island and the third largest.
Oahu attracts millions of tourists and travelers every year who come seeking the island's perfect balance between activity and relaxation.
PSSST. Your travel medical insurance can now cover COVID-19!
If you grab SafetyWing Nomad Insurance, it'll be covered just like other illnesses. I've been using it since 2019 and I can assure you it's the perfect solution for nomads like you and me.
Hiking trips are one of the most popular activities to do in Oahu.
The abundance of tropical rainforest, valleys, and waterfalls along with the ​​volcanic mountain ranges means there are plenty of places to hike in Oahu. 
Furthermore, you don't need to be an experienced trekker to enjoy hiking in Oahu.
There are trails for all abilities here, and many short and easy hikes in Oahu have draw-dropping summits without sweat or effort required to reach them.
So, if you're interested in exploring this beautiful Hawaiian island on foot, here are six easy Oahu hikes to get you started.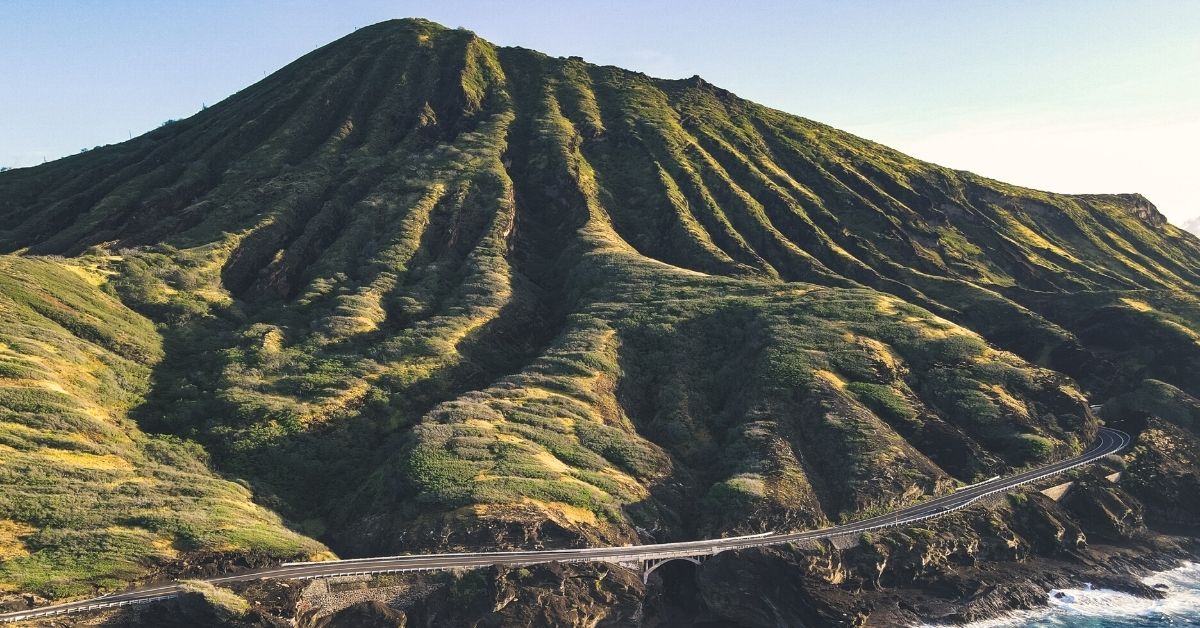 1. Diamond Head Summit Trail 
Distance: 2.5 km 

Duration: 1- 2 hours round trip

Elevation: 560 ft

Admission: $5 per car or $1 per person for pedestrians
The Diamond Head (Le'ahi Summit) trail is probably the most famous hike in Oahu as it sits at one of the two extinct volcano craters.
However, don't let its popularity put you off, as the volcano's summit gives breathtaking panoramas of the island and surrounding ocean. 
Aside from the stunning vistas, Oahu visitors opt to trek this route as it's relatively short and easy despite the elevation.
It's a 2.5km hike to the summit and back down, taking no longer than 2 hours. There are a few minor challenges along the route, such as the 200 steps and a couple of dimly lit tunnels.
Still, the trail is very safe, and there are handrails alongside the staircase. 
As this is one of the busiest easy hiking trails in Oahu, we recommend going early in the morning before the car park fills up.
The trailhead is open from 6 am to 6 pm every day, and admission is $5 per car, or if you arrive on foot, it's $1 per person.
The visitor center and parking lot turn-off are on Diamond Head Road, a 5-10 minute drive from Waikiki.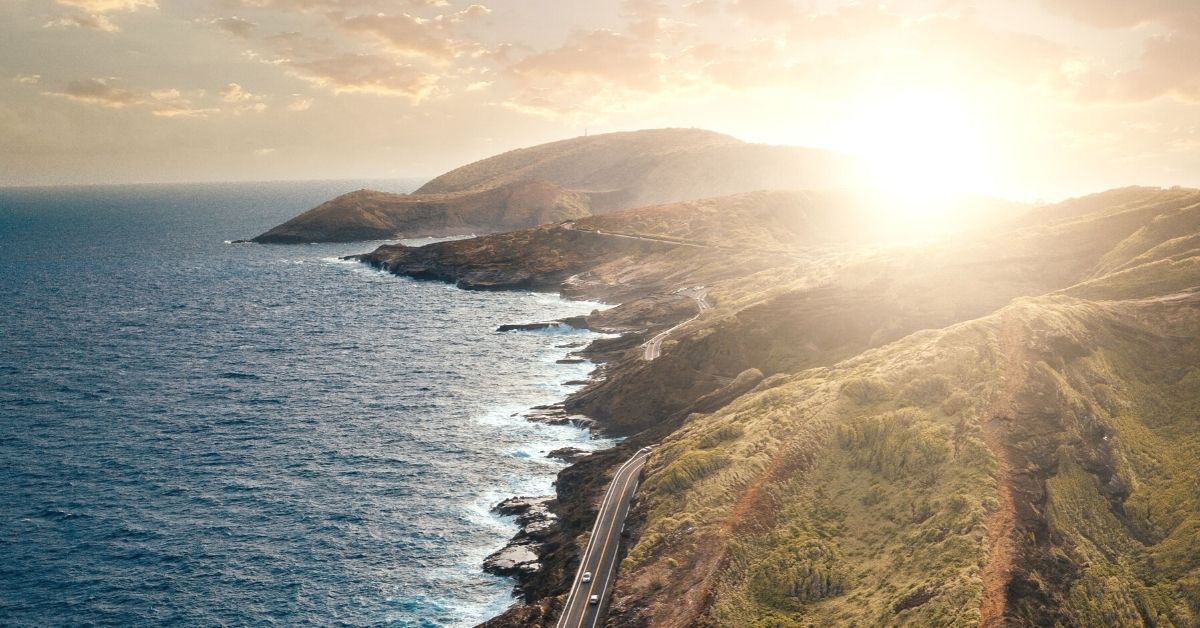 2. Waimea Valley Hike
Distance: 2.4 km

Duration: 1- 2 hours 

Elevation: 240 ft

Admission: $16 for adults, $8 for children
The Waimea Valley hike is a gentle and accessible walk around some stunning botanical gardens on the North Shore.
The 2.4km trail is paved the whole way, making it suitable for children and anyone with walking difficulties.
There are many pleasant sights to see along the route, including 5000 varieties of plants, some rare birds like peacocks, and a waterfall with a naturally formed pool.
The waterfall is suitable for swimming, and there is even a lifeguard there, so you can take a refreshing dip in the water to cool off. 
The entrance fee to the botanical gardens is a little steep, at $16 per adult and $8 per child; however, we think it's worth it to spend a couple of hours in this mesmerizing oasis.
You'll find the Waimea Valley trailhead on Kamehameha Highway close to Waimea Bay Beach Park. It is open daily from 9 am to 5 pm.
3. Lanikai Pillbox Hike 
Distance: 1.8 km

Duration: 1 – 1.5 hours 

Elevation: 500 ft

Admission: Free
Lanikai beach is one of the most beautiful beaches in Oahu.
The Lanikai Pillbox Hiking Trail (also known as the Kaiwa Ridge Trail) summit gives sweeping views over the white sand beach and crystal clear waters.
The trail is pretty steep, but it's very short; therefore, it doesn't feel too strenuous if you go slow. 
There are two old military pillbox bunkers on this trail. The first one takes around 20-30 minutes to reach, and the second is 10-15 minutes further up.
The track can get pretty busy at sunset, as many people head here to watch the sun go down over the ocean.
However, it's a magical place to come for sunrise and is guaranteed to have a much more peaceful atmosphere early in the morning. 
Unlike some of the other easy hiking trails in Oahu, this one does not have a defined path. Even so, the unofficial course is still easy to find and follow.
Another reason that this is one of the best Short hikes in Oahu is that admission is free.
You can find the trailhead on a small road called Kaelepulu Drive, very close to Lanikai beach. Lanikai is about a 40-minute car journey from Waikiki.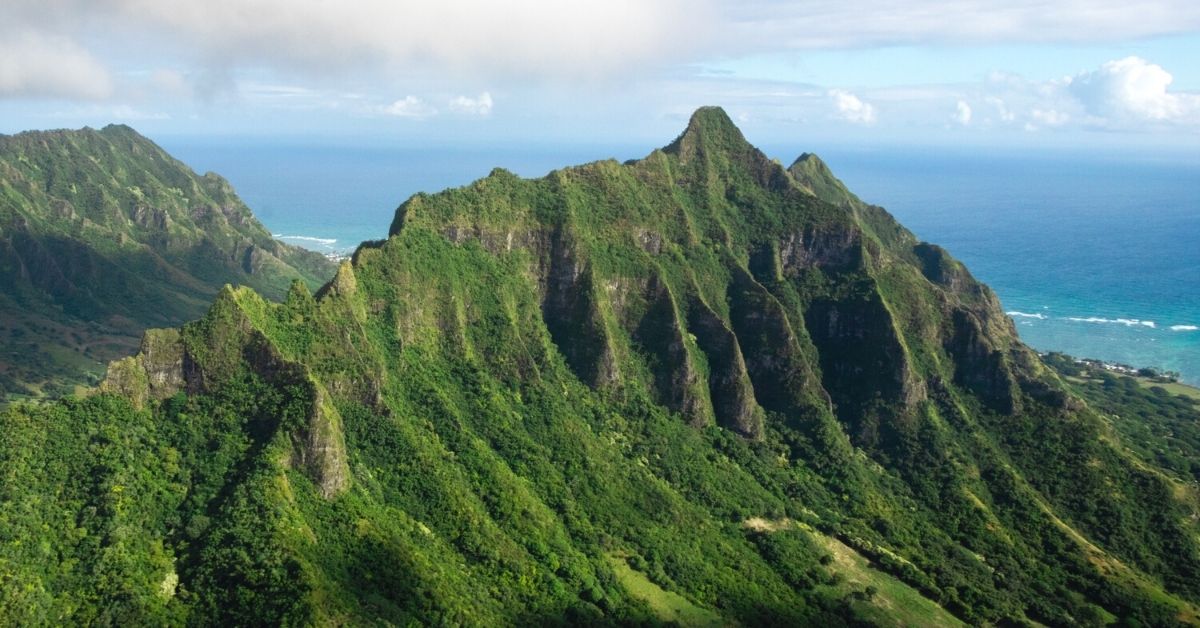 4. Manoa Falls Trail 
Distance: 2.5 km

Duration: 1 – 2 hours

Elevation: 800 ft

Admission: Free, or $5 parking fee
Manoa Falls Trail is for you if you love to chase waterfalls but aren't a fan of the strenuous and dangerous routes to reach them.
Manoa Falls is one of the most accessible and easy hikes in Oahu. In fact, the 2.5 km round-trip feels more like a walk than a trek.
The Manoa waterfalls sit within a lush bamboo forest with giant trees as old as 100 years.
The area is a popular filming location, too, where some filming for Jurassic Park and the TV series Lost took place.
Along with a gentle ascent, trees virtually cover this trail; therefore, you don't arrive at the falls panting and sweating.
As the area gets rainfall all year round, the 100-foot-high Manoa Falls is almost always gushing. However, the one downside is that they advise visitors not to swim in the water. 
Manoa Falls is a short 15-minutes drive from Honolulu, and admission is free. However, there is a $5 parking fee if you park at the lot by the trailhead on Manoa Road.
However, you can park for free at the bottom of Manoa Road in the residential neighborhood.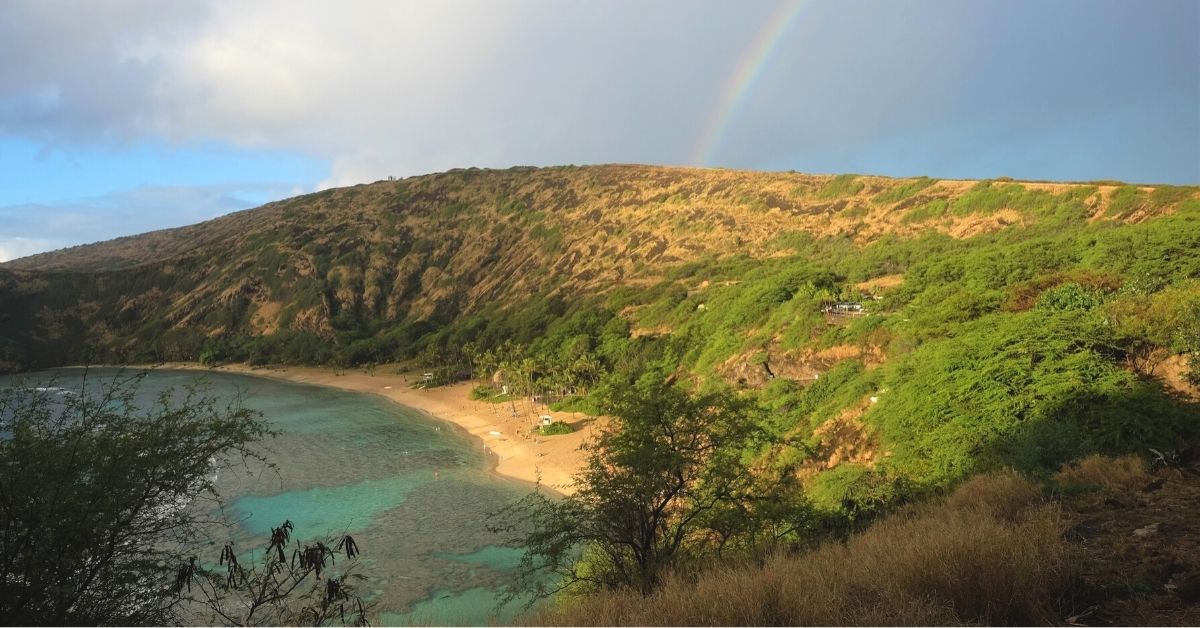 5. Makapuu Point Lighthouse Trail
Distance: 3.2 km

Duration: 1 – 1.5 hours

Elevation: 500 ft

Admission: Free
Another of the best short and easy hikes in Oahu is the Makapuu Point Lighthouse Trail.
This 3.2 km trail consists of a paved road and a short ascent to the observation deck and lighthouse. Most people reach the top in about 30 minutes.
From here, you'll experience incredible coastal views and may even spot a whale, depending on the time of year. You can also see both Diamond Head Koko Crater from here.
This trail is well-marked, dog-friendly, stroller-friendly, and there is no admission fee. Therefore, it is one of the most popular easy Oahu hikes.
However, there is also an unmarked route leading down to the Makapuu tidepools below. While most people stick to the paved path, this off-trail is an excellent way to escape the crowds. 
There is a large parking lot on Kalanianaʻole Highway close to the small Makapuu Beach Park.
However, the official trailhead starts just up the Makapuu Lighthouse Road turn off. 
6. Friendship Garden Trail
Distance: 0.8 km

Duration: 45 – 60 minutes

Elevation: 60 ft

Admission: Free
For easy hiking in Oahu that you can do in less than an hour, check out the Friendship Garden Trail, perhaps the shortest hike on the island.
The 0.8km trail loop near Kaneohe will make you feel like you are in a fairytale. The enchanting garden is full of many magical-looking wildflowers that you've probably never seen before. 
There's also an abundance of interesting native plant life, such as bamboo and macadamia nut trees.
Many are identified with name markers, too, so you can learn about the beautiful Hawaiian nature as you get some fresh air.
Moreover, despite being a short route, there are plenty of lookout spots here, giving views of Kaneohe Bay, Koolau Mountains, Makapuu, and more. 
The trail is well-maintained and mostly flat, so it is great to do with kids, plus it is dog friendly.
However, despite being one of the best short hikes in Oahu, The Friendship Garden Trail seems to be one of the lesser-known places to hike in Oahu.
In fact, you'll likely only encounter a handful of other people trekking this route.
If you decide to extend your time in this floral paradise, you can follow one of the off-trails.
Furthermore, the longer 3.7-kilometer Friendship Garden and Oneawa Hills trail also starts adjacent to the Friendship Garden Trail.
Friendship Garden is open daily from 6 am to 6 pm, and you'll find the trailhead on Kokokahi Place, just off Kaneohe Bay Drive.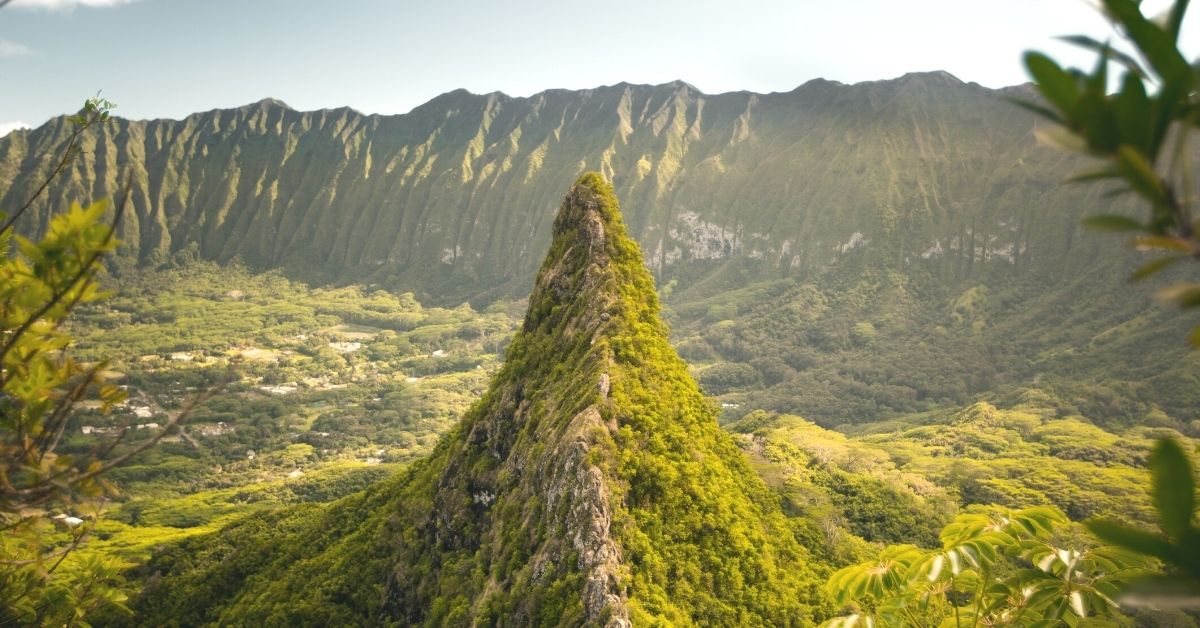 Final Thoughts
Oahu is undoubtedly a paradise for nature and outdoor activities. These six easy hikes in Oahu are a relaxed way to explore and admire the island's beauty.
So, even if you've never hiked before, try one of these ​​easy Oahu hikes and enjoy your time in this gorgeous part of the world.
If you're planning to travel on a budget, make sure to check out this guide to visiting Hawaii on a budget!