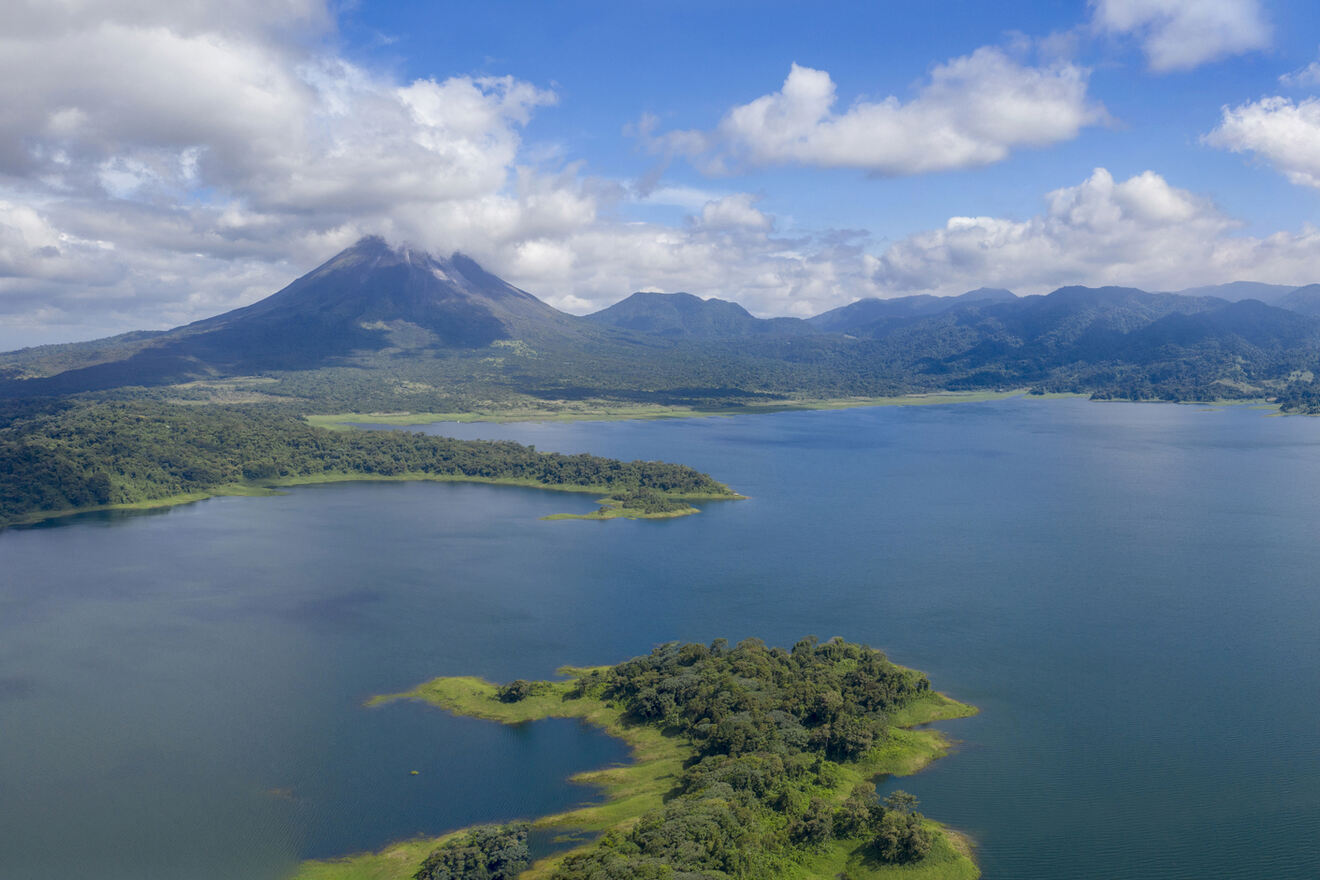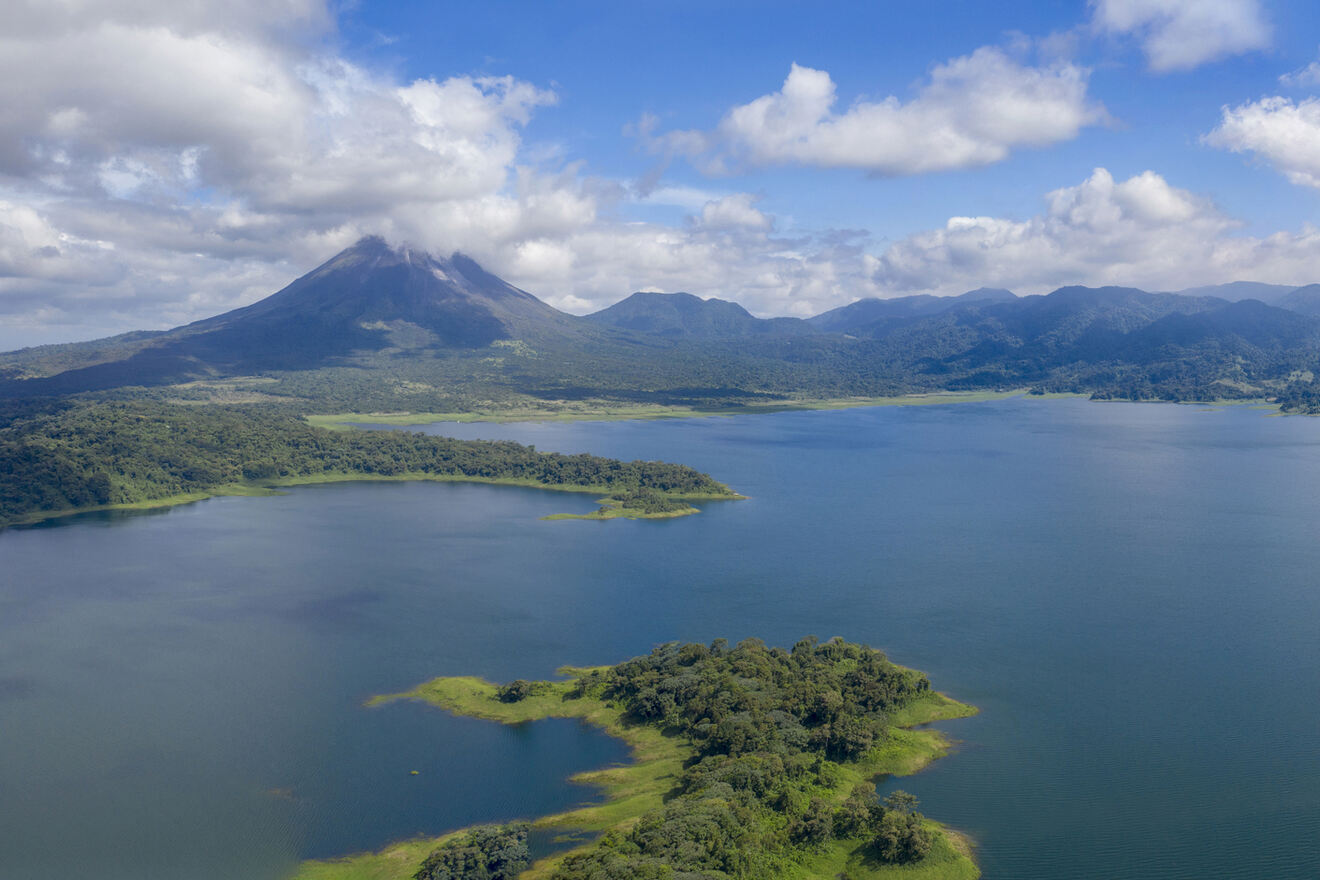 Where would you move for a few months if given a chance?
I would say Costa Rica without any second-guessing! This place is simply paradise on earth. The nature, landscapes, fruits, and incredible surroundings will make you want to move here ASAP!
But if you're just planning a holiday for the moment, then you've come to the right place! In this post, I'll offer you a list of the best Arenal hotels in one of the most beautiful areas in Costa Rica! 
The Arenal area is quite big so I decided to break this post down into two parts. The first part has hotels near the Arenal Volcano and National Park, and in the second part you will find all the best places to stay around Arenal Lake. Both lists go from most to least expensive, so you can easily pick the perfect spot for you and at the end, you'll also find a bonus with the top hot spring hotels and resorts! 
Naturally, people worldwide visit this place, so the hotels tend to sell out pretty fast. That's why I recommend booking in advance, that way you can get the best deals and a room in your favorite accommodation!
Ready? Let's go! 
If you are in a hurry
If you want to book now, quickly browse this list with the best Arenal hotels in Costa Rica:
airbnb
Villa Higueron
An Airbnb with amazing reviews
budget hotel
Casa Luna Hotel & Spa
Best affordable accommodation in the center
Here's a map that will help you visualize all the hotels in Arenal, Costa Rica that I will be talking about in this post:
1. Top Hotels around Arenal Volcano:
The area around the active Arenal Volcano runs from La Fortuna town all the way up to the National Park. There are tons of hotels and resorts located along the main road here, plus this is where the majority of hot springs are located. If you want to be close to most of the attractions then I recommend finding accommodation here! 
1.1 Luxury (US$200 and up)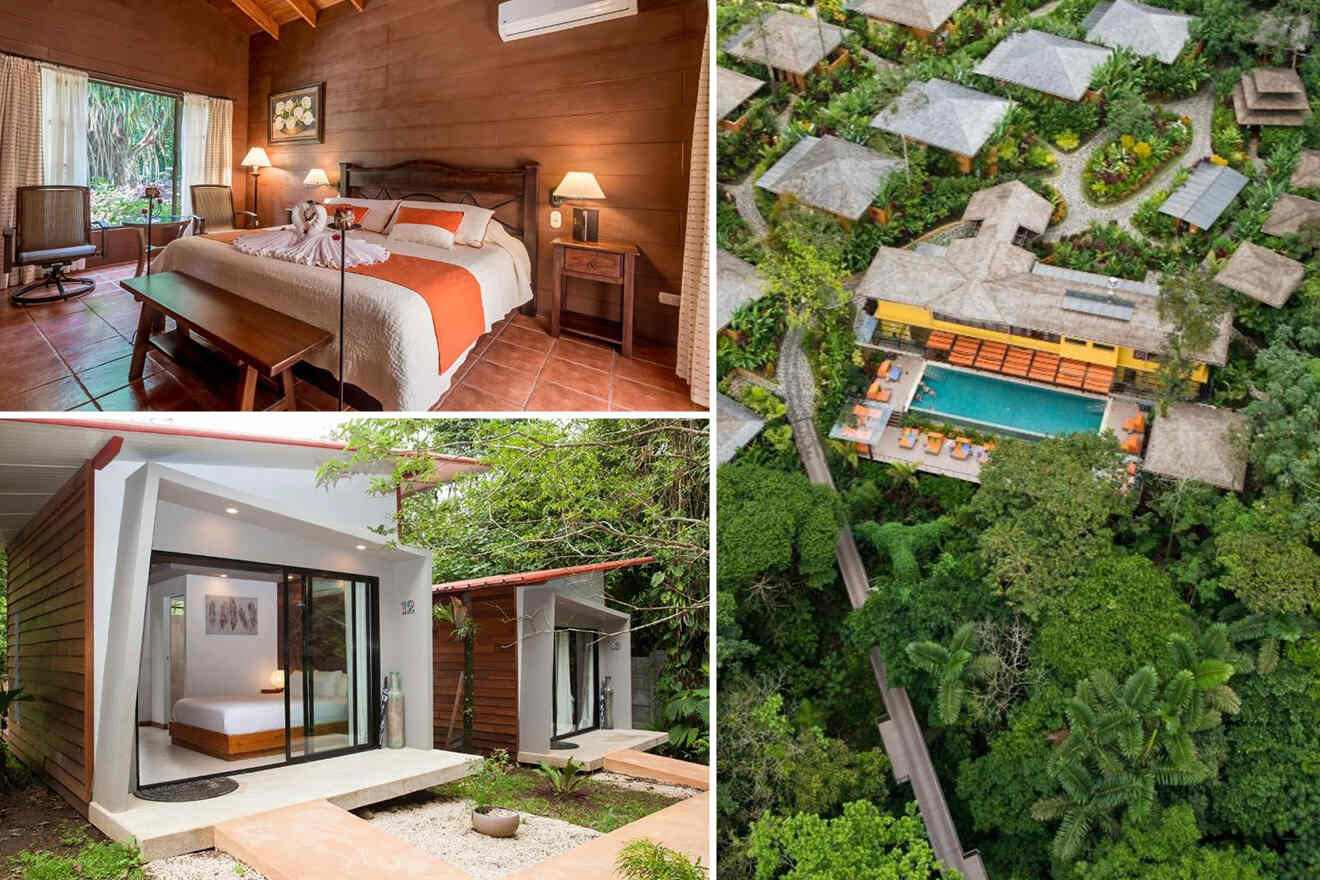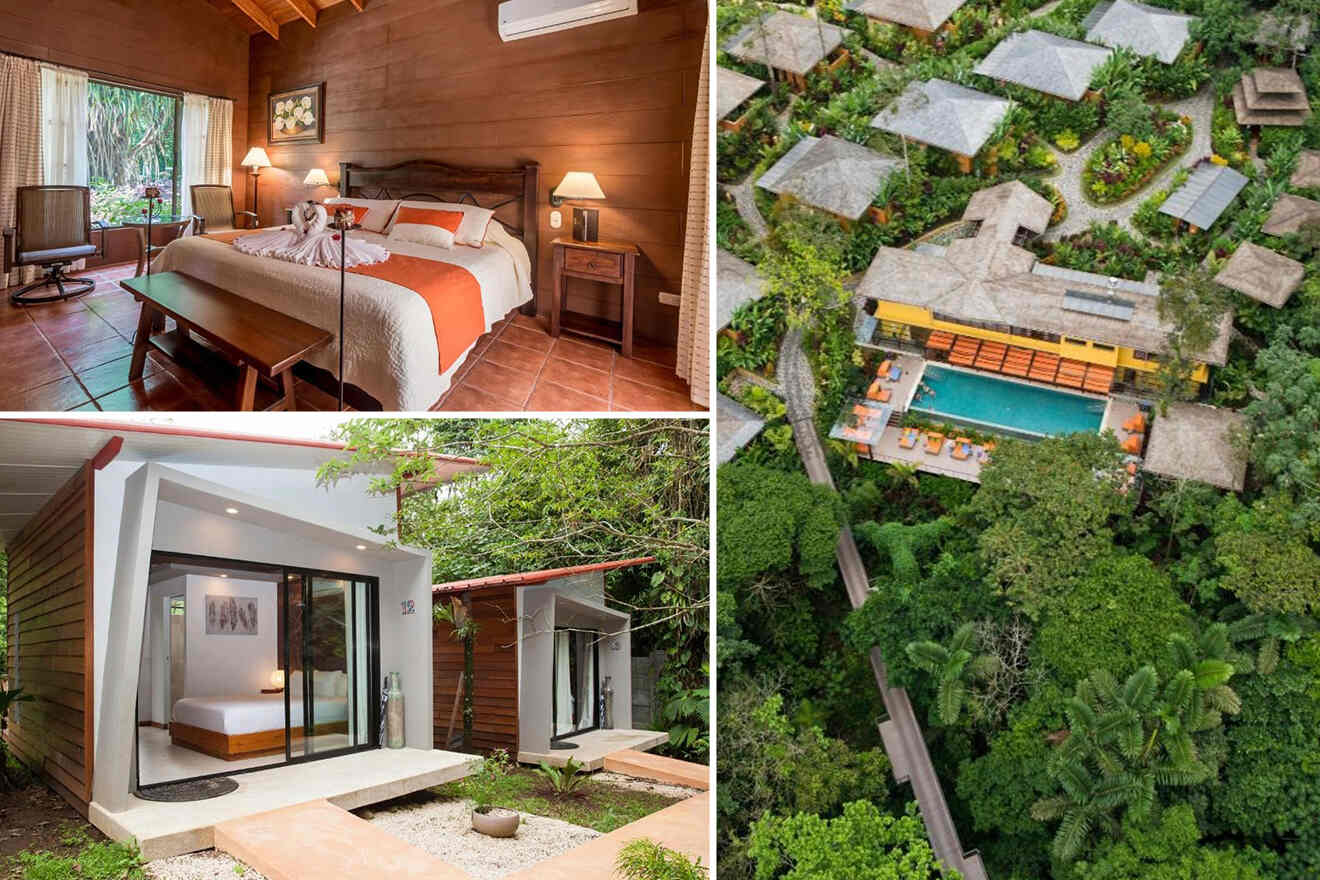 Nayara Springs –  Surrounded by the tropical rainforest, this adults-only boutique hotel offers free daily breakfast and a spa. Wake up and enjoy some relaxing time in your private thermal pool (each suite has one, wow)! The National Park is only a 20-minute drive away.
Nayara Gardens – Have a delicious Costa Rican cup of coffee on the terrace and admire the volcano view at one of the best luxury hotels in Arenal, surrounded by lush tropical gardens. Book the private bungalow at Nayara resort spa and you'll even have access to a private wooden terrace with a hot tub! You can arrange for different activities like horseback riding near La Fortuna waterfall or simply relax in the spa center. 
Hotel El Silencio del Campo – Just look at those spectacular views! Enjoy your stay in Arenal, Costa Rica, at this hotel with spacious rooms, free wi-fi, and a garden! Fancy a few hours of relaxing in the hot springs? There is no need to go someplace else because this hotel has its springs and a spa center. I recommend booking your hotels in Arenal ASAP! Costa Rica's popularity is growing every day and these hotels usually go first! 
Arenal Manoa – Go for a dip in the swimming pool early in the morning at this resort spa that offers incredible mountain views and a big garden. Explore the Arenal area during the day and then come back to the hotel to chill in the hot springs or in the spa center. The accommodation offers breakfast and an airport shuttle. 
Tifakar – Enjoy Costa Rica's lush gardens at this boutique hotel that's located less than a mile away from La Fortuna Waterfall. Enjoy a cup of coffee on the balcony of your room in the morning and admire the mountain views, then, head to the swimming pool for some sunbathing!
1.2 Mid Range (US$100 – US$150)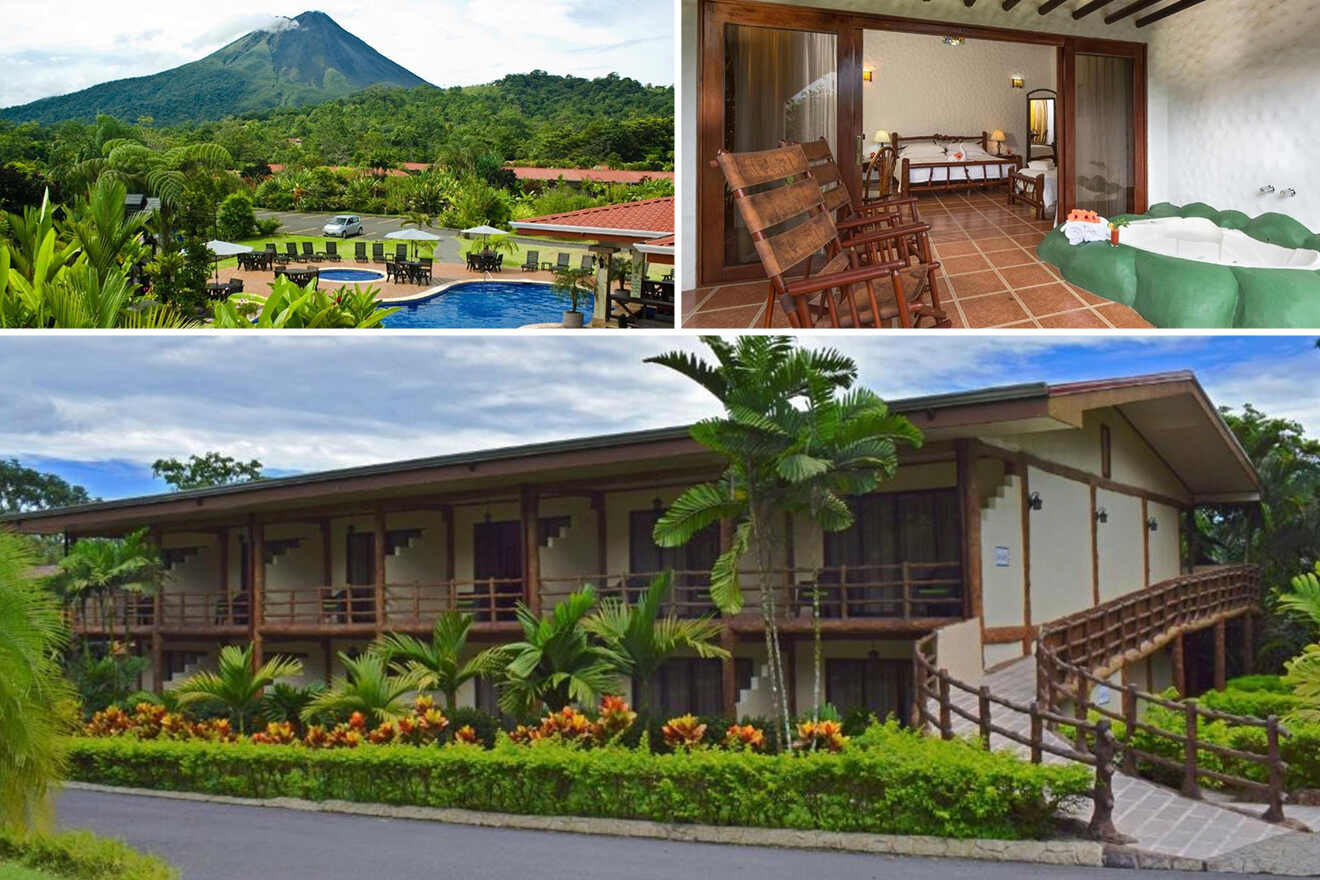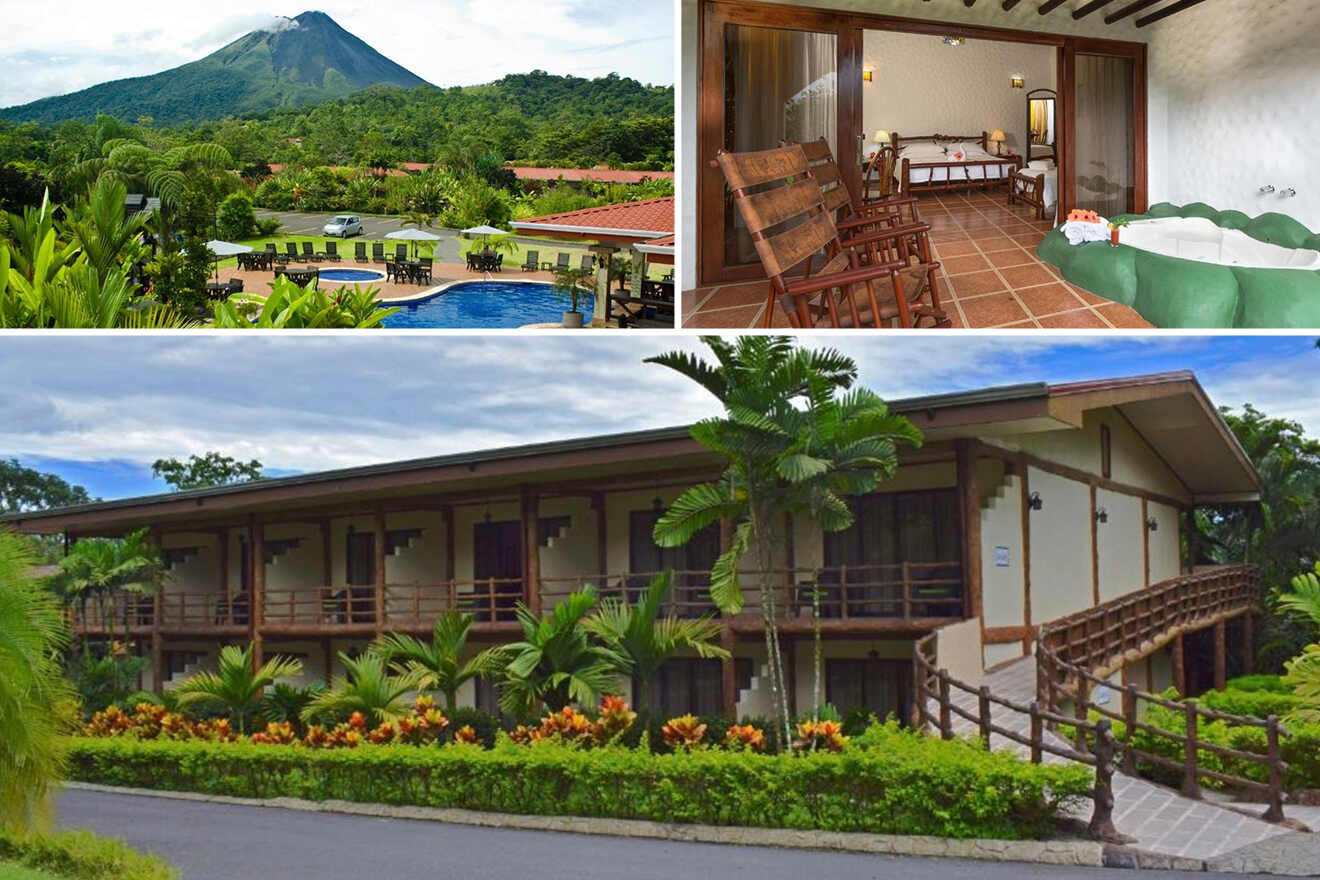 Volcano Lodge – Chill in the pool all day long and admire the volcano views at this Arenal hotel in Costa Rica that has 2 swimming pools and family rooms. There is an abundance of natural wonder to enjoy nearby the lodge, plus the Arenal Natura Ecological Park is located less than 1 mile away. And if you're looking for more things to do in La Fortuna, check out our latest post!
Arenal Observatory Lodge & Spa – Can you believe this lodge has an on-site lake? The volcano views are incredible, and the accommodation has this large terrace where you can go to chill and enjoy some moments of solitude! The lodge also has a bird sanctuary that has around 500 different species of birds (I would so go there to see the cute hummingbirds)! 
Hotel Los Lagos Spa & Resort – Olga amigos! Ready for an unforgettable holiday in one of Costa Rica's most famous spots? Arenal area is incredible, and there are so many things to do here! This hotel will offer you the best facilities and a place to relax when you're not out and about! Enjoy a few days of sunsets by the swimming pool and massages at the spa.
Mountain Paradise Wellness & Spa – Sit on the sun loungers by the pool all day long and enjoy the Costa Rican sun! This hotel has spacious rooms with cool decor, a spa center, and a restaurant that serves free breakfast. 
Hotel Rancho Cerro Azul – Fancy a hammock on the balcony of your room! I would sit all day in it, just admiring the views and reading something. This accommodation has family rooms, a restaurant and it also offers room service! 
1.3 Budget (up to US$100)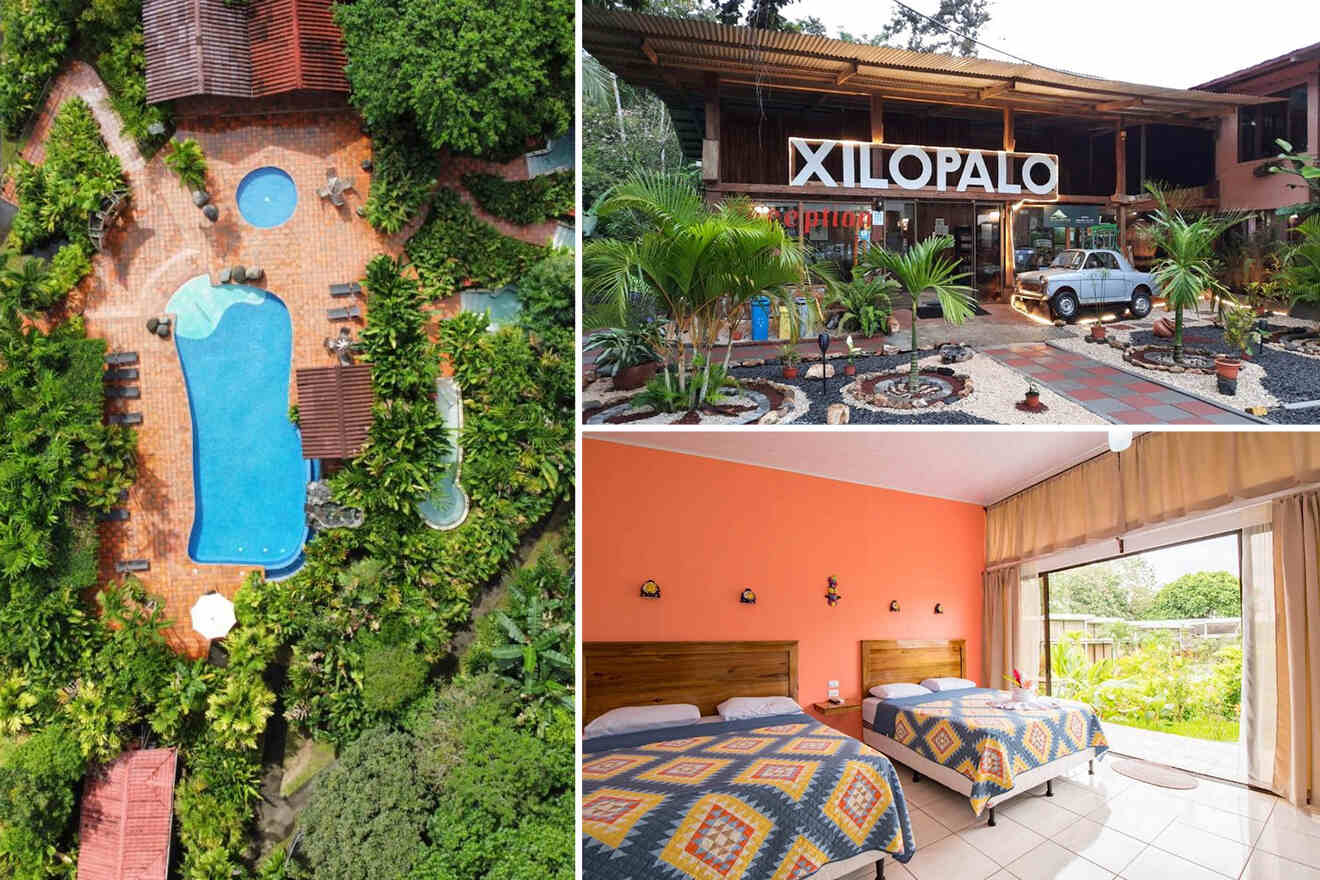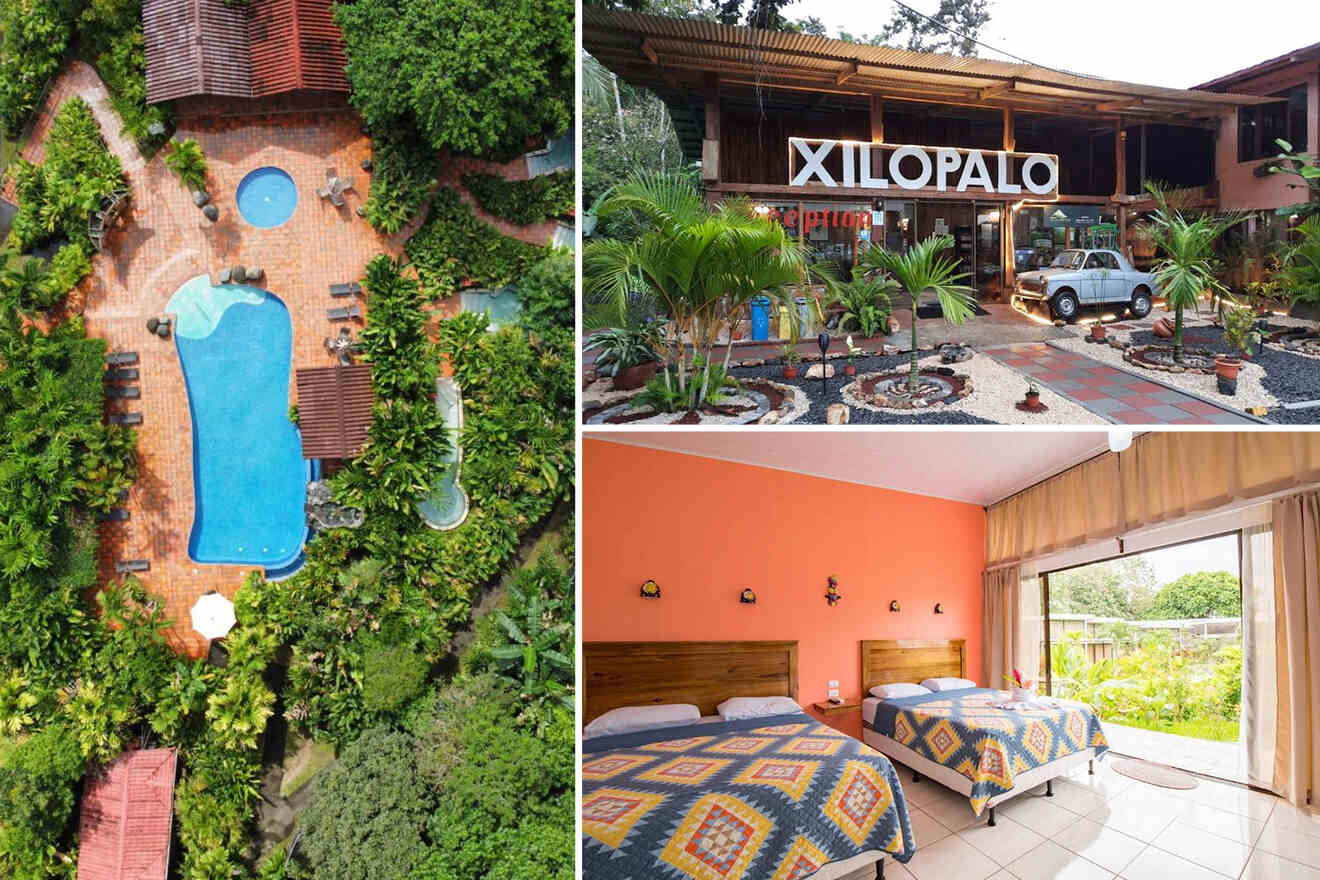 Casa Luna Hotel & Spa – Couple massages, silence, and incredible volcano views! Spend some wonderful days in Costa Rica's Casa Luna Hotel Spa, that's eco-friendly! Admire the surrounding rainforest from your room and enjoy the treatments at the space center. The hotel has 2 swimming pools a restaurant, and it also offers an airport shuttle. 
Hotel Roca Negra Del Arenal – A super affordable Arenal hotel in Costa Rica that has family rooms and a garden. The accommodation offers different activities like hiking, and it also has a games room. When you're not out there exploring Costa Rica's incredible landscapes, you can relax by the pool and enjoy a tranquil day. 
Hotel Secreto – The stunning views of this hotel are no secret, so make sure you book it in advance! Order some room service to start your day right, watch some cable tv and then get ready to explore La Fortuna and the Arenal Volcano area. The accommodation has a pool and it offers different tours and hiking.
Arenal Xilopalo – Rent a bike from this lodge and start discovering La Fortuna and the area around Arenal Volcano. This accommodation has spacious rooms with a private bathroom, a terrace, and free wifi. Grab a quick breakfast in the morning, then you're good to go! 
2. Best Hotels around Lake Arenal:
If you're looking for an area that's a bit more tranquil then I recommend looking for hotels around Lake Arenal, which sits west of the volcano. The whole area circling the lake is dotted with even more hotels and resorts but unlike La Fortuna town (which is usually pretty crowded), here you can enjoy some peace and quiet! 
2.1 Luxury (US$200 and up)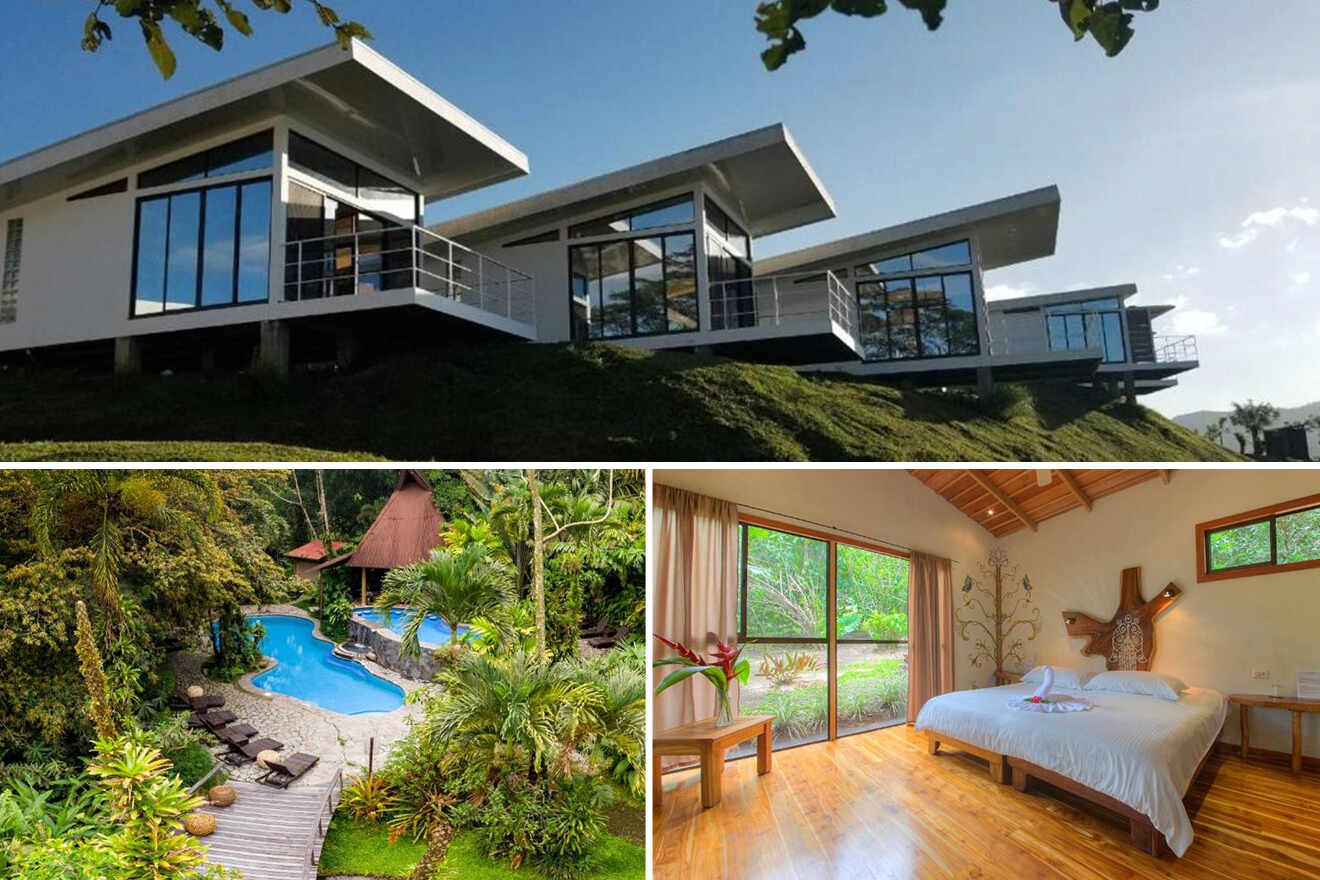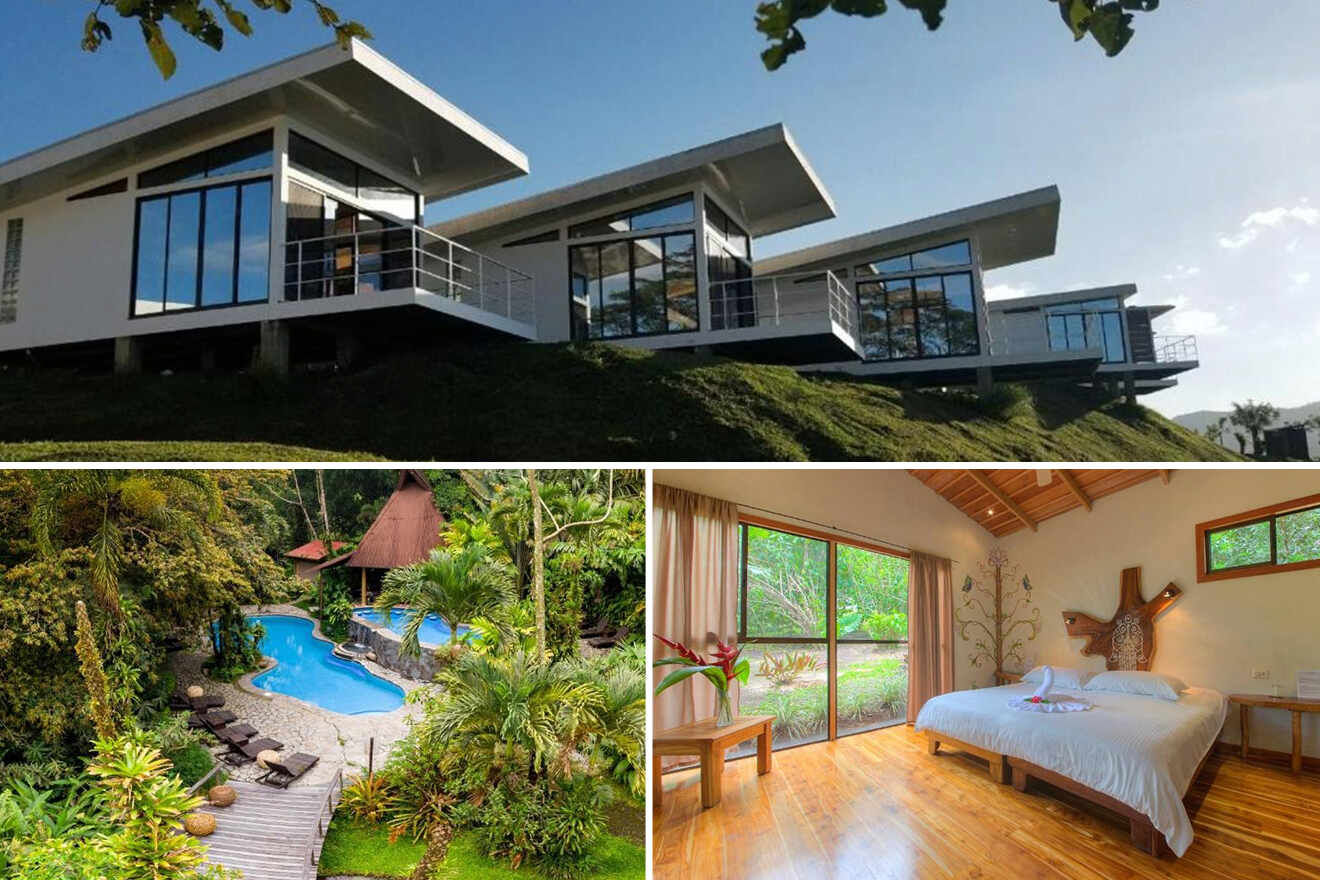 Lost Iguana Resort and Spa – Just arrived in Costa Rica after a super long flight! Get all settled in your comfortable rooms at this resort spa and enjoy a few moments of rest on the balcony while admiring the stunning volcano views! In the morning, grab some free breakfast and start exploring around. Firstly check out the hotel's maze (wow), but wear your swimsuit to go for a swim in the pool as well! 
Sangregado Lodge – Floor-to-ceiling windows in a place like Costa Rica? Basically, a dream come true! You'll wake up every morning with the most beautiful sight of Arenal volcano! The accommodation is not too far from Mistico Arenal Hanging Bridges Park, and it has a restaurant on-site. Wear some comfortable shoes and then head out to explore the area around Arenal Lake and La Fortuna. 
Hotel Laguna Arenal – This stunning hotel is located right near Arenal Lake, and it offers the most beautiful views! The rooms are super spacious, and they come with a private bathroom and a small balcony where you can sit to read, relax or have a drink. Arenal Volcano National Park is a 30 min drive away from the accommodation. 
Mystica – Forget all about work emails and other problems and enjoy your holiday in Costa Rica at this incredible hotel that's surrounded by nature and has an outdoor pool. The rooms have a beautiful design, and they offer access to a terrace that overlooks the tropical gardens. Get up early, catch a sunrise, and then head to the yoga platform to stretch your body and get it ready for a new day of exploring in La Fortuna and Arenal Volcano. 
2.2 Mid Range (US$90 – US$150)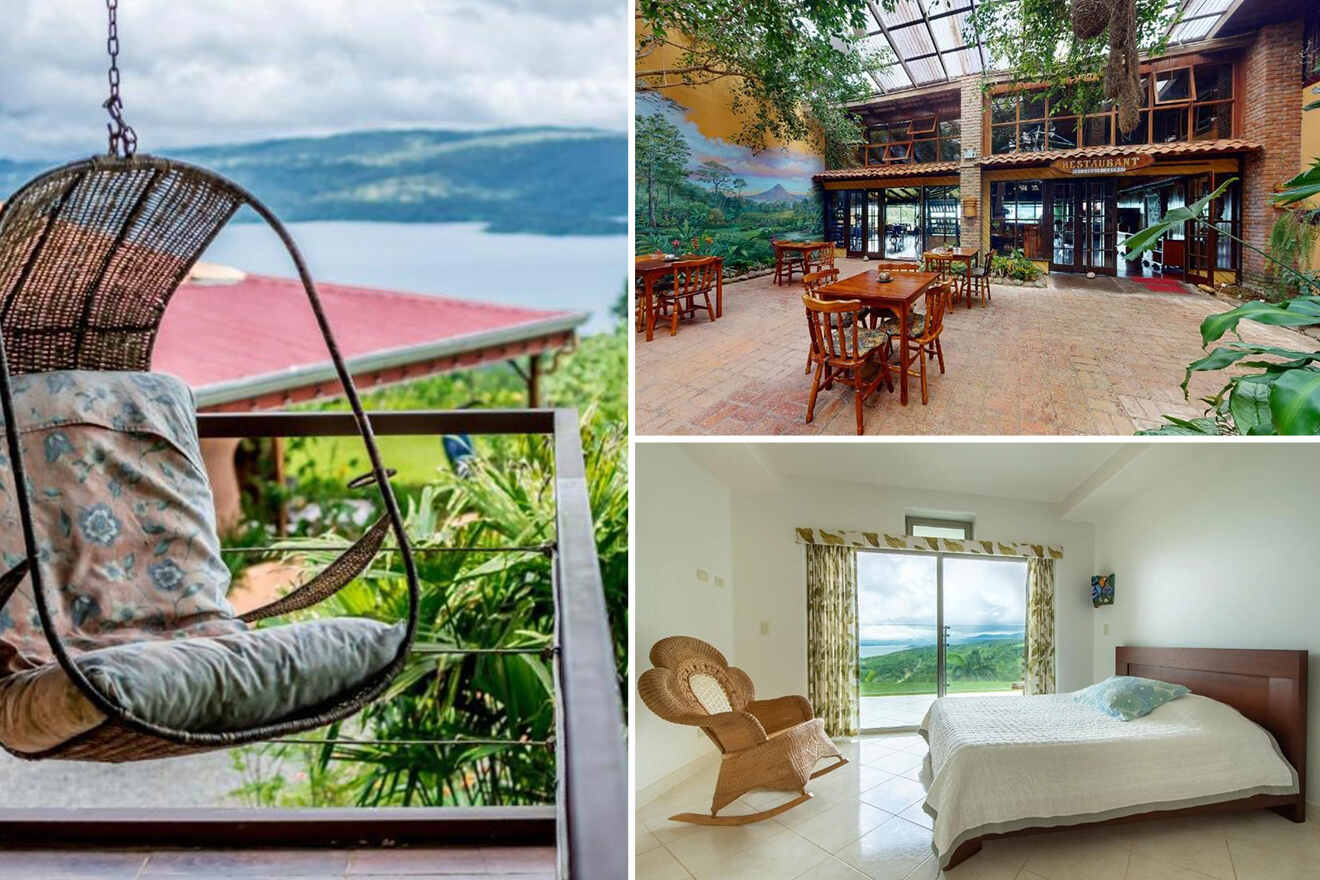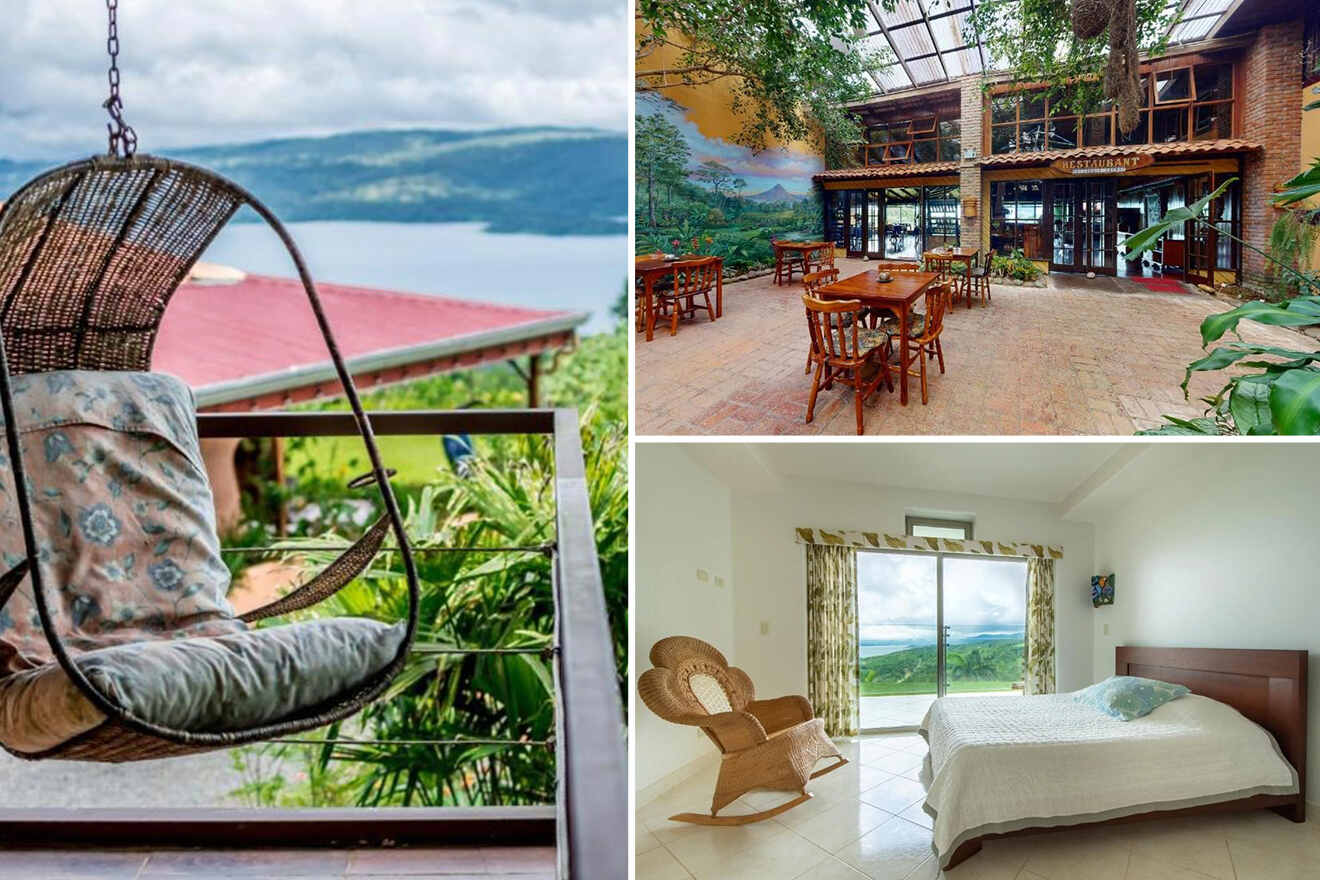 Hotel Arenal Lodge – I love the design of this lodge, everything is made out of wood, and it looks incredible! Surrounded by a beautiful rainforest this accommodation is a dream come true for any nature lover, plus it has its own bird-watching garden! You'll also find a games room and an outdoor-playing area for the kids. 
Lake Arenal Condos – Enjoy your stay in Costa Rica at this Arenal accommodation that offers apartments perfect for families or groups of people. Grab a book and head to the pool for a swim and a bit of light reading (although you might forget about that once you see those views)! The accommodation also has a garden and a fitness center. 
Nepenthe B&B – Sun, fresh air, and vegetation! Once you get to Costa Rica it will be hard to leave this place! This hotel is located 3 miles away from Arenal Volcano National Park, and it has a restaurant and a sun terrace where you can enjoy your complimentary breakfast. The accommodation also offers activities like horseback riding! 
Casa Donna Rosa B&B – A great hotel in Arenal that provides the same amenities as the rest of the accommodations in the area, plus some activities as well! Spend a day to relax in the garden after that long flight and then get ready to go hiking around Arenal Volcano. 
2.3 Budget (up to US$90)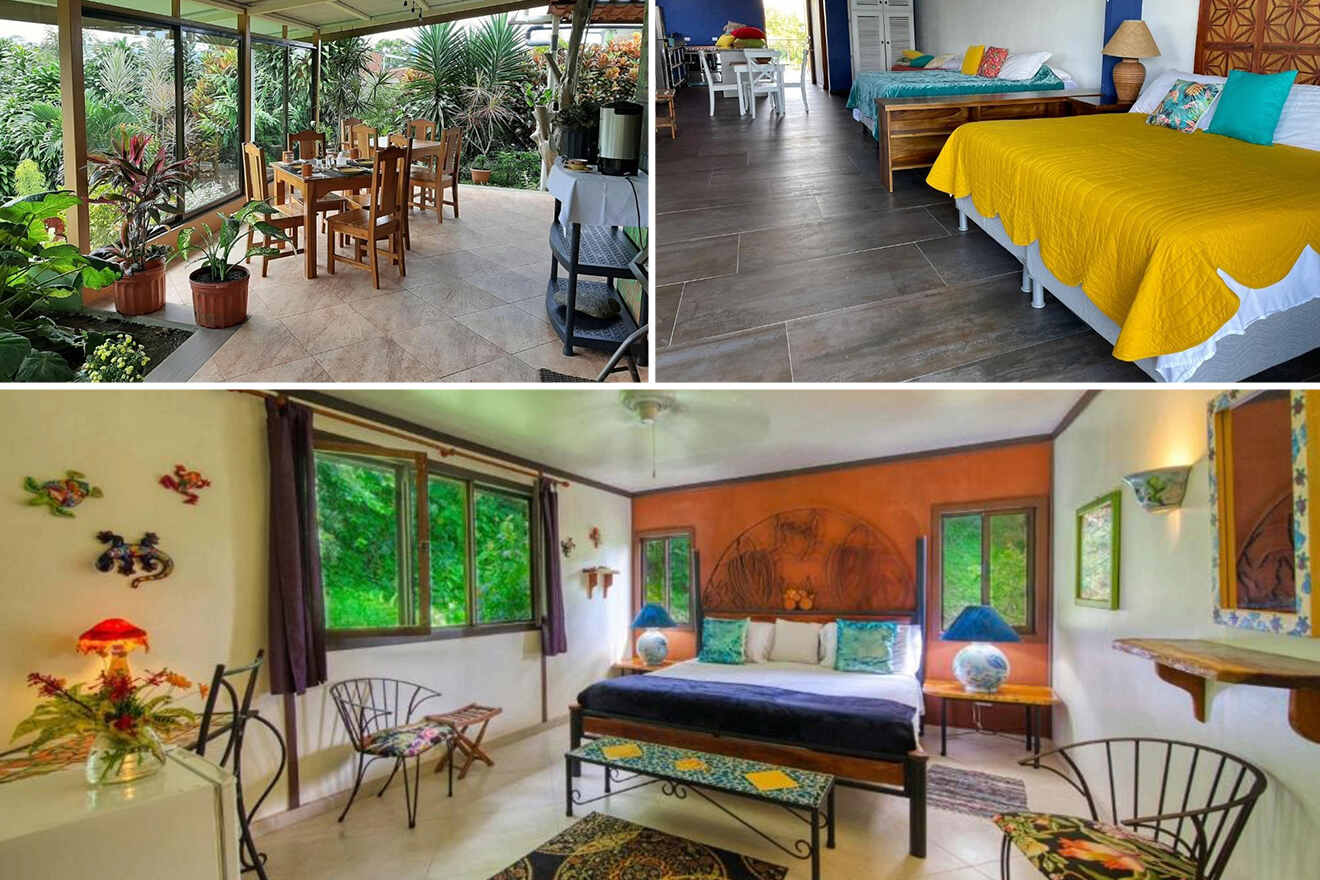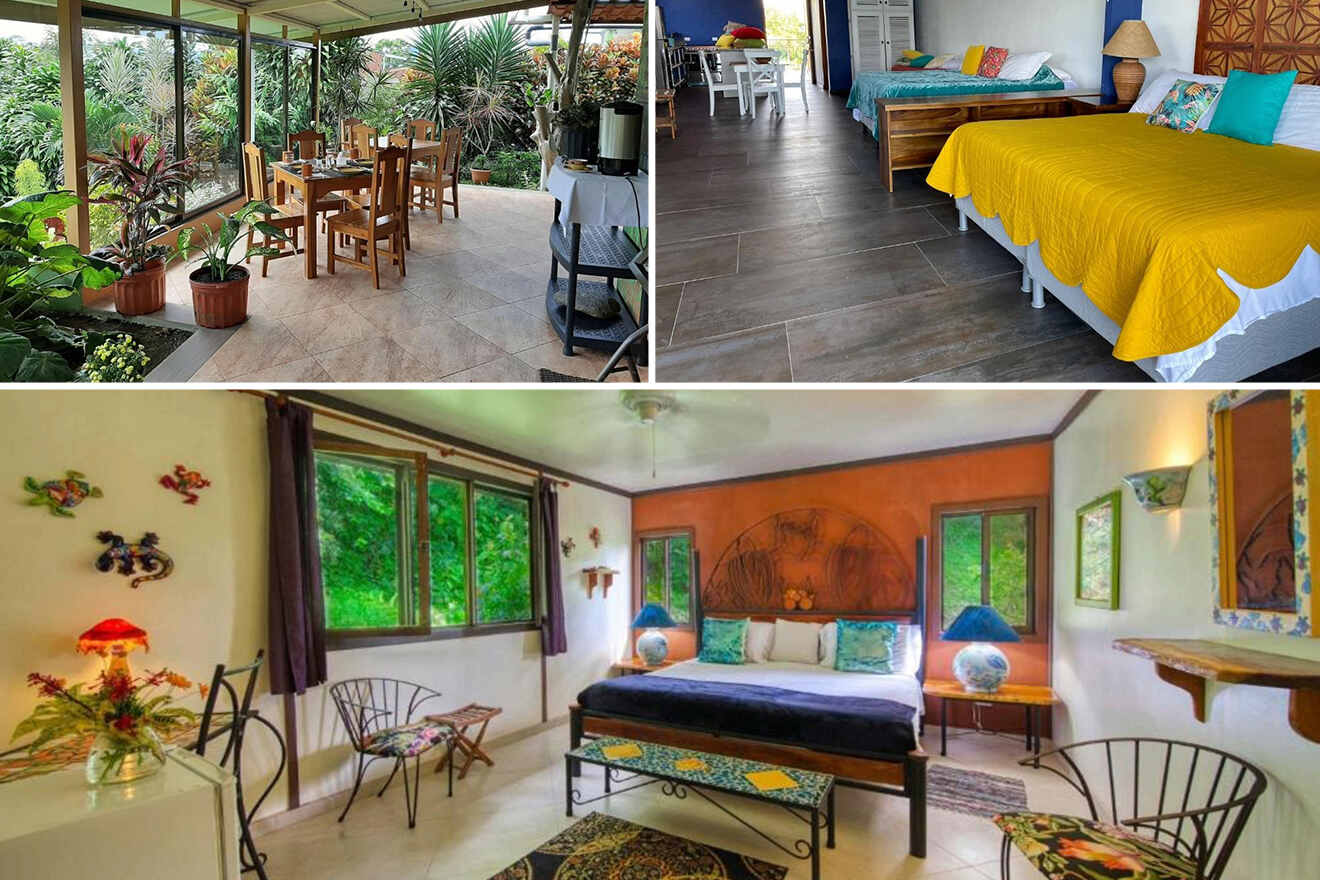 Lucky Bug Bed And Breakfast – If you're looking for a more affordable place to stay in Arenal, Costa Rica, then pick this cute accommodation that has a restaurant and free wifi. It also offers themed dinner nights and activities like horseback riding and hiking. 
Bluebay Bugenvil – Great price and excellent facilities as well! This lodge is located right near the lake, and it has family rooms and a restaurant. Once you get here, ask about the activities because they offer so many, plus some spa services! Trust me, after hiking and walking for so long around Arenal Volcano. You'll need more than 1 hour of massage! 
Marita's Bed and Breakfast – Feel at home at this cozy accommodation with family rooms and free wifi. Start your day with breakfast on the terrace and a cup of strong coffee (trust me, you'll need it!), and then start your adventure around Arenal Volcano!
Essence Arenal and Spa – I just want to stick in that hammock all day long! I love this place, and the views are incredible! This accommodation also has a hot tub, a spa center, and a swimming pool! Grab lots of swimsuits with you!
BONUS: Best hotels & resorts with hot springs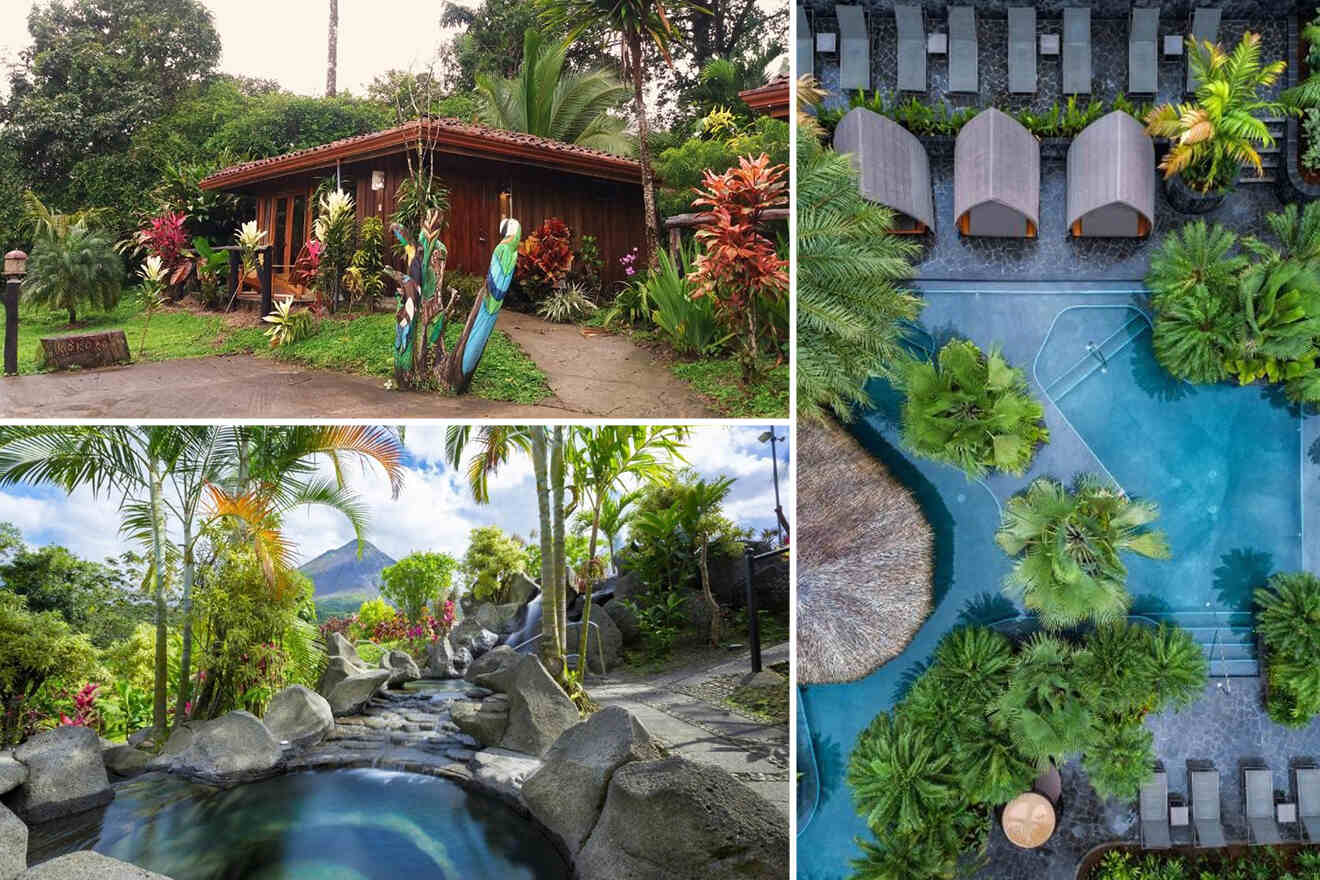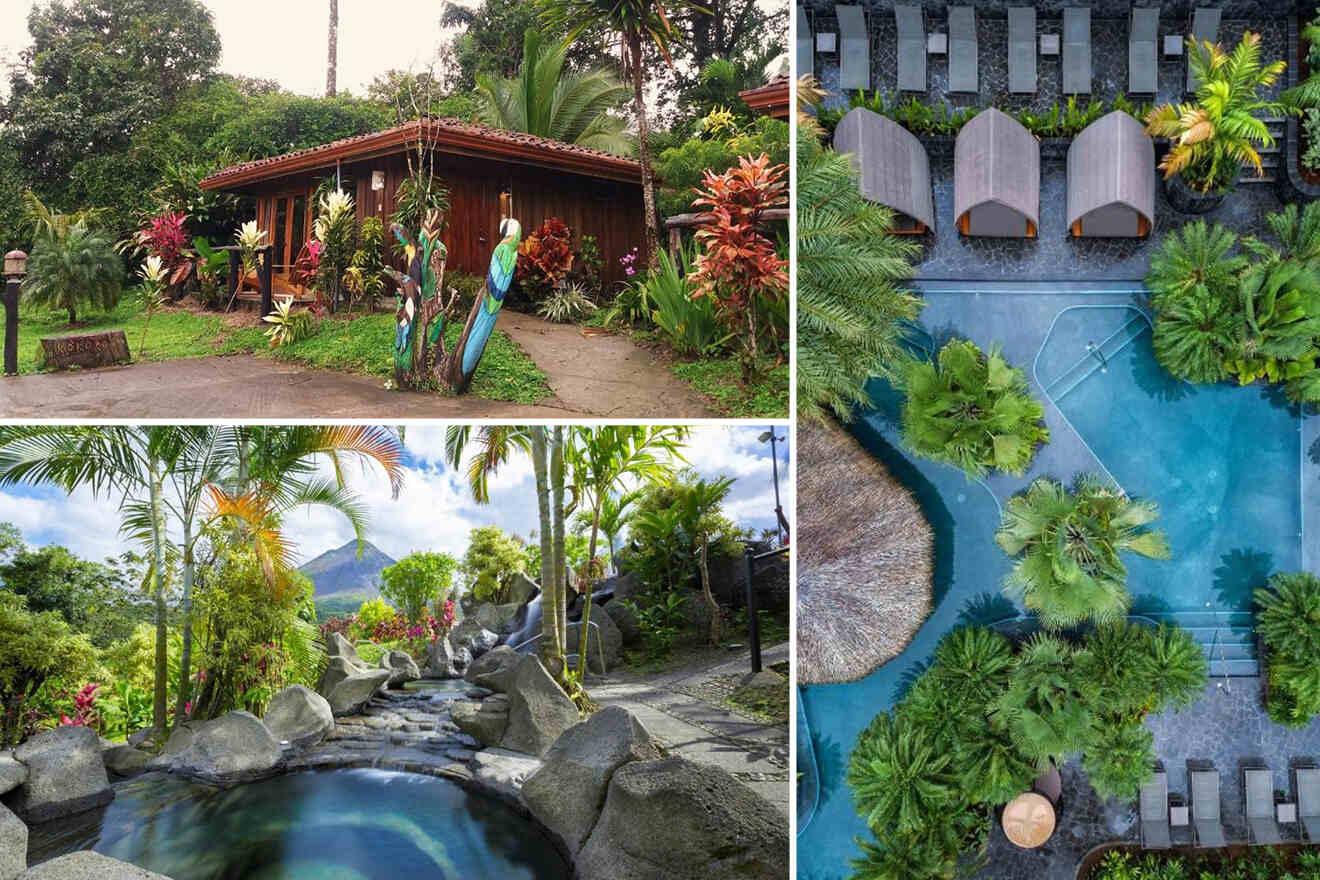 Are you ready to relax in Costa Rica's best hot springs? The area around Arenal Volcano is famous for its springs!
The volcano naturally heats the underground aquifers and rivers, creating some of the country's nicest, steamy hot mineral baths!
What I would give to chill in one of those! 
There are so many hotels and resorts that have hot springs in the area so I thought to make a list of the best ones, in case any of you would want to have this option right at your door! Although the hotels cost a bit more, it's so worth it!
Let's check them out:
Luxury (US$200 and more)
The Springs Resort & Spa – Hello paradise! Can I just move here? This resort has 28 hot spring pools (wow!), a spa center, and an animal rescue center! Everything from the design to the views of Arenal Volcano will make you forget all about your daily life and live the Pura Vida! The accommodation has 5 restaurants, and it offers different activities, live music shows, and hiking! 
Tabacón Thermal Resort & Spa – This is one of the best hot springs resorts around the area! Many tourists come and stay here for the whole trip. Once you have a look at their rooms and hot spring pools, you'll understand why! Start your day with a yoga class, eat a healthy breakfast and then head to the Tabacon hot springs! 
Hotel Arenal Kioro Suites – Wake up each morning to a view of Costa Rica's crown jewel: Arenal Volcano! This hot springs resort has everything you need for a perfect holiday! The rooms have rustic decor, a hot tub (love it), and 2 on-site restaurants. Chill in the spa and then get ready for a relaxing session in the hot spring. 
Mid-range (US$100- US$150)
Hotel Kokoro – How cute are the rooms at this hot springs resort? Some of them have painted walls and some cool beds! After a whole day spent exploring the La Fortuna and Arenal Volcano, spend some time in the hot springs! You'll feel like a brand new person the next day! 
Frequently asked questions about hotels in Arenal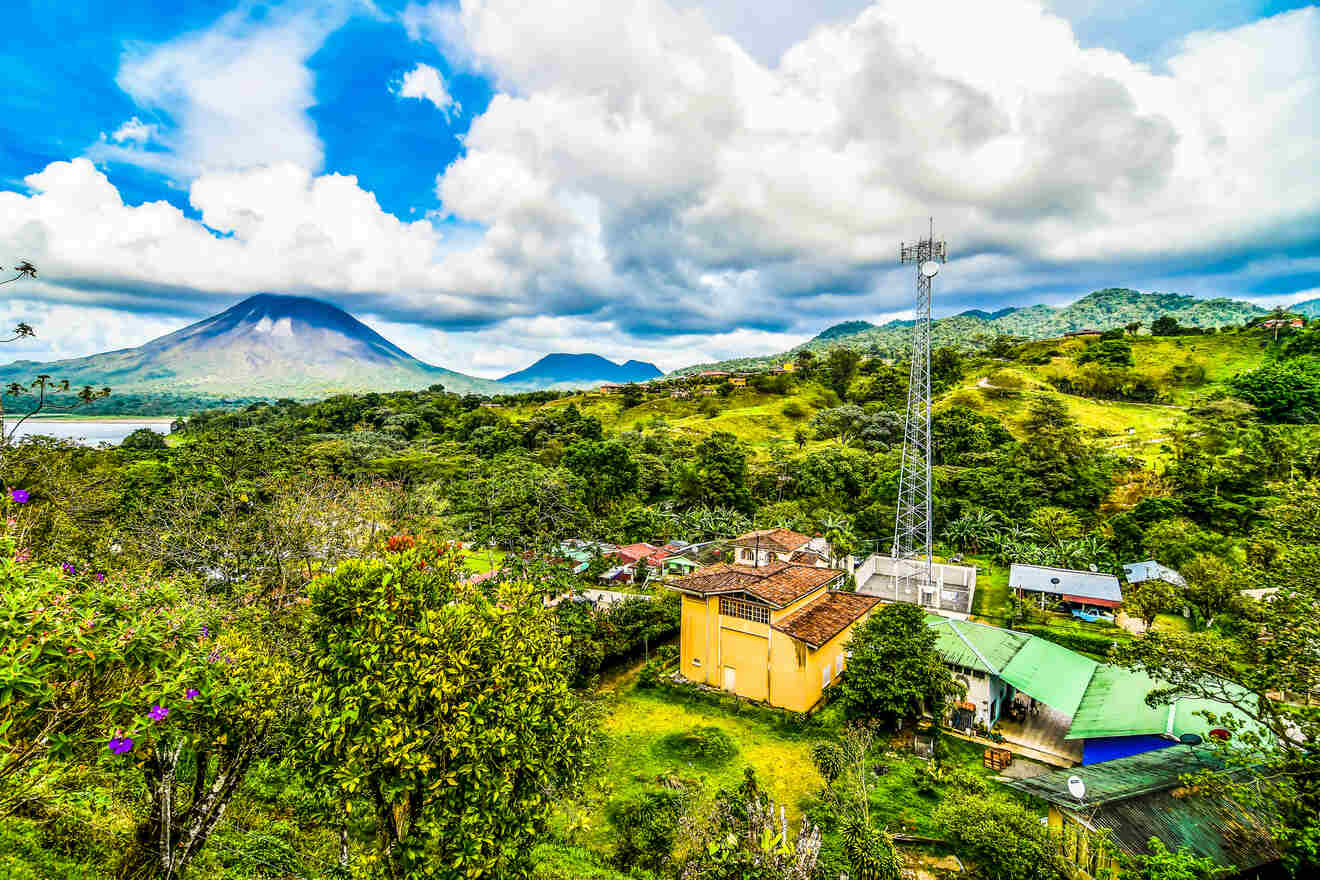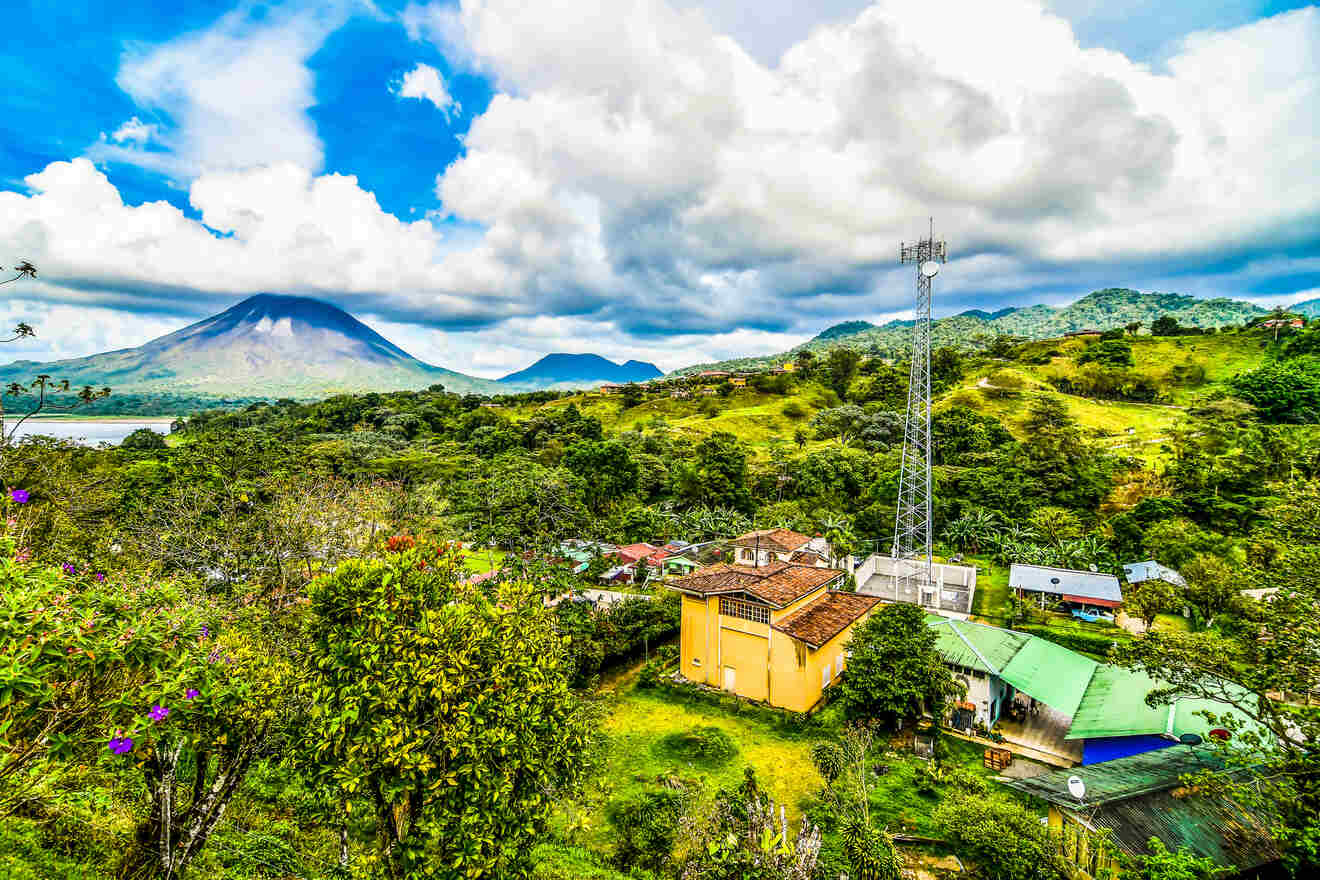 🤩 What hotel did the Kardashians stay in Costa Rica?
When the Kardashians traveled to Costa Rica they stayed at Villa Manzu, a super luxurious accommodation that has since closed. If you are looking for something just as luxurious, I recommend checking out The Springs Resort & Spa.
📆 How many days do you need in Arenal, Costa Rica?
If you spend between 4 – 10 days in Arenal, you'll probably get to see most of the big attractions in the area and try all the great activities. 
🌋 Where should I stay to see the volcano in Costa Rica?
🏙️ What city is near Arenal Volcano?
La Fortuna is the closest town to Arenal Volcano, many hotels are located here, and there are some great restaurants. 
Conclusion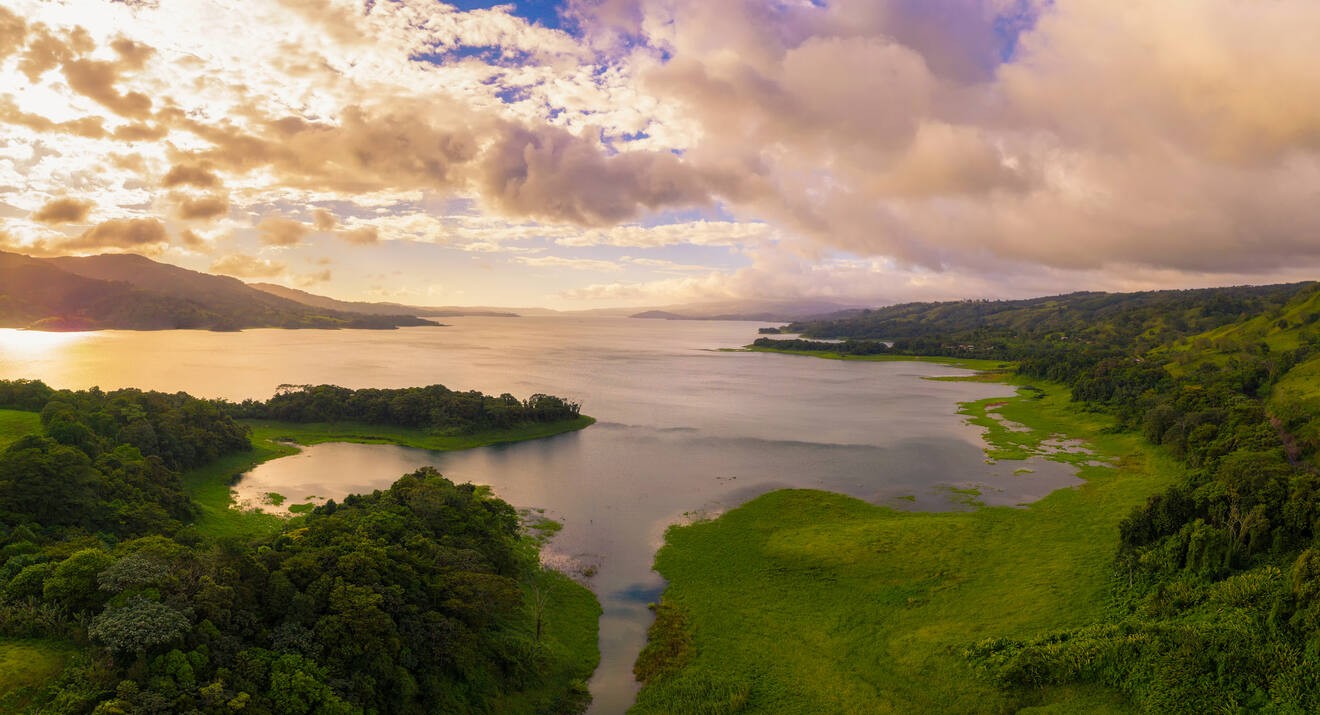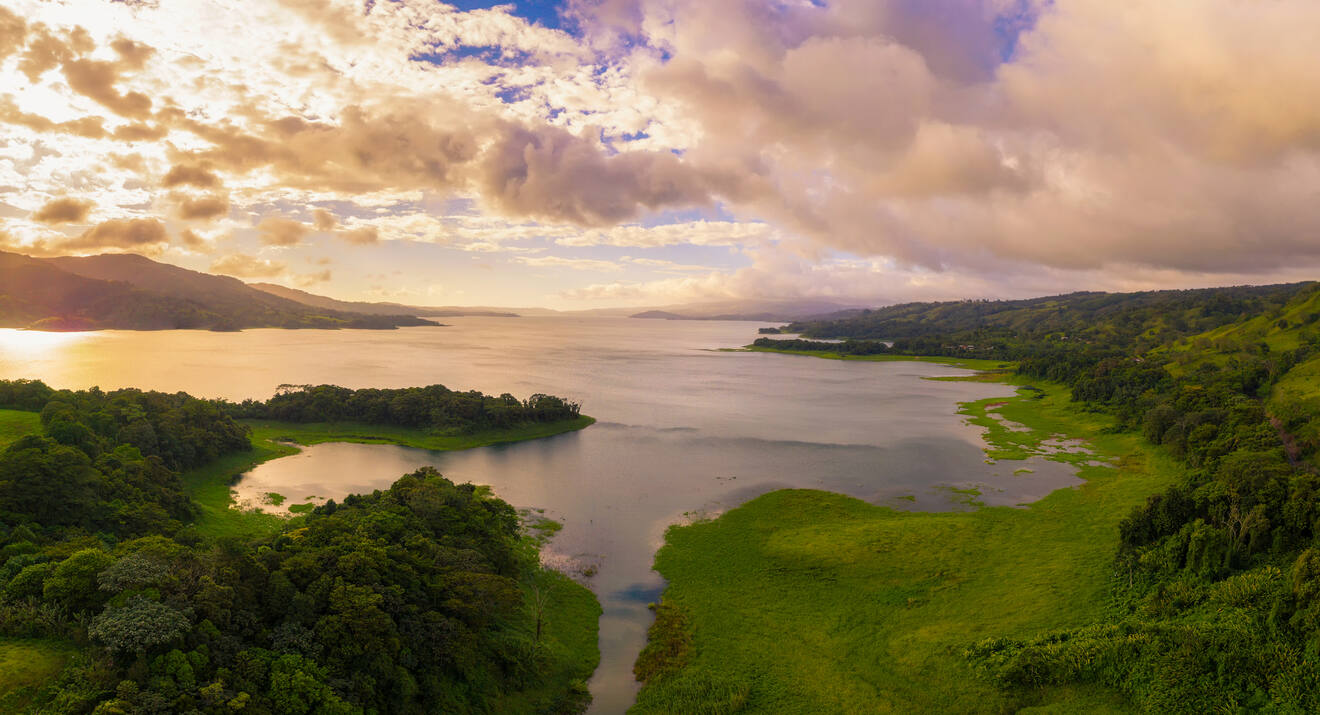 What an incredible place! No wonder this country is the world leader in eco-tourism and wildlife conservation! I hope this post will help decide which are the best hotels in Arenal, Costa Rica.
I know that the list is super long, which might slow down the decision-making process. So to give you some extra help, I chose from all of the accommodations my 2 favorite ones:
Nayara Springs  – Arenal Nayara hotel is a stunning resort that has suites with private thermal baths 
Volcano Lodge – A great hotel that offers views of Arenal Volcano 
Just remember that Costa Rica is a super popular destination and all the Arenal Volcano hotels sell out so fast! Make sure to book yours in advance to avoid paying too much for accommodation!
Other than that, I wish you a fantastic trip to Costa Rica! Explore the area around La Fortuna, hike around Arenal Volcano and try all the other activities! You'll have the best time ever!
If you have any questions about Costa Rica or about a hot springs resort, drop me a comment below and I'll make sure to answer it as quickly as I can! 
Safe travels,
Victoria