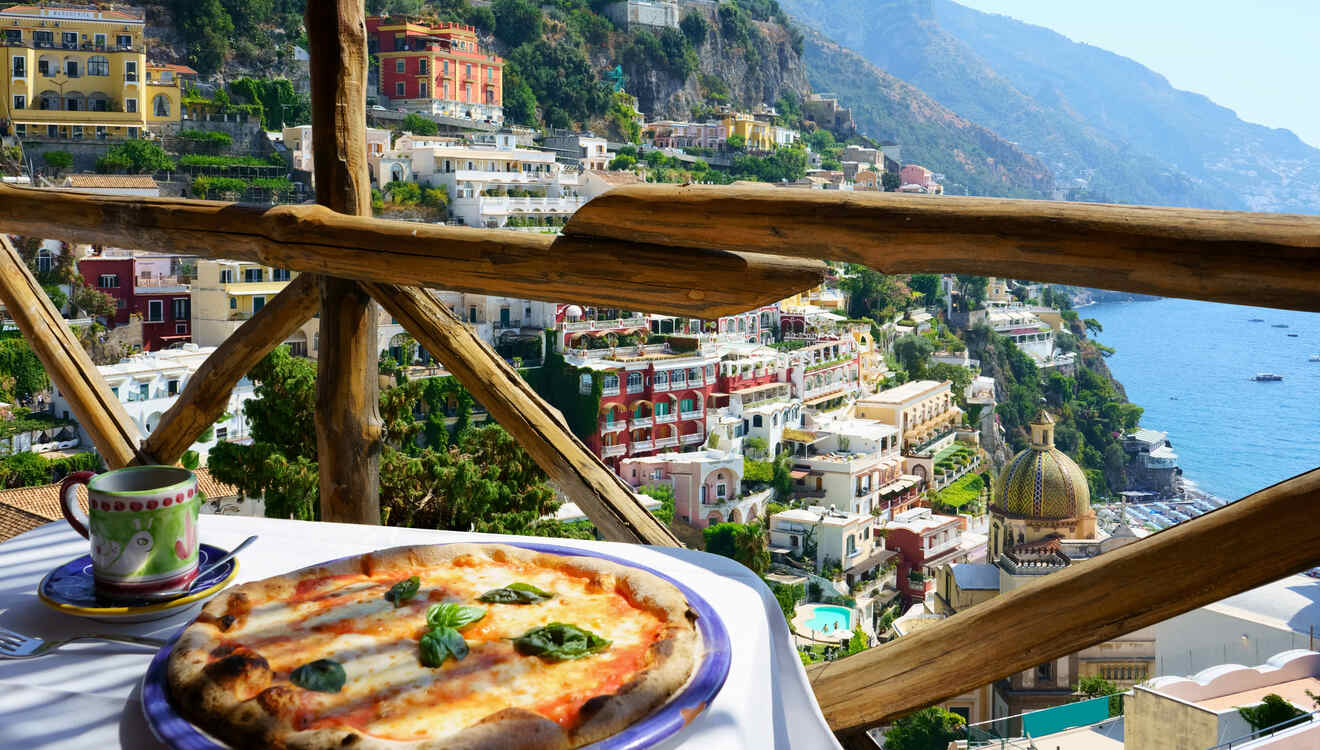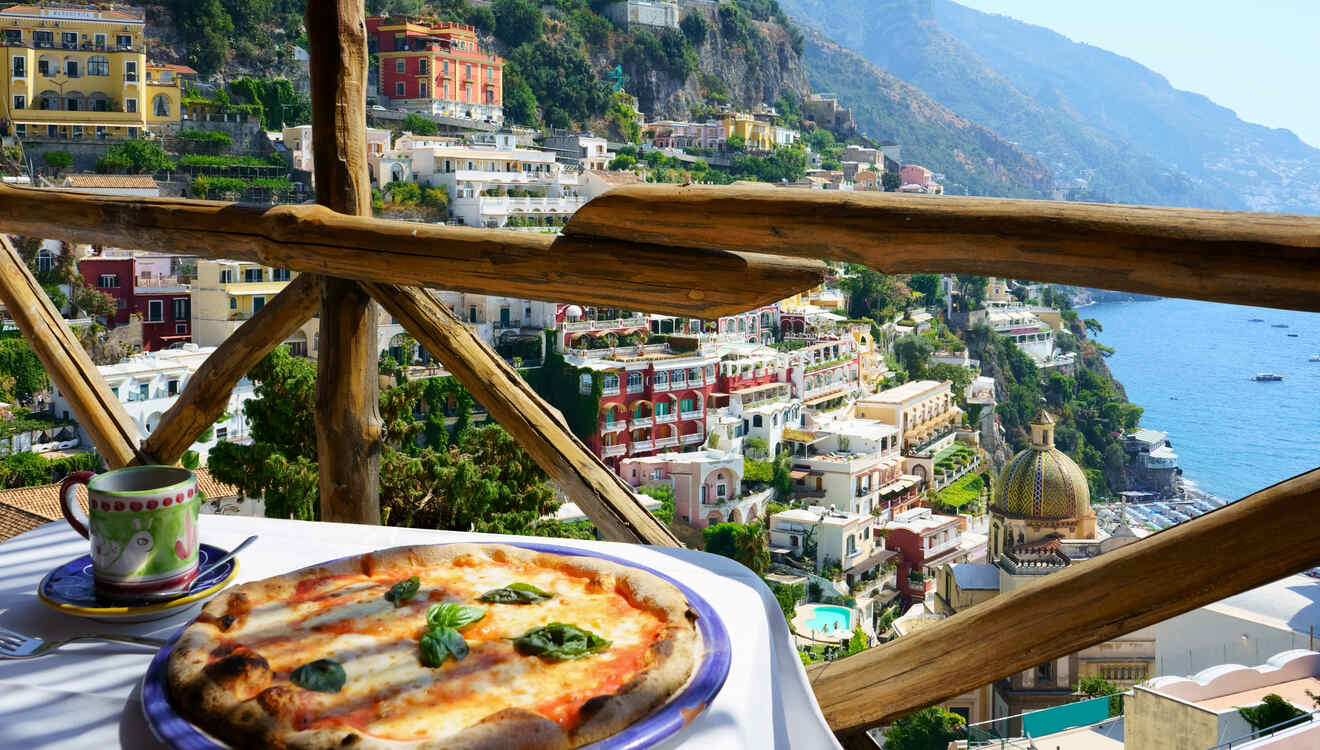 I bet everyone has the dream of traveling in a cabriolet in the Amalfi Coast, one of the most beautiful places in Italy and I dare to say in the whole world!
Apart from scenic coastal landscapes, stunning beaches, and deep culture, the Amalfi Coast offers some of the most delicious food in the whole country (word of an Italian!). Trying fresh fish dishes, seafood risotto, the best pizza, and many more dishes will bring your trip to the famous coastline to the next level! 
You just have to know where to find them.. There are so many Amalfi Coast restaurants that it's easy to fall into the "tourist traps", where you pay a lot and you get low-quality food (for a foodie like me, this is one of the biggest deceptions in life!).
That's why I decided to do this guide with the Amalfi Coast's best restaurants, divided by its main picturesque villages: Amalfi, Positano, and Sorrento. 
I also included the most romantic restaurants in the entire Amalfi Coast, Italy, where to dine with your special one with some unforgettable sea views, and some travel tips on which food to try and with which food tour!
Ready? Let's go!
Since the Amalfi Coast is a region made up of a few different villages, here is an easy map to help you visualize where each of the towns are: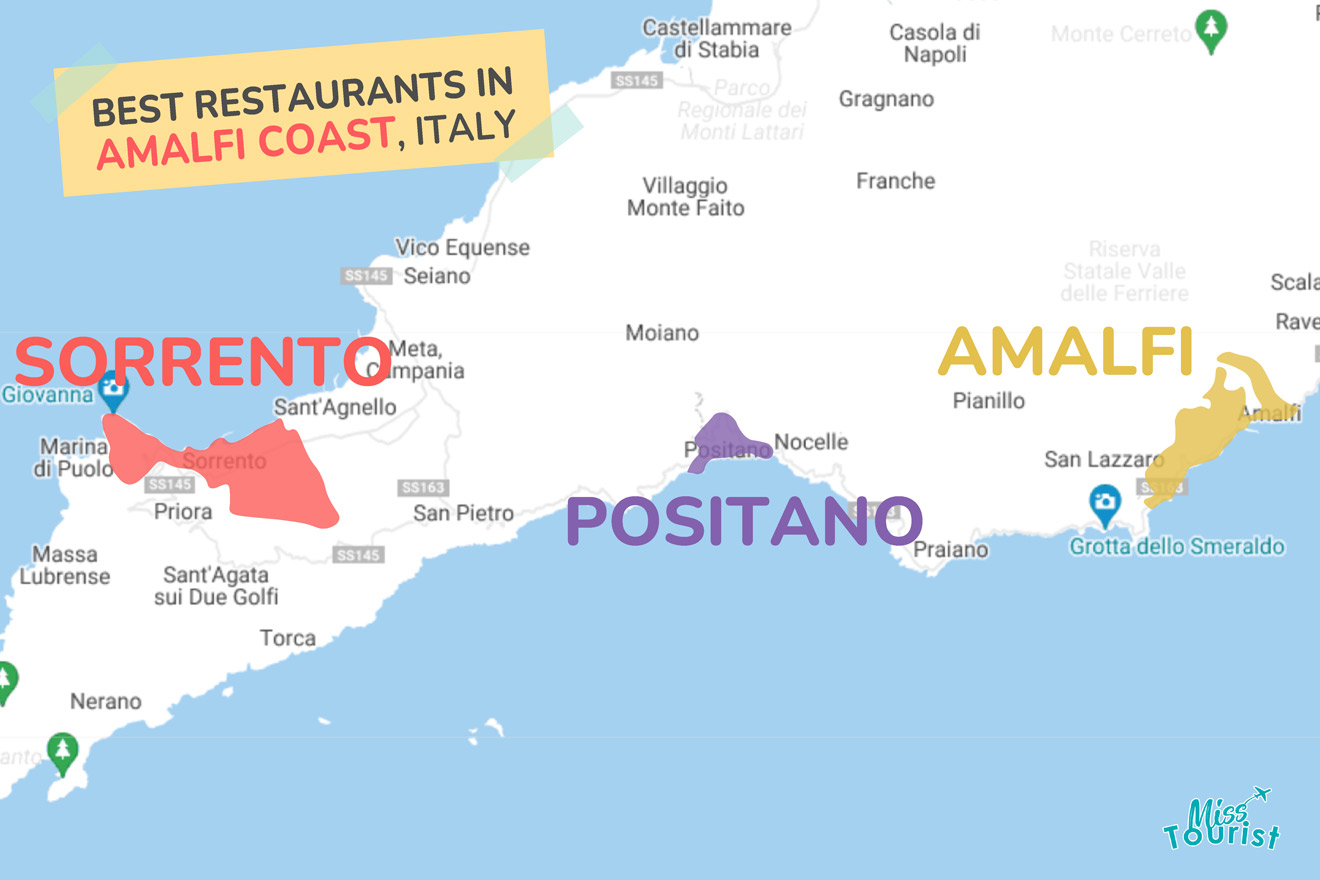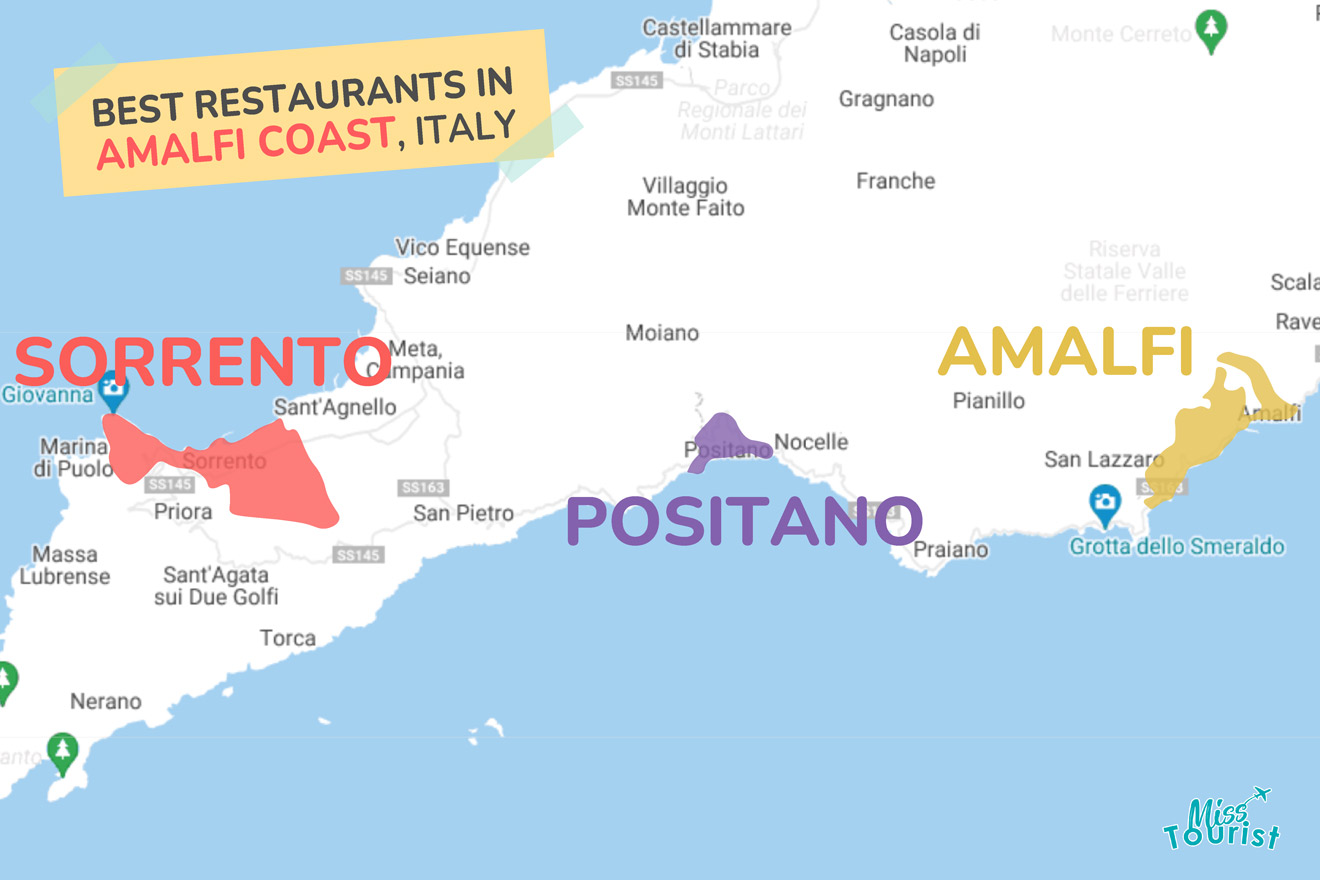 Restaurants in Amalfi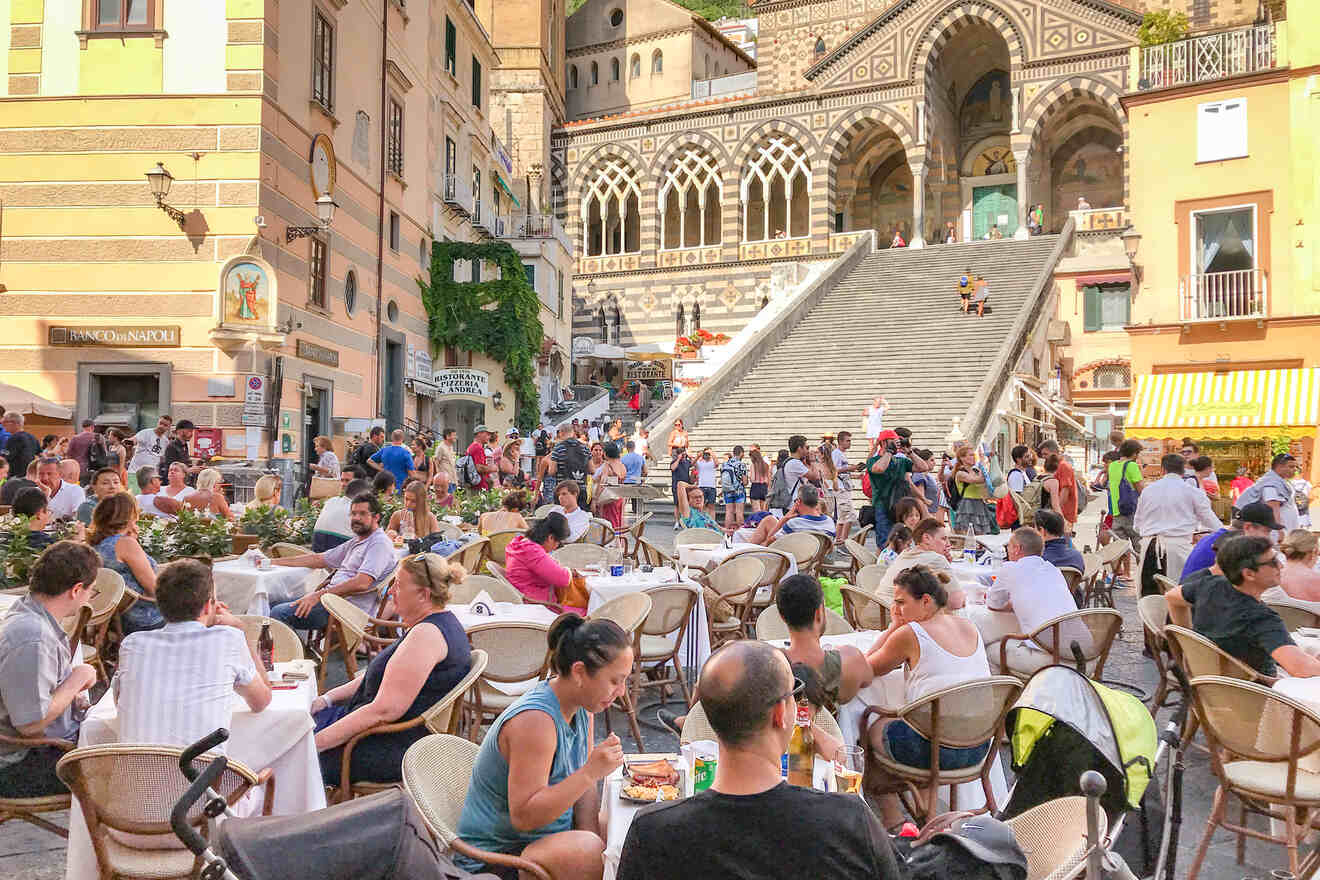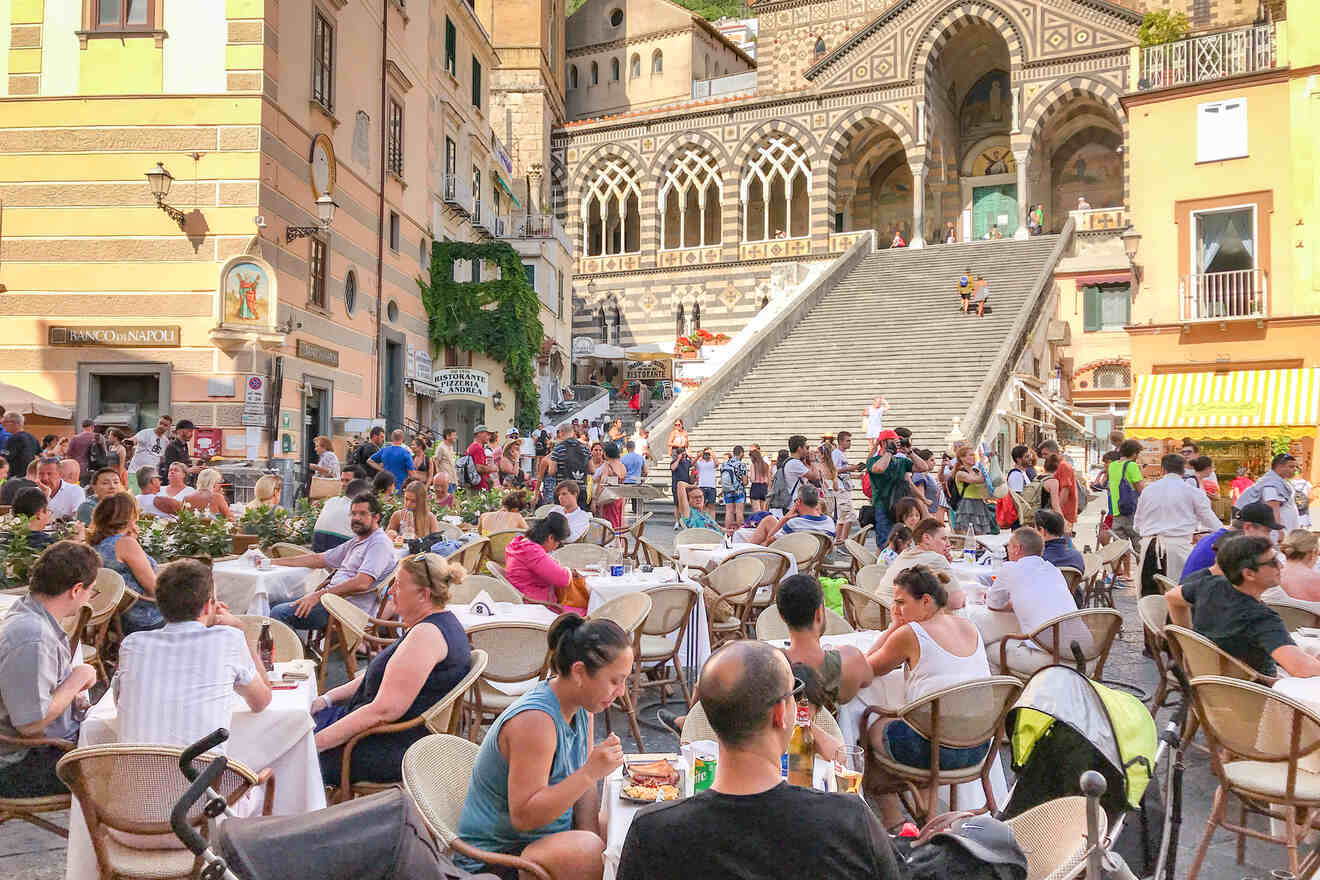 Amalfi town brims with countless amazing restaurants and bars where you can indulge, many of them having quite high prices (but more affordable one compared to Positano), but this will be rewarded by beautiful views on the sea and amazing beaches! Let's check them out:
Da Gemma – This is one of the best restaurants in Amalfi town, serving everything from seafood to grilled meat and vegetarian options, and offering a rooftop terrace with a lovely view of the street. You'll be just delighted by its tasty dishes, in particular its famous paccheri pasta! And the best thing is that you'll be offered tasters and sorbets In between, with a glass of limoncello to round off!
Cuoppo D'Amalfi – Let's jump now to some street food (cheap and delicious, my favorite combination). If you're visiting Amalfi Town and you just want to grab something on the go but you're tired of the typical slice of pizza, this is the perfect place! Here you'll find many fried seafood options, from fried calamari, shrimp, sardines, potatoes, and more… The seafood is lightly battered so it won't even be super heavy on the stomach.
Agricola Fore Porta – This is one of the best restaurants on the Amalfi Coast, Italy, located in the woods right above the town of Amalfi. This family-friendly restaurant is only accessible on foot, through a kilometer (0.6 miles) of steady uphill walk… but it's totally worth the effort! It serves fresh local vegetables, meats, and produce raised and grown on-site, with the peaceful sound of nature all around!
Da Ciccio Cielo Mare E Terra – If you want to splurge a little, this is definitely the right place to do it! This luxurious restaurant offers a tasting menu for 90€ with many fish and meat delicious dishes like beef carpaccio, squid and potatoes, and fish soup. Wine is excluded from the tasting menu, but you absolutely have to try it: they serve local white wine from Amalfi, the perfect combination with seafood dishes! 
Restaurants in Positano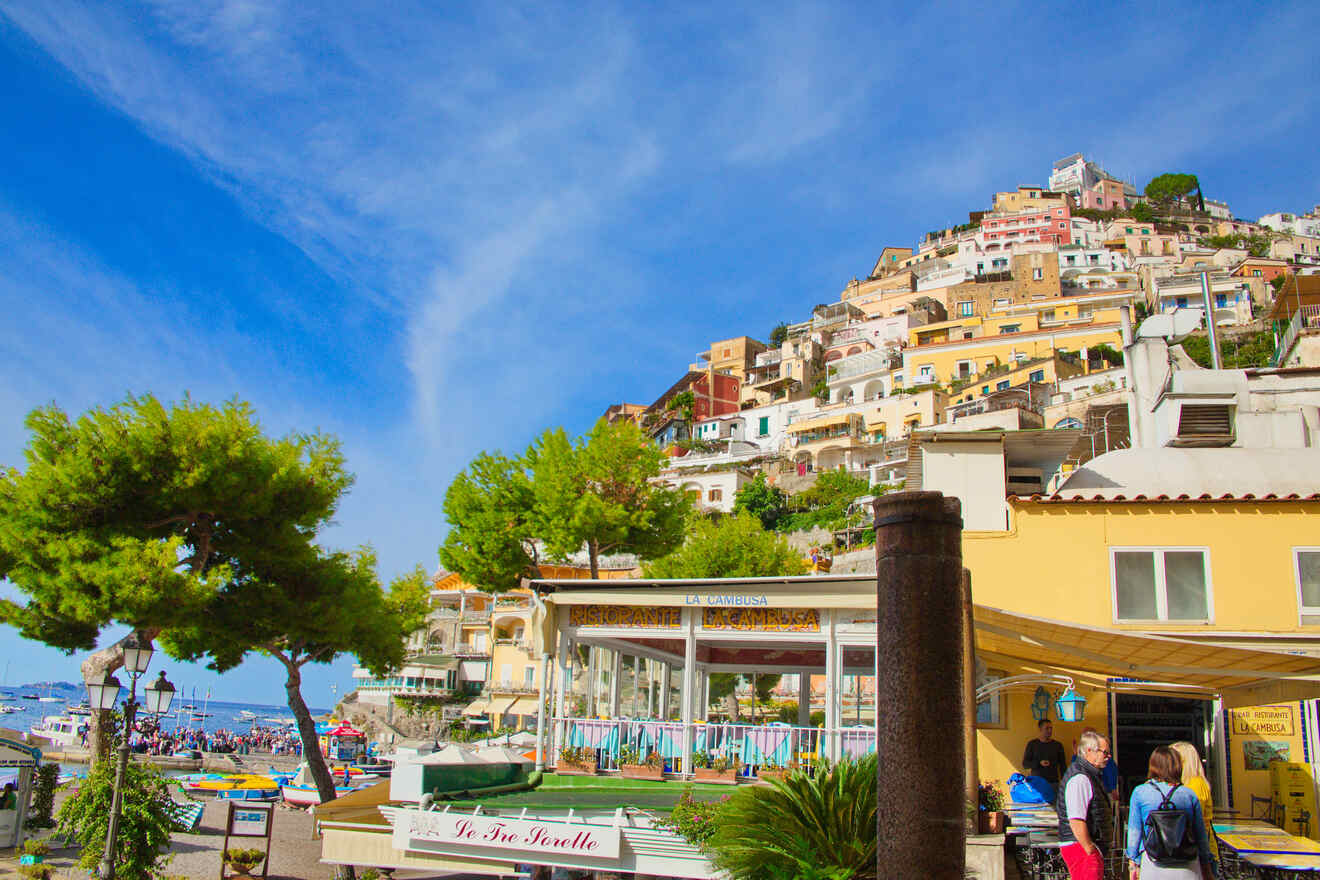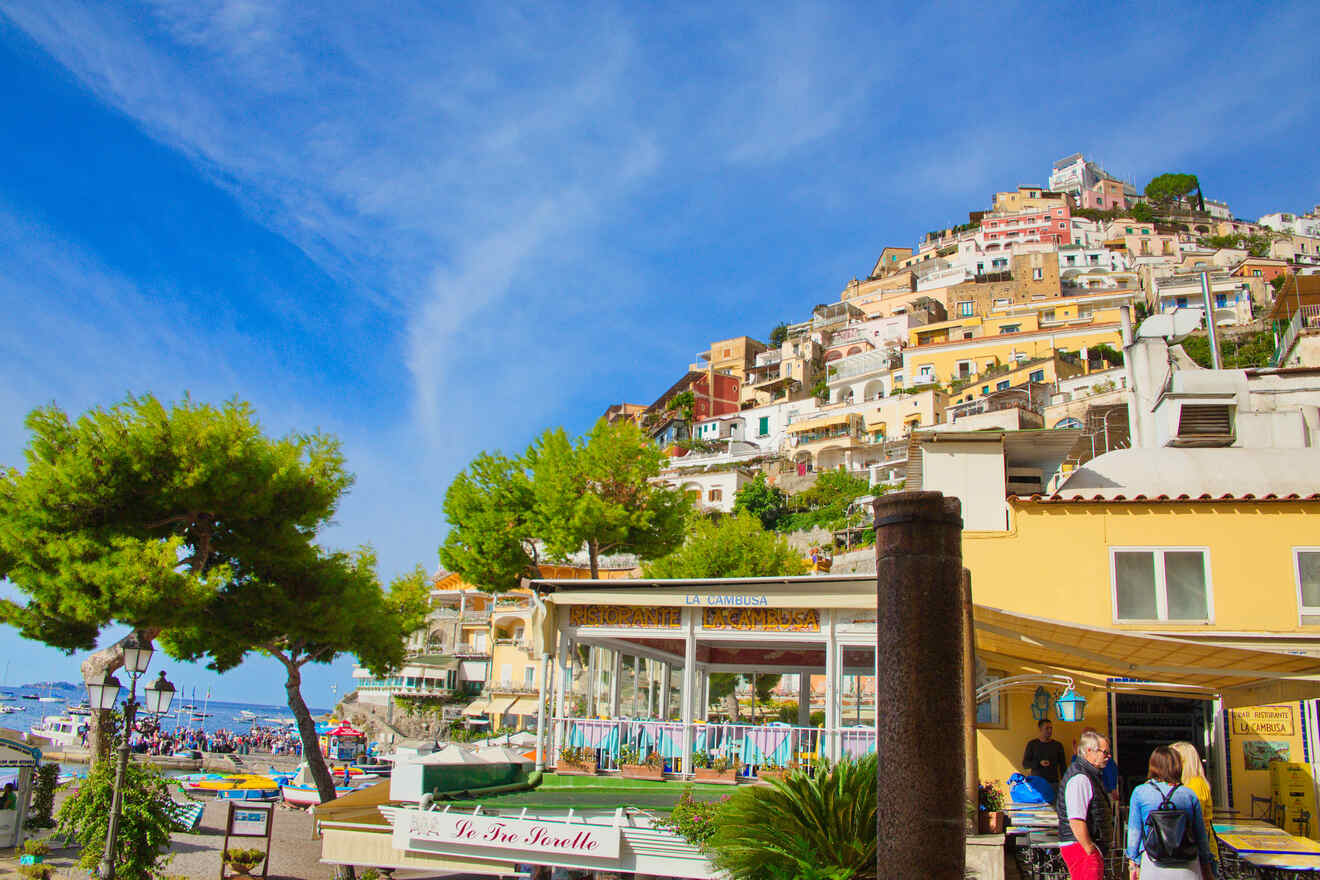 The picture-perfect Positano is the ideal place if you want to enjoy the true, luxurious vibe of the Amalfi Coast, to enjoy the nightlife, and some of the softest beaches in the area. And what is better than pairing all of this with great food? 
Let's check out the most popular restaurants in Positano:
Da Adolfo – This is the best restaurant to feast on fresh grilled seafood in your swimsuit, perfect for a beachy fun lunch after soaking up some sun! The journey to arrive at this place is already a dream: even if you can walk there under the cliffs of a hidden cove, I suggest you do that via Da Adolfo's small motorboat from Positano's port. 
Next2 – If you want to have traditional regional foods with a modern twist, that's the right place… Its delicious dishes will make you step outside your Italian food comfort zone! Try the ricotta-stuffed fried zucchini blossoms with a pumpkin addition, or splurge on a multi-course tasting menu with wine pairings!
La Taverna Del Leone – if you want to enjoy great traditional food, this family-run restaurant is the right place, where all the locals go! Located a bit outside Positano, here you'll feel immediately like you are part of the family. I suggest you take the 6-course tasting menu so you can try a little of everything: from Zucchini Flowers stuffed with Ricotta, to the final ricotta cheesecake!
La Tagliata – La Tagliata lies in rugged terrain right above Positano. This is a popular restaurant among meat lovers and it offers a very cozy Italian atmosphere and stunning views from la Tagliata terraces! The cool thing is that there's no set menu, just a changing, daily menu made of antipasto, fresh homemade pasta, grilled meat, and the dessert of the day. The products are all genuine, grown right on-site!
Restaurants in Sorrento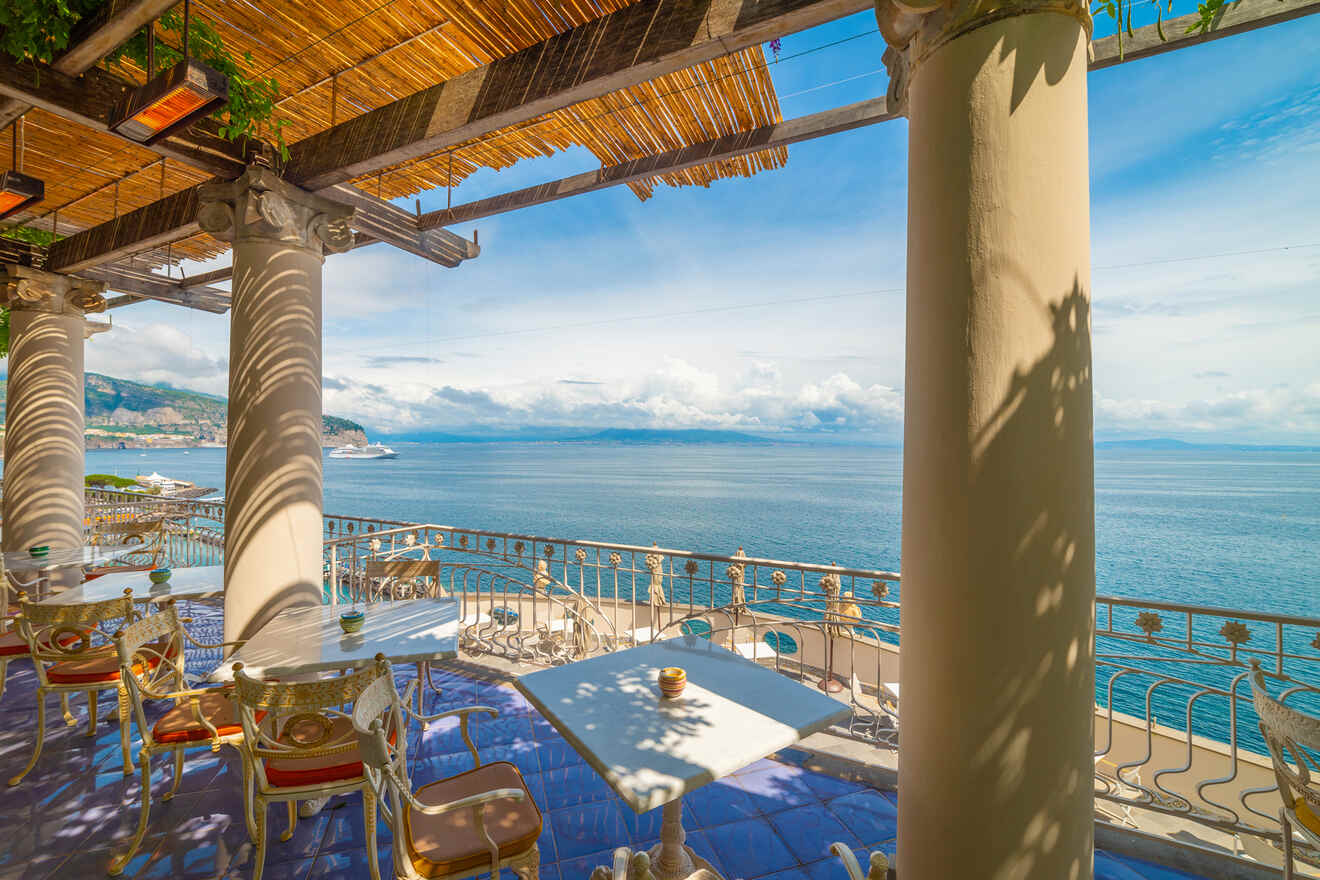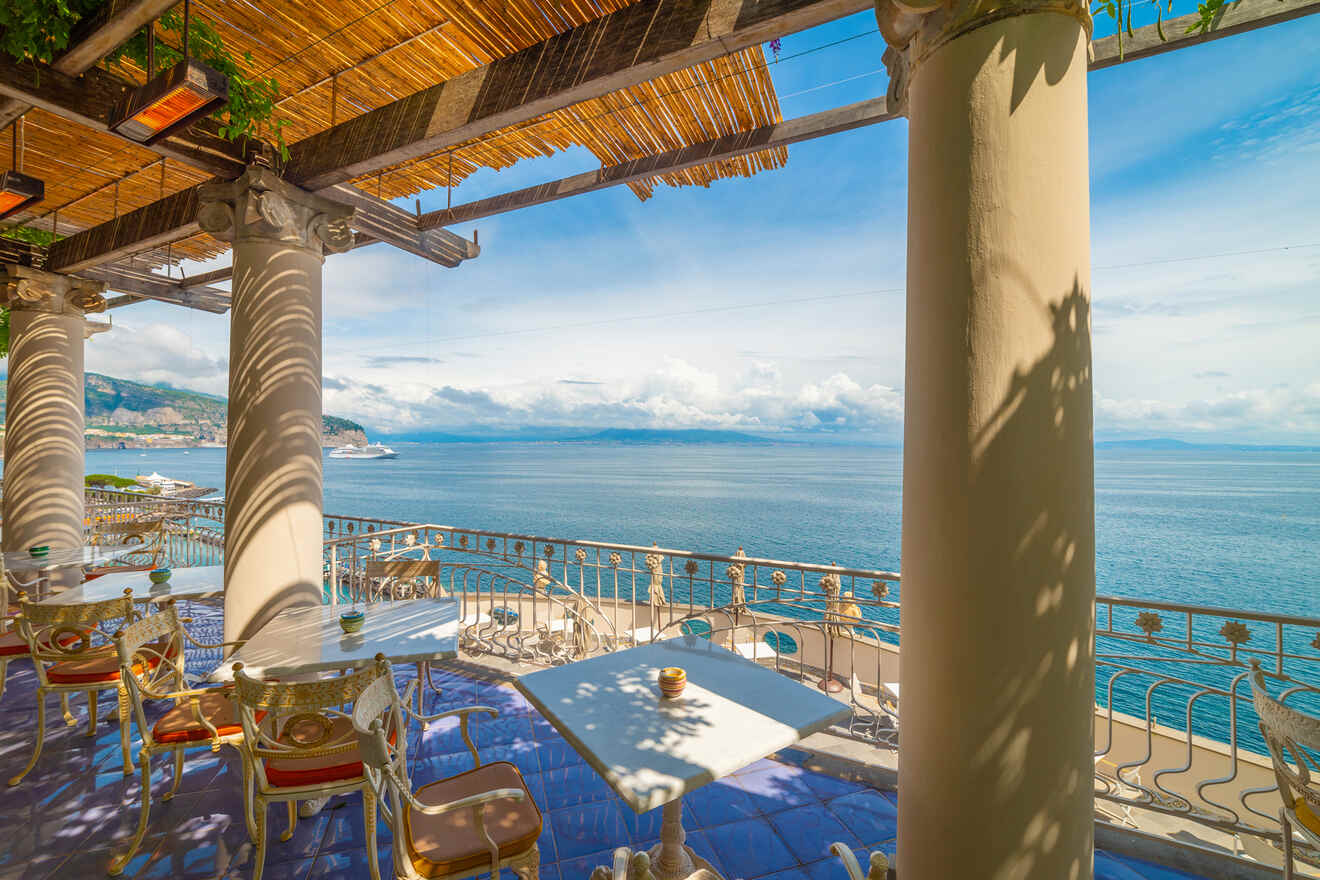 Technically, the charming town of Sorrento lies on the Sorrentinian coast, not on the Amalfi Coast, but it is anyways one of the most popular places among tourists as it is a stone throw away! And the restaurants are not far behind: let's take a look at the best ones:
Trattoria da Emilia – Located on Sorrento's Marina Grande strip, just by the port, this is one of the most popular restaurants on the Amalfi Coast, Italy! In fact, it is a longstanding favorite among Italian film VIPs (Sofia Loren and Vittorio De Sica just to name a few). So get ready to deal with some long queues but also to dine on house specialties like the gnocchi dressed with clams or mussels in white wine sauce. It will definitely be worth it!
A' Marenna – To balance the previous haute cuisine restaurant, here's a street food option where to have a quick lunch with the BEST sandwiches ever (all its guests agree), with great ingredients and interesting combinations! Even if it has a very laid-back atmosphere, this place is a real gem and the owner will be able to transmit to you her passion for food… ask on-site for recommendations, the menu is quite wide! 
Ristorante O'Parrucchiano – The funny name of this lovely restaurant means "parish priest" in Neapolitan dialect, and comes from the original 19th-century owner. Today, the restaurant is famous for its great service and even better food! Set in a picturesque lemon grove with swirling vines, here you'll feel the Amalfi Coast fairy tail you've ever dreamt of… and wait to try its incredible cannelloni, a delicious stuffed pasta!
Pizzeria Da Franco – As you might know, the pizza was originally invented in Naples, which lies only one hour drive from the Sorrento area. So expect to try Neapolitan-style pizza in the entire Amalfi coast, but the best one is in this great family-friendly restaurant! If you like thick borders and fresh ingredients, this is the place for you… I suggest you try the one with Crudo ham, burrata, and tomatoes, the best combo ever! 
Most Romantic Restaurants in Amalfi Coast
What better setting for a romantic date than one of the picturesque restaurants on the Amalfi Coast, Italy, eating delicious seafood with views of the sea and the beach? Let's check them out:
Ristorante Al Mare – If you're up to spending a little more for a special occasion with your special one, check out this restaurant located in posh Hotel Santa Catarina, just outside Amalfi town. This amazing seafood restaurant is located halfway between the Amalfi Coast and the stunning sea and cliffs below, offering views to both of them! Eat delicious seafood dishes and even incredible pizzas… and the service is impeccable!
Ristorante Marina Grande – The picturesque dining room of Marina Grande Restaurant is a terrace overlooking the beautiful Marina Grande beach. This is the right setting for an impossibly romantic dinner (or lunch) with views of the town above, the coast, and boats in the harbor all aglow. Come here if you want to enjoy some fancy seafood dishes with local seafood and a modern twist (and why not a glass of white wine)! 
Giardiniello – Dine or lunch in this super romantic and intimate place located in Minori, on the Amalfi coast, with lovely music, friendly and professional staff, and a great wine list (for the best wine pairings). The restaurant's strength is fresh pasta, produced right on site, either of seafood, meat, or veggies… simply delicious! Other pluses are the great atmosphere eating under lemon groves and the service with attention to all the details!
Il Pirata – Located in Marina di Praia beach, hidden behind the rocky cliff edge, this is one of the most scenic (and romantic) restaurants in the entire Amalfi Coast, perfect for a dinner with your special one! Here you'll try the local cuisine of seafood and meat: I recommend the raw fish starter (with the famous raw red shrimp), or any lemon-made first courses (risotto, ravioli, and mixed pasta). 
Unique restaurants in Amalfi Coast
I gathered a quick list of some super unique restaurants on the Amalfi Coast. Each of them with a special characteristic that makes them stand out!
Rossellinis – Located inside the 5* Palazzo Avino Hotel, this hotel has a Michelin star for its epic views, impeccable service, and haute cuisine menu with a wide wine selection!
L' Antica Trattoria – This stereotypical Italian restaurant offers a fully vegan tasting menu and a magical terrace, where a live mandolin player will make your dinner even better!
Rada Restaurant – This charming restaurant is built in a cave accessible from Positano's main beach and is famous for its live music and delicious lobster linguine!
Ristorante da Teresa – This beautiful restaurant is only accessible by boat: once you reach it, you'll find extremely delicious food (try the bruschetta) and good service!
What food to try and where?
The Amalfi region offers so many delicious foods for you to eat that you could get undecided on what to try first! Being a real foodie from Italy, I made a quick list of the absolute must to have during your meal in Italy, so you cannot go wrong! 
Here are some yummy travel tips: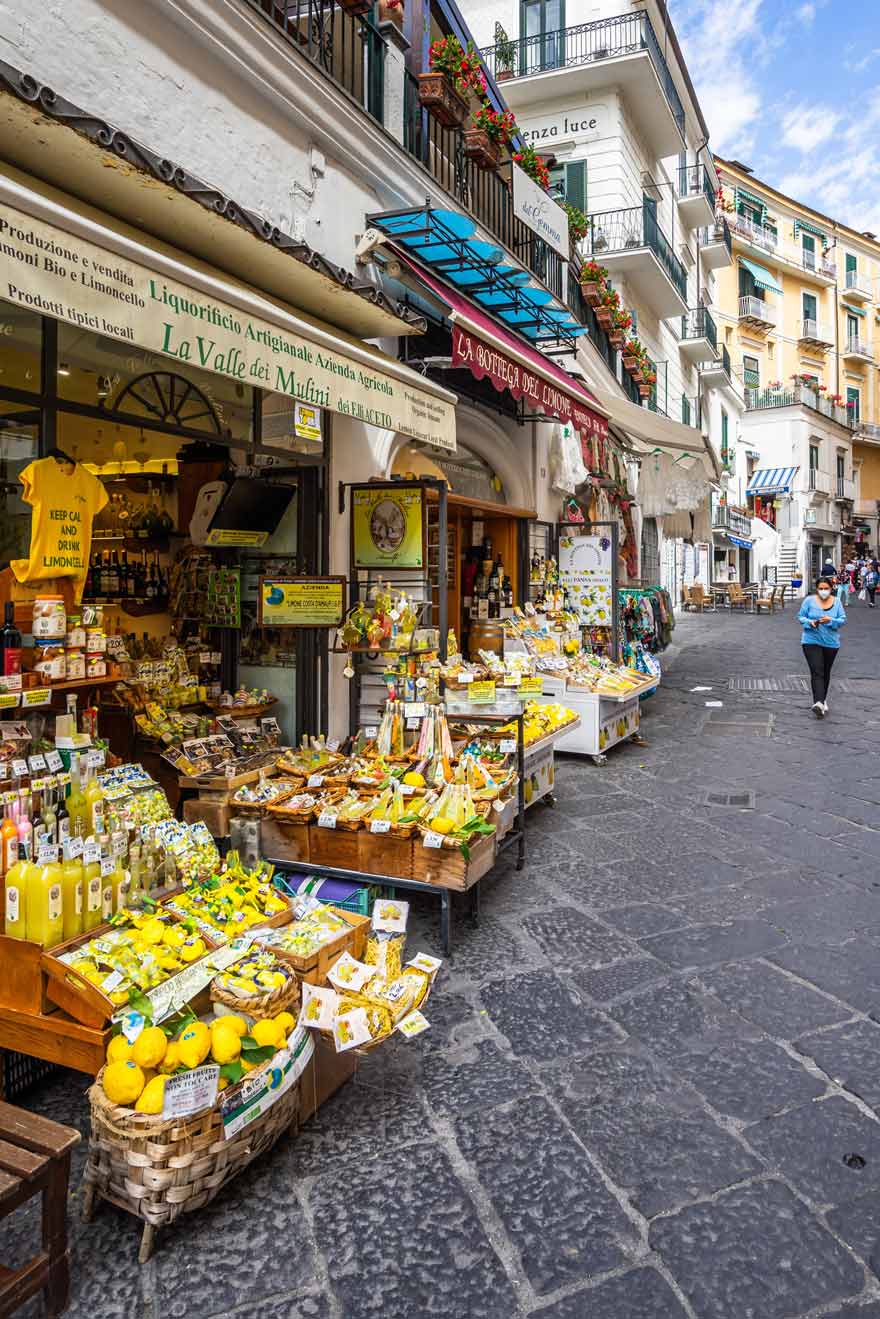 Risotto Ai Frutti Di Mare: If you're a fan of risotto and seafood, this rice dish will make you fall in love! It is made of a touch of tomato and various kinds of shellfish like clams, mussels, and shrimp. In some restaurants, you could even find some calamari or even scallops… delicious!
Alici Di Cetara: The most delicious seafood starter (or at least for me) are the famous Anchovies from Cetara! You can eat them in many yummy ways… the most popular are marinated or fried, but the one I suggest you is on a grilled piece of bread with burrata cheese.
Il Fritto Misto Di Frutti Di Mare: This is a classic that you can find all over Italy, but here they make it better! The fritto misto, literally "mix fried", is a plate with various kinds of seafood battered and deep-fried. The usual one is with calamari, shrimp, and anchovies and always comes with a big slice of lemon, so squirt it on all over and enjoy.
Limoncello: I don't think Limoncello needs an introduction, but maybe you don't know that this delicious liquor is produced from the Sorrento area, where there are the best lemons on the coast. So you will have to try it… is the right way to end your meal, right after the coffee or dessert!
Delizia al Limone: Another delicacy made from lemons, but this time is a dessert. Meaning Lemon Delight, the delizia al limone is made of fluffy pan di Spagna on the inside, covered with cream and limoncello. This sweet and sour combo will just delight you, as the name says… but be careful: it's addictive! 
BONUS: Top Food tours on the Amalfi Coast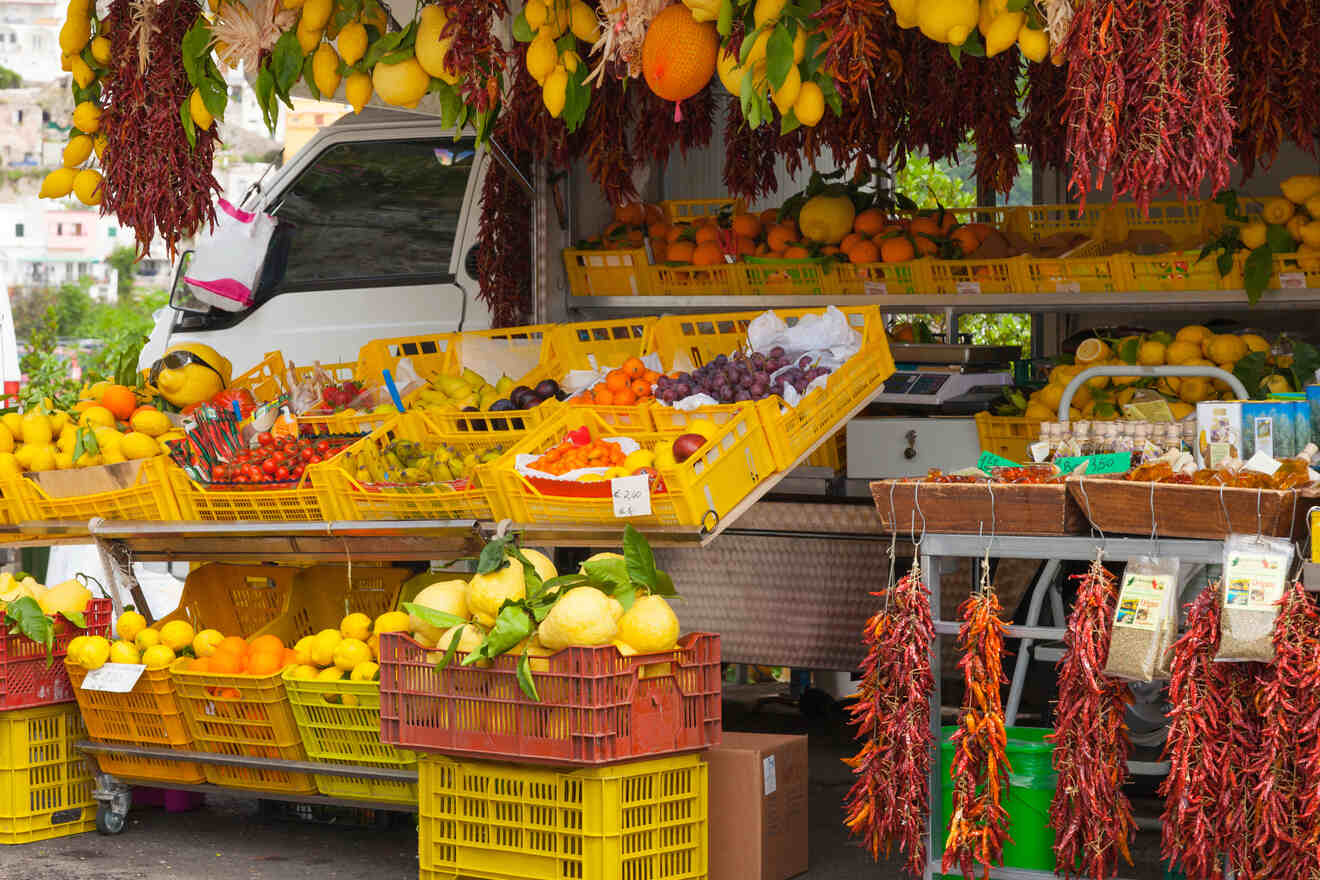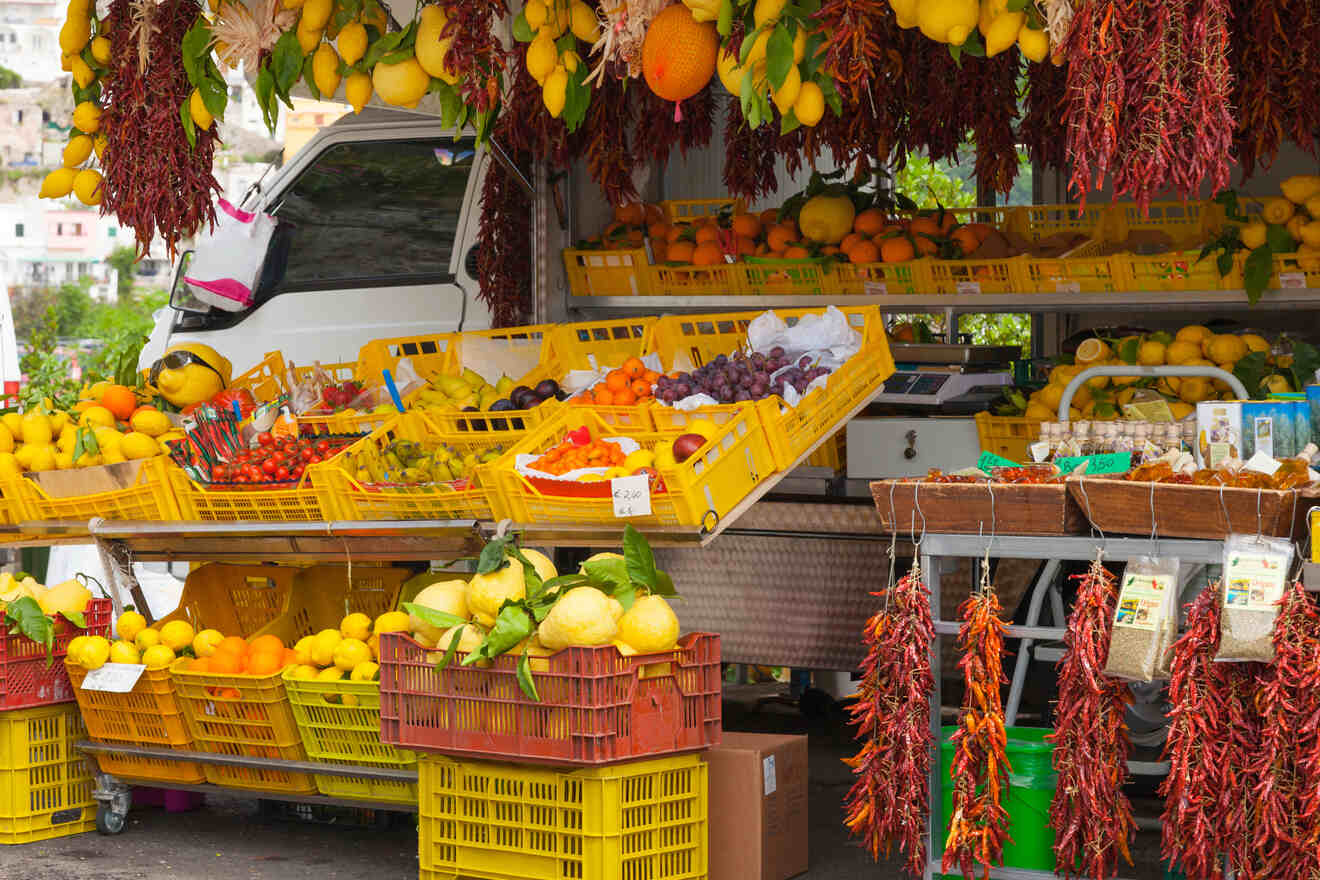 If you want to be guided in your food exploration around Italy, there are some great food tours that will make you have a real journey through Amalfi flavors! In some of them, you can even learn how to cook the best Italian dishes like pizza or pasta, a truly local experience!
Walk, Cook & Eat of Amalfi Coast:  Hike through stunning local landscapes and learn how to prepare a four-course gourmet meal in this half-day tour
Walking Food Tour in Sorrento: Stroll the streets of charming Sorrento with your guide, stopping at family-run restaurants, delis, and markets for delicious tastings
Tastings, Pizza Making and Limoncello in Sorrento: have a 5-hour tasting experience with a local guide through a pizzeria, cheese factory, and family-run farm
Chez Barone Cooking School: Learn how to make pasta in the true Italian way at Chez Barone Cooking School, teaching the Sorrentine and Neapolitan cuisine
Sorrento Food & Wine Tour: Explore beloved local restaurants while enjoying generous complimentary samples, like parmigiana and oven-baked ricotta cheese
Sorrento Pizza Making: Learn the techniques of pizza making while you taste olive oil and limoncello, and finally sit down to feast on the pizzas you made!
Frequently asked questions about Amalfi Coast restaurants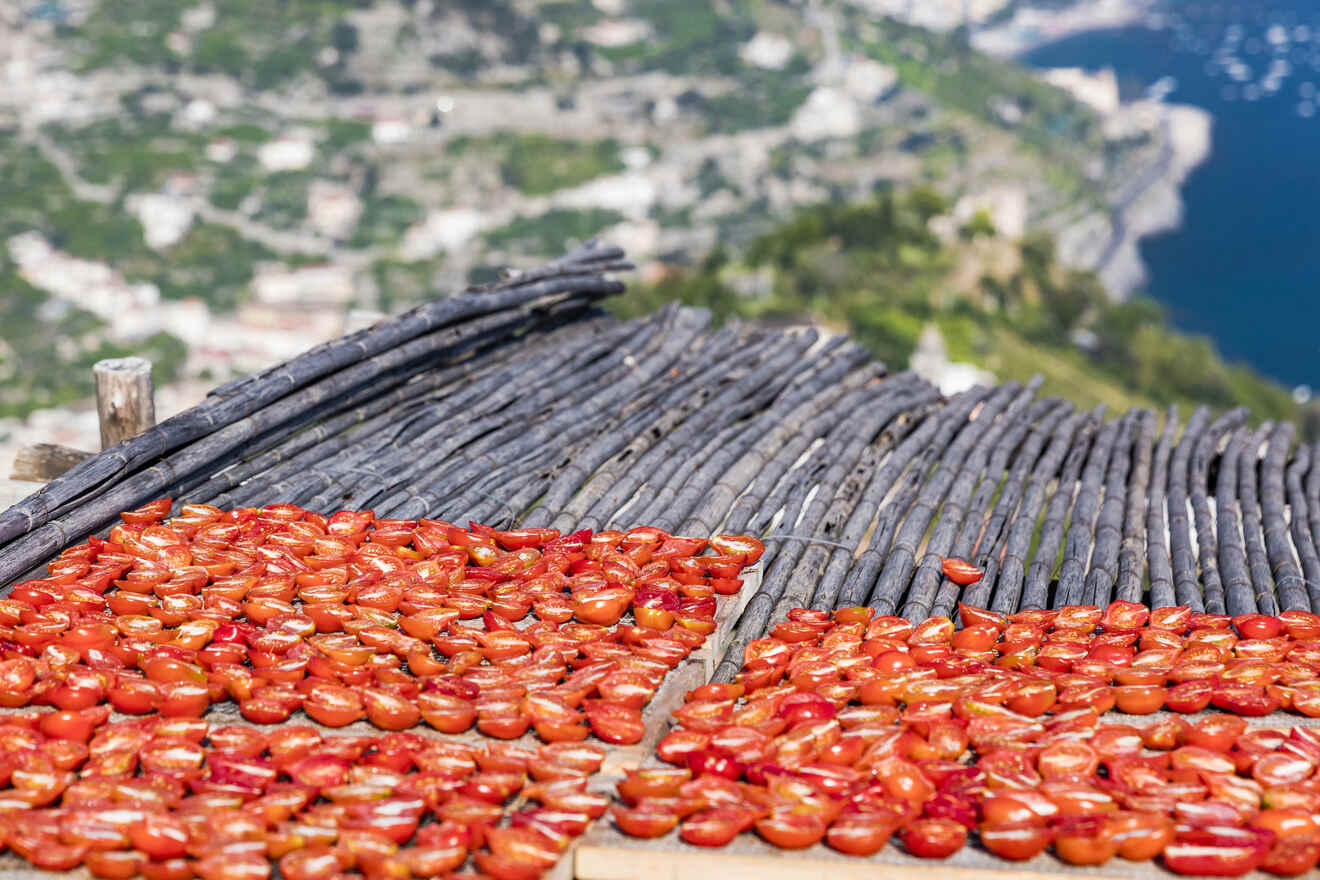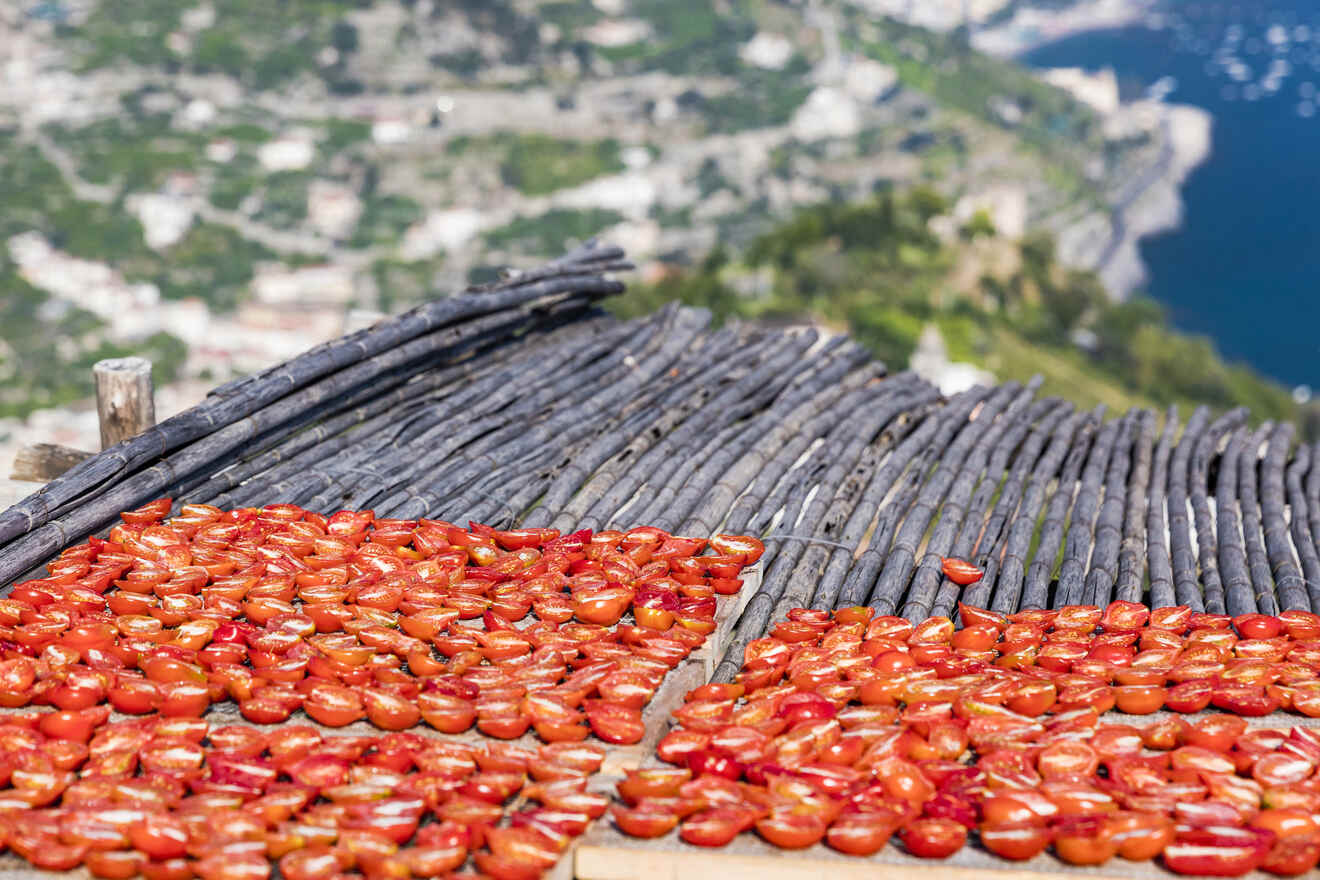 😋 Which are the best restaurants in the Amalfi Coast, Italy?
The best places to eat in the Amalfi Coast, Italy are La Tagliata, offering a cozy Italian atmosphere and stunning views, or Da Gemma, of the best restaurants in Amalfi town, serving everything from seafood to grilled meat and vegetarian options. 
🍕 What food is Amalfi Coast Italy famous for?
The best food the Amalfi Coast Italy is famous for are the Il Fritto Misto Di Frutti Di Mare cheese, the delicious seafood risotto, the mixed fried fish plate "Il Fritto Misto ", or the lemon dessert Delizia al Limone. And to finish your dinner in the best way: Limoncello!
🍽️ Which are the best restaurants in Positano, Italy?
The best restaurants in Positano, Italy are Da Adolfo where you can try grilled fresh seafood in your swimsuit, perfect for a beachy lunch with the family, or Rada Restaurant, famous for its great live music, events, and candlelit cocktails. 
💑 Which are the best romantic restaurants in the Amalfi Coast, Italy?
The best romantic restaurants in the Amalfi Coast, Italy are the elegant Il Pirata, located in Marina di Praia beach, or the luxurious Ristorante Al Mare, located in the Hotel Santa Catarina, offering amazing seafood and stunning views of the sea and cliffs below.
Conclusion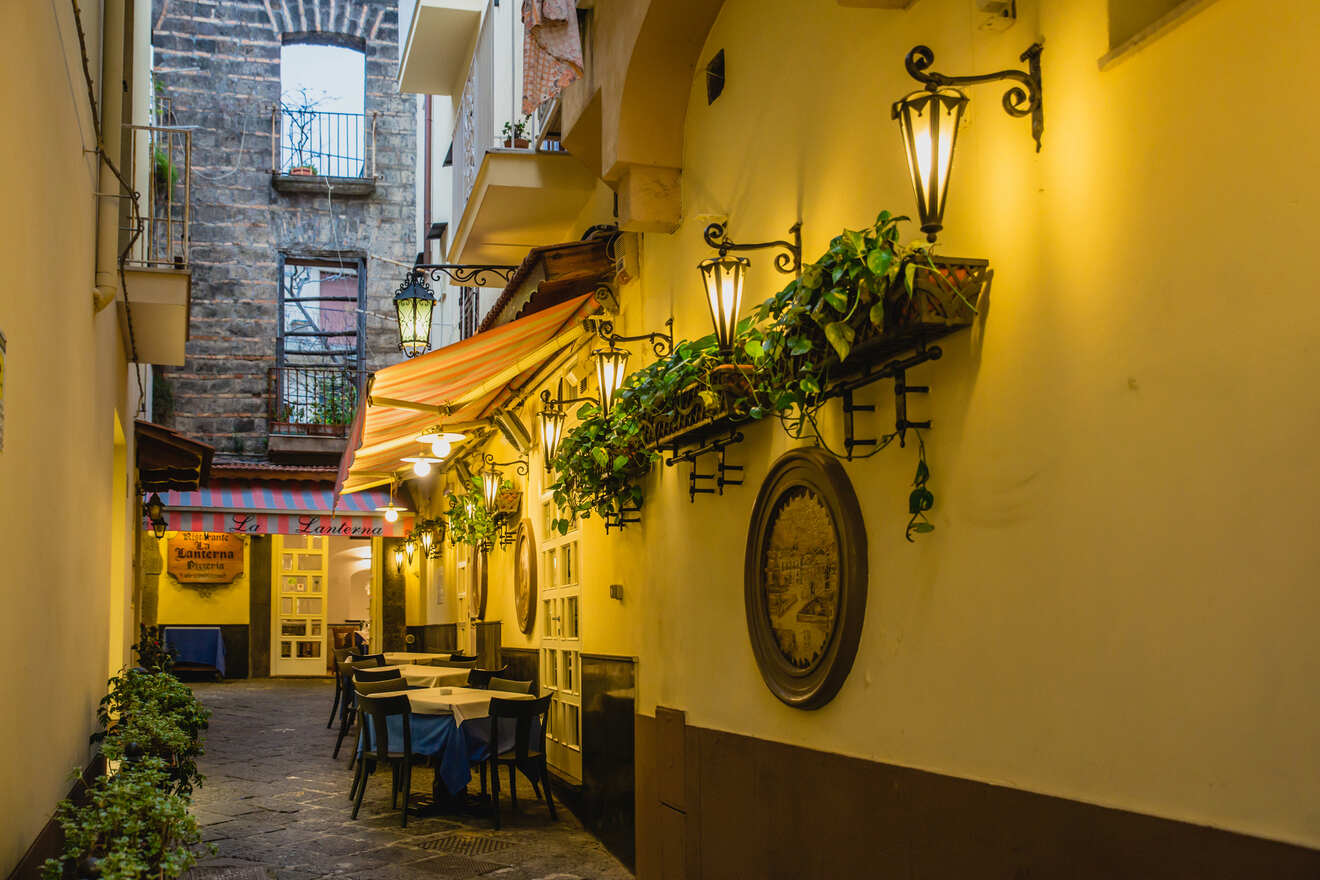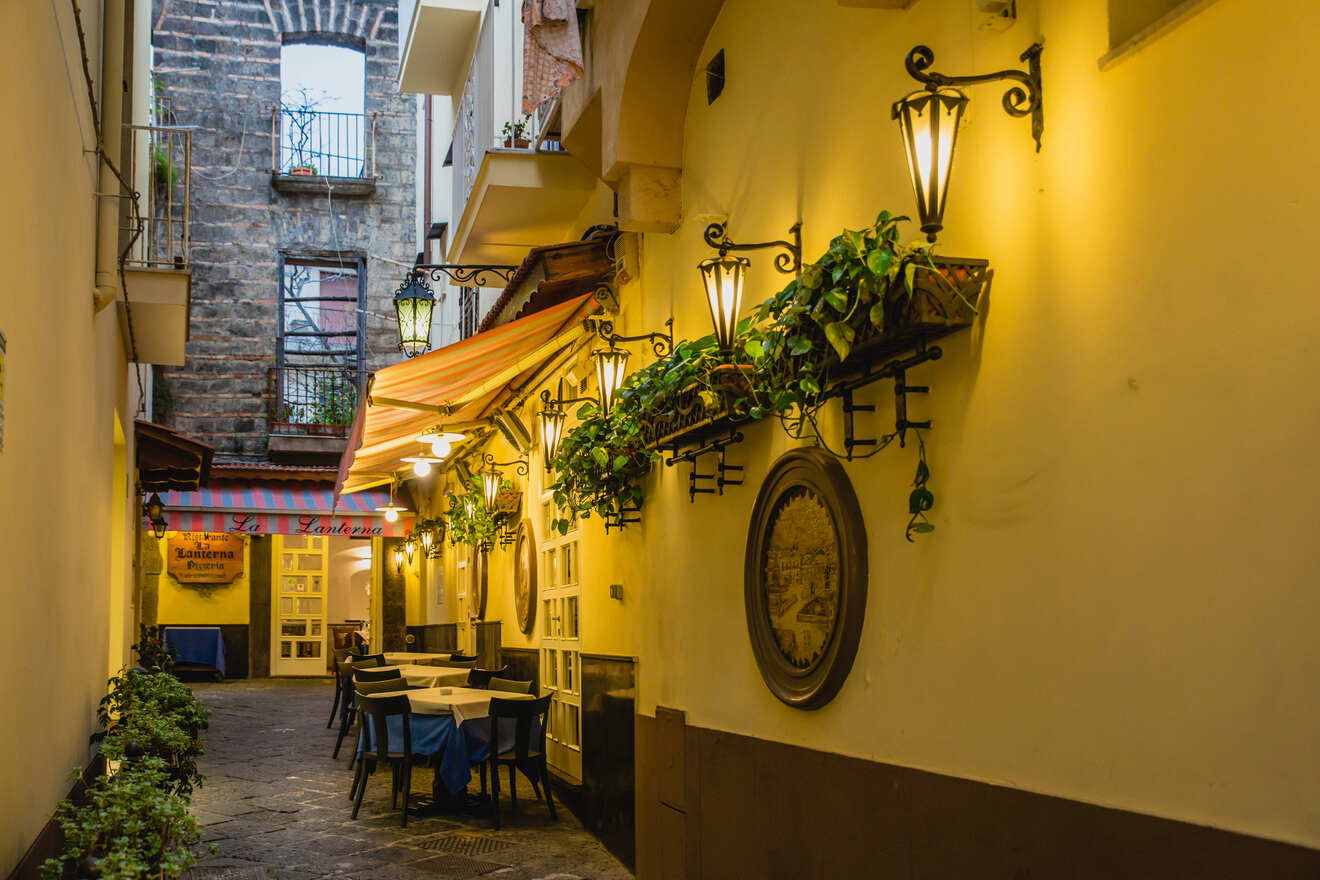 Here we are at the end of this extensive food guide on the best restaurants in the Amalfi Coast while you're visiting the beautiful south of Italy. 
We covered all the best places where to eat delicious meals, from casual lunches with the family to romantic dinner with your special one! 
I also gave you some tips on which food you CAN NOT miss while you're there, from seafood pasta to Neapolitan pizza, fresh white wines and the famous limoncello (to not talk about the amazing desserts, like the Delizia al Limone).
And if you have some other suggestions, please let me know in the comments: I will be super happy to update my list!
I hope this article was useful and you had fun reading it as much as I had writing it… if you came until the end you're probably hungry by now! So I'll leave you dreaming about the amazing restaurants where you'll go during your trip to Italy…
Have an amazing holiday!
Elena