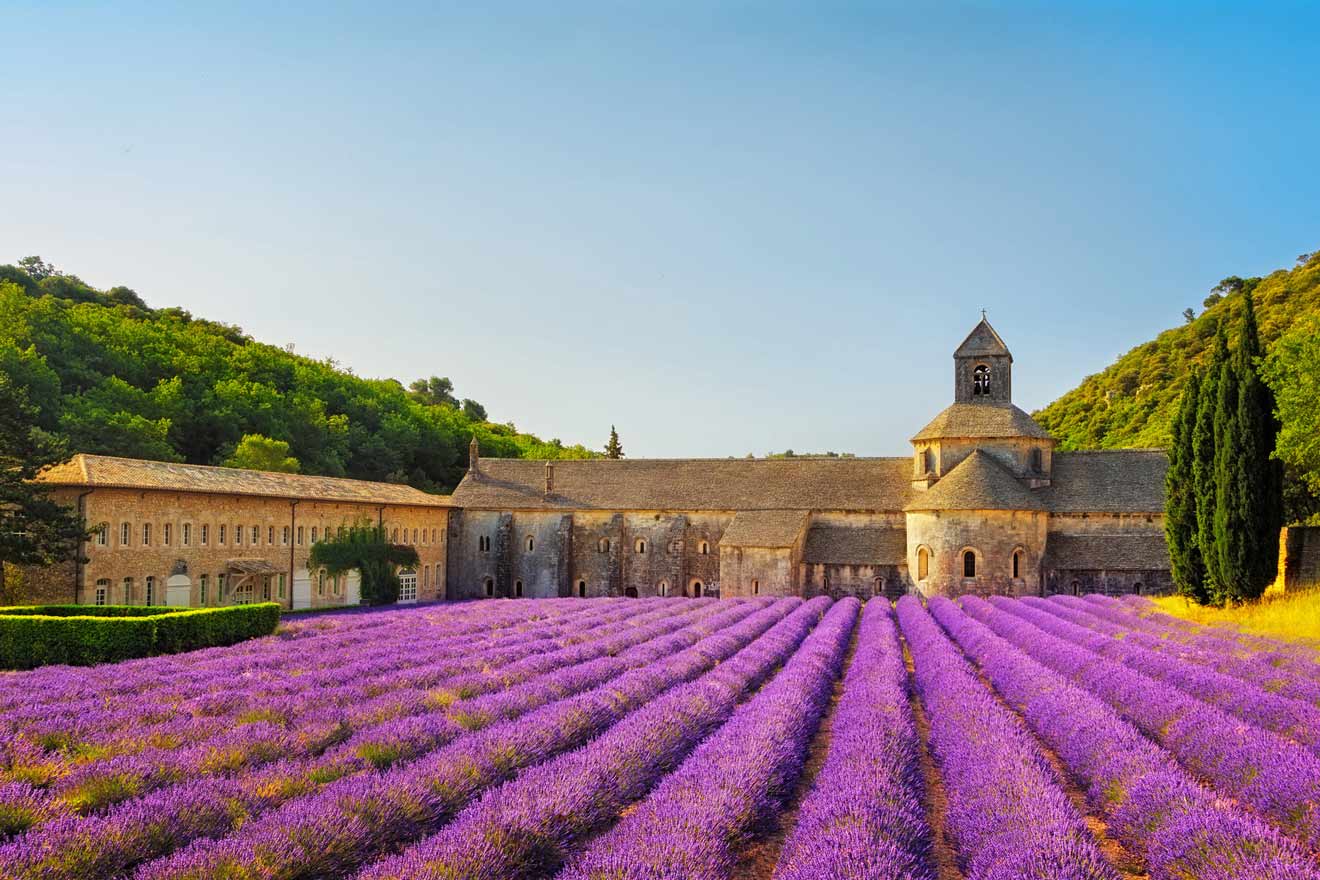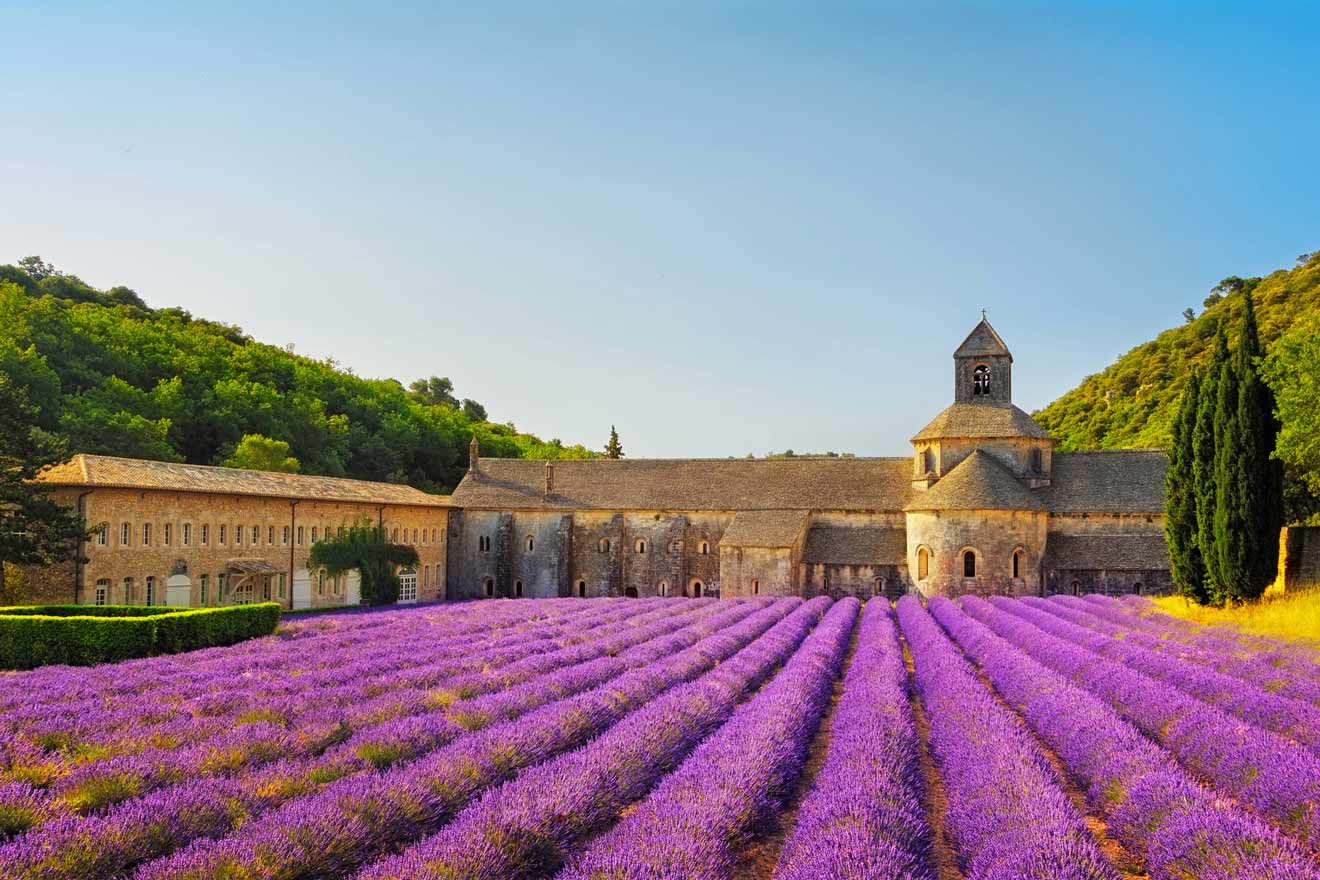 Already dreaming of hopping from one vineyard to another, walking between the famous lavender fields in Provence, and visiting old castles? Well, you'll need a top-notch hotel for this destination!
In this post, you'll find the best hotels in Provence, France, listed from most to least expensive. Plus a bonus section with a few excellent hotels with unique views! 
You're in for a treat!
But before we start this trip to one of my favorite regions in France, I need to warn you! These hotels sell out super fast, as tourists from all around the world want to visit Provence. So make sure you book yours in advance! 
Let's go! 
If you are in a hurry
Ready to book your accommodation right now? Then have a look at this list of the top accommodations and the best boutique hotels in Provence:
airbnb
The Small House
An Airbnb with amazing reviews
budget hotel
Les Appartements du Vieux Port
Best affordable accommodation 
Check out this map that will help you visualize all the best hotels in Provence that I'll talk about in this post: 
Luxury (€500 and up)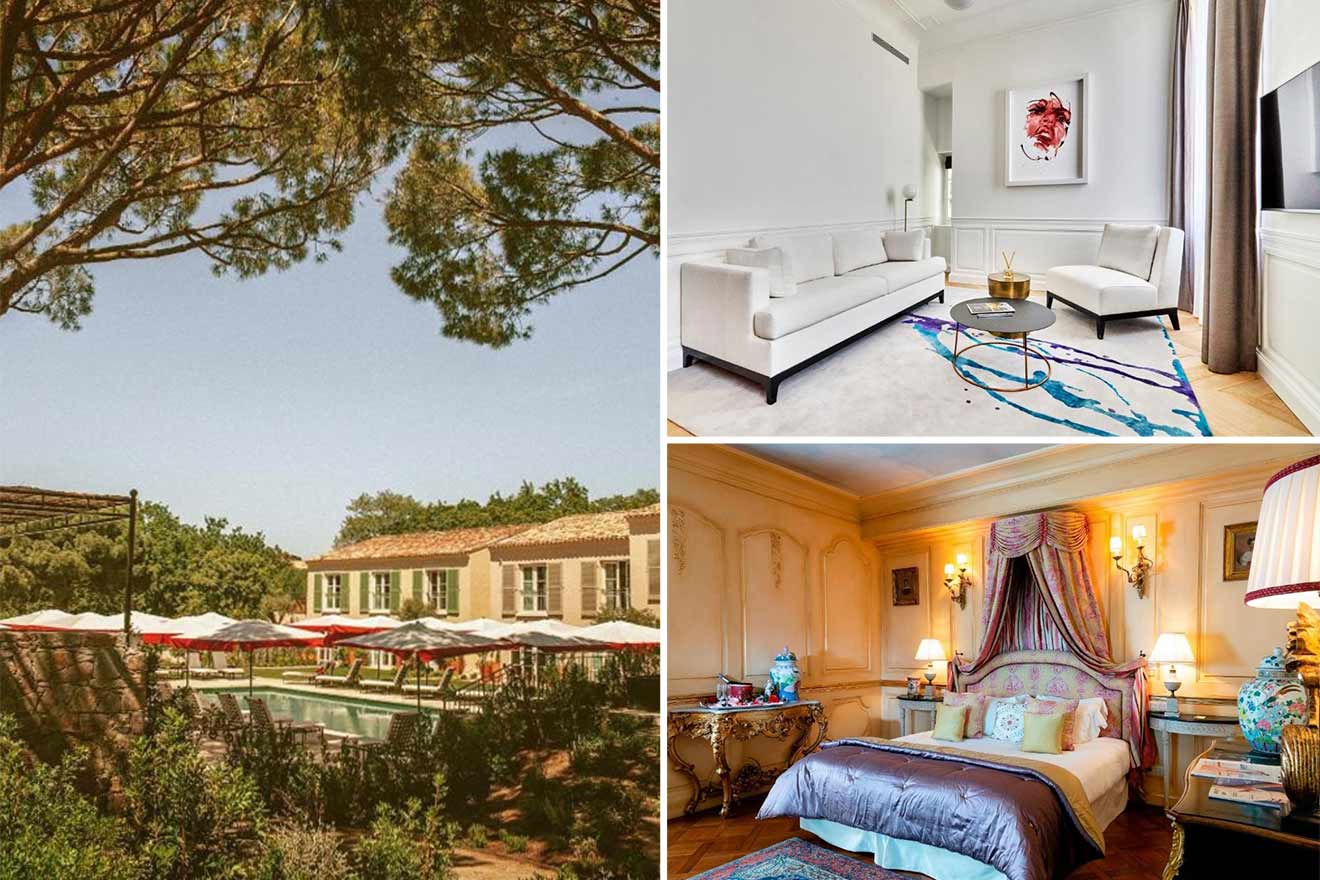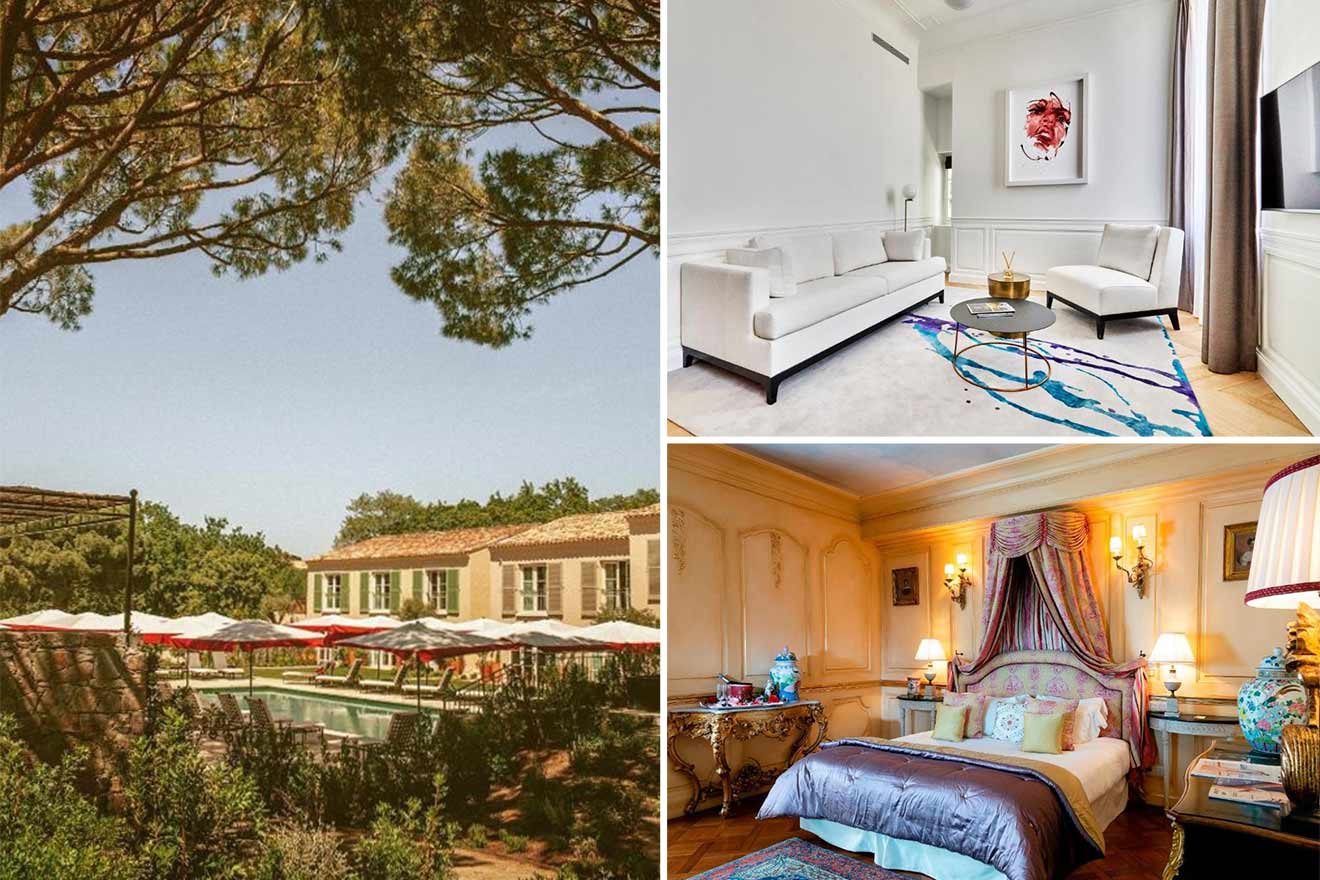 Hotel Lou Pinet – Surrounded by hillside landscapes of the beautiful St. Tropez and set just a short walk from the beach, this hotel with a soft white and beige decor is the perfect spot for your Provence trip! The 5-star hotel offers breathtaking views and spacious rooms with large windows. Guests can enjoy lazy days by the large swimming pool or relax in the spa center after a day of exploring the areas in St. Tropez! 
Hotel Crillon le Brave – Set in some charming bricked buildings and offering unique panoramic views of the vineyards and olive groves, this hotel has lots of cool facilities! Indulge in the delicious food at the restaurant and then head out to chill by the outdoor pool or one of the terraces. The guest rooms offer views of Ventoux Mountain in Crillon-le-Brave, and some even have a fireplace! Don't forget to book your Provence hotels in advance, these ones sell out super fast! 
Château de la Gaude – With a great location in Aix-en-Provence, this hotel offers a great fusion of modern and vintage elements. From the outside, it looks like you've landed in the 1700s, while indoors, you'll feel back in our times! The accommodation has a unique garden with a small maze, terraces, and hidden corners. As a 5-star hotel, this place offers excellent service, comfortable rooms, a spa center, a swimming pool, and a beautiful bath where you can relax for hours! 
Villa Gallici Hôtel – Hotels in Provence have that certain je-ne-sais-quoi, and you'll fall in love the minute you arrive in one of these beautiful villages! This place has a typical French-style design, antique furniture, and decor that will transport you to a different era! Set in Aix-en-Provence, the accommodation has guest rooms with a flat-screen tv, and some even have a private terrace. During the day, you're welcome to explore the garden, check out the spa center or sunbathe by the swimming pool!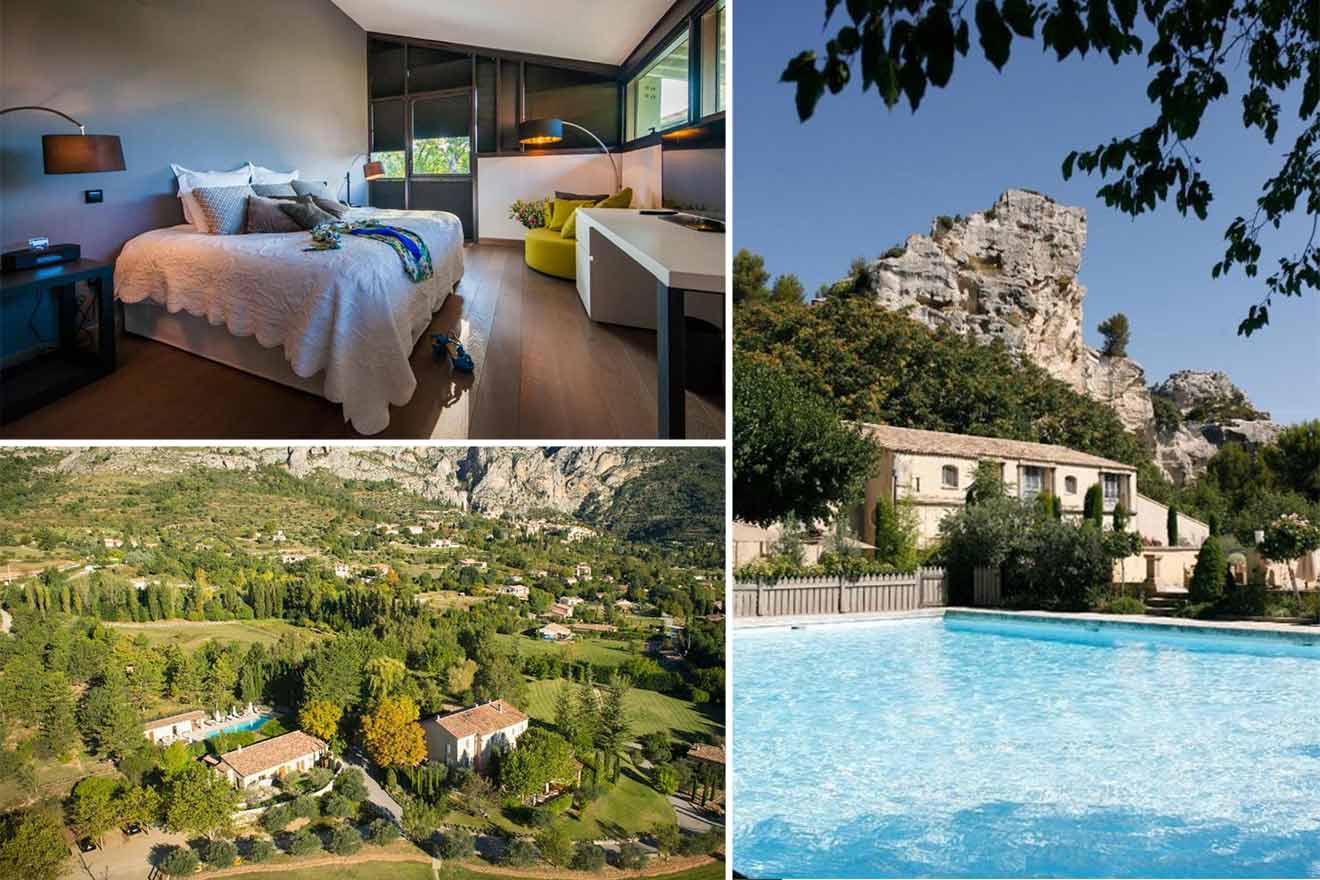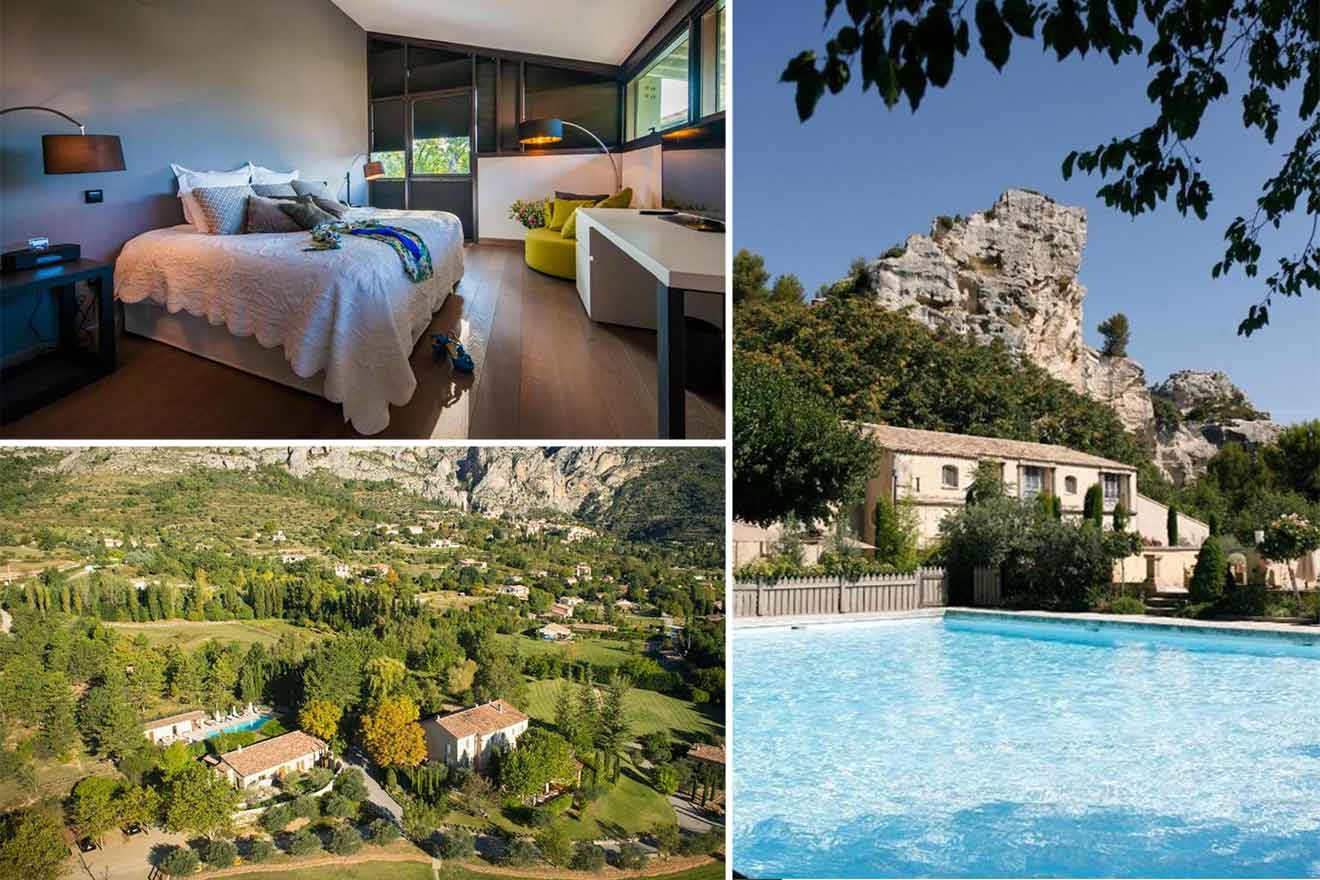 La Maison Sur La Sorgue – There's nothing like a boutique hotel set in a 17th-century building with an art-gallery on-site to make your trip in the Provence unforgettable! Set in L'Isle-Sur-la-Sorgue town, this hotel offers easy access to the local markets in the Old Center and it has a lovely courtyard garden where you can enjoy breakfast under the ancient trees. Each room is unique and decorated with vintage elements. But don't lay all day by the swimming pool because there are lots of fun activities to try near the hotel like wine tasting tours! 
Baumanière – This complex is unlike any other place you've been! Located in Provence and the Alpilles region, the family-friendly hotel spreads out between 5 buildings and has a Michelin-Starred restaurant! Its huge gardens bring great value to the hotel and the breathtaking hillside views are like nothing else! Start your morning by the outdoor pool with a delicious cup of coffee, then head over to the spa center for a long massage while the kids play in the games room!
Domaine De Manville Les Baux de Provence – Planning to improve your golf skills during this trip? Then book a room at this fabulous hotel that's located in Les Baux-de-Provence and which has a golf course and a swimming pool. Guests are invited to enjoy tasty French dinners at the Michelin-Starred restaurant and to relax with beauty treatments at the on-site spa. Besides golf, there are plenty more activities to try at the hotel like cooking classes, bike tours, and horse riding!
La Bastide De Moustiers – A holiday in Provence in a typical French country house? Hold my purse! This fabulous house is located in Moustiers-Sainte-Marie town, and it offers the perfect setting! I mean colorful gardens with olive trees and fragrant lavender, unique views, and a swimming pool! Indulge with delicious meals and French desserts at the fine dining restaurant, then relax with a glass of wine on the sun terrace for the perfect evening. 
Mid Range (€150 – €300)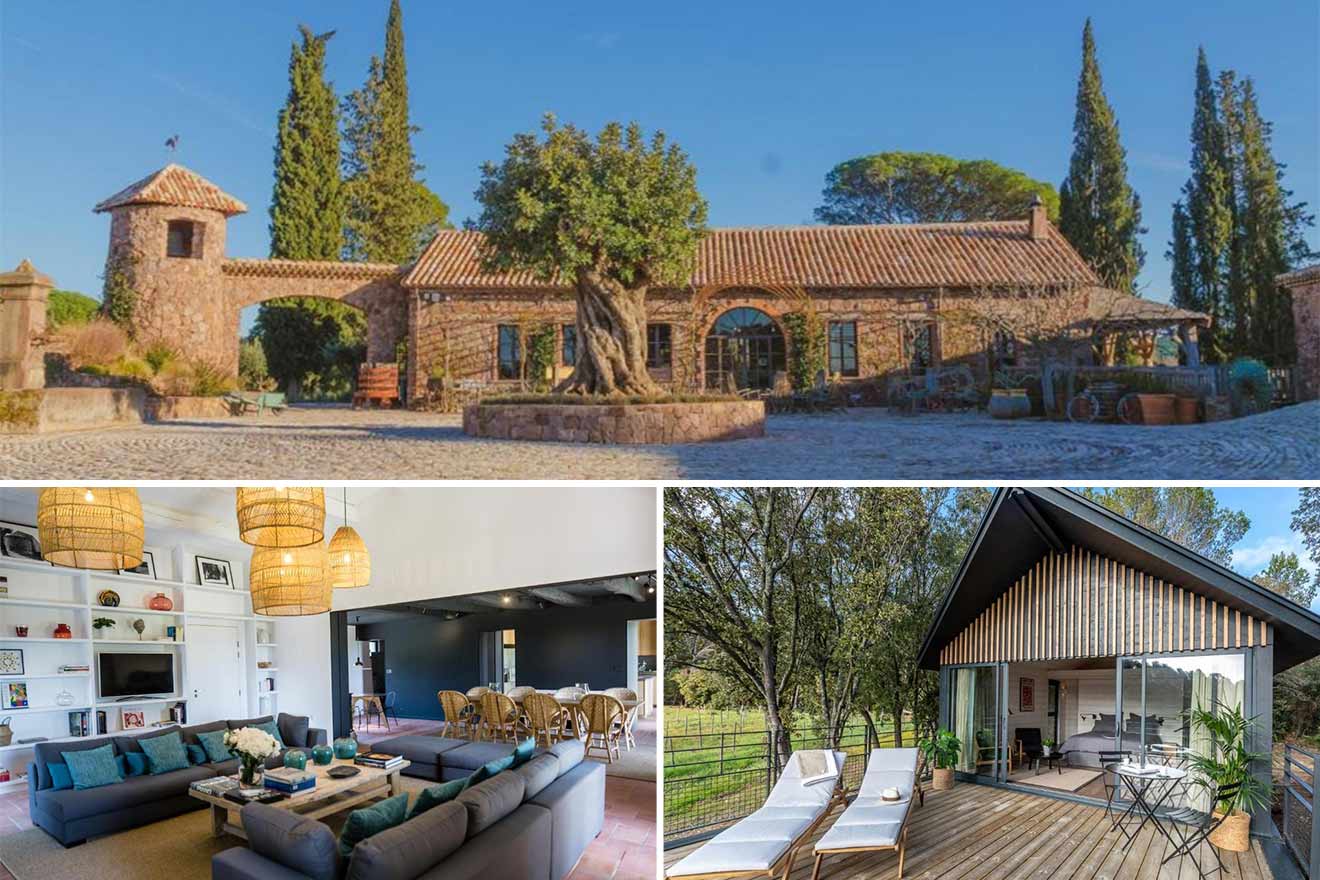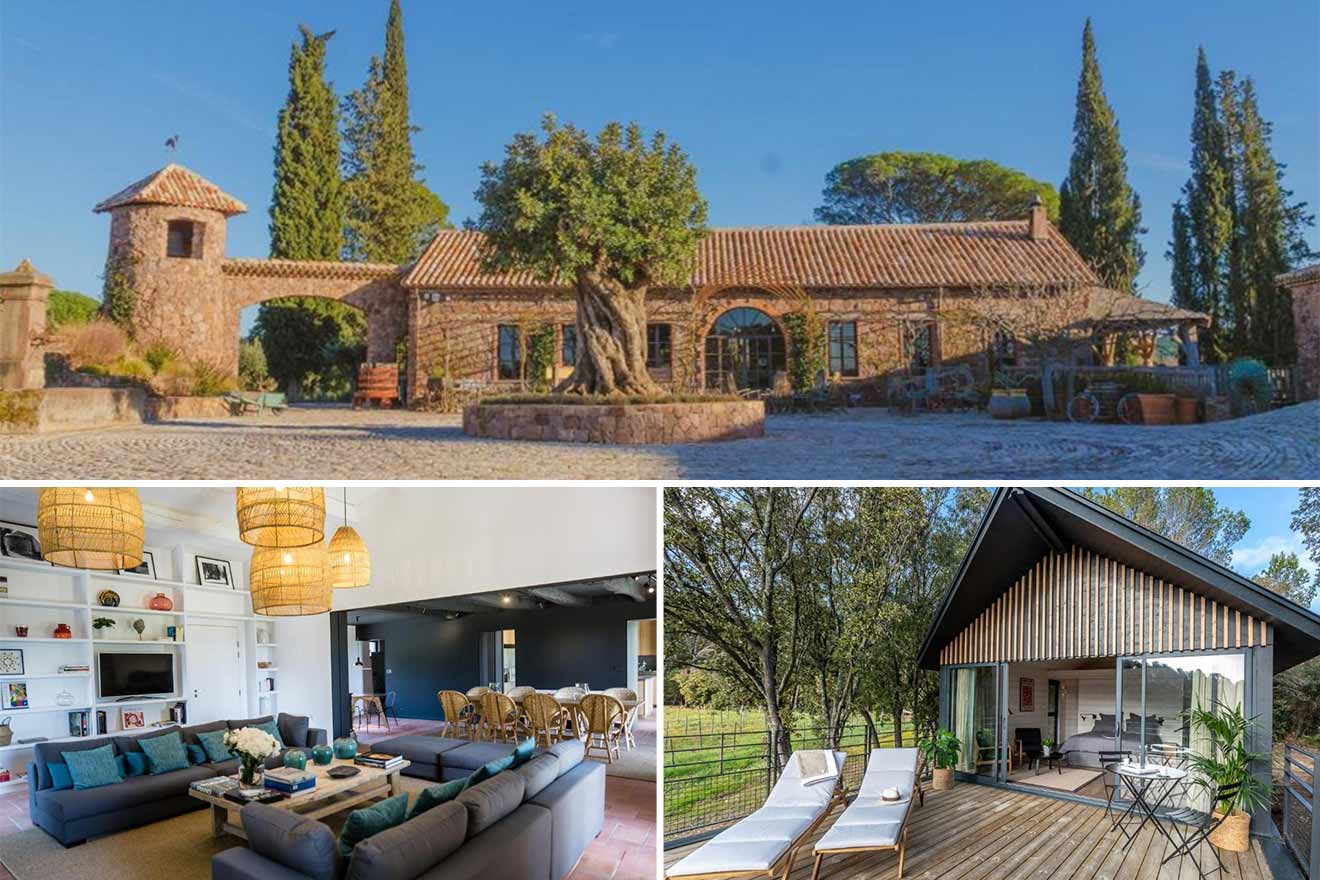 Domaine Monte Verdi – This hotel offers cabins and spacious suites equipped with all the facilities you could need including free wi-fi access and lots of space. I recommend you pick the cabins if you need more privacy as they also have private terraces and awesome garden views (which, by the way, are filled with olive trees)! Set in Flayosc, not too far from the unique hotels in Nice, the accommodation is pretty secluded, bringing great value to it! Enjoy your time by the outdoor swimming pool or rent a bicycle from the hotel and start exploring the area! 
Hostellerie De L'abbaye De La Celle – So classy and elegant! This hotel is located on the site of a royal Abbey in the heart of the Coteaux Varois vineyards. That already sounds pretty magical, right? Just wait until you see the super spacious rooms with a seating area, some even have access to the garden. Start your morning with a nice massage in the garden while enjoying the fresh mountain air and the views. Then head to the restaurant to eat some unique a la carte dishes based on traditional French cuisine!
Château Saint Roux Le Luc – Feel at home at this unique hotel located in Le Cannet-des-Maures, which has a cute little farm on-site. The accommodation is definitely family-friendly as there are spacious rooms for parents and kids, with a private bathroom and coffee makers. When you're not out exploring the lavender fields, you can go cycling, join a hiking or walking tour, or simply relax with the kids in the garden where you'll find a picnic area and a sun terrace!
Benvengudo – Tucked away between ancient trees and lavender fields, this hotel is set in a former traditional Provencal house in ​​Les Baux-de-Provence! Its design and indoor decorations are so chic but super simple, which I love about these places! The rooms are pretty spacious, equipped with comfortable beds, and decorated with antique furniture. Enjoy lazy days relaxing by the outdoor swimming pool and eat as much food as possible from the restaurant on-site. Its chef prepares dishes using fresh local products, which can be served on the terrace by the pool!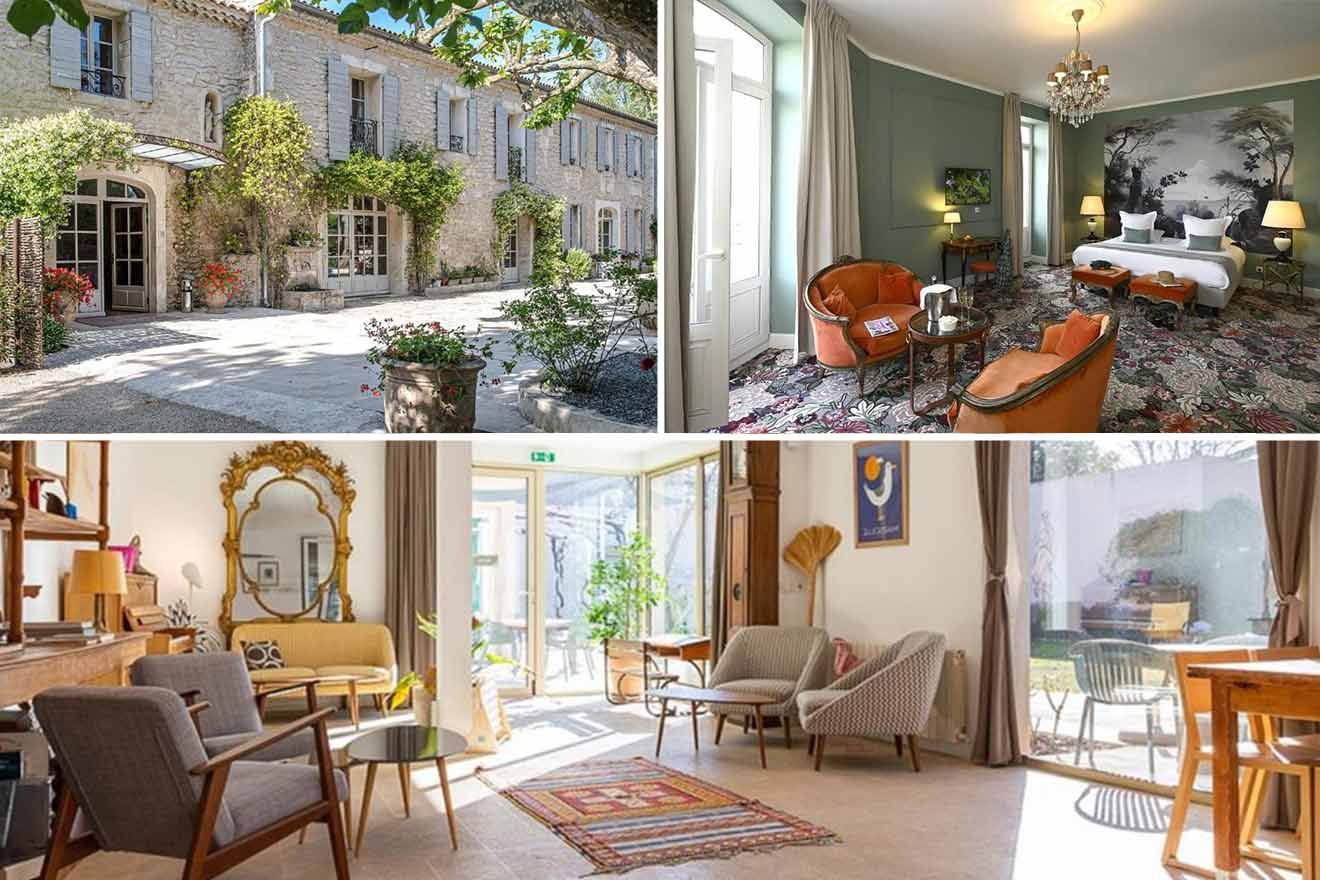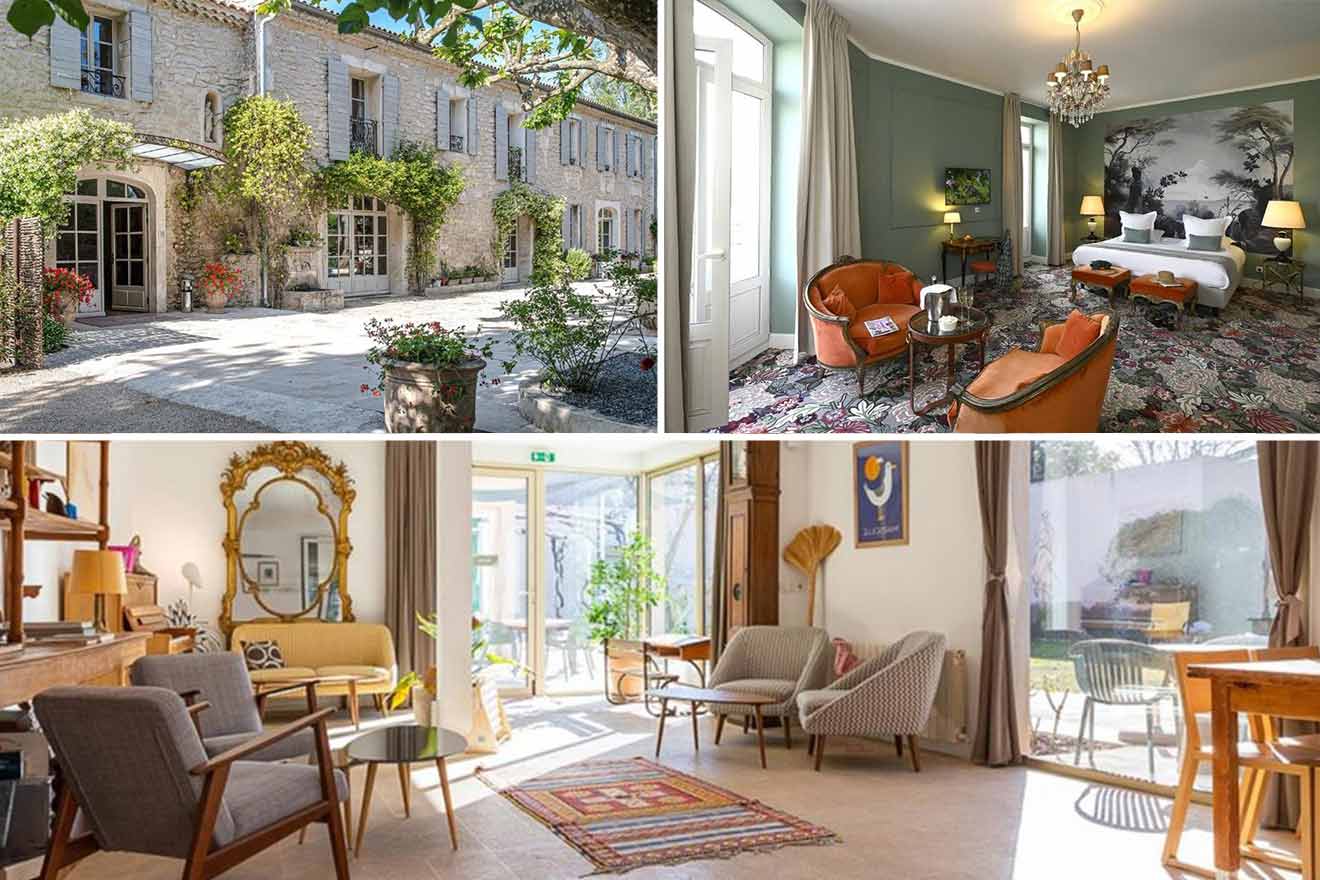 Mas Valentine – Bonjour and Bienvenue to this magical hotel set in an 18th-century building located less than a mile from Saint-Rémy-de-Provence. Get ready to spend some lazy mornings on the terrace under the olive trees, enjoying a cup of French coffee and a croissant (or two). Then you're invited to go for a swim in the saltwater pool or enjoy some spa services (I hear the garden massages are the best)! 
Grand Hôtel Henri L'Isle sur La Sorgue – This place is great for anyone who wants something a bit more modern. All the rooms at this beautiful hotel in L'Isle Sur La Sorgue are uniquely decorated and equipped with all the necessary facilities like a private bathroom and a flat-screen tv. The gourmet restaurant is open to all guests and serves French dishes including gluten-free options. The hotel offers many activities, from walking and bike tours to hiking and canoeing! 
Hôtel 96 – Another unique boutique hotel set in a 19th-century house just a 20-minute drive from Old Port, one of the best areas in Marseille! Decorated with modern elements and offering super spacious rooms, the hotel has everything you need for a fabulous stay! Including a swimming pool where you can sunbathe all day long and a spa center for anyone in desperate need of a massage after all the walking around. 
Budget (up to €150)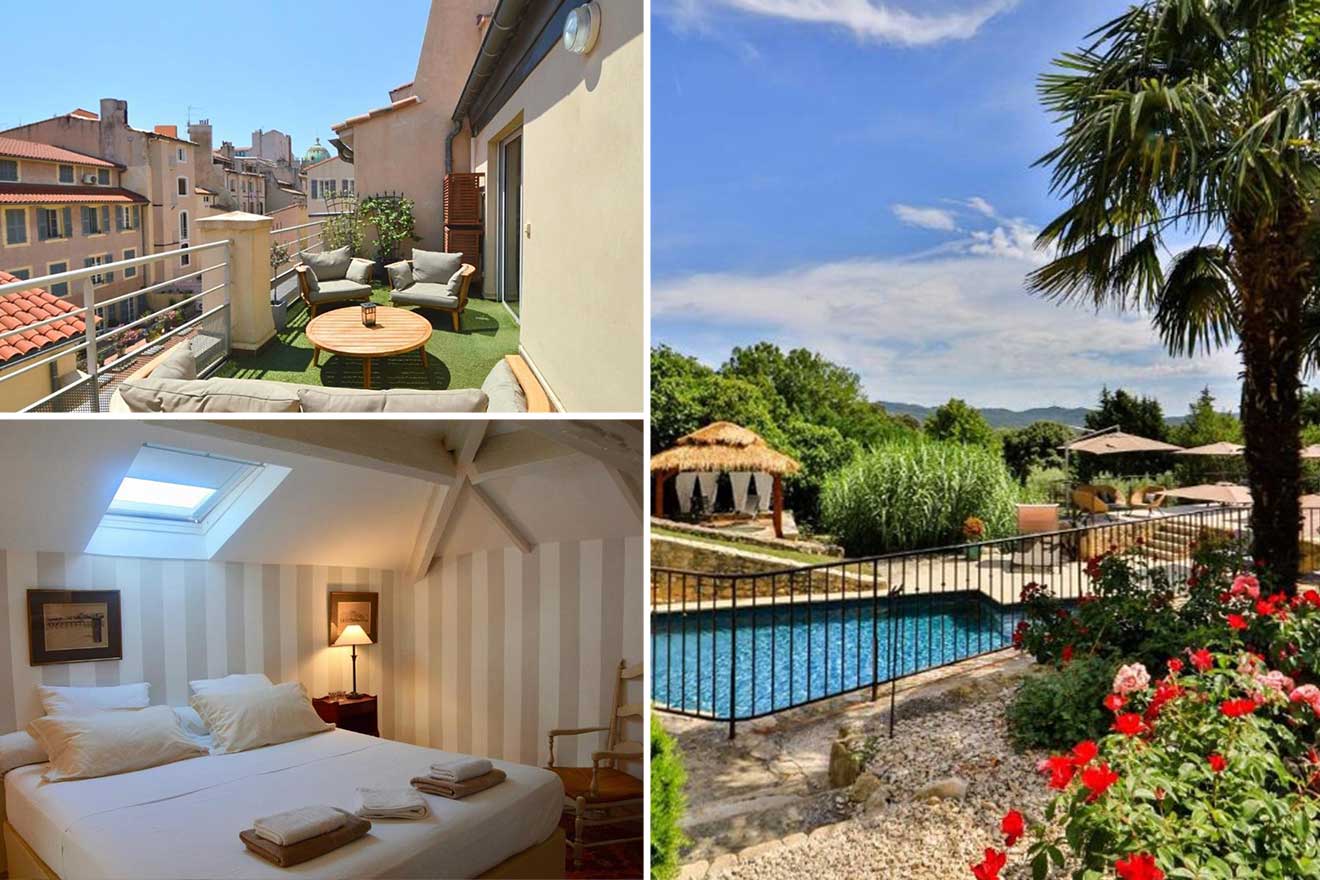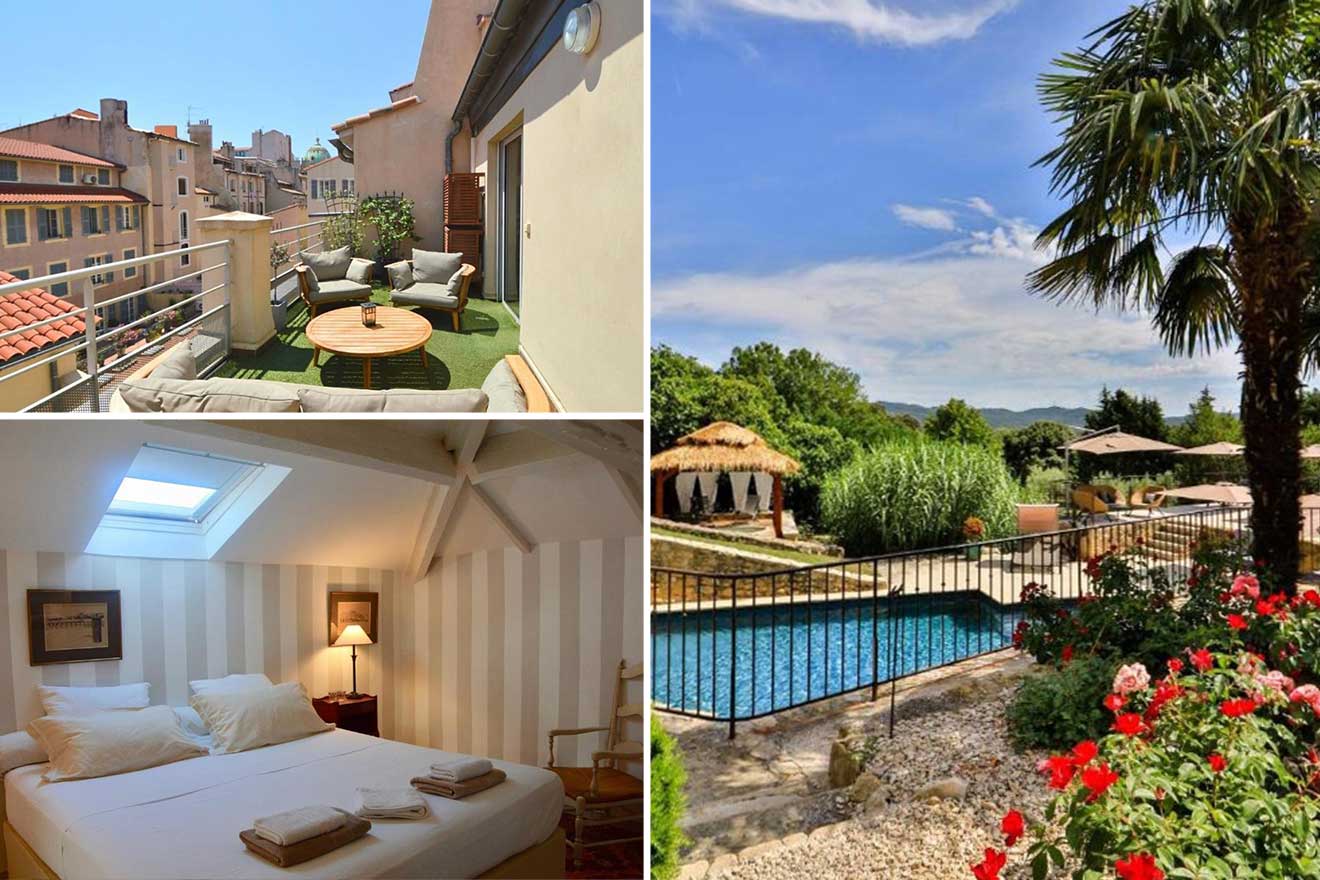 Les Appartements du Vieux Port – Looking for some budget-friendly places to stay in Marseille? Then you'll love these apartments! Besides being super affordable, the accommodations have lots of space, a flat-screen tv, and a kitchen with all the facilities. That way you won't have to eat out all day every day! Close to the main attractions in the city, the apartments are great for families or big groups. 
La Tramontane – Spend a few unforgettable days (or weeks) in this charming place to stay in Saintes-Maries-de-la-Mer! Surrounded by greenery, the accommodation has a super homie and cozy atmosphere that will make it so hard for you to leave this space. The rooms are comfortable, and most have a little terrace leading into the garden. After a day of exploring the area, head to the outdoor swimming pool for a quick dip! 
Le Mas de la Lombarde – A hotel that kept the authentic Provence style but combined it with some modern elements making it a super chic place to stay in Lourmarin. The accommodation has rooms with wooden furnishings and ceilings, cozy beds, and free wifi. Plus the outdoors here are just as magical! Flowers everywhere, trees, and of course a swimming pool which guests can use anytime they want! 
Villa Côté Sud – This elegant, simple, but oh-so-stylish accommodation in Draguignan has lots of amenities, including free parking, rooms with private bathrooms, and a flat-screen tv! Enjoy your morning coffee on the balcony, then head out to explore the colorful garden and the surroundings. Although the accommodation doesn't have a gourmet restaurant on-site, plenty of them are nearby!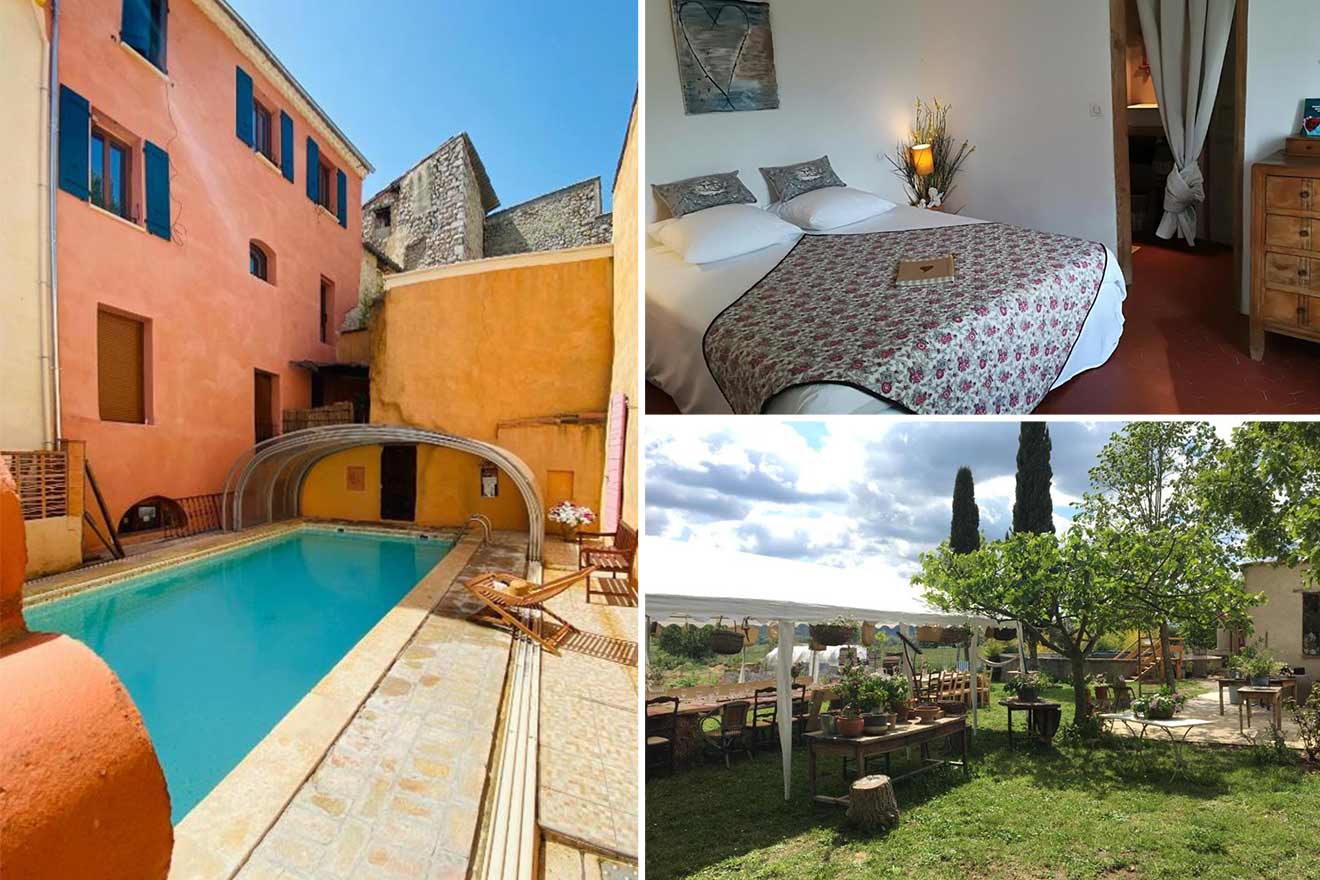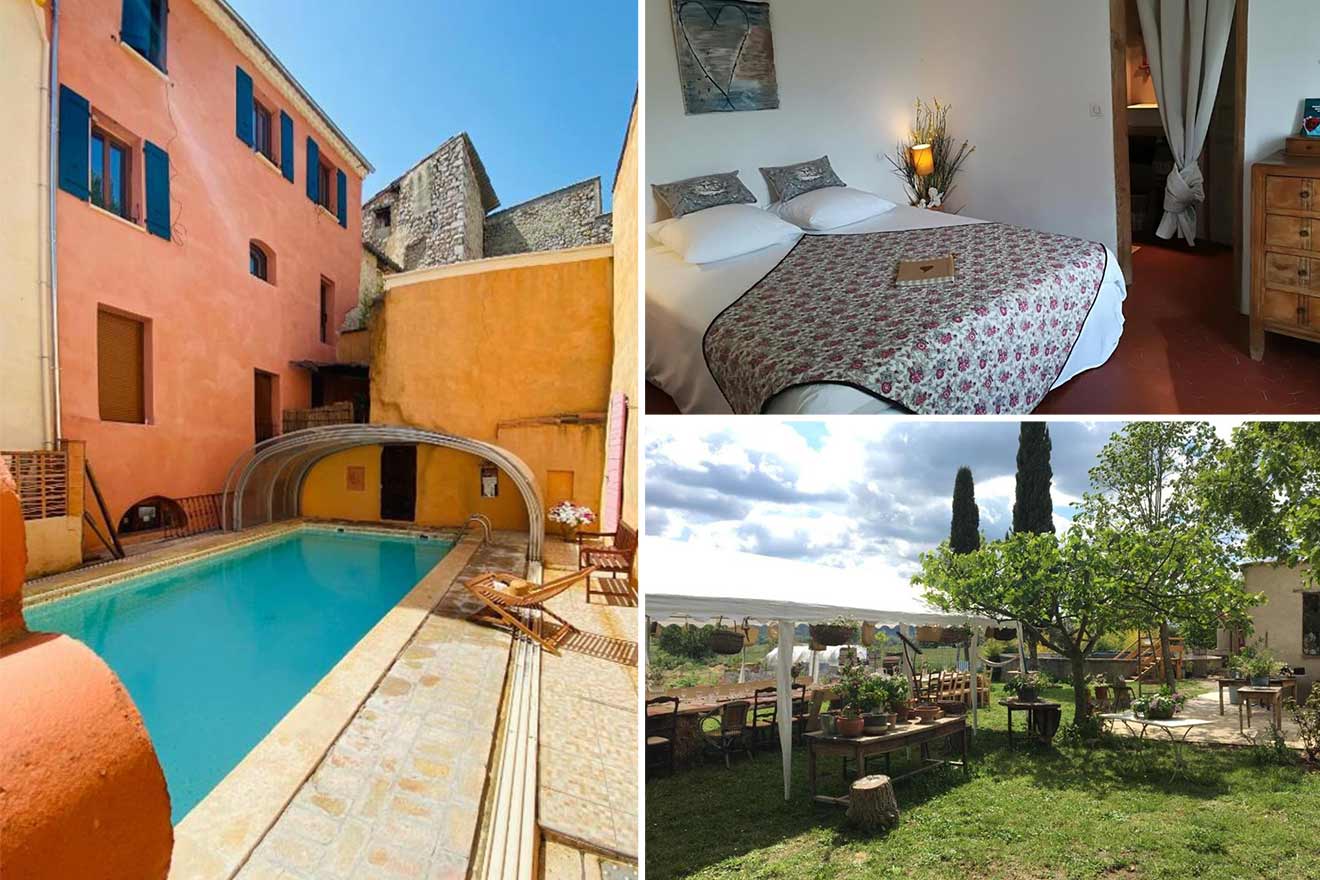 Les Arcades Le Lion D'or – The historic village Buis Les Baronnies, is filled with unique boutique hotels that were built hundreds of years ago! This place dates back to 1661, and it looks so amazing! You'll love the architecture and design, and of course let's not forget about the outdoor pool. Each room is pretty spacious and has a private bathroom and free wi-fi. Enjoy some long sunny afternoon in the garden, indulging in French sweets and snacks! 
La Ferme Constantin – If you're looking for a quiet place to spend your holiday in Provence, then you're pretty lucky because I've found the perfect one! This little farm is located in Fayence and provides simple yet cozy rooms and delicious food! They use products from their vegetable garden, so the quality is top-notch! 
Domaine de Bellevue Beaumes-de-Venise – Relax by the pool after exploring the hiking trails around Dentelles de Montmirail mountains at this hotel in Beaumes-de-Venise that has an outdoor pool and a nice garden. The accommodation offers well-equipped rooms with garden views and free wifi for very affordable prices.
BONUS: Top hotels in Provence with an incredible view 
As one of the most beautiful regions in the world, Provence doesn't disappoint when it comes to boutique hotels. These places have incredible amenities, but what set's them apart are the incredible views they offer! 
In this short bonus section, I wanted to highlight the 3 best luxury hotels in Provence with a view, listed from most to least expensive: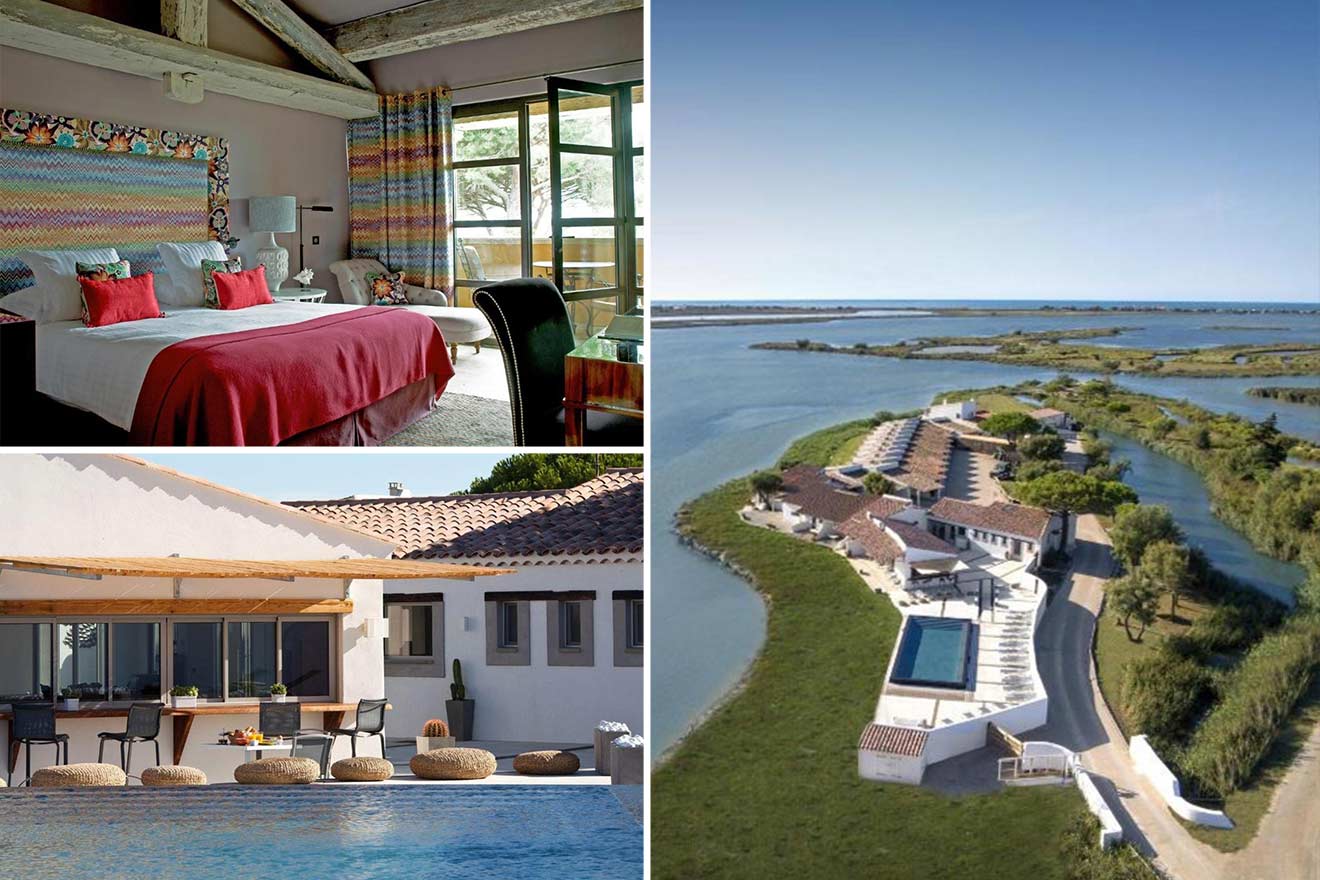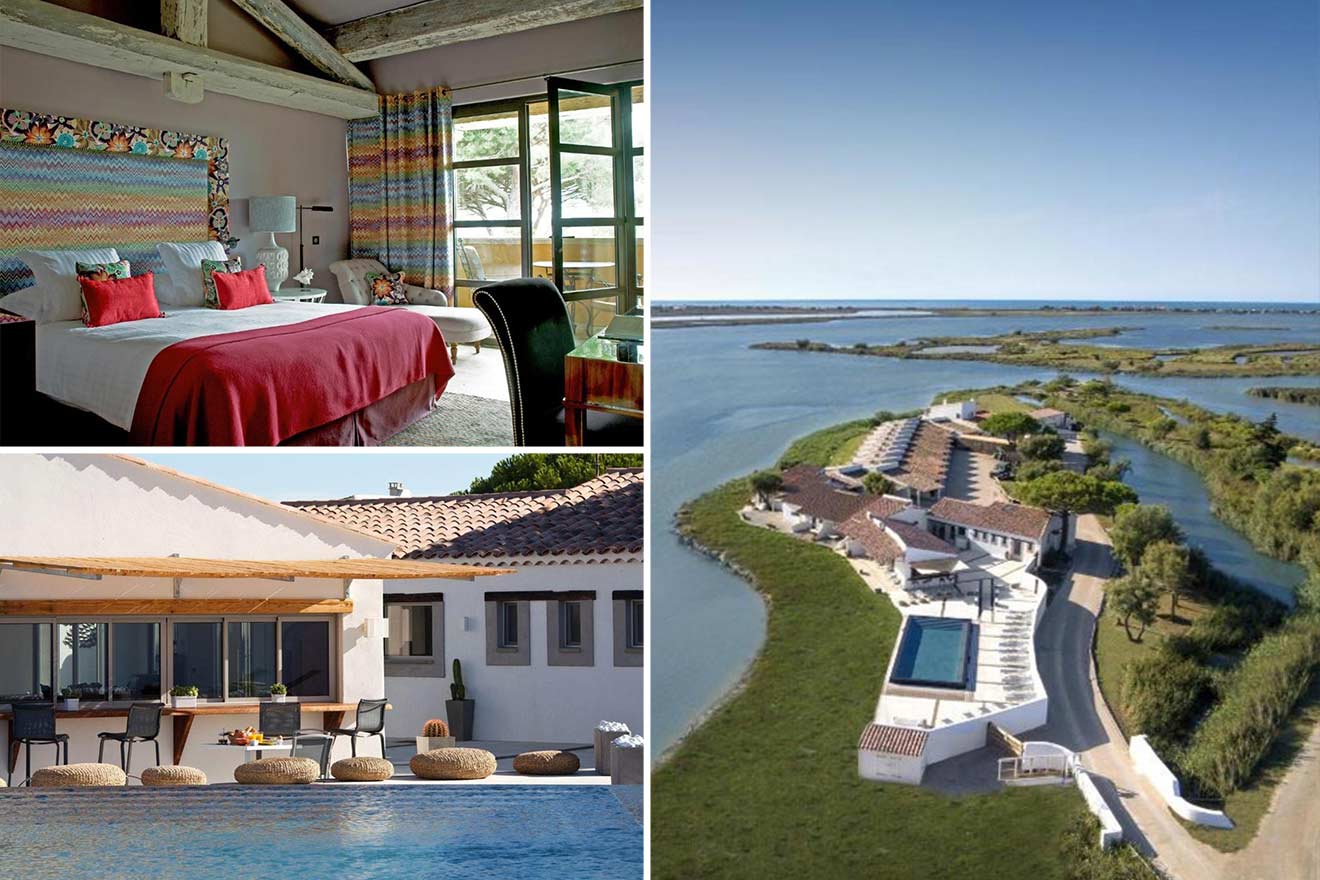 Hôtel Villa Marie – Say hello to one of the most beautiful boutique hotels in Provence! This hotel is set in Saint Tropez and offers a breathtaking view of Pampelonne Bay! All the rooms are elegantly decorated and have a balcony where you can enjoy your morning coffee. Like most hotels in Provence, the 5-star accommodation has a charming garden, a spa, and a fine dining restaurant! 
Lodge Sainte Helene – Wake up to a wonderful sight of the lake at this fabulous hotel which is fully equipped with lots of luxurious facilities and beautifully appointed. With a beige and white decor, the hotel offers spa services for guests, a pool, and lots of activities! 
Les Lodges Sainte-Victoire – Travel in style! That's my holiday motto and this hotel located in Aix-en-Provence, around 1-hour drive from Marseille, sure fits the bill. Mountain views, chic rooms with lots of space, and a gourmet restaurant will be waiting for you at this hotel. After a day of exploring the olive groves and local markets in Provence, head to the pool for a nice relaxing swim! 
FAQs about hotels in Provence, France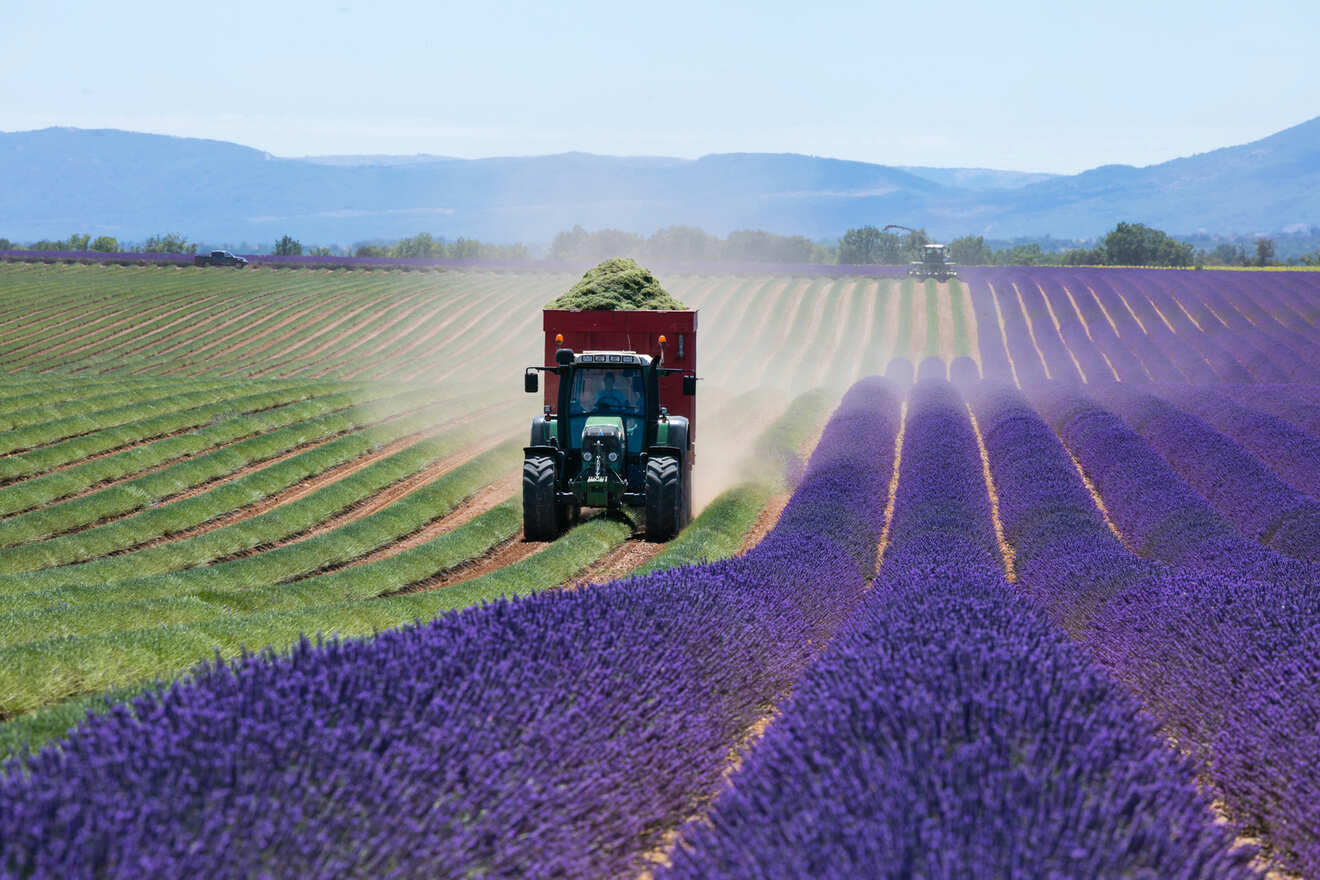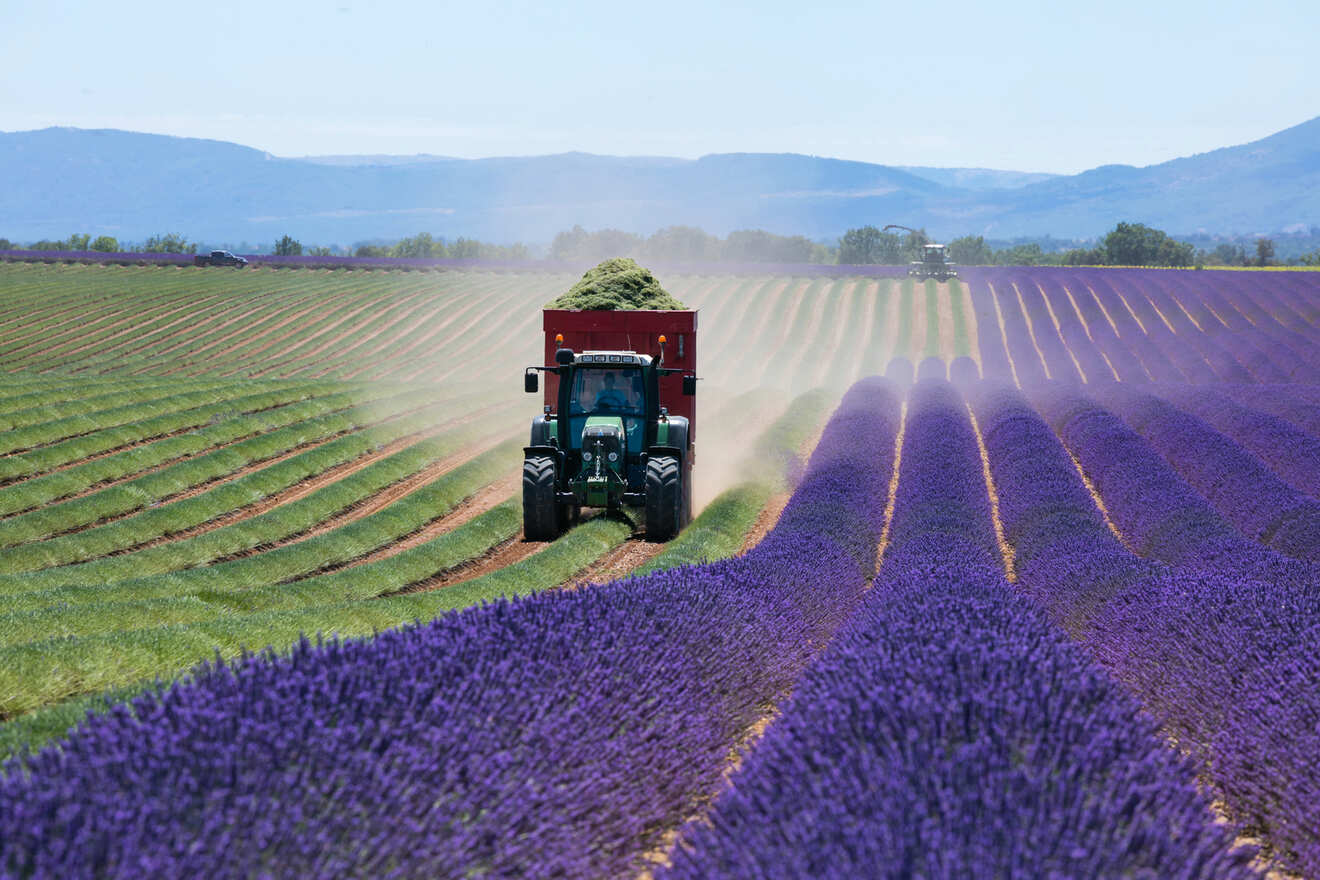 🏨 Which are the best boutique hotels in Provence, France?
⛰️ What is Provence famous for?
Provence is famous for its unique scenery with blossoming lavender in the summer months, for its super old wine-making tradition, olive groves, and great hotels like Villa Garbo, which has a rooftop terrace! 
🌞 When should I go to Provence?
Spring (March, April, May) and early Autumn (September, October) are the best periods to visit Provence. That's when the weather is at its best, although it can get super crowded with tourists. 
📅 How many days do you need in Provence, France?
I recommend spending at least 4-6 days in Provence as there are many places to discover here like Palais des Papes and the Roman arena at Arles.
Conclusion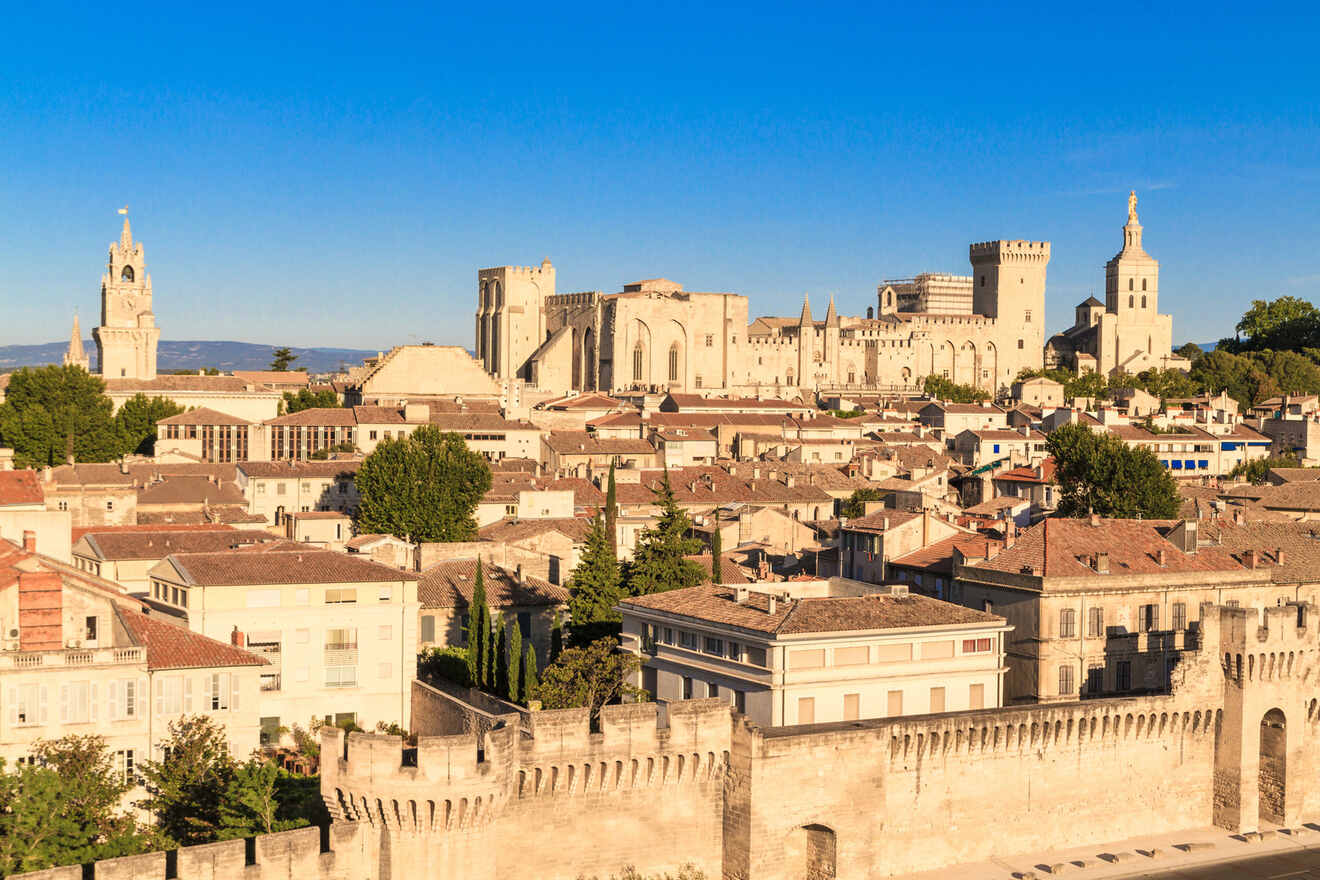 I know… you're probably buying your tickets already. What can I say? Provence sure knows how to mesmerize us! 
This post has all the best hotels in Provence, France, listed from most to least expensive. Plus a bonus with 3 Provence hotels with unique views.
I know there are lots of options so if you need a bit of extra help, here are my top 2 favorite hotels in Provence:
Hotel Lou Pinet – One of the best boutique hotels in the region that comes with 5-star amenities, gorgeous rooms and a spa
Domaine Monte Verdi – A tranquil place to stay in Flayosc that's surrounded by nature, and has cabins with private terraces
As I mentioned earlier, these are some of the best boutique hotels and accommodations in Provence. Make sure you book yours early because you may miss your chance at a fabulous spot! 
Have a wonderful trip to this unique destination and don't forget that I'm right here if you need any help! Just pop your question below and I'll answer ASAP! 
Safe travels,
Victoria
---
Pin it for later!
Pin it for later!