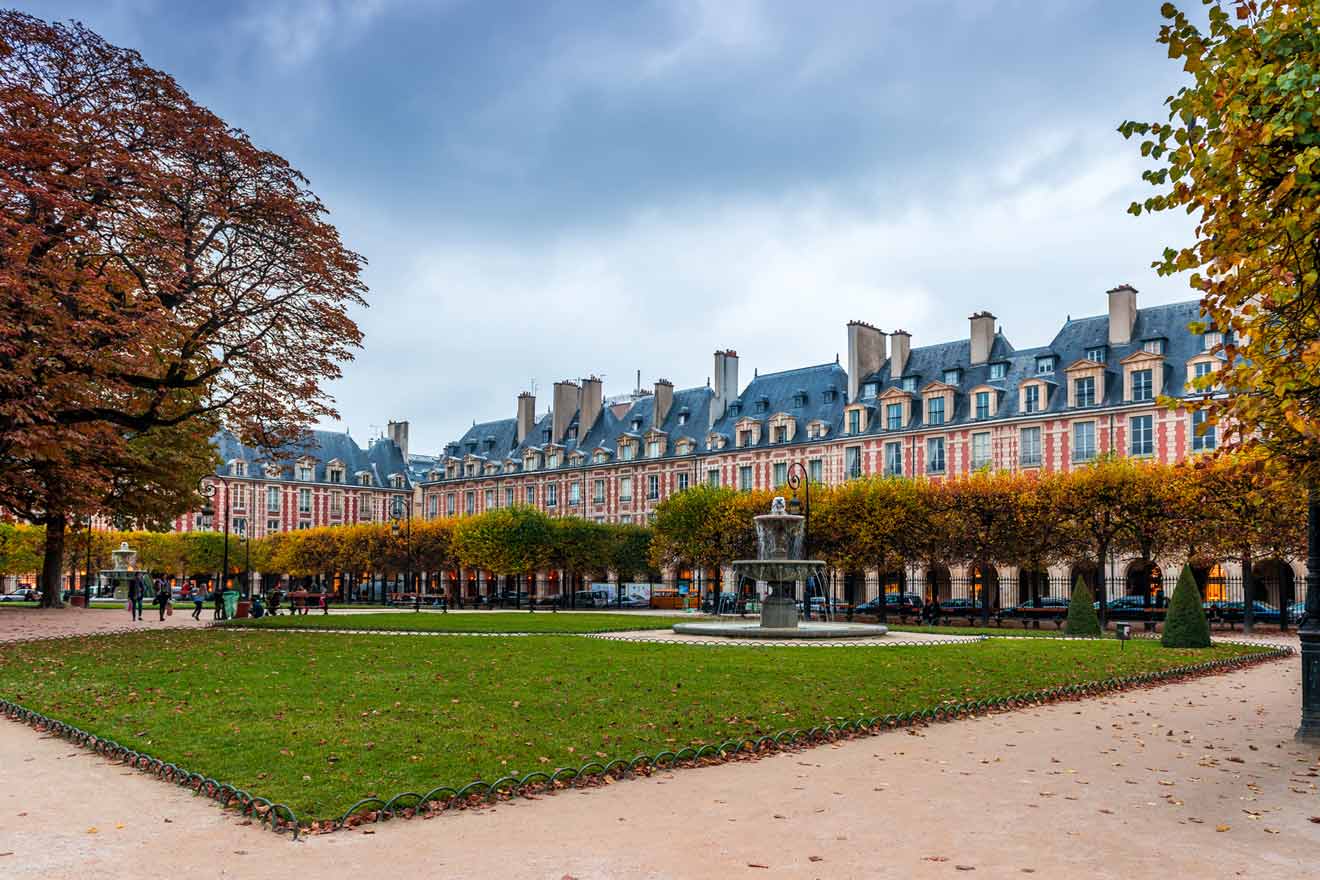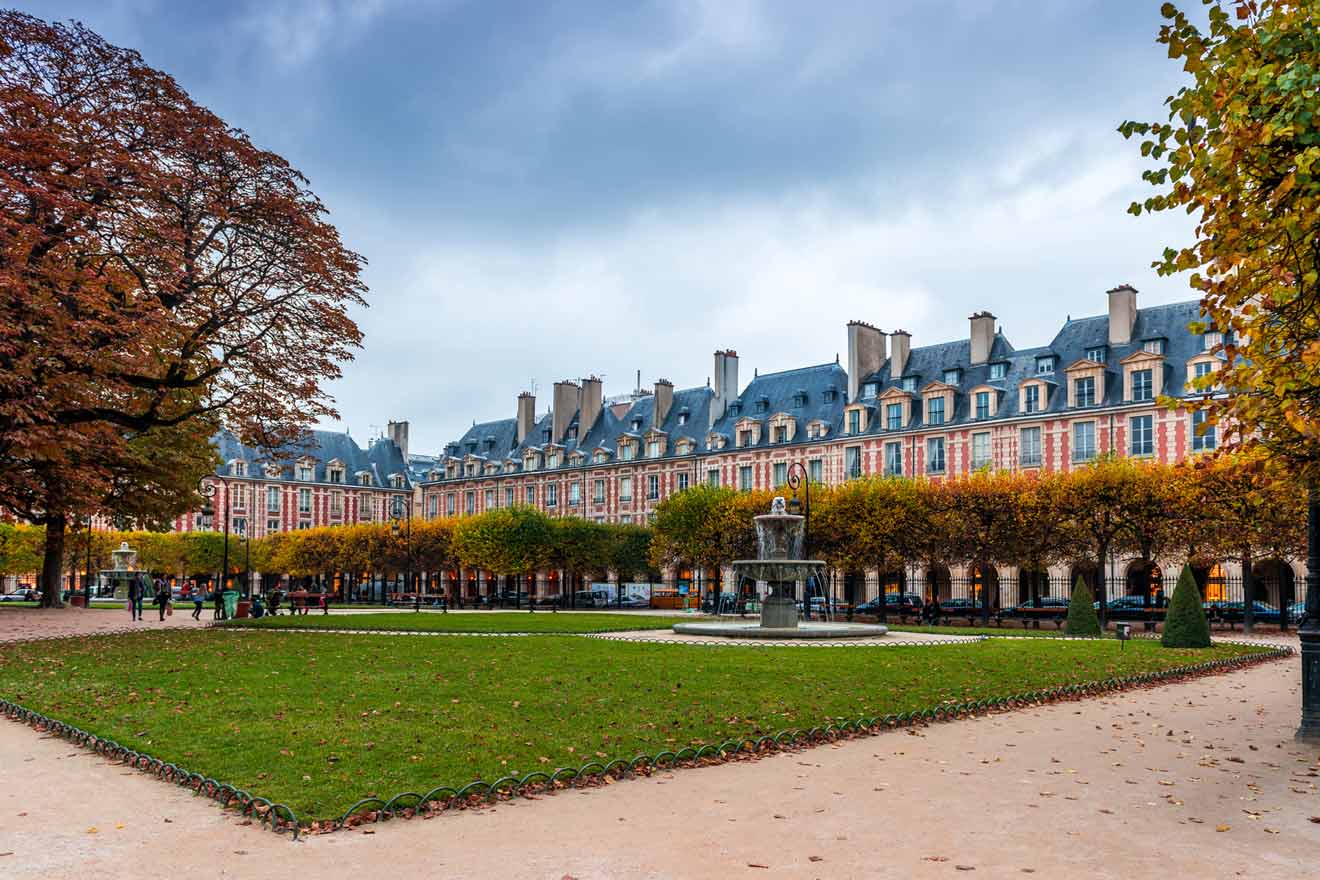 All the areas in Paris have a certain charm specific to that neighborhood, but I've got to say that Le Marais district holds a special place in my heart! Stunning architecture, fabulous 17th-century houses, and a romantic atmosphere that will leave you speechless!
Follow me to discover the best hotels in Marais, Paris! Below you've got the best list on the internet of the top accommodation options from most to least expensive!
Remember that hotels in this area sell out super quickly (as do most hotels in Paris) that's why I highly recommend booking yours in advance to not miss out on this fantastic neighborhood!
Ready to get lost on the Parisian streets, admire the art galleries, and drink wine at noon? Me too!
Let's go!
If you are in a hurry
Need to book your hotel right now? Then there's no reason to wait! Check out this list of the best hotels in Marais, Paris:
airbnb
MODERN APARTMENT
An Airbnb with amazing reviews
budget hotel
Hôtel Jules & Jim
Best affordable accommodation in the center
Here's a map that will help you visualize all the best hotels in Marais that I will be talking about in this post: 
Luxury (US$420 and up)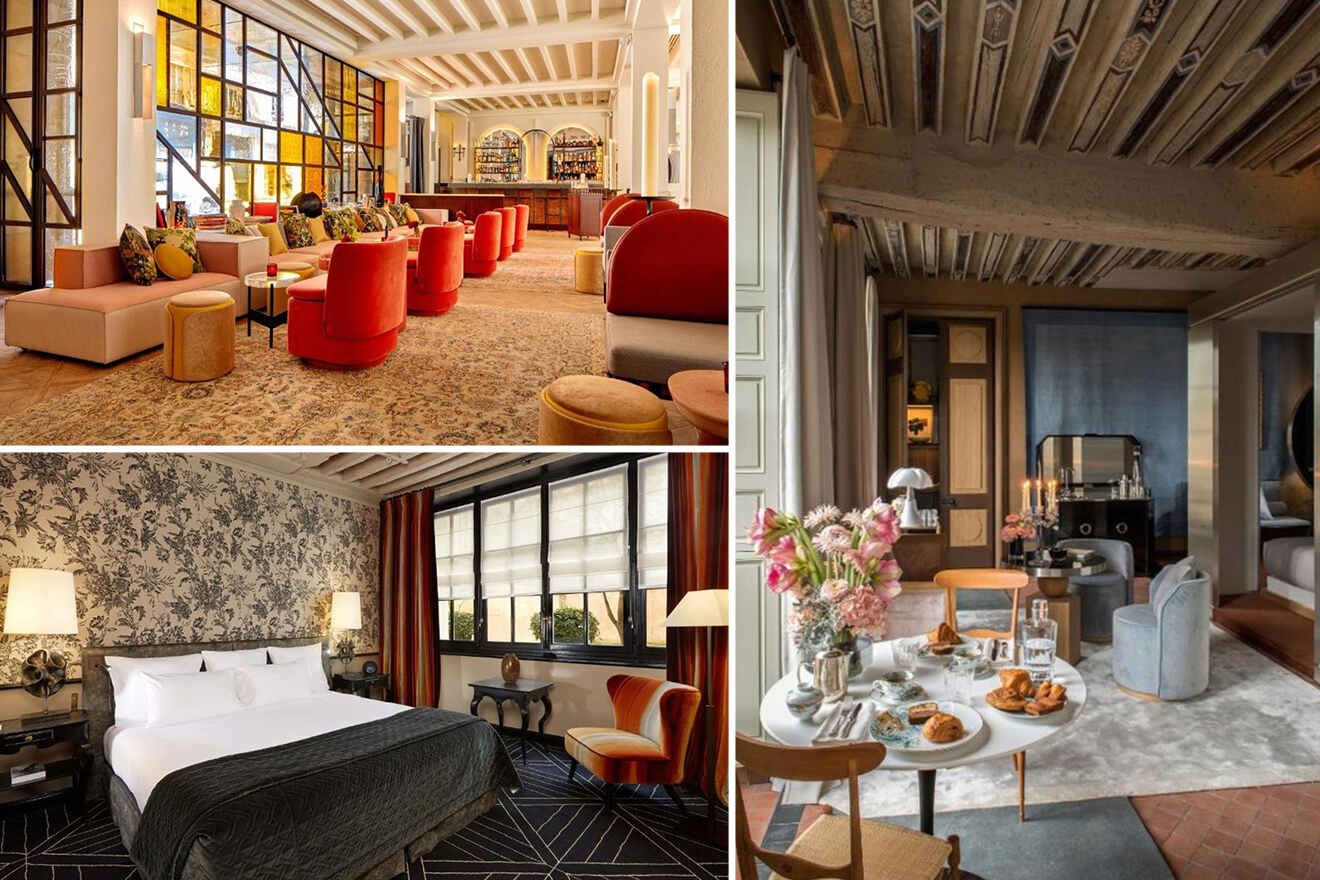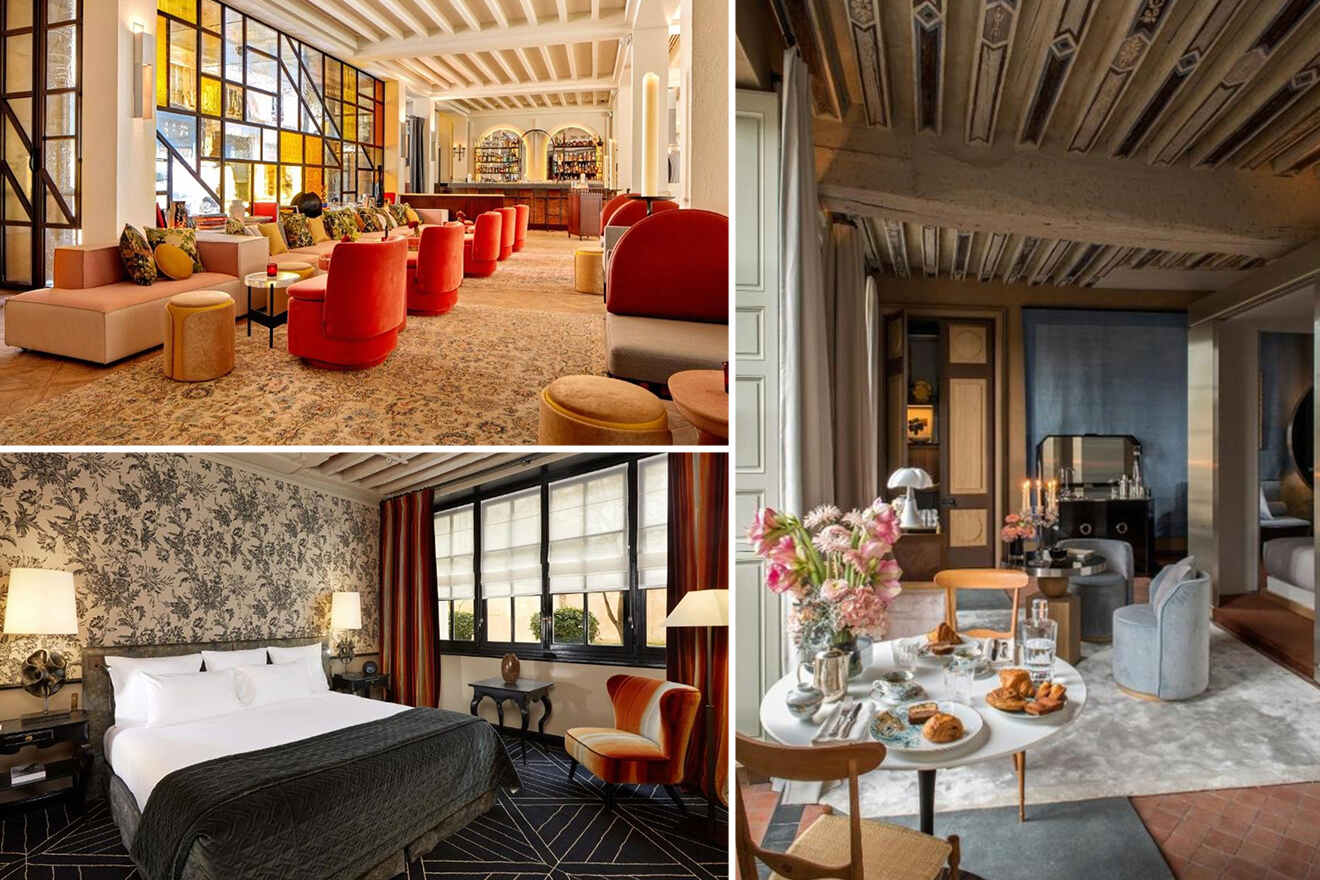 Cour des Vosges – Decorated with minimalistic elements and wooden furnishings, this fabulous hotel offers a prime location overlooking Paris's oldest planned square, the Place des Vosges! All the rooms have private bathrooms and flat-screen tv, and after a day of exploring Place de la Bastille (which is just a short walk away), you can enjoy a massage or chill in the hot tub. 
Pavillon de la Reine – Featuring an elegant Parisian decor that will leave you speechless, this hotel is located near Victor Hugo's House in the famous Place des Vosges. Each room is unique and has many interesting elements, including ceilings with wooden beams. Such a perfect place to escape the city noise and enjoy your holiday! The accommodations rooms come with an iPod docking station, a fitness center, and a private lounge. 
Sinner Paris – I love the fusion of styles at this hotel that's ideally located near lots of museums in Paris! The modern rooms are individually decorated with contemporary elements and feature private bathrooms with a walk-in shower. La pièce de résistance has to be the Greek and Roman-inspired pool in the spa center! The hotel's restaurant also offers a delicious continental breakfast each morning.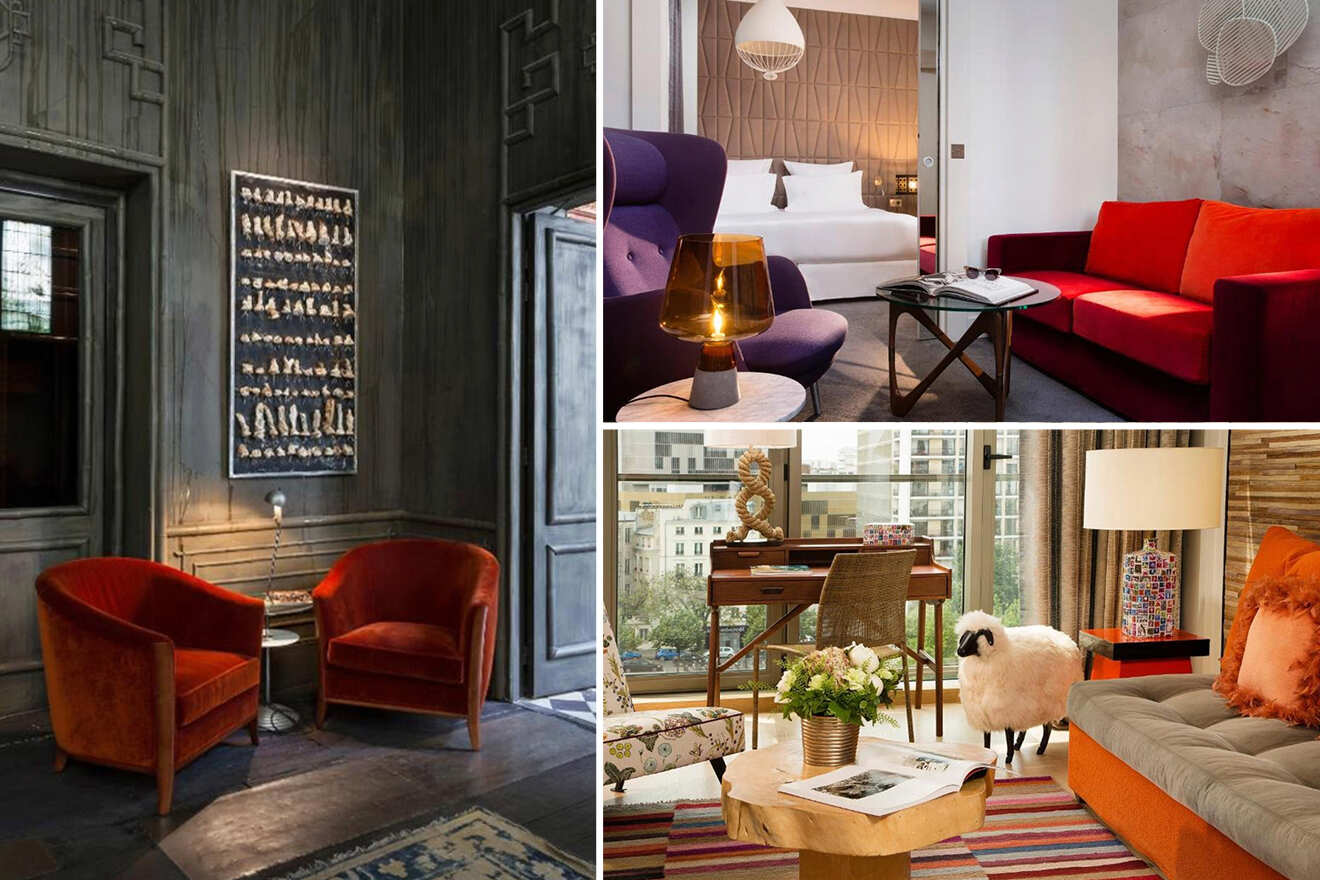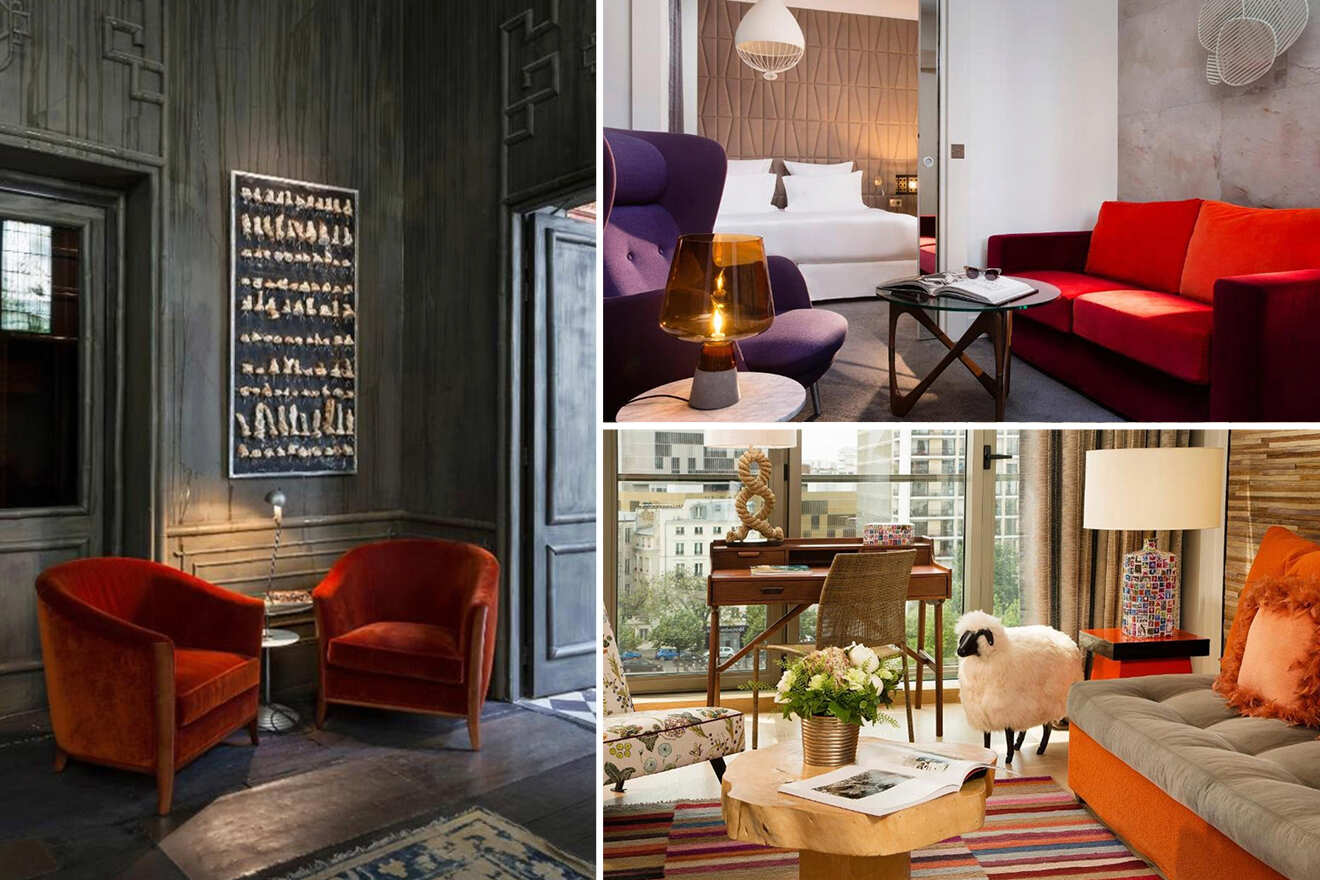 Goralska Résidences – Admire the incredible views of Marais from the ceiling-to-floor windows of your modern room at this hotel that's located within walking distance of Place de la Bastille. Each suite has a living room, free wi-fi, and a small kitchenette where you can stash your Parisian snacks (yum)! I highly recommend booking this hotel in advance, as with a lot of accommodations in Marais, most of the time they're sold out! 
Hotel Dupond-Smith – Simplicity at its best! This design hotel has such a cool contemporary style! Start your morning with some room service you can have on the little balcony or even in bed (you're on holiday after all)! Then start visiting all the attractions like the Eiffel Tour and Louvre Museum, which are only a short walk away. 
Hotel Les Bains – No need to leave this hotel if you want to party because you'll find some entertainment in their nightclub! Featuring a lounge area with dark aesthetics and spacious rooms with a balcony, the hotel also offers direct access to an indoor pool! After a night of partying, grab something to eat from the buffet breakfast, and then hit the steam room! And if you're one who loves a good view, check out our post with the best hotels with an Eiffel Tower view. 
Mid Range (US$240 – US$310)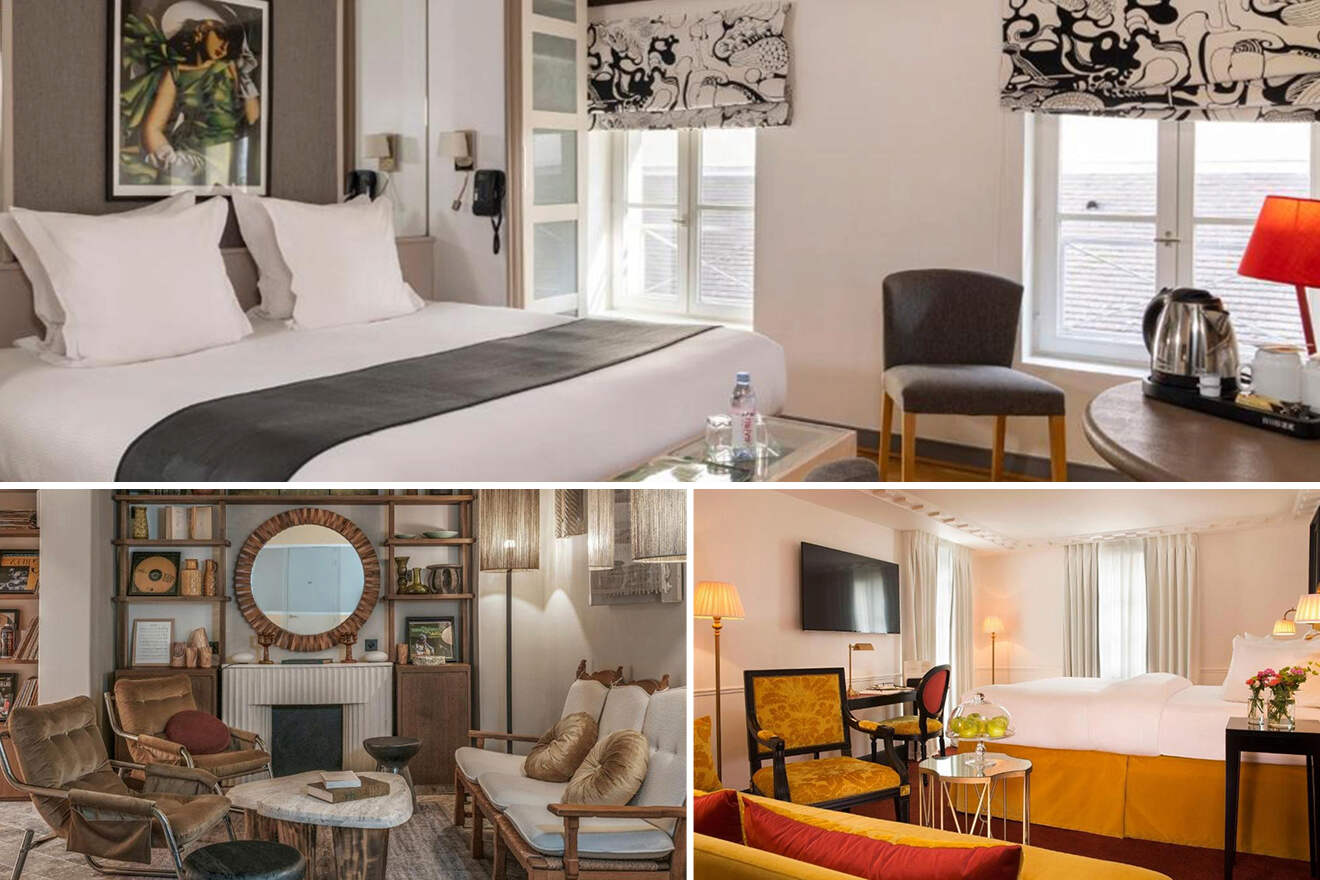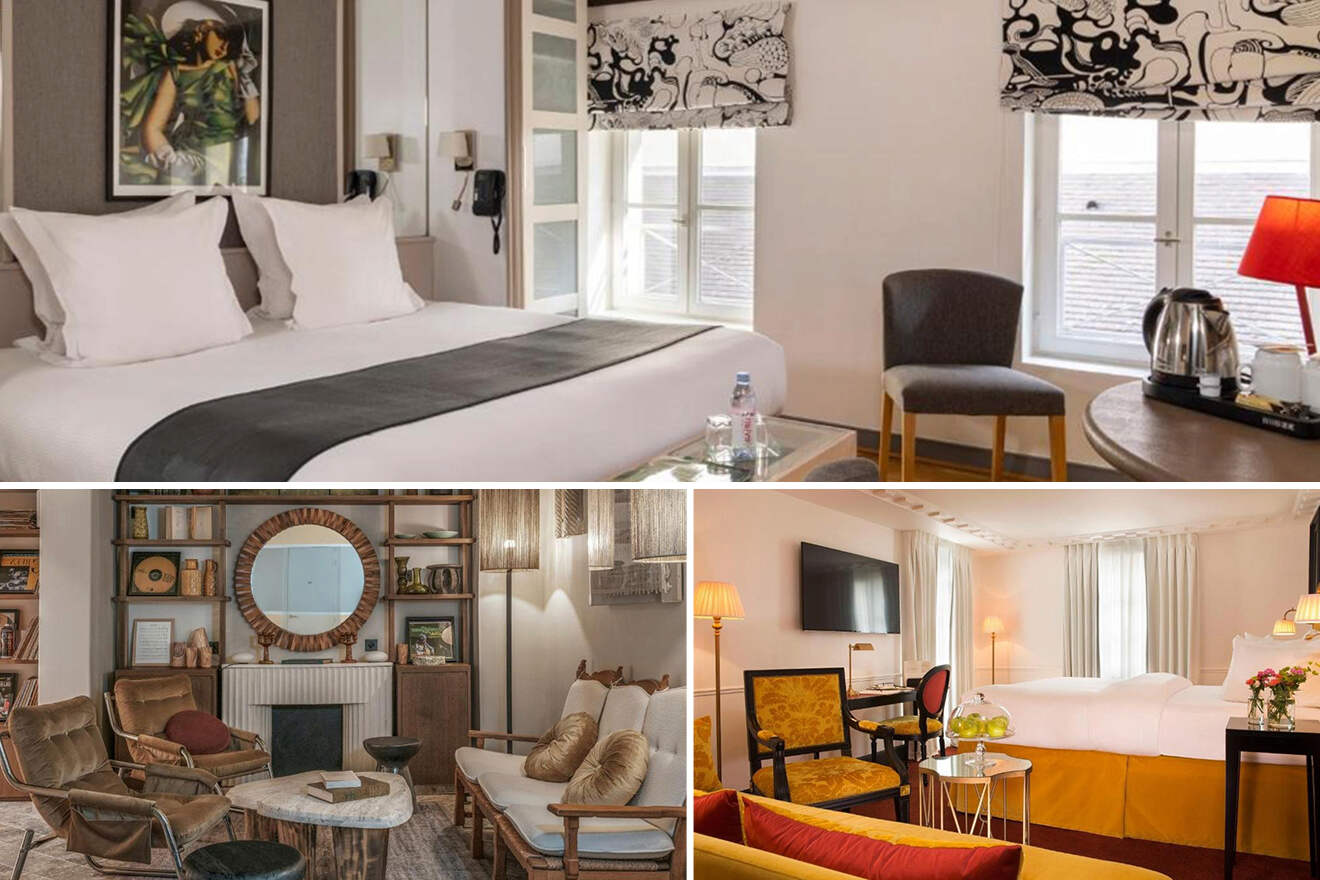 La Chambre du Marais – A fabulous boutique hotel located not too far from Place des Vosges that will offer a wonderful service throughout your stay! The rooms come with air conditioning and a seating area where you can relax. Order some room service before hitting the town and visiting the beautiful Notre Dame Cathedral and all the other attractions! Make sure to end your perfect day with a glass of delicious French wine at the bar. 
Hotel Sookie – How cool are the colors and the warm aesthetics used in the design of this hotel? I love it! It will immediately send you to your "happy place" where you are relaxed and enjoying this wonderful holiday. Each room has air-conditioning, free wi-fi, and a cozy seating area. Plus, the hotel offers many activities including walking tours and bike tours.  
Hôtel Du Jeu De Paume – The hardwood floors and rock walls give me old Parisian vibes and I'm so into it! If you like these elements, book your room at this hotel that's located only a 5-minute walk from Saint Paul Metro Station. The rooms come with a cute kitchenette and a comfortable seating area. After breakfast, you can relax in the garden or hit the fitness room.
1er Etage Marais – If you like old buildings, then I think you'll secure a room at this hotel ASAP! Set in a 17th-century building, the hotel is located a short walk away from Place des Vosges. The uniquely-decorated rooms come with private bathrooms and free wi-fi. After a day of exploring the lively Marais District, head to the lounge area to enjoy the fireplace. 
Budget (up to US$210)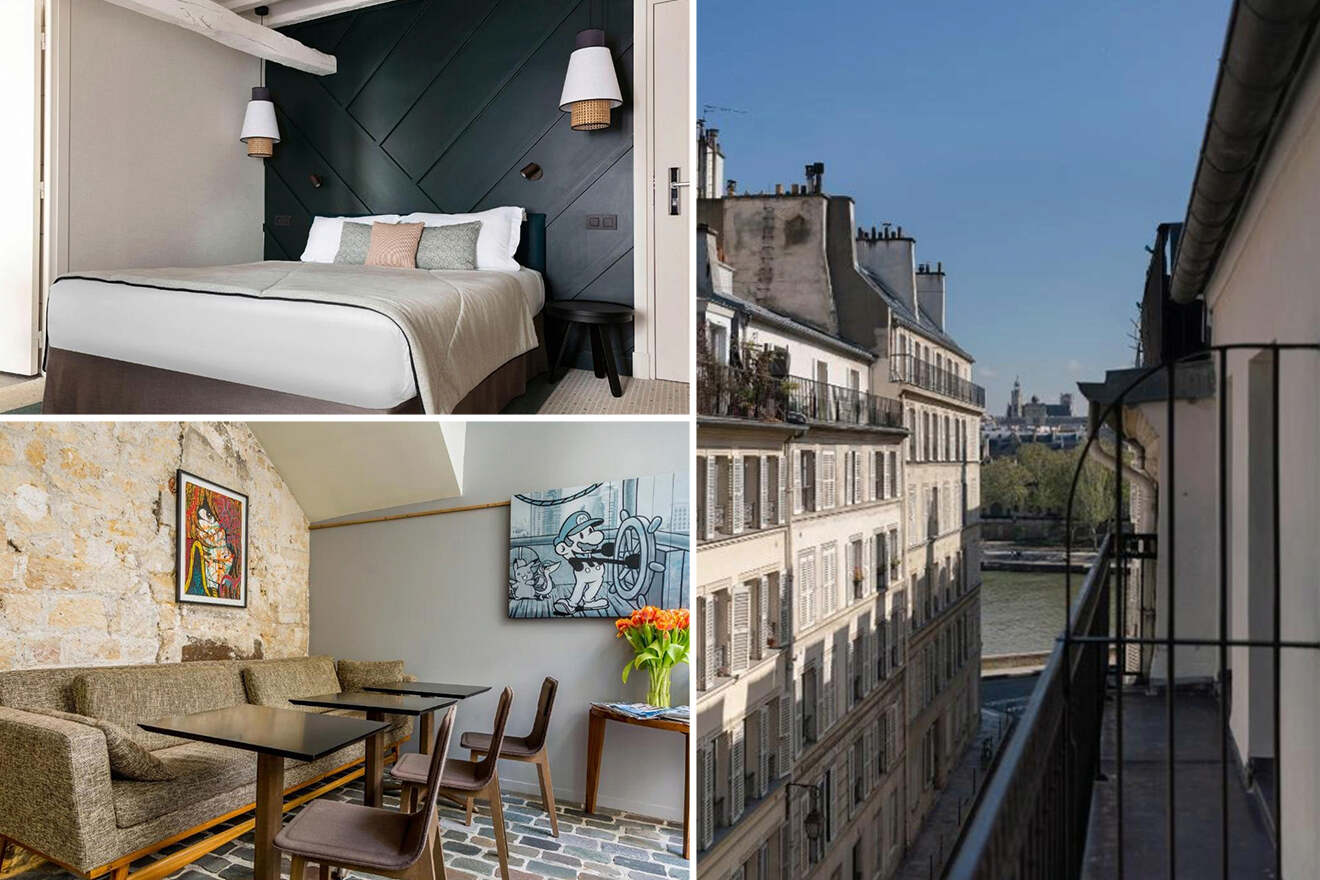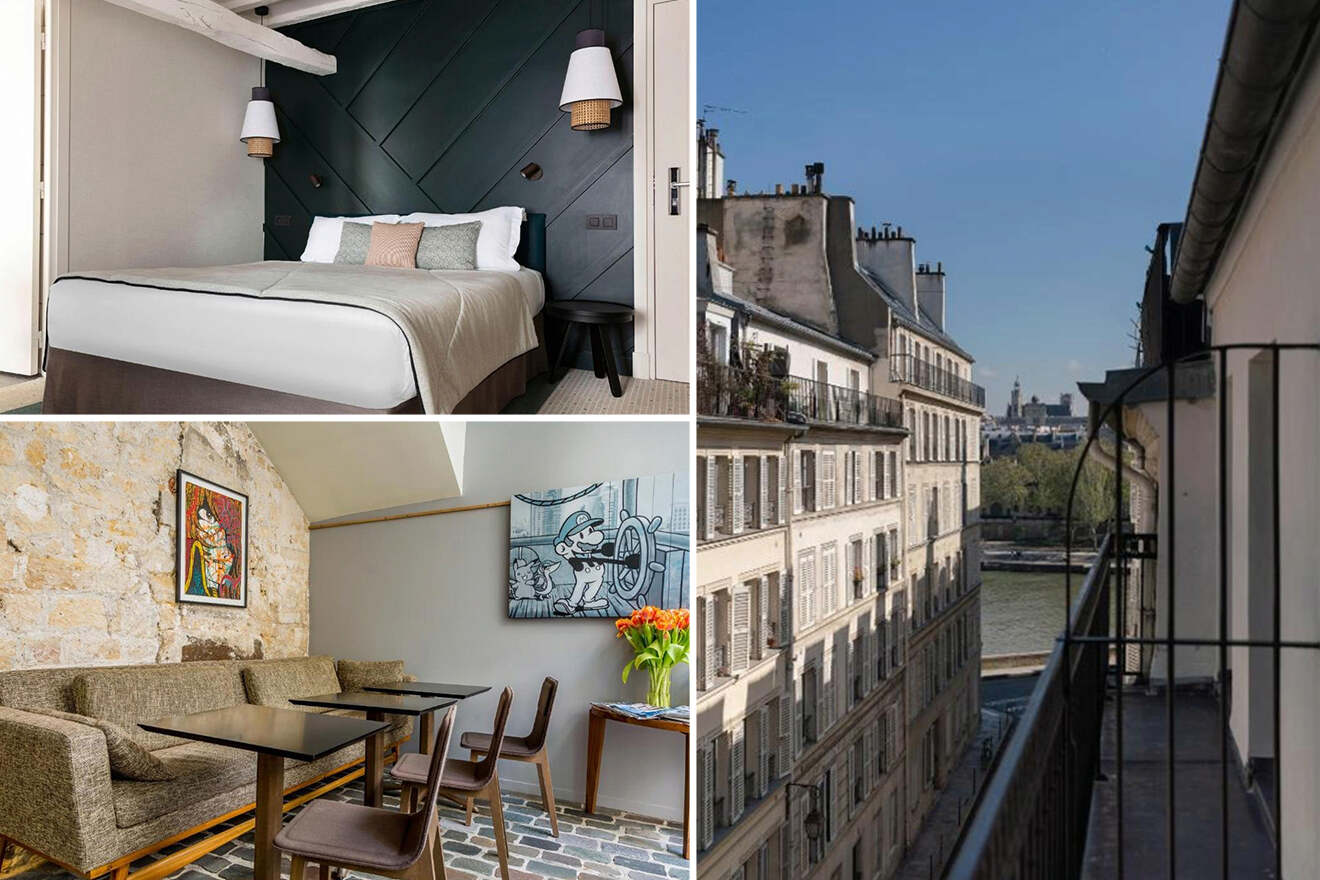 Hôtel Jules & Jim – An affordable yet super well-equipped hotel in Marais, Paris that comes with all the comfort and facilities you need for your holiday including air-conditioned rooms with private bathrooms and free wi-fi. Located between Place des Vosges and Centre Georges Pompidou, the accommodation offers fresh breakfasts every morning and a cozy terrace!  
Hotel Saint-Louis en L'Isle – Conveniently located near restaurants, boulangeries, and the Pompidou Centre, this hotel is uniquely designed with stone walls, old terracotta, and oak beams! The accommodation comes with family rooms equipped with tea and coffee makers and a daily breakfast is served in the stone-vaulted dining room! 
Hotel Bastille Speria – Super comfortable rooms with all the amenities you need including private bathrooms with a tub and a working area. There are plenty of attractions nearby like Place de la Bastille and Opéra Bastille plus the accommodation offers a breakfast buffet and free wi-fi. 
Frequently asked questions about hotels in Marais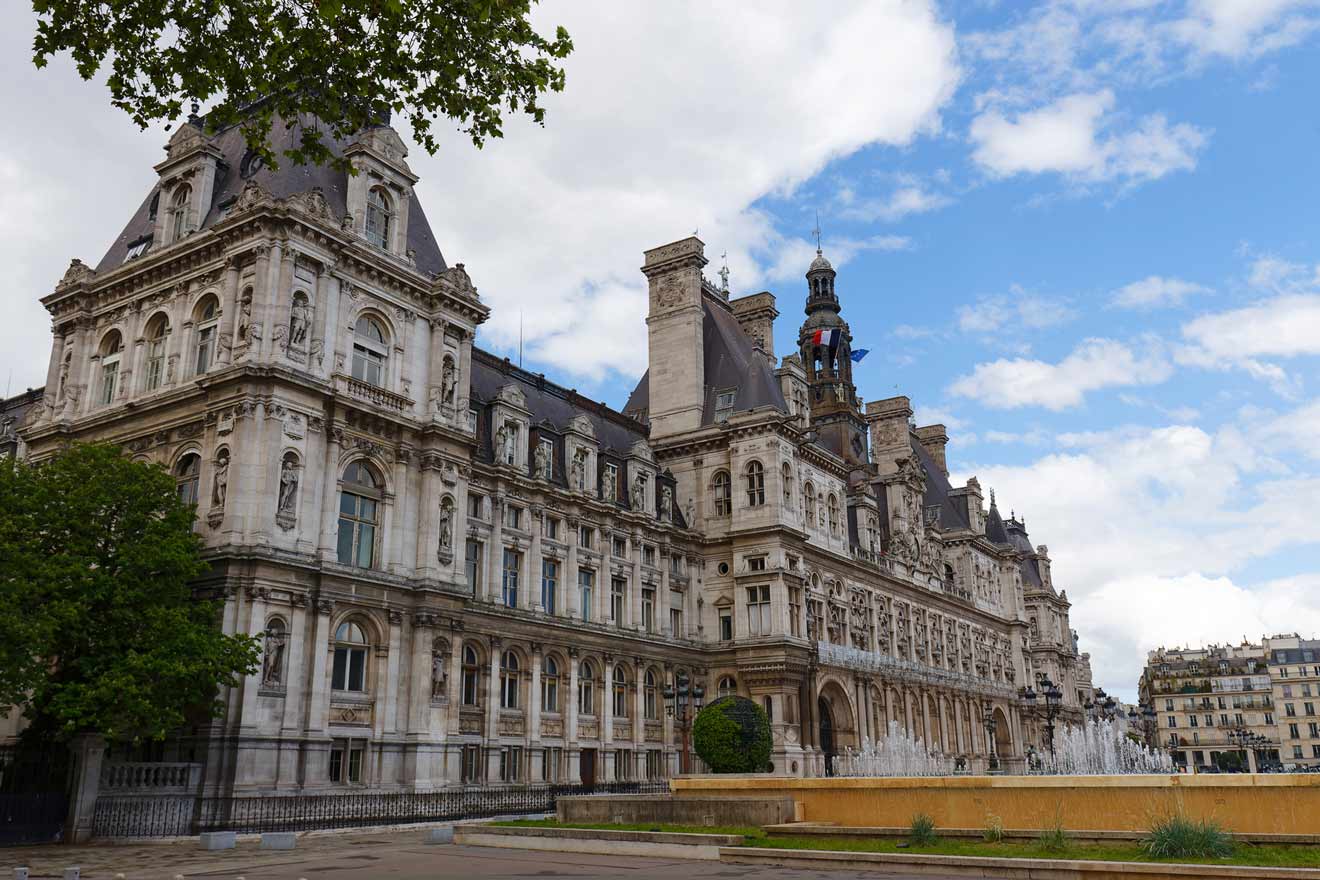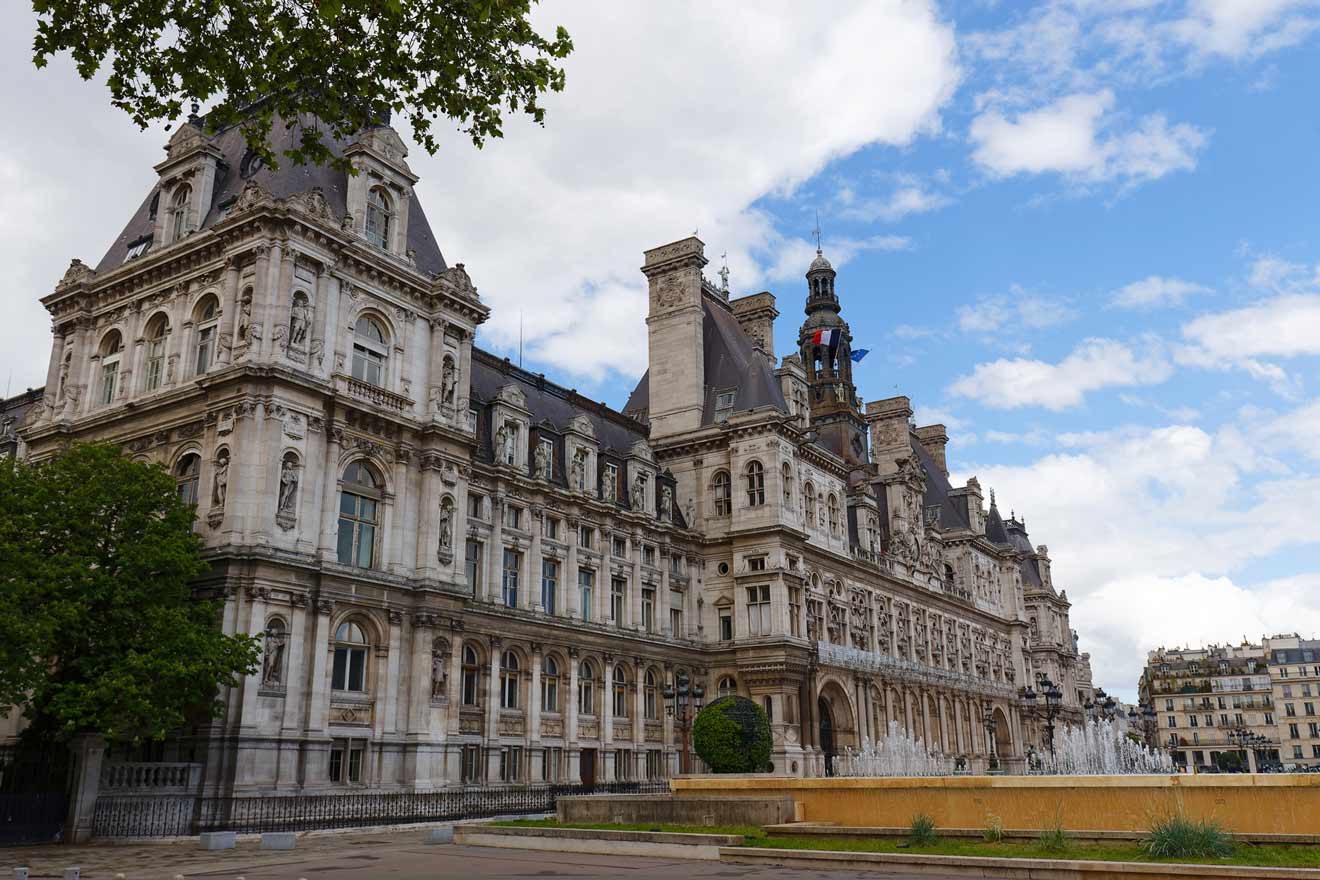 🤩 What is special about the Marais district of Paris?
Marais is a historic district located in central Paris that owes its popularity to its incredible architecture and 17th-century private mansions built with white freestone and featuring a large entrance. 
💰 How expensive is a hotel in Marais, Paris?
Expect to pay around $420 for a luxury hotel, $260 for a mid-range one, and $180 for a budget hotel in Marais, Paris.  
📸 Which hotel do celebrities stay in Paris?
🏨 Which are the best hotels in Le Marais, Paris?
Conclusion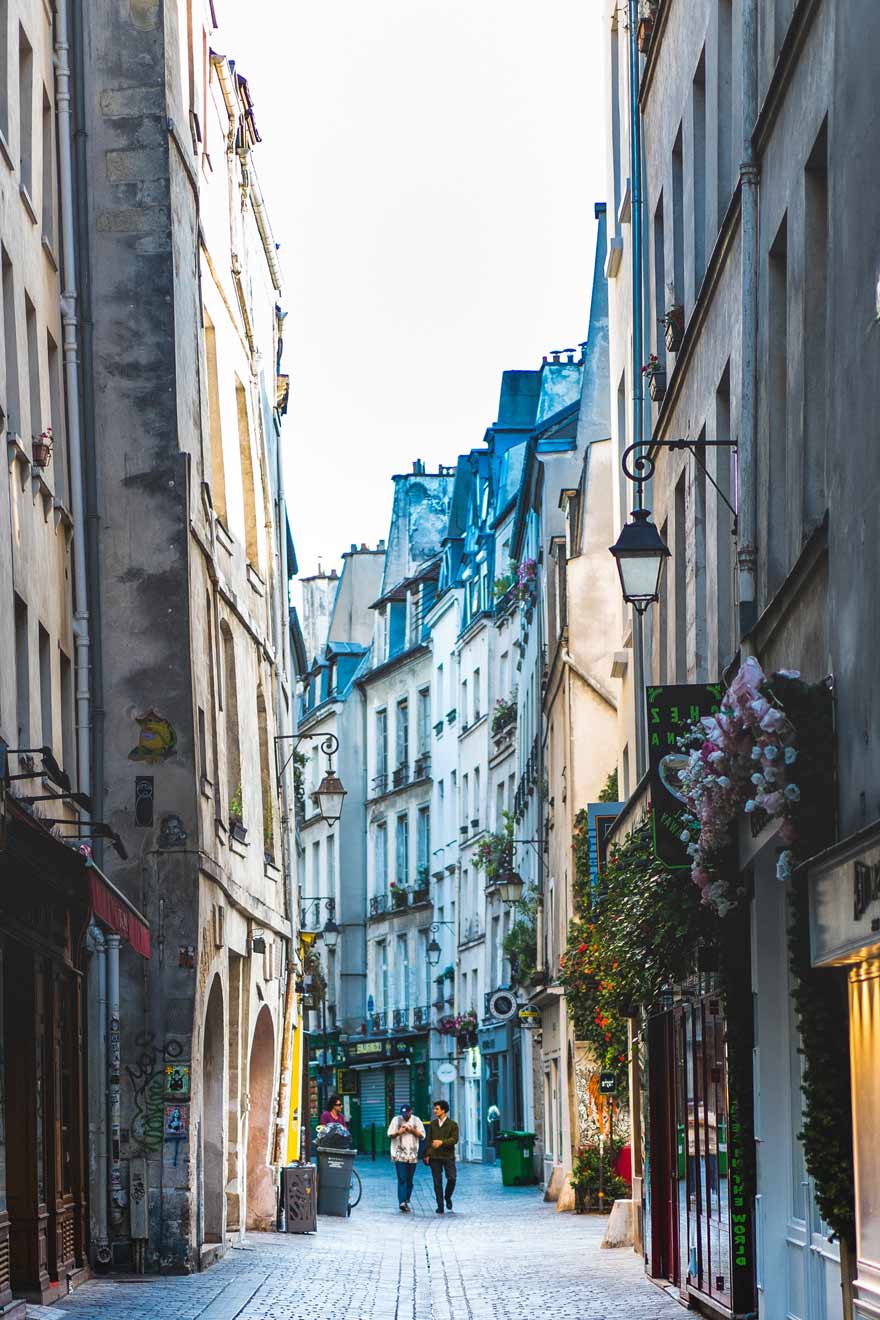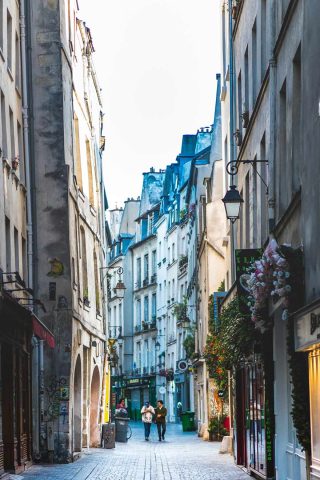 Paris is one of those cities that you never get tired of! 
I hope this post with the best hotels in Marais, Paris, helped you decide which is your dream spot! Maybe one that has a champagne bar or a relaxing spa? You decide! And that won't be too hard as the hotels are listed from most to least expensive. 
All the hotels in this post are amazing! But if it's too hard to pick one, I'll give you some extra help and tell you which are my 2 favorite ones:
Cour des Vosges – A fantastic hotel that has elegant rooms and offers spa facilities and an à la carte breakfast
La Chambre du Marais – The perfect mid-range option that comes with elegant decor and a gorgeous city view
As I said, these hotels sell out super fast! Book yours in advance to avoid any inconveniences or missing out on your favorite hotel. 
For now, this is where we part ways! If you have any other questions leave me a comment below and I'll answer it ASAP!
Have a fun trip,
Victoria